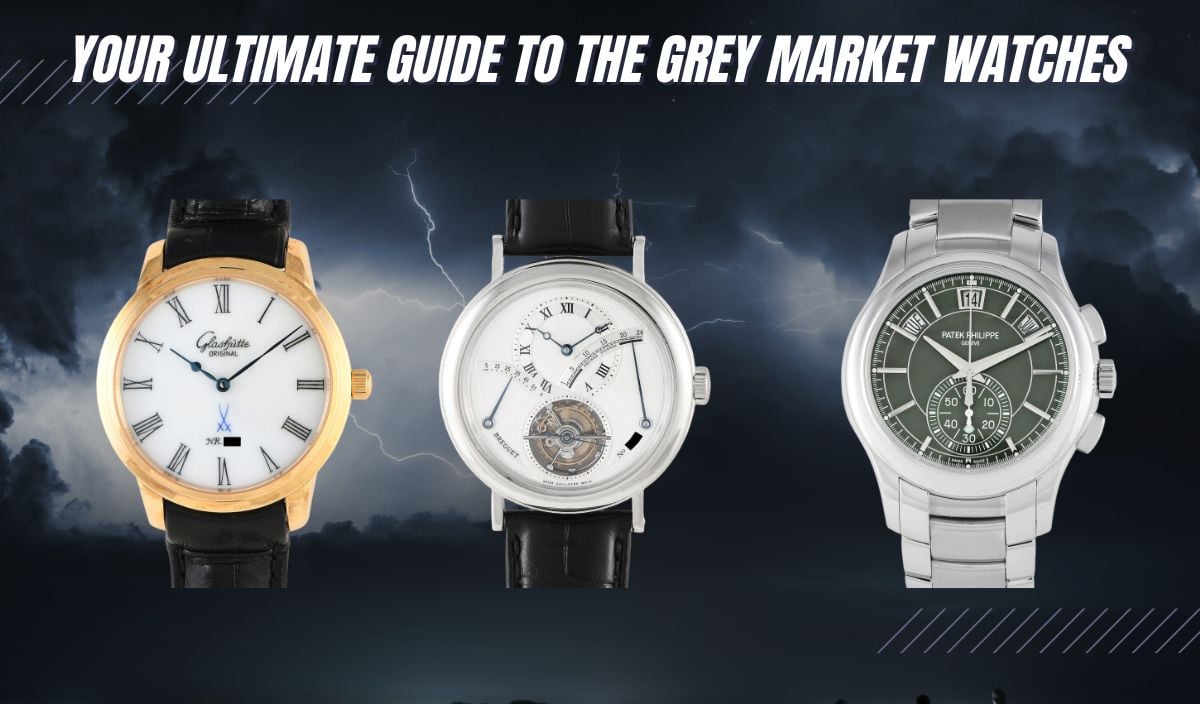 Your ULTIMATE Guide to the Gray Market Watches
Had your eyes on that 126613LB Bluesy? Did you walk into your local authorized Rolex dealer only to be told, "For display only"? Well, welcome to the club. Finding a Rolex, Audemars Piguet, Patek Philippe, or even Vacheron Constantin at an actual authorized dealer will be harder than finding a … I'm struggling to find something rarer than that.
Due to the boom in watch popularity in 2020, it is nearly impossible to buy the watch you want without spending thousands on other watches first. I have been on the waiting list for a two-tone Sea-Dweller for three years, and even though I have given them plenty of 'gifts', nothing. There must be another way of getting the watch you want, right? Gray Market Watches.
About Gray Market Watches
The term 'gray market' is merely a term used to denote that the dealer is neither authorized nor selling black market products. This is a perfectly legal practice, so you needn't be worried about legality issues.
Gray market dealers will simply buy watches from collectors, retailers, and other dealers and resell them on their own site/platform. This is an incredibly common practice and allows buyers to 'skip' the waiting line we so often see at certain watch companies.
The origin of gray market dealers isn't really known; however, in 2019/2020, the watch industry saw a massive boom in second-hand market sales. Some estimate that sales doubled in the span of 18 months, and it wasn't just with the gray market and private dealers. The Swiss watch industry reported a growth of 15.5% from 2019 to 2022 despite the pandemic.
Part of this was due to social media. We cannot deny that rappers and professional sports athletes wearing luxury watches do not influence the market. Hell, we even nickname some watches after famous individuals. Then came the onslaught of individuals focused on investing rather than collecting. All of this meant the rise of the gray market dealer.
Some of the more popular gray market dealers include Jomashop, an online site selling way more than just watches but also selling some other luxury products as well. Another popular one online is Luxury Bazaar, which sells more than just watches and is well known for its YouTube antics.
Are Gray Market Watches Legit?
Right, the big one, the one you probably clicked on this article for, "Am I getting a legit product, or is my Rolex going to be a Nolex when it arrives?". Great question, and the one you should be asking right out of the gate. If you're about to drop $15K on a Submariner, you'd want to be sure it's the real deal.
It depends. Watches are often faked; there's no surprise there. In fact, Havocscope estimates that 40 million counterfeit watches are sold globally each year (Havascope is an online database of black market activities). They also estimate the profits from these watches are close to a billion dollars each year.
Case in point, a fake vintage Daytona ref. 6240 was almost sold on Accademia Fine Arts, a Monano-based Monégasque auction house, in 2019. Other images of the 6240 were used on the listing, and when confronted with the information that the Daytona was indeed fake, the auction house agreed to pull the listing. They didn't, and the proven counterfeit still sold for a whopping EUR 78,000.
But the question still remains if the gray market watches are fake or not. It depends. What is key to understand is that a gray market dealer can buy from various sources, including:
The actual company: If the watch company either has a boutique or sells their watches online. This isn't extremely common, especially with high-end horology. That said, it would make sense to grab as many limited edition pieces as you can to resell later on when the demand has increased once again.
Other dealers: This is another way gray market dealers buy and sell timepieces. If you know you have a client looking for a ref. 5711, you might ask your list of 'friends' if anyone has one at a price that makes sense for you, the other dealer, and your customer. Then, you simply purchase the watch and sell it to your client.
From the public: This is the path that is most likely to yield 'bad' results for all parties involved. If the person is selling a fake watch and the dealer doesn't pick up on this, then they might accidentally end up selling a fake watch. This does not happen that often, though.
It's worth noting that not all gray market dealers are the same. Some only buy from watch companies, while others are happy to buy a watch from Joe halfway across the world.
It's somewhat important to know where your watch is actually coming from, but since you are buying it from a company and not someone off Facebook, you can contact them afterward to confront them if the watch is fake.
Another reason you are likely to find real watches from these dealers is the fact that they will do everything they can to improve the value of the watch. Marketing, polishing, cleaning, research, etc. When you spend that much time (and money) on a watch, you are going to see if something is up.
So, for the most part, gray market watches are legit, and there are ways of sniffing out what's real against what isn't. One way to improve your chances of never getting a fake watch is actually connecting with the individuals in the company. Similar to how you would approach the owners and salespeople at an authorized dealer, if you're nice to them, they end up being nice to you.
You're perhaps more likely to bargain with you and could even be more inclined to find a specific watch you are after. Consignment is not something every gray market dealer offers, but it's a useful tool and a nice addition to the sales pitch.
What to Look for When Buying Gray Market Watches
Obviously, various factors will influence your decision when choosing both the watch and the dealer. Let's discuss some of these:
Buy the Dealer, Not the Watch
Have you noticed how frantic collectors and buyers are about boxes, papers, and serial numbers? That's for good reason because that is how we judge how 'real' a watch is. Follow-up question, have you noticed that you might not always be able to tell a fake box from a real one? A fake warranty card from a real one? The thing is, most of us are very susceptible to 'finding the perfect watch' and overlooking glaring issues. Thus, buy the dealer.
What this means is that you should do research on the dealer. Delve deep, read the reviews, contact previous clients, etc. There are so many things you can do to make sure the dealer is actually legit. A seller's reputation will far precede themself, and doing a bit of digging will reveal whether or not you can actually trust the dealer.
There are a couple of websites/destinations you can use to get more information on the dealer.
Reddit: A great place to ask other buyers or people who have sold to the dealer. You can message the other folks on the forum but note that people can 'fake' stories by using a pseudonym.
Forums: Watch forums like Rolex Forums, Omega Forums, etc, which will give you some information on the dealer (if they are large enough). You won't always find the information you need on these forums; however, it's worth a shot.
Social Media: Websites like Instagram and Facebook might be able to give you relevant information. Most likely the dealer will have some kind of social media presence and if things look fishy or too good to be true, you need to be careful.
(Unlikely) Word of Mouth: If you are very well connected in the watch world, you might be able to ask your horologically-inclined friends whether or not the dealer you're about to approach is legit.
Another useful tool often overlooked is the 'Authorized' logo that some websites give. Chrono24 is a massive online watch sales site that allows private and gray market dealers to sell watches. If you are deemed 'good enough' by the company and by past clients, only then will you receive the 'Authorized' marking, making you far more trustworthy to potential clients.
And, if possible, go see the dealer. Talk to them, see what they're about. Talk about movements, the last Watches and Wonders, etc. This might not give you specific data, but sometimes trusting your gut is the best thing you can do.
What's Included in the Sale
As mentioned before, watches are usually sold as a 'lot' which includes the watch, box, and papers (warranty and booklets). Other things that might be included in the lot are extra straps, strap-changing tools, a loupe, a watch cloth, a screw-down caseback, etc.
The possibilities are endless, really; I've seen watches with lots so large you get tired of reading them. A good starting place is going to the manufacturer's site and seeing what is usually included in the lot.
Alternatively, you can look at other listings on other sites like Chrono24 to see what a 'Full Set' would consist of. It's not a massive red flag if the lot doesn't include everything usually sold with the watch; however, take precautions and use common sense.
Quality of the Watch
On to the biggie – what does the watch actually look like? Typically, companies will use a grading scale to determine the quality of a watch. These can differ from vendor to vendor; here's an example:
AAA: Completely unworn and like new
AA: May have been lightly worn/retail handling. May have light marks.
A: Worn. Marks, but not significant.
B: Significant marks which may not be removable.
C: Heavily worn. Significant marks/dents which may not be removable.
Vintage: Signs of wear and visible imperfections commensurate with age. Replacement components and case refinishing may be evident, and movement may not be running to the original specification.
Have a look at the watch. Scratches along the bracelet and clasp are incredibly common. Deeper scratches might be harder to remove with polishing, and deep scratches on the crystal are a big no-no – unless the price is right.
Having a watch polished won't be too expensive, but the costs add up. If they are expecting the same money from a mint watch as one that's been banged up, they are being silly. Not uncommon in the watch world…
It's impossible for you to see if the movement is working well, but some companies do specify whether or not the movement is working well. Movements can cost a pretty penny to have serviced, and opting for a watch that already has a good movement will save you a lot of trouble. This leads me to the next point.
Is the Watch Serviced?
According to SwissWatchExpo, a watch service can cost anything between $600 and $1200. Again, not a huge cost, but if you're buying a nice PRX for $450 second-hand and you have to pay another $200 for a service… See what I mean?
When purchasing a watch from a gray market dealer, you have to look at all the costs associated that an authorized dealer would just include in the final sale. A service, polishing, shipping, these things do add up.
Plus, if you are purchasing from across the border, you'll be paying import taxes as well. And if you do have the watch shipped, you rush down the stairs to collect the box, and you open the box in angst only to find… it's fake? What then?
Stop Buying Fake Watches
Fake watches are rampant in the world, and there's not much we can do about it. But you can make sure you don't buy a watch that is fake. This is especially common in the vintage segment as vintage watches can carry huge price tags and everyone is looking to make a quick buck. 
There are numerous guides online on how to spot a fake timepiece, and you have to be sure the watch you're investing in isn't fake. Here are some factors to look at where con artists usually make mistakes:
Date windows will often be the wrong color, wrong font, or wrong font size
Finishing along the case and bracelet will be shoddy and poor
Movement finishing (might) be visible if the model has a sapphire caseback
Font on the dial might have minor imperfections
Certain markings on the lugs, caseback, and bracelet can sometimes be forgotten
And then lastly, serial numbers. It's not often that a dealer will share these, but if they are willing to do so, you have a one-way ticket to see if the watch is actually real or not.
Consider the Price
Price will be one of, if not the biggest factor when purchasing a watch. Right off the bat, we know that if something appears too good to be true, it probably is. That John Player Special Daytona you found for only $100K might be more Nolex than Rolex.
There are no precise guides on what a watch will or should cost since the market determines that; however, you can look at sites like Chrono24 and WatchAnalytics to find the ballpark of what the watch is worth. Take note that a watch sold by a private vendor will always be slightly cheaper due to fewer 'fees' needing to be paid – this lower price, of course, comes with an increased risk of buying a fake watch.
Are They in a Great Hurry?
Ever noticed those sales that have to happen today or … I'm not quite sure what happens if the sale doesn't happen today, actually. Usually, these people are looking to scam you and are using sales tactics to try and allure you. It's extremely unlikely that a real gray market vendor will ever do this, they'll just run a regular discount/sale on a watch, so, if you see a 'Must Sell Today!" take caution and do plenty of research.
Dealers that 'Specialize'
You'll sometimes come across a gray market dealer that specializes in a certain style or type of watch – typically vintage offerings. These incredibly hard-working and precise individuals go to painstaking measures to ensure the watches they get their hands on are real.
If you are buying a high-value or vintage piece, you need to do even more research. You have to compare photos of your offering vs. real iterations, and you might need to use the 'zoom' function a lot. It wouldn't hurt to also have someone to discuss this with. All in all, the more value a watch carries, the more likely someone is to fake it.
Gray Market vs Authorized Dealers
As mentioned, there are two kinds of dealers which you can purchase from; three if you count boutiques as well. Gray Market dealers and Authorized dealers are vastly different from one another, so let's delve into some of the key differences that might influence your purchase.
Watch Availability
Let's face it you probably have been on the waiting list, or you've heard the words "Sorry, no stock" for way too long. There has been a mountain of cries from fans and collectors that authorized dealers should stop this silliness and just sell to the person who shows up first (I'll admit, I am one of them).
In case you are not aware, certain watch companies have been putting good folks on waiting lists. The problem is these are not really waiting lists. The way it works is they sell to their 'best friends', the people who have spent the most money at their company.
This would mean you need to purchase several other watches before you get the one you want. Gray market dealers, on the other hand, have no alliance. No flag. No 'best friends'. Money talks, and the one who shows up first wins.
Another factor to consider is that authorized dealers don't stock vintage watches, and if the limited editions are sold out tough luck. Gray market dealers have the ability to stock any and every watch they please – even a one-of-one. This, of course, does mean they can ask slightly more, but it's the price we pay for not waiting 5 years.
Pricing
To follow what I just hinted at, gray market dealers do charge more than authorized dealers. Let's look at an example, the Bluesy Rolex ref. 126613LB, 2023, unworn. Retail price sits at $15,600, while you might be expected to pay $18,288 at a gray market dealer while you would (perhaps) pay $17,553 at a private dealer.
Let's look at an example that has risen in price so much that it becomes questionable – the Patek Philippe 5711/1R. The retail price sits at $59,140 (as of Dec 2021), while the market price is estimated to be $190,088!
There is no getting around the fact that the watch market has exploded since 2020, and, unfortunately, this has made plenty of models inaccessible to most of us. It has been dying down the last few months, but you can expect to pay 10 – 100% more than retail.
Authenticity
We have gone down the rabbit hole of fake watches before, but just to double down on what we mentioned earlier, gray market dealers do run the risk of accidentally selling a fake watch. This is unlikely, especially if you opt for a trustworthy dealer.
This will never be the case with an authorized dealer – unless you purchase a watch out of a suspiciously marked van… Jokes aside, authorized dealers will sell you the real deal. This includes everything that should be included in the lot as well – box, outside sleeve, papers, swing tags, etc.
Warranty
As mentioned before, the repair on a watch can run you a pretty penny. If you bump your watch three days after purchasing it, you will wish you had a warranty. The problem is that most gray market dealers do not offer a warranty. However, there are some that do. Some gray market dealers offer a warranty on the movement or the entire watch.
You will (probably) get a warranty from an authorized dealer. These may vary from two up to eight years and typically covers most types of damage. Most movements will only need to be serviced after ten years, but the warranty gives you peace of mind in case the watch gets a booboo.
'Who are You?'
While I hate mentioning it, if you are to buy from an authorized dealer, you are more likely to be able to purchase a higher-value watch from them in the future. Authorized dealers 'guard' their best pieces for their best clients, and while this is completely unethical, I get it.
If you are going to buy from your local authorized dealer, they will probably place you higher on the 'waiting list' than you currently are. Of course, this isn't really a good thing if watch A isn't a watch you really wanted, but it's worth mentioning.
It's worth mentioning because gray market dealers usually carry a markup on the watches due to market value. The market value is solely determined by how little patience you have before you need the watch you really want. If you are looking to make a turnover on watches and perhaps look at investing, this is probably the way to go.
You might need to purchase a few lower-value watches before buying something that makes sense economically; however, with second-hand watches beating the S&P 500 in the last couple of years, it will be worth it in the end. Just make sure to buy the right ones…
Should you Buy Gray Market Watches?
Let's cut to the chase – should you buy a gray market watch? Well, it depends. While there are slight risks and some nuances to the transaction, there are certain situations where it would be far better to go for a gray market option:
Limited edition watches that have been sold out from your local authorized dealer will only be available at a gray market dealer. You might still need to do a lot of research to find it, and you might even need to ask them to find it for you, but it is possible.
If your authorized dealer isn't playing nice then you might need to resort to a gray market dealer because you have to. Do your research prior and make sure you have a trusted dealer and the watch is real.
Watches that are in high demand might also be hard to find at your local authorized dealer. Case in point, I haven't seen a Tudor Black Bay Pro at my local authorized dealer in 8 months because they never have stock. If I want one, I would need to find one at a gray market dealer and be willing to perhaps pay an inflated price due to high demand.
If the watch is no longer being produced or, in other words, a vintage timepiece, then you might need to resort to a gray market dealer – they tend to be slightly safer than going to a private dealer.
If you are looking for that 'AAA' option and you need to continue or start building a relationship with your local authorized dealer, then going to the gray market dealer would (obviously) be the second choice. Just know that authorized dealers do have their own drawbacks and benefits:
Sure, you might wait longer but you get the real deal which means you can sleep easily at night knowing your watch is 100% real.
You get the added benefit of a warranty period but keep in mind that plenty of gray market dealers have their own warranty protocol as well.
You build a relationship that allows you to purchase 'bigger' watches in the future. This isn't likely to happen with a gray market dealer, but they might be able to give you a better price if you continue coming back to them time after time. Gray market dealers that know you are also more likely to offer you investment pieces before they offer them to the public because they're helping someone who helps them.
In the end, the decision lies with you. For plenty of us, there is no other way but going through a gray market dealer – thank you waiting lists. All you need to do is ensure that the dealer is trustworthy and the watch itself is legit – no pressure.
Conclusion
Gray market dealers are an excellent way of getting the piece you want – now. They are also able to sell you discontinued or vintage options as well, something no authorized dealer ever will. That said, there is an inherent risk with buying from a gray market dealer, the risks being that the company isn't trustworthy and the watch might be fake.
Thus, when considering a gray market approach, you need to do a lot of research prior to putting down your $7K for that Speedy. It's not often that you will get robbed, it's far more likely with a private seller, but be vigilant.
Above all, ask and ask once more. Ask for references, reviews, images, serial numbers, and anything else you can think of. Knowledge is power in this case. So, call up your local Gray market dealer and tell 'em you're ready for your 'Sub; you're done waiting for a call; you are the one who calls now!
About Exquisite Timepieces
Established in 1998, Exquisite Timepieces is your one-stop shop for all things luxury watches! We are an authorized dealer for 60+ luxury watch brands including Omega, Hublot, Seiko, & Longines! We are proud to showcase one of the world's largest pre-owned watch collections, including renowned brands like Rolex and Patek Philippe. Check out our brand new watch arrivals here and popular pre-owned listings here.