Glashütte Original Watches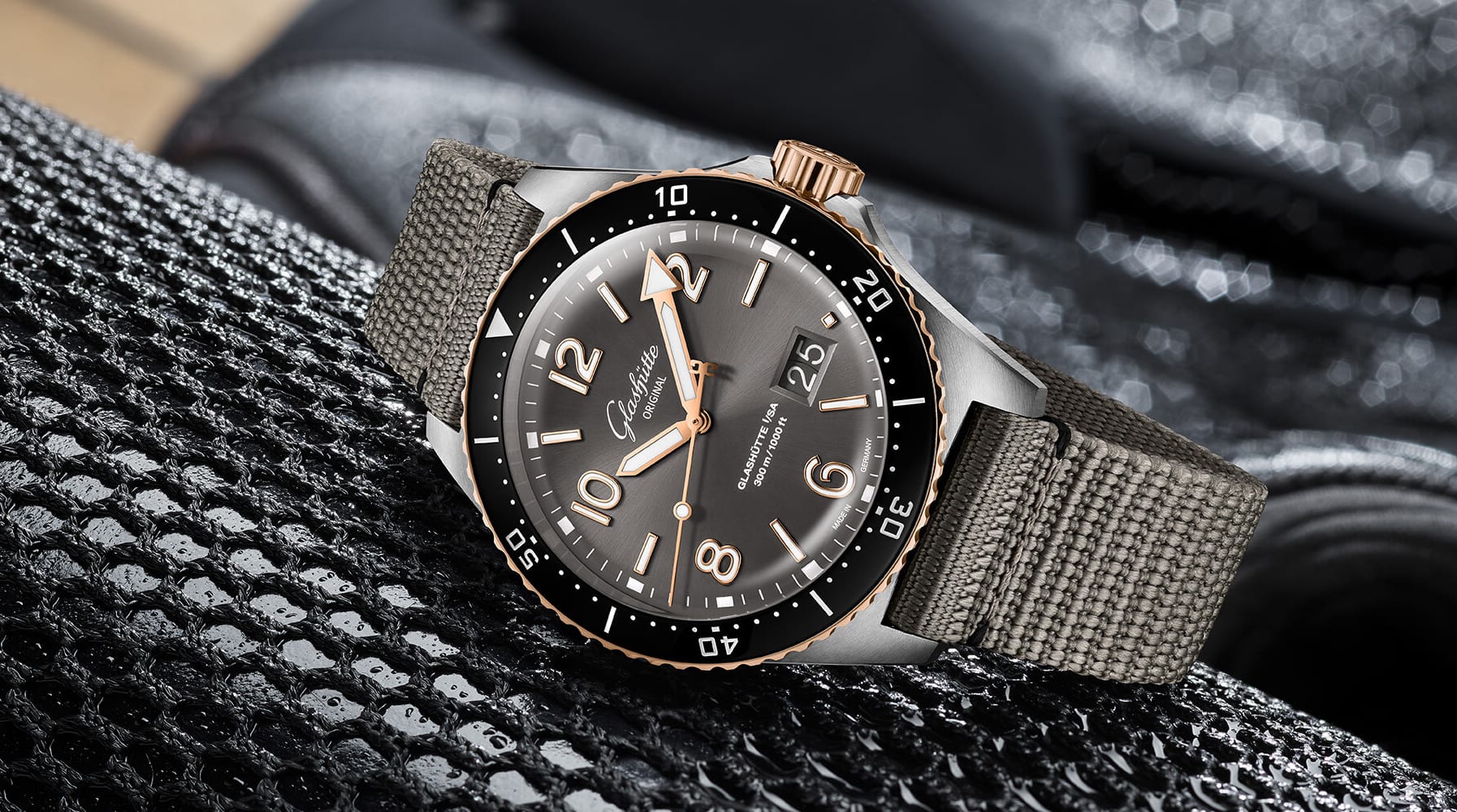 Glashütte Original watches are highly respected in the watchmaking community. Glashütte Original wristwatches deliver a distinct combination of elegance and functionality. Glashütte Original timepieces are well-known on the global stage as sophisticated travel watches. Features of their collections include classic dials, skeletonized designs, or multi-dial options with moon phase technology. Whether you need a glamorous wristwatch or a bold, aesthetically pleasing one, the Glashütte Original watch collection will pique your interest. Looking for Glashütte Original watches for sale without help can get frustrating. If you are looking for the best place to buy Glashütte Original watches, Exquisite Timepieces is a Glashütte Original authorized dealer.
Get a FREE Watch Winder with your purchase of selected Glashütte Original watches over $2,000. Terms & Conditions »
Glashütte Original Watches - Perfect Blend of Elegance, Sophistication, and Functionality
Glashütte Original was introduced in 1845. It was the year when the first watchmakers were settled in Glashütte. Soon, they realized that their dream was an independent industry of Saxon Watchmaking. Today, the brand carried its vision into modern times. Since 1988, the fine adjustment of swan-neck has been used. This efficient and elegant instrument is used to regulate the watch rate and a typical Glashütte feature.
When it comes to convenience to the traveler or a cosmopolite, Glashütte Original stood ahead. The watchmakers take their brand to the next level with Senator Cosmopolite. Introduced in 2015 in white and red versions, this travel watch is known for its exceptional design and functions. Undoubtedly Glashütte Original is among the best within the Swatch Group. Some of the popular Glashütte Original Watches are Glashütte Original Panomaticlunar, Glashütte Original sixties, Glashütte Original Senator Excellence, and Glashütte Original Panoreserve. All these watches are one more their kind and therefore, adored by different people at the same time. Let's talk about these watches in detail.
Glashütte Original Panomaticlunar Collection
Originally presented in the 2000s, the updated model came into being in 2015. Since then, it is presented together with its hand-wound sister- the PanoReserve. The clear graphics and elegant aesthetics make this watch stands apart. This unique German and quintessentially Saxon has an impression of mechanical integrity. The watch looks balanced and crafted with precise precision. The moon face indication in the watch seems like a touch of poetry.
The dial of Glashütte Original Panomaticlunar stands out with its galvanic finish, decentralized layout, and clear graphics. From warm yellow shade to cold blue tones, it catches the light and reflects in several shades. One of the main attractions of this timepiece is its deconstructed layout which recognizes as Saxon. It has two swan necks and it operates at 28,000 vibrations per hour. Overall the watch is pretty decent. Other than sharp, functional and elegant, it provides the undeniable Saxon charm along with a lot of mechanical pressure.
Glashütte Original Sixties Collection
Introduced in 2007, Glashütte Original sixties was a heavily inspired vintage model during the GDR period from 1949 to 1990. The watch has small details and is a pleasantly priced decent watch. This model indicates a proper dress watch with hours, minutes and seconds properly defined. The diameter of the watch is 39mm and it is quite calendrical with a profile of 9.4mm. The rose gold case of the watch is 39mm round and measures 9.4mm thickness, which is debted to a domed sapphire crystal. It is a water-resistant watch that resists water up to 30 meters. The finishing of the watch is really nice and it also features Glashütte ribbing, skeletonized rotor, and three-quarter plate. Regulated by a swan-neck fine adjustment, this watch has 21k gold oscillator weight and is adorned by a double G logo of Glashütte Original. Very close to the old GUB model. Speaking about the size, the diameter of the watch is 39mm. The 'sixties-style' dial adds a lot of flairs and it is suitable for daily wearing.
Glashütte Original Senator Excellence Collection
The first senator excellence model was introduced in 2016. The new in-house movement and the aesthetic attributes of this model make it pleasing to the people. Just like the older version, the new Glashütte Original Senator Excellence comes with the same diameter, but with a thinner bezel. The case is sharper and looks more elegant with brushed case bands.
The most important part of this model is the dial. It helps the user to read time which is also very pleasing to the eye. The traditional codes used in the watch with a white face, track, and blue hands and black Roman numerals make it unique. The watch is available in 3 versions, of which 2 are classical with blue hands, Roman numerals, and white dials. Both of the models are elegant and classy with a few traditional elements.
Glashütte Original Altenberger Strasse 1
01768 Glashütte/Sachsen
Germany
Telephone: +49 35053 46-0
E-Mail: info@glashuette-original.com
www.glashuette-original.com