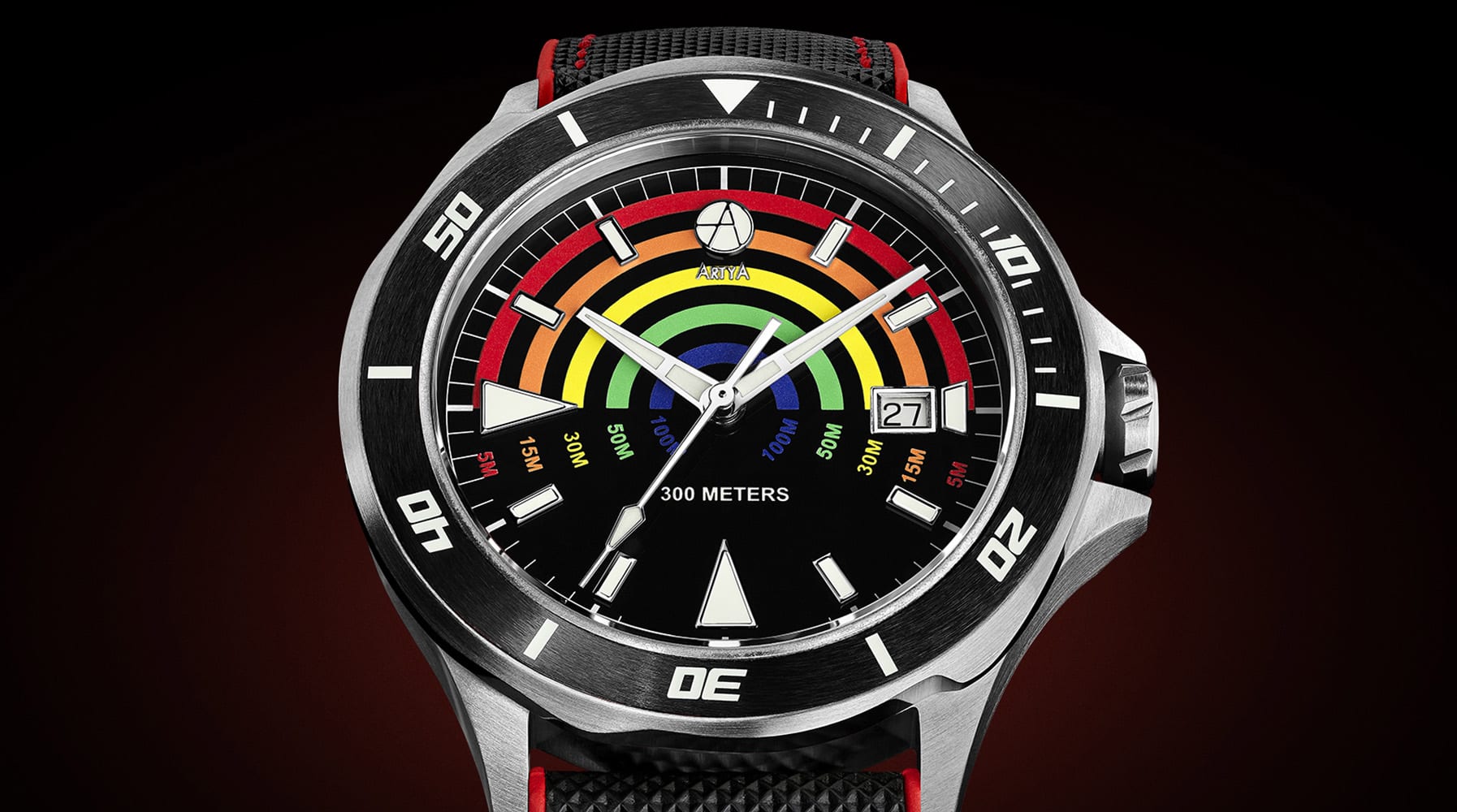 The ArtyA Trademark is synonymous with the highest Quality, Innovation, Creativity and Avant-Garde Concepts. All ArtyA Products are created with passion and love exclusively by Yvan Arpa, Artists and skilled Master Watchmakers, all of whom carefully select the best available materials, and the highest levels of savoir-faire.
Get a FREE Watch Winder with your purchase of selected ArtyA watches over $2,000. Terms & Conditions »
ArtyA - Emotion-Evoking Design Meets Luxury Watchmaking
ArtyA is a watch brand that will likely be unknown to many enthusiasts. But for those looking for an ultra-unique luxury timepiece, ArtyA might just be the brand for you.
Founded in 2010, ArtyA is the brainchild of Yvan Arpa, a man who has truly shaken up what most enthusiasts see as a rather conservative industry.
With their wildly unique, thought-provoking, and limited timepieces, ArtyA aims to evoke emotion and tell stories through their timepieces. After reviewing their catalog, we can confidently say that ArtyA has accomplished what they have set out to do.
As we explore some of ArtyA's different collections, it will be overly evident that design philosophy and innovative watchmaking are a top priority within the ArtyA brand.
ArtyA Watches Price Guide
Below is a table discussing just a few of the models that ArtyA has to offer, their prices, and a unique feature of each timepiece.
| Model | Approx. Price | Unique Feature |
| --- | --- | --- |
| Burgundy Red Chrono Crystal | $43,500 | Sapphire Case |
| Diver Green Sapphire Green Aventurine | $56,374 | Green Sapphire Case & Aventurine Dial |
| Fish Scales | $5,535 | Handmade Dial w/ Fish Scales and Gold Leaf |
| Son of Gears Steel Edelweiss | $6,100 | Skeletonized Dial |
| Star Prediction | $34,910 | Hand Engraved Gold Bezel |
| Snowflake Orange Fluo Carbon Bezel | $10,620 | Orange Forged Carbon Bezel |
| ArtyA Historic Gold | $39,428 | 18k Full Rose Gold Case and Hand engraved Dial |
| Son of a Gun Russian Roulette Mirror | $12,315 | Mirrored Dial w/ Real Bullet Inlay |
| Son of Sound Black Gold | $22,482 | Revolutionary Patented Case Shape/Design |
| ArtyA Fatal Skull | $23,612 | Handmade Silver Skull Cover & Real 5mm Bullets |
An Intricately-Designed, Yet Sporty Timepiece - ArtyA Chronograph Collection
The Chronograph collection has a case diameter of 43mm; while they aren't the largest timepieces in the catalog, they certainly are one of the more modestly designed collections. The standout feature of the Chrono Collection has to be the beautiful enamel dials that come in a few different colors, including blue, brown, khaki (green), and black. The chronograph collection offers some incredibly great designs for the chrono lover in us all.
Eye-Catching Dials in a Domed Case - ArtyA Dome Collection
The Dome collection might look like a stunningly simple design. But when examined further, you realize that not only is the sapphire crystal domed but the hands and dial are domed as well! The Dome collection focuses on dial design by utilizing unique stones like malachite, onyx, and chrysocolla. One variation even uses real, ethically-sourced butterfly wings as a dial design. Overall the 41mm cased Dome collection is fun and pleasing to the eye.
A Watch that Changes Color Throughout the Day - ArtyA Purity Tourbillon Chameleon
Hold onto your hats for this one, folks. Not only does ArtyA manufacture a flying tourbillon that is 17mm in diameter, 50% larger than most other tourbillons, but it goes the extra 100 miles and cases an already amazing complication in an unbelievably unique nano sapphire case that actually changes color! This ArtyA-exclusive technology utilizes the difference between natural and artificial light to change the color of the case as the light passes through. While it is still new technology, we hope it is utilized more in the future.
A True Dive Watch With a Unique Depth Gauge - ArtyA Depth Gauge Collection
The Depth Gauge collection offers an amazingly simple way to tell the depth at which you are diving. It uses a rainbow-like dial with a depth rating corresponding to a unique color. As you dive deeper, the colors on the watch dial begin to disappear. You can quickly check your depth by seeing what colors are still visible on the dial. This very simple yet unique dive watch is purpose-driven for those with a sense of adventure.
The Butterfly Effect - ArtyA Son of Earth Butterfly Collection
As mentioned earlier, ArtyA uses some very interesting materials in their watch designs, one being ethically sourced butterfly wings. The Son of Earth Butterfly collection uses real butterfly wings from butterflies that have died a natural death. Some of the most stunning timepieces in the collection combine the unique and never duplicated butterfly wings and the color-changing nano sapphire case. These are truly beautiful.
A True "Snowflake" - ArtyA Son of Alps Collection
The ArtyA Son of Alps collection is another instance in the catalog where the primary focus is the combination of design and technology being one and the same. The beautifully skeletonized manually wound movement creates a snowflake design that acts as the dial for the watch. Due to this design, the case thickness is a slim 12mm. The overall case diameter is a little large at 44mm, but due to its thinness, it wears well and can slip under most dress cuffs.
A Trip to The Stars - ArtyA Son of Gears Star Collection
Like many of the collections in the catalog, the avant-garde design language of the Star collection is enough to make the average person double-take and question what they are looking at. Like the "Snowflake", the Star collection utilizes a skeletonized movement in the shape of a star (surprise, surprise) as its dial. The Star collection also offers a steel variation on a bracelet, one of only a few bracelet options in the catalog.
Rev Up Your Engines - ArtyA Race Collection
The defining design language for the ArtyA race collection is the movement in the dial. Now when we say movement, we mean actual movement; this dial actually spins! The fast-spinning dials are inspired by the world of auto racing and are a petrolhead's dream! The cases come in either a DLC or PVD coating, and look the part for anyone participating in a track weekend or automotive event.
Dive Into the World of Colored Bezels - ArtyA Diver Crystal Collection
The Diver Crystal collection brings a bit of sophistication, personality, and a whole lot of color to the dive watch sector, which can sometimes feel a little sterile and surgical. This collection is most definitely for the avid enthusiast looking to spice up the collection with an oddball timepiece without venturing too far into the unknown.
To Top