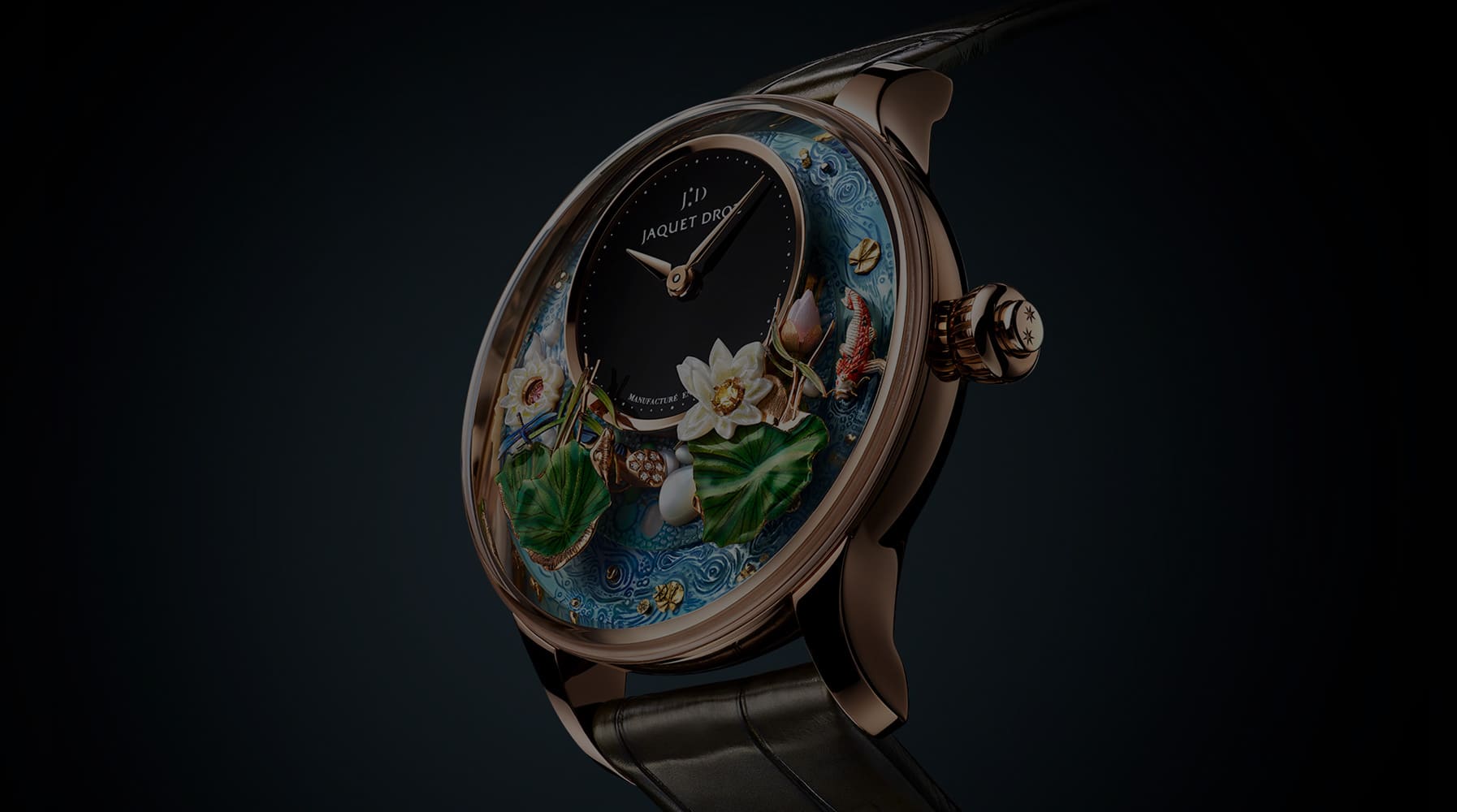 Jaquet Droz watches are known for their dial-size variety and intricately enameled timepieces. Jaquet Droz wristwatches focus on the balance of elegance and simple mechanics. As a high-end timepiece, the complex and artistic craftsmanship does not go unnoticed. With a slim construction and appealing design, these Jaquet Droz watches are considered exceptionally refined pieces. For exceptional timepieces, consider the Jaquet Droz watch collection. Attempting to find Jaquet Droz watches for sale can get stressful without the right help. If you are looking for the best place to buy Jaquet Droz watches, Exquisite Timepieces can assist you. Exquisite Timepieces is a Jaquet Droz authorized dealer.
Get a FREE Watch Winder with your purchase of selected Jaquet Droz watches over $2,000. Terms & Conditions »
Brand Review: Jaquet Droz Watches
Watches with automatons, gold filigree work, and detailed enamel painting just popped up and flashed right in front of my eyes with a mere mention of this word.
Jaquet Droz might appear as an ultra-traditional watch brand for you, or you might just think it is about making a watch fancier and more detailed, and that's it.
But that is not all. Jaquet Droz is a lot bigger than this.
I mean take a look at The Grande Seconde Moon Onyx.
With the brand's famous silhouettes, and rendering which has been done in a very modern way, this watch is a revolution in the world of timepieces. A stainless steel case and an onyx dial enable Jaquet Droz to claim a bigger position than being just an ultra-traditional brand. This clearly tells that Jaquet Droz is not only a luxury watch brand. It's a lot more than that. Let's know more about it in this article.
History
Pierre Jaquet-Droz was born in 1721, on a farm in La Chaux-de-Fonds. Having a strong fondness for clock making and timepieces, he learnt about clock making and precision mechanics from older relatives of the Brandt-dit-Grieurin, Sandoz, and Robert families. Their coaching and guidance became a true revelation for him in establishing a reliable timepiece brand. For 9 years, Pierre Jaquet-Droz devoted himself completely to clock making, to perfect the art of making timepieces.
Speciality
The introduction of series of longcase or grandfather clocks became highly popular among masses because of the sophisticated movements and the outclass craftsmanship. His skill & dexterity along with attention to detail and professionalism led him to enrich watchmaking by inculcating music and automata.
His novel and unique idea attained popularity quite quickly. Pierre's creations were noticed by the elite and affluent circle,who became his regular clients within no time.
Inspiration
Although it's been 200 years, the brand Jaquet Droz came into being, there is still a gap of 200 years in the new Jaquet Droz. Despite this huge gap, the brand has upheld its inspiration and principles of keeping up with the aesthetics and the spirit of the 18th-century original.
Design
The seconds sub-dial of Jaquet Droz is larger than the other dial. The figure '8' can be found on many of the brand's pieces with the help of overlapping sub-dials. This has created a recognizable brand identity for the revived company. The company produces limited editions of watches in a series of 8, 28, or 88 watches. You can find Jaquet-Droz's cloverleaf signature on the dial or corner of movements. The signature resembles the secret signature of Breguet.
Types
One of the key pillars of Jaquet Droz's contemporary collection is Grande Seconde family. There is a large variety of watches united by the namesake sub-seconds register. In some watches, this register is directly below the hours/minutes dial, forming an "8" pattern. In other watches, it is off-center or even integrated into a tourbillon.
The contemporary watches feature minimalistic dials that have a lot of open space. This is their effort to pay tribute to and honor their 18th-century pocket-watch counterparts. In 2012, Jaquet Droz started reproducing the most popular and iconic timepieces by Pierre – automata. Another innovation in the world of horology is the launch of Bird Repeater, which features a minute repeater. The animation of birds feeding their chicks and hatching of one chick from an egg are not only visually appealing, but they make watchmaking more fun and innovative. The bird repeater is a lot more than a timepiece-it is a work of art. With its dial having a painting of the Saut du Doubs waterfall, this was a limited edition watch with only two editions of eight. One edition was prepared in 18K gold and the other set with diamonds. In its other iconic design of The Magic Lotus automaton wristwatch, an unprecedented animation lasts for more than four minutes. It is adorned with an animated fish swimming through the water and zen garden theme featuring four flowers; each flower representing one season. The tiny and minute details on the dial of this watch make it unique in the world of wristwatches. The movements contain more than 500 parts, and this special edition was limited to 28 pieces.
Features of Jaquet Droz Watches
Jaquet-Droz is probably one of the unique watches brands existing today. Shaped by its history, its inspiration, designs, and perfection of craft and jaquet watches prices are some of the features which set it apart from other luxury watches brand in the industry. Jaquet Droz functions following these 8 features:
1. Grande Seconde
The rendezvous of the hours and minutes counter with seconds counter on a single dial is the classiest and most poetic thing in the world of horology. Lying at 12 o'clock, the minutes and hours arms meet the seconds counter, situated at 6 o'clock. With two subdials on a dial, figure 8 imparts the rarity of limited editions and the most exclusive pieces in timepieces. Figure 8 symbolizes infinity and eternity, which are considered as Jaquetwatch's significant, magical and numerological references. The setting of subdials, in an off-centered manner, presents a new way of viewing time by playing with Arabic and Roman numerals.
2. Automata
Jaquet Droz's automata amazed many royal audiences at that time. The imagination, inspiration, perfect, and craftsmanship became the reason to make this brand unique. With its fully animated timepiece The Bird Repeater and miniature singing bird wristwatch The Charming Bird, Jaquet Droz revolutionized the art of luxury watchmaking. The Jaquet Droz Lady 8 Flower is the first automaton dedicated to women especially. Inspired by the celebrated birdcage automata of the 18th century, these watches are a breeze for the industry of wristwatches.
3. Ateliers D'art
The Jaquet-Droz family were pioneers in the art of luxury decoration in the 18th century. Painted cases decorated with papillons, patterns on enamel, and engraved ornamentation gave the clock making a whole new dimension. The special decorative techniques were adopted to make timepieces real pieces of art. With their exceptionally skilled and knowledgeable craftsmen, Jaquet Droz Ateliers d'Art excelled in combining decorative arts with timepieces.
4. Grand Feu Enamel
At Jaquet Droz, the traditional production method is combined with the latest generation technology to keep up with the latest trends in timepieces and the technical constraints. With the help of ultra-fine powders and precision kilns, the dexterous watchmakers at Jaquet Droz manufacture these magnificent dials, which are of the finest quality and appearances. Once a piece has been worked on, it cannot be changed.
The enamel and painting on dials retain its beauty and charm for centuries. One of the distinctive Jaquet Droz timepieces Grand Feu enameling has been reinterpreted by the brand in its contemporary collections.
5. Watchcase
The watchcase is yet another work of art and perfection. It is a treasure chest full of mechanical wonders. Beautifully curved and perfectly fit; it is designed and made carefully to contain remarkable movements. It is made of stainless steel, ceramic, titanium, and gold, which enhances the feel and vibe of the actual timepiece. Droz Jaquet uses a unique type of sapphire crystal directly inspired by the pocket watches of the 18th century.
6. Exceptional Mechanisms
The cutting-edge watchmaking technology combined with timekeeping creations make Jaquet watches outshine others in the watchmaking industry. The self-winding and hand-wound movements are finalized and assembled by hand before engraving the secret signature cloverleaf. The most revolutionary movement change in the Jaquet Droz took place in 2014 when silicon balance spring along with inverted horns on the pallet fork were introduced in its design.
There are only a few watchmakers who know the art of using highly flexible material silicon. It is ideal for watchmaking because it can tolerate shocks, temperature and pressure variations, and magnetic fields and is also capable of maintaining perfect stability over time. Jaquet Droz does not express time in one dimension only; rather, it indicates the phases of the moon as well.
7. Minerals
The various earthly elements, such as rocks, crystals, and minerals are proof that nature is the ultimate artist. Jaquet Droz uses the natural brilliance of stones and adorns the dials of watches with them. These rocks are set after refining them to perfection, and this makes mineral watches by Jaquet Drozreally unique. These amazing pieces of nature are a source of beauty, class, uniqueness, and radiance because of their play of light, color, and cuts.
8. Numerus Clausus
Droz watch excels the art of uniqueness and exclusivity with its ever so unique creations its Numerus Clausus editions limited to 1, 8, 28, or 88 pieces. Today is an era of Haute Horlogerie, with an eternal longing for elegance combined with functionality and aesthetics, Jaquet Droz watches are a delight for people across the globe.
Jaquet Droz: Review Wrap-Up
Jaquet Droz not only makes luxury watches, it offers its services as a watch boutique where you can design and customize your unique pieces on request. With cutting edge quality and market competitive Jaquet Droz watch price, it is an outstanding experience to feel the luxury and excellence of this piece of craftsmanship.