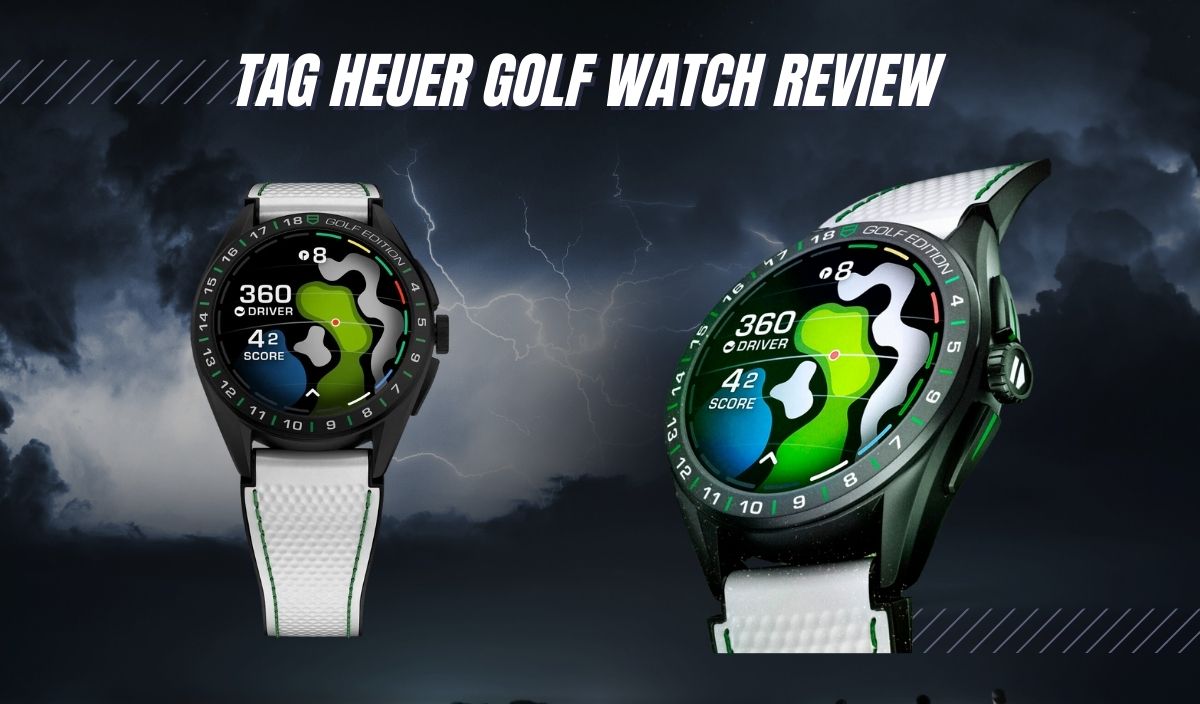 TAG Heuer Golf Watch Review (The ULTIMATE Tool For Golfers!)
Before I knew what a rehaut and polished center links were, whenever I heard the name 'TAG Heuer', I always thought of golf since they sponsored so many different competitions and athletes. Now that I'm a teeny bit wiser, I know that Heuer finds its roots in motorsports and sports chronographs.
That said, the TAG Heuer Golf was specifically developed for golf players. Whether you're tracking shots, monitoring your health stats, or simply checking the time, the TAG Heuer Golf watch offers a unique and practical wearing experience. But is it any good?
About the TAG Heuer Golf Watch
The Golf forms part of the 'TAG Heuer Connected' range, the smartwatch that has been in production since 2015. In fact, upon its release, it was the first Swiss smartwatch on the market. Sitting in a company of sports-focused models, the Connected had similar sporting credentials but with a keen focus on 21st-century technology.
The original Connected was housed within a Carrera-style case and allowed the user to use apps like Google. Since 2015, there have been four different versions of the Connected:
1st Generation (46mm), produced from 2015 to 2017
2nd Generation (45 and 41mm versions), produced from 2017 to 2020
3rd Generation (45mm), produced from 2020 to 2022
4th Generation (45 and 42mm versions), produced from 2022
The TAG Heuer Golf falls within the Connected range with a keen focus on, well, the sport of golf. Revolutionary name if you ask me. The Golf offers golfers key features and functions vital to the game.
Create accurate 3D renderings of your ball's trajectory
The ability to review the previous shot to determine the next
Digital score-keeping
Five golf-inspired watch faces (dials)
The most recent release is called the Calibre E4 Golf Edition, which was released in 2022 and offers an elevated wearing experience to those that usually wear the Apple watch to golf.
History of TAG Heuer Watches
TAG Heuer has been around for quite some time, since 1860, to be exact. However, it started off as Uhrenmanufaktur Heuer AG. Under the leadership of Edouard Heuer, the brand became incredibly famous as one of the leading sports-focused brands on the market.
After helping the development of the first automatic chronograph in 1882, the floodgates were opened for innovations and iconic watches.
The Autavia was a dashboard timer used for automobiles and aviation at first but later on became one the most beloved models in the range.
The Carrera chronograph (designed by the famous Jack Heuer) was a simple and no-nonsense chrono developed to be offered in various iterations and is still in production to this day.
The Monaco not only has one of the most iconic designs, but it was also the first square chrono to hit the market. It was also worn by Steve McQueen in the film Le Mans as he portrayed racer Michael Delaney.
Fast forward to the year 1985, and the company TAG purchased Heuer to form TAG Heuer (who knew?!), and in 1999 the company was purchased by LVMH Moët Hennessy Louis Vuitton S.A. for a whopping CHF 1.15 billion (£452.15 million or USD 739 million).
Unfortunately, since the purchase by TAG, many fans feel like Heuer has lost their way and not stuck to what works. Complaints include not using in-house movements, high prices, and overproducing certain models as 'special editions'. Whatever your opinion is, TAG Heuer is still beloved by many, and with many of their recent releases being amazing hits.
The TAG Heuer Golf Watch: TAG Heuer Connected Calibre E4 Golf Edition
As mentioned, the Calibre E4 is the newest release of the Connected range, launched in 2022. This iteration is meant to be everything the modern golfer could ever need, priced just north of $2,000.
Build Quality
As you might expect, with a smartwatch priced north of 2K, you get better build quality than some plastic covers… There are currently two different options available, a 42mm and a 46mm one. Just like 'normal' watches, there are several materials for you to choose from:
Titanium construction with a black DLC coating matched with a sapphire crystal and rubber strap (SBR8080.EB0284). Next on the list is the steel option, featuring a brushed case with polished edges. Securing this option to the wrist is a steel bracelet with a similar brushed and polished design (SBR8010.BA0617).
The quality of the watch is rather impressive, considering it is a smartwatch. With the polished outer case and brushed main body, it resembles the idea of a sports watch perfectly. Depending on which option you go for, you might end up with a case on a bracelet that can actually be worn to work, or if you really are only using this for golf, the rubber strap options have been garnering a lot of attention online.
To the right, we have the typical crown and pushers as you might find on a classical chronograph. A quick-release function on the strap or bracelet makes for an easy and secure wearing experience.
Display
No arguments over which is better – sapphire, hardlex, mineral, whatever. Here, we get a sapphire crystal (okay, so some arguments will occur) behind which we find the 1.39-inch AMOLED with 454×454-pixel resolution. The display has functionality dialed to 11 (or 18, if you will), including:
The ability to create accurate 3D renderings of the course you just created
The display can also show you how your next shot could look based on which club you end up using
2D renderings of more than 40,000 courses worldwide
Keeping score of your game and previous games
The display is remarkably legible, and reports from users claim it is extremely usable on the course. Combined with the processor inside, reports indicate the average battery use is around 2% per hole.
Crisp, legible, and vivid. This is actually a really good display unit.
Smartwatch Features
The bulk of the article and the watch is the features. This is what you pay for in the end – apart from the TAG Heuer logo. Being a smartwatch to the core, there are several features that are not limited to golf:
Time: As you might expect from a watch, you have the ability to track time from various time zones using the connectivity.
Improved battery: Compared to the previous iteration, the Calibre E4 has 30% more battery than before.
Bluetooth 5.0: Bluetooth 5.0 is the latest version of the Bluetooth wireless communication standard. This means improved speed and connectivity.
GPS: You have the ability to track your movement on your wrist.
Heart Rate Sensor: This is standard with most modern smartwatches and will allow you to track your heart rate while on the move or in the middle of a swing.
NFT Viewer: Perhaps the most whimsical of all the features the watch offers is the ability to view your NFT on the dial of your watch.
'Change your dial': If you dislike the idea of being married to one dial for life, there's hope. The dial on the Calibre E4 can change into several different images, including many that were inspired by golf.
As far as smartwatches go, this can hang out and play with the rest of 'em. You have the ability to connect to Google, track your heart rate, steps, and with the new Bluetooth 5.0, connecting to your phone is a breeze.
However, it must be said that, thanks to the case housing all of these nifty little tricks, it is rather robust, thick, and hefty. This might not be the best option if you're actually looking for a watch to track your daily living. Some folks report not even sleeping with it since it's such a large and cumbersome piece.
Golfers report that the smartwatch functionalities of the TAG Heuer Golf are up to par with those of other smartwatches on the market.
The Companion App
The Companion app is simply an app that you download on your phone, which then integrates with the watch itself to display all the different tracking metrics you have been gathering. Designed with sports fans in mind, this can be used for cycling, running, swimming, and various other activities as well.
Golf Features
To the belly of the beast, the eagle between the birdies, and the … I've run out of metaphors.
The TAG Heuer Golf was obviously developed to be a watch worn by golfers to be used on the course and in daily life. So, what does it offer that other smartwatches simply won't? Well, thanks to the Qualcomm® Snapdragon Wear™ 4100+ chipset within, there are plenty of features to discuss:
TAG Heuer Wellness: This isn't strictly a golf feature; however, it feels at home here. This is your typical fitness app – so you can expect step tracking, calories burnt, heart rate, etc. This is actually vital to those who are prone to health risks while golfing; even though golf isn't the most intense of exercises, there is still a risk.
Shot tracking: This is perhaps the main feature of the Golf – the ability to display 2D maps of more than 40,000 different golf courses across the world. Not only will the terrain be illustrated, but so will the hazards. Once your shot is complete, the watch will allow you to record your shot and information about that watch. The distance, ball's trajectory, etc, will all be recorded.
Statistics and Score Keeping: While I personally find golf scorekeeping a bit odd, the phone combined with the app will allow you to track your scores (and your friend's) comfortably.
Club Recommendation: The slogan of the watch is, after all, 'A Caddy on your Wrist'. A caddy is usually the person who gives you advice, and in the case of the TAG Golf is the rather intriguing feature of club recommendation. The watch calculates your position and distance to the hole to calculate the perfect club for the job.
Built-in Magnetic Ball Marker: The buckle can be removed to mark your ball while on the green.
Battery Life
Battery life will always be the struggle of many electronic devices. No Seiko-shuffle here; you're going to have to make sure you charge your watch for it to work. While this watch does display the time, day, date, and year, it certainly isn't a true perpetual calendar…
Whether you're going for the larger or smaller case, both of these have similar batteries within. Charge time for both is rated at only 1h30 and is believed to last you "A full day including a one-hour sports session**".
But is this really true? Well, reviews of the Golf online all state that you can get more than 5 hours of golfing on one charge and that the battery life is approximately 30% more than the previous version.
Strap
One rather quirky part of the Golf is the number of different strap pairings that are offered by TAG. Just about every different color combination is available:
Black rubber
Brown leather
Light blue rubber
Red rubber
Orange rubber
Steel bracelet
Black leather
Grey leather
Each strap is secured with a folding clasp.
Should You Get a TAG Heuer Golf Watch?
And now we finally get to the belly of the best – should you actually purchase one of these watches? Well, it really all comes down to what you value and what's not so important to you. Let's start off by listing the pros and cons of the TAG Heuer Golf.
Pros of the TAG Heuer Golf
Titanium case: Unlike some other smartwatch offerings on the market, TAG did not skimp on the case material nor the case finish, combining titanium with expert finishing methods, including a brushed case with polished edges.
Sapphire glass: Unless you're looking for that vintage hue, a sapphire crystal should be standard – and it is. Visibility should be a breeze with the use of a scratch-free sapphire crystal.
iOS and Android: You should have a no issue connecting your watch to your phone, seeing as the Golf offers compatibility with iOS and Android phones.
Build quality: As you might expect from a timepiece carrying the TAG name, the Golf offers great build quality far exceeding some other smartwatches on the market.
Ball markers: Are built into the watch strap, allowing you to put on the green with even less stress.
Still a smartwatch: It's still a smartwatch that, besides all the various golfing attributes, has plenty of functionality in your day-to-day life.
Cons of the TAG Heuer Golf
Price: There is no getting around the fact that this is perhaps the most expensive golf watch on the market. Sure, it might be leading the pack in terms of tech and attributes. However, one begins to wonder whether or not the TAG name isn't forcing you to pay slightly more.
Size: Besides the thickness, the smallest option is 42mm. For some, a 36mm is the absolute max that'll fit on their wrist, and the idea of owning a 42mm is something that they could only dream of.
No Hands-Free calling: Pretty self-explanatory. Sure, you could argue that this isn't something essential for a golf watch; however, it's still a smartwatch, after all.
Interface problems: As with most tech, some people struggle a lot. The interface isn't the easiest to deal with, apparently, and you might need to have a lot of patience to succeed.
So, at the end of the day, it really boils down to whether or not you're willing to spend a considerable amount of money on a considerably large watch that is hard to understand but also the best golf watch on the market.
Take some time to understand all the tools and tricks the watch has to offer, and you should be reaping the rewards very soon.
Conclusion
All in all, the TAG Heuer Golf is a great watch and a good buy – if you're a fan of golfing. If you're about as interested in swinging a club as you are doing your taxes, you're better off spending your $2,000 on… well, your taxes.
The Golf doesn't necessarily offer something unique or groundbreaking, but it does everything extremely well. This, of course, makes it lack a 'wow' factor, but it also allows it to work well enough on 99% of occasions. I would end with 'It's incredibly expensive'; however, after Googling what a set of clubs cost, you know what you can expect.
With plenty of different strap and dial options to go for, the Golf does offer a slightly unique visual appeal without going too far out of the box. The size prevents it from being subtle, but it surely isn't loud.
About Exquisite Timepieces
Established in 1998, Exquisite Timepieces is your one-stop shop for all things luxury watches! We are an authorized dealer for 60+ luxury watch brands including Omega, Hublot, Seiko, & Longines! We are proud to showcase one of the world's largest pre-owned watch collections, including renowned brands like Rolex and Patek Philippe. Check out our brand new watch arrivals here and popular pre-owned listings here.