10 Best Garmin Golf Watches (For ALL Golf Aficionados!)
These cutting-edge timepieces blend eye-catching design with unrivaled technicality, providing golfers with a digital, caddy-like experience right on their wrists, whether you're a seasoned pro or just teeing off your golfing journey.
From the sleek and stylish to the rugged and sporty, each watch on this list boasts countless features tailored to your unique needs. Expect precise GPS tracking, swing analysis, hazard mapping, and even smart notifications to keep you connected on and off the green.
We'll delve into tech specs and pricing aspects to help you make a hole-in-one investment. So, gear up and join me on this tech-driven tour as we tee off to explore the ten best Garmin golf watches!
Tee Time – About Garmin Golf Watches
Fore! Calling all golf aficionados – Garmin golf watches are here to revolutionize your swing! These digital innovations are more than just stylish accessories; they're a modern golfer's best-kept secret for unlocking peak performance on the green.
So, what sets Garmin apart in the golf watch arena? Perhaps it's their winning combination of cutting-edge technology and meticulous design. Maybe it's their precise GPS tracking, swing analysis, and hazard mapping.
Garmin's smart notifications feature keeps you in the loop without missing a beat, even during the most intense matches, so you'll stay connected without losing focus. Gone are the days of guesswork and guesstimates. Garmin golf watches bring virtually complete accuracy to the tee. So, grab your clubs and prepare to experience golf like never before.
Finding a Hole In One – What To Look For In Golf Watches
Teeing off on the green has never been more high-tech, and golf watches have fast become the caddies of the future for discerning players. Let me offer some brief guidance to up your game.
Course Coverage
Like a well-prepared golfer, your watch should have an impressive knowledge of the terrain. Look for a golf watch that offers extensive course coverage, preloaded with thousands of golf courses worldwide. You never know when you might find yourself on a new course.
GPS Accuracy
In golf, precision is the name of the game. The best sports smartwatches provide pinpoint GPS accuracy, offering detailed yardages to the front, back, and middle of the green. Bonus points for watches that account for hazards and doglegs!
Battery Life
The last thing you want is your watch dying on you mid-game, so a solid battery life that can endure multiple rounds on the course is crucial. Remember, you'll likely be using other features like GPS all through play, so a reliable battery is a must for uninterrupted golfing.
Top 10 Best Garmin Golf Watches
With that said, let's have a look at which are the best Garmin golf watches for all golf aficionados:
1. Garmin Approach S62
The Approach S62 has a rechargeable battery that provides an impressive 14 days in smartwatch mode and 20 hours in GPS mode – keeping you in play both on and off the course.
Bigger and bolder, the 1.3-inch color touchscreen display is 17% larger than its predecessor, Approach S60, and you can personalize it endlessly on Garmin's web store. Navigate the green like a pro with PlaysLike Distance and Green View, which lets you visualize each green's shape. Handy.
Stay ahead of the game with PinPointer, providing directional assistance on blind shots and Hazard View, quickly highlighting critical distances to avoid obstacles. And, with over 41,000 preloaded CourseView maps, your global golfing adventure knows no bounds.
At 47mm, the case sits boldly on any wrist but remains surprisingly unobtrusive when worn, and at $499, it's a great throughroad between affordability and functionality.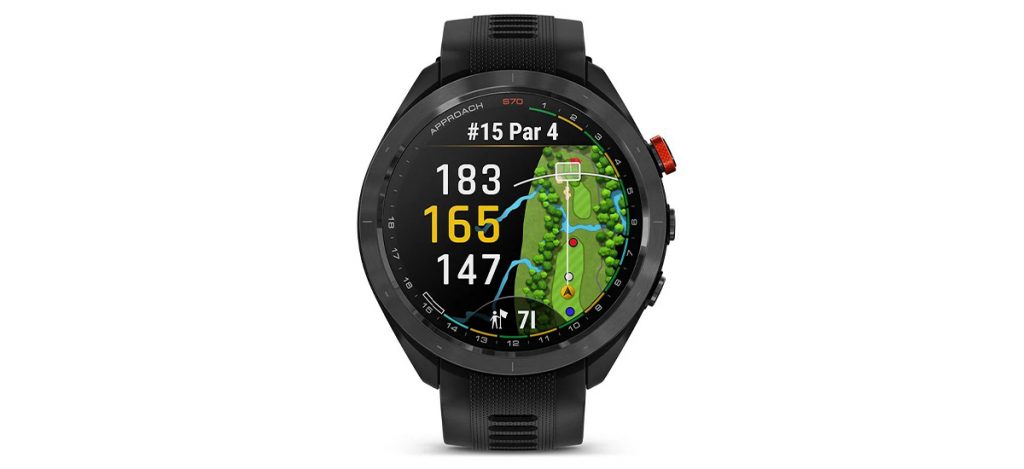 Garmin's Approach S70 is a top contender in the world of golf watches, thanks in part to its dazzling 1.4-inch AMOLED touch display. With access to over 43,000 (yeah, that many) full-color CourseView maps, it brings the world's finest golf courses to your wrist, ensuring you're always a step ahead, no matter where you're playing. The new and improved Virtual Caddie provides club recommendations based on wind, elevation, swing data, and more.
You'll never second-guess your club choice again. Immerse yourself in the details with the Green Contour Data, revealing the slope direction of select greens, enabling you to strategize your approach and sink the perfect putt.
While you're not conquering the course, take advantage of the sports apps, offering preloaded activity profiles for strength, HIIT, yoga, running, and more. This timekeeping marvel also keeps a keen eye on your health and fitness, featuring wrist-based heart rate monitoring, stress tracking, and HRV status insights. This is truly an all-bases-covered watch, and you can get it for just $699.
3. Garmin MARQ Golfer (Gen 2)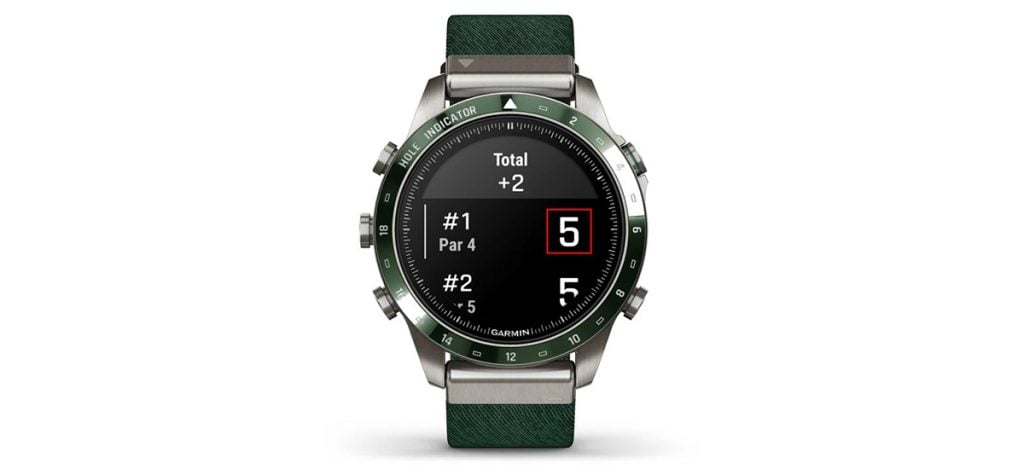 The MARQ Golfer (Gen 2) is purpose-built for, let's say, more devoted connoisseurs of the game.
As with the S70, this model has a 1.4″ AMOLED touchscreen display featuring traditional button controls, all encased in a 46mm Grade-5 titanium case for unrivaled durability. Sporting a tritone green jacquard-weave nylon strap, this watch is design-forward, which certainly means something to some of us.
Powered by a rechargeable lithium battery, revel in the freedom of up to 16 days of use (6 days in always-on mode). All of this power enables you to make use of the Virtual Caddie, PlaysLike Distance feature, and Green View without interruption.
Furthermore, optimize your energy levels with Body Battery energy monitoring, and check your body's oxygen saturation day or night with the Pulse Ox sensor. Enjoy animated workouts, adaptive training plans with Garmin Coach, and use PacePro technology to master your runs with grade-adjusted guidance.
The Garmin MARQ Golfer (Gen 2) is more than just a golf watch – it's a digital do-it-all for fitness fiends and green-goers of all persuasions, and it can be yours for $2,300.
4. Garmin Approach S12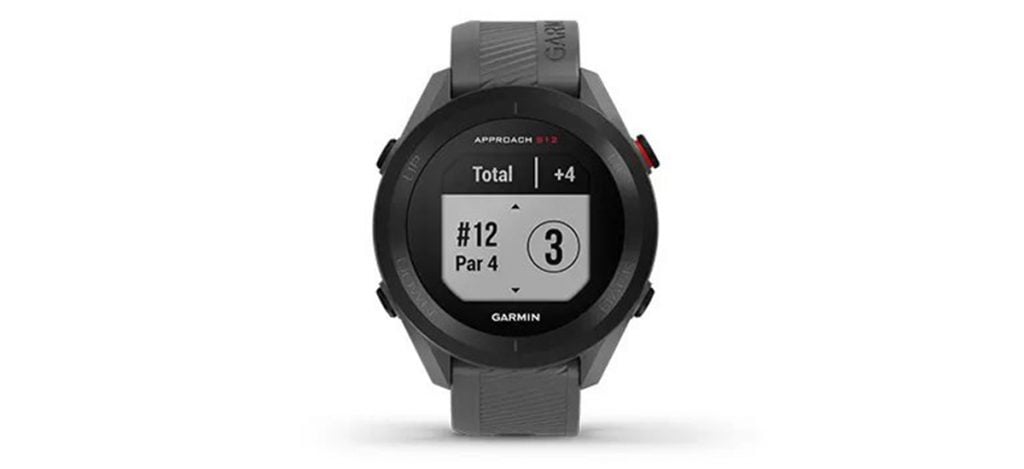 With an astounding 30 hours of battery life in GPS mode, the Approach S12 is the perfect wrist companion for long-driving, full-time golf addicts. The new round watch design boasts a high-resolution screen, effortlessly readable even on the sunniest days, guaranteeing a good view of over 42,000 preloaded CourseView maps from around the globe.
Wireless updates for your favorite courses ensure you stay on top of your game, as does the advanced green-mapping functionality of the Approach S12. Avoid hazards and doglegs with ease, as the course maps meticulously detail their locations, no matter where you stand.
Rendered in full black with a 43.7mm case, the S12 sells for a meager $199, making it an entirely approachable timepiece that is neither stylistically nor compositionally offensive.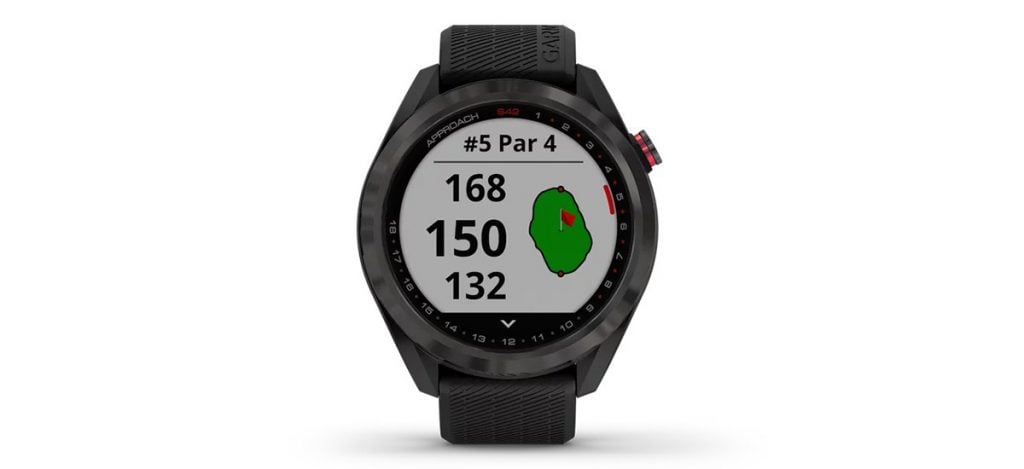 With up to 10 days in smartwatch mode and 15 hours in GPS mode, the Approach S42 offers a fitting amount of power for the part-time golfer to really get under the skin of any course. Its 1.2″ color touchscreen display, complemented by a sleek metal bezel, ensures elegance without compromising on weight.
There are over 42,000 CourseView maps preloaded on your watch, allowing you to stay in tune with your game as AutoShot game tracking effortlessly records shot distances. Enhance your tracking capabilities further with the optional Approach CT10 club tracking sensors if you're really after complete data representation on the green.
Pair your Approach S42 with the Garmin Golf app for strokes gained analysis, leaderboards, tournaments, and in-depth data insights into your game.
Given that life doesn't stop, even when you're mid-put, it's important that the S42 enables you to stay connected with smart notifications, receiving emails, texts, and alerts right on your wrist when paired with a compatible smartphone.
As with other entries on the list, the S42 offers health and fitness tracking, and given its sporty, bright design with a white rubber strap and silver case, it also grants its wearer a stylish representation of a tool watch for just $299.
6. Garmin Fenix 7S Pro Solar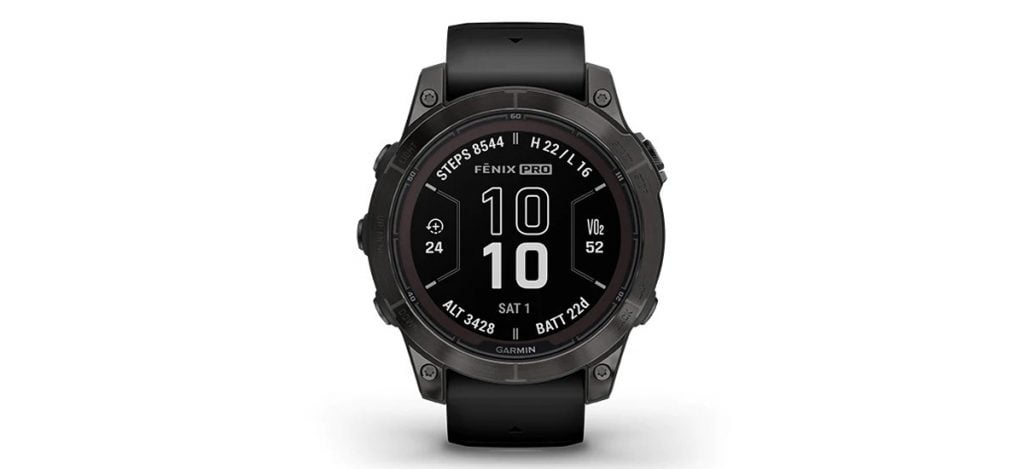 As its name may suggest, the Fenix 7S Pro Solar is one of Garmin's highest-performing outdoor watches, thanks in no small part to its fantastic battery life, fortified by solar charging – 14 days in smartwatch mode with just 3 hours of direct sunlight (50,000 lux) per day, and an incredible 46 hours in GPS mode in fair solar conditions.
The Fenix 7S is certainly built for the outdoorsman who golfs rather than the golfer who occasionally hikes. It can do uniquely cool things, such as combining training data from your athletic pursuits to provide deeper insight into your overall fitness and tracking your running progress more accurately over time, based on your VO2 max and training history. If you're serious about sports beyond your swing, only a few timepieces can compete with this Garmin.
Resilient and athletic, the S7 Pro has got a 42mm fiber-reinforced polymer case with a steel bezel and rear cover, all of which grant it stellar shock, thermal, and water resistance. It's built to be used, rough, and ready, and will serve you more than dutifully on both rugged hikes and mowed greens. And all that for just $799.
7. Garmin Epix Pro (Gen 2) Sapphire Edition
The Epic Pro 2's second-generation model is a serious bit of gear built for fitness-minded, fresh-air addicts. Mindful of the fact that, much like the Fenix 7S Pro, this is overtly an 'outdoorsman' offering, first and foremost, the Epix Pro does offer 43,000 preloaded maps of courses around the world, so if you're a hobbyist golfer who travels to play, this degree of insight might be just enough for you.
I'd be remiss if I didn't mention that there's an astonishing 31-day battery life in smartwatch mode (or up to 58 hours in GPS mode), which is, quite frankly, bonkers. This makes sense when you understand how much the Epix Pro's battery needs to power; a built-in LED flashlight, a red strobe safety light, full fitness tracking, outdoor mapping, stress tracking, a surf camera, and ski maps, along with so much more.
Built to withstand the elements, the Epix Pro is sturdy and relatively unassuming, despite its brilliant 1.4″ scratch-resistant sapphire AMOLED touchscreen display and 51mm fiber-reinforced polymer case with a titanium bezel and rear cover. Despite its size and heft, after a few minutes on the wrist, you'll forget all about this watch, I swear.
And although it may not provide the in-depth analytical power that previous entries on this list can, it's got more detailed golf maps than you can shake a wedge at. You can get the Epix Pro (Gen 2) Sapphire Edition for $1,099.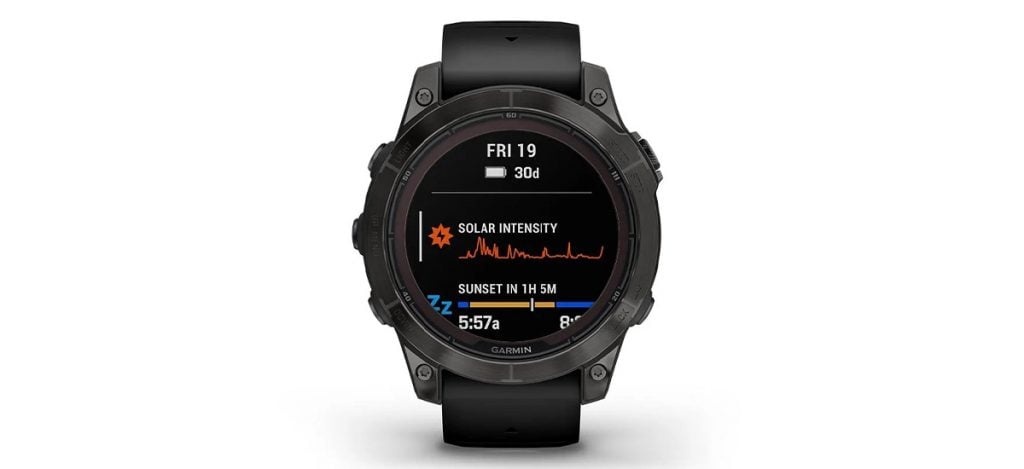 Garmin's Fenix 7X Pro Sapphire Solar Edition is a multi-sport GPS watch that is equal parts lifestyle assistant, health tracker, sports coach, and timekeeper. It's got a 51mm case not dissimilar to that of the Epic Pro, with all of the screen do-dads and button bits that $899 will buy you, plus solar charging. That last bit gets you up to 89 hours on GPS mode.
For the sportsman in you, there's an abundance of capability in the 7X Pro, from surf camera tracking to ski slope grading and extensive home workout training help. Not to mention the multi-dimensional running performance functions.
If you jog to the golf course (or from it), this is your dream watch. The same could very easily be said for swimmers, climbers, mountain bikers, and hikers too.
The jet lag adviser, respiration tracking, hydration tracking, and 'body battery' monitoring are but a few of the health monitoring features present on the Garmin (usual suspects included). There's not much to miss with this on your wrist.
9. Garmin Epix (Gen 2) Standard Edition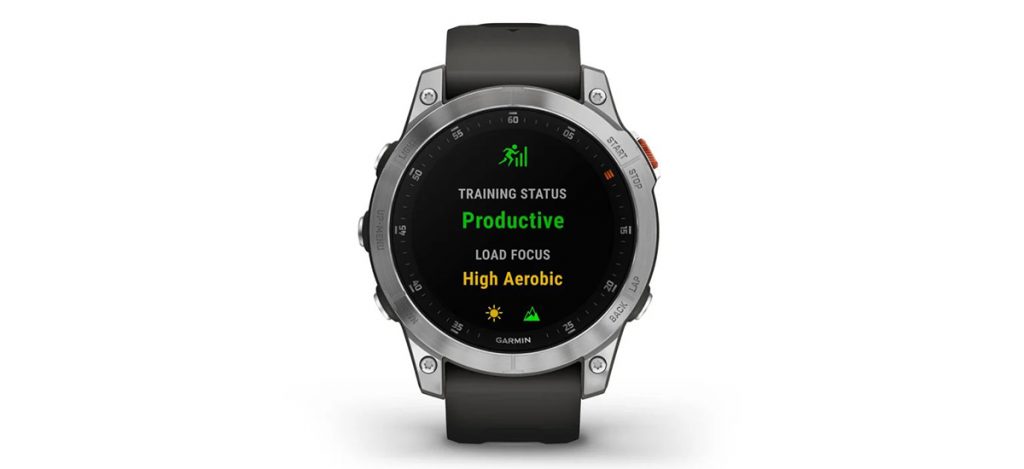 How is the Epix Standard different from the Epix Pro, I hear you ask. Well, first of all, it's got a steel bezel instead of a titanium one, and it's 4mm smaller, but at 47mm is still a sizable watch.
While it doesn't offer quite the spread in terms of sports functionality, the Standard edition caters to the average person's fitness needs just fine, with HIIT workouts, stamina readings, and recovery suggestions, among other functions.
If you have an outdoor bent, the extensive satellite coverage grants precise positioning to navigate the world with unwavering confidence, thanks to TopoActive mapping options on the Epix.
There's a very ergonomic blend of button controls and touchscreen interfacing on this watch as well, granting seamless access to selections and map features (courses included). I'd say if you don't need to spend $1099 on an Epix Pro, the $799 that this model will cost you is well worth it.
10. Garmin Fenix 7 Standard Edition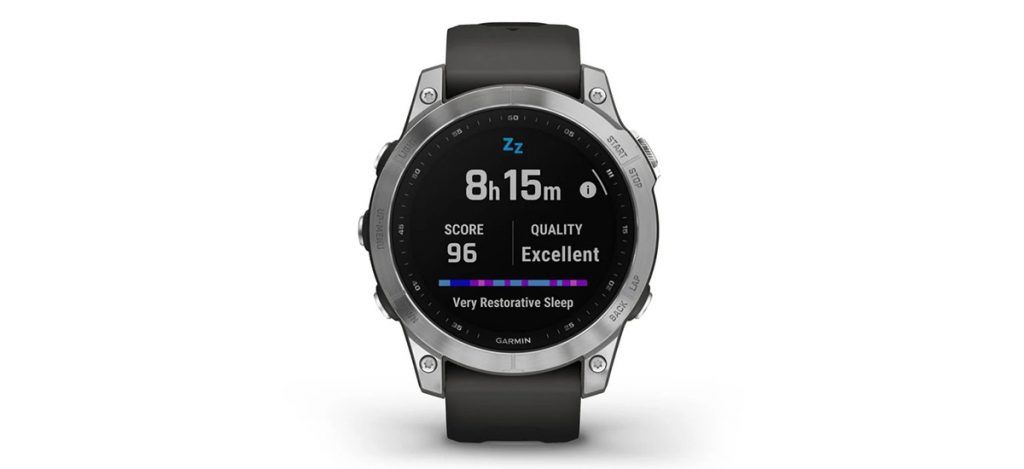 The Fenix 7 Standard is the Ford Fiesta of the Garmin multi-sport watch range. It's accessible in more ways than one, being uncomplicated, inexpensive ($649), and visually modest. With much the same functionality as the Epix, minus a few more specialized functions and some battery life, the Fenix 7 is about as reliable and as capable as 90% of the people on this planet would ever need a watch of its kind to be.
The juice is good for 18 days in smartwatch mode, an impressive 57 hours in GPS mode, and an astonishing 57 days in battery-saver mode, making this an excellent watch for long stretches away from the world and, indeed, for traveling. It's got a 47 mm case, complemented by a 1.3-inch display, which is plenty even when you're on the move.
Empower your athletic pursuits with preloaded sports apps catering to trail running, swimming, biking, and more, along with advanced metrics like running dynamics, VO2 max, and trail running adjustment. Your home workout plan will be served just fine by the Fenix 7 as well, don't worry. Interestingly enough, this standard version still has ski and surf features, which is pretty impressive for a watch in this price bracket.
I personally think if you're on the fence about any of the watches on this list, the Fenix 7 is probably the one you should go for. It's a great upper-entry-level watch to get you into the swing of things, and if you're just after golf maps on the go while still requiring the host of lifestyle functions that you'd expect of a smartwatch, this one will never disappoint.
Nothing But Aces
One thing is certain: whether you're a golf enthusiast or a sports aficionado, Garmin has raised the bar and elevated the game for watches. So, make your choice, and get into it with one of these tech-pioneering and boundary-pushing timepieces.
With Garmin golf watches, you can achieve so much more with so much less, both on and off the green. The added bonus is, of course, that you'll likely never have to hire a caddy again.
About Exquisite Timepieces
Established in 1998, Exquisite Timepieces is your one-stop shop for all things luxury watches! We are an authorized dealer for 60+ luxury watch brands including Omega, Hublot, Seiko, & Longines! We are proud to showcase one of the world's largest pre-owned watch collections, including renowned brands like Rolex and Patek Philippe. Check out our brand new watch arrivals here and popular pre-owned listings here.