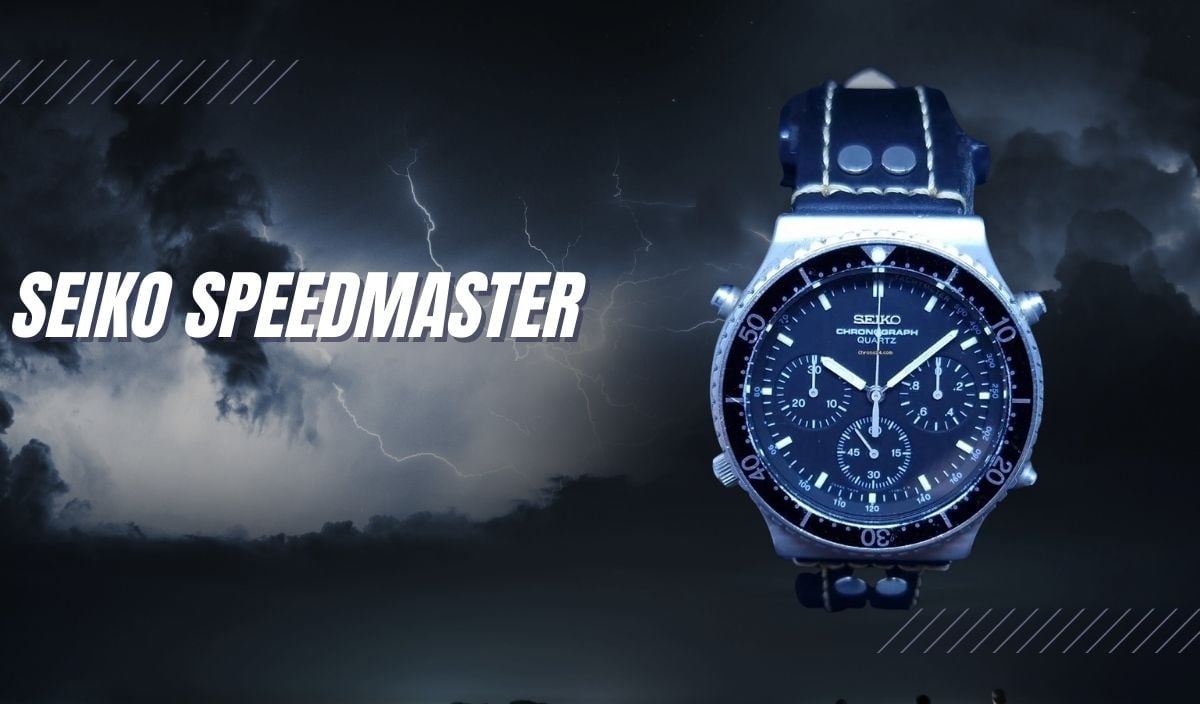 Homage to Innovation, Excellence, and Sports
The Seiko Speedtimer is an outrageously efficient and functional budget chronograph. The Japanese-made timepiece is easily the only true chronograph under $700 and a top contender for top watches within $1,500.
What makes the Speedtimer so valuable? Or is it just an exceptionally affordable Japanese watch with inferior features? Find out in this in-depth review of the Seiko Speedtimer collection.
The Seiko Prospex Speedtimer Collection
The Seiko Speedtimer line is a collection of chronographs with varying functions, prices, color schemes, and two movements.
Its premium models are the history-rich Mechanical Chronograph for watch enthusiasts who detest quartz. This collection includes four models with different dial colors but the same movement.
Meanwhile, the Seiko Speedtimer seven-watch Solar Chronograph lineup is for those who want a bang for their buck.
Speedtimer Mechanical Chronograph (1k pieces Limited Edition)
Three Mechanical Chronograph models
Seven Solar Chronograph models
Made for Excellence
Every watch in the Speedtimer collection is the perfect blend of classic style and modern innovation. Each is carefully crafted to pay tribute to Seiko's rich and continuing tradition of sports timing, with a new automatic chronograph movement to capture every detail.
And the Solar chronographs, despite being budget pieces, also inherit iconic designs for a fraction of the cost of mechanical classics.
Whether you're looking for a statement piece or a complicated timepiece, you'll find it on a budget in the Seiko Speedtimer collection.
It's a Seiko thing: the Speedmaster 7A38 also carried the world's first analog display quartz chronograph movement in the 1980s. And you can get this vintage piece for under $500.
Functionality, versatility, and affordability make the Speedtimer an anomaly.
Features and Specs Speedtimer Mechanical Editon (SRQ)
Stainless steel case
Tachymeter function
Case size: 42.55mm
(Lug-to-lug: 50 mm)
Thickness: 15mm
Movement: Caliber 8R946
See-through case back
+25 to -15 seconds accuracy per day
Weight: 194g
Features and Specs Solar Speedtimer SSC Series
Solar energy
Tachymeter function
Seiko Caliber V196
+15 to -15 accuracy
6-month power reserve
Power reserve indicator
45 hours power reserve
Weight: 161g
History of the Seiko Speedtimer Collection
The first Speedtimer models rolled out in the 1960s before, during, and after Seiko were official timekeepers of the 64′ Olympics.
The official release of the Speedtimer in 1969 ushered in a landmark achievement for Seiko and the Japanese watchmaking industry. It was the first time the world saw an automatic movement chronograph – even the Swiss had yet to achieve this.
Seiko subtly reincarnated the Speedtimer in its modern line of Prospex sports watches.
The star of the collection is the limited edition model with a plain white dial and injection hands. This concept is inspired by the 1964 Seiko Stopwatch, built for sports timing.
All the Mechanical and Solar Speedtimer watches are also a nod to the past, with each collection sharing the same movement and specs but different dial designs.
Intriguing Dials
All Speedtimer models resemble the iconic Rolex Daytona but are original in their lane. Besides, the subdials of Seiko's Speedtimer and Speedmaster watches (also thought to have been a replica of Omega Speedmaster) are timeless racing watch designs.
But don't get the illusion that it's a cheap replica or an homage watch. Stay tuned to find out the Speedtimer's originality.
Mechanical Edition Dial
Seiko produces four Speedmaster mechanical edition models:
SRQ037J1
SRQ043J1
SRQ039J
SRQ035J1(Limited edition model).
They have varying dial and subdial colors, hands, and finish variations that draw inspiration from their original models of the 60s.
SRQ071
This charcoal-gray dialed mechanical watch design is inspired by the 1964 Crown Chronograph – Seiko and Japan's first chronograph wristwatch.
While not identical, the beveled hour markers and sharp sword-like hour hands mirror the original model.
Small second hands curved slightly downward to rest on the tip of the subdial markers and parallel to the tachymeter. Although subtle, this improves accuracy and reading legibility for racers, so you should be fine with measuring your speed over a distance.
The main difference from the Prospex classics, as with other mechanical successors, is the inclusion of subdials, tachymeter, and push buttons.
SRQ043J1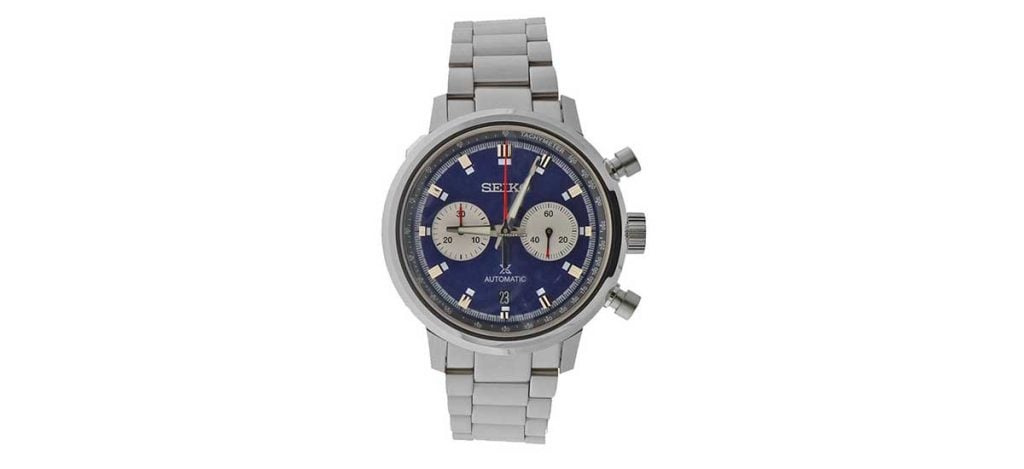 Navy blue is an homage to the 1969 Speedtimer, but better. The dial has vertical hairline finishing, which changes from navy to vivid blue at varying angles. This helps when you don't want to turn your wrist to read the time. The SRQ043 white subdials and outer ring further enhance readability.
SRQ039J1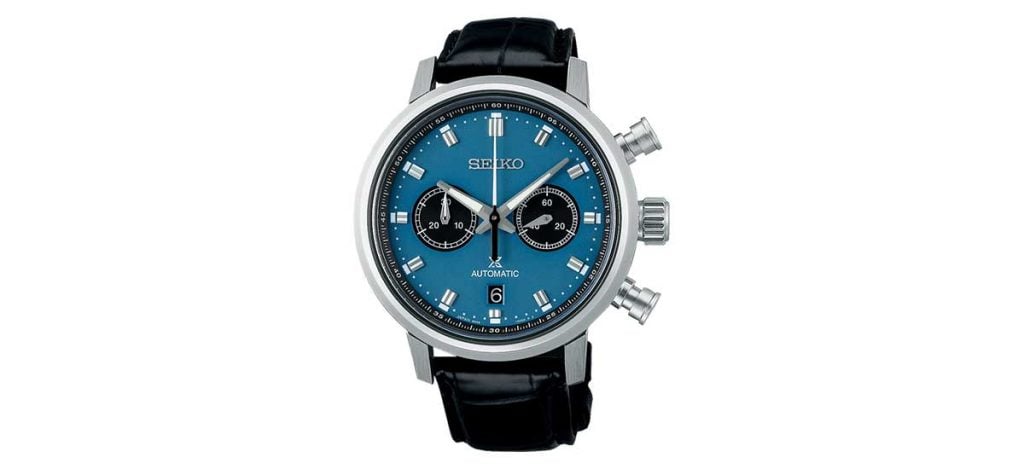 If you asked, the SRQ039 is my favorite dial color from the collection because it looks like my favorite jean.
The SRQ039 has the same specifications as the angle-changing model 043, except for its blue and black dial. It's an acknowledgment of Seiko's time as the official timekeeper of the 1964 Olympic games in Tokyo.
SRQ071
This lovely Prospex Speedtimer is a spin-off of Seiko's 1964 1/5th Stopwatch. That's how it has a striking scale-like aesthetic with a plain white dial, needle hands, and 10-second progressive Arabic numerals.
Solar Energy Dials
Image from Seiko
The Solar powered Speedtimers have the most exciting color lineup, and the SSC813 "Panda" is the signature model. It's a black and white color with a white dial and black subdials that look like the face of Panda.
The third subdial is a power reserve indicator. The solar editions also have a unique slanting date window at 4:20 that draws mixed feelings among fans.
Moreover, the SSC Speedtimer models have fixed external bezels with varying colors, unlike the mechanical editions with inner ring tachymeters. See the difference:
History-Rich Cases
Stopwatch-Inspired SRQ
The SRQ Speedtimers (mechanical edition) use a round polished stainless steel case that's a muse of the 1964 stopwatch. All the mechanical watches have a 42.5mm diameter case that's 50mm from lug to lug.
That's a fine men's watch size, especially since the SSC is a tool watch. It can also fit perfectly on a lady's wrists, but they may not fancy its weight or size, but the SSC will be more suitable. Finally, the cases sport two push buttons and a crown in the middle, like the 1964 Stopwatch.
Perfect-Sized Solar Chronograph
Seiko uses an entirely different case design for its SSC solar chronographs and I love their portability. I'm grinning from ear to ear as I write this wearing my 44m Diesel Armbar, wishing I could snatch the more comfortable Seiko SSC813.
The case is only 39mm across and 45mm from lug to lug, which is still an excellent fit for even small wrists. At this size, it'll be a perfect chronograph gift for a woman who loves to wear men's or instrument watches. The case is another example of how Seiko blends history with modern innovations.
In this case, the SSC case is a concept from the 1969 Speedtimer. However, its seemingly sophisticated look results from its tachymeter bezel synchronizing with the in-dial 60-second markers. But is an upgrade of the classics.
This design is another testament to the Japanese brand's efforts to blend heritage with modern innovations.
Bracelets
Mechanical Edition
One thing Seiko boasts about its Speeditimer bracelets is their low center of gravity. It's a result of the curved lugs and thick case. You'll find the same feature in the solar edition.
But a higher-quality bracelet-to-case finish makes the mechanical edition bracelets stand out from Solar Speedtimers. They have finely and evenly polished cases and bracelets compared to the Solar models.
However, it uses the pin and lock system for removing links, which is considered clumsy and old-fashioned by watch enthusiasts.
Seiko SSC813 (Solar)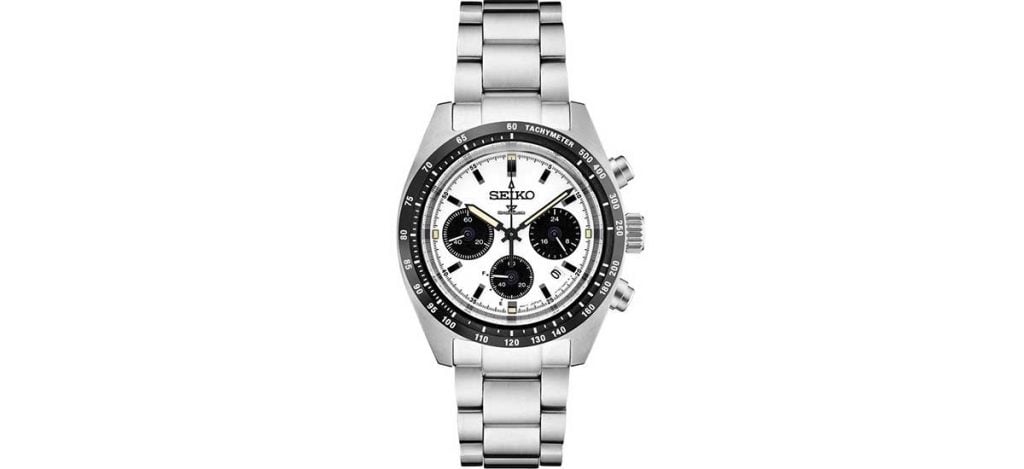 The Seiko Speedtimer SSC813 has the same case and bracelet dimensions as the solar series. But stands out because of its black and white "Panda" dial.
The Solar Speedtimer has a stainless steel bracelet and is secured with a three-fold clasp with a push button mechanism. That makes it easy to wear, comfortable, and safe from accidentally falling off the wrist.
However, the SSC813 has roughly polished links that don't match the case. We also saw this same issue decades ago in the Seiko Speedmaster.
Still, it's not a terrible or noticeable issue, despite pointing it out to you. Only watch enthusiasts can tell the difference and may feel irked, so it doesn't change the fact that it's a durable, scratch-resistant bracelet.
Curved Lug
Seiko curves the lugs down to give room for the push buttons. It creates an illusion that it's taller than its actual 13mm height or the Speedmaster with a downward design.
Tachymeter Designs
Remember, the Speedtimer is a racing watch collection and, as such, sports a tachymeter. If you're unfamiliar with the term, it's the inscription around the rim of watches used to measure distance traveled over time.
The Speedtimers have two tachymeter designs. First, the Seiko Speedtimer SSC813, for instance, has a circumferential tachymeter on a fixed black bezel. All the Solar Chronographs have the same type but with different color schemes.
Second, the SRQ mechanical series tachymeter is within the protective ring – a stationary, plain stainless steel bezel.
Uniform Movements
When it comes to the movement, there are two options. You can either splurge for the mechanical caliber or economize with the functional solar-powered (quartz) editions. The mechanical movements will shock you.
Top-Of-The-Line Caliber 8R46
The mechanical chronograph collection uses Seiko's iconic Caliber 8R46. This movement is designed and hand-assembled in-house by Seiko's finest engineers. It's interesting because many watch lovers still think all Seiko watches are mass-produced and have inferior movements.
Well, not the SRQ Speedtimer, that's for sure. With a vertical clutch and column wheel movement mechanism for generational durability and accuracy.
The vertical clutch slows down the wear and tear process while the column wheel controls the "start," "stop," and "zero" settings. The caliber 8R46 is ultimately Seiko's most powerful automatic movement for mechanical watches.
Solar-Powered Caliber V192
If you underrated the SSC series because they're quartz, sit down for a rethink. But if you fancy quartz movements, you'll get a great deal.
The Caliber V192, as you know, is solar-powered and has an impressive six-month power reserve when fully charged. But that's based on if you only use the chronograph feature for one hour daily.
What's more, the V192-powered Seiko watches have an accuracy of +/-15 per month. Admittedly, that's a better accuracy than most Japanese movements that offer an average +/- 25 accuracy per day but it is subpar at this price range.
In addition, it offers a power reserve indicator at 6 o'clock and a controversial date window at 4:20. The date window can be problematic to glance at without "breaking your neck" to get the right angle.
Seiko Speedtimer: Pricing and Value
Mechanical Edition
The Seiko Speedtimer Mechanical Edition watches cost around $3,000 to $3,300, with the limited edition piece priced on the upper end.
For $3,000, you will find a few mechanical chronographs on Seiko's craftmanship level. Well, not unless you opt for preowned watches, like the Omega Speedmaster or Longines Master chronograph.
Also, it's packed with vintage appeal that pays homage to one of the most iconic watch releases in the Japanese watchmaking industry. And it's only an homage, not a replica, as some people would have loved.
And it's ahead of similarly priced competitors because of its premium movement with a column wheel and vertical clutch combination. Finally, the Seiko Prospex Speedtimer's +25 to -15 seconds accuracy per day is decent, especially for a mechanical racing chronograph under $3000. But you'll find higher precision watches for less.
Seiko Speedtimer SSC813 Solar: King Of Value
The Speedtimer Solar (priced below $700) has rocked the watch industry since its release. Even when it's not compared to quartz movements, this work of art remains a top competitor for chronographs under $1,500.
The SSC813 (solar Speedtimer) guarantees a high value for your buck with its polished stainless steel finish and an enticing Panda dial.
Its solar charge is also a nice touch of functionality. You never worry about winding your watch and don't have to sunbathe it to charge it. It charges in cloudy or sunny weather and under fluorescent light.
However, a few collectors think Seiko could've given a finer bracelet-to-case finish. And added a GMT instead of a power reserve subdial. But it couldn't be any less good.
Alternatives to The Seiko Speedtimer Mechanical
Tissot Heritage 
Zentih El Primero
Doxa Sub 200
SSC Solar Alternative
Seiko Astron Solar
Citizen Caliber E210
Pros and Cons Seiko Speedtimer Mechanical Edition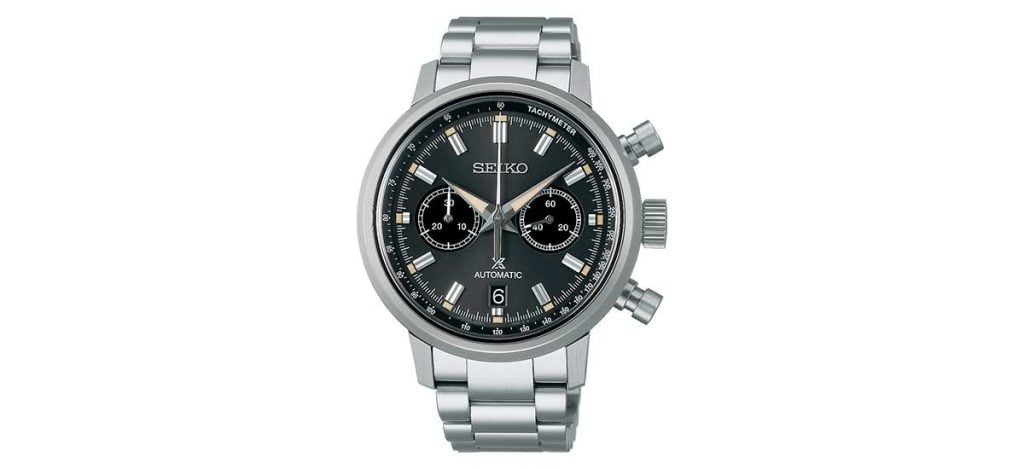 Pros of SRQ037
Topnotch finish
Durable and precise movement
See-through case back
Magnetic resistance
Cons of SRQ037
Pricey
Poorly integrated bracelet-to-case finish.
Pros and Cons Seiko Speedtimer Solar (Quartz) Edition 813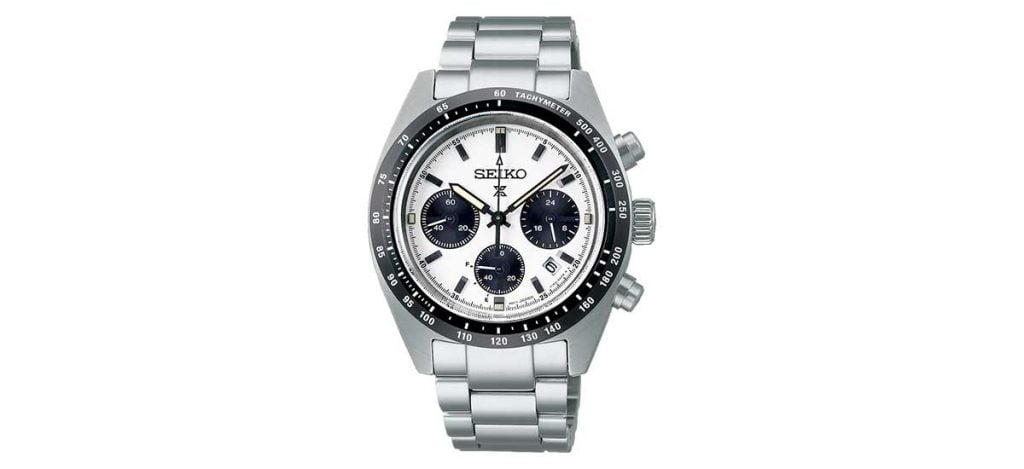 Pros of SSC 813
Budget-friendly – costs under $700
Easy wearing chronograph
Solar powered with sun and light
Power reserve subdial
Easy-to-read dial
Cons Of SSC 813
Bulky
4:20 date window
Unsymmetrical bracelet-to-case finish
The Verdict
The Speedtimer is a worthy racing chronograph collection if you're on a budget – both mechanical and quartz. This collection is perfect for watch lovers who want a piece of history on their hands but don't want a relic.
With both Speedtimer versions, you can tell a story of the original models from the 60s-70s, and they inspired the making of your modern timepiece.
Shop the SRQ035 (only one-piece available), SSC813 for $3,200, and $675, respectively from Exquisite Timepieces. They're trusted online and Florida-based new and pre-owned luxury watch dealers of the Speedtimer Chronographs.