Ah, Seiko…the embodiment of Japanese beauty, intricately woven into horological masterpieces. Seiko watches are more than mere timekeeping devices because they bind us to a legacy that reaches far beyond the hands of a clock.
With a rich history dating back to 1881 and delicate craftsmanship infused into each watch, you can't help but feel the weight of tradition, precision, and artistry.
Seiko watches are a celebration of innovation, blending modernity with the good old days, boldness with subtlety, and power with grace. Here at Exquisite Timepieces, we want you to own the very best and flaunt stunning watches that mirror your gran sentido de la moda with every tick.
Introducing……*drum rolls please* the 30 best Seiko watches in 2023!!! Before we delve into the el punto principal, here's a brief buying guide.
About Seiko Watches
Seiko is a well-known Japanese watch company with a rich history and a reputation for producing high-quality timepieces for over a century now. The brand is highly regarded for its craftsmanship, affordability, and pioneering innovations in the watch industry.
Notably, it introduced the world's first quartz watch in 1969 and has continued to develop new technologies over the years. While the brand is famous for its quartz watches, it also offers an array of mechanical and automatic timepieces.
These collections are almost like little sub-brands in different niches. They include the Seiko 5, Prospex (Professional Specifications), Presage (dress/casual watches), Astron, Coutura, Seiko King, etc.
The Seiko 5 collection typically offers affordable entry-level watches, with prices starting from around $180.
Prices for Prospex models can range from $350 to $1,500 or more, depending on the model. Prices for Presage models usually start around $300 and can go up to well over $1,000 for limited editions and special designs.
When you buy a Seiko watch, you can expect a timepiece that combines quality craftsmanship, precision engineering, and a rich watchmaking heritage. With iconic lines featuring dress watches, sports watches, dive watches, chronographs, and more, Seiko's got you whether you're looking for a classic timepiece or a specialized tool watch.
Seiko watches are known for their robustness and longevity. They are designed to withstand daily wear and tear, and many models are water-resistant, making them suitable for various activities and environments.
Many watch enthusiasts and collectors deeply appreciate Seiko timepieces, giving the brand a significant global presence in various markets, including the United States, Europe, and Asia. Its watches are also available in multiple countries, making them accessible to a broad customer base.
History of Seiko Watches
Seiko has a rich and fascinating history that spans over a century. It was in 1881 that Kintaro Hattori founded a company for repairing watches under the name "K. Hattori."
In 1892, Hattori started a clock manufacturing factory, which produced wall clocks initially. He would call it "Seikosha", which translates to "House of Exquisite Workmanship."
In 1913, the brand produced its first wristwatch, which was named "The Laurel," eighteen years after its first in-house pocket watch, "The Timekeeper". In 1924, the name "Seiko" was officially registered and means "exquisite" or "success" in Japanese.
One of the most significant milestones in Seiko's history came in 1969 when the brand unveiled the Seiko Astron, the world's first commercial quartz wristwatch.
This revolutionary timepiece incorporated a quartz crystal oscillator for precision timekeeping, which was a major advancement in watch technology. The Astron's introduction sparked the "Quartz Crisis" and transformed the watch industry globally.
Seiko continued to blaze the trail for many other brands to follow in watch innovation and expanded its product range, introducing various collections, including the launch of the Grand Seiko line in the 1960s.
In 1965, the brand released its first diver's watch, the Seiko 62MAS, and has since launched many cutting-edge diving timepieces, the majority of which are in the popular Seiko Prospex series.
Ground-breaking inventions include the world's first six-digit digital display watch in 1973 and the first quartz chronograph watch, the Seiko 7A28, in the early 1980s.
The brand also played a vital role in the development of kinetic and solar-powered watches, further showcasing its commitment to environmental sustainability.
Additionally, Seiko introduced Spring Drive technology in 1999 after several years of research and development. The concept combines mechanical and quartz elements for exceptional precision.
Seiko's long and illustrious history in watchmaking has earned it a place as one of the most respected and influential watch brands in the world.
Its commitment to continuous innovation allows it to compete with other well-established Swiss watch manufacturers today.
The Best Seiko Watches in 2023
With all that said, here's the list of the 30 best Seiko watches you can get in 2023, including timepieces from all its collections.
Seiko 5 SKX Sports Style SRPK33
Pulsating with energy and enthusiasm is the SRPK33, a vibrant and dynamic timepiece perfect for all your adrenaline-fueled adventures.
At $325, it's a steal for the quality and style it offers. The 38mm diameter fits like a dream on any wrist, and the brushed stainless steel case with polished sides oozes sophistication.
The mesmerizing mint green dial with its gold-colored hands is a marvel of dynamic precision, combining intricate details with a bold, confident design.
Under the hood, the 4R36 caliber movement ticks away at 21,600 vibrations per hour, keeping precise time with its 24 jewels. And get this – it's got hacking and hand-winding capabilities! With a nifty 41-hour power reserve, it's always ready to go.
The 20mm stainless steel 3-link bracelet is the cherry on top, offering both comfort and style with its fold-over clasp and push-button release. I love this watch, and I promise, you'll love it too.
Seiko 5 Sports SRPE55
Take a look at what we have here. A close look. As you gaze upon this timepiece, tell me, don't you see a perfect blend of adrenaline-fueled aesthetics and refined elegance? Don't you feel the thrill of awaiting adventure paired with the grace of a well-executed play?
The Seiko 5 Sports collection is known for its robust build, attractive designs, and affordable price range.
The SRPE55 retails for around $250 and is presented in a 40mm stainless steel case with a thickness of 11.5mm. This means it will sit right on medium to large wrists and offer a substantial yet not overly large presence.
The crown, positioned at 4 o'clock between protective crown guards, adds to its sleek appearance. The watch boasts a respectable water resistance of 100 meters and has a black dial adorned with applied hour markers.
It is powered by Seiko's reliable 4R36 caliber with 24 jewels and has a 41-hour power reserve. You can get it here.
The GMT SSK003 is a testament to Seiko's mastery of craftsmanship. The watch is durable, rugged, captivating, and guaranteed to keep up with your toughest challenges. With a robust build, functionality, and legibility, this sports watch embodies the unyielding spirit of an adventurer who never gives up.
Inspired by the beloved Seiko SKX series and treasured by watch enthusiasts worldwide, this timepiece measures 42.5mm × 13.6mm. The blue dial brings additional functionality, with a bright red GMT hand and a 24-hour scale on the inner flange, while the bicolor bezel separates day and night hours with a touch of playfulness.
Finished with a wonderful jubilee-style bracelet with a secure tri-fold clasp, this exceptional timepiece retails for $475 MSRP, but you can get it here right now for $380. The Seiko 5 Sports GMT SSK003 is a must-have for those who require precise timekeeping across multiple regions.
4. Seiko 5 Field Sports SRPJ81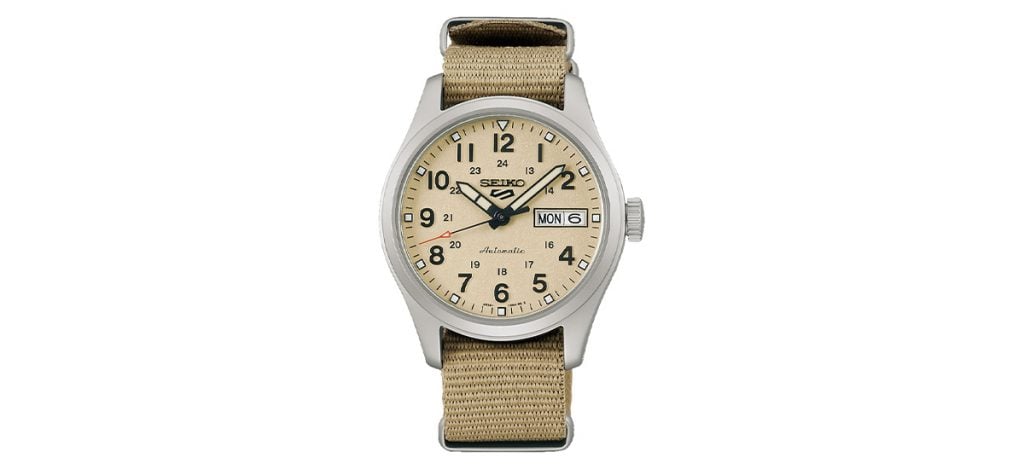 The Seiko 5 Field Sports SRPJ81 is a watch infused with adventure, fueling your love for sports and fitness. It's more than just a timepiece; it is a motivational device, igniting the fire within and propelling you towards achieving your personal best.
I mean, take a look at the classic field watch design. The legibility, durability, functionality, and precision of this timepiece are way above its price point. Priced at $295, the watch is worn on a 3-link steel bracelet with a folding clasp that provides a secure fit.
The case measures a sleek 36.4mm in diameter with a thickness of 12.5mm and a comfortable lug-to-lug distance of 44.4mm. It is powered by the automatic 4R36 movement with a 41-hour power reserve and is water-resistant to a depth of 100 meters.
5. Seiko 5 Sports 55th Anniversary Re-creation SRPK17
Embrace the limitless potentials of the SRPK17 and unleash your own! Cherished for its reliability and durability for 55 years, the Seiko 5 Sports Line has been an extraordinary fusion of technology, performance, and style.
The vintage tonneau-shaped case of this anniversary edition measures 39.5mm in diameter and 12.5mm in thickness. The black dial, protected by a curved Hardlex crystal, features luminescent hands, applied bar indices, and the iconic Seiko 5 logo at noon.
The watch is water resistant to a depth of 100 meters and embodies Seiko's enduring values and vintage spirit. You can purchase it here for $415.
6. Seiko 5 Sports x Rowing Blazers SRPJ71
And things start getting pretty interesting with the 5 Sports x Rowing Blazers watch! Here is a great sports watch with a mesmerizing dance of intricacy, drawing you into its depths like a captivating story waiting to be unraveled. And yes, there is a story.
Limited to just 888 pieces, this watch (a true collector's dream, I tell ya') was born from the collaboration between Seiko, Rowing Blazers' Creative Director, Jack Carlson, and vintage watch expert Eric Wind.
The stainless steel case measures 40mm across, and immediately noticeable is the unique dial with a distinct appearance. It has a quirky "candy cane" second hand, black and gray minute scale, and markers that showcase Rowing Blazers' bold and funky design. It is powered by the Caliber 4R36 and retails for about $500.
7. Seiko 5 Sports Masked Rider Limited Edition SRPJ91
Capturing the essence of refined masculinity is the Masked Rider. Limited to 4,000 pieces, this watch draws inspiration from the legendary 1968 'Hongo model', famously worn by Takeshi Hongo, a character from the memorable Masked Rider.
A sleek, polished 42.5mm stainless steel case and sturdy leather strap seamlessly merge to create a sophisticated masterpiece. The dial's design and color take inspiration from Masked Rider 1's helmet, resulting in a textured and funky dark green finish.
The baton-applied markers and hands, along with the red lollipop seconds hand, add a vibrant touch, while the framed day-date window offers practicality.
The Masked Rider Limited Edition SRPJ91 is powered by the 4R36 automatic movement and can be purchased here for $410.
8. Seiko Prospex Solar Diver SNE569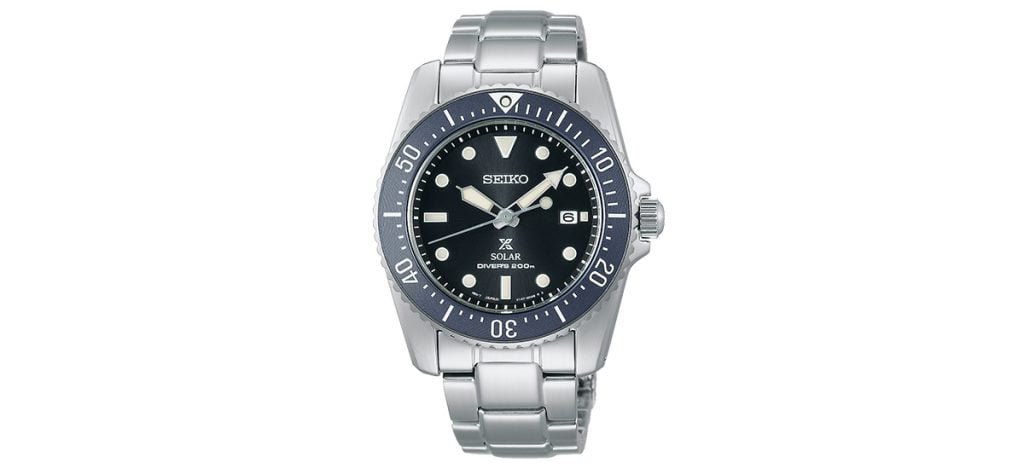 Fasten the Solar Diver SNE569 around your wrist and feel an inexplicable surge of confidence wash over you. No kidding, it's almost like each Prospex watch holds the power to transcend time, making you feel invincible and ready to conquer the world.
With a diameter of 38.5mm and a thickness of 10.6mm, this diver's watch was created to suit a variety of wrists. The watch is built to withstand depths of up to 200 meters underwater and features a highly legible black dial with off-white hour markers and hands.
Powered by the reliable V147 solar movement, this watch offers a precision of ±15 seconds per month and a power reserve of approximately 10 months when fully charged. It retails for $600 and comes fitted with a stainless steel bracelet with a three-fold clasp and push-button release.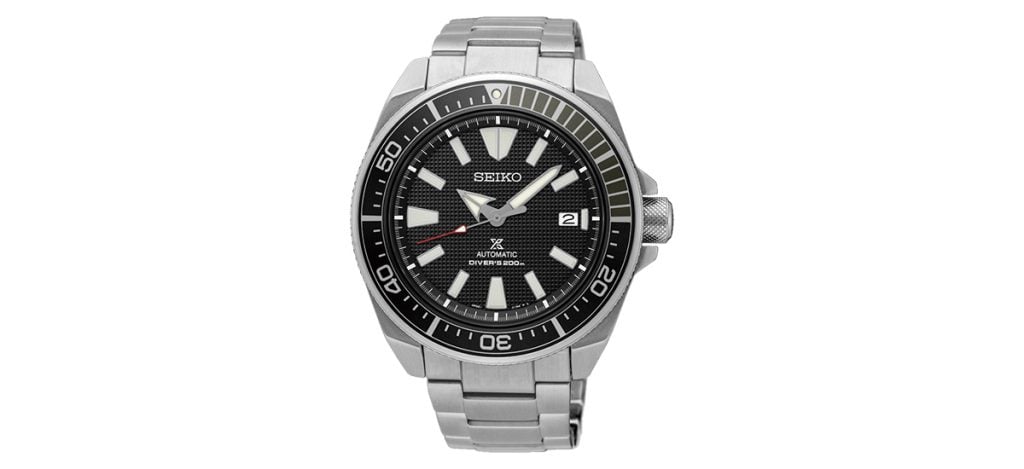 Embodying the spirit of adventure, fearlessness, and audacity is the Prospex Samurai SRPF03. The 43.8mm stainless steel case gleams with a resilient shine, hinting at the superlative quality of the watch.
The weight of the timepiece is substantial at 200 grams, making this piece reassuring when worn. The 200 meters of water resistance it carries invites you to take on countless underwater expeditions.
The charcoal black isometric cube patterned dial and the white minutes' marker on the outer rim offer a striking and legible design. The unidirectional rotating bezel is crisp and adds a touch of functionality, making it perfect for professional diving.
The watch is powered by the automatic 4R35 caliber movement, has a 200-meter water resistance, and retails for $525.
10. Seiko Prospex Turtle SRPE99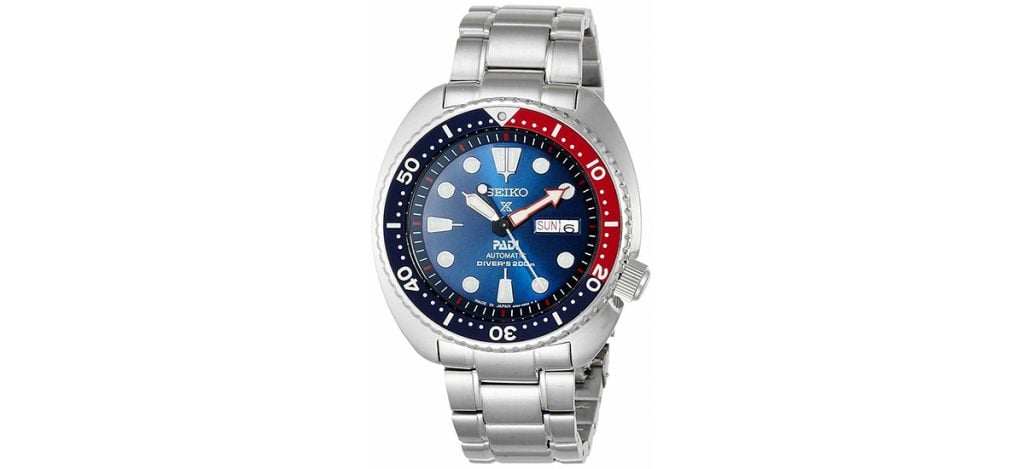 Take daring escapades beneath the waves with the Prospex Turtle SRPE99, a watch with an enchanting allure that captivates discerning minds all over the world.
The gradations of color on the face evoke emotions of warmth and nostalgia, reminiscent of sunsets casting their golden hues over the horizon.
As a Special Edition celebrating a partnership with PADI (Professional Association of Diving Instructors), this dive watch proudly displays PADI's official colors, branding, and logo on the dial and bezel.
The case measures 45mm across but wears very comfortably thanks to its tonneau shape.
The highly legible blue dial showcases silver and red minute markers, luminous hands, and hour markers, along with a day-date window at 3 o'clock.
The timepiece is tested and certified to endure water depths of 200 meters and retails for around $550 MSRP but get it here for $440 right now.
11. Seiko Prospex PADI "Great Blue" Sumo SPB375
The "Great Blue" Sumo SPB375 is a watch adorned with bold markings, beckoning you to embark on a journey into the ocean's mysterious depths. Under the sea, it promises to be a steadfast companion as it is capable of handling water depths of up to 200 meters.
Protected by a sapphire crystal with an anti-reflective coating on the inner surface, the dial of the "Great Blue" edition mirrors the mesmerizing surface of the ocean, with wave-like ripples and gradual darkening to mimic the ocean's depths.
The case is 45mm in diameter and has a thickness of 13.4mm. Inside, the watch beats the powerful 6R35 automatic movement, boasting a remarkable 70-hour power reserve and precision of +25 to -15 seconds per day. Expect to spend around $1,300 for a new piece.
12. Seiko Prospex Arnie SNJ025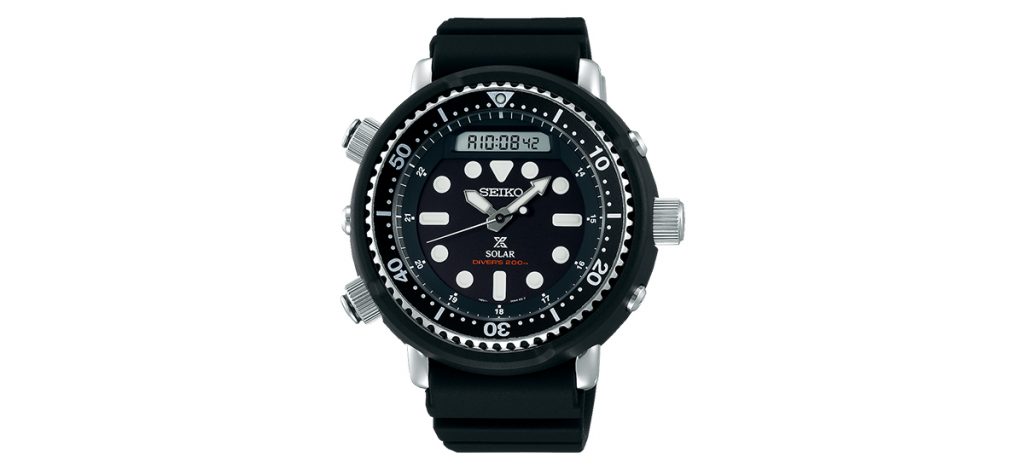 The Seiko Prospex Arnie is a popular dive watch with a unique history. It gained its nickname "Arnie" from its appearance in several Arnold Schwarzenegger movies, including "Commando" and "Predator".
The SNJ025 is a modern interpretation of the iconic 1982 Hybrid Divers watch, the Seiko H558. The watch is a hybrid analog-digital timepiece, combining both analog hands and a digital display.
It features a robust design suitable for diving and other outdoor activities, with a 200m water resistance rating. The black matte dial, with a unique gray-purple hue under bright light, houses a range of impressive features powered by the solar-driven H851 caliber.
From a chronograph to a power-saving function and LED illuminating light, this timepiece is ready for any adventure. The watch is priced at $525 MSRP, but you can get it here right now for $420. The 47.8mm × 13.8mm case of the SNJ025 is mounted on a black accordion-shaped silicone strap.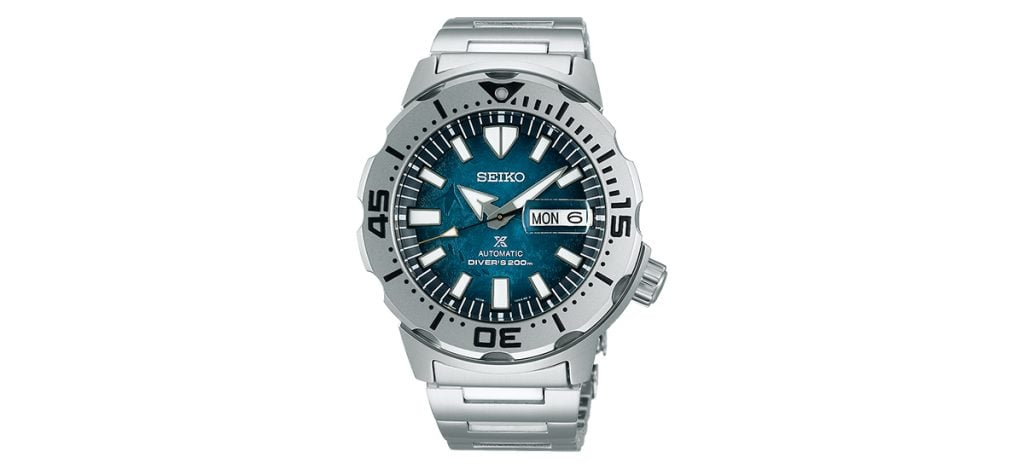 Evoking a sense of adventurous excitement is the Monster SRPH75, with a rugged design and bold presence. This special edition pays homage to the incredible creatures of Antarctica. The watch boasts a captivating gradient sea blue dial, reminiscent of the icy environment it honors.
The dial is adorned with delightful pressed penguin pattern impressions that mimic the serenity of these magnificent creatures.
With a 42.4mm stainless steel case and a thickness of 13.4mm, the watch strikes the perfect balance between comfort and durability. The rotating uni-directional bezel, LumiBrite stick markers, and arrow-style hands ensure effortless legibility in any lighting condition.
With a 200-meter water resistance, the Seiko Prospex Monster SRPH75 is an ideal companion for ocean explorations.
It is powered by the 4R36 automatic movement and is fitted with a brushed and polished stainless steel link bracelet. It retails for $525, but get it here right now for $425.
14. Seiko Prospex Alpinist SPB121J1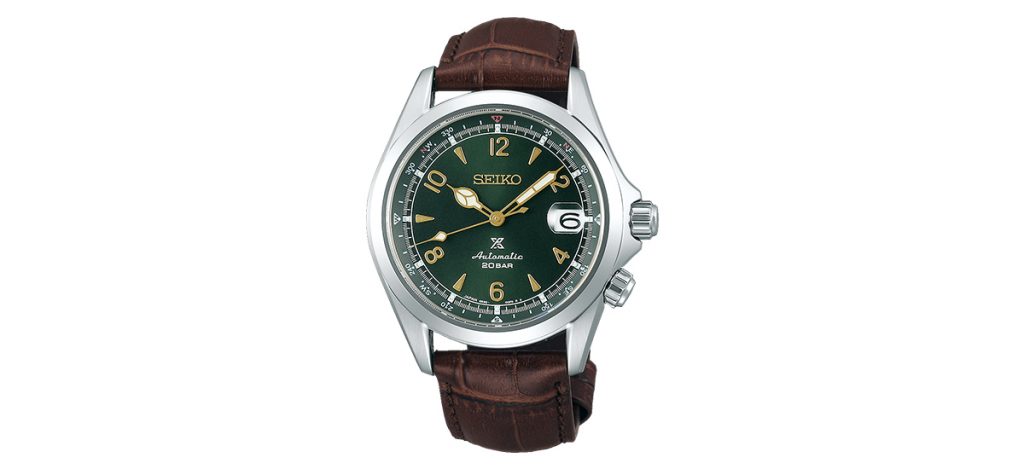 With subtle touches of the past and a whimsy blend of futuristic design, the SPB121J1 is an enchanting timepiece popular amongst enthusiasts.
The stainless steel case, brushed with a polished bezel, measures 39.5mm across and is 13.2mm thick. The see-through mineral crystal exhibition case back allows a glimpse of the impressive inner workings of the caliber 6R35.
The sunburst green dial, adorned with a gilded rotating compass track, symbolizes the thrill of exploring unknown realms.
The automatic movement within has a generous 70-hour power reserve. Completing the ensemble is a brown alligator-grained leather strap that adds a touch of sophistication. Priced at $725, the Seiko PROSPEX Alpinist is a worthy companion for outdoor escapades and is backed by a remarkable water resistance of 200 meters. You can purchase an authentic piece here.
15. Seiko Prospex Speedtimer SSC813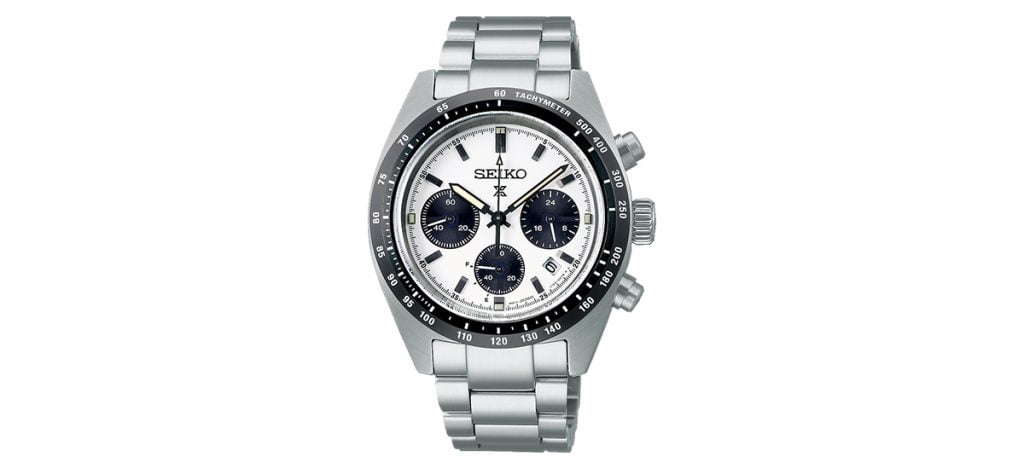 With a tasteful design and delicate details, the SSC813 whispers glamor, leaving a lasting impression wherever it goes. Affectionately known as the "PANDA" due to its striking black and white dial, this masterpiece is inspired by Seiko's first precision chronographs designed for international sporting events back in 1964.
The 39mm brushed stainless steel case houses a black aluminum tachymeter bezel, providing both functionality and style. We have a subtle date window at 4 o'clock, a small seconds sub-dial at 9 o'clock, and a 24-hour sub-dial at 3 o'clock. There's also a 60-minute chronograph and a power reserve indicator at 6.
Driven by the precise V192 solar movement, the chronograph boasts a power reserve of approximately 6 months when fully charged.
Completing the ensemble is the brushed stainless steel 3-link bracelet, offering both comfort and sophistication. The watch is priced at $675 MSRP, but you can get it here for $540 right now. Oh, and it has a water-resistant rating of 100 meters.
16. Seiko Prospex GMT SPB381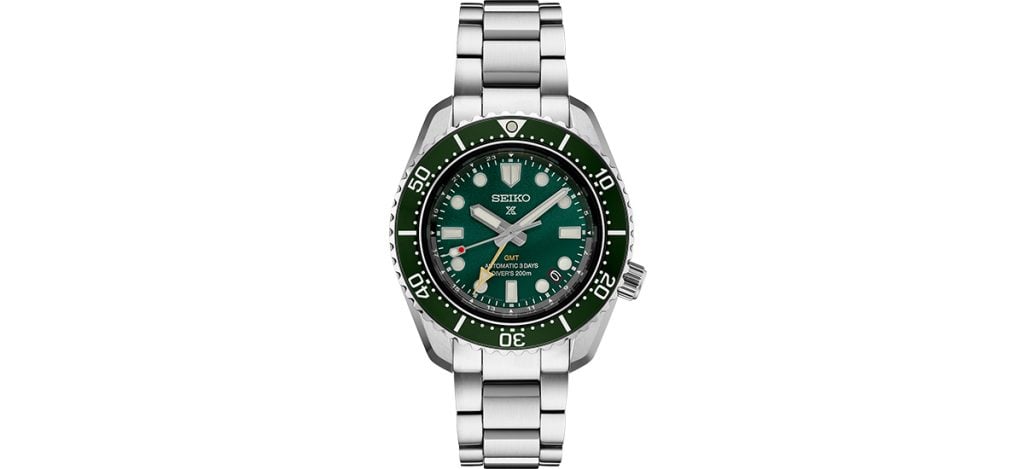 Behold the Prospex GMT SPB381! A symbol of prestige and refinement and one of the best Seiko watches of 2023. This watch showcases a perfect balance of fashion-forward design and timeless elegance and stands as a testament to the wearer's discerning sense of style.
The 42mm-wide case is 12.9mm thick and features a green-on-green sunburst dial with golden accents. Travelers, pilots, and professionals who frequently deal with different timezones will find the GMT (Greenwich Mean Time) function particularly useful.
With this feature, you can track multiple timezones simultaneously, making it easier to stay on schedule and coordinate with people in various parts of the world.
If you are a watch enthusiast who admires the technical complexity and versatility GMT watches offer, you'll be very pleased with the GMT SPB381.
It retails for $1,500, is powered by Seiko's new Caliber 6R54 automatic movement, and is designed to be water-resistant up to 200 meters. Get an authentic piece here.
17. Seiko Prospex 1965 Diver's Re-creation SJE093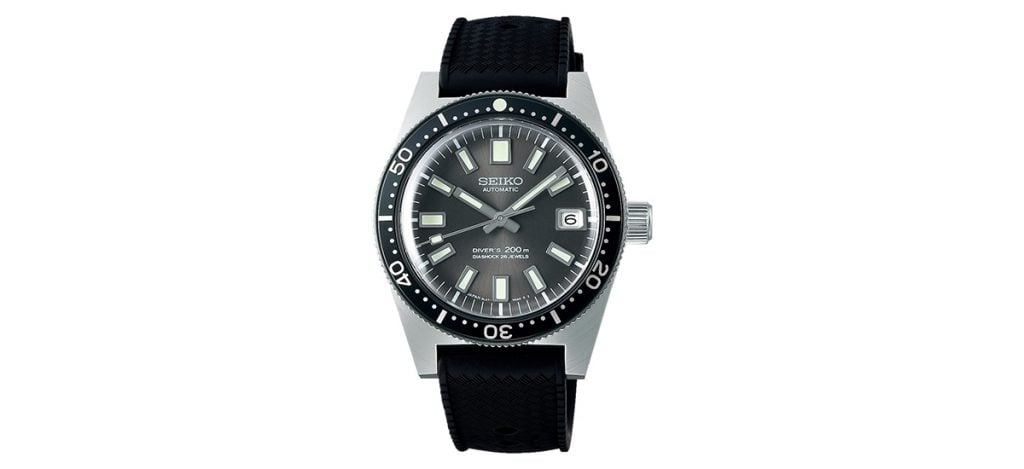 Evoking a feeling of boundless adventure and wanderlust is the SJE093 — a limited edition masterpiece with only 1,965 pieces available. Paying tribute to Seiko's first-ever diver's watch, we have here a heartfelt masterpiece that resurrects the spirit of the iconic 62MAS with a renewed sense of purpose and charm.
Its 38mm stainless steel case, box-shaped sapphire crystal, and 200-meter water resistance instill a sense of graceful confidence in the wearer. The watch features a dark gray sunburst dial with Lumibrite hands and markers and is powered by the Caliber 6L37.
Priced at $3500, the SJE093 is a collector's dream, capturing the essence of Seiko's rich heritage with a touch of contemporary flair. Get it here.
18. Seiko Prospex 1968 Diver Modern Re-Interpretation SLA073
Here is another watch that evokes a deep sense of nostalgia and appreciation for the artistry behind its recreation. Every detail of the SLA073 tells a story of craftsmanship and dedication, reminding us of the beauty found in preserving and cherishing the past.
The stainless steel case measures 42.6mm across and has a thickness of 13.1mm. So yeah, it's a bit hefty, but this gives it a bold and distinctive appearance, making a strong style statement.
Each intricate detail on the graduating dial triggers a flood of nostalgia, reflecting on the growth and transformation of Seiko's watchmaking expertise throughout the years.
Inside, the high-end Caliber 8L35 ensures precision and reliability, and the watch is mounted on a stainless steel bracelet with a folding clasp and diving extension. Priced at $3,900, this Seiko Prospex re-interpretation is a captivating timepiece, telling a profound story etched in time.
19. Seiko Prospex LX SNR029
And now, the LX SNR029. An enticing dive watch that invites you to embark on thrilling underwater adventures. Housed in a robust 44.8mm titanium case with super-hard coating, this timepiece is a trusted and steadfast companion, built to endure the harshest conditions.
Reading time is a breeze, thanks to the luminous hour and minute hands, fully brushed for a sleek touch. The clean dial, stripped to the barest necessities, focuses on the essentials with 12 large, bright hour markers.
Keeping the watch precise with an accuracy rating of ±1 second per day is the Spring Drive Caliber 5R65. With a generous 72-hour power reserve and 30 jewels, it's a true horological powerhouse. The SNR029 is water-resistant up to an impressive 300 meters and is priced at $6,000. You can get it here.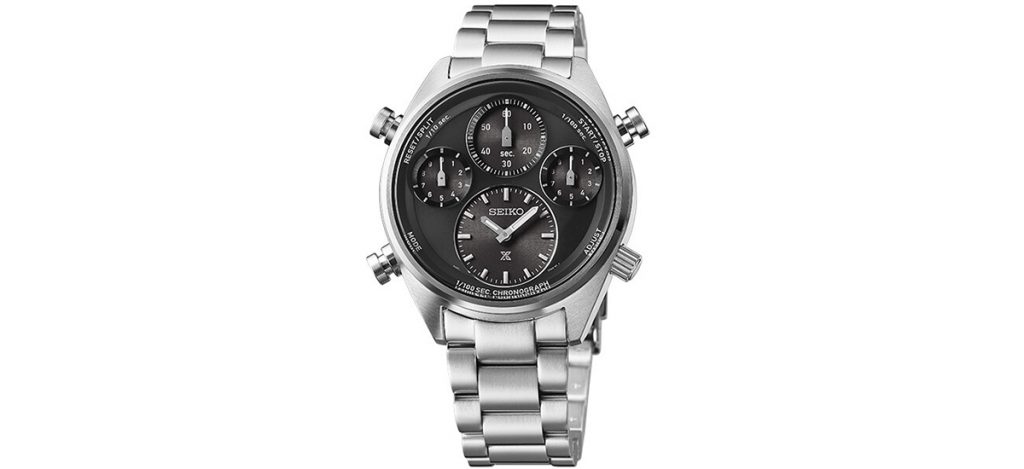 Beyond mere aesthetics, the Speedtimer SFJ003 embodies a soulful elegance that resonates with one's deepest emotions. Take a closer look at the dial and just focus on it for a minute. Don't you find the watch enveloping you in a comforting elegance?
It is classy, charming, unique, and just beautiful. Like a steampunk gadget from a sci-fi realm, unconventional yet enthralling. Crafted in stainless steel, the 42mm case features four separate subdials and four crowns that scream "chronograph mastery".
With an impressive black-on-black dial and white markers, it's a statement piece. Chronograph mode? Activate it with the "Mode" pusher at 8 o'clock, and you're in for a delightful show. The three sub-dials 10′, 12′, and 2′ are dedicated to tracking elapsed seconds while the main time is read at the subdial at 6′.
The Solar Caliber 8A50 keeps the watch ticking with ±15 seconds per month accuracy. The water resistance of this watch is rated at 100 meters, and it retails for $895. You can get it here.
21. Seiko Presage Cocktail Time SRPE19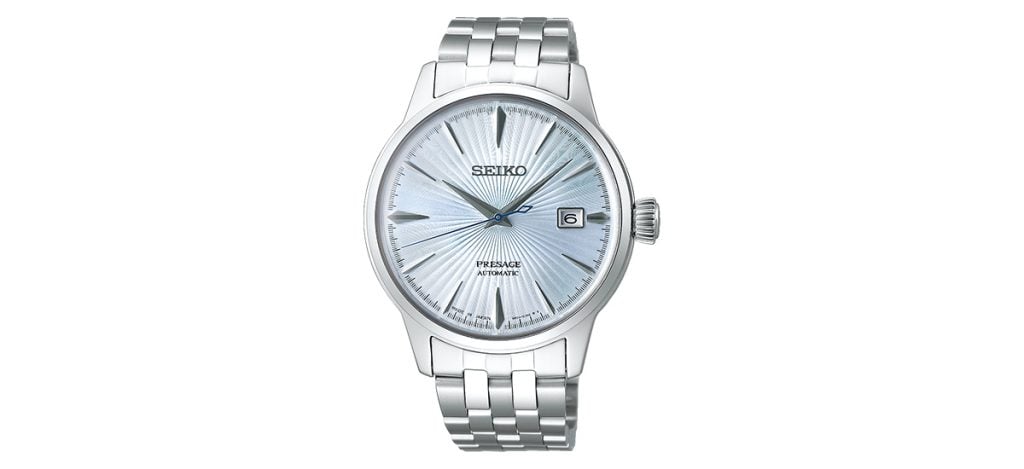 The Cocktail Time SRPE19 is a masterpiece of elegance and refinement! This watch boasts a graceful 40.5mm × 11.8mm steel case and a highly polished bracelet that exudes a sense of charm and sophistication.
The delicate design and subtle details of the dial create an endearing sense of attraction and warmth. The pattern on the dial features deep grooves, creating a captivating appearance and reflecting light beautifully in a lovely light blue hue.
Inside, the automatic Caliber 4R35 with its gold rotor ticks away at 21,600 vph, ensuring reliable precision for up to 41 hours. With a water resistance of 50 meters, it can handle splashes but don't take it for a swim. The watch retails for $450 and is one of the best Seiko watches of 2023.
22. Seiko Presage Sharp Edged Series SPB165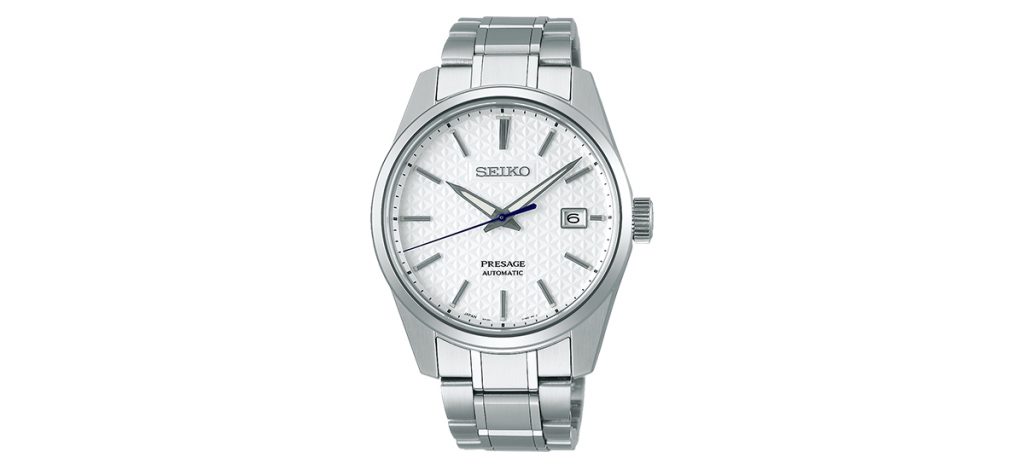 The SPB165 is a symphony of style and grace. This dress watch was made to dance upon the wrist like a sonnet brought to life and is encased in a sleek 39.3mm × 11.1mm steel with super hard coating.
Now, let's talk dial. A subtly iridescent white backdrop, blued seconds hand, and a three-dimensional Asanoha pattern give us a true work of art inspired by Japanese heritage.
From the intricate details on the face of the watch, you'll uncover precious memories of countless hours spent by skilled artisans striving for top-notch elegance.
Powered by the automatic Caliber 6R35, this watch keeps ticking with precision, +25 to -15 seconds per day. And with a jaw-dropping power reserve of approximately 70 hours, it's an endurance champ!
Wear it with pride on the three-fold clasp bracelet, and venture under the sea in confidence with 10 bar water resistance. It retails at $1,000 and is your sharpshooter to steal the spotlight.
23. Seiko Presage Craftsmanship Urushi Dial SPB295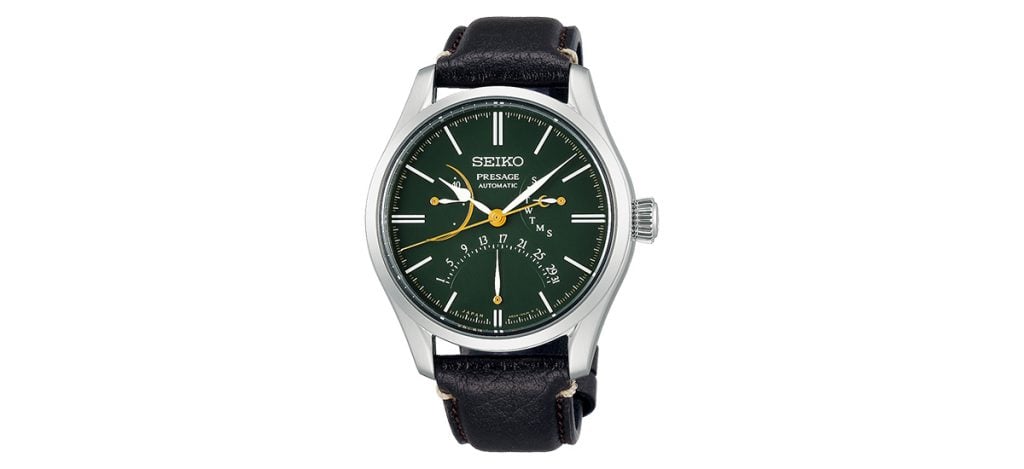 The SPB295 is a watch that immediately creates a special connection that extends beyond its functionality. I mean, take a look at this beauty. Strapping this on just feels liberating. The green symbolizes freedom, calling you to escape the constraints of everyday life and just break free.
The stainless steel case, measuring 40.5mm in diameter, houses a dual-curved sapphire crystal with an anti-reflective coating. The dial is a true labor of love! Handcrafted with Urushi lacquer by master craftsman Isshu Tamura in Kanazawa, Japan, it's a tribute to the lush greenery of Kanazawa in summer.
The painstaking process involves multiple layers of painting and polishing, resulting in a deep, glossy green surface that ages beautifully with time.
But there's more! This beauty showcases a double retrograde display – the hours, minutes, and seconds in the center, the power reserve at 9:30, and the retrograde date and day indicators at 6 o'clock and 2:30, respectively.
Under the hood, the Caliber 6R24 with 31 jewels guarantees precision and a power reserve of approximately 45 hours. It retails for US $1,900 and can be purchased here.
24. Seiko Presage Style 60's SRPG03
Whether it's a business meeting or a social gathering, the SRPG03 is bound to add a touch of glamor and versatility to any ensemble.
Capturing the essence of the past while adding a fresh and captivating futuristic design, this timepiece measures 40.8mm in diameter. The cream satin dial takes center stage, evoking a sense of nostalgia and appreciation for the vintage-inspired aesthetics.
It's all in the details – a black minutes-track on the outer chapter ring and a white date window at 3 o'clock with black lettering. Powered by the automatic Caliber 4R35, this watch keeps the rhythm with precision and has a power reserve of approximately 41 hours.
The stainless steel link bracelet, polished and brushed to perfection, completes the look. With its stunning design and reliable movement, it's the perfect wrist companion for those who appreciate a timeless melody with a modern beat. Get it here for $525.
25. Seiko Presage Cocktail Time SRPD37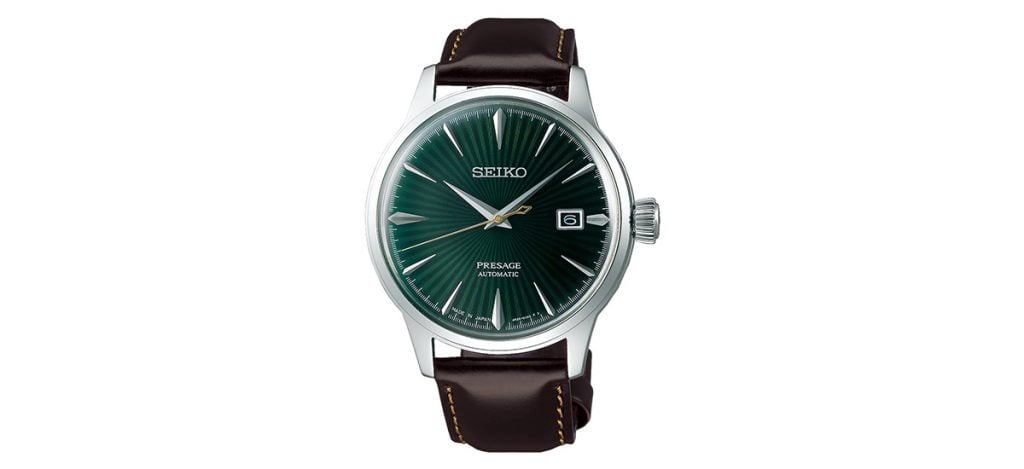 Let the captivating details of the Cocktail Time SRPD37 enchant you, and don't be ashamed to head over heels in love with this timepiece.
With a clean and elegant design, the 40mm stainless steel case strikes a balance between a sporty everyday watch and a refined dress timepiece. At 11.8mm thick, this piece will effortlessly slip under a cuff.
However, the oversized crown at 3 o'clock adds a touch of character and ease for time-setting. Now just take a look at that sunburst pattern dial as it exudes a captivating and radiant allure. Its warm, green hues evoke feelings of joy and optimism, akin to a sunlit morning that fills the heart with hope.
The applied metal markers, beautifully shaped like arrows with polished finishes, complement the dial's elegance and enhance the play of light.
There's a subtle date window at 3 o'clock, surrounded by a beveled metal frame, and the watch is powered by the Caliber 4R35. It is worn on a calf-skin band and retails for $425.
26. Seiko Presage Craftsmanship Enamel Dial SJE075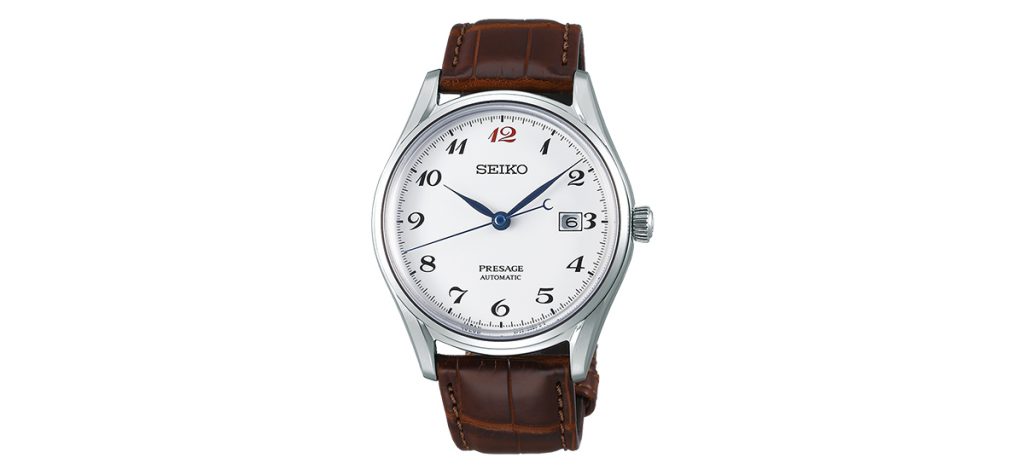 Here is a true masterpiece, and here is a watch with a timeless design that will not lose its captivating appeal for generations. I think this watch makes a great heirloom piece that will be cherished for years to come.
The stainless steel case with super-hard coating measures 39.5mm in diameter and has a 10.9mm thickness.
The pristine white enamel dial is a mesmerizing work of art, exuding a timeless elegance that captivates the soul. Its lustrous surface, reminiscent of pristine ivory, is adorned with blue steel hands, a date calendar, and a vivid red numeral at 12′.
It is powered by the precise Caliber 6L35, retails for approximately $3,300, and comes mounted on a luxurious crocodile leather band.
27. Seiko Astron SSH107
Seiko Astron is a line of solar-powered watches known for their high precision and accurate timekeeping, thanks to the GPS synchronization that allows them to adjust to the correct timezone anywhere in the world.
With a 42.0mm × 12.2mm titanium case, you are guaranteed a lightweight, scratch-resistant timepiece that lasts ages. Not only are you telling accurate time, but you are also embracing the future – a future wrapped around your wrist, empowering you to navigate life's challenges with confidence.
Its water resistance of 100 meters adds practicality to its impressive repertoire, while its sleek design increases its appeal. The watch features subdials responsible for time-zone display, day display, second timezone indicator, and power reserve indicator.
It is driven by the advanced Caliber 5X53, a GPS solar movement, with a power reserve of six months on a full charge, and even extends up to two years in power-saving mode. Expect to spend $2,500 when you purchase a new piece here.
28. Seiko Astron GPS Solar SSJ013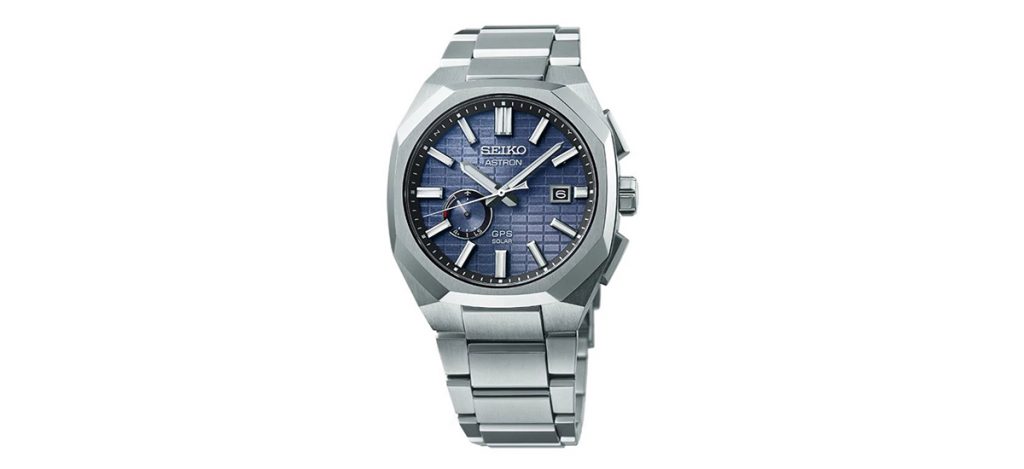 Tell me, as you gaze upon the glistening surface of the GPS Solar SSJ013, don't you feel a sense of wonder and excitement wash over you? Are you not thrilled to know that beneath its elegant facade lies a realm of cutting-edge technology?
Crafted from lightweight titanium, the 39.5mm × 10.9mm integrated case boasts a brushed and polished fixed angular bezel.
This adds a touch of sophistication to its sporty demeanor and enhances its luxurious appearance, making it an ideal companion for any occasion.
The mesmerizing blue dial features a textured stack brick pattern, exuding an aura of exclusivity, while the black date window with white numbers offers practicality and balance.
It is equipped with the advanced Caliber 3X62, has a 100 meters water-resistant rating, and commands a price tag of $2,000. You can get it here.
29. King Seiko SJE089
King Seiko is a prestigious line of mechanical watches, first introduced in 1961, and represents the pinnacle of Seiko's watchmaking expertise together with Grand Seiko. Paying homage to its 1965 predecessor, the King Seiko KSK, this watch features a fitting size of 38.6 x 10.7mm.
The silver dial is velvety with baton hour markers that stand out like stars against the ethereal backdrop, while the slender hands gently glide with graceful precision.
The 12 o'clock marker stands out with a hobnail pattern, echoing the Clous de Paris motif from the original 1965 design and evoking a sense of serenity and poise.
Driving this classic timepiece is the precise Caliber 6L35 with 26 jewels and a power reserve of 45 hours. The watch retails for around $3,500 and artfully embodies the essence of both the past and the present.
30. Credor Art Piece Collection GCBY997
Credor is one of the high-end offerings from Seiko, showcasing the brand's expertise in traditional Japanese watchmaking. So what have I got here? Nothing but a dress watch that exudes elegance and sophistication, captivating our hearts with its sleek design and delicate details.
The slender, polished stainless steel case measures 38mm wide and 9.7mm thick. As part of Seiko's haute horlogerie line, Credor watches represent the pinnacle of exotic crafts.
The jet-black lacquered dial features delicate, handcrafted details that breathe life into its design. Only 60 pieces of this exquisite reference GCBY997 have been manufactured, making it a true collector's dream.
The heart of the timepiece beats with the Seiko Credor 6890 movement, a marvel of engineering, especially with its ultra-thin profile, measuring only 1.98mm thick. The Caliber 6890 is one of the thinnest mechanical movements in the world, beautifully visible through the exhibition case back. Expect to spend around $12,000 for a new piece.
Conclusion
There you have it; the best 30 Seiko watches in 2023. If you want to feel a connection to the long history of Japanese artistry and innovation, buy one of these.
If you want to be a part of a selected group of people who appreciate the art of timekeeping, go for one of the best Seiko watches.
These timepieces are more than just accessories; they are an expression of your taste, style, and appreciation for the extraordinary. And they rock!!