12 BEST Luxury GADA Watches (Including Rolex, Tudor, & More!)
GADA – Go anywhere, do anything. These are easily the best watches you can lay your hands on – if off-the-chart versatility and style are your specs. And luxury GADA watches don't have to break the bank. You can find a spectacular piece within your budget using our list and top picks as a template. The only thing you'll miss as you do down the budget line is big-name brands.
As watch faithful, though, you'll be impressed by the level of craftsmanship and finish on even the "cheapest" GADA luxury watch on this list. What matters more? Well, if it's luxury and pizzazz, you'll find them in this review. Let's dive into GADA watches.
About Luxury GADA Watches
It's hard to put a date on when GADA watches began since it's essentially a concept for comfortable and functional timepieces. But it's only right to trace its history to the origin of sports watches.
More specifically, when Tenzing Norgay and Sir Edmund Hillary set out to climb Mount Everest, along with woolen suits and ice axes, these explorers carried Rolex Explorers on their trip. The rugged timepieces reached the summit and back intact.
This is a watch that feels at home at high altitudes and is more than welcome at a fashion show or a five-star restaurant. The Omega Seamaster is another iconic GADA at this point – as it also made a trailblazing journey into space.
Soon, around two decades later, classic dressy luxury watch brands like AP and Patek Philippe embraced the GADA culture. They released the Royal Oak and Nautilus as their official launches into the world of sports watches.
These watches, as far as horological history goes, are the frontrunners for the advent of GADA watches in pop culture today.
How To Spot The Perfect GADA Luxury Watch
What's a watch review without a guide on how the editors made our top picks? That's a dictatorship. Or garbage at worst because you don't have a map that can show you how to make your own informed decision about your top pick.
Wearability
The whole point of a GADA watch is to be so comfortable that you want to wear it everywhere you go. We pay attention to the little details that make them so wearable, regardless of brand or model. This will help you pick a GADA timepiece outside of the models on our list if they're outside your price range or not to your taste.
Case-Bracelet Symmetry: A GADA watch should have a bracelet at least half the width of the case, preferably more. It gives the watch a sturdy and reinforced feel and contours well to the wrist.
Bezel: GADA watches may have the durability of an instrument watch, but they're primarily bezel-less and without the crown or pushers protruding. That'll be considered too sporty and inconvenient to go anywhere.
Case size: a prime candidate for a GADA watch should be around 40mm. Thomas Stover calls it the "Goldilocks zone" because it's large enough for readability and portable enough to dress up.
Build Quality & Durability
Can't settle for less when it comes to durability in a GADA watch. So, how do you spot a timepiece durable enough to be a tool watch and stay classy?
It's all about the material component, as GADA watches consist of a solid case build, a secure clasp system, and a legible and luminous dial.
Versatility
The style and engineering of a GADA watch should be suitable for casual and formal wear. It's not enough for a watch model to be water-resistant and strong. It should also be a good contender for formal wear.
Consequently, a predominantly classy and dressy GADA should be capably built for active or sporty wear to be considered GADA.
12 Best Luxury GADA Watches
This is a list of the best luxury everyday wear watches, with prices ranging from two thousand dollars to about fifty thousand dollars.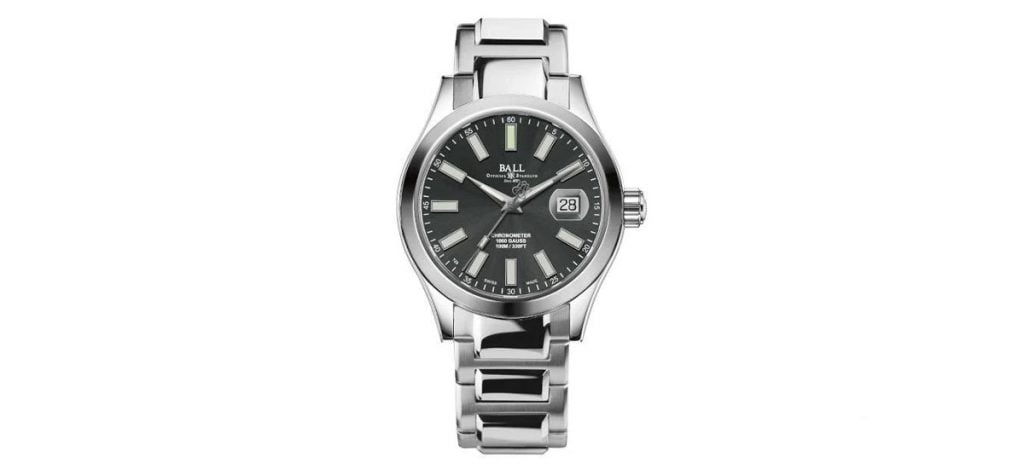 Starts from approximately $2,200
The Ball Engineer Marvelight is the lesser-known GADA watch for hardcore enthusiasts and new watch lovers. This watch is so good it'll pass for a Rolex Datejust alternative with flying colors. With a 40mm stainless steel case that's only 13.6mm thick and weighs 180g, you can go anywhere and do anything with the Marvelight.
Unlike a Datejust, though, you aren't getting the trademark steel. But you get a 904L stainless steel shield that's reinforced with a mu-metal shield, which means you can wear it underwater or in magnetic fields. It's water resistant to 100 meters and has a 1000-gauss anti-magnetic protection.
It has a captivating black dial that contrasts perfectly with the silver hour markers. What's more attractive is the architecture of its case. This dial is not just about aesthetics; it's also about functionality. Ball's signature H3 gas tubes adorn the hour markers, offering luminescence that outshines traditional SuperLuminova, ensuring optimal visibility in low-light conditions.
Inside the Marvelight is Ball's RR1103-C caliber, a COSC-certified automatic movement with a 38-hour power reserve. While this may come up short for collectors, it's perfect for anyone who wants luxury daily wear.
Its chunky bracelet and large crown give it a substantial feel on the wrist, yet its dimensions make it versatile enough to double as a dress watch.
Starts from approximately $3190
The Tudor Ranger (ref. M79950-0001) is a testament to Tudor's commitment to precision, functionality, and timeless design. Drawing inspiration from its rich heritage, the Ranger is a modern reimagining of the classic field watch.
It's encased in a 39mm steel frame with a brushed satin finish and rounded case reminiscent of the Ball. They have a similar case design but a different finish. The Ball is more versatile for formal wear, while the Ranger has a casual appeal. I only mean this theoretically; practically, though, both timepieces are to die for in a dress.
The Tudor Ranger's enigmatic dial exudes "GADA." It has a dull vintage matte black dial with clearly illuminated hour markers characteristic of a tool watch while maintaining a dressy appeal. Admittedly, the polished bezel edges play a part in this. Moreover, the mixed styling of the hour markers and hands, using Roman numerals, a red pointed seconds hand, and an arrow hour hand, are rare Tudor features.
Only 12mm thick with a 47mm lug-to-lug dimension, you can't miss out on the comfort plane. And it uses a powerful 70-hour power reserve in-house MT-5402 automatic caliber. If style, readability, and comfort from a fairly popular brand interest you, this Tudor Ranger is your GADA.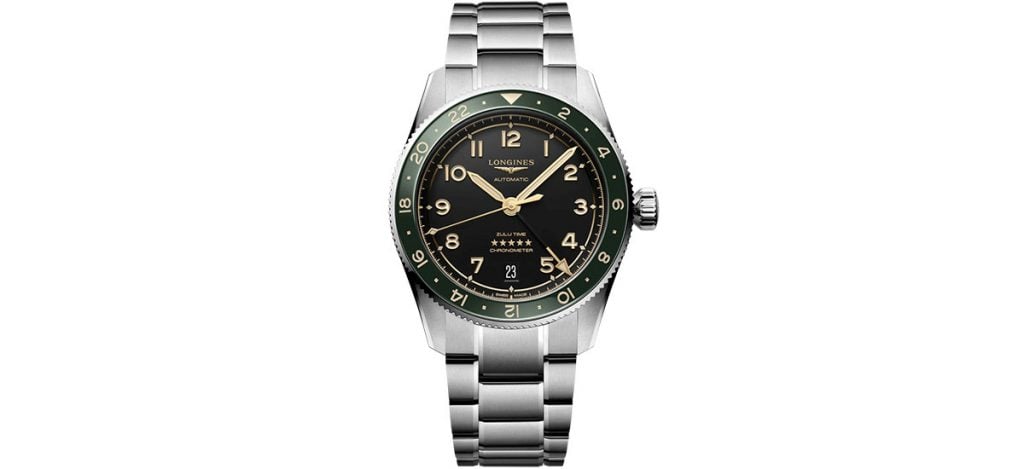 Starts from approximately $3,400
The Spirit Zulu might be Longines' best-kept secret. Because for a brand that's almost purely a dress watchmaker, they knocked this GADA out of the park. Although we agree a GADA watch should be bezel-less, the Spirit Zulu remains wearable with its 39mm steel case.
It's refreshingly different. While the case is round, the lugs have a distinctive angular shape that gives it a robust look, although they are still under 47mm. The bezel is bi-directional and can function as a second 24-hour time zone. An extra hand on the dial reads minutes.
The Spirit Zulu is powered by an in-house L888-4 caliber with 65 hours of power reserve. While I love the durability and versatility of its stainless steel build and sapphire glass face, I appreciate the wide range of strap options. It's available in blue and white leather straps with a blue dial.
That's right. It's dressy, robust, functional, and comfortable. We just couldn't pass up the Longines Spirit Zulu on a list of "go anywhere, do anything" watches.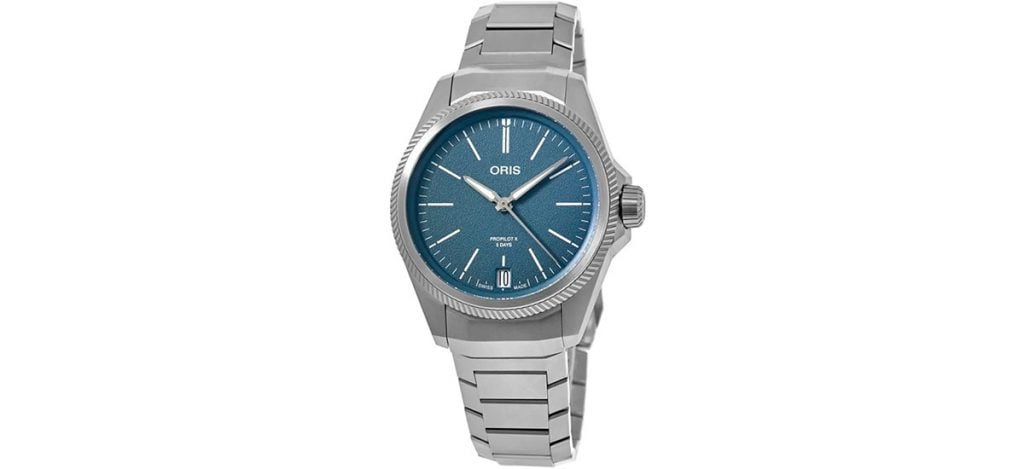 Starts from approximately $4,000
The Oris ProPilot X is astoundingly reminiscent of the F-35 fighter jet. A streamlined, sleek, yet powerful modern (released in 2022) luxury GADA watch. The Calibre 400 is ruggedly built with titanium all around, from the case to the bracelet.
It has a thoughtful and utilitarian aesthetic that pays homage to its aviation roots. The jagged bezel is inspired by the turbine of an airplane, which is beautiful and functional for pilots wearing gloves in the field.
Aside from an all-titanium build and 100-meter water resistance to do anything, it can be styled to go anywhere. This ProPilot X Calibre 400 has a painted blue dial and pointy, luminous hands and markers that complement its bezel.
Furthermore, the case is only 39mm wide and about 12mm thick. With that, you can dress it up or take it for a swim easily. Its wearability is compared to the Omega Seamaster 300M and the Seiko Turtle.
Not to mention, it uses an Oris 400 caliber with 120 hours of power reserve. And is on display in its open caseback with similar turbine-inspired edges like the bezel. Finally, you have three dial options in pink and gray.
Starts from approximately $5,500
Another pilot watches to make this list, but this time, a simpler model that traces back to World War II. The Mark XX is a symbol of history and modernity contained in a 40mm stainless steel case with a slim 10.8mm profile.
Its matte black dial with Roman numeral hour markers and logo at 12 o'clock set a vintage vibe. So do the other color options, like sunburst blue and sunburst green. The black-and-white contrast of the dial, markers, hands, date window, and slim case is astonishing.
Don't let the cool and portable profile fool you. The IWC Pilot Watch Mark X is a powerhouse. Its 32111 caliber has a power reserve that can last up to 5 days. It's also water-resistant up to 100 meters.
Whether you rock this vintage timepiece on a stainless steel or leather strap, it's the epitome of a luxury GADA watch. Its sheer doggedness and wearability are all you need to get there.
Starts from approximately $6,200
The Grand Seiko SBGA211, AKA Snowflake, is one of Grand Seiko's most sought-after models. It's a symphony of careful design and engineering prowess. What stands out in the Grand Seiko SBGA211 is its trademark Snowflake dial. It draws inspiration from the snow peaks of the Jonen Mountains just outside the Grand Seiko workshop.
A brass plate goes through a multi-stage process to bring out the snow-white color without painting. Despite its size, it's a testament to world-class craftsmanship and makes the SBGA211 a capable dress watch.
And durability isn't in doubt, either. It's crafted in a 41mm high-intensity titanium case and is 12.5mm thick. It's about thirty percent lighter than stainless steel watches, making it extra comfortable and actually "a pleasure to wear."
The SBGA also uses a game-changing spring drive of 9R65 caliber. It boasts a three-hour power reserve, and a power reserve indicator is at the bottom left of the dial. All in all, the SBGA211 "Snowflake" is the perfect GADA watch to enjoy a bulky yet lightweight and dressy timepiece.
Starts from at approximately $7,900
This is the first rubber strap entry on this list and probably the last. But you'll see soon why it's a worthy model on the list. The 42mm titanium case is easily its standout feature. There's a perfect symmetry to the case etchings, pins, markers, and hands that's simply eye candy for either enthusiasts or the uninitiated.
Hublot Classic Fusion runs on a Hublot 1110 caliber with a Sellita base. It features only 42 hours of power reserve and 25 jewels. This may be the only downside to what's otherwise a sublime piece of art.
As expected from titanium, it's lightweight. This, coupled with the gray rubber strap, makes it the ultimate luxury GADA watch. The washed gray dial is the perfect companion to a dinner date and will equally accompany you for laps in the pool.
Starts from approximately $8,500
This is one of Omega's more reliable and accurate timepieces and is also a paragon of elegance. However, it's an unconventional design and engineering for those who dare to be different while still upholding GADA standards.
You don't have to worry about comfort and durability with this masterpiece from Omega. It hits the sweet spot with its 39mm case and 12mm thickness.
It embodies a fusion of different eras in Omega chronometer designs. The unique "pie pan" dial with edges that appear like it's a 12-pointed star or 3D work of art. It was the favorite feature of 50's and 60's constellation models. Even in "Globemaster," the name was borrowed from the first Constellation.
Also, this dial has impeccable readability, like stars on a clear winter night. The blue dial contrasts with the silver stick hour markers, while the dotted minute markers look like bright stars. And they match with the carbide bezel, case, and bracelet, which is spectacular.
What's more, only the crown protrudes from the case. It may be a small adjustment, but it makes the difference for a stylish dress watch.
Moreso, the Constellation Globemaster is a master time teller carrying Omega's 8900 caliber. It carries the "Master Chronometer" label, indicating that it underwent the rigorous testing and certification process with METAS.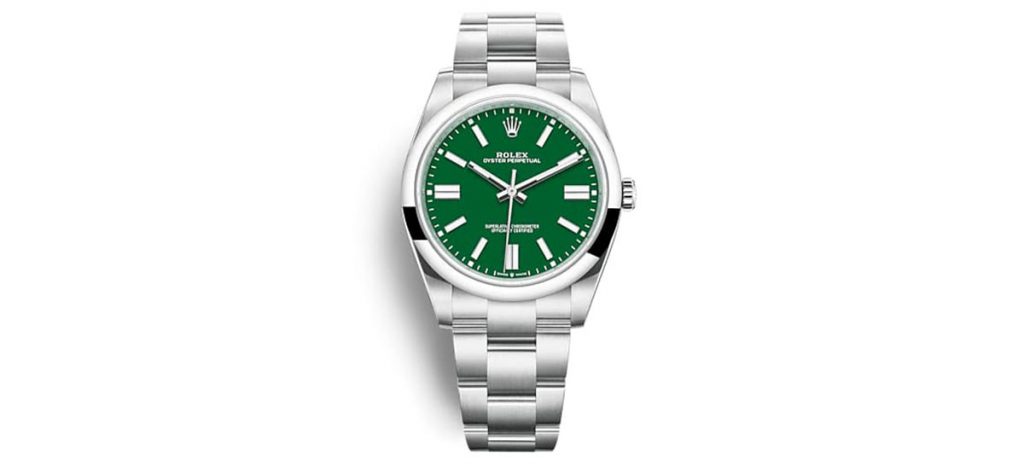 Starts from approximately $10,000
An epic luxury watch list is almost incomplete without a member of the Rolex family. And the Oyster Perpetual made the cut not because of some nefarious nepotic scheme but for its brilliant excellence as a GADA.
It was love at first sight; however, as the saying goes, love simply isn't enough. But its basic yet classy features will justify the price tag.
Let's be honest. The first thing you notice about this watch is its green dial. Aside from its beauty, this is a rare feature in Rolex collections and increases its resale value. But that's beside the point. It makes it a perfect fit to style your evening wear or a casual outfit.
Durability is not a debate with a Rolex timepiece. The Oystersteel case and bracelet are tested and trusted to withstand rough or extreme use. This watch is water-resistant up to 100 meters and has a dependable Rolex caliber 3230 that'll stay accurate in extreme conditions for up to 45 hours.
Without any initial doubts, the Rolex Oyster Perpetual is a top-notch luxury GADA watch for folks who want to make a statement in the process.
Starts from approximately $25,000
When it comes to making statements, you can't go wrong with Patek Philippe. Or the next two watch models on this list. We are talking about the "Holy Trinity" of horology. And the Aquanaut is one piece you can wear anywhere.
It's the epitome of luxury and simplicity. Its simple yet sophisticated craftsmanship design is what makes it irresistible. The black dial, sweeping hands, Arabic numeral, front-and-back sapphire cover, and insane durability and water resistance
I'll start with the dial. It's carefully embossed with a checkered grid design that looks like a spherical representation of the globe in black. And the gold-applied hands and hour markers have a harmonious connection that tells the time extravagantly.
The 41mm stainless steel case turns what would've otherwise been too sporty into an ultimate GADA piece. It has a bold cushion shape that transforms the Aquanaut into what you want to be underwater in a wetsuit, tuxedo, or plain tee. Coupled with its composite black strap and its only 8.9mm thickness, the Patek Philippe is the best sporty luxury GADA watch.
The case is also water-resistant to 120 meters. Flipping it on its back, you can peep the Caliber 324 SC with a gold rotor. The only downside is that I expected more than a 70-hour power reserve from such a powerhouse. One thing's for certain, though: it will last the lifetime of several generations.
Starts from approximately $21,000
"Perfectly suitable for active lifestyles," is the first thing VC says about this model on their sales page. So, if you don't take my word for it, Vacheron Constantin should change your mind.
This Overseas model is pure luxury and fully customizable for an epic GADA experience. It features an easily interchangeable strap system with steel, leather, and rubber options available, plus a secure clasp system. In essence, you enjoy the best of every occasion, like the Apple Watch, depending on your straps.
It has a 41mm Maltese cross-shaped case with a black dial that will turn heads in any setting. This stainless steel encasing has a pronounced polish finish that reflects beautifully. And the dial is finished in gloss, so it appears darker against the stick and dot hour markers and hands, especially when they come alive in the dark.
The outer case and bracelet portray meticulous craftsmanship with their brushed finish. An open case back with a sapphire crystal cover displays the VC 5100 caliber with a 22k gold rotor. It features 60 hours of power reserve, 37 jewels, and a date function.
12. Audemars Piguet Royal Oak Self-Winding (ref. 15510ST.OO.1320ST.08)
Starts from approximately $45,000
In the grand scheme of things, the AP Royal Oak will go down as the ultimate luxury GADA watch. Luxury, comfort, and style. The Royal Oak is touted as Audemars Piguet's latest ergonomic design evolution.
With an integrated bracelet, you enjoy the best of both worlds – aesthetics and comfort. The harmonious flow of the lug into the bracelet reinforced durability, and extra conformity to the wrists. But that's just a warmup. Its octagonal 41mm stainless steel case casts the watch under the spotlight.
The expert-made Grand Tapisserie dial provides substance when you look closely at the guilloche patterns. Furthermore, the hour markers and hand appliances can work, and they have an impressive finish that appears like titanium or white gold. Inside the case, is a caliber 4302 with 70 hours of power reserve.
Conclusion
Luxury GADA watches accompany you anywhere you want to go and are suitable for any purpose. Essentially, these timepieces become a dress, sport, or tool watch as you desire. If your aim is to pick the absolute cream of the crop, then this guide has all the models that can make that a reality.
You'll find entry-level luxury for as little as two thousand bucks and can gradually transcend into the "Holy Trinity" of watches for as much as forty thousand. Alternatively, you can guide yourself to pick a non-luxury GADA watch based on our guide and top picks. For now, enjoy the top 12 luxury GADA watches in the horological scene.
About Exquisite Timepieces
Established in 1998, Exquisite Timepieces is your one-stop shop for all things luxury watches! We are an authorized dealer for 60+ luxury watch brands including Omega, Hublot, Seiko, & Longines! We are proud to showcase one of the world's largest pre-owned watch collections, including renowned brands like Rolex and Patek Philippe. Check out our brand new watch arrivals here and popular pre-owned listings here.