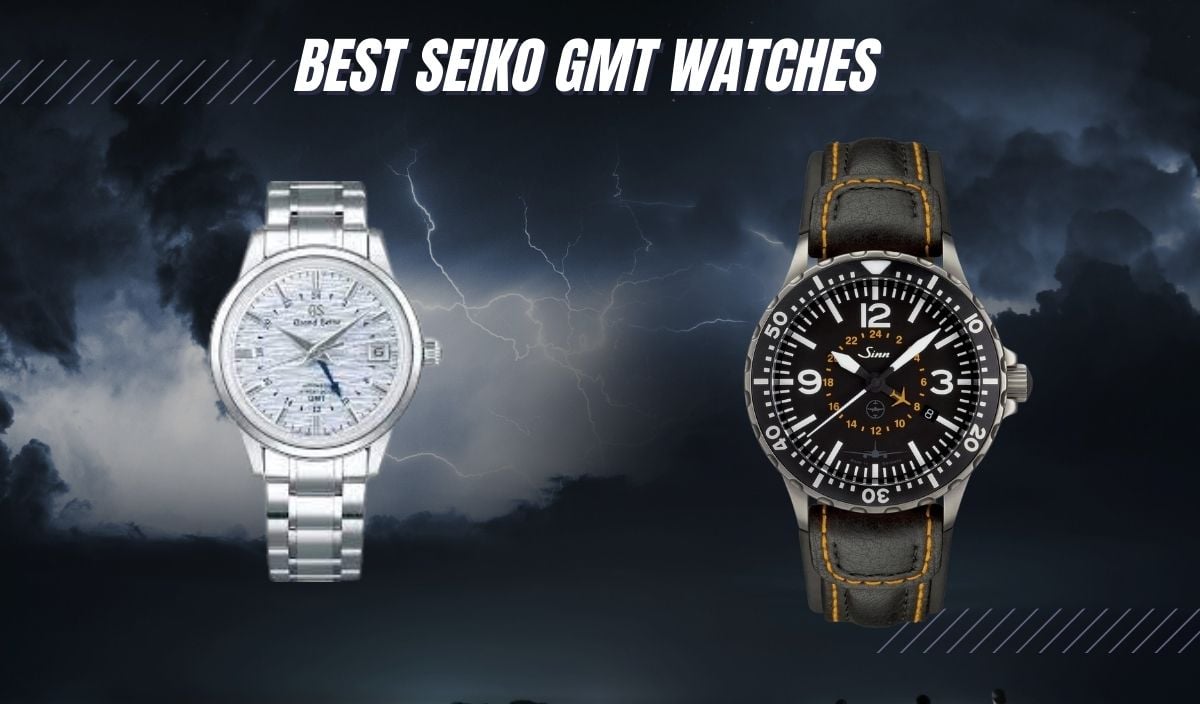 10 BEST Seiko GMT Watches (Perfect Travel Companions!)
Imagine the thrill of standing at the edge of an ancient citadel, gazing out over a sprawling metropolis as the sun sets behind distant mountains. Or picture yourself sipping espresso in a quaint café along a cobblestone street in a European city you've never visited before.
These moments are the essence of travel. But as we go on exploring new cultures, we all need that one watch that will serve as our trusted companion, ensuring we never miss an appointment, a cultural event, or a flight back home.
Fortunately, a GMT (Greenwich Mean Time) watch comes to the rescue. It is a type of timepiece that allows us to track multiple timezones simultaneously and has the power to transport us, not just through minutes and hours, but across oceans and continents.
These time-telling devices are valuable tools for travelers, professionals, and anyone who needs to stay connected with the world across different timezones.
Whether you're an adventurer at heart, a globetrotter, or simply someone who cherishes the moments that make life unforgettable, here are 10 of the very best Seiko GMT watches that will not only mark hours but etch memories.
About Seiko GMT Watches
The concept of GMT watches can be traced back to the development of global travel, aviation, and the need for accurate timekeeping across different timezones.
For Seiko, the journey into the GMT realm began in 1964 with the launch of its first World Time watch – the 6217-7000 (MASWT). The World Timer could display the time in multiple timezones simultaneously and was powered by an automatic movement: the caliber 6217A. Its internal rotating bezel displayed 24 timezones, and the GMT hand came in either black or a warm sandy color.
A few years later, Seiko released the second generation of its GMT watches: the 6117-8000. The timepieces featured a bright-red GMT hand calibrated to the main hour hand and came in a stainless steel tonneau case that measured 38.5mm.
The highly functional GMT watch also featured a date window at 3 o'clock, a bezel with 24-hour denotations, and an automatic movement; the 6117A.
Seiko continued to innovate so that among its impressive repertoire, GMT watches have carved a niche for themselves. The brand produces a wide range of GMT watches, both mechanical and quartz, with various levels of complexity.
In more recent years, Seiko has incorporated GPS technology into some of its watches so that the timepiece can automatically adjust to the correct local time using GPS signals. An example of this is the Astron GPS Solar LE | SSJ017.
Among Seiko's impressive repertoire, GMT watches have carved a niche for themselves. Seiko GMT watches are popular among travelers, pilots, and professionals who frequently need to reference timezones worldwide. They are also useful for individuals conducting international business or communicating with colleagues or family in different timezones.
What To Look For in Seiko GMT Watches?
When looking for a Seiko GMT watch, there are several key features and factors to consider to ensure you make the right choice:
Watch Style
GMT watches are not only functional devices but are also fashion accessories. Seiko offers a wide range of GMT watch designs, from sporty to dressy, so you have to find one that suits your taste.
Watch style is an essential consideration because it impacts the watch's aesthetics and suitability for various occasions, comfort, and long-term satisfaction. Plus, if you choose a GMT watch that complements your style, you'll be more inclined to wear and enjoy it.
Again, different occasions and settings call for different watch styles. If you attend many formal events, a dressy GMT watch with a sleek design is more appropriate. On the other hand, a sporty or rugged-styled GMT watch will be ideal for enthusiasts who often engage in outdoor activities or dress casually more often than not.
Additional Functions
Additional functions in a GMT watch refer to any features or complications beyond the basic timekeeping function. These functions are important to consider when buying a GMT watch because they can enhance its usefulness and versatility for various purposes.
Some additional functions commonly found in Seiko GMT watches include a world time function (which allows you to view the current time in various cities around the world), a date display, and a chronograph.
If you're a frequent traveler, you'd find the world time function of great importance. However, just a date function will do if you're purchasing your GMT watch for everyday wear.
Price
Seiko offers a wide price range, so there's likely a GMT watch in its catalog for you. The prices often correlate with the watch's features, materials, and craftsmanship, so set a budget before you explore Seiko's GMT watch offerings.
By determining your budget, you can strike a balance between the features you desire and what you can afford. This helps you narrow down your choices and prevents you from overspending and regretting later on.
How To Read A Seiko GMT Watch
Before we get down to brass tacks, let's shed light on an important issue: how to read your GMT watch. Setting up a GMT watch correctly for the first time and understanding how to adjust it can be confusing for some people, leading to occasional misreadings.
Here's a step-by-step guide on how to read a GMT watch:
Identify the GMT Hand
Every Seiko GMT watch comes with three hands: the main hour hand, the minute hand, and the GMT hand. It is easy to identify because it's always with a different design or color and points to a 24-hour scale on the watch.
This GMT hand is what is used to track a second timezone. The main hour and minute hands on the dial only indicate the local time, just like any standard analog watch.
Set The GMT Hand
You would find a 24-hour scale printed on the periphery of the dial of Seiko GMT watches or the bezel. This 24-hour scale helps you distinguish between AM and PM in the second timezone and is convenient for reading time in various settings, including military, aviation, and international timekeeping.
To set the GMT hand to the desired second timezone, use the watch's crown to align the GMT hand with the reference timezone you want to track. Please ensure the bezel is in its correct position, with the 24-hour marker at noon.
Read the GMT Time
Once the GMT hand is correctly set, you can read the second timezone by noting where the GMT hand aligns with the 24-hour scale. Let's assume that you're traveling from Naples, Florida, to London, United Kingdom.
Before leaving, set the GMT hand on your watch to point to the current time in Naples. Naples, Florida, is in the Eastern timezone (ET), which is typically UTC-5 during Standard Time (EST) and UTC-4 during Daylight Saving Time (EDT).
Maintain the main hour and minute hands of your watch set to the local time throughout your journey, but as soon as you arrive in London, manually adjust the GMT hand on your watch to account for the time difference.
So if your home time is 09:00 on arrival, manually adjust the GMT hand on your watch to indicate 02:00 PM (14:00) as London is typically on Greenwich Mean Time (GMT), which is UTC+0.
This way, you can easily track the time in your reference timezone while keeping the local time on your watch without using phone apps or online converters.
10 Best Seiko GMT Watches
From timeless classics to modern marvels, here are the 10 best Seiko GMT watches that transcend boundaries and capture the essence of adventure.
In a world that never sleeps, the Seiko 5 Sports SSK003 promises to keep pace with your dynamic lifestyle. Crafted with stainless steel, its 42.5mm diameter and 13.6mm thickness strikes a harmonious balance of substance and will sit comfortably on your wrist.
Each glance at the azure depth of the captivating blue dial draws us into a world of adventure and possibility. The dial boasts Lumibrite-coated hands and indexes for crystal-clear visibility, an inner flange with a 24-hour scale, and, of course, a vivid red GMT hand.
The bicolor bezel, made from durable Hardlex glass, adds durability and visual appeal. Beneath the surface, the automatic 4R34 movement, with 24 jewels and a 41-hour power reserve, ensures precision timekeeping.
With a five-row stainless steel bracelet and a secure clasp, this watch says, "I'm here for style and function", and at US$475, it's a steal. What's more, you can even get it right now for US$380 here.
Seiko Prospex SPB383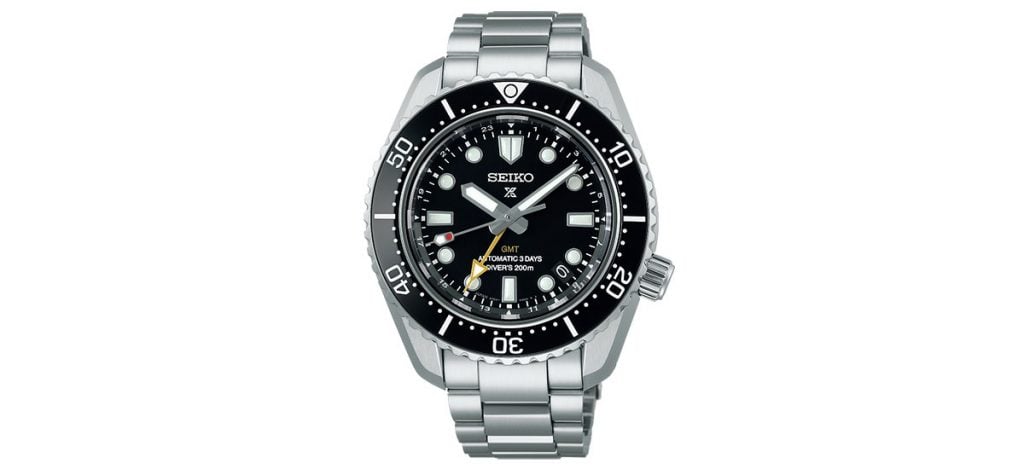 No matter where your travels lead, having the Prospex SPB383 with you is carrying a piece of home. The watch is a dazzling re-imagination of Seiko's iconic 1968 diver's watch, now equipped with the brand's first mechanical GMT movement, the caliber 6R54.
This timepiece boasts a remarkable 72-hour power reserve (the longest in Seiko's mechanical watch lineup), and with 24 jewels and a frequency of 21,600 VPH, it's a marvel of precision.
Crafted with a stainless steel case coated with super-hard black ceramic, it's both rugged and sleek at 42mm in diameter and 12.9mm in height. The sapphire crystal with anti-reflective coating ensures amazing visibility, and the bold black dial with luminous markers and a gold GMT hand enhances legibility in any lighting.
This Seiko Prospex SPB383 exudes luxury and adventure; at US$1,500, it's an investment in style and functionality. You can get it here.
Seiko Presage Sharp Edged Series SPB219
When I glance at SPB219, all I see is a reminder that the world is vast and full of wonders waiting to be discovered! With a gold arrow-shaped GMT hand that tracks reference time against the 24-hour scale on the bezel and the day-night flange on the dial, every hour with this timepiece is a new chapter in your adventure.
The watch measures 42.2mm across, has a thickness of 13.7mm, and a lug-to-lug length of 49.2mm. Beneath the surface, the caliber 6R64 automatic movement, with 29 jewels and a power reserve of approximately 45 hours, keeps this masterpiece ticking.
The watch is secured by a stainless steel bracelet with a tri-fold push-button release clasp. For US$1,400, the Seiko Presage SPB219 is a harmonious blend of heritage and modernity. It's just one click away, as you can get it here.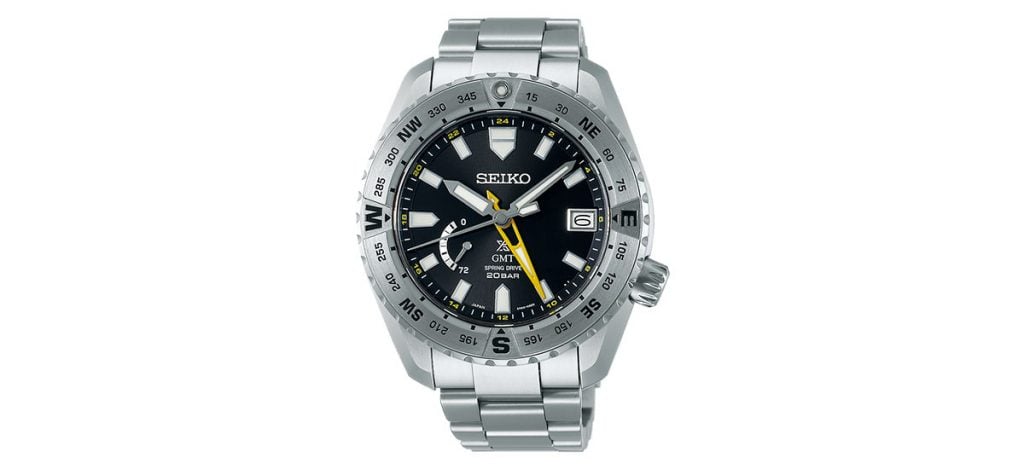 Like a beam of sunlight, the SNR025 brings warmth and energy to your wrist, reminding you to seize each day with vigor. Titan among timepieces, the watch comes in a 44.8mm titanium case with a super-hard coating that feels both lightweight and indestructible.
With a thickness of 14.7mm, the watch has a bold and robust appearance. LumiBrite hands and indexes illuminate the rich black dial, complemented by a rotating compass bezel and vibrant yellow accents.
The sapphire crystal, treated with a super-clear coating, ensures pristine clarity. A power reserve indicator lies between 8 and 9 o'clock, a date calendar is at 3 o'clock, and a bold yellow GMT 24-hour hand makes this watch a fusion of utility and style.
Beneath the surface lies the remarkable Spring Drive caliber 5R66, boasting 30 jewels and an impressive 72-hour power reserve – a testament to precision with an accuracy of ±15 seconds per month. The watch is priced at US$5,000 and can be purchased here.
Vintage charm meets functionality with the SSK011. Paying homage to the classic 1964 Crown Chronograph, this watch boasts a polished stainless steel case that measures 40.8mm across and has a thickness of 13mm.
The box-shaped glare-resistant Hardlex crystal adds a touch of nostalgia and durability. At the same time, the brushed satin dusty light gray dial, encircled by a 24-hour fixed aluminum bi-colored bezel, evokes the spirit of the '60s.
The brown GMT hand navigates timezones as effortlessly as it captures hearts, and the date window at 3 o'clock adds functional elegance.
Underneath the surface beats Seiko's in-house movement caliber 4R34, with a see-through exhibition caseback revealing its inner workings.
The watch is fitted with a black perforated leather strap and a brushed and polished stainless steel tang buckle. At US$625, it's like a time machine that takes you back to the '60s.
Seiko Prospex SFK001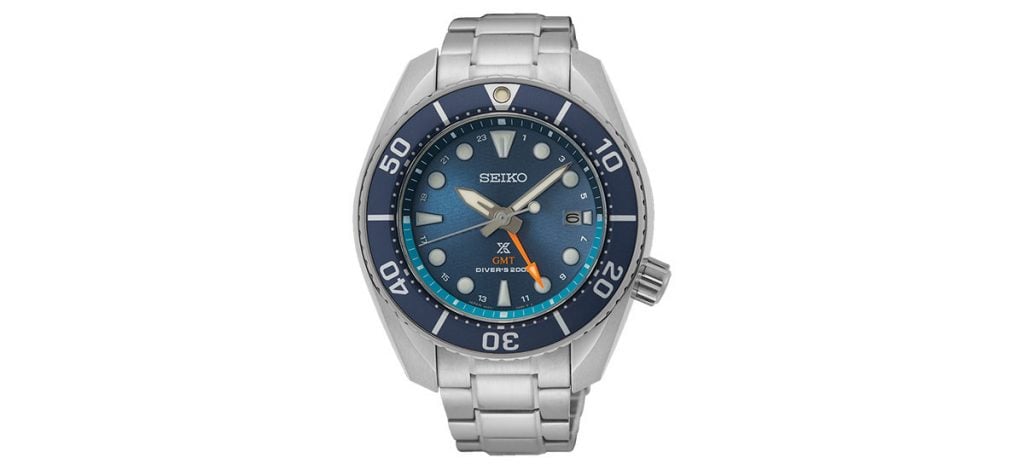 For the rugged explorer, the SFK001 is a beast. Its polished and brushed 45mm stainless steel case exudes strength, complemented by an aluminum rotating uni-directional bezel and safeguarded by anti-reflective sapphire crystal.
The satin blue textured dial, accented by an orange GMT hand, is a symphony of readability. Luminous markers and sword-style hands ensure easy legibility in any environment. A discreet 24-hour scale is nestled between the Lumibrite markers.
Powered by light through Seiko's in-house caliber movement 5K65, this watch thrives on ambient or direct sunlight, boasting a remarkable 9-month power reserve, eliminating the need for frequent battery changes.
With a water resistance of 200 meters, it's ready for professional diving, made even more comfortable with the stainless steel screw-down crown positioned at 4 o'clock. Priced at US$775, it's a steal for those who demand durability and style. You can get it here right now for US$620.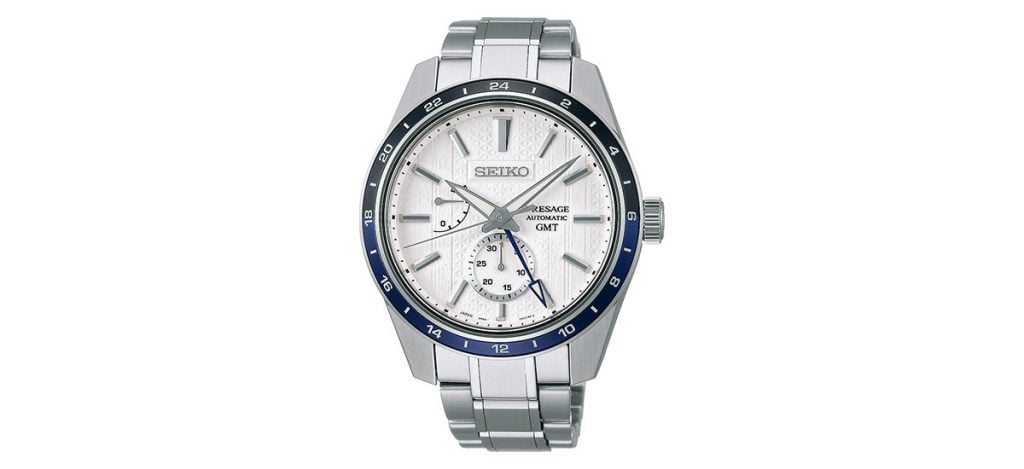 Limited edition alert! The Seiko Presage Sharp Edged Series SPB269 was born from a collaboration with the legendary Zero Halliburton luggage brand. Crafted from stainless steel, this 42.2mm x 13.7mm watch features a super-hard coating that enhances its scratch resistance, ensuring it's as durable as it is stylish.
The dial is a work of art, merging Zero Halliburton's double-rib design with the Presage Sharp-Edged Series Asanoha hemp-leaf motif. The silver dial boasts a blue 24-hour GMT hand, a power reserve indicator between 9 and 10 o'clock, and a circular sub-dial at 6 o'clock to track the date. LumiBrite hands and markers illuminate the dial, while a blue and black GMT bezel frames it.
Powering this exquisite timepiece is Seiko's 29-jewel automatic caliber 6R64 movement. It is priced at US$1,550.
Seiko 5 Sports SSK005
Feel the warmth of reliability wrapped around your wrist while you elevate your urban style with the sophistication of the SSK005. The vibrant orange sunray-patterned dial evokes energy, optimism, and an undeniable zest for life – a reminder that life is meant to be lived in full color.
The watch is presented in a 42.5mm x 13.6 mm brushed and polished stainless steel case, with a crown nestled within a crown guard at 4 o'clock. The dial is encircled by a bi-colored black and gray aluminum rotating uni-directional bezel featuring luminous hands and markers beneath a durable Hardlex crystal.
Powering this exceptional timepiece is Seiko's in-house-made automatic caliber 4R34 movement with a 40-hour power reserve. It is priced at US$475, but you can get it here right now for US$380.
Seiko Prospex LX SNR035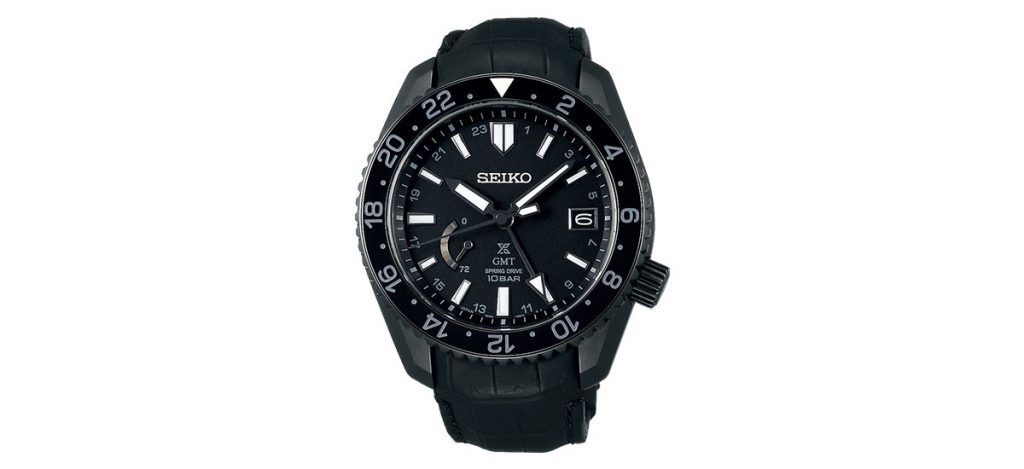 Behold the enigmatic allure of a timepiece that embodies the essence of mystery and sophistication. The deep, inky black dial and 44.8mm x 14.7mm titanium case, protected by a super-hard coating, exudes an air of understated elegance, ready to accompany you on your most enigmatic journeys.
With a sapphire crystal ensuring pristine clarity, each glance at its obsidian face is like peering into the depths of the cosmos. The thoughtful inclusion of a date indication at 3 o'clock and a power reserve indicator between 8 and 9 o'clock adds practicality to the aesthetic.
Powering this extraordinary timepiece is the Spring Drive caliber 5R66, offering an impressive 72-hour power reserve. Its precision is unrivaled, with a movement type that combines the best of automatic and quartz technologies. The watch is fitted with a black crocodile leather band and retails here for US$5,500.
Seiko Presage Style60's SSK009
Last but not least, a wearable memory of a bygone era! With its graceful lines and vintage-inspired details, the SSK009 captures the essence of a time when style was an art form and every moment was an opportunity for refinement.
Encased in a polished stainless steel case measuring 40.8mm x 13.0mm, this watch is protected by a box-shaped glare-resistant Hardlex crystal.
The petrol-blue dial evokes a sense of calm and wonder with its mesmerizing hue that captures the essence of mystery and exploration. The dial is encircled by a 24-hour fixed aluminum bi-colored bezel. Silver-applied baton markers and patina LumiBright diamond-shaped hands grace the contoured chapter ring, ensuring effortless legibility.
Underneath the hood, the in-house caliber 4R34 keeps precise time and offers a power reserve of 41 hours. The watch is fitted with a stainless steel bracelet, designed with angled lugs for comfort. It retails for US$625.
Conclusion
There you have it, the 10 Best Seiko GMT watches. Whether you're a globetrotter seeking a trusted travel companion or an aficionado of fine watchmaking, these watches express the beauty and functionality of Seiko's GMT offerings.
So, choose your Seiko GMT watch, wear it proudly, and let it remind you that time, like life itself, is a precious journey meant to be cherished, celebrated, and savored to the fullest.
About Exquisite Timepieces
Established in 1998, Exquisite Timepieces is your one-stop shop for all things luxury watches! We are an authorized dealer for 60+ luxury watch brands including Omega, Hublot, Seiko, & Longines! We are proud to showcase one of the world's largest pre-owned watch collections, including renowned brands like Rolex and Patek Philippe. Check out our brand new watch arrivals here and popular pre-owned listings here.