20 BEST Seiko Dive Watches (Find Your Perfect Dive Companion)
As a watch enthusiast and commentator, I try my hardest to approach my articles unbiasedly. With that said, I must admit that an unbiased approach will be difficult with this article, though I will try my best. I am commonly referred to as a Seiko fanboy or someone who is so in love with the Seiko brand that they rarely make mistakes in my eyes.
Now, I am not entirely blind to Seiko's rampant QC issues, continuous price creep, and the insane number of limited editions. But even with some of the problems Seiko is notoriously known for, they will always hold a special spot in my heart as a watch enthusiast.
You see, when I first started out my watch-collecting journey, there were a plethora of options when it came to purchasing my very first automatic timepiece. But being young and eager with a very limited budget, I knew there was only one watch that was going to do everything I needed and make me smile every time I looked at my wrist.
Enter the Seiko SKX007, the watch that started it all. A timepiece that is affordable, omnipresent, stylish, and a timepiece that still influences me to this day. So, strap on your floaties and cue up The Abyss, Apocalypse Now, Commando, or Predator because we are talking about the 20 Best Seiko Dive Watches.
THE QUICKIE GUIDE TO SEIKO DIVERS
I think it is safe to say that for many of us in the watch enthusiast community, me included, Seiko represents a fantastic entry point into the world of automatic watches. They are ubiquitous and affordable and offer the consumer a durable and reliable timepiece that will be the perfect companion for everything short of a black-tie event.
But how, why, and when did Seiko create their first dive watch, leading to the fervent following that they have today?
HISTORY: SEIKO DIVERS
In order to answer the burning question above, we need to take a trip back in time to the 1960s, a time of political and social unrest, countercultures, and an era where recreational diving was starting to pique the public's interest and enter its heyday.
Seiko introduced its first dive watch, the 62MAS, in 1965. We will be discussing the 62MAS or rather modern variations at length later in the article. The 62MAS was a watch that personified the skin diver and was fundamental in creating the skin diver silhouette we know and love today.
After the launch of the 62MAS, Seiko opted to take a dual-avenue approach to their burgeoning dive watch program. Seiko would create a professional and more accessible recreational line of dive watches aimed to give both professional and recreational divers timepieces that would meet the needs of the tasks at hand.
For the remainder of the 1960s, Seiko would continue to produce classic and iconic dive watches, giving the world their first 300m dive watch in the 6215-010 and their first hi-beat movement in the 6159-7001. The 70s and 80s were a dark time for the Swiss watch industry due to another development from Seiko; the quartz movement.
With that said, Seiko continued to innovate throughout the decades, giving us more memorable dive watches for recreational and professional divers, including the saturation-ready Seiko Tuna, some alternatively powered movements like solar and kinetic, and a tiny icon called the SKX.
So, as you can see, in their nearly 60-year dive watch history, Seiko has produced some true icons that have stood the test of time and laid the groundwork for the modern Seiko divers on today's list.
SEIKO DIVE WATCHES: WHAT TO LOOK FOR
To begin, we need to have a good understanding of who Seiko dive watches are made for and what purpose they serve. As we discussed earlier, Seiko does a great job of producing watches for the average consumer who might use their dive watch in the pool, at the beach, or for some recreational dives while on vacation.
But, they also produce very capable dive watches that can be used on a professional level as well. While the latter is becoming less common due to dive computers, there are still Seiko dive watches capable of extreme depths.
Before we get into our list of the best Seiko dive watches, I think it is important to discuss some attributes that make Seiko worthy of your hard-earned money. Below are some characteristics to look for in a Seiko dive watch to make sure it fits your needs.
WATER RESISTANCE
I think one of the most important things to look for in your Seiko Diver is the water resistance rating. This is the time in your search and evaluation process when you need to be honest with yourself and ask yourself what the watch will be used for. For most, a dive watch will never actually see a dive unless you are diving between the couch cushions to find the remote, in which case a 200m or 300m dive watch is more than enough.
But for those who like to adventure on the weekends, Seiko, as mentioned earlier, makes highly capable timepieces that will take you to the depths of the ocean, where the only thing you should really worry about is the nightmare fuel that surrounds you.
BUILD QUALITY
While I briefly mentioned it earlier, Seiko has been known to have some QC issues from time to time. More often than not, it is alignment issues with the chapter ring or other smaller things. It goes without saying it is something to keep an eye out for when purchasing a Seiko dive watch.
While many of the QC issues are generally found on the entry and mid-level Seiko timepieces, it can still be found on watches nearing the $1,000 mark. QC issues aside, Seiko generally has a solid build quality that will take most things you throw at it.
PRICE
Last but certainly not least, it is crucial to understand where Seiko lands on the price scale. The prices for many of the entry and mid-level Seiko dive watches have been slowly creeping up over the last few years.
But, it is worth mentioning that many of the timepieces on today's list can be had for well under $1,000, some for less than $500, but it is worth noting that Seiko runs the gamut when it comes to price as we will see as we get to our list.
The Best Seiko Dive Watches
Alright, now that we have had a chance to learn a little bit about the history of Seiko dive watches and what characteristics to look for in one, let's get into our list of watches.
1. Seiko SKX007
As mentioned in the introduction to today's article, the Seiko SKX007 was my gateway to the wonderful world of watches. While the Rolex Submariner is the quintessential and most iconic dive watch for the luxury market, the SKX007 is the most iconic dive watch for the affordable market.
The Seiko SKX007 has a case width of 42.5mm, a lug-to-lug distance of 46mm, and a case thickness of 13.25mm, meaning it is a great size for an array of wrist sizes. For anyone hesitant, I urge you to give it a chance. The short lug-to-lug makes this watch wear closer to a 38-40mm case watch.
The SKX007 is powered by the Seiko 7S26 movement and has unfortunately been discontinued, which makes pricing the SKX a bit difficult. However, due to such high production numbers, well into the millions, you can still find excellent pre-owned examples for under $200.
2. Seiko Prospex "Turtle" SRPE95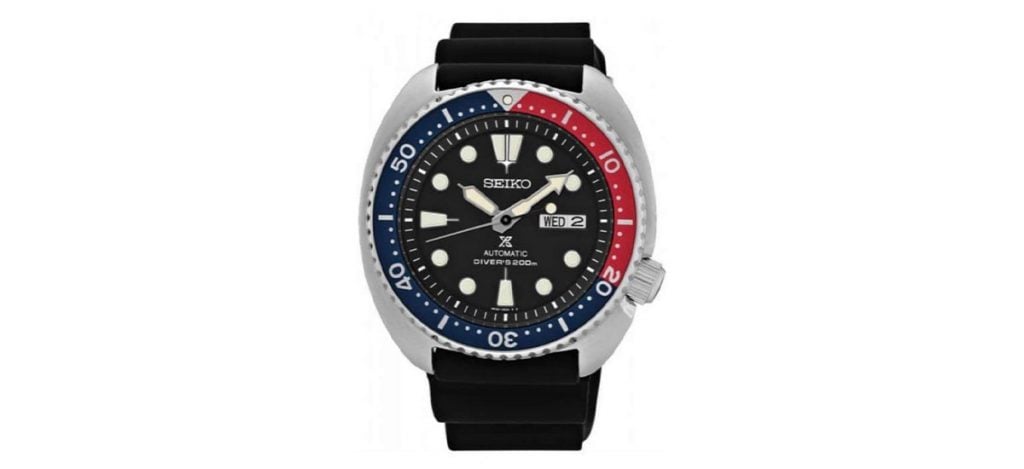 The Seiko "Turtle" is the first watch on our list that has been given a nickname by the enthusiast community. While it might be obvious, the Turtle was affectionately named after a sea turtle due to the case shape, which resembles a turtle's shell.
With a case diameter of 45mm, the Turtle could scare off many a watch wearer, but it is worth noting that the lug-to-lug distance of the Turtle is only 48mm, and with a case thickness of 13.4mm, this classic Seiko design wears very well on smaller wrists.
Like the SKX007, the Turtle comes equipped with a Seiko proprietary Hardlex crystal. While it isn't as scratch-resistant as a sapphire crystal, Hardlex, for the price point, is a great option. With an MSRP of $380, the Turtle can be found pre-owned for under $300.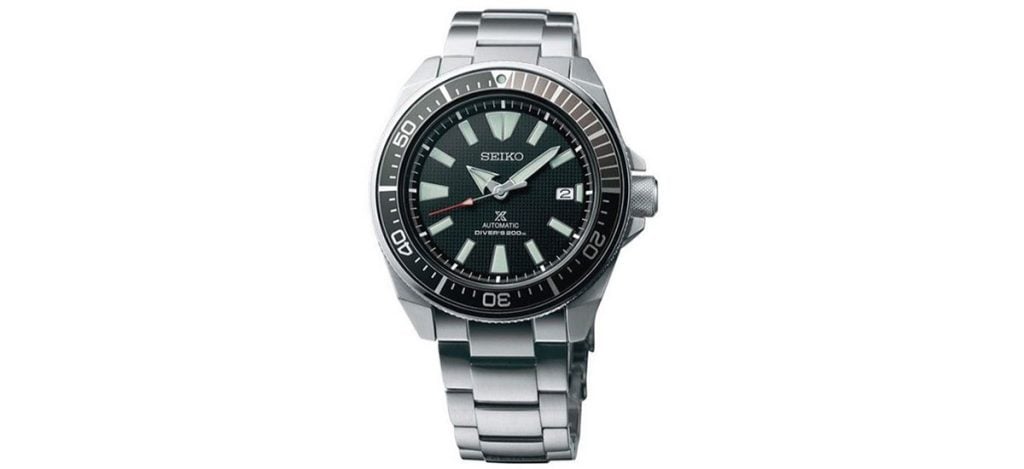 Of the watches on our list so far, the Seiko Samurai is the first to have a truly modern design language. Released in 2004, the first generation of Samurai was well received by consumers and has continued to evolve to this day.
The angular case was a design choice that helped appeal to a modern consumer looking for a great dive watch that didn't rely on a design language from previous Seiko models.
With a case diameter of 43.8mm, a lug-to-lug distance of 45mm, and a case thickness of 13.4mm, the Samurai wears smaller than the Turtle but certainly has great wrist presence due to its modern and angular case.
We will be discussing the evolution of the Samurai with another entry on our list, but this black-dialed variant has an MSRP of $525 and can be regularly found pre-owned for under $400.
4. Seiko Prospex "Sumo" SPB101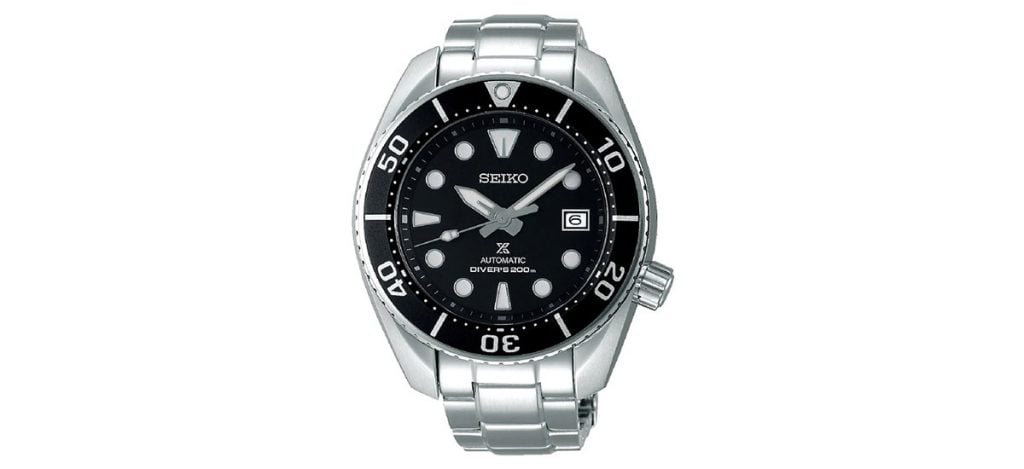 The Seiko "Sumo" is another Seiko dive watch that has become immensely popular due to its availability, robustness, design language, and price point.
Like many watches on today's list, the Sumo is just one of the many Seiko references that Seiko enthusiasts love utilizing the Seiko 6R35 movement, which has a power reserve of 70 hours. The 6R35 is a rock-solid movement that offers a robust movement with a solid power reserve, making it a great option as a daily driver.
The Sumo has a case diameter of 45mm, a lug-to-lug distance of 52.6mm, and a case thickness of 12.9mm, which means that the Sumo is the largest watch on our list so far but also the thinnest.
The Sumo, much like the Turtle, has the crown positioned at 4:00, allowing for a better wearing experience for those with smaller wrists. You can find the Sumo SPB101 for $850.
5. Seiko Prospex "Shogun" White Dial SPB191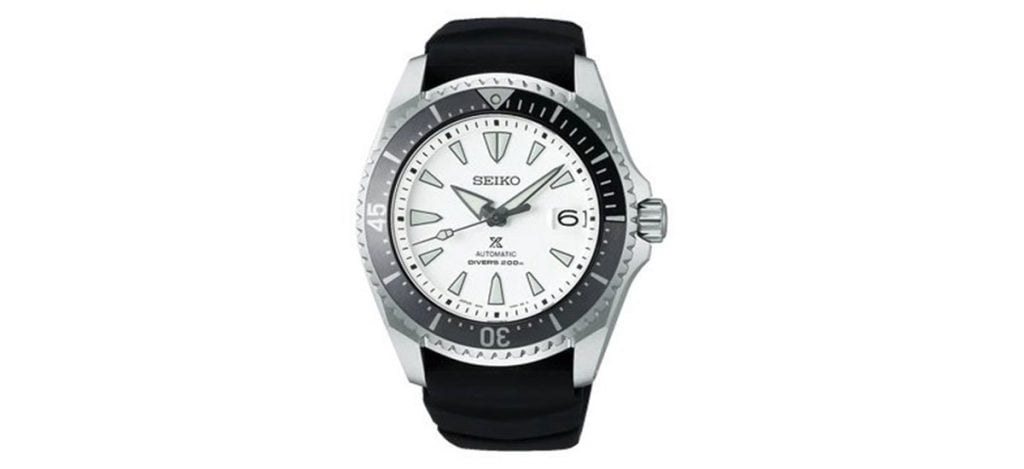 The number five spot on our list goes to the first titanium watch, the Seiko Shogun. While every entry thus far has been cased in Stainless Steel, the Shogun is a wonderful example of a robust dive watch without the weight of steel, meaning it can be worn comfortably on smaller wrists.
The titanium construction has the added benefit of being an allergy-safe metal and stronger than steel, with the only drawback being that it scratches more easily than steel.
The Sumo has a case diameter of 43.5mm, a lug-to-lug distance of 51mm, and a case thickness of 13.3mm, meaning much like the Sumo, it has a longer lug-to-lug and would wear best on a bigger wrist but due to its titanium construction should accommodate smaller wrists as well.
The Shogun comes on a black silicone strap, is the first watch on our list to have a magnifier for the date complication, and has an MSRP of $1,350 but can be found pre-owned for under $1,000.
6. Seiko Prospex "Monster" Save the Ocean Special Edition SRPG57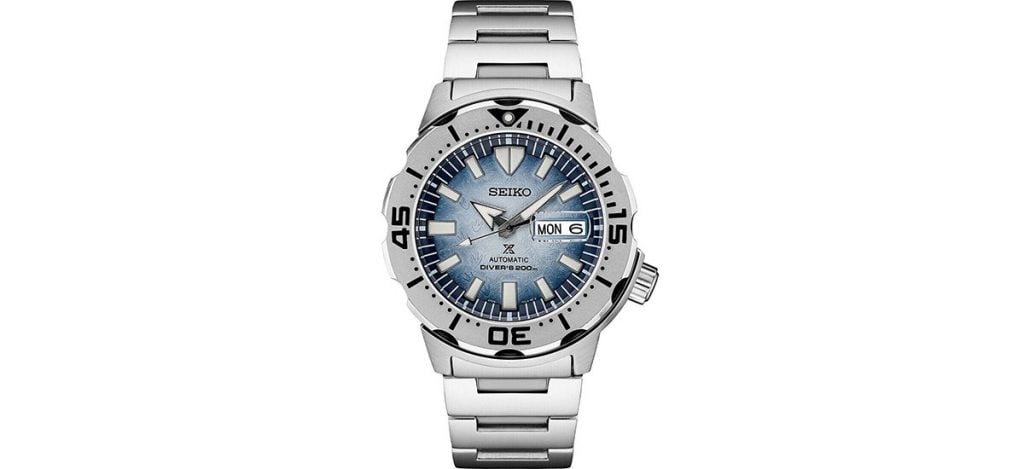 The Seiko "Monster", as it has been dubbed, might imply a watch that is absolutely massive, but surprisingly enough, its dimensions are rather tame.
With a case diameter of 42.4mm, a lug-to-lug distance of 49.4mm, and a case thickness of 13.4mm, the Monster is a well-proportioned dive watch that might just be one of the more divisive watches on our list.
I think the Monster design as a whole is a bit divisive; people either love it, or it's just not for them. But being that this version of the Monster is a Save the Ocean Special Edition, you can bet on it not being your average Monster.
The standout feature of the SRPG57 is the gradient dial of whites and blues meant to represent the colors of the Antarctic waters and the penguin feet pattern, which give the Monster a beautifully textured dial. The Monster has an MSRP of $525 but can be found brand new for under $400.
7. Seiko Prospex "King Turtle" SRPE05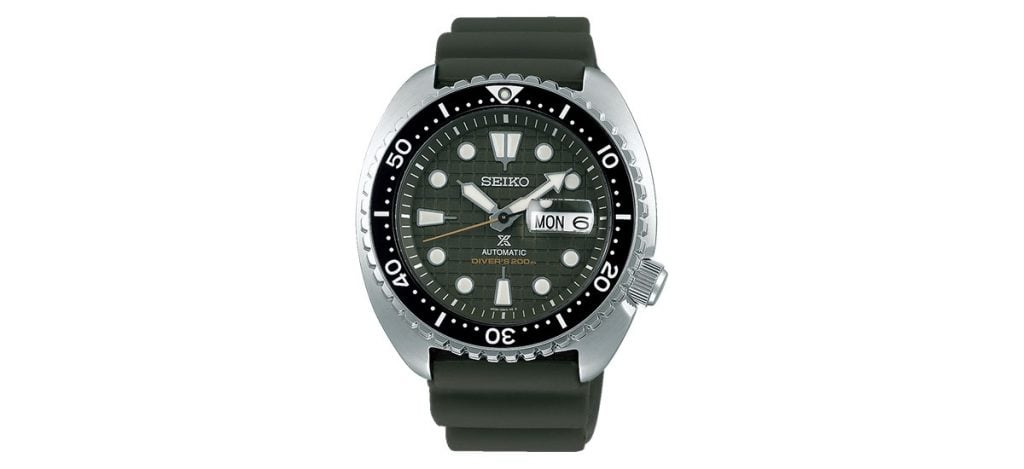 I know what you're thinking. Haven't we already read about the Seiko Turtle? Well, the answer is yes, but also no. The Seiko "King Turtle" is the Turtle that Seiko enthusiasts have been asking for, for years. While the Turtle had a massive following, worn by countless watch enthusiasts, there were some drawbacks and a few improvements they wanted to see.
First, the proprietary Hardlex Crystal. While it works just fine, it is still a mineral-based crystal, meaning it is less scratch-resistant than sapphire. So, after listening to the consumer, Seiko replaced the Hardlex with sapphire, and all were happy.
Second, the aluminum bezel insert of the original Turtle was a fine and efficient material, but much like the Hardlex, it was prone to scratches. For some, that is a huge bummer; for me, the scratches and patina give the watch more character.
But to meet the wants of the consumer, they replaced the aluminum bezel insert with a virtually scratch-proof ceramic insert. I think one of the standout features of the King Turtle is the OD Green waffle dial, which resembles the frag pattern of a grenade.
The King Turtle has an MSRP of $595 pre-owned for under $400.
8. Seiko Prospex "King Samurai" SRPE35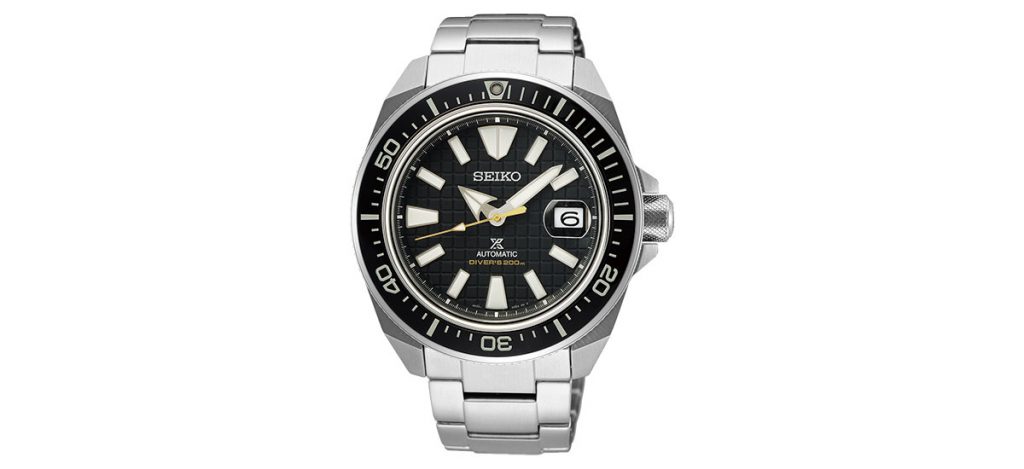 Much like the King Turtle, the Seiko King Samurai is the evolution of a tried-and-true Seiko design that was embraced by the masses.
While the watch's dimensions have remained the same, the devil is in the details. Much like the King Turtle, the King Samurai received the same upgraded specs with a sapphire crystal, ceramic bezel insert, and a waffle-patterned dial.
While I'll admit the Samurai and Turtle upgrades were just what the watches needed, I wish they would have also upgraded the movements. While both the 4R35 and 4R36 are solid movements, it would have been nice to see an upgrade to a movement that has a better power reserve.
But still, for an MSRP of $625 and commonly being found pre-owned for well-under retail, the King Samurai is a great option for someone looking for an upgraded version of a beautifully designed modern diver watch.
9. Seiko "Darth Tuna" S23631
The Seiko "Darth Tuna" is the first watch on our list to feature a quartz movement (GASP!). But in typical Seiko fashion, the accurate and robust quartz movement is the perfect choice for a professional dive watch like the Darth Tuna.
While we can argue the pros and cons between automatic and quartz movements, it is safe to say that it is a universally accepted fact that quartz movements will always be more accurate and reliable, which is the reason you would use it in a professional tool.
But the dimension that makes this dive watch capable of the 1,000m depth rating is the case thickness, which comes in at a stout 16.3mm.
It is also worth noting that due to a case construction of ceramics, titanium, and steel, you have a dive watch that is lighter than it may look.
Being that this is a professional tool, the Darth Tuna comes with a professional price with an MSRP of $2,400.
10. Seiko Prospex 1968 Diver's Modern Re-Interpretation GMT SPB381
Aside from the wildly pleasant dial of the Save the Ocean Monster, the Seiko SPB381 has one of the most pleasing dials on our list, and it's a GMT to boot.
The newest "Modern Re-Interpretation" of the famed 1968 Diver is an outstanding timepiece that offers you the ability to track a second timezone with a GMT hand that can be adjusted independently, which is commonly known as a "Caller GMT" as opposed to a "Traveler GMT" which has a jumping hour hand to adjust for local time when you arrive at your destination.
With a modestly sized case diameter of 42mm, a lug-to-lug distance of 48.6mm, and a case thickness of just 12.9mm, this vibrant green GMT is a great size for any world traveler. There is something romantic about a dive watch GMT. It is a watch that is just screaming to go on adventures, and I think that the SPB381 could be you go anywhere do anything (GADA) watch.
With similar specs as the "King Seiko's" above, the sapphire crystal and ceramic bezel insert mean that this GMT is ready for you to hop on a plane and then off a boat without worrying about some bumps and bruises.
The SPB381 has an MSRP of $1,500.
11. Seiko Prospex SPB143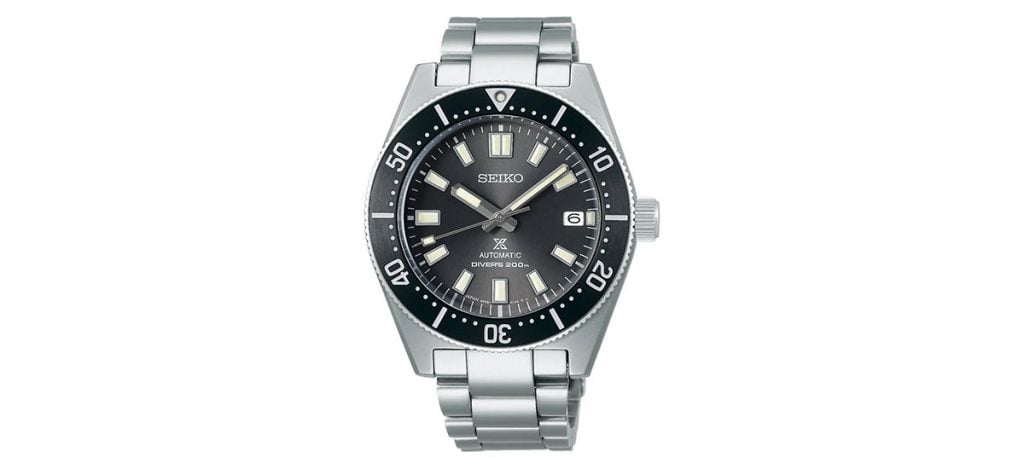 Now, of the watches on our list so far, I have owned an SKX007, Turtle, Samurai, and Monster, but one Seiko that has been calling to me since its release in 2020 is the SPB143. I have always been a massive fan of the 62MAS and its skin diver design, but my issue with a lot of skin divers is the size.
They have always been a bit small for my 7.3-inch wrist. So, when I saw Seiko released a modern interpretation of the 62MAS with a 40.5mm case, a lug-to-lug distance of 47.6mm, and a case thickness of 13.2mm, I knew I had to one day get my hands on one.
But to this day, it has still evaded my collection. It isn't because it is hard to find; quite the contrary. It is readily available, which means for anyone looking to find a great dive watch with a vintage flare, the SPB143 is the watch for you.
The 62MAS-inspired dive watch has a domed sapphire crystal and a beautifully designed sunburst gray dial that catches the light wonderfully. And, with an MSRP of $1,200 and commonly found pre-owned for under $800, the SPB143 is a great piece for a fan of vintage with the benefit of modern materials.
12. Seiko Prospex Marinemaster 300 SLA023
The Seiko Marinemaster 300 is a legendary watch from Seiko that has had more variants than I can count, but the SLA023 is among my favorites. I'll be honest: I've never been drawn to blue watches, green, absolutely, but blue has never been a color I've owned.
That said, the SLA023 is a blue timepiece I would own in a heartbeat. There is something about the perfect shade of blue, devoid of any green tones, that keeps it from looking teal in certain lighting conditions, which really appeals to me.
Another huge characteristic of the SLA023 that I am a huge fan of is the Monobloc case. The one-piece case design aids in water resistance by eliminating the need for a case back gasket, removing a possible point of entry for water.
The classic and iconic MM300 SLA023 is timeless and is an incredibly robust dive watch with an MSRP of $3,100, but it can be found pre-owned for under $2,500.
13. Seiko Prospex SPB317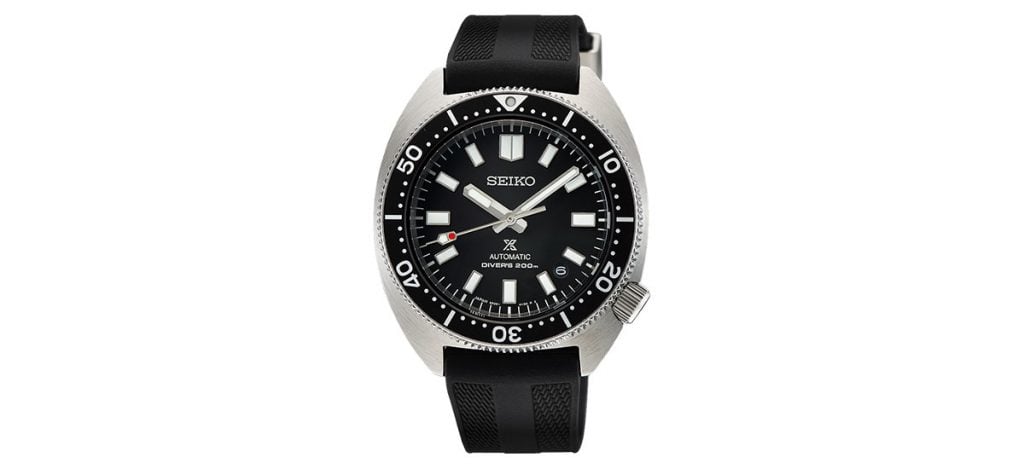 Remember Shrinky Dinks? Those fun art projects you used to do as a kid, well, the SPB317 is kind of like the Shrinky Dink version of the venerable Seiko Turtle with a few minor changes, the biggest being the case size (obviously).
With a case diameter of 41mm, a lug-to-lug distance of 46.9mm, and a case thickness of 12.3mm, the SPB317 is an amazing dive watch for enthusiasts who love the design of the Turtle but don't necessarily have the wrists to wear one making it, ostensibly, the smallest wearing diver on our list so far.
Some other upgrades worth mentioning are the sapphire crystal as well as the improved movement. The SPB317 utilizes the 6R35 with 70 hours of power reserve.
While you might think it is just a smaller version of the OG Turtle, the SPB317 is most definitely the sum of its parts. With an MSRP of $900, the SPB317 is an option and one that competes with other divers of its size.
14. Seiko Prospex LX SNR029
The LX SNR029 is the second watch on our list to have a case constructed entirely of titanium. But before we move on, I want to discuss the elephant in the room, and I'm not talking about the dimensions of the LX SNR029.
While it is a larger piece, with a case diameter of 44.8mm, a lug-to-lug distance of 50.9mm, and a case thickness of 15.7mm, the elephant I'm referring to is the price tag.
With an MSRP of an eye-watering $6,000, the LX SNR029 is priced like a timepiece that should have a "Grand" in front of the Seiko name due to its high-quality finishing and the utilization of the 5R65 Spring Drive movement, both qualities usually reserved for Grand Seiko timepieces.
I'll be the first to admit that, for this amount of money, I probably wouldn't be putting it into a Seiko, but with that said, this is the absolute top-of-the-line watch for Seiko and does a great job of being the perfect balance between rugged and beautiful.
15. Seiko Prospex Dive GMT SFK001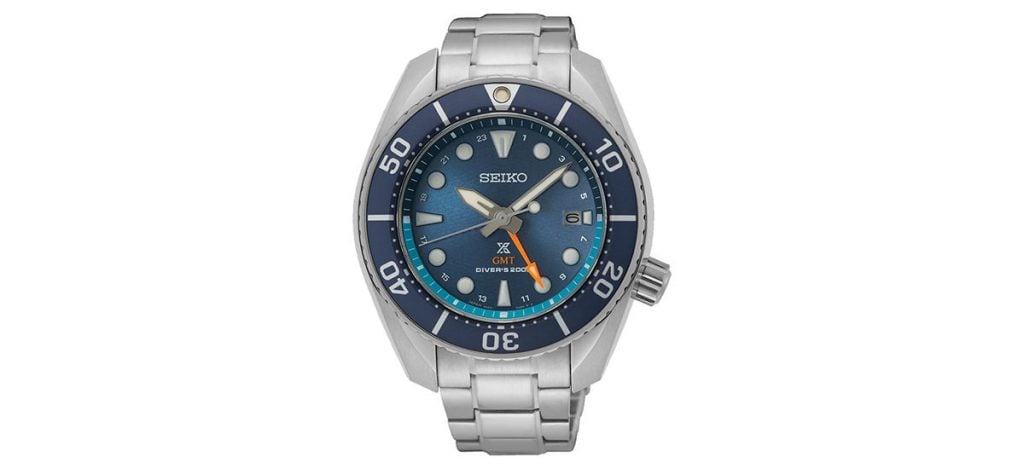 The next watch on our list is the SFK001, which is the second GMT on our list, and I think the better of the two options for those who do a lot of adventurous traveling.
While there is no denying that the SPB381 is an amazingly design and finished dive watch, it is still a "caller" GMT, which, for those doing business with folks around the world, makes for the perfect companion. It makes much more sense for those who bounce around from timezone to timezone to have a "flyer" GMT.
Enter the SFK001 or the Sumo GMT. The Sumo GMT is not just a flyer GMT but the first GMT of its kind with the brand new Solar Powered 5K65 GMT movement. The 5K65 is definitely the star of the show, boasting a nine-month power reserve, which, if it ever runs down, only takes 15 hours in sunlight to get back to full capacity.
The Sumo GMT has an MSRP of $775 and is my pick for the world traveler looking for an ultra-reliable diver GMT.
16. Seiko Prospex "Arnie" SNJ025
Picture this: it's the mid-90s, and you are casually watching two of the greatest action films of all time with your buddies. On the screen is the biggest movie star you know, Arnold Schwarzenegger, and on his wrist, one of the coolest watches you'd seen up to that point in your life, the Seiko H558-5000, which would come to be known as the "Arnie."
That is a 100% true story. As a kid, I loved two things more than anything: badass action movies with buff dudes and a gratuitous kill count and my Timex Indiglo. But it wasn't until I watched Commando (1985) and Predator (1987) that I realized there was a whole world of watches way cooler than what I was wearing, and I knew one day I had to have that watch.
Luckily for me, Seiko decided to re-issue the H558-5000 in the SNJ025, a Solar Powered Hybrid diver that has a case diameter of 47.8mm, a lug-to-lug distance of 50.5mm, and a case thickness of 13.8mm.
The SNJ025 comes equipped with a multitude of functionality, including a chronograph, daily alarm function, full calendar until December 31, 2100, and an LED light. The construction of the Arnie is a steel case with a plastic shroud.
The Arnie has an MSRP of $525, and for those eager to know, yes, I did get it into my collection and still wear it in rotation every week.
17. Seiko Prospex "Willard" SPB151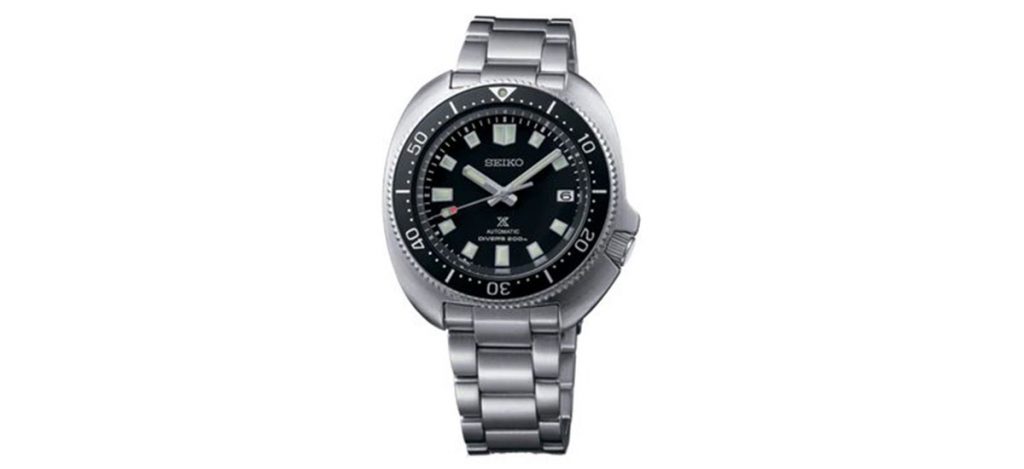 Another Seiko made famous and immortalized on celluloid in one of the greatest films of all time, Apocalypse Now (1979), is the Seiko 6105, which has been reissued much like the Arnie for modern consumers using modern materials in the SPB151 or the "Willard."
For those who might not be a cinephile like myself, the SPB151 gets the Willard nickname after the main character of the previously mentioned film Apocalypse Now. Captain Benjamin Willard sports a Seiko 6105 for the entirety of the film, and it is because of the icon status that Seiko released the modern version, the SPB151.
With a case diameter of 42.7mm, a lug-to-lug distance of 46.6mm, and a case thickness of 13.2mm, the Willard is a downsized version of the original 6105, making it a joy to wear.
The Willard's dial design is almost the exact same as its original counterpart, with the biggest differences being the Prospex logo and 200m printed on the dial.
The Willard has an MSRP of $1,300.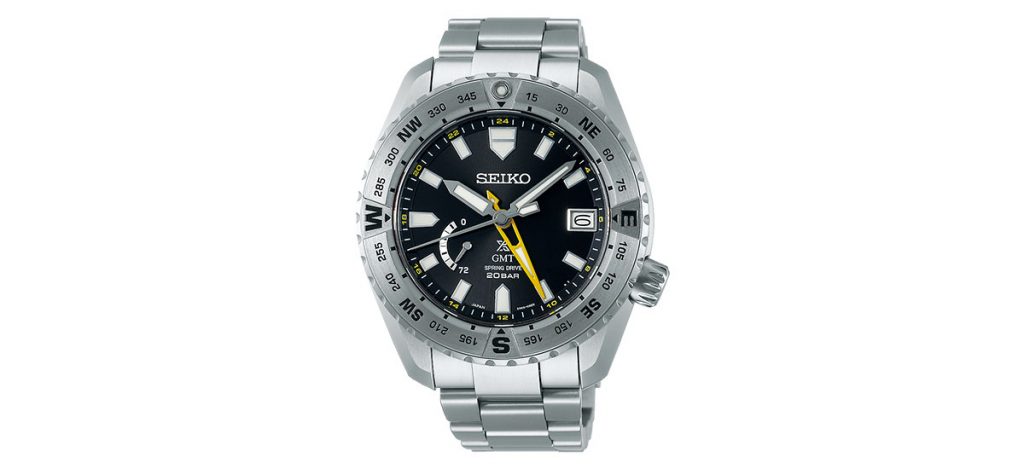 The LX GMT SNR025 is our final GMT on the list and one much like our last Seiko from the LX line; the SNR029 comes with a hefty price tag with an MSRP of $5,000
Like others in the LX line, the SNR025 utilizes the 5R66 Spring Drive Movement, meaning that this ultra-reliable and incredibly accurate GMT is capable of +/- 1 second per day. To put that into perspective, a COSC-certified movement needs to be accurate to +4 to -6 seconds a day!
The wonderfully finished titanium case has a diameter of 44.8mm, a lug-to-lug distance of 50.9mm, a case thickness of 14.7mm, and a rotating compass bezel, which gives this timepiece a rugged and adventurous look.
One thing that I haven't mentioned yet in this article but pertains to and is used on every Seiko watch is their proprietary LumiBrite. This luminous material is brighter and more long-lasting than others. The application of LumiBrite means every Seiko watch glows like a torch in low-light conditions.
Much like our previously mentioned Solar Powered Sumo GMT, the Solar Diver SNE591 is an amazing option for a grab-and-go everyday watch that can handle any task you ask of it.
One of the standout features for the SNE591 is again going to be the power reserve from the solar-powered movement. When fully charged, the V157 movement will run for 10 months, which, again, is going to make a great watch for the enthusiast who doesn't mind an alternatively powered timepiece.
The "Pepsi" style dive time bezel is another great characteristic on this watch, with the red portion of the bezel from the 12 o'clock to the 15-minute marker indicating a final countdown for ascent to the surface.
With a case diameter of 42.8mm, a lug-to-lug distance of 49.2mm, and a case thickness of 10.7mm, this thin and uniquely powered dive watch has an MSRP of $525 but can be found brand new for under $400.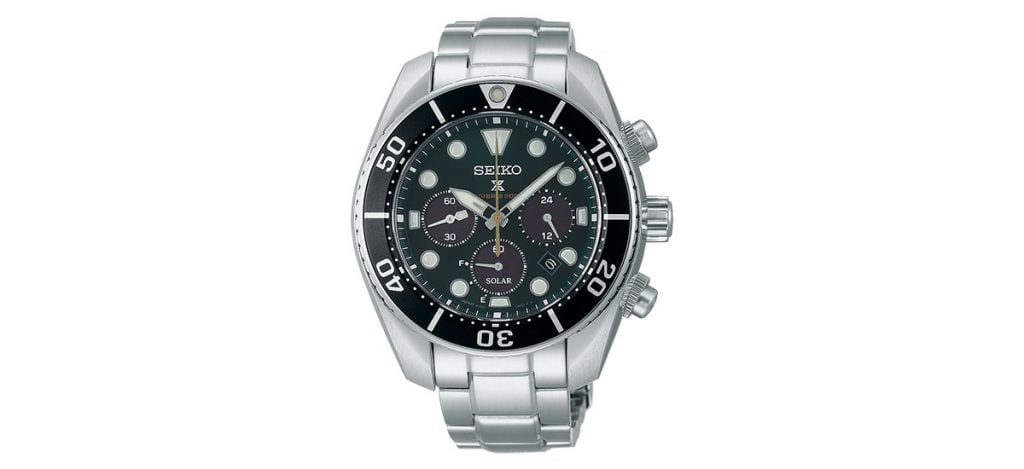 For our final entry on the list, we have another solar-powered timepiece, but one that packs a bit more functionality than the previous time-only Solar Diver.
The SSC807 is a dive chronograph that definitely packs some features into its stainless-steel case, measuring 44.5mm in diameter, with a lug-to-lug distance of 51.6mm and a thickness of 13.7mm, the most obvious being the 60-minute chronograph function.
The SSC807 is also equipped with a 24-hour hand, power reserve indicator, and a very useful rotating dive bezel. Personally, I find more use in timing things with the dive bezel than I do in an actual chronograph function.
With an MSRP of $750, the Solar Dive Chronograph is a great option for anyone looking for a dual-purpose sports watch.
PARTING THOUGHTS
To sum it up quickly, Seiko dive watches represent innovation, adventure, and the entry point for millions of people into the obsession of watch collecting. Without Seiko, I wouldn't be here writing this article; without Seiko, I'd probably never have done and seen the things I have just because I wanted to use my watch for its intended purpose.
So, with that, I just want to say thank you, Seiko; you've given me and millions like me a reason to look at our wrists and smile because behind every Seiko are memories that will last a lifetime.
About Exquisite Timepieces
Established in 1998, Exquisite Timepieces is your one-stop shop for all things luxury watches! We are an authorized dealer for 60+ luxury watch brands including Omega, Hublot, Seiko, & Longines! We are proud to showcase one of the world's largest pre-owned watch collections, including renowned brands like Rolex and Patek Philippe. Check out our brand new watch arrivals here and popular pre-owned listings here.