As watch enthusiasts, we tend to love the rich history and stories behind the timepieces we wear on our wrists. So much so that the industry as a whole tends to perpetuate these stories and ride their popularity until even the most hardcore of collectors roll their eyes at yet another "special/limited edition".
*Cough cough*, looking at you, Omega.
But, with that said, there is a category, a subculture if you will, in the watch community that will always amass followers and evangelizes them with stories of renown, bold adventures, and true tool watch lore.
That, my dear reader, is the loved/lusted by many, luxury military watch. And yes, while I'll be the first to admit it does sound like an oxymoron, the timepieces on our list today have a true tool watch lineage and have served a purpose for the original wearers far before becoming the desk divers they are today.
So, strap on your best all-black multicam tactical loadout because today we are talking about the 25 Best Luxury Military Watches.
WHAT IS A LUXURY MILITARY WATCH?
I think it is safe to say that many of us in the watch enthusiast community have a pretty good understanding of what a luxury military watch is, but for those who might be new to the obsession, let's do a high flyby with the basics.
In short, a military watch is a timepiece that has been used in military service in some way, shape, or form. Pretty basic and easy to understand. But the idea of a "luxury" military watch is a bit of an oxymoron or misnomer. So, if I were going to define a luxury military watch, I'd say that it is a timepiece initially created for a purpose and has since seen a meteoric rise in popularity and price due to the demand from the enthusiast community.
HISTORY: LUXURY MILITARY WATCHES
So as stated before, military watches have always been used in a professional manner by those men and women in the armed forces. But, it wasn't until the watch market exploded that the demand for some of these vintage military timepieces also exploded.
In turn, you saw an increase in demand for watches that weren't as mass-produced as others. This led to watch manufacturers capitalizing on the opportunity to produce and release new or reissue variants of these timepieces with more modern materials for a modern market.
And just like that, the luxury military watch was born.
It goes without saying that in the world of watches, some of the most sought-after timepieces are those that have been on the wrist of an armed forces member.
In today's article, we will discuss vintage military watches that have become "luxury" and modern luxury military timepieces that have seen their share of work, stood the test of time, and have since been reissued to watch nerds around the world.
LUXURY MILITARY WATCHES: WHAT TO LOOK FOR
To begin, we need to understand what constitutes a military watch and what the daily use of one might entail.
Again, as we've discussed, a military watch is going to see hard use. It will likely be used as a tool; with that said, a luxury military watch should follow the same guidelines as its less-expensive brethren. Below are some characteristics to look for in a luxury military timepiece.
TOUGHNESS
I think one of the most important things a military watch needs to be is tough. This means it can withstand daily use by someone who might be doing lots of exercising, rucking, or other forms of physical activity that might subject the timepiece to some bumps and bruises. Toughness also means using the proper materials that will handle the hard knocks with ease; we will discuss more about materials soon.
LEGIBILITY
A proper luxury military timepiece needs to be legible. If there is one thing that I have learned from friends and family members who have served in the military, it is that cleanliness is next to godliness, and timeliness is a close second.
With that said, it is important to be able to read the time at-a-glance so as not to be punished for your tardiness.
HIGH-END MATERIALS
As discussed earlier in the toughness section, a luxury military watch needs to use quality materials that can withstand the hard use of said timepiece.
While stainless steel is the go-to choice for many of these timepieces, the use of alternative materials like titanium, carbon, or high-strength polymers can also be found in this category of watches.
It is important to note that there are also different finishings/coatings that increase the toughness and quality of the materials being used, such as Sinn's TEGIMENT process, DLC coating, or modern-day PVD coating.
BUILD QUALITY
The build quality and water resistance are of the utmost importance when it comes to luxury military timepieces.
I think it is obvious that you want an accurate timepiece, but you also want one that is put together well. A solid piece that will not waver when confronted with challenges, one that will not croak on you in the middle of an important mission, even if that mission is to free the cookies from the confines of its jar at 2:00 AM.
But, while the build quality is important, you don't want a timepiece with such tight tolerances that it takes a master watchmaker to fix.
Much like the idea of an EDC or Duty pistol, you want something that is reliable and durable, like your Glock, S&W M&P, or Sig pistols, as opposed to your high-end custom shop 1911 pistols that take a true master to work on.
WATER RESISTANCE
Last but certainly not least, I think every military watch needs to have some sort of water resistance.
Now I'm not saying that they all need to accompany James Cameron to the bottom of the Challenger Deep. But, it is important that they can withstand certain water pressures, especially in the instance of a maritime mission to the bottom of the sink or an emergency water landing as you drunkenly fall into the pool.
THE BEST LUXURY MILITARY WATCHES
Alright, now that we have any idea of what luxury military watches are, their history (if we want to call it that), and what characteristics to look for in one, let's get into our list of watches.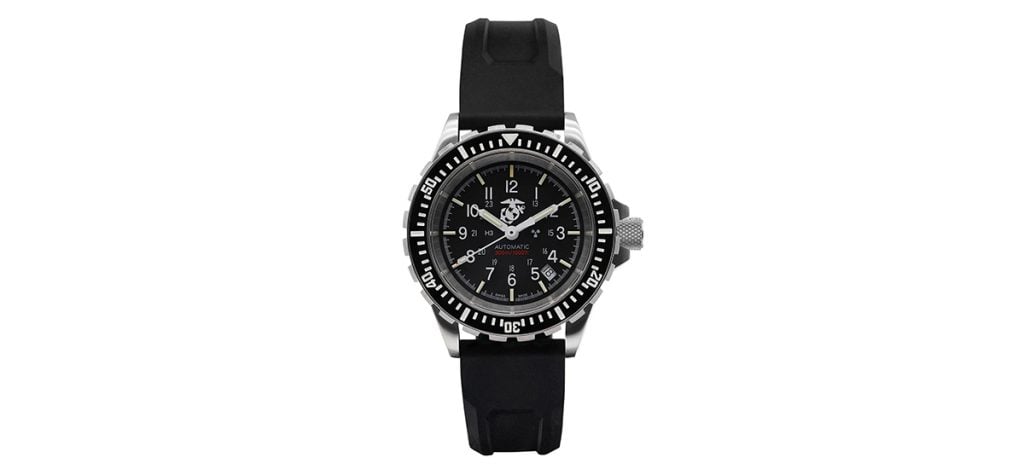 Perhaps one of the coolest timepieces on our list and what happens to be my next watch purchase, the Marathon Government Search and Rescue, more commonly known as the GSAR, is definitely a contender for the toughest and most robust on the list.
With a case diameter of 41mm, a lug-to-lug distance of 48mm, and a case thickness of 14mm, the GSAR is a great size for anyone with an average-sized wrist. But in the event you have a smaller or larger than average, Marathon also makes a 36mm and 46mm case in the SAR line.
One of the standout features on the GSAR has got to be the lume. Unlike typical timepieces that use Super-LumiNova or some kind of proprietary lume, the GSAR uses Tritium-filled gas tubes with a half-life of 12 years. The GSAR is powered by the Sellita SW200 and retails for $1,500 on a rubber strap.
2. Benrus Type I – Original Military Dive Watch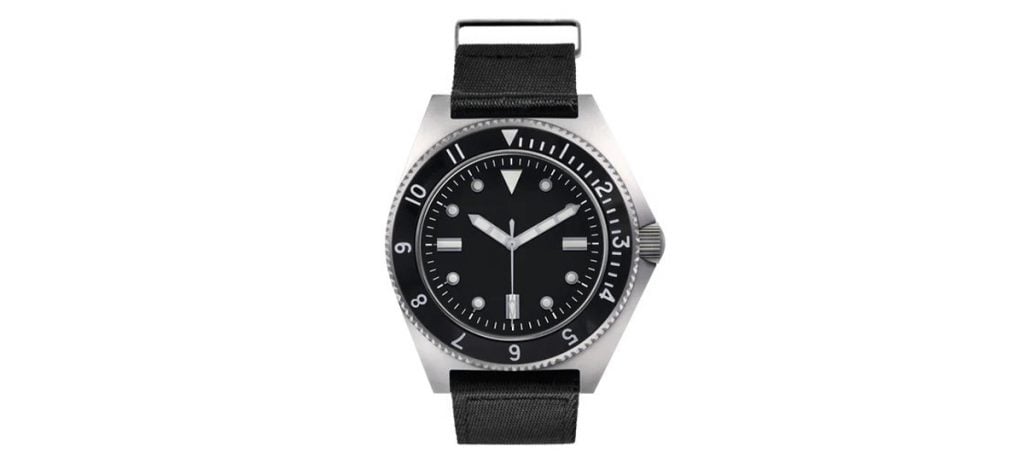 While we are only on our second watch, the Benrus Type 1 is the first reissue watch on our list. The Benrus Type I was originally produced in 1972 as a more robust alternative for American Soldiers during the Vietnam War.
The Type I was built more specifically to meet the standards and requirements for the Underwater Demolition Team or UDT divers. The Benrus Type I has a case diameter of 42.5mm, a lug-to-lug distance of 47.5mm, and a case thickness of 14.6mm.
The standout feature of Type I is the unique asymmetrical case design that protects the crown without the need for crown guards. Much like the original, the Type I utilizes a two-piece seatbelt NATO and is water resistant to 30 ATM. Unlike the original version, the new Type I is available to the public and has an MSRP of $1,695.
3. Hamilton Khaki Field Auto Chrono (ref. H71706830)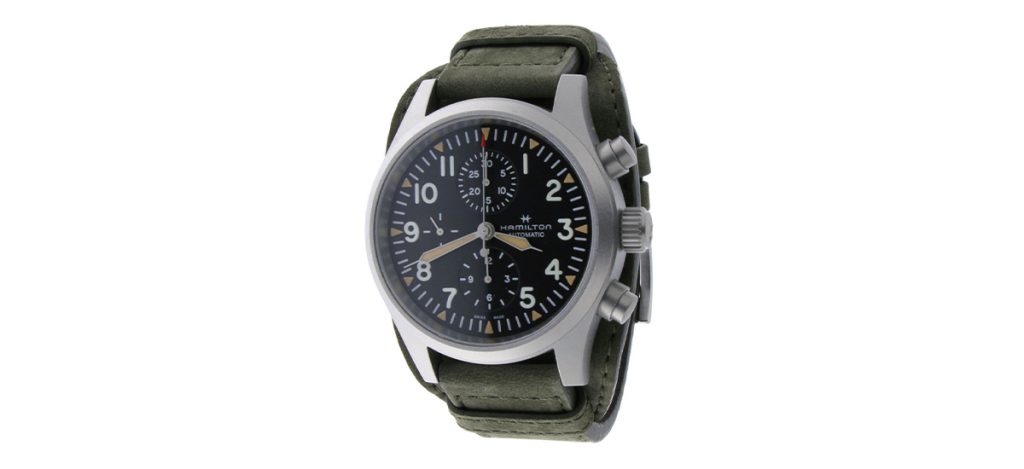 Next on our list is a brand that has had its timepieces featured in over 500 films, Hamilton. The Hamilton Khaki Field Auto Chrono is just one of the many timepieces to be featured in Hollywood.
While it wasn't this exact reference, but a slightly different sleek, and tactical all-black version seen on the wrist of John Krasinski as Jack Ryan, Hamilton proves that their military heritage inspired Khaki Chrono is as at home on a soldier's wrist as it is on the big screen.
The Khaki Chrono has a case diameter of 44mm, a lug-to-lug distance of 52mm, and a case thickness of 14.15mm. Considering that the Khaki Chrono is packing an automatic Hamilton H-21 movement (Valjoux-7750 Base), it is a rather slim chronograph.
The standout feature of the Khaki Chrono has got to be the nostalgia-laced design language. With a bead-blasted stainless steel case, classic Khaki dial layout/markings, retro bund strap, and an MSRP of $1,945, this Hamilton is sure to please the vintage enthusiast.
4. CWC 1980 Royal Navy Divers Watch Reissue
The CWC 1980 Royal Navy Diver is a watch that might not be on the average enthusiast's radar, which is a shame because it is a timepiece that is just dripping with 80s cool. It was the watch that kicked off the relationship between the Cabot Watch Company (CWC) and the British Royal Navy.
Much like the Benrus Type I, the CWC 1980 is a reissue based on the first CWC watch produced for the Royal Navy. The watch was issued to Royal Navy Divers and was actually the watch to replace the venerable Rolex Milsub (which we'll talk about later), which means that it had to meet certain criteria, one of the most important being fixed lugs.
The idea is that standard spring bars are failure points in a watch's design. If you take away that failure point, you have a timepiece that is far less likely to be lost during underwater dive missions, hence the reason for fixed lugs.
The 1980 is definitely a watch for those who like the fauxtina look. With a case diameter of 45mm (including crown guards), a lug-to-lug distance of 47mm, a case thickness of 12.7mm, and a price of around $3,000, this slim and capable successor to the Milsub throne should definitely be on your shortlist for vintage inspired military dive watches.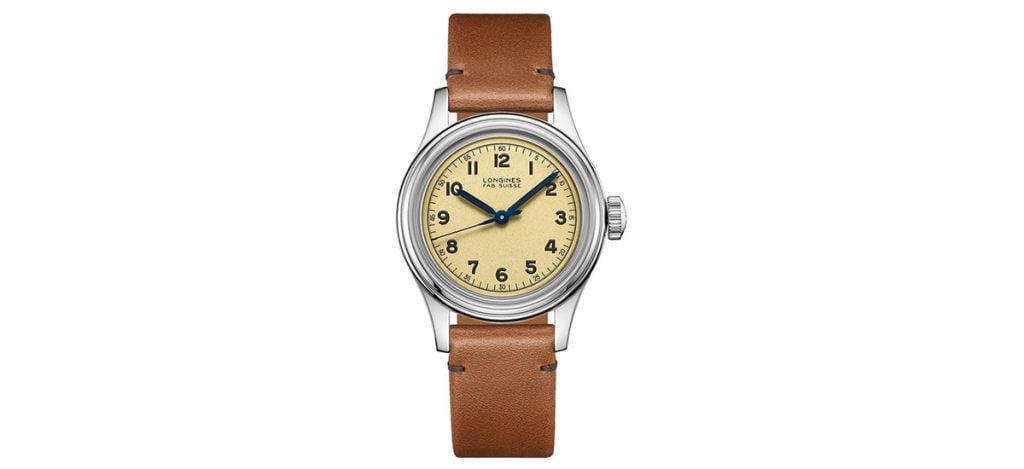 The number five spot on our list goes to a company whose military heritage and back catalog of timepieces is as impressive as any.
The Longines Heritage Military Marine Nationale, unlike a few watches on our list so far, is not a reissue per se but rather a reinterpretation of the Longines 5774, a timepiece originally produced in the 1940s for the Marine Nationale (French Navy).
With a case diameter of 38.5mm, larger than the original, this modern-sized reinterpretation is a perfect example of making slight changes for a modern consumer.
One of the standout features of the Heritage is the attention to detail when designing the dial and its layout. The painted numerals, blued hands, and "Fab Suisse" imprint on the dial make this perfectly proportioned dial a real looker.
The Heritage has an MSRP of $2,300 and is the perfect modern interpretation of a Longines classic.
6. Laco Squad Watches Seven Seas (ref. 861703)
The Laco Squad Watch Seven Seas was born out of the need for a watch that met the high standards and requirements for those serving as firefighters, police officers, and members of the German military.
Made in close collaboration with the German Army, the Seven Seas is a great example of a modern luxury military timepiece not based on a watch from the past.
With a case diameter of 45.8mm, a lug-to-lug distance of 55.3mm, and a case thickness of 16.65mm, this oversized timepiece was made with toughness in mind. The robust nature of this watch can withstand some of the harshest conditions and will continue to serve you well.
With 1,000m of water resistance, this ETA-powered behemoth is sure to stand up to whatever recreational water sports you use it for. The MSRP is $2,350, and while it is lacking a bit in the movement department, it more than makes up for it in the rugged toughness department.
7. Longines Heritage Military RAF (ref. L2.819.4.93.2)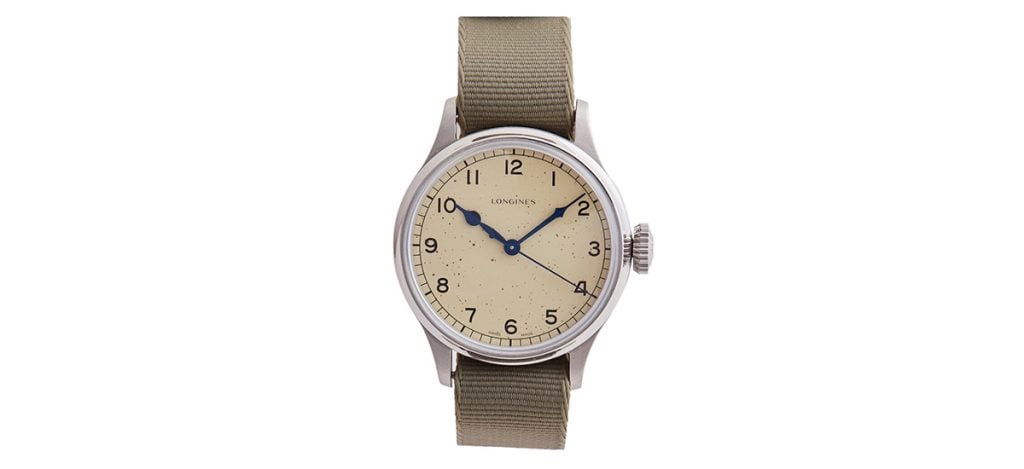 The next watch on our list is another Longines. Remember when I said that they have an extensive back catalog and impressive military heritage? Well, I think being one of two brands on our list to have multiple timepieces represented is a clear indicator that I wasn't lying.
The Longines Heritage Military RAF is similar to the Marine Nationale in that it was produced for a specific branch of the military, in this case, the Royal Air Force.
Much like the Marine Nationale, the RAF has a case diameter of 38.5mm and is highly legible and very easy to use. The standout feature on the RAF is the blued steel hands which give a great pop of color to the parchment-colored printed dial.
The RAF is yet another excellent example of the military and, more specifically, aviation heritage that Longines is so proud of. With an MSRP of $2,425, the RAF is a beautiful timepiece with a little old-world charm that could make for great everyday wear.
One thing I've always found interesting about Montblanc is, for the most part, people know them as the luxury pen manufacturer and tend to disregard their watches which is a shame because, within the Montblanc 1858 line, there are some very neat timepieces.
The Montblanc 1858 Automatic is a timepiece inspired by the professional Minerva watches of the 1920s and 30s, originally produced for military use and exploration.
The 40mm polished and satin case sits in a sweet spot for most wrist sizes. The large crown and cathedral hands give the 1858 a true early 20th-century design language that is seen in timepieces of the first world war.
The 1858 has an MSRP of $2,670 and harkens back to the days Hemingway waxed poetic about and a time when the spirit of adventure was beckoning.
9. Bremont Broadsword "Dirty Dozen"
The Bremont Broadsword "Dirty Dozen" is the first watch on our list to tackle a modern interpretation of the famous and beloved "Dirty Dozen" watches of WWII.
For those who might not know the nomenclature, the "Dirty Dozen" is the nickname given to a group of twelve watches commissioned by the British Ministry of Defense (MoD). Produced by twelve different Swiss watch manufacturers, the "Dirty Dozen" were meant to be tough, durable, and reliable.
The Broadsword, a modern interpretation of the "Dirty Dozen", has a two-piece stainless steel case that is both polished and satin-finished with a diameter of 40mm. Much like the Montblanc 1858, it is a great-sized timepiece.
One of the characteristics of a "Dirty Dozen" styled military timepiece is the sub-seconds register at six o'clock. The Broadsword has a beautifully laid-out dial and is a great modern version of a military classic.
Powered by the first chronometer-certified movement on our list, the Broadsword retails for $3,445 and is the perfect companion for binge-watching Band of Brothers over a long weekend.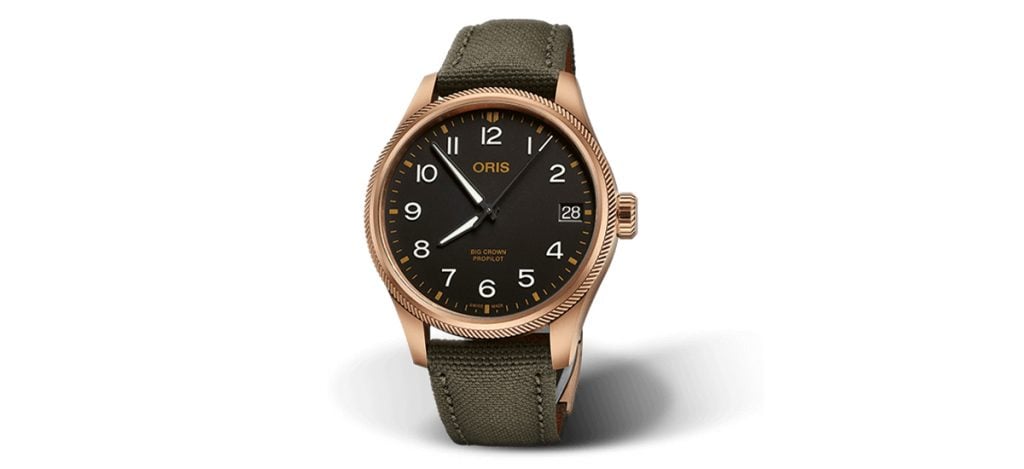 Oris is a company that always seems to amaze me. They are one of the few independent watch manufacturers who give us timepieces at a large volume without sacrificing quality, design, and, most importantly, innovation.
The ProPilot Altimeter is a perfect example of the innovation that Oris brings to the consumer. The ProPilot Altimeter is in its second generation and is the world's only watch to combine a mechanical altimeter with an automatic movement. The Altimeter is equipped with a pressure box that can accurately gauge your altitude up to 19,700 feet.
While it has a case diameter of 47mm, the ProPilot Altimeter is made of a carbon fiber composite, meaning it only weighs 98 grams! To put that in perspective, a Rolex Submariner, which is six to seven millimeters smaller in diameter, depending on the reference, weighs 155 grams. The Altimeter is a unique watch, most certainly for the pilot in your life, and retails for $6,500.
11. Sinn EZM 10 TESTAF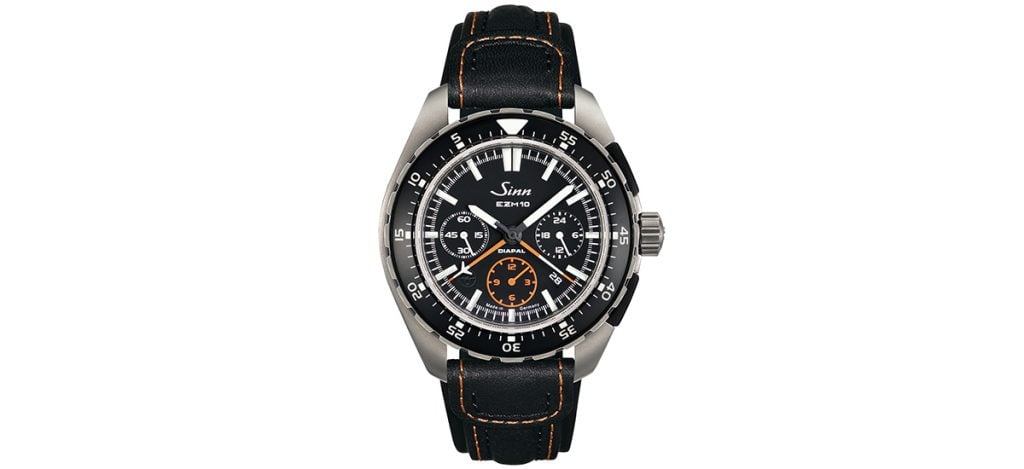 For those who have read any of my other articles, you will know that I am a self-proclaimed Sinn fanboy. While I do understand why some might not be into the Teutonic, stoic, and almost surgical aesthetic, it definitely rings my bell.
The Sinn we will be discussing today, the EZM 10 TESTAF, is the first watch to be tested and certified to the Technical Standard for Pilot Watches, better known as TESTAF, hence the name.
This means that the pilot's chronograph, whose bead-blasted titanium case with a diameter of 46.5mm, lug-to-lug distance of 53.2mm, and a case thickness of 15.6mm, meets all time measurement requirements of a professional pilot.
Like many of Sinn's other premium offerings, the case is Tegimented to ensure maximum durability. It is also water resistant to 200m, uses Ar-Dehumidifying Technology, and has a mission-timer design for great legibility.
The Sinn EZM 10 TESTAF retails for $5,290 and might just be the most McGuyver watch on our list.
12. Accutron Astronaut "T" (ref. 2sw8a002)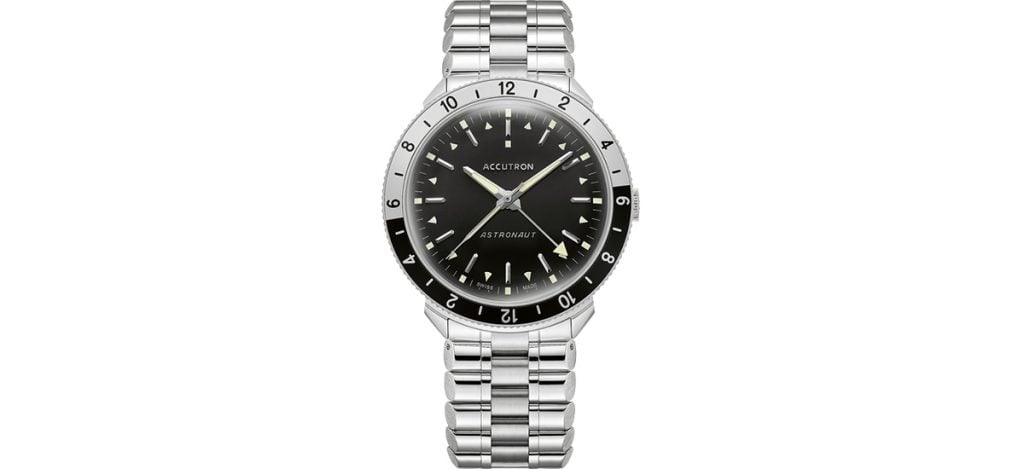 The Accutron Astronaut "T" is a rather unique watch on our list due to it being the first watch on the list created specifically for, as the name would suggest, the US Space Program.
While the original Astronaut made its debut in 1960 with the use of some revolutionary technology, the tuning fork movement, the new limited edition of only 300 pieces is powered by a Sellita SW-330 and still offers the same great GMT functionality as the original. The Astronaut has a case diameter of 41mm and a case thickness of 13.8mm.
The standout feature of the Astronaut, unlike the physical features we've seen on other watches from this list, is the history and use of the timepiece by the CIA. Due to the accuracy of the Astronaut, the CIA equipped its pilots of the then uber-secret and ultra-fast A-12 spy plane with the timepiece, which for history and watch nerds is awesomely cool.
The Astronaut has an MSRP of $3,500 and is a great way to get 60s space-age timepieces into the collection.
13. Tudor Pelagos FXD (ref. M25707B/23-0001)
It is safe to say that this list would not be complete without the timepiece that set the watch world ablaze when it was released in 2021, the Tudor Pelagos FXD.
The FXD is the modern variation of the Tudor Snowflake, which we will discuss later in this article. As a modern interpretation of a classic, it is made with modern materials and in a modern size.
The FXD has a case constructed of titanium and has a diameter of 42mm, a case thickness of 12.75mm, and a lug-to-lug distance of 52mm. While the length may seem a bit long, it is worth mentioning that, like the CWC 1980, the case with integrally designed fixed spring bars allows the watch to flare across the wrist more than traditional spring bars.
The Tudor Pelagos FXD retails for $4,100, and with their historic collaboration with the Marine Nationale, Tudor has created a true purpose-driven tool watch that has a great story to tell your dinner guests when you inevitably find yourself in awkward silence.
14. CWC Pilot Chronograph Limited Edition Valjoux 7733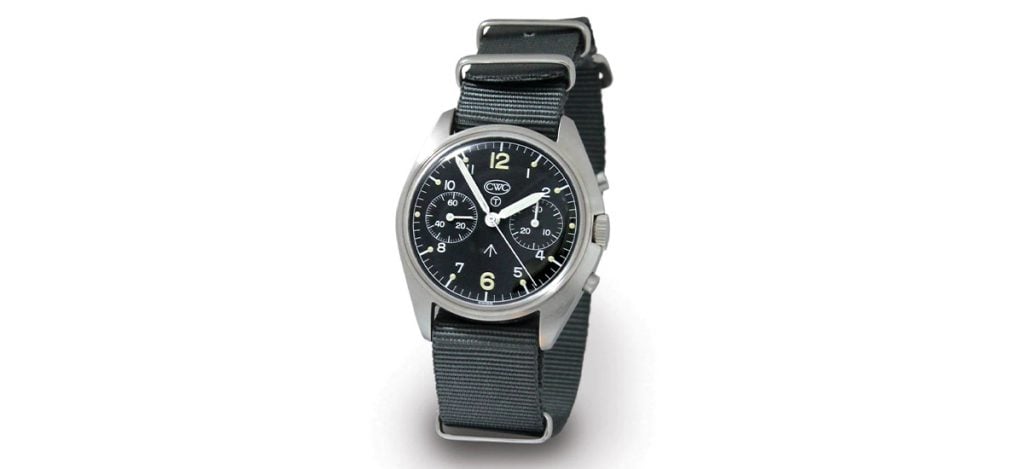 As the second CWC entry on our list, the Pilot Chronograph with the Valjoux 7733 is probably one of the more rare watches on our list. Limited to only 100 pieces, CWC actually recommissioned the vintage original movements making the Pilot Chrono that much more special.
Similarly to the Benrus Type I, the Pilot Chronograph has an asymmetrical case design with a diameter of 40mm, a lug-to-lug distance of 46mm, and a case thickness of 12mm.
This compact chrono is a great reissue of the first watch contract awarded to CWC by the MoD.
With a price of around $6,500, the CWC Pilot Chronograph Valjoux 7733 is a history nerd's dream and a great addition to any collection.
The Breitling Chronospace Military might be one of our list's most unique watches due to its analog and digital capabilities. Unlike any watch on our list so far, the Chronospace is powered by the Breitling Caliber 78 SuperQuartz movement, which is COSC-certified.
The stainless steel DLC-coated case has a diameter of 46mm, a lug-to-lug distance of 56.5mm, and a case thickness of 15.5mm, which means this behemoth of a timepiece is ready for large-wristed individuals who can handle its size.
The Chronospace comes equipped with a chronograph, digital calendar, alarm, second timezone, and UTC world time.
With an MSRP of $6,200, it is safe to say that the Chronospace will have you prepared for anything your day-to-day can throw at you.
16. IWC Pilot's Watch Chronograph U.S. Navy Squadrons
IWC introduced its first pilot's watch 87 years ago in 1936 and has since embodied what it means to be a pilot's watch. With unbelievable legibility, build quality, and the use of unique materials, the IWC Pilot's Chrono U.S. Navy Squadron is a perfect reminder of what IWC does really well.
The Navy Squadron line of pilot's chronographs comes in three very distinct flavors to honor three different Naval Squadrons. There is a watch for the Royal Maces, the Tophatters, and the most famous, the Blue Angels.
All three watches share the same dimensions with a case diameter of 44.5mm and a case thickness of 15.7mm and are powered by the in-house caliber IWC 69380, which has a power reserve of 46hrs.
Each watch has a unique color scheme and, most notably, uses a ceramic case. The Royal Maces has a black case with yellow accents and a squadron badge, the Tophatters has a black case with red accents and a squadron badge, and lastly, the Blue Angel variant comes in a blue ceramic case with yellow accents and a squadron badge.
These incredible pilot's chronographs have an MSRP of $11,200.
17. Blancpain Fifty Fathoms "Nageurs de Combat" (ref. 5015E-1130-B52A)
Much like many brands on this list, Blancpain is a brand that needs no introduction. They have carved their name into the history books. Not only are they the oldest watch brand on earth, but they, along with Rolex and Zodiac, produced the first ever commercially available dive watch in 1953.
The "Nageurs de Combat" in the name translates to "Combat Swimmers", and this limited edition of 300 pieces is the perfect tribute to Blancpain's long-time collaboration with the French Military.
With a case diameter of 45mm, a case thickness of 15.6mm, and a lug-to-lug distance of 50.6mm, this large military-inspired timepiece is best suited for those with larger wrists, but due to the relatively short lug-to-lug, comparatively speaking, it will work fine on a number of wrists.
The "Nageurs de Combat" is powered by a Blancpain 1315 and retails for $16,300.
18. Panerai Submersible Marina Militare Carbotech™ (ref. PAM00961)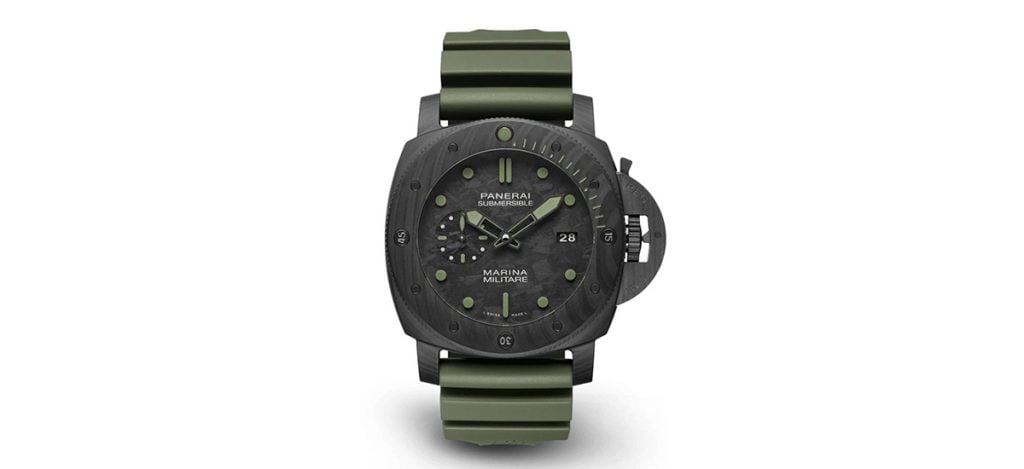 The name Panerai has always been synonymous with military use. Anyone who knows the brand's history knows that since the first prototype of the now famous Panerai Radiomir in 1935 for the Italian Navy, Panerai has been pushing out larger-than-life tool watches for those enamored with 80s and 90s action flicks.
The Submersible Marina Militare Carbotech is, in typical Panerai fashion, a large, oversized watch for an oversized man and is limited to a mere 33 pieces.
The Submersible comes in at a whopping 47mm, with a lug-to-lug of 56.5mm and a case thickness of 16mm. The case is constructed of Panerai's proprietary Carbotech material, which is a carbon fiber-based material with an uneven matte black appearance, giving it a very stealthy look.
The matte black case, coupled with the OD Green handset, markers, subdial, and rubber strap, make this Submersible legible and strikingly masculine.
It is powered by the Panerai P9010, which has a three-day power reserve, and it retails for an astounding $39,100
19. Omega RAF CK2292
The Omega RAF CK2292 marks the spot on our list where we move from discussing new and modern watches to discussing vintage timepieces. With that said, I will not include the price for the remaining watches on the list.
The Omega RAF CK2292 is likely different from other pilot's watches you've seen in that it has a white dial. While there are a number of companies who produce white-dialed pilot's timepieces, it is rare, and you're more likely to find black-dialed (obviously) pilot's watches.
The story goes that at the beginning of WWII, the RAF wanted a pilot's watch with Arabic numerals, railroad markers on the dial, and a white face for legibility in low-light situations.
Omega answered the call with the CK2292, and the rest is military history.
The CK2292 is a small watch at 33mm. But, the perfectly proportioned dial with Arabic numerals and blued handset make this a highly legible watch for anyone looking to snag a piece of history for themselves.
20. Smiths W10 Military Watch
The Smiths W10 is a watch that is loved by enthusiasts due to its application in the field. Being a field watch, it was tested day in and day out by the soldiers who wore it. The Smiths W10 truly is the real deal when it comes to British watchmaking at its finest.
The 35mm W10 is a classic example of a highly legible, durable, and reliable military timepiece. Its matte black dial has a somewhat traditional pilot-style dial, with Arabic numerals, railroad track markers along the outer edge, and sword hands.
But what makes this watch uber cool is the "Made in England" printed at the bottom of the dial and the Broad Arrow insignia, identifying it as property of the Ministry of Defense, just above.
21. Omega "Weems" CK2129
The Omega "Weems" CK2129 is a timepiece that has a very storied history when it comes to being used by Spitfire pilots during WWII.
Originally introduced in 1940, the CK2129 was given the "Weems" nickname after the watch's designer Philip van Horn Weems.
The "Weems" has a case diameter of 33mm, very small by today's modern watch standards, and much like the RAF CK2292 we featured earlier on our list, the light dial with black printing was meant to be highly legible.
One really unique design feature of the "Weems" is the second crown at the 4 o'clock position, which acts as a locking mechanism for the free-turning bi-directional bezel. This interesting solution was created due to the pilot's utilizing the bezel for navigation or mission timing purposes.
So, if you've got a smaller wrist and still want to feel like Tom Hardy in Dunkirk, the "Weems" is the watch for you.
22. Tudor Oyster Prince Submariner Marine Nationale ref. 9401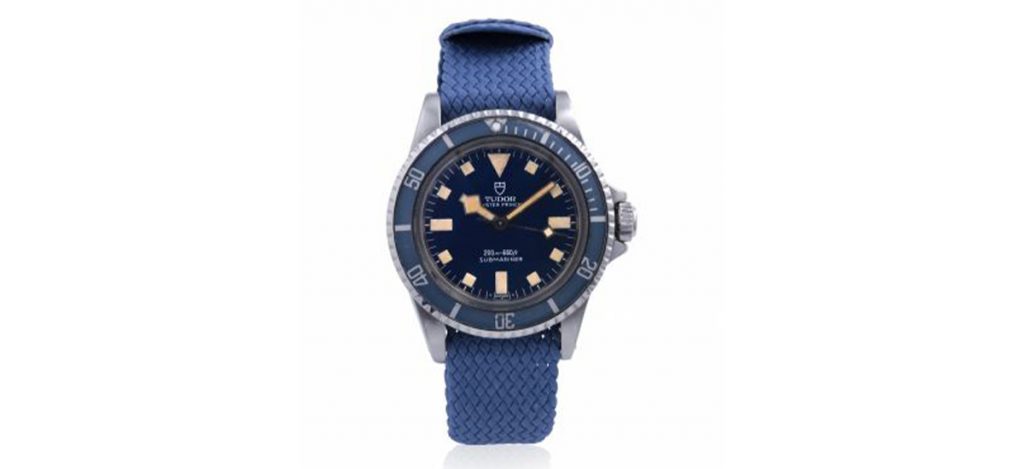 Making its second entry on our list, this time vintage, we will discuss Tudor and the Marine National ref. 9401.
The Marine Nationale ref. 9401, known colloquially as the "Snowflake", was introduced in 1975 to replace the Tudor "Snowflake" ref. 7016, which was introduced at the end of the 1960s.
The 9401 was marked with "TUDOR M.N." on the caseback to signify its use by the Marine Nationale or French Naval Divers.
The 9401 was produced until the 1980s and was in service with the French Navy until the early part of the 2000s.
While there could probably be a long article written about the Tudor "Snowflake" and their partnership with the Marine Nationale, this is just a high flyby, but it is safe to say that the relationship between Tudor and the Marine Nationale might just be one of the most significant in horological history.
23. Omega Seamaster 300 British Royal Navy ref. 165.024
The original Omega Seamaster 300 was released in 1957, a few years after Blancpain and Rolex released the Fifty Fathoms and Submariner, respectively.
But, in 1964, the Seamaster 300 was redesigned and, in turn, found more success than the previous generation ever had. Gone were the days of the smaller 39mm case and thin bezel.
Dimensionally the Omega 300 increased only a few millimeters to 42mm, but. The big standout feature was the bezel and dial design. The new thicker bezel was fully graduated, and the broad arrow handset was replaced with large sword hands.
The watch was issued to the British Royal Navy until it was no longer produced in 1970.
For those who love Omega, like me, it is easy to see the influence of the Seamaster 300 in new, more contemporary timepieces like the Planet Ocean.
24. Rolex Submariner "MilSub" ref. 5517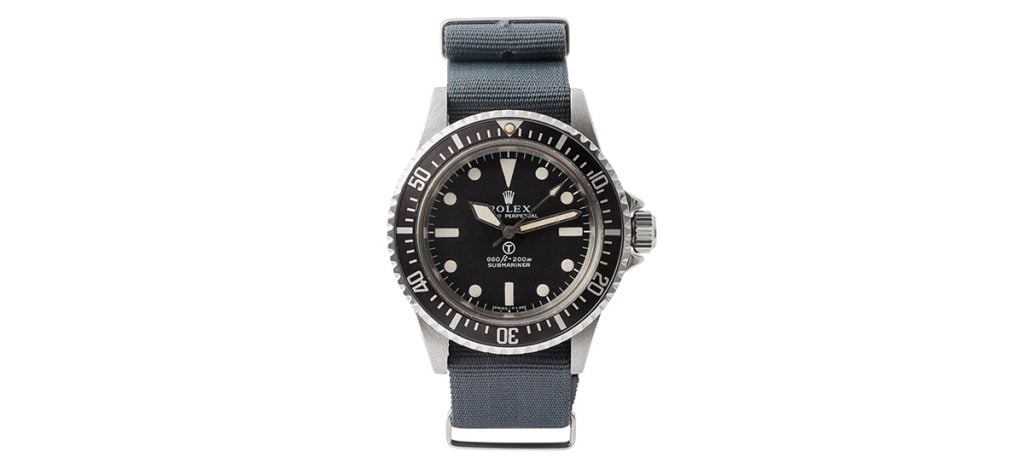 The Rolex "Milsub" 5517 is, for some watch enthusiasts, the purest form of tool watch expression ever produced, and, funnily enough, it was the watch to replace the previous watch on our list, the Omega 300.
To some, the 5517 might just look like another variation of the venerable Submariner, but to those who know their history, the 5517 is definitely on the Mount Rushmore of timeless and awe-inspiring timepieces.
Much like the Tudor "Snowflake" and the (Spoiler Alert) upcoming Rolex Submariner COMEX ref. 5514, the 5517 Milsub could have an entire article written about it, including every detail of how it came to be, who wore them, and what they go for at auction today.
But in an attempt to not get lost in the minutia of the 5517, I want to look at it from a design perspective.
This, in my mind, is a perfectly designed watch. It was designed to function as a tool, to be purpose-driven, and it does just that. In typical Submariner fashion, the 5517 is 40mm in diameter, but what sets the "Milsub" apart from your run of the mill Submariners is the fully graduated bezel, use of sword hands, and the use of fixed spring bars.
Again, all of these were used in order to make the 5517 as functional as possible. Especially the fixed spring bars. Like some watches we've discussed earlier, eliminating a failure point is a way to ensure that the watch remains fixed to the wearer's wrist.
While I can continue to wax poetic about the PERFECT Submariner, I will resist the need and urge you all to read about the 5517 and all its glory.
25. Rolex Submariner COMEX ref. 5514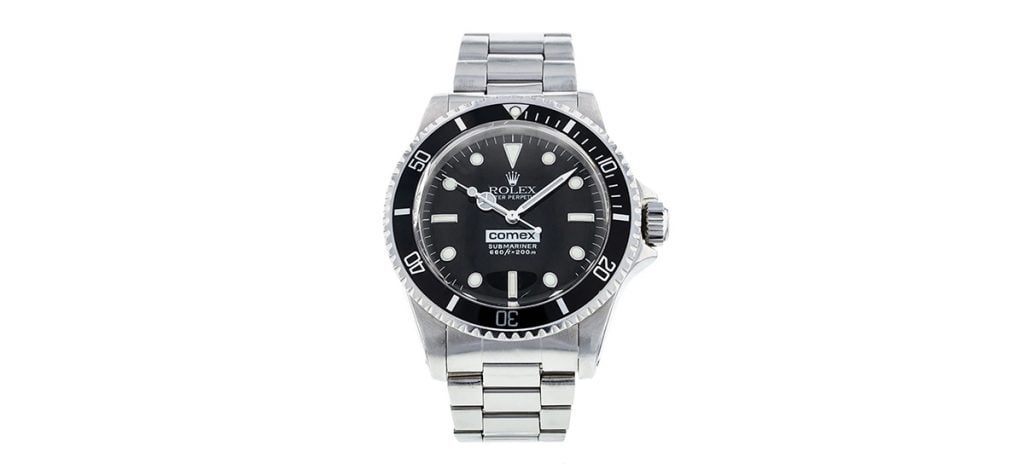 As we discussed with the 5517, Rolex and, to a degree Tudor have created the most important relationships with armed forces in all of watch history. They have been on the wrists of some of the most badass guys to ever walk the Earth, and that is why we love them.
But in a strange twist of fate, one of the Holy Grails of Rolex collecting doesn't really have a connection to the military or iconic Hollywood figure.
Instead, it has a connection to COMEX, pioneers in industrial diving, badasses in their own right, so infatuated with going deeper and deeper that in partnership with Rolex created the first ever HEV or Helium Escape Valve, which allowed divers to have a proper tool on their wrists while working in the harshest of environment.
COMEX is a company that helped push Rolex to its limits and squeezed every last ounce of performance out of their timepieces. It is safe to say that the modern Rolex line would not be what it is today without the help of COMEX.
PARTING THOUGHTS
To keep it brief, I will end with this. Enthusiasts of this crazy obsession we call watch collecting are attracted to, like so many other things in life, the bold, unique, and adventurous. The things we always hope to be as children.
So, it goes without saying that the watches that truly grab our attention, the ones that make us daydream, the ones we have as screen savers or backgrounds, those watches have a rich history of adventure and intrepidness, and I'm willing to bet that for most of us, they are military watches, built for the toughest of all adventures.