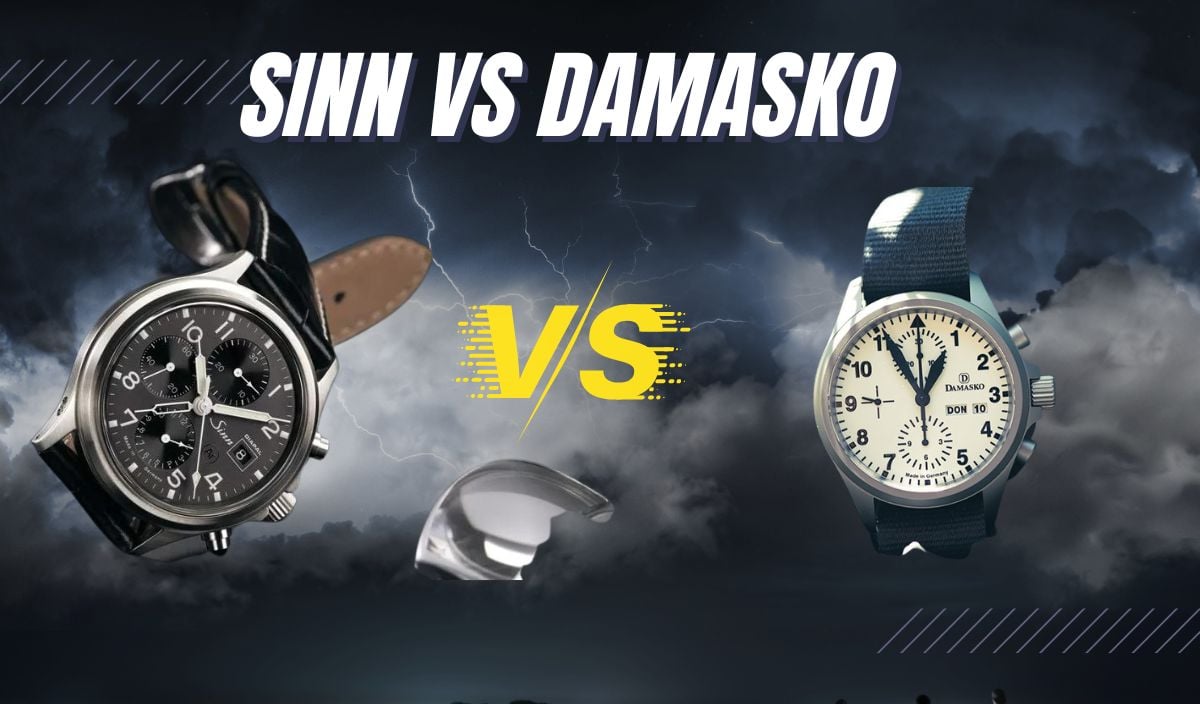 Sinn Vs. Damasko Watches (EVERYTHING You Should Know)
German. Entry-level pilot watch. These are some of the features that come to mind when you think of luxury watchmakers like Sinn and Damasko. We can testify that they are both fine manufacturers with distinct features but suit a different crowd of watch enthusiasts.
Our Sinn vs. Damasko brand review isn't a battle but a guide to help you clarify similarities and differences that matter. We'll look into these watchmakers' technical specs, craftsmanship, price ranges, and all other details that you need to know. Let's start with the brand recognition of Sinn and Damasko. Who's more popular?
Brand Recognition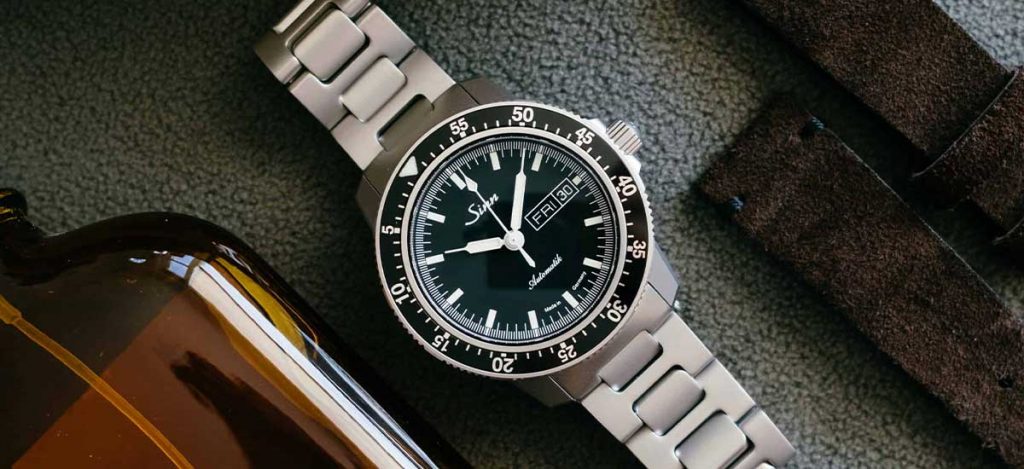 Although both brands don't have the popularity of Rolex, Sinn is clearly the more reputable brand. First, they've been in business since 1964, while Damasko is a family-run business established in 1994. Despite this, Sinn is not the most famous German pilot watchmaker (sill behind Laco) but stays mainstream with new collections and useful technology.
Alternatively, Damasko maintains its tradition of building classy watches that can take a beating. There's also a popularity gap when considering the number of publicity tests from these two watchmakers. Sinn – ironically known as the "aesthetic" watchmaker – has launched more durability tests than the Damasko, whose motto is literally selling durable timepieces.
They first sent a 140 S model into space in 1985 and 1992. And have since conducted many design tests like a recent temperature test for their 303 Kristall at the Yukon Quest dog sled race and a dive test for the 203 ARKTIS in the Arctic sea.
So far, Damasko's most revered publicity is being a NATO aviator watch supplier and Sinn ice-blasted case supplier. But, in their defense, they don't "really" do marketing but leave it to fanboys and critics. And it works for Damasko because they are a small family-run company with a yearly output of only about 1,000 watches.
Ultimately, you won't turn as many heads with either brand unless you have a handful of watch enthusiasts in your social circle. But expect to pique more people's interest or recognition of your watch with Sinn.
Ease of Finding US Sellers/Distributors
Finding authorized dealers of an overseas brand can be challenging. Some watch enthusiasts welcome the exclusivity, but it's a dealbreaker for many who value having options and easy after-sale services. Fortunately, both brands have an authorized dealer here in the states. Unfortunately, there's only one authorized distributor for Sinn in the USA, but you'll find a handful of trusted third-party dealers.
Exquisite Timepieces, for instance, sells new and pre-owned Sinn watches. Meanwhile, Damasko has three authorized dealers in the United States. But unlike Sinn, you won't find many trusted dealers for a good sale or after-sale service.
Accuracy
In a world of mechanical watches, even a one or two seconds delay counts. So how do these two weigh up in terms of accuracy? It's a bit unfair. Damasko manufactures only mechanical watches (talk about exclusive), while Sinn makes quartz watches. This makes Sinn clearly better because even a knock-off quartz watch can be four times more accurate than a $4,000 mechanical watch from Damasko or Sinn.
So we'll play on the level field of their mechanical watches. More specifically, their chronometers. If they were Swiss brands, we'd judge accuracy easily by the number of COSC and META-certified watches both brands carry. Regardless, Damasko offers a few COSC-certification-level watches, such as its recent DC76/2 with equivalent "Military Certified" and "Central Minute Counter" certificates.
This chronograph uses a heavily modified in-house C51-6 movement that's modeled after the legendary Lemania 5100. In addition, Damasko currently offers nine classic pilot chronograph watch series of comparable accuracy. On the other hand, Sinn currently offers 14 chronographs, among which are design award winners. The Sinn 93, for instance, won a Red Dot Product Design Award in 2020 and so have a few other models.
How accurate can Sinn and Damasko get in extreme temperatures?
Sinn's temperature resistance technology keeps their watch functioning well between -40 degrees celsius to +80 degrees Celsius. Damasko, on the other hand, uses watch movements with industry-standard accuracy.
Watch enthusiasts often say Damaskos never lose accuracy but gain by the second. So if they start with +1 seconds per day, they can typically gain around +5 to +6 seconds per day after a few years. But indeed, there are exceptions.
Technologies
German watchmakers put extra effort into timepiece technology. Konrad Damasko, CEO of Damasko, in the earlier interview with Gear Patrol, confirms this: "Damasko is based on technology: we build watches to be worn all day and 100% made in Germany."
Although robust tool watches are Damasko's specialty, Sinn also makes durable watches with innovative technology. I'll brief you on some of the notable ones.
Durability
One of Damasko's steel hardening technologies is the DAMEST coating, which prevents any traces of wear. Another one, probably the most popular, is their ice-hardened 100% in-house made stainless steel bracelets. We've seen users wear watches with this steel case for almost a decade without scruff marks.
And Damasko submarine steel that's seawater and corrosion resistant. Now let's switch to Sinn's high-end steel bracelet, the Tegimented Steel. Instead of hardening the material (such as stainless steel) with a coating like "ice" or sand, it's hardened through a unique process called tegimenting.
Coincidentally, it was a replacement for Damasko's ice-hardened steel in 2002. While this speaks of innovation on Sinn's part, it also reveals industry trust in Damasko's steel durability. Alternatively, Sinn also uses bead-blasting technology on some of their other models.
Magnetic field protection
If you're an engineer or scientist, you'll regularly operate instruments that can mess with your watch's components, causing it to malfunction, freeze, or veer off by up to thirty seconds per day. While magnetism can't be 100% prevented, you can use a watch (usually a chronograph in today's world) with strong enough protection against instruments you handle.
Most watchmakers use a protective casing material with a low reaction to magnetic fields, qualifying it as "non-magnetic." Ideally, they offer protection from magnetic fields of 4,000 A/m.
So what do Sinn and Damasko have in place for magnetic protection?
Damasko uses a shielding cage for anti-magnetism in all its non-glass back watches. It's a special alloy that provides magnetic protection of up to 80,000 A/m and is DIN8309 certified. Sinn is also a frontrunner in magnetic field protection and has an array of mission watches with up to 80,000 A/m protection. They use a "magnetically soft" inner case as the magnetic shield.
For perspective, 80,000 A/m or 1,000 Gauss is the same anti-magnetic resistance of the Omega Milgauss. So you'll find an option with both brands but probably have to buy an Omega Seamaster Aqua Terra with 1,100,000 Am protection. You'll find other models you can compare as you read this guide.
Humidity and Fog Protection
Mechanical watches need a "dehumidifier" to prevent aging from moisture exposure. Yes, it's simply making the watch case anti-fog. But Sinn and Damasko approach the situation differently. Sinn uses "Ar-Dehumidifying Technology," which reduces air infiltration by about 75 percent in select watches.
You can find the details of Sinn's technologies in another post. Damasko, on the other hand, hasn't specified its dehumidifying tech. But judging from their pilot and diving watch line, it's intuitive that they have humidity protection.
Temperature Resistance
Although we talked about accuracy earlier, lubrication is the life force that makes a watch tick in harsh (or any) weather. Sinn uses a "special sinn oil" to maintain accuracy and prevent aging in extreme temperatures between -45 degrees to 80 degrees Celsius. For instance, Mario Weidner, an ARKTIS explorer, wears the Sinn 203 while swimming in the arctic ocean.
Although Damasko doesn't market its temperature tech as much as Sinn, their watches have passed EADS pilot tests in Manching since 2007. To put it simply, they've supplied NATO pilots with aviator watches for over 15 years.
Owing to meeting this military standard, all Damasko timepieces – not just aviators – can survive temperature fluctuations between -40 degrees to +54 degrees Celsius. Ultimately, any entry-level Damasko or Sinn pilot watch, like the Sinn 104 UFC, can withstand any weather you put it through.
Water Resistance
Both brands manufacture regular watches with decent water resistance of up to 20m. However, when we speak of the ultimate water resistance in a luxury watch, we mean the category of diver's watches. You'll be shocked to discover that Sinn was the first company to manufacture diving watches in compliance with European diving standards.
Some of Sinn's best water-resistant watches are Sinn 856 UTC, U1, and U2, with a DNV-certified water resistance of 2000 meters. They also have special features for divers, such as German submarine steel, strong lume for readability in murky waters, and a glove-controllable bezel.
Damasko doesn't seem to compete with their best diving watch, Damasko DSub 50. It's water-resistant up to only 300 meters (984 feet) but uses the crack-resistant submarine steel and other features in high-end diver's watches. In the final analysis, Sinn is the choice brand if your work or hobby requires deep diving up to 1000 meters. But if you're a recreation diver who loves Damasko's bold designs, their DSub series should suffice.
Resale Value
Understanding resale value is also something to consider, so I would add that in. In a nutshell, this is an area where Sinn outshines Damasko. They have a large market, not just because they prioritize marketing but also because they've been in business longer.
That's not to say you won't get a good bargain for a used Damasko if you ever want to sell. But Sinn watches drive a slightly higher resale value. Despite Damasko's exclusivity, the market is fairer towards Sinn. For instance, a five-year-old fairly-used Sinn 104 can still sell for about $1000, which is close to its cost price. But a 2-year-old DC56 chronograph – worth over $2,000 new – would currently trade at around $1600.
Warranty
Both brands have a similar warranty duration of between 2 to 3 years. It costs around $50 to upgrade a Damasko's warrant to 3 from 2 years. The warranty is also transferable from a previous owner if you buy a pre-owned watch.
Remember that you also need the previous owner's full name to validate the warranty. Not just a serial number, so you don't waste shipping costs. This raises the question, "which brand is more responsive to after-sales service"?
Although Damasko has more authorized dealers in the US, watch enthusiasts prefer Sinn's customer service. They are more helpful and reply faster even though they send repairs all the way to Germany. At Exquisite Timepieces, honoring the manufacturer's warranty on available timepieces is second nature.
Comparable Sinn and Damasko Watch: DA46 Vs. Sinn 104
Should you buy Sinn or Omega? Both brands compare on almost every level. These two German watchmakers offer pilot watches, chronographs, and diving watches, so there's usually a design or price range overlay. Let's head off with a brief Sinn 104 and DA46 showdown.
The major deciding point usually boils down to style preference. You either fancy a DA46 for its bold and rugged build or a Sinn104 for its casual dress appeal. The 104 has a polished case and bracelet that only relaxed people would appreciate, but the Damasko's finishing is similar to a practical tool watch – built for everyday use in a specific field.
But if you pay attention to the components of your watch, you'll appreciate a DA46 better than a 104 in gold bracelets. That's because it uses an Arabic numeral dial, wide sword hands, and sports a bead-blasted case. Both watches still have significant similarities, like a two-directional rotating bezel, black dial finish, and triangular lume pips.
Other Sinn and Damasko Watches
Everyday watch: Sinn 556 and Damasko DS30
Diving watch: Damasko Dsub50 and Sinn U1
Chronograph: Damasko DC56 and Sinn 103St
Anti Magnetic watch: Damask DC86 and Sinn 140St
Price Points
It's easy to outrightly write off Damasko as the cheaper brand because they're smaller. But with their recent technologies and releases, they aren't so far off from Sinn on the price scale. Does this make the Sinn more expensive than Damasko? You'll find out below.
Tool Watches
Well, with tool or instrument watches, they aren't far off. Damasko's limited in-house production guarantees that genuine craftsmanship (not mass production) goes into even its most affordable timepieces. An entry-level Damasko ds30 pilot watch costs less than $1,100, while you can still find a Sinn 556 I for around $1000 (shipping fees not included). That means anyone considering both brands can afford to get at least an entry-level watch from either.
Chronographs
Sinn blows Damasko out of the water when you compare higher-end series. For example, Damasko DC86 is one of Damasko's most expensive timepieces and costs about $4000. Meanwhile, Sinns' 6000 Rose Gold costs around $15,000 and is only one of its many pricy models.
If you head into their diving watch shelf, you'll see some correspondence in price points. Damasko's DSUB50, for instance, would hold its own against Sinn's row of high-end diver's watches.
Ladies Watches
It's essential to add that Sinn also carries a beautiful line of women's watches, while Damasko doesn't. The entry-level models cost around $1300 to $3500, while exclusive models decorated with precious stones and metal cost about $4000 to $6000. Sinn also has a line of limited and special edition watches that cost anywhere from $4000 to over $10,000.
Frequently Asked Questions
Why I Chose A Damasko Watch Over A Sinn?
Both models (D46 and Sinn 104) had identical specs, but I chose the Damasko for its ice-hardened steel bracelet. I wanted a tool watch I could wear daily at work and not worry about scuff marks while at it. Plus, the DA46 had a bright lume.
What's the Damasko vs. Sinn Debate In A Nutshell?
The Sinn and Damasko debate generally borders around their dressiness and toughness. Watch enthusiasts believe Sinn watches are better suited for casual or dressy occasions, while Damasko's are for those looking for rugged, "everyday-use" tool watches. 

While this is true, it's a fan-based generalization. Sinn might be a jack-of-all-trade brand, but they carry some of the toughest watches money can buy. And Damasko, as a small, family-owned, in-house producer, is great at what it does best – making durable watches.
Are Sinn Watches Tough?
Sinn reinforces its watch case and bracelet with either a scratch-resistant bead-blasted coating or their high-end steel hardening technology called Tegiment. 

Most of these watches carry professional-standard anti-magnetic inner cases. And use Sinn's "special Sinn oil" to stay accurate in freezing and hot temperatures. Overall, Sinn builds robust watches but also offers polished dressy models.
What Movement is in the Sinn 556i?
Buyers get confused when they find a different movement from different dealers. But it's not an issue nor an alarm for knock-offs. The Sinn 556i officially uses a Selita SW200-1 but is the same as the ETA-2824-2. It's known to run at an average of +3 seconds per day.
Are Sinn Watches German?
Found by a German, Helmut Sinn, in 1961 and based out of Frankfurt am Main district in Germany. 
Sinn is a renowned and trusted watchmaker that sells over 12,000 watches yearly and has won several red dot design awards.
Final Thoughts
Sinn and Damasko are great watchmakers beyond dispute, so it all boils down to your preference. If you value exclusivity and rugged tool watches, Damasko makes it clear they focus on toughness and produces only about 1000 watches yearly.
Prefer having more options and growing your taste with one brand? Sinn has several entry-level and high-end options in many categories, from chronographs to ladies' watches. What's your experience with Sinn and Damasko? If you're shopping, you can check out our collection of authentic Sinn watches (with manufacturer warranty) in the store.
About Exquisite Timepieces
Established in 1998, Exquisite Timepieces is your one-stop shop for all things luxury watches! We are an authorized dealer for 60+ luxury watch brands including Omega, Hublot, Seiko, & Longines! We are proud to showcase one of the world's largest pre-owned watch collections, including renowned brands like Rolex and Patek Philippe. Check out our brand new watch arrivals here and popular pre-owned listings here.