The ULTIMATE Guide to Cartier's Dive Watches (2023 Updated)
In the world of luxury timepieces, some watches become instant classics, while others may go unnoticed until it's too late. The Cartier Calibre de Diver was one such timepiece that didn't really catch on with the watch crowd after its release but will give any diver today a run for its money. 
This post scopes the Calibre de Diver in-depth, including its history, features, models, and alternatives. Unfortunately, we can't say why Cartier exed the line, but fortunately, we can say it's not because it was ugly or overpriced. 
It's a classy and rare collection with features that scream luxury, sophistication, and elegance. You can still grab one or find similar options after this review.
About the Cartier Calibre de Cartier Diver
Cartier was primarily known for creating elegant and sophisticated watches and jewelry. However, it expanded its offerings to include more practical watches suitable for adventurers and explorers. 
One of the earliest examples of Cartier's foray into rugged watches was the Santos, created in 1904 for the Brazilian aviator Alberto Santos-Dumont. It was designed to be easy to read in flight and featured a sturdy, square case that could withstand the rigors of aviation. The Calibre de Cartier Diver line only recently joined the Cartier family in 2013.
It meets the rigorous ISO 642 standards for water resistance, legibility, and durability. This Diver is water-resistant up to 300 meters and features a unidirectional rotating bezel to measure elapsed time underwater. Despite its practical design, the Calibre de Cartier Diver maintains the elegance and finesse symbolic of the Cartier brand.
The watch has a sporty rubber strap, a bold Roman-numeral dial with luminous markings, and a polished stainless steel svelte case. Additionally, its 1904 MC automatic movement has a twin-barrel mechanism and a power reserve of 48 hours.
Cartier Calibre de Cartier Diver Models
The Calibre de Cartier Diver collection has over five (5) models. All of which share the same features with minor design variations. Some of the most popular models in the collection include: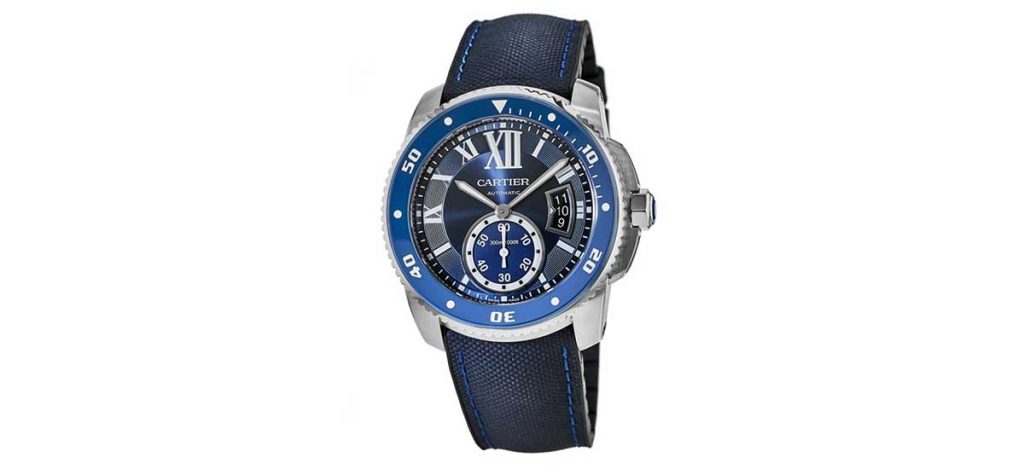 This model features a blue dial with a matte finish and Super-LumiNova indicators. The blue unidirectional bezel is made of ceramic and also has Super-LumiNova markings to read time spent underwater. 
Like its counterparts, the case is made of stainless steel and is 42mm. It also features the Cartier Calibre 1904 MC automatic movement and a water resistance of 300 meters. However, its black strap either comes in leather or rubber.
This model is a two-toned dressy diver with a rose gold and stainless steel blend on the bracelet and case. The 18K rose gold unidirectional bezel, and the dial has markers and hands that are Super-LumiNova treated. So are the hands of its silver opaline dial.
This is the most popular model in the Cartier Diver line. The dial of this watch is black and has a stamped snail pattern with luminous indications and a black rubber strap. It also has steel markers that have been ADLC-coated.
And like the others, the case is 42mm stainless steel, has the Cartier Calibre 1904 MC automatic movement, and is 300-meter water-resistant. Other Calibre de Cartier watch models include:
The Calibre de Cartier Diver W7100057 with black dial and silver steel bracelet
The WSCA0011 model with blue dial and blue rubber strap
The WSCA0006 model
ISO Standards and Cartier Tests
Dive watches have become a popular tool among water sports enthusiasts, sports watch lovers, and watch collectors. But, as popular as these watches are, many skip what puts the "dive" in the dive watch. 
Did you know any watch that doesn't meet the ISO 6425 standards can't be called a diver?
Even if it has 400 meters of water resistance, it must be certified. Basically, ISO 6425 outlines the official physical requirements of dive watches, including water resistance, pressure resistance, magnetism, shock resistance, legibility in the dark, rotating bezel, and resistance to external forces. 
However, the most crucial requirement is the "overpressure test." This test requires submerging the watch in 125 percent of its rated depth before leaving the factory. This is not a basic water-resistant test because not all water-resistant watches are dive-friendly. And if your timepiece isn't adequately tested or doesn't meet the standard, you might be walking around with a shock-conducting watch.
While Cartier might not have a legendary dive watchmaking experience, it does take these requirements seriously. It performs several tests to ensure that the Calibre de Cartier Diver line meets these standards. Watches in this line undergo a water resistance test at 375 meters or 125 percent of its rated depth. 
Additionally, it undergoes a pressure change test, sand in the bezel test, a temperature change test, a magnetic field test, and a pressure on the case, strap, and crown test. Plus, the brand's dive watches are made to pass a condensation test to ensure that no water penetrates the case.
The watch is also tested for underwater visibility to ensure that the luminescent treated hands, markers, and numerals are readable 10 inches away from the face in the dark. Overall, Calibre de Cartier watches are solid and true watches that stand out in the crowd and meet the ISO 6425 standards.
The devil, they say, is in the details, so let's take a closer look at the defining features of the Cartier Calibre de Cartier Diver ref. W7100056, from the intricate details on the dial to the high-quality materials used in its construction.
Case
The Cartier Calibre de Cartier Diver ref. W7100056 has a slim and lightweight case. Only 11mm thick and 111 grams, it's svelte compared to the robust profile of most dive watch cases. 
Durable
It's high-quality stainless steel with a fine brushed finish across its surfaces. But possess a light-reflecting polished finish along the bevel and lugs. 
Furthermore, its solid case back is locked airtight with eight small screws and has the emblem of authenticity inscribed – Diver's watch. It's only legal or seen on watches that satisfy ISO 6425 standards. 
This means the watch is true to its name and can handle a depth of 300m. Most won't take their Cartier diver anywhere near the deep sea, but it's refreshing to know it's competent.
Crown
The crown guard – a vital water resistance feature – stands out. It is pretty large, and the blue gem gives it a mythical look. So much so that it adds 3mm to the watch's size, over 45mm as opposed to the 42mm diameter of the case. But the crown guard is not the only factor increasing the watch's diameter. The bezel and band are also quite enormous.
Fluted Unidirectional Bezel
Speaking of the bezel, it is made of black ADLC and has a unidirectional design to prevent timing mistakes underwater. You don't want to be halfway through your dive and realize you accidentally reset the dive time backward.
Crystal
The sapphire crystal is stunning. In addition, it's scratch-resistant, so you do not have to worry about bumping it against an underwater rock or hard surface. Additionally, it's anti-reflective, which means you can read the time clearly from different angles.
Dial
The Calibre de Cartier Diver ref. W7100056 black dial is a brilliant work of art. It has many fascinating features that will get you all tingly and excited.
Date Display 
For one, let's talk big date. Its unique two-digit date display is both beautiful and functional. Located at 3 o'clock with a calligraphic III Roman numeral crown is its bean-shaped date window.
A triangle indicator puts the current date in the crosshair for easy reading. It also shows the date before and after, which is a minor, but important attention to detail to stay organized
Hands
Cartier uses classic sword hands for the hour, minute, and seconds hands. Speaking of which, there's a standalone seconds window at rocked in at 6 o'clock. Another super cool feature of this watch is the glow-in-the-dark feature. All three hands, the small-second chapter ring, the XII numeral, and the baton hour markers are all treated with Super-LumiNova. 
Super-Luminova
While this Diver can stay bright for up to 18 hours, its lume strength winds down pretty fast. It doesn't matter, though, because, with low juice, you may not be able to read the in the dark seas, but it'll glow enough on your wrist in a dark room. Only the inverted triangle on the bezel glows, so the other markings aren't visible in the dark.
Authenticity Badge 
Counterfeiters rarely get luxury watch designs right. But what's most exciting is the style in which the Cartier name is engraved in microprint in the X numeral as an anti-counterfeiting feature, which is a major way to know that you're wearing an original watch.
Movement: Caliber 1904 MC
All Cartier Divers use the 1904 MC movement designed in-house by prominent Swiss watchmaker Carole Forestier-Kappi. Anyone familiar with Carole's work will expect no less than a masterpiece. 
She designed the Rotonde de Cartier Astroregulateur, which won the "Best Men's Complication Watch" award at the 2010 Grand Prix d'Horlogerie de Genève. This one's built for accuracy and durability.
Solid Engineering
It sports twin, series-coupled barrels working together to even out the energy flow as the mainsprings wind down. It also has a power reserve of 48 hours, which isn't enhanced by the twin barrels. However, these barrels improve longevity by generating less friction-inducing force.
Sturdy
The 1904 MC movement has 27 jewels that run at 4Hz, 28800vph. A bidirectional rotor in the mainsprings is mounted on ceramic bearings that increase the watch's longevity. Instead of using a standard reverse, Cartier improves shock resistance and winding efficiency by utilizing a V-shaped pawl.
Additionally, Geneva stripe finishing on the rotor and automatic winding bridge and circular graining on the main plate is a testament to Cartier's commitment to creating high-quality timepieces. An Etcahron adjustment regulates the watch's energy release, a flat Nivarox balance spring, and a Glucydur balance wheel.
Bracelet / Strap
Cartier Calibre de Cartier Diver ref. W7100056 has a soft, thick, and supple black rubber strap that measures 120mm by 74mm. The material is finished like leather with fluted inlays to avoid irritation if it gets wet. Cartier took this rubber strap to the next level by ensuring it's water, wear and tear, UV radiation resistant, and can withstand relatively extreme temperatures.
In short, this strap is built to last. It wears comfortably, too, with its Cartier-embossed pin buckle to fit into wetsuits without bulging. This adds more appeal to this revered Diver as a dress watch.
One thing about the Calibre de Cartier, unlike many divers, is you don't get strap options for versatility. Although there are models with stainless steel and different rubber styles, replacement isn't user-friendly (buy-in-store). For example, the WSCA0010 and the W7100054 come in leather and steel bracelets, respectively.
Should You Buy a Cartier Calibre de Cartier Diver?
Honestly, I don't believe that watches are made for special kinds of people – except for the costly ones. Find a watch's features helpful or appealing, and can afford it? Go for it. In this case, the Calibre de Cartier Diver is a watch for people who appreciate quality, style, and adventure.
As the name implies, this timepiece is a "Diver" watch that satisfies all ISO standards for dive watches. It is made for people who love exploring the outdoors, climbing mountains, or diving deep into the ocean's depths. So if you're looking to play Jacques Cousteau for a second, consider buying this watch.
But the Calibre de Cartier Diver isn't just for underwater explorers or thrill-seekers. It's also a classy watch for casual and formal outings. 
It's perfect for playing dress up at the office, a fancy gathering, a boat or yacht cruise, and even the movies. Consider it a tiny piece of luxury on your wrist, adding that extra touch of class to your already sophisticated outfit.
However, tech-savvy folks might not be enthused by this watch because it doesn't necessarily have all the bells and whistles of a smartwatch. But it's still a watch with technology, and you might find the engineering intriguing.
Is the Cartier Calibre de Cartier Diver Discontinued?
Yes. Cartier unexpectedly discontinued the Calibre de Cartier line in 2018. Nevertheless, the incredible collection highlighted the brand's stellar craftsmanship and ingenuity. Unfortunately, the reason for the discontinuance is uncertain. Is it possible that Cartier didn't want to appear too sporty, or the initial sale didn't blossom as much as they expected?
Well, the brand is constantly evolving and developing new products. So it is possible that sometime in the future, they will rebrand and revive the collection as a vintage classic. But for now, the collection is only available on the second-hand market.
Alternatives To the Cartier Calibre de Cartier Diver
The Cartier Calibre de Cartier Diver line has impressive models in different colors and bracelet variations. But then, not everyone will be intrigued by this collection. So here are some alternatives with similarities and liberating differences.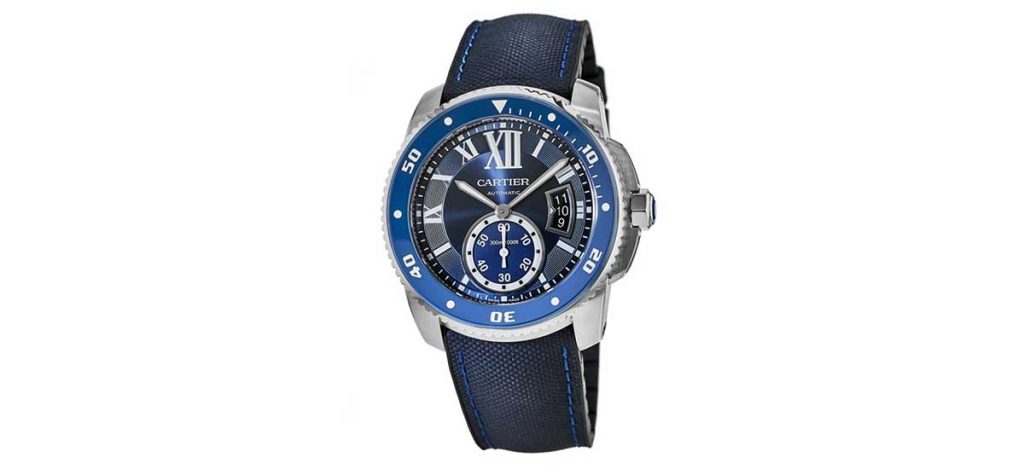 If you think the Cartier Calibre de Cartier Diver, ref. W7100056 is big, you haven't met the Blancpain Fifty Fathoms. This rugged watch is much bigger, with a case size of 45mm and 15mm thick. The case, made of titanium, has a matte finish and an exhibition case back.
It is durable and corrosion-resistant, which fortifies it for underwater use. The dial of this Blancpain watch is equally impressive. Its hour, minute, and seconds hands and markers are all luminescent, aiding nighttime visibility.
The date window is also conveniently placed at 4:30, and unlike that of the Cartier Calibre de Cartier Diver, it is not obtrusive. What I love most about the dial is the two-toned sunburst finish. So, depending on the direction of the light, the dial often transitions from blue to black.
Similarly, the unidirectional bezel is quite pleasant since it is easy to grip and luminescent. But that's not the craziest part. Now imagine having a mechanical watch that can run independently for six days without winding. Yeah, that's right.
This watch has an impressive 120 power reserve thanks to the watchmaker's in-house movement – the Caliber 1315.  The Caliber 1315 movement features three series-coupled mainspring barrels and a silicon balance spring which mitigates shocks and has high resistance to magnetic fields.
Its numerous screws and the crown screw are also shock resistant and enhance stability. Additionally, the Caliber 1315 also has a secure date protection mechanism that guards against harm to the date wheel if a manual adjustment is made while the movement is already changing the date.
Here's another alternative to the Cartier Calibre de Cartier Diver that meets ISO 6425 and DIN 8306 standards. It's a classic watch with a vintage-inspired look that's hard to resist. But what's cool about this timepiece is its size – the case size and diameter are 39.5mm and 12.50mm, respectively, which should fit a wide range of wrist sizes.
One amazing feature of the Glashütte Original SeaQ (ref. 1-39-11-06-80-33) is the simplicity of its features. The time window, which doubles as the 3 o'clock marker, is lodged plainly on the dial. It has no enormous crown guard, exhibition case back, or helium escape valve. 
All of its features are legible, usable, and functional. From the unidirectional black bezel to the gold and luminous white hour, minutes, and seconds markers and hands, and even down to the screw-down crown, you'll find a need for every feature.
The only part of this watch that might seem a bit extra is the sword hour, arrow minute, and lollipop seconds markers. Like why so extra? What happened to regular hands? But it's all part of the aesthetics, which extends to the ceramic bezel, black dial with an infusion of colorful numerals, and a half-barrel profile case.
Under the hood, the SeaQ is powered by the Glashütte Original's self-winding movement – Caliber 39-11. It is a highly accurate and reliable upgrade to the 1978 Spezichron Caliber 11-26. However, this watch doesn't have a strong power reserve like the Cartier Calibre de Cartier Diver watch – it only has a power reserve of up to 40 hours. Its water resistance is also limited to 200 meters.
The Ulysse Nardin Marine Chronometer (ref. 1183-126-3/42) is an exceptional timepiece with precision, functionality, and aesthetic appeal. It boasts a 43mm stainless steel case with a thickness of 13.85mm. The silver dial's wave pattern adorned with Roman numerals and silver steel epitomizes elegance with authority. 
It has a dressy circular-themed design. The case is round, and so are the windows for the date and small seconds subdial at the 6 o'clock position and the power reserve indicator at 12 o'clock.
In addition, extended lugs complement Marine's rubber straps and deployment clasp for a stylish casual look. Unlike Cartier Calibre de Cartier Diver watches, it has an exhibition case back that showcases the movement and Ulysse's signature anchor motif.
The movement is an in-house UN-118 caliber developed by Ulysse Nardin and is particularly well-embellished with 50 jewels. It's also a COSC-certified chronometer which means it's not only a tough diver but an accurate timekeeper. The UN-118 caliber also boasts an impressive 60-hour power reserve, a silicon escapement, and a balance spring. 
The watch is thus shock-resistant and has anti-magnetic properties. Plus, the movement is equipped with Ulysse Nardin's proprietary time zone setting, allowing you to adjust the local time easily without affecting the watch's accuracy.
However, as functional as the Marine is, there are deeper dive watches. For example, it only has a water resistance of 100 meters and lacks a bezel for tracking elapsed time.
Conclusion
And there you have it! Another endearing masterpiece of horology from the world-renowned luxury jewelers. The Cartier Diver's Watch is a fantastic creation that captures the essence of adventurous and luxury fashion. It's not a Santos or Tank but doesn't foray with its slim, sleek, yet hulking profile. 
Maybe the Calibre de Diver was a failed experiment or a statement innovation to show Cartier is more than a luxury design. You'd be wrong in either case because you're still interested after a decade of decommissioning, and it's a solid watch. 
But again, if, for some reason, say, the price or scarcity, you would like options, our list of alternative timepieces has relatively identical features and is worth looking into. 
Keep exploring and stay exquisite!
About Exquisite Timepieces
Established in 1998, Exquisite Timepieces is your one-stop shop for all things luxury watches! We are an authorized dealer for 60+ luxury watch brands including Omega, Hublot, Seiko, & Longines! We are proud to showcase one of the world's largest pre-owned watch collections, including renowned brands like Rolex and Patek Philippe. Check out our brand new watch arrivals here and popular pre-owned listings here.