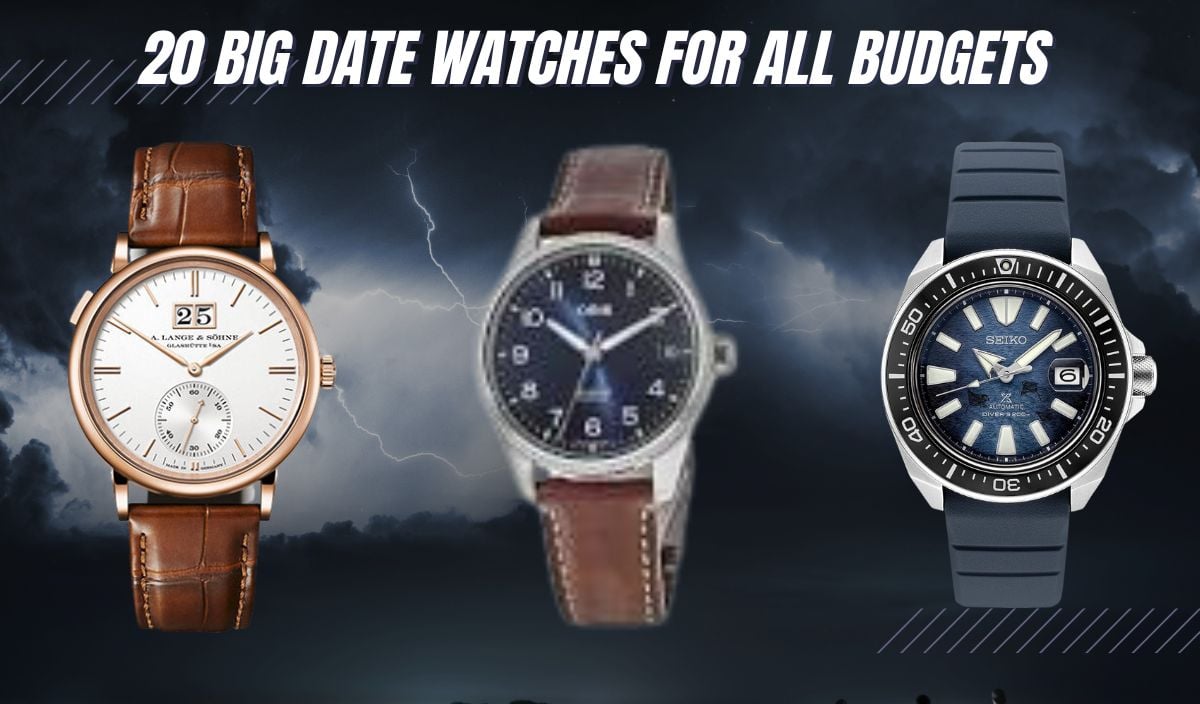 20 BEST Big Date Watches for All Budgets (from $150 to $140,000)
Big date watches are works of art for hardcore horology lovers. And a simple timepiece for those who want a date window that's easy to read. They don't do much other than present you with an enlarged date window.
But true watch buffs see beyond the dial. It's their complex movements with intricate parts that make the hands tick. Another thing we love on big dates is their classy, dressy appeal. In this review, you'll be captivated by their endless allure.
We'll look over twenty large date watches from as cheap as $300 to over $100,000. Our exquisite pick is the Philippe Patek Grand Complications.
Your Big Date, Your Choice
You don't have to splurge or search far and wide to pick a "great" large or "grande" date. All you need is a taste and a budget. Once you find a design that suits you, that's all that matters. It doesn't matter if it's quartz or mechanical.
The big date is simply a watch with a large date window. The only exception is that you may have to spend upwards of $800 to find one with an automatic or winding movement.
About The Big Date Complication
Hold up! Big dates were a thing before Rolex shipped out those date-magnifying cyclops lenses. They still have this feature in their date watches – except for the Deepsea. That's not our focus for today, but those engineered to have large dates, not ones under a magnifying glass.
Original big date wristwatches had two large date windows. They were introduced by one of our favorite manufacturers, A. Lange & Sohne, the german watchmaker, in the 40s.
The First Date Window by a GP-Defunct Company
About a decade before, Mimo, owners of Girard Perregaux, released the first date watch (the Mimo-Meter) in 1930. At the time, it was such an essential function that its tagline was "the watch that sells itself."
Admittedly, it could have been a better look compared to today's standard, but it was a groundbreaking feat nonetheless.
The Big Entry
Helvetia introduced the first prototype of a true big date complication when they released a watch with two legible date windows. Unlike the Mimo-Meter, the windows were also more prominent than the indexes. The watch was powered by a Helvetia caliber 75A housed in a familiar tonneau-shaped case.
But the Helvetia date complication needed to be fixed. It had a thing for running over the last day of the month to the 39th. And then switch to zero unless you manually change it. But they corrected this with a pusher in the crown.
Enter a few years, many brands, including Mimo and GP, jumped on the idea of the big date. And they used Helvetia's caliber 75A.
The Purpose of Big Date Watches
A big date watch serves one functional purpose – to easily read dates on the dial. If that's why you're here, consider your needs met. Today, though, millennials and Gen Z folks would shrug it off as their top reason because smartphones and smartwatches are now a thing.
But if you're intentional about the construction, you'd also get your taste of some of the most complicated models. Some big date watch movements carry the peripheral, overlapping, disc-on-disc, and unconventional stacked date discs.
Top 20 Big Date Watches for Every Man and Woman
Without wasting time, I'll hook you up with the best big date watches in ascending order. Let's go from entry-level to elite class.
Starts from approximately $150
There are two ways around this watch: either you roll your eyes in, or they light up as you sight the price tag. If it's the latter, you're in for a treat. The Seiko SPC153 is a classic and reliable timepiece, actually a steal. But that's not a surprise coming from Seiko.
The SPC153 is a stylish and sporty big date chronograph that's powered by an in-house quartz movement. This Japanese budget watch is 42mm across and 12mm thick, with a masculine appeal.
At the heart of this watch is the Seiko caliber ZT04. The battery-powered movement has a well-contrasting date window below 12 o'clock. The white date window pops on the black background of the main dial and subdials.
It makes it easy to read the date even though it's a smaller font than the main indexes. It's a nice dress watch and a budget option to add a dressy and rugged date window watch to your collection.
Starts from approximately $235
The Hull Chronograph is a bold vintage watch with a bulky 42mm frame. If bold and classy is your style, you'd confidently rock this boxy 15mm thick Spinnaker Hull.
It features a genuine 22mm leather strap with durable stitching to the booth. In addition, you can improve the Hull's versatility with add-on straps in fabric, rubber, and nylon in different variations.
The dial is strikingly remarkable for its price. It's a sandwich dial with a rug-like finish, the big date at 12 o'clock, and a noticeably bright lume. All of these are packed into a tall cushion-shaped solid back stainless steel case with an attractive polished tachymeter scale bezel.
The SP5068-01 chrono is fascinating when you consider how its deeply-recessed date and dial remain visible at angles despite having a double-domed crystal.
However, the mineral lens is inferior compared to sapphire, although it's scratch-resistant – understandable at its price point and craftsmanship level. What makes this beauty so affordable is probably its Japan VK73 Meca-quartz movement.
Overall, the Spinnaker Hull chronograph is a feature-packed big date chronograph and a top choice if you are okay with quartz.
Here's an entry for my classy, simple, and dressy watch guys. Junkers, an obscure German watch brand, offers a piece to drool over and for a good price. Sporting a white corrugated sheet dial with calligraphic Arabic numerals and a sizeable date window riding down north, the model Date 6640-1 would go with you for days.
It's an iconic dial that pays homage to the corrugated sheet body of the first all-metal airplane – Junkers J1. Not to mention it's only 42mm and weighs under 70 grams, so you can rock this baby carefree.
Add its two time zone function is a great everyday companion. It has a separately adjustable 12-hour time zone dial at 6 o'clock you can control with one pusher. The Junkers 6640-1 also runs a battery-powered Ronda 6203. B quartz movement. Unlike most dual-time complications, its dual-time is easy to read and operate for first-time owners.
4. Certina DS-1 Big Date (ref. C029.426.11.041.00)
Starts from approximately $932
The Certina DS-1 is a fresh turn from what you've seen in this review. It boasts a colorful and numberless dial that allows the big date to shine.
The dial is a shade of blue and black, with swordlike hands and markers reminiscent of the black panther mask. This combination of deep colors contrasts with the plain white big date window.
Located at 6 o'clock, the date is the only number on the dial and is considerably bigger than the hour marker. Without question, its double tens date is easy to read. And easy on the wrists.
It's 41mm and less than 12mm thick, giving it a sleek, minimalist profile. The Certina DS-1 uses a Swiss-made Powermatic 80 automatic movement with 80 hours of power reserve.
Furthermore, its exhibition-style case back gives true big date watch lovers a thing to show to friends and family when they go on about the mechanism. All in all, the Certina DS-1 is a great beginner mechanical big-date watch to buy on a budget.
Starts from approximately $1,100
This pilot watch combines a sporty, toolsy look with a touch of elegance. The bold 44mm diameter, 13mm tall stainless steel case with chrono pushers appears to be an instrument watch.
But a closer look at the details will make you think twice. The Startimer, for one, has a finely brushed and polished case in addition to polished hands, pushers, and a grandiose crown.
The navy blue dial synchronizes with the counters, indexes, hands, and the large date at 6 o'clock. Couple these with a calf leather strap, and you can't help but have a gentleman's watch.
The Alpina Startimer has precision considered one-of-a-kind for a pilot watch. Well, actually, it uses a quartz AL–372 movement that lasts for four years. Get the Alpina for a stylish big date and a functional pilot watch in your collection.
Starts from approximately $1,100
Mido has one of the larger collections of large date display watches. But this rose-gold-plated Baroncelli is the model that takes the cake.
It's an embodiment of simplicity and luxury. The Baroncelli is a 40mm round case mechanical watch with a cow leather strap that's only 10.4mm thick. That alone shows extra comfort even before it adorns your wrist.
The Baroncelli's plain white dial has a sunray finish that has an interesting play on light. Its rose gold plated hands and stick hour markers give the watch a refreshing pop of luxury.
The Baroncelli runs on a powerful Mido caliber 80 (based on ETA C07.651) movement as icing on the cake. It's presumably named after its astounding 80-hour power reserve. The Mido Baroncelli is easily the finest dressy big date with a perfect balance of form and function.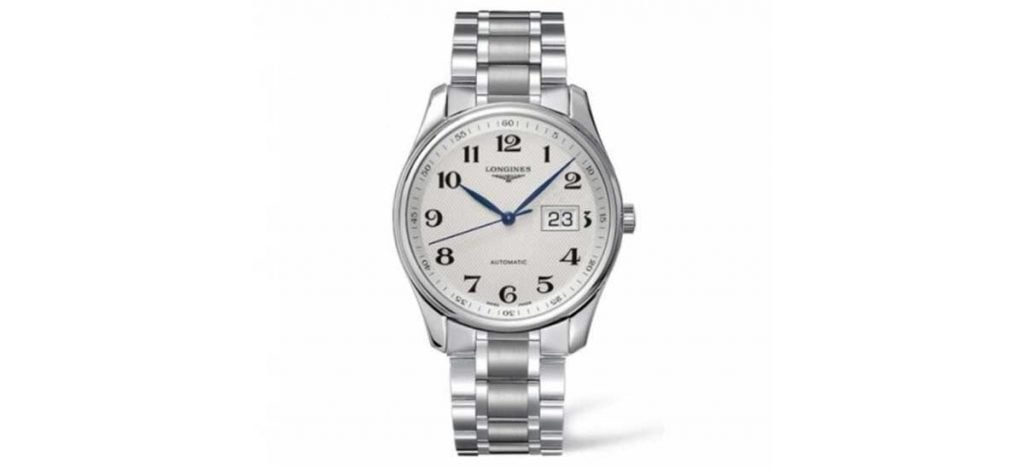 Starts from around $2,000
The Longines stays on the trajectory we've come so far. It's easy on the eye and classy. It's your typical Arabic numeral dial in a stainless steel case and bracelet. The only difference is it introduces you to what luxury watches feel like. 
For one, the indexes are stylishly written, like calligraphy or animation. And it sports the rare feuille or "leaf" hand design seen in iconic watches like the Mont Blanc Star Legacy and H.Moser & Cie Endeavor watches.
The Master Big Date also has a guilloche finish dial, which you only see in top-tier watches. If you need to familiarize yourself with the term, it's a decorative pattern that resembles thorns or pyramids. Well, that's the thing about artful timepieces: you get to picture them in your reality.
Generally, this Longines facilitates clean and easy yet stylish timekeeping. The 12-hour format, 60-minute inner bezel, luminous hands, and oversized date paint the picture. If you're looking for an affordable big date model from a famous brand, consider the Longines Master.
Starts from approximately $4,280
The Breitling Galactic is for those who genuinely appreciate style and function. It's galactic or sci-fi-themed, like a device on a spaceship. But it's practically a simple and user-friendly design.
First off, the Galactic 41 has a solid 41mm stainless steel case with bold bezel engravings. It's solidly built from the case back to the protective rim around the crown.
Secondly, the blue dial is almost plain but sophisticated. The dial has oversized black-and-white stick hour markers and hands for easy reading. And, of course, a large date at 3 o'clock.
As you probably can tell, this watch is clearly built like a tank. A quick look at the bracelet's build alone reveals that. But even better, it has strap varieties in leather and rubber to one down the look.
A COSC-certified Breitling caliber B49 powers the Galactic 41. That's 42 hours of power reserve and 300 meters of water resistance. You'll appreciate the Galactic 41 Big Date for its versatility. It's perfect for a night out in a suit but also looks terrific with casual attire.
Starts from approximately $4,030
Ever thought of getting an avant-garde timepiece that's also practical? Look no further than the Omega De Ville X2 Big Date.
The De Ville is the first watch Omega collection watch equipped with a co-axial escapement. This X2 Big Date houses a modern caliber 2610 with a 48-hour power reserve and tourbillon for greater accuracy.
But that's enough beauty to get movement fans going. Now let's talk about its aesthetic face and strap. Its square-shaped stainless steel case will stand out in the crowd. And it's only 35mm, which is ironic because it packs a punch considering its movement and large font dial.
Speaking of which, the dial is a classic painting in a frame. The indices have an ingenious combo of a dagger and Roman/Arabic numerals. You'll also see this number concept in the date window, which is impressive.
More impressive is how these indices are enlarged out of proportion to its 35mm case. This makes the De Ville X2 an easy watch to read despite being extremely dressy. However, it doesn't have a lume.
Regardless, it's a precision big date dress watch from a respected watchmaker and a respectable collection.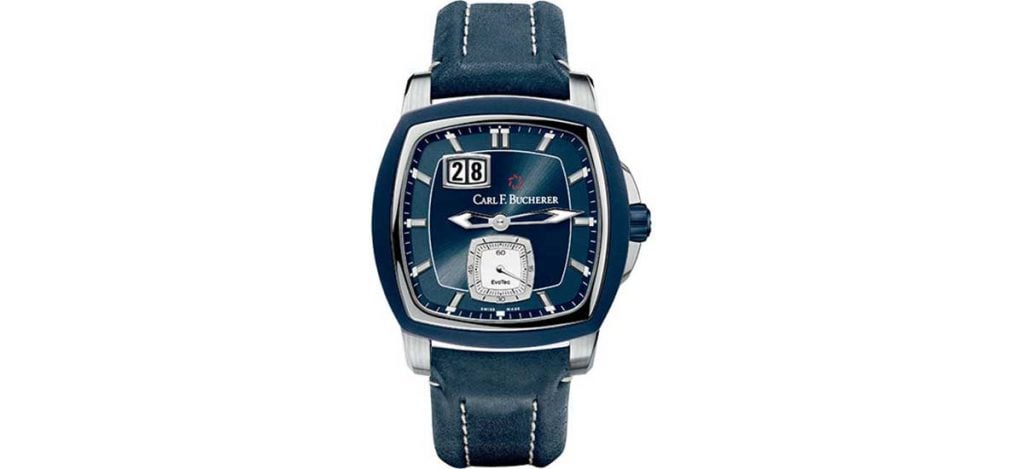 Starts from about $8,600
The tenth big date watch on our list offers some complications you'd appreciate if simple isn't your vibe. One of the unique complications is its big date aperture at the 11 o'clock position. The window is solid-framed, and the date even has a deeper black font than most grande date models.
In addition, the EvoTec has a small date window at 6 o'clock, which declutters the dial. This makes it even easier to read. Not to mention, the Patravi EvoTec is super-comfortable and dressy.
It sports a blue 39mm stainless case that accentuates the blue dial and blue calfskin strap. And it's somewhat thick at 13mm, so it'll also pass for casual wear. It houses an automatic movement with 55 hours of power reserve in its transparent case back.
Starts from about $14,000
Let's take a break from sophistication to reintroduce a clean and uncomplicated design – the limited-edition IWC Big Pilot 150 Years.
It's a simple but prestigious big date watch. As its name implies, it's an homage to IWC's 150th year of watchmaking in 2018. And only 100 pieces of these babies are available (IWC produced 150 pieces, as they should have initially).
What makes the Big Pilot Date so special? Start with a hand-wound IWC caliber 59235. It's intriguing that a manual movement powers the double-date display and has an eight-day power reserve.
Now that you know it's technically capable, we'll briefly tour its plain white gloss-finished face. The dial is vibrant with a play of Arabic numerals and stick indexes, and blue hour hands.
Top that off with alligator skin leather with metal pins for a bold look. And it's housed in a massive 46.5mm stainless case. So while this may sound like a perfect watch on paper, the IWC 150 Big Pilot 150 Years would wear more comfortably by tall wearers.
Starts from approximately $14,500
The GP Vintage 1945 is a watch with notes of class, artistry, and masterful engineering; it's an appealing model for vintage and stylish watch lovers.
The Girard Perregaux Vintage XXL is one of the best picks for the case and large date design. First off, it has a 39mm convex stainless steel case. This means it's curved at every angle to give a 3D-like look, which is difficult even for a luxury brand.
The convex profile is a challenging engineering accomplishment only seen in elite luxury brands like Vacheron Constantin. Its polished stainless steel case houses a stunning silver dial with a perfect play on light that gives it a darker shade.
Under the sapphire crystal are Arabic numeral indexes, a moon phase indicator at the door (6 o'clock), and a grand date below the roof (12 o'clock) of the dial.
There's more to GP's Vintage 1945 big date than meets the eye (for most watch buyers). Its COSC-certified GP03300 caliber delivers unparted date windows on the same plane. This "borderless" design also achieves clear tracks for its railway minute markers.
Any collector or watch enthusiast will gladly pay 20 grand for the level of attention to detail and durability of the Girard Perregaux Vintage 1945 XXL. It's not shy of daily use and will pass for a regalia timepiece. Furthermore, it will hold its value if you're a shelf collector.
Starts from approximately $8,000
Glashütte Original Sixties Panorama Date is a steal-buy for a taste of luxury engineering and embellishment. The first pass you get is into the world of convex lenses and dials.
That's the same engineering in the 15k GP Vintage 45′ – we reviewed previously – or a 50k Vacheron Constantin Patrimony. Its domed silver dial is unmistakable under the Sixties Panorama's ultra-slim case and curved sapphire crystal lens.
Gold-plated hour incisions and hands and four Arabic numerals dissect this Sixties Panorama into four cardinal points. While that's aesthetically pleasing, it's the caliber 39-47 and its big date function that births this model's name.
The big date changes the date after 24 hours in a cinematic crossover – panorama. Its display discs at 6 o'clock are two concentric plates on the same plane. They achieve the smooth transition that Glashütte calls "panorama."
Starts from around $18,500
Blancpain, one of the oldest luxury watchmakers, offers the tanking Fifty Fathoms in a grande date display. Its deep black dial and titanium steel case paired with the sail cloth strap give off a bold image.
In addition, the Super-LumiNova coating on the black background makes it even easier to read in low light. Trust the Fifty Fathoms to give you the confidence of a tool or dive watch with its thick 43mm titanium case.
It has a unidirectional bezel and up to 300 meters of water resistance. This model features a grande date automatic caliber 6918B. It's a nice upgrade from the tiny date window of the normal version – about twice the size of the original.
It makes the $3k price bump worth it if you want the Fifty Fathoms with a large date. It holds value well on the resale market, so it's also a gratifying investment watch.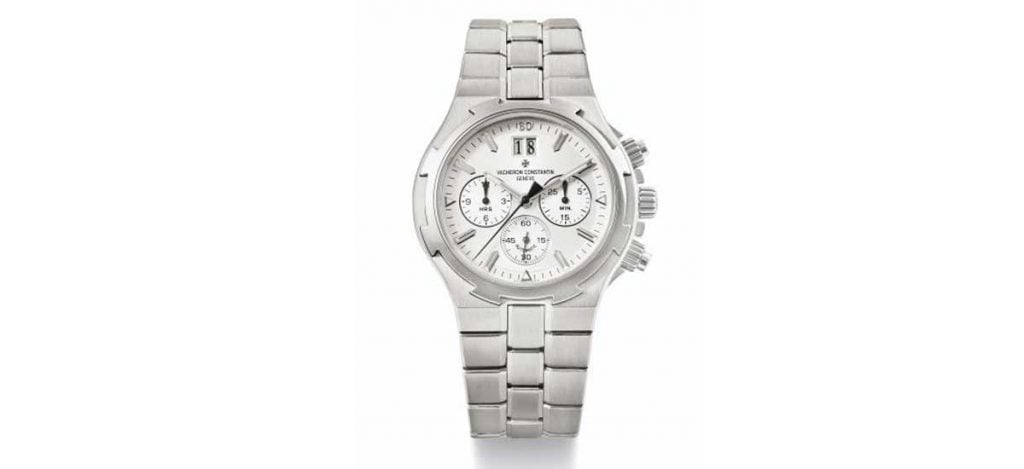 Starts from approximately $20,000
The VC Overseas is a small but intense chronograph with exceptional attention to detail – can't expect less from a member of the "Holy Trinity."
This well-polished chronograph houses a toned black dial with detailed designs in a VC cross-shaped bezel. It has Roman numeral indexes on every hour except the cardinal points.
The counters flesh out the face as they intertwine with 10th and 2nd-hour markers with minute trackers and dagger hands that look like ties: a small second counter, a 12-hour timer at 9, and a 30-minute counter at 3.
Finally, the grande date window crowns the dial at 12 thanks to the Vacheron Constantin caliber 1137. It has 40 hours of power reserve and an anti-shock system.
The Overseas is a luxury sports watch to dress up or down in grand style. Although it can take a beating, it's not exactly cut out for a tool watch.
Starts from approximately $30,000
Cartier, the world-renowned jeweler of over 170 years, has something in store for historical watch buffs. Its tonneau shape is one of the closest designs to the real thing – The MimoMeter – back in the '30s.
The Tortue is one of the rarest big date watches. And its history goes way back to 1912 when Louis Cartier designed it, inspired by the shape of a tortoise. It's a similar concept to the Cartier Tank.
It's a masterful creation and an embodiment of rare luxury. The Tortue Large Date Small Seconds is a self-explanatory design but finer when you look in detail. Start with a luxurious real estate of 18K white gold case with a closed back.
Moving to the dial, you get a matte silver sheet inside a 38mm fence. It's embellished with concentric Roman numeral hour indexes and a small second window door at 6.
The big date is square and center at 12. And you get to carry this work of art around in a reptile strap. The Cartier Tortue CRW1556233 is a great fit for professionals in finance, law, or high-class society.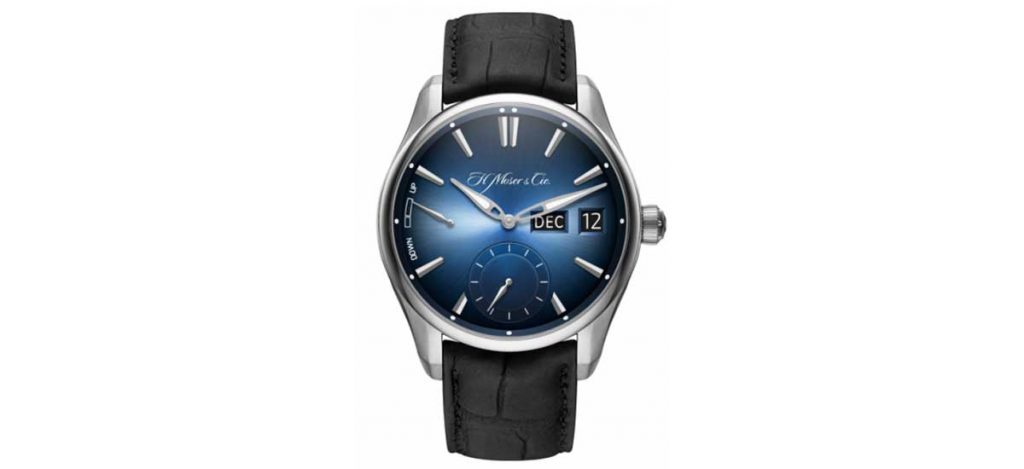 Starts from approximately $35,000
The Pioneer is an ultra-slim 43mm dress big date watch on steroids! The engineering, complications, and aesthetics are detailed to the highest standard. A funky blue fume dial with a sunburst plays light and color tricks in a calm display. It's a clutter-free display – the stick and dot indexes only indicate ten-minute intervals.
Actually, the dots are its bezel numbers, so you can imagine how immaculate the MD is. These and the skeleton dagger hands light up even in pitch darkness.
The world-class watchmaker blows our minds with an HMC 808 movement engine (168-hour reserve). It has a month and date display window at 3, a small seconds window at 6, and a power reserve indicator at 9.
What's impressive is how these complications make the HMC Pioneer MD easier to read and adjust.
This watch would be a great addition to any collection if you can afford it. It can be formal only, casual, or even for adventure. Not to mention, it's a limited edition model from a renowned brand, so you're also looking at a great investment watch.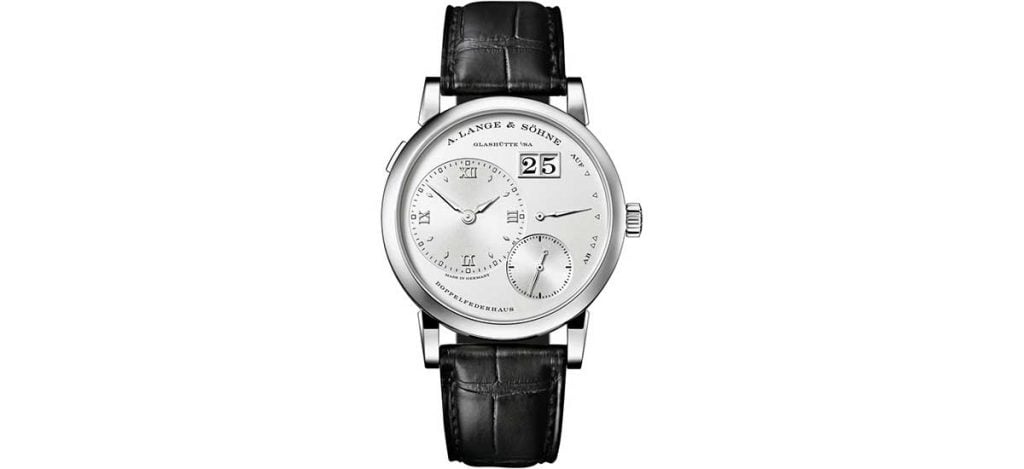 Starts from approximately $40,000
With the A. Lange & Söhne Lange 1, we'll stray from the conventional. It's practically a date watch than one for timekeeping.
A. Lange & Sohne tagged it the "inimitable" dial because of its asymmetric – off-balance – design. Its silver dial is flush with a 38.5mm white gold casing. There's a 12-hour window in Roman numerals on the left gracefully intertwined with a seconds window below.
The large date display sits alone in the top-right as the most legible writing on the dial. And for this, we can give credit to L121.1 in-house caliber.
Knowing how beautiful it is, the brand displays it through its see-through sapphire crystal case back. It's manually wound, has a 72-hour power reserve, and offers instantaneous date change at midnight.
The Lange 1 is undeniably one of the most iconic modern watches. It's a great buy if you want a visible high-end movement with a unique, gorgeous dial and precious metal finish.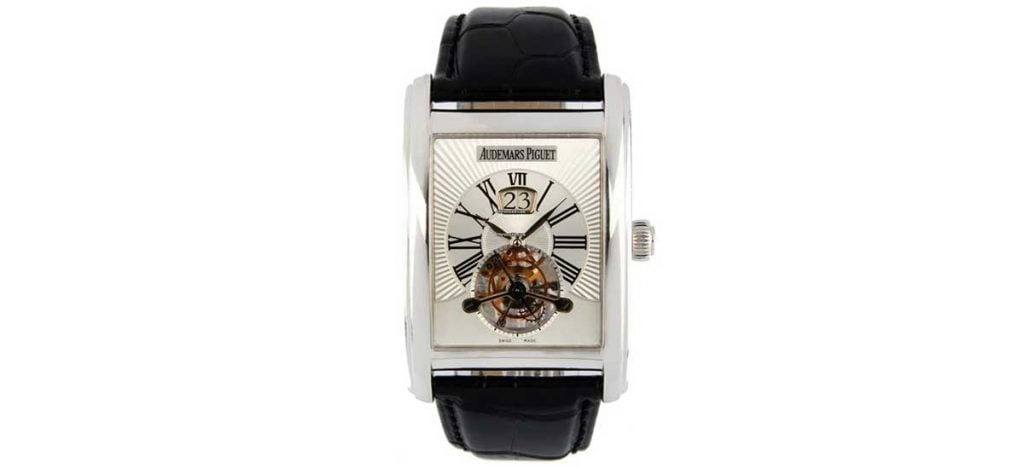 Starts from around $70,000
For our second entry from the "Holy Trinity," we introduce the Edward Piguet Large Date. It's a masterpiece of horology with a renowned price tag that limits it only to the elite and hardcore watch buffs.
Who else can appreciate horology enough to pay over 50 grand for a sophisticated big date movement? The Eduard Piguet Large Date has a partial skeleton dial with Roman numeral markers, a tourbillon, and a large date window on a 34mm case.
They complement the dark rhodium-finished 18k white gold case and an alligator strap to add a touch of class. However, the true champion is its tourbillon movement with complications of extreme difficulty that you can even see through the case back. It's manually wound with up to 72 hours of power reserve.
AP gives you a glimpse of Swiss engineering perfection in the dial and case back. It's undeniably a statement piece for special occasions but is durable enough for casual wear if you can pull it off.
Starts from around $140,000
What better way than to end our list with the final member of the "Holy Trinity"? The Patek Philippe Grand Complications delivers masterfully on every note of complication, readability, and choice of materials.
With a 41mm platinum case, we have Patek Philippe's biggest Perpetual date model. The price is readily justifiable considering the special features of its caliber 31-260 PS QL, like hand-woven engineering, mechanism, and a moon phase.
The clear winner, though, is the Grand Complications big date. It displays the day, date, and month in the same aperture, which is truly special. But the gradient blue satin-finished dial provides an aesthetic touch that turns heads.
Flip it over, and you'll still have the movement to yourself through the open case back. The Philippe Patek Grand Complications is finally cased in platinum and has an alligator strap to complete the look.
Conclusion
Big date watches are perfect for functionality, style, and precision. Each timepiece caters to watch enthusiasts' unique needs and preferences, with features like high-quality materials, intricate designs, and precise timekeeping mechanisms.
From sporty and casual to elegant and formal, these timepieces offer versatility and sophistication. Whether you're a seasoned collector or a first-time buyer, you'll find an affordable and functional model that catches your eye.
About Exquisite Timepieces
Established in 1998, Exquisite Timepieces is your one-stop shop for all things luxury watches! We are an authorized dealer for 60+ luxury watch brands including Omega, Hublot, Seiko, & Longines! We are proud to showcase one of the world's largest pre-owned watch collections, including renowned brands like Rolex and Patek Philippe. Check out our brand new watch arrivals here and popular pre-owned listings here.