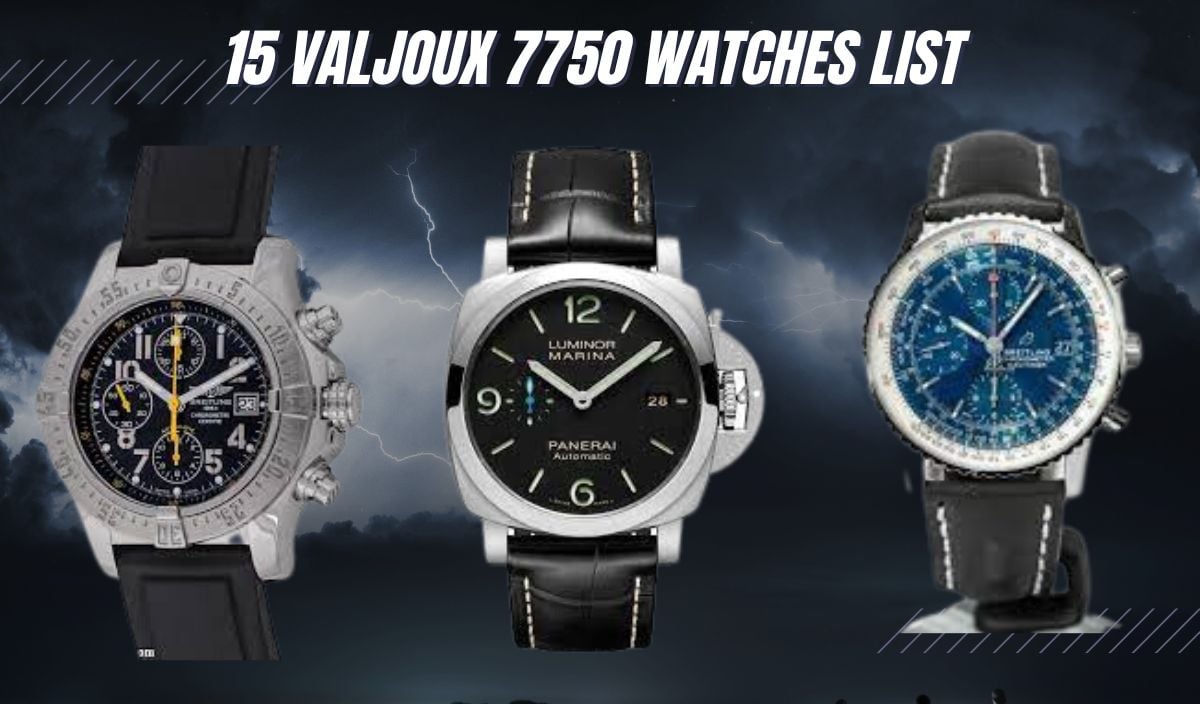 15 BEST Valjoux 7750 Watches (Highly Accurate & Reliable!)
The venerable and humble Valjoux 7750 is the widespread beating heart of many self-winding-chronograph watches. As a result of groundbreaking engineering, it has proven to be an immortal movement that is easy to service, reliable, accurate, universally sized, heavily modifiable, and even cloned by movement manufacturer Sellita to make the SW-500 (to meet the demand for non-ETA exclusive watchmakers).
The 7750 is the world's most popular self-winding-chronograph movement, still very relevant today under the arm of ETA; the Valjoux 7750 has been the horological lifeblood of many brands since before and after the Quartz crisis – thus enabling a formidable comeback from the mechanical watch industry due to its allure as an affordable well-designed platform that allowed for many complications and levels of finishing to be offered by its adopters. We are excited to discuss 15 of the best Valjoux 7750 watches that you can get your hands on today.
About The Valjoux 7750
The race from many tycoons in the watch industry to invent the first self-winding chronograph made 1969 a revolutionary year for watchmaking. The Calibre-11 was the first to achieve this status, a manifestation of a collaboration between Heuer, Breitling, Hamilton, and chronograph specialist Dépraz & Co., followed by Seiko with the 6139 and Zenith with the over-engineered and rather excellent El Primero; all simultaneous releases within the year.
The age of the self-winding chronograph had begun, and Valjoux took notice, seeking to offer such technology in vast numbers. The manual-wind Valjoux 7733 was the foundation; a young Edmon Capt was tasked with turning it into a self-winding chronograph.
With a tight development timeline, the Valjoux 7750 would be the first movement to have its workings simulated on a computer and would go on sale in 1973 amidst the Quartz crisis. It proved popular, selling in 6-figure numbers but would soon be impacted by rapidly dying sales due to the Quartz and digital watch market craze – at its peak in 1975.
Similar to the fate of the El Primero, Valjoux's senior management ordered the destruction of machinery, drawings, and tooling for the 7750 – an order which Edmon Capt chose to disobey and was thereby able to find means of protecting his creation for a brighter, longer future.
Following Valjoux's consolidation by ETA in the 80s, mechanical watches finally saw a revival of interest. This allowed for the return of the 7750, which required little to no reworking since its inception. Affordable, serviceable, reliable, universally sized, and modifiable, it became the popular choice for many brands in recovery, dawning on a renaissance of mechanical watchmaking.
The Valjoux 7750 movement architecture utilized levers and an oblong-shaped cam which was easier to mass-manufacture than its column wheel-operated cousins. It also used a unidirectional winding rotor that allowed for faster winding and no dead zone in rotor movement, with the winding system always engaged.
Its notorious quirk was its rotor wobble. Here we have an industrial movement at 7.9mm thick, with a self-winding chronograph, hacking seconds, compatible with a date and day wheel, available and affordable for many watch manufacturers to adopt rather than an engineer on their own at great expense.
/ETA also offered more complicated versions of the 7750, like the 7751, which had a full calendar and moon-phase display, and a 7753 with the sub-dials positioned at 3, 6, and 9 o'clock rather than a vertical layout.
Due to its modifying potential, some movement specialists chose to incorporate a column wheel mechanism, which proved less expensive than acquiring a movement developed to incorporate one. IWC also took a liking to the movement, and Kurt Klaus used it as a base for what would become the legendary Da Vinci Perpetual Calendar Chronograph in 1985.
Its success with IWC didn't end, as Richard Habring followed suit by creating a split-seconds chronograph out of the 7750 that would eventually be turned into the 125th anniversary Destriero Scafusia. This grand complication combined a split-seconds-chronograph, flying tourbillion, and minute repeater.
ETA also went on to devise its own version of a column wheel controlled 7550, which was the Longines Caliber-L688, which Omega later used as its base for the Co-Axial Caliber-3300. All of this is a testament to the 7750's wide and favored adoption to date.
The Best Valjoux 7750 Watches
Under the current premise that the watch world is notoriously hyped for integrated bracelet luxury sports watches, Tissot has been widely recognized for positioning its PRX lineup as a budget-friendly alternative. Its cohesive case and bracelet design, adding to that a lineage dating back to the original era in the 70s, has made the PRX the prime choice for watch enthusiasts wanting to enjoy high horology levels of design.
In 2022, Tissot was able to offer the PRX Chronograph with the proven Valjoux 7753 seen through its display caseback, with a 60hr power reserve, the classic 3, 6, and 9 o'clock chronograph layout, a date between 4 and 5 o'clock, 100m water resistance and a 2-year warranty.
Available in 3 sunburst dial variations blue, white with blue subdials, and white with black subdials and gilt indices/hands. Priced at $1,825 on a quick-release interchangeable steel bracelet.
Sized at 42mm in diameter and 14.5 millimeters thick, with an overall brushed finish and polishing on its case flanks, sloping bezel, pushers, and crown; and the availability of panda-esque Royal Oak Chronograph inspired dial configurations to make this a very stylish and wearable sports watch, in addition to its great value offering.
For those that desire the storied heritage of the greatest journey of mankind, and a budget-friendly smaller Moonwatch, with self-winding, a date complication, and most importantly, 100m of water resistance, look no further than this watch.
The Speedmaster Date 40 is an offering that punches hard above its weight class, housing the Chronometer Certified Caliber 1164 based on the 7750 with a 44hr power reserve. 40mm in diameter and 15.2mm thick, the Speedmaster Date 40 lends a few design elements of the Speedmaster Professional (1861).
These include an identically-finished lyre lug case profile and bracelet design, a tachymeter bezel that comes in black anodized aluminum, and a double-finished black dial with a metallic grain at the center. Alongside these are appliqué indices and the Omega logo, a vertical subdial layout as a result of its 7750 movement architecture, and a frame around the date window.
This model is now discontinued and had an original retail price of $3,500. It is half the price of the current Speedmaster Professional and, therefore, an incredible value alternative due to its 7750-based caliber, making it better sized for smaller wrists, with added functionality to boot.
The Hamilton Intra-Matic Chronograph H is a modern remaster of the original 1968 model, with promising potential to retain the elegance of its predecessors and none of the drawbacks associated with wearing a vintage piece. As of 2021, the Intra-Matic Chronograph received further refinement, now offered in 40mm with a manual-wind movement allowing for a marginally slimmer case (0.3mm) than its automatic counterpart.
By doing away with the hand-wound movement, this model offers further interaction and feeling for the vintage enthusiast it targets. This also allows it to have a flatter case back and less clearance between the dial and the domed sapphire, leaning onto a much cleaner overall aesthetic.
The Intra-Matic uses the 7753 for a simple classic dual subdial layout with no date. It comes in two vintage-inspired panda-dial variants; a plain black dial with off-white subdials or an off-white dial with black subdials and faux patina lume on its hands and indexes.
With a two-year warranty, 100m water resistance, and a 60hr power reserve, priced at $2,045 on a leather ($2,095 on a Milanese bracelet), this is a truly authentic vintage chronograph experience to be enjoyed at an affordable price point, with modern-day conveniences.
Following the post-war commercial aviation boom, the Aircraft Owners & Pilots Association pressured Brietling to create the Navitimer in 1952, now a monumental model in its lineup. With the help of the then-revolutionary slide rule bezel, the Navitimer became the first flight calculator, calibrated for all necessary flight calculations, such as ground speed, airspeed, drift, rate of climb, and fuel consumption. Not limited to the sky, it could also convert miles to kilometers, Fahrenheit to Celsius, or dollars to euros.
The Navitimer (ref. A2332212/C586) produced between 2003-2011, with a practical 41.8mm diameter and 14.6mm case, used the 7753 as a base for its 42hr COSC-Certified Movement. This model was offered in a deep navy blue, as well as black or white dial variations with the typical 3 subdial layout thanks to the architecture of the 7753, and a date complication between 4 and 5 o'clock.
It was originally priced at $9,000 on a bracelet and is currently up to $6,000 on the secondary market. Its availability is a true testament to the vast takeover of the 7750/7753 base. As the Navitimer in 1969 was one of the first watches to house an automatic chronograph caliber, it needed to come full circle to adopt the Valjoux for the sake of its own survival.
During the 70s, Tissot featured as a sponsor in F1, with Swiss ambassador and Brabham driver Lorris Kessel. Back then, he wore the Navigator 1973, a watch designed during the golden age of motorsport, when racing drivers needed timing instruments on their wrists.
In 2019, Tissot celebrated its racing history with the revival of the Navigator, releasing the Heritage 1973, a modern interpretation of the original, limited to 1,973 pieces. Following this, they released a second iteration in 2021 as a mainstay in the collection, offered in 3 color variants, those being white, blue, or black.
Aesthetically belonging to the exclusive club of the 70s-inspired vintage racing chronographs, it sports a modern-sized 43mm cushion-shaped case with satin-brushed surfaces and polished bevels, mushroom-style pushers, and a perforated leather strap (invented by Tissot in 1975).
The dial is also changed from the original, now with the sub-dials positioned at 3, 6, and 9 o'clock rather than a vertical layout, and a date window between 4 and 5 o'clock, thanks to the layout of the 7753 (visible through a transparent caseback) with a 60hr power reserve.
Carried forward from the original is the panda color dial configuration, with pops of 70s orange, and exclusive to the newest model, a minor touch of bright blue on the 30-minute elapsed counter between 0 and 5. It has a domed sapphire crystal, unlike the acrylic of the original. Priced at $2,175, with a two-year warranty and 100m water resistance, the Heritage-1973 has all the hallmarks of a great vintage racing watch revival.
IWC was an early pioneer in developing timekeeping instruments that catered to the needs of aviators. Its first Pilots Chronographs, often referred to as the 'Flieger Chronographs' were launched in 1988, including a self-winding model that housed a caliber based on the 7750. Decades later, still proving to be up to the task.
The Top Gun collection has been an integral part of IWC's Pilot watch lineup since 2007, flexing its usage of advanced materials and giving them a distinctive tactical look and feel.
To celebrate its close association with naval aviation, in 2019, we saw the release of the IWC Pilot Chronograph Top Gun IW3891-01, still using a heavily modified column wheel chronograph movement based on the 7750 and still adopting the 3 vertical subdial layouts and a day/date window at 3 o'clock, that the model is famous for.
This model features a 44.5mm diameter black ceramic case on a black textile strap, a matching matte black dial with concentric grooves visible on the subdials, a matte black hour and minute hands, and a black day & date window. It has contrasting white Arabic indices, markings, lume, and chronograph seconds hand, with a pop of red on the running second's hand.
Attached to the case are brushed steel pushers and a screw-in-crown allowing for 60m of water resistance. Priced at $8,950, this watch is a proven icon with looks ready for any dogfight.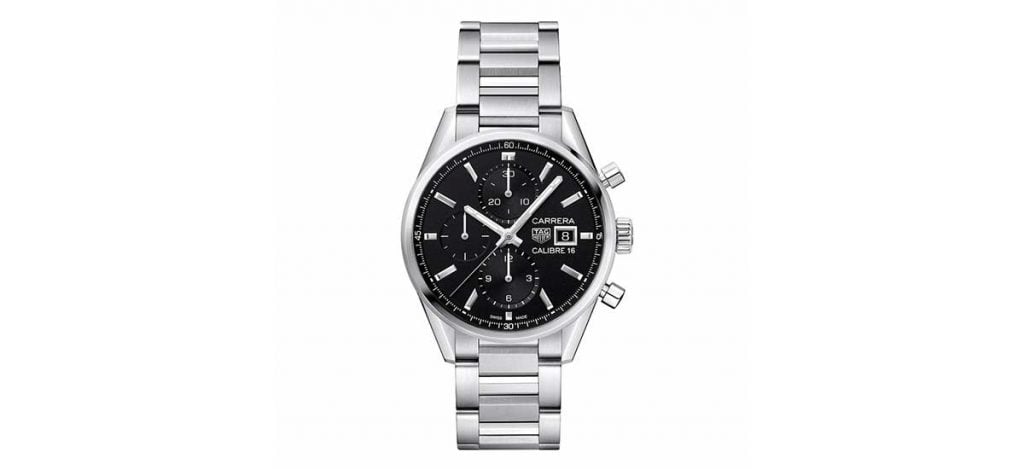 The Carrera is easily one of the most iconic racing chronographs to date, with a rich and storied history dating back to the 60s and 70s when Heuer was at the helm of racing timekeeping instruments. Post Quartz crisis, the Carrera was brought back by Tag Heuer in 1996, a mainstay in their collection since 2006, and it adopted the Caliber 16 (42hr power reserve) based on the 7750.
Unlike the original Carrera that featured the first self-winding chronograph movement (Calibre 11), it would now adopt 3 vertical subdials with a date window at 3 o'clock as a result of its movement based on the 7750 (visible through a transparent caseback), with a 42-hour power reserve.
The CBK2110.BA0715 features a matte black dial with polished hands, indexes, a frame around the date window, and an applied Tag Heuer logo. This particular reference had its own time in the spotlight, worn by Kevin Bacon in the movie 'You Should Have Left (2020)'.
Not owing too much to its racing history, it leans more towards elegance than sportiness, striking a good balance for daily wear with its high finish (41mm) case and bracelet and 100m water resistance. This model is currently discontinued and had an original retail price of $4,600. Secondary market prices can be found up to approximately $4000, depending on the condition.
The Master Collection, launched in 2005, pays tribute to Longines' rich heritage in traditional and classical watchmaking. The halo model of the collection, the Complete Calendar Chronograph Moonphase, offers high complication at a value focussed price point.
This is done with the help of a movement based on the 7751(visible through its transparent caseback, with a 48hr power reserve), a multifunctional caliber based on the 7750. Adding complications such as a full moon phase indicator at 6 o'clock, a central pointer date hand pointing at the date on the outer periphery of the dial, day of the week and month windows at 12 o'clock, and a 24-hour hand at 9 o'clock.
It features a classic high-polish 40mm case with a rounded bezel and soft lines, overall contributing to a dressier feel and doing well to mask its high complication caliber. It has 'old world' looking pushers and a stamped crown. The dial is clean and uncluttered in silver barleycorn, with a stamped Clous de Paris style guilloché on the main level and concentric grooves on the subdials.
It has blued legible hands and vintage-style Arabic numerals printed well enough to look applied. Priced at $3,550 on a brown alligator strap with a luxurious twin trigger deployant clasp. For those seeking a complication dress watch on a budget, Longines is well-calibrated to deliver high sophistication and refinement.
The launch of the Big Bang in 2005 marked the rebirth of Hublot under Jean-Claude Bivers' leadership. With the 7753-based 42hr power reserve workhorse movement (visible through its transparent caseback), and quite a bit of hype (or incredible marketing), it could compete with the greats from which it took inspiration.
Given the high horology inspiration, and Art of Fusion Concept, the Big Bang appears to have all the necessary hallmarks of a niche high-end timepiece while having a strikingly modern, sporty, and racy design language.
The 301.SX.130.RX has a 44mm case with contrasting satin-brushed and polished surfaces. It sports a sandwich construction with composite inserts at the sides to give an architectural look. Polished finishing continues on the crown and pushers with rubber outboard.
Rubber is also used for the strap, Hublot being the early pioneer of using the sporty material on a luxury sports watch. Its bezel, inspired by the porthole of a submarine, is satin and highly polished with distinctive Hublot H-sectioned screws.
To complete its look, we have a matte black dial with polished appliqué indices and hands (lumed) and a contrasting red chronograph seconds hand, minute/seconds track, and subdial track for the minutes and hours. It retains the 3, 6, and 9 o'clock layout of the 7753 with a date window between 4 and 5 o'clock.
Priced at $12,900 retail, and approximately $8,500 pre-owned, it is a 100m waterproof luxury sports watch that still compares well against its highly-praised cousins who might not share the same specifications, price point, or sporty design.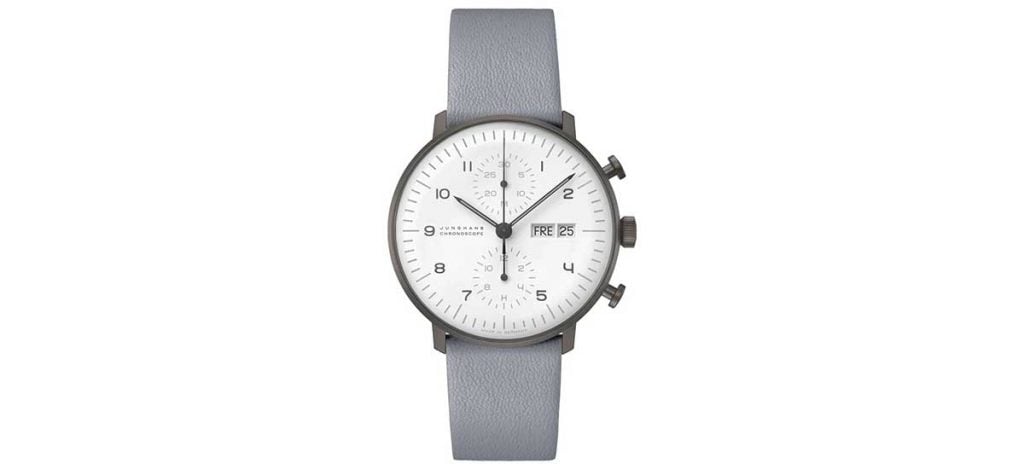 The German watchmaker, Junghans, is popularly known for its commitment and genuine history with the Bauhaus design language. An artistic ideology that form follows function. Max Bill, a Swiss artist and former student of Bauhaus in Dessau 1927-1929, was tasked by Junghans to create a collection of watches in 1961 of Bauhaus influence, following the great success of its Max Bill kitchen clock.
The Design of the Max Bill Chronoscope carries forward its design language from the 60s as a modern offering, housing a movement based on the 7750 with a 42hr power reserve. Its 40mm almost pebble-shaped steel case is coated in matte anthracite PVD, has short lugs (which makes it very wearable), uses piston-style pushers, and has a thin bezel offering a generous view of its matte white dial.
It ditches the running seconds for just two vertically aligned subdials for symmetry. Grey is used for the minute/seconds track and subdials markings, with black environmentally friendly lumed Arabic numerals that match the font of Max Bill's original kitchen clock. We also have matte black hands, with the hours and minutes being curved and lumed.
At 3 o'clock are two beveled apertures for the day and date, and for symmetry at 9 o'clock, its name is inscribed on the dial. Another compliment to its dial and case design is the usage of a domed sapphire. Priced at $2095, unhindered by any ornamentation, it is a minimalist, functional, and legible chronograph that stands on its own in the market.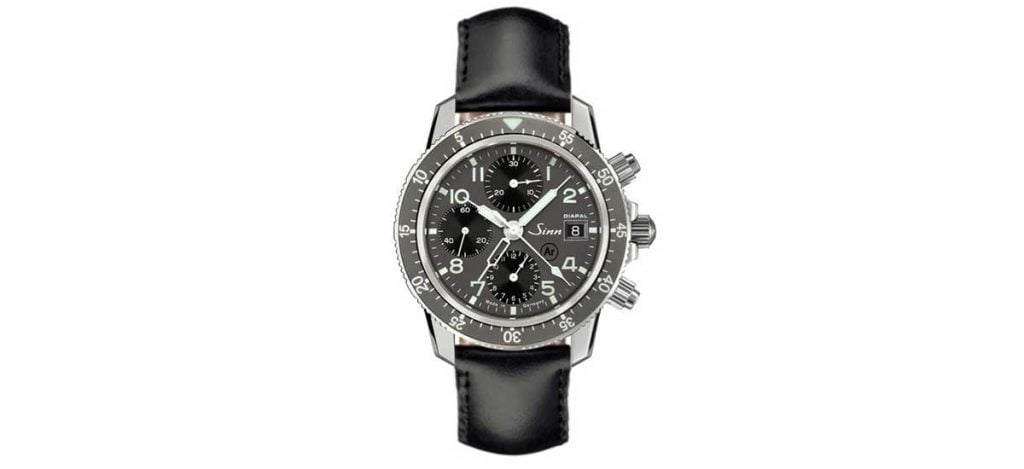 German tool-watchmaker Sinn is a fan favorite for its profound dedication to making pilots watches. Founder Helmut Sinn himself was a former World War II pilot and used his experience in aviation to manufacture clocks and pilot's chronographs.
The Sinn 103 Pilots Chronograph carries its design from the golden age of pilot watches in the 60s when the original 103 saw its release. With the dawn of the Quartz Crisis, this humble period would induce harmony among watchmakers, who would share or purchase components from each other.
Hence, this is why the original 103 shares the same case and many components with the original LeCoultre, Brequet, Mathey-Tissot, and Breguet models from the era. The Sinn 103 as we know it today was remastered in 1993, with an automatic chronograph caliber based on the robust 7750 (48 hours power reserve).
The Sinn 103 St Sa has a high polish 41mm case with a thickness of 17.2mm. It does well to mask its thickness with its sloping lugs and rounded display case back. Using the 7750 vertical 3 subdial layout and a day/date window at 3 o'clock, it has a lumed dial in solid black with contrasting white Arabic numerals, markings, and hands (syringe style for the minutes and hours).
Complementing the dial is a domed 'sapphire crystal' (unlike on standard 103 models). It has attractive screw-in pushers like those found on a Daytona and a ratcheting anodized black unidirectional diving bezel with a triangular loom pip at 0.
One of the most notable features of this model as a chronograph is its impeccable water resistance of 200m. Priced at approximately $2,700 on a solid end-link bracelet, this is a proven feature-packed, legible, and timeless design built like a tank for the cockpit.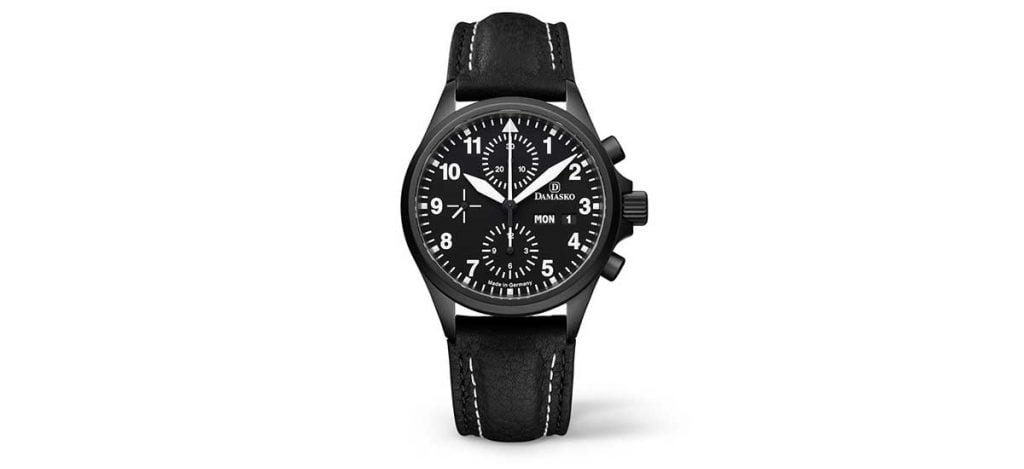 Damasko, formed in 1994, is a relatively young German tool-watch manufacturer with a history of developing high-performance materials and technology for the aviation industry and hardened watchcases for Sinn until 2002.
Catered to innovating in-house with new materials and processes, its main focus is to be affordable while engineering the toughest tool-watches on the market. A testament to its capabilities, its DC56 would go on to being the official watch of German Eurofighter Pilots since 2007.
The DC56 Black is simply put, a blacked out version of the standard model. It has a Black Damest-Coated, Ice-hardened steel case, 40mm in diameter, with a thickness of only 13.8mm; such tight tolerances are difficult to find from a brawn tool-watch housing the tall 7750 caliber (48hr-power-reserve).
Attached to its muscular profiled case are matching black pushers with a crown guard perfectly integrating to SR71Blackits sharp lugs. It has a 7750 layout matte black dial with contrasting white hands, Arabic numerals, date/date display, and generous usage of lume on the hands and numerals, making for impeccable legibility.
To match perfectly with its case and dial, it comes on a tumbled calfskin leather strap with contrasting white stitching. Priced at $2,100, this is a refreshingly new take on a tool watch without history to hold Damasko back from creating this monster of a watch.
In 2022 Tissot added to its trending heritage collection with the launch of the 'Telemeter 1938', a watch that takes inspiration deep from its archives in the late 1930s. It would feature a chronograph complication, with a telemeter scale that can be used to calculate distance based on time, using a movement based on the 7753 (visible through a transparent caseback), giving it a bicompax layout, and a 68hr power reserve.
As an attribute to the large but proven movement, it has a case diameter of 42mm and a thickness of 14mm, making it a wearable yet sporty classic dress watch on an embossed tapering leather strap with a deployment clasp. Its case design features fully polished surfaces, curved lugs, nearly vertical case flanks, a sloping bezel, a signed crown (allowing for 30m water resistance), and oval pushers, enabling easy functionality.
The best aspect of this model is its remastered telemeter dial, offered in two variants; a gloss black with gilt indices/markings/hands or a more legible silver dial with blue, red, and black printed markings/indices and contrasting blued hands. Priced at $1,950, this is a fine novelty from Tissot that combines old-world looks with modern-day functionality.
The Artelier collection is where Oris continues to push contemporary design while leaning towards a dressier aesthetic from the brand. The Oris Artelier Chronograph does just that by encompassing daring and elegant design traits while relying on the capable 7753 (visible through a transparent caseback, with a 44hr power reserve) to offer us an affordable yet high-finish complication dress watch.
Among many others that use the Valjoux base, this is also a complicated dress watch with sportier dimensions. It features a 43.5mm high polish case with long lugs and a rounded bezel. Attached to its case are unique mushroom pushers and a large knurled crown (offering 30m water resistance).
Continuing the polished aesthetic is a predominantly shiny guilloche grey dial and subdials (3, 6, and 9 o 'clock layout), with black contrasts for legibility, a date window between 4 and 5 o'clock, and polished, sharp-looking indices/hands.
Optional is a multilink bracelet (as opposed to calfskin leather), which cohesively compliments the sporty yet elegant design of the watch. This model is now discontinued and was priced at under $3,000 retail.
The Hamilton Pan Europ has a significant history with relevance to the self-winding chronograph movement. The original housed the iconic first self-winding movement, the Caliber 11, only to follow up nearly half a century later with its re-release, made possible with the usage of a caliber based on the 7753 (with 60 hr power reserve).
As with many heritage remakes using a modern caliber, the Pan Europ Chrono now features a modern-sized case measuring 45mm, with a thickness of 15mm (with 100m water resistance). Maintained is the original aesthetic in the form of its design; its case features a cushion shape in a satin finish with polished bevels accentuating its curves.
Attached to the case are polished pump pushers and a polished, signed crown at 3 o'clock rather than 9. Feature-packed for its time, it features a handy unidirectional turning bezel finished in anodized black. The dial layout is also faithful to the original, with a bicompax layout, and a date window at 6 o'clock to make for good symmetry and legibility.
Available in a choice of black or silver dials, it adopts a high-contrast look, with red subdial and chronograph hands adding a pop of color and a sense of speed. This model is now discontinued, with an original retail price of approximately $1,950. It is a sensibly designed modern throwback with specifications to rival watches nearly twice its price point.
Conclusion
As the movement that democratized the self-winding chronograph for everyday people to afford, the modern watch industry would look very different without the Valjoux 7750 caliber. It has had a significant impact on the appreciation and widespread adoption of mechanical complications through the most difficult times into the current era, which appreciates this pursuit as an art form.
Today the Valjoux 7750 is referred to as the ETA 7750 and has become increasingly exclusive to brands under the Swatch Group umbrella. While it still offers great value and is an important part of the lineage of many iconic models, its dependability has forced other manufacturers to clone the complication for its continued usage. Half a century since its inception, it is still considered an engineering marvel of significant importance to the watch industry.
About Exquisite Timepieces
Established in 1998, Exquisite Timepieces is your one-stop shop for all things luxury watches! We are an authorized dealer for 60+ luxury watch brands including Omega, Hublot, Seiko, & Longines! We are proud to showcase one of the world's largest pre-owned watch collections, including renowned brands like Rolex and Patek Philippe. Check out our brand new watch arrivals here and popular pre-owned listings here.