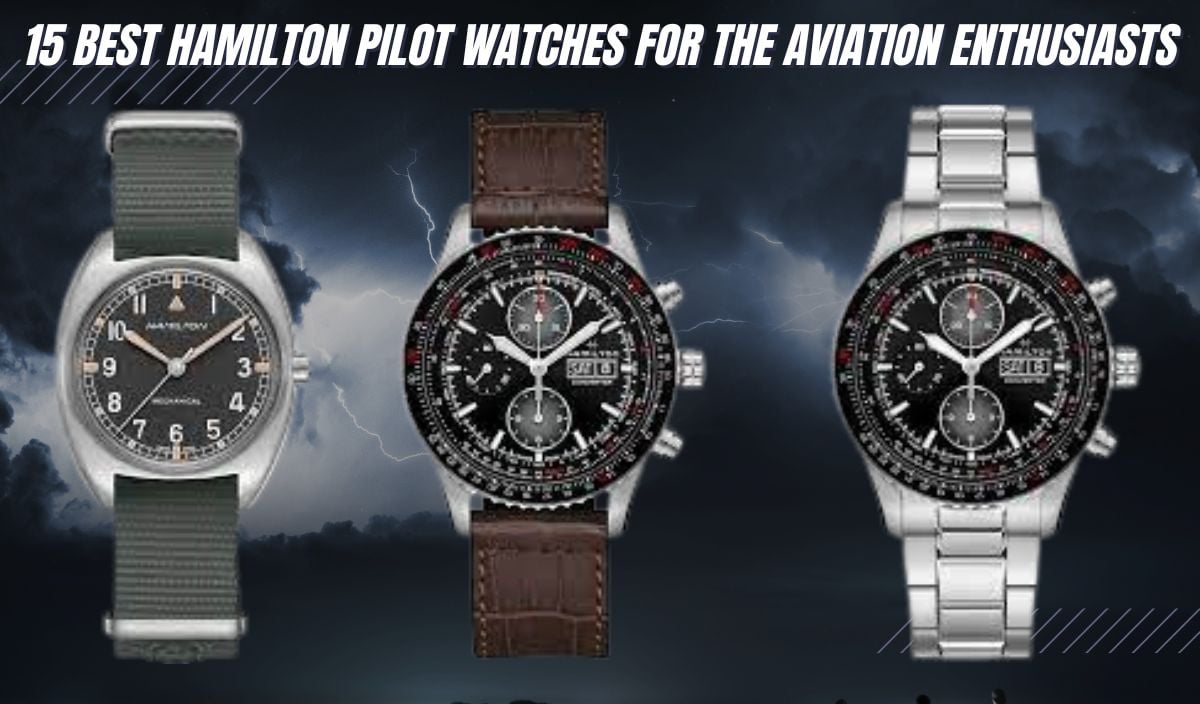 15 BEST Hamilton Pilot Watches for 2023 (Reliable & Affordable!)
Pilot watches these days are either too fancy, which hurts legibility, or they are overpriced statement watches. However, this is where Hamilton's pilot watches stand out from the crowd. They are not the hallmark of engineering and luxury, but they make reliable, easily readable, and affordable "fliegers."
With their sporty appeal, these pilot watches are perfect as a tool watch for pilots and aviators, while also making for nice casual wear for folks who want a bold look. Enthusiasts and collectors call them a bang for the buck, and it's not hard to see why.
In this review, the Exquisite Timepieces team compiled a list of the 15 best Hamilton Pilot watch models available. We will take a closer look at their increasingly beautiful designs, solid engineering, and attention to detail to help you find a favorable pick.
About Hamilton Pilot Watches
Hamilton creates some of the most affordable luxury pilot watches – because you get the reputation, quality, and attention to detail. Sure, some uptight watch collectors think it's the bottom barrel of the Swatch Group, but it poses a double entendre.
Unlike exquisite, handcrafted timepieces, Hamilton watches mostly use off-the-shelf calibers and materials with automated machines. But there's no denying they're top-class watches with all the makings of a great Flieger.
They are tough timepieces that draw inspiration from classic pilot models developed for military officers during the Second World War. All the fifteen models we'll recommend in this review carry different designs, movements, case sizes, straps, and prices. But they all have durability, legibility, and functionality in common.
The caliber often has a hairspring or silicon balance spring to prevent magnetic shocks and withstand heavy vibrations. They are also equipped with aviation-themed functions such as chronographs, tachymeters, bi-directional bezels, GMT functions, and slide-rule bezels.
While commercial aircraft have a sizeable dashboard chronometer, pilots can accurately calculate landing time, fuel consumption, and speed with a finger in case of emergency or in smaller airplanes.
Hamilton tells a story with their pilot watches. Many of them symbolize the war times and flight records or appear in iconic Hollywood movies. If you love Hamilton, you always stay with the brand, even when you acquire more exclusive watches in your collection.
History of Hamilton Pilot Watches
Hamilton has been a leading watchmaker since 1892 but started creating aviation watches in 1914 during World War 1. The Swiss watchmaker had a military contract to design and supply watches to the US airmail pilots. Hamilton also played a critical role in supporting the US Air Force pilots and aviators during expeditions in the 1900s.
The Swiss brand was even awarded the Army Navy-E for excellence in manufacturing for their efforts in WWII. Hamilton watches also appeared in several blockbusters and award-winning movies at the time, including Elvis Presley wearing Ventura in Blue Hawaii.
In addition, they were official timekeepers of four commercial airlines, which proves their dedication to precision in flight. Hamilton's flagship pilot watch is the iconic Hamilton Khaki Aviation, which has had models featured on military issues and is a popular option among pilots and watch collectors today.
Most of its contemporary aviation models, though, draw inspiration from the Second World War. With a rich history and a commitment to innovation, Hamilton keeps producing exceptional pilot watches today.
The Best Hamilton Watches That Are Ready for Flight
Pricing starts at $1,230
The Hamilton Khaki Aviation Pilot Pioneer (ref. H76719530) is modeled after pocket watches used during the World War. Notably, it resembles the Hamilton Model 23 – a popular stopwatch among WWII navigators, considering the watch's vintage dial and chronograph style.
They both share a similar textured black dial finish, railroad minute track, gold-coated Arabic numerals, and counter at 6 o'clock. The Pilot Pioneer has a 43mm 316L satin-brushed stainless steel case with a 20mm lug width.
It's also open case back style revealing its ETA/6498-1 mechanical movement with a 50-hour power reserve. As a true pilot watch, the Hamilton Khaki Aviation Pilot Pioneer has a bidirectional bezel that can be used to track elapsed time, fuel consumption, or how long it takes to complete that surface swim.
It's actually water-resistant to 100 meters, which is enough resistance for navigators to swim to shore in their wristwatches. Overall, it's a sporty watch that's specifically capable as an instrument timepiece where rugged and bold is better than clean and sleek.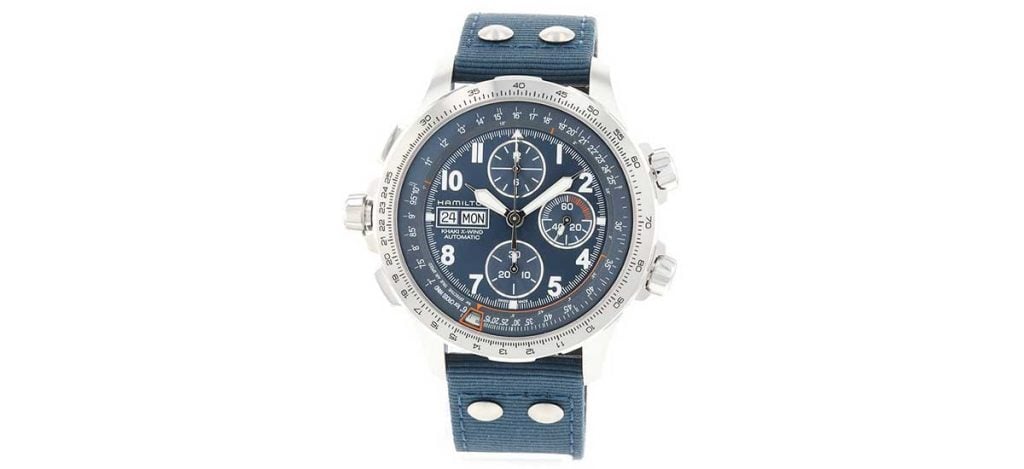 Pricing starts at $1,900
Hamilton packs all the features of an analog flight computer device in this watch. The cluttered dial alone is telling in the eyes of an aviator or pilot watch enthusiast. It has three sub-dials and bold Arabic numerals.
At the three o'clock position, the sub-dial is a sub-seconds counter, a 30-minute chronograph counter is positioned at 6 o'clock, and a 12-hour chronograph counter at the 12 o'clock position. There's also a day and date window set at 9 o'clock.
That's not all. The Khaki Aviation X-Wind Automatic Chronograph (ref. H77906940) has two inner bezels with a tachymeter scale that can calculate speed over a known distance. It's this array of functions that makes it have multiple crowns and pushers.
For aesthetics, the dial is a sunburst cobalt blue that portrays different shades when lights hit the surface. It also has polished syringe-like hands with a touch of red on some parts of the sub-dials and markers. Additionally, it's a large watch with a case measuring 45mm in diameter and a thickness of 14.85mm.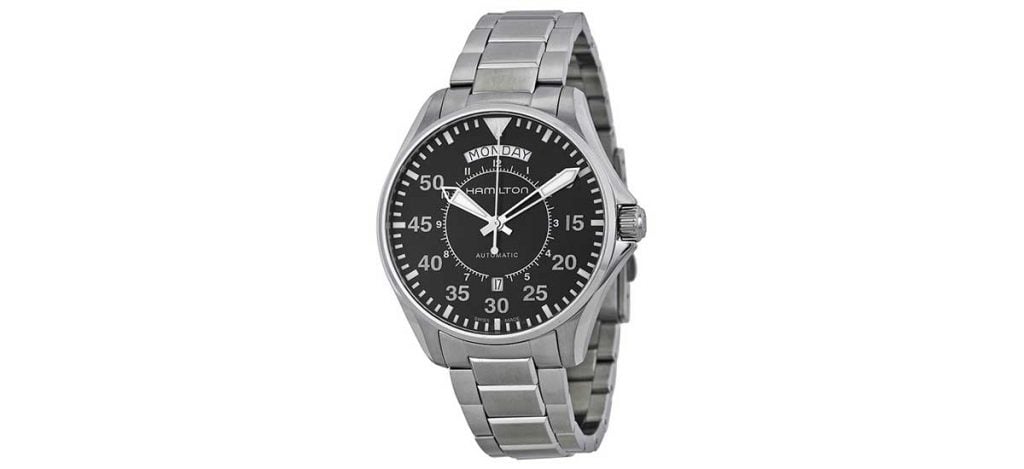 Starts from approximately $1,100
You may have spotted this watch on ex-NASA pilot Joseph Cooper (Matthew McConaughey) from the Academy Award-winning movie, Interstellar. It is a watch designed to appear robust but smaller than it seems.
Compared to larger pilot watches, the Hamilton Khaki Aviation Pilot Day Date Auto (ref. H64615135) has a case diameter of 42mm and a case thickness of only 11.85mm thick. What's more, it has a stellar dial. Hamilton made the conventionally small markers larger than the conventionally large ones.
Thus instead of a small day and date window, you find a large day window right about the 12 o'clock window and a relatively small date window at the 6 o'clock position. Large minute markers and silver-toned minute indices are also found on the bezel.
Now to the movement; this watch is powered by the Hamilton Caliber H-40, which can be viewed through the open case back. The movement has a power reserve of 80 hours, so you can set the watch aside for three days without worrying about its accuracy. And its 100m water resistance is perfect for everyday wear or as a tool watch.
Starts from approximately $800
Hamilton Khaki Aviation Pilot Pioneer Mechanical (ref. H76419931) is a modern replica of a 1970s classic pilot watch, the Hamilton W10. It retains the W10's retro-inspired design, which is evident in the simplicity of the dial's features – clean black dial, crisp white Arabic numerals, and fauxtina lume-treated sword handset and indices.
Unlike the W10, however, this watch features a glossy, grainy textured finish on the dial and mineral crystal glass with an anti-reflective coating.
With a 36mm x 33mm case size and a 9.95mm thickness, the Hamilton Khaki Pilot Pioneer Mechanical (ref. H76419931) must be one of the thinnest aviation watches. And this relatively thin watch is powered by the H-50 hand-wound movement based on the ETA 2801-2 caliber. Plus, the watch comes with a quality 18mm NATO strap.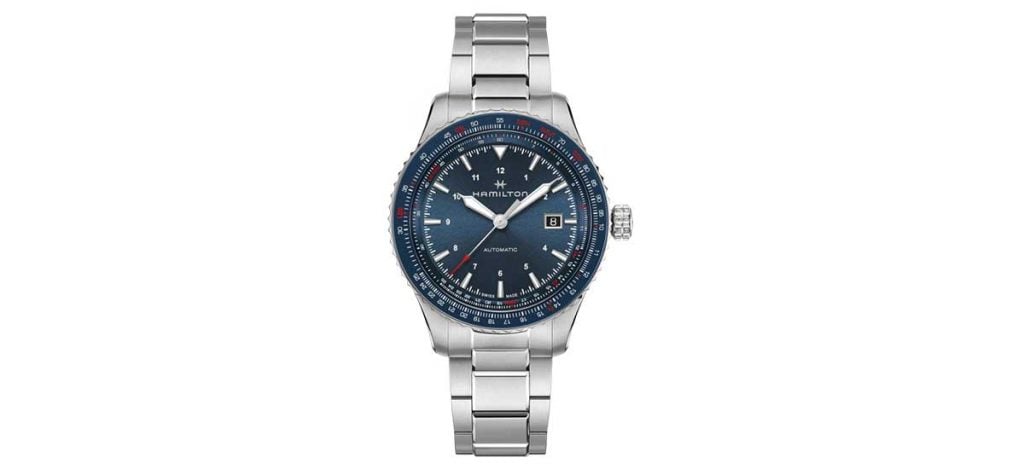 Starts from approximately $1,200
Here's a watch designed to cater to the calculation needs of pilots and aviation-inclined travelers. It can perform various calculation functions such as fuel consumption, distance, and speed, and it even has a GMT function that allows pilots to track two time zones simultaneously.
On the inside of the watch's 42mm and 10.87mm thick case is the GMT function, a 24-hour scale, and traditional 12-hour markers. The red-tipped second hand also serves as the GMT hand allowing the wearer to tell the time quickly.
Also, the screw-down crown doesn't just enhance water resistance. It also allows for easy and quick adjustment of the handsets and one-hour increments in the GMT function. A unique feature of this watch is the bi-directional slide-rule bezel which is suitable for various calculations, including unit, nautical miles, meters & currency conversions.
The surface of the bezel has a scratch-resistant covering with steel notches on the side to allow for easy grip and turn. Overall, the Hamilton Khaki Aviation Converter Automatic (ref. H76645140) is an ideal travel companion that will surely give you a bang for your buck.
Starts from approximately $1,117
The Hamilton Khaki Aviation X-Wind Chrono Quartz GMT (ref. H77932160) is a bold, high-performance timepiece with complex aviation features. It features a sporty design with a large stainless steel case measuring 46mm in diameter and 13.75mm in thickness.
This large case has a PVD coating and an anti-reflective sapphire crystal, ensuring maximum visibility. The sunburst green dial with yellow sub-dials is unique. It features a chronograph, cross-wind calculator, a 60-second counter, GMT function, large and easy-to-read Arabic numerals, luminous hands, and a date display at 3 o'clock.
The watch is also equipped with three screw-down crowns and pushers for tracking time and regulating the sub-dials.
Starts from approximately $1,540
This watch is the same model as the first one on the list, the Hamilton Khaki Aviation Pilot Pioneer (ref. H76719530), with minor distinctions. Like its counterpart, the Hamilton Khaki Pilot Pioneer Bronze comes in a case measuring 43mm in diameter but with a 0.5mm difference in thickness as this watch is only 13mm thick.
Another distinguishing factor is the material of the case. Unlike a stainless steel case, this watch is made of bronze and titanium, making it more durable and sturdy.
Thickness and case material aside, all other features are the same; 50-hour power reserve, bi-directional bezel, brown calf leather strap, black dial, anti-reflective sapphire glass, and a movement powered by the ETA 6498-1 caliber.
Starts from approximately $650
The Hamilton Khaki Aviation Pilot Chrono Quartz (ref. H76722531) is a sleek timepiece encased in a stainless steel case. The case, which measures 44mm in diameter and 11.05mm thick, is attached to a cow leather strap and has an H-buckle.
The watch has a sleek black dial with sand-colored indices, large Arabic numerals, and luminous hands. For aviation use and to indicate its chronograph function, the Hamilton Pilot Chrono Quartz Hamilton (ref. H76722531) is designed with three sub-dials, all well situated at the dial's center.
At the 2 o'clock position, there is a 10-second stopwatch, a 60-minute counter at the 6 o'clock position, and a 30-minute counter at the 10 o'clock position. There is also a date window at the 4:30 position. Hamilton did an excellent job ensuring the dial wasn't encumbered despite its large numerals and chronograph functions.
Moreover, the watch has an open case back through which you can see the Quartz movement powered by the Caliber 251.274. While it is not as impressive as an automatic movement, it does offer the advantage of affordability and requires less maintenance.
So, if you want a pilot watch that is simple and affordable yet has necessary and useful chronograph functions, try the Hamilton Khaki Aviation Pilot Chrono Quartz (ref. H76722531).
Starts from approximately $2,045
Here's another aviation watch modeled after watches produced during World War II. It has similar features to other Hamilton Khaki Aviation Pilot Pioneer models, particularly the H76719530 and the H76719530 models.
The difference, however, is in the size, chronograph function, and movement. Its case size is only 40mm instead of 43mm and is slightly thicker, measuring 14.35mm in thickness. On the matte black grainy-textured dial sits two sub-dials: a 30-seconds counter at the 3 o'clock position and a 60-second counter at the 9 o'clock.
Both sub-dials are adjusted by the two pump pushers located at either side of the large notched screw-down crown. Unlike other Hamilton pilot watches, the Khaki Aviation Pilot Pioneer Mechanical Chronograph (ref. H76409530) doesn't have a bezel.
However, what the watch lacks in a bezel, it makes up for it in its chronograph features and powerful movement. The H-51-Si Caliber powers the watch. This movement is equipped with a 60-hour of power reserve, 4Hz frequency, kinetic chain, and anti-magnetic silicon balance spring.
Starts from approximately $2,295
If you think the Hamilton Khaki Aviation Converter Automatic (ref. H76645140) watch is complicated, you've not met this watch. It is a highly sophisticated, stylish, and classic watch built with features that are designed to serve pilots and aviation enthusiasts.
True to the Hamilton Khaki Aviation Converter, this watch features a slide rule bezel and tachymeter for easy speed measurements. So whether you are adding, subtracting, multiplying, converting currencies and kilometers to nautical miles, or calculating speed, all you need to do is align the appropriate numbers on the bezel and flange to get a result.
Note, though, that the Hamilton Khaki Aviation Converter Auto Chrono (ref. H76726130) is no mere Aviation Converter. It is also a chronograph, so the black sunburst background dial has three chronograph counters at the center with pump pushers at the side of the case for easy adjustment.
The Valjoux 7750-based H-21-Si Caliber powers the watch's features, hence the day-date feature at 3 o'clock. And this movement is visible through the decorated open case back, allowing the wearer a glimpse of the inner workings of this Hamilton masterpiece.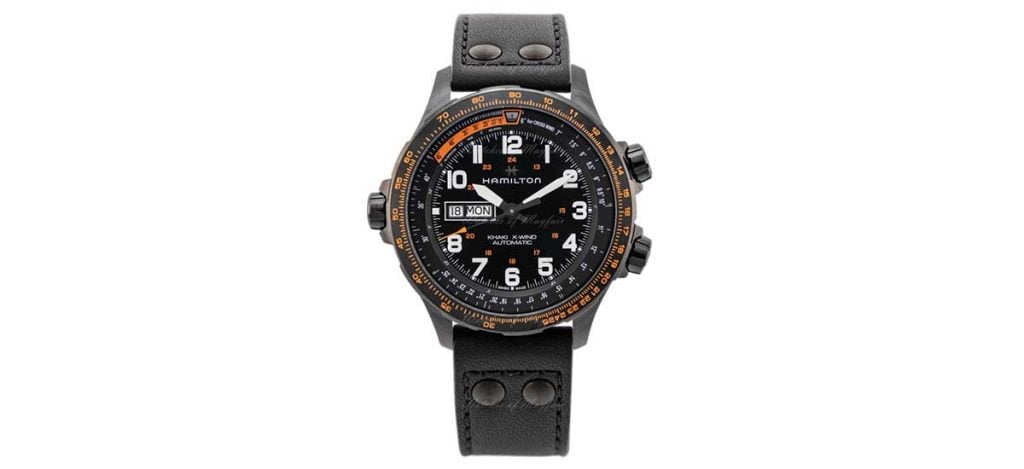 Starts from approximately $1,320
The Hamilton Khaki Aviation X-Wind Day Date Auto (ref. H77785733) is a statement piece that combines aesthetics and specialized functionality. A beautiful blend of orange, white, and black colors on the dial, bezel, and slide rule catches the eye.
And also, its black PVD-coated 45mm stainless steel case with brushed and polished finish blends impeccably with the dial. But beautiful as the Aviation X-Wind may seem, it's closer to a super-complication than a dressy timepiece. I'll start with its drift angle calculator.
Hamilton installed the old-school flight computer E6B in this contemporary watch to achieve this function. Now, pilots can easily calculate cross-winds, estimate fuel burn, and measure ground speed using the inner rehaut measurements and rotating bezel on the X-wind.
Further, it features a tachymeter, 12 and 24-hour military scales, and a day/date window positioned at 9 o'clock. Like many complicated watches, it has a display case back showcasing its Caliber H-30 movement with an impressive 80-hour power reserve.
Starts from approximately $650
The Khaki Aviation Pilot Pioneer Chrono Quartz (ref. H76512133) is one of the most affordable Hamilton pilot watches with impressive Flieger features and the appeal of a dress watch. 
It sports a durable 41mm stainless steel case with scratch-resistant anti-reflective sapphire crystal. And a stainless steel strap with a folding buckle. But the beauty lies beyond its dazzling silvery shell in its black dial.
It has a beautiful arrangement of large Arabic numerals, a date window, sword hands, and two subdials (a 60 seconds counter & a 30 seconds counter) in contrasting white tones. They give it a simple black-on-white style you can wear to formal occasions or man a flight with.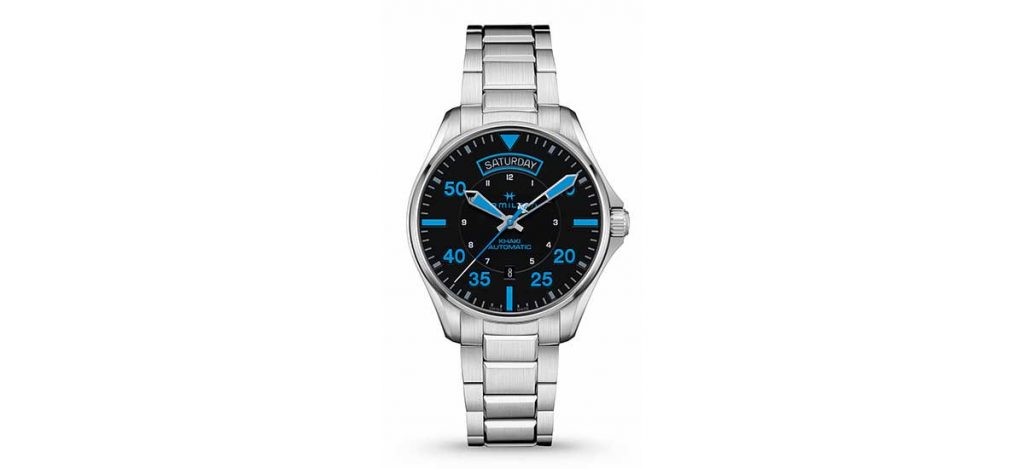 Starts from approximately $987
This Pilot Day-Date edition is dedicated to Hamilton's partnership with Air Zermatt – a helicopter rescue service company in the Upper Valais region of Switzerland. Its design pays special attention to legibility and date-keeping.
The dial is deep black with a highly contrasting blue and white SuperLuminova-treated hands and indicators. They not only make it "ultra-readable" but complement the silver-tone stainless steel case and bracelet.
As said earlier, Hamilton takes the "day and date" in this model's name seriously. The date window is at 6 o'clock, and the day window sits conspicuously at 12. And it runs on an 80-hour reserve Hamilton's H-40 automatic movement.
Starts from approximately $816
ETO here is short for Estimated Time Over, meaning that the watch can accurately calculate remaining flight time and aid on-time landings.
This classic aviator-themed watch has a complex dial and movement. It has four hands; the hour and minute sword-like hands with syringe-like tips. And two chronograph hands: the one in silver finish is the main hand that performs the conventional chronograph stopwatch function, while the rattrapante hand (the orange hand) works along with the chronograph and stops when you depress the pusher.
There are two sub-dials on its black dial: the one at the 12 o'clock position is a 60-second counter, while the striking silver subdial measures the chronograph's progress.
The bold case is a bi-directional bezel that measures appropriate speed, desired arrival time, or flight duration. But what buffs up the case – although it's only 13.55mm thick – are the three pushers and dual screw-down crowns.
Starts from approximately $3,295
We saved the best for last because the Hamilton Khaki Aviation Takeoff Auto Chrono (ref. H76776733) is no mere pilot watch. It's a timeless limited edition timepiece that tells the story of Italian pilot Dario Costa's record tunnel flight.
The Khaki Takeoff is a "big man's" watch size at 46mm and 15.95mm thick. And on this sizeable piece of land is an homage to the two tunnels Dario flew through. Its two yellow subdial rings signify the tunnels, and super luminova on the seconds hand and indicators up to the 43rd minute for the record flight time.
This watch is limited to 100 pieces in respect to the daring maximum height Dario's plane could fly inside the tunnel. Hamilton put in a little twist to the case of this watch by retaining the original design of classic bullhead stopwatches.
With its crown and pushers on top, the Khaki Takeoff case becomes more comfortable and stylish. Plus it eliminates the risk of the crown jutting into your skin if you have smaller wrists since it's relatively oversized. Additionally, the watch case is attached to a thin plate on which the calf leather strap rests.
This case can be removed and inserted back into the plate at will. When removed, you can either place it on a dash mount or turn it and admire the automatic movement of the H-31 caliber.
Ultimately, the bi-directional bezel is worthy of mention. It is pretty smooth, has a firm grip, and has a "LOCK" inscription in bright yellow at the side to guide when inserting the case into the plate. And what is most exciting is how the outer bezel rotates the inner bezel.
Conclusion
Hamilton has been a trusted name in the world of aviation watches for centuries, and their pilot watches remain contenders with the best. And they are more open to consumers with their competitive prices. We've listed the best 15 of their most stylish, functional, modern, and sophisticated fliegers.
With a range of designs and features, there is sure to be a Hamilton watch that will meet your needs and exceed your expectations. So what are you waiting for? Cruise through the 15 Best Hamilton Pilot Watches and find the perfect timepiece to take your aviation tastes to new heights.
About Exquisite Timepieces
Established in 1998, Exquisite Timepieces is your one-stop shop for all things luxury watches! We are an authorized dealer for 60+ luxury watch brands including Omega, Hublot, Seiko, & Longines! We are proud to showcase one of the world's largest pre-owned watch collections, including renowned brands like Rolex and Patek Philippe. Check out our brand new watch arrivals here and popular pre-owned listings here.