15 BEST Pilot Watches Under $2,000 (Most Value for Money!)
There are few watch styles that mirror history as directly as the Pilot watch. Whether it was the first watch designed by Cartier in 1906 to accompany Alberto Santos-Dumont on his exploratory flight or the large monstrosities accompanying pilots on both sides of World War 2, the pilot watch was there playing a pivotal role.
It is this history and sense of adventure that help to make the pilot watch a favorite among collectors. Despite their popularity however, there is some debate as to what a pilot watch actually is.
Here's a little-known secret that many watch collectors don't know, you can technically wear any wristwatch that you want while piloting an aircraft.
There is no governing body making sure that your case is a certain size or your numerals are properly pronounced. Despite this fact, us enthusiasts have to place watches into categories. The more the marrier too! The more categories we create, the more boxes we have to check and I am certainly not complaining about that (My wife on the other hand might see things a little differently)!
How exactly do we define the category of a pilot watch. It turns out, there are quite a few criteria that we can look at to help us determine if a wristwatch is truly "Cock-Pit officially Certified" (trademark pending, come at me Rolex!). First criteria that most people look for in a pilot watch is legibility.
A watch needs to be able to be read quickly from a distance, while also actually operating an aircraft. Does this mean that a watch needs to be large and in charge? Despite that being the predominant theme from these watches, it is not a requirement.
Other than being legible there are some other features that help to distinguish a pilot watch from other categories. The ability to read multiple time zones is undoubtedly a feature that would prove to be beneficial for a pilot. Whether through use of a dual time or a more traditional GMT function, this feature helps to give a pilot watch its wings (see what I did there).
Another common feature seen among pilot watches is a chronograph watch. These functions are often dolled up with slide rule bezels and more sub dials than you can shake a stick at, but the chronograph itself could add several functions for a pilot, especially before the modern enhancements in aviation technology.
Know that we know what an actual pilot watch is, why don't we take a look at some good ones. For this article we will be looking at a very fun part of the market, the entry level luxury segment from $1000-$2000. In many ways, I live in this segment, only breaking the surface when I decide that food, clothing, and shelter are only secondary necessities in my pursuit for Facebook likes and watch street cred! When you look at the value that $1000 to $2000 can offer our hard-earned horological dollars, it's easy to see why many people, not just me, call this space home.
To make things even more fun, I will continue the streak of torturing myself and only selecting one watch per brand in the hopes that this will help shed some light on some of the pieces that are used to going under the radar. Let's take a look at 15 of the best pilot watches under $2000!
Historical Examples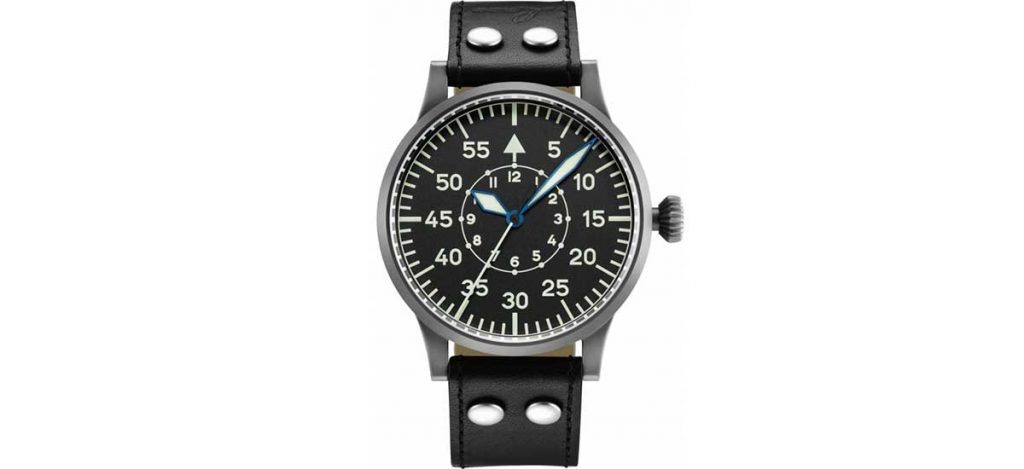 If we are exploring entry level pilot watches, it makes sense to start with Laco. Despite their rather unsavory history, their Flieger style watches are the watch that comes to mind when many watch enthusiasts envision a pilot watch.
The Laco Pilot Watch Original Replika 45 is an almost exact recreation of those models from the 1940's. There have been enhancements made to the movement, in the form of the ETA 2804 and the crystal in the form of a scratch resistant sapphire. Without a doubt the greatest concession made with this watch is in the actual case size. Laco made the decision to scale this watch down to a "modest" 45mm.
This is still a very large timepiece on the wrist, but compared to the 55mm the watch was originally released in, this one can at least fit some of the general population and not just prime Hulk Hogan and his 24" pythons. If you are after the historically accurate aesthetic of a fleiger watch and can put your blinders up to their origin, Laco provides as good of an example as you can find at any price. Lucky for us, this one sneaks just below our $2000 budget.
Let's stay on track with examples of fleiger watches with World War 2 history. Stowa is another brand, very similar to Laco, that creates some beautiful examples of flierger style pilot watches. They both feature the timeless dial design, but where the Laco we looked at was very accurate to the original, the Stowa Flieger Classic 36 really mixes things up. How exactly do they do this? They gave us a 36mm fleiger watch!
That's right, Stowa gave us, the itty bitty wristee committee, a pilot watch! This watch also features a Sellita SW200-1 and a sapphire crystal. These great features don't just come in a diminutive case, as the price for what you're getting is equally compact at just over $1300. If 45mm time only watches just aren't your jam, you can still get the timeless fleiger style in a watch that will have an easier time slipping under any cuff.
Glycine Airman Contemporary Men Ref. GL0141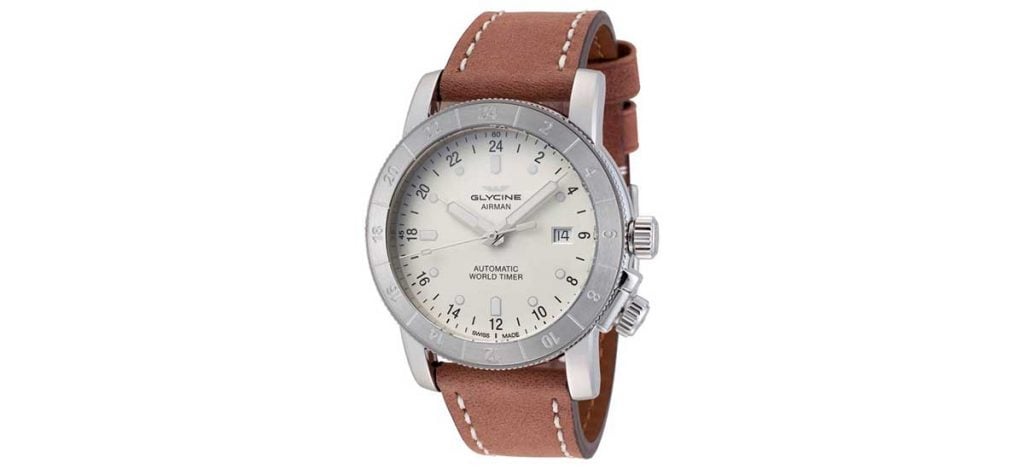 In the world of aviation, there are few watch brands that can claim as much accolades as that of Glycine. Despite their recent buyout from the Invicta Group, this brand has a history that few brands can match. The Glycine Airman Contemporary is modern interpretation of their classic Airman series.
The case has been beefed up from the original 36mm to a more modern 42mm. The lack of a functional GMT hand, will limit you to two time zones with this example, but is historically accurate to their earliest examples. This watch is powered by a Swiss GL293 Swiss Automatic movement and features a bi-directional rotating bezel.
The example listed here is the cream colored dial variant, which plays up the vintage aesthetic nicely. As anyone who has ever watched an infomercial knows, pricing for watches from the Invicta family can be hard to pin-point, but the MSRP on this watch falls just shy of our $2000 budget, while I am sure if you stay up late enough you could score a significantly better price broken into 5 simple payments.
SWATCH Group Powerhouses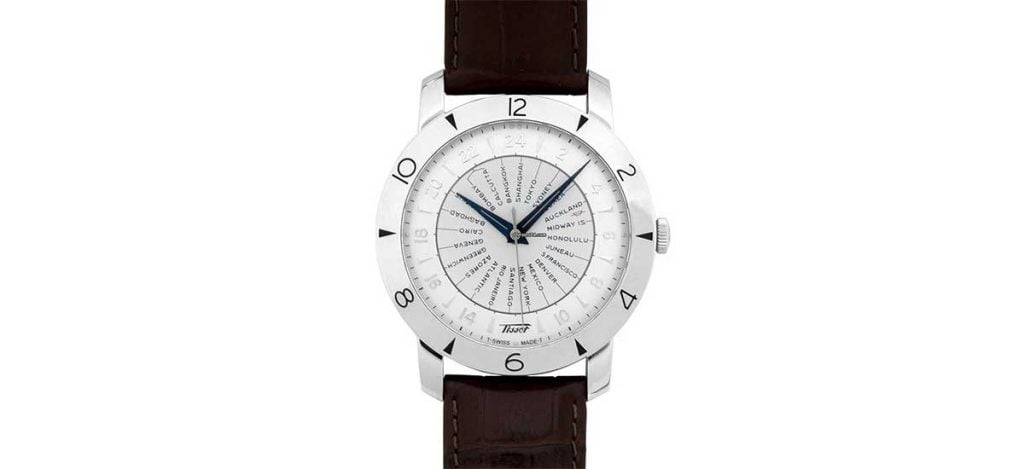 Any list focused on the entry level luxury segment would be hard pressed to look past the SWATCH group. With so many brands competing for this same position within the group there is no shortage of great examples. The first we will look at comes from Tissot.
The Heritage Navigator Automatic 160th Anniversary COSC is a historically accurate timepiece with a design that will make you stop and do a double take. Their unique display of popular locations around the world are a fun way to help track the time for your favorite destination, or just somewhere with the same time zone.
The 43mm case, COSC Certified ETA 2893-3, and sapphire crystal all feel familiar, but the execution helps this watch stand out from other watches with similar capabilities. With this watch being a limited-edition it may be one of the harder watches to locate, but at just under the $2000 budget, you're hard work will be rewarded.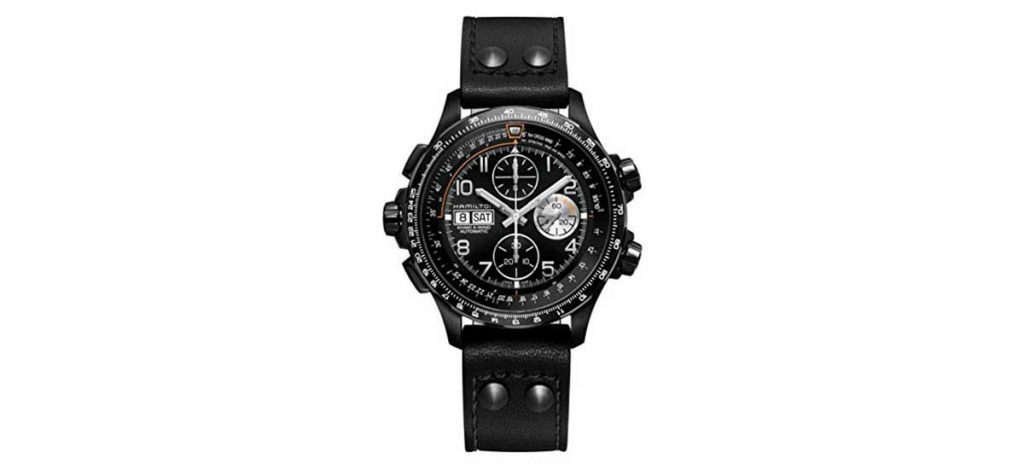 If you're a fan of the classic Breitling Navitimer, but can't stomach the idea of dropping the $6-$8k necessary to make one yours, Hamilton may have a solution for you. This solution comes in the form of their Aviation X Wind Auto Chronograph.
The watch features an automatic chronograph thanks to the ETA Built H-21 movement with an extended 60-hour power reserve and even features a bezel with a drift angle calculator (just don't ask me how to use it). I am sure there are more effective ways to calculate this while actually flying, but damn if that won't be fun to show off to anyone unlucky enough to strike up a conversation with you.
The watch is an absolute monster at 44mm with crowns on both sides, but given the complications provided, the size is justified. At the roughly $1600 price mark that this watch occupies you are lucky to find a Swiss chronograph at all, let alone one with this many features and bezel party tricks.
Under the Radar Modern Tool Watches
Fortis Flieger F-41 Automatic on Aviator Strap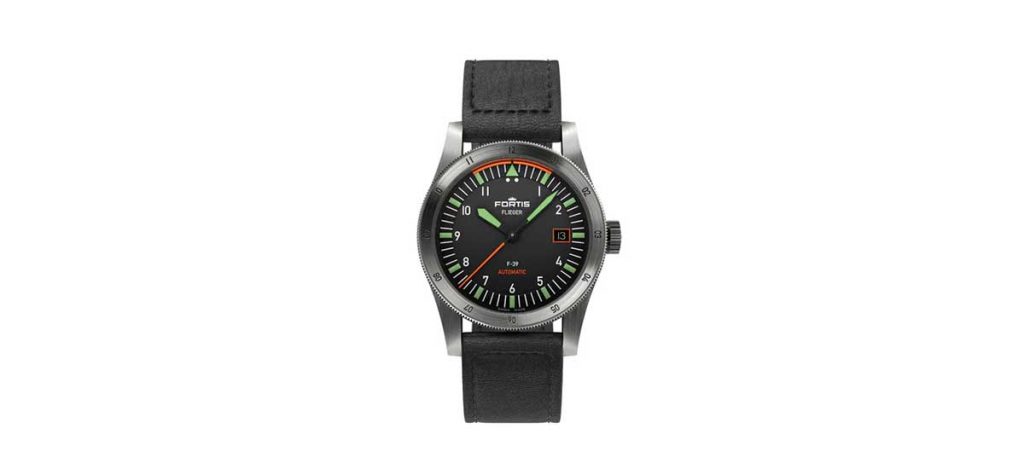 With this great example from Fortis, we are again carrying on with the flieger trend, but getting a very different example of the aesthetic. Where Laco and Stowa, both present options steeped in historical design, the Fortis Flieger F-41 came to the party decked out in all the latest fashions.
The hallmarks of a flieger are there, but there is a modern look that helps to separate this watch from the pack. This watch didn't just show up to the party dressed to impress, he also has a fun party trick to show off, and that is the bi-directional rotating 12-hour bezel, allowing you to measure another time zone. The watch comes in a 41mm stainless steel case and is powered by UW-30 based on the Sellita SW-200.
The addition of an impressive 200m of water resistance, help make this pilot watch capable of almost any task you throw at it, whether you are in the air or the sea. The Fleiger F-41 by Fortis is going to burn through almost all of you $2k budget, but with versatility like this, it might be the only watch that you'll ever need.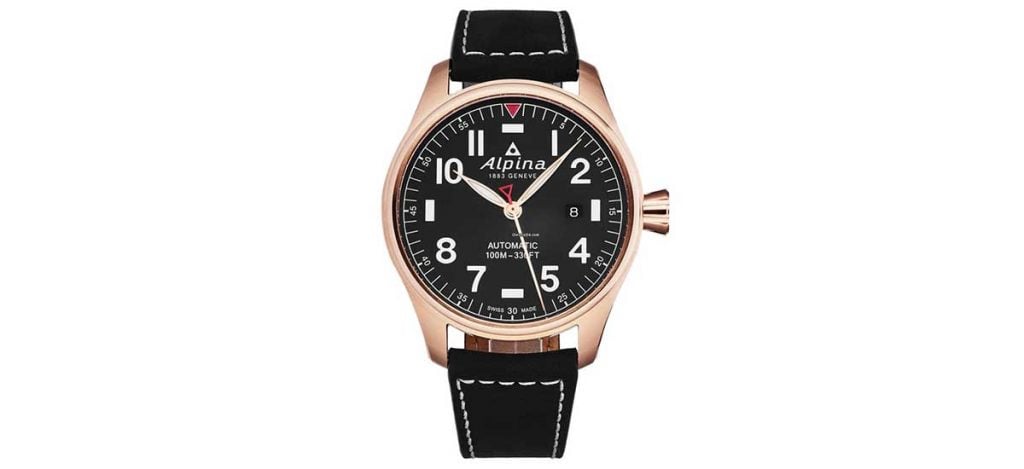 When reviewing Swiss entry level luxury brands, there are few brands that get left out of the conversation as much as Alpina. Another history dating back to the late 1800's with as much hype for their brand over the last nearly 140 years as Rolex receives in a day, I just don't get it.
They may just get lost in the shuffle of the Swiss entry level luxury segment, but they have the ability to produce some really eye-catching pieces. The Startimer Pilot Automatic is a great example of this ability. It has a typical pilot watch case shape at 44mm, comes powered by a AL-525 automatic movement and is protected by a sapphire crystal.
Although sounding rather typical for this list, what helps to give this watch some personality is their use of a rose gold case. Sure at roughly $1500, the case is not solid gold, but the watch still has a very commanding presence. If your heart is set on a IWC Big Pilot, but your bank account isn't having having it, this Alpina might be exactly what you need.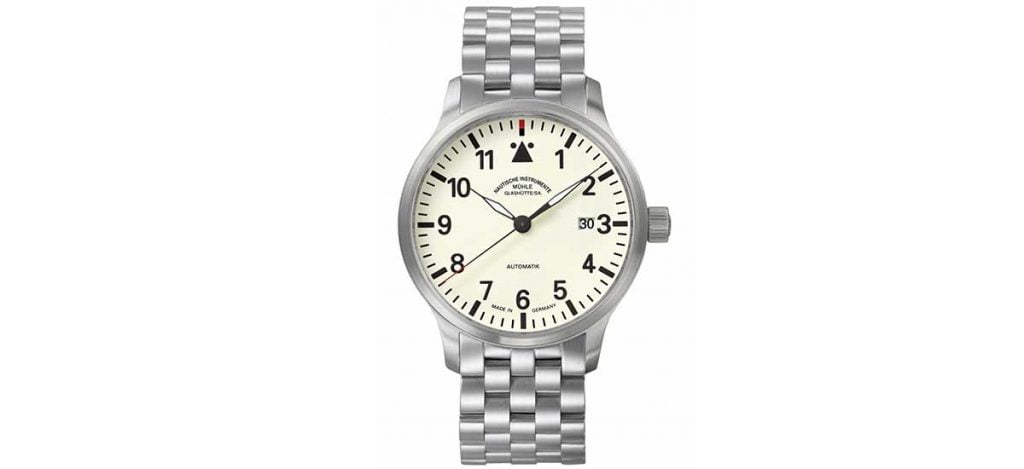 There are very few brands with histories that date back to the 1800's, that manage to sneak up on us watch enthusiasts. Muhle Glashutte may be the best example of this occurring over the last several years. Despite seeming to pop out of nowhere, they have a unique aesthetic and history dating back to 1868.
The Terrasport II M1-37-47 is a fleiger watch through and through, sharing much of its identity with the history laden examples from Stowa and Laco. What helps to separate this watch for me is their use of a cream dial. It's a feature you don't often find on flieger style watches and their execution of this dial is absolutely flawless.
Coming in with a 40mm stainless steel case, Sellita SW-200-1 movement, and sapphire crystal and you have an excellent everyday option that offers a different look to the original design. The 5-link stainless steel bracelet also helps in giving this watch more of an everyday feel, while the roughly $1800 price allows you the budget to squeeze in a nice leather strap to compliment the look.
The German Twins
Much like Muhle Glashutte, Damasko is a watch brand that often slips under the radar. Most commonly compared to Sinn, a brand we will get to shortly, Damasko is a German watch brand that's no nonsense tool watch designs have a cult following.
The entry level DS30 may miss out on some of the over engineered technology that goes into their higher end models, but the design is spot on. While this watch toes the line between field watch and pilot watch, I am going to use my creative control to label this exclusively as a pilot's watch. It's a perfect size at 39mm and the dial is as legible as a dial can be.
This watch comes paired with the ETA 2824 and sapphire crystal, but what really does it for me is the pop of color. You have your choice with this model, but the green is my favorite. This is a very fun design for a brand that doesn't usually play in that space. If you're looking for a fun everyday watch that won't break the bank at around $1300, you'd be hard pressed to beat this model from Damasko, regardless of which category you get to check off your watch list.
Sinn 104 St Sa I W
If aviation inspired watches are your thing, Sinn is your brand. Like Damasko, Sinn watches are often over engineered and lean heavily into the tool side of the watch market. The Sinn 104 is one of their most popular models in their lineup despite not utilizing many of the technologies that have helped to separate them from other tool watch manufacturers.
When I was first introduced to this watch my novice brain fully recognized this design as a dive watch. And a damn good one at that! This watch is a little bit different though, the countdown bezel helps to differentiate this watch from your typical dive style bezel, while still maintaining a universally loved aesthetic.
The Sinn 104 features a 41mm case and is powered by a modified Sellita SW220-1 movement. What really makes this watch stand out to me is the crisp white dial. When paired with the precise syringe hands, this dial is almost perfection. At roughly $1500 almost perfection is not a phrase I get to throw around too often.
Independent Pilot Watches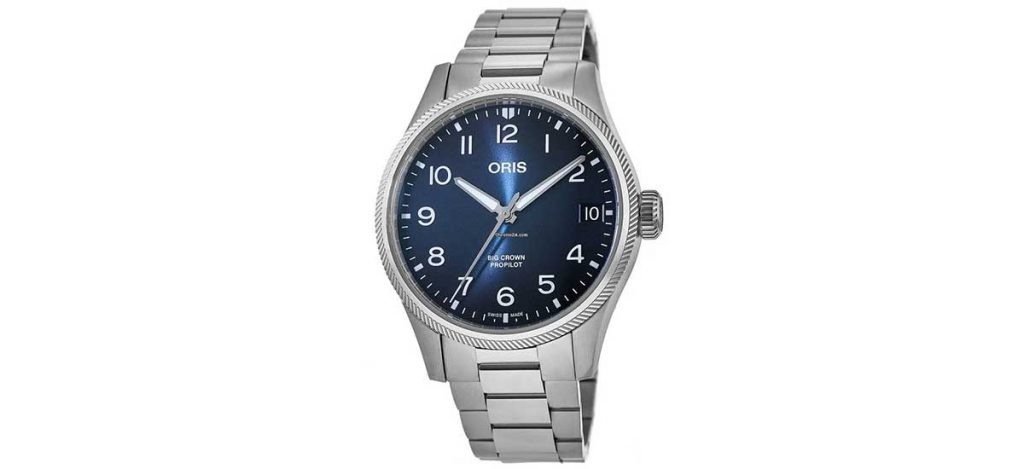 When researching value packed entry level luxury watches, it's impossible to not come across the independently owned powerhouse known as Oris. In many ways, they are the SWATCH group brand watch that broke free, and because of that and their attention to the enthusiast market, they are universally loved.
One collection of theirs that is overshadowed a bit by their dive watch collections is that of the ProPilot. The Oris Big Crown ProPilot 41mm delivers a lot of what makes Oris such a favorite among enthusiasts. The timeless design, 41mm stainless steel case, and Sellita SW220-1 movement help to make this watch an excellent selection as an everyday watch.
It is the vivid blue sun burst dial and slanted knurling on the bezel that allow this watch to stand out from the competition. If a modern interpretation of a classic design is what you're looking for, Oris will provide as much bang for buck as any watch brand at right around $1900.
Another brand synonymous with packing a lot of horological punch per dollar is that of Christopher Ward. Many of their designs are heavily inspired by classic examples, but there are not many brands that can execute at the level they do for the price they are asking. The C65 Cranwell Series 2 is a great example of this ethos.
They have been heavily inspired by many of the examples already on this list such as the Stowa and the Laco, but their execution appears to be a more modern take. The watch features a compact 38mm size, COSC certified SW200-1, and sapphire crystal. The large crown and cream colored luminova help to give this piece the appearance of a watch that has already stood the test of time.
Of all of the watches listed today, this is the first example of a watch that looks at home on the stainless steel bracelet as opposed to a leather strap, as pilot watches are often accompanied. Coming in at around $1300, you could afford to purchase several straps and really put that opinion to the test.
GMT Options
One of the classic complications associated with aviation is that of the GMT. Although our budget would be absolutely decimated by the most famous example of this in the Rolex GMT, there are still several value packed options delivering this great feature. First of these brands is Zodiac, the fun small batch microbrand operating under free creative control but owned by the Fossil Group.
This financial stability afforded by Fossil allows Zodiac to take a lot of fun risks and create watches with enthusiasts in mind. One great example of this is their recreation of their historical Super Sea Wolf GMT line. The watch itself stays faithful to the original with a 40mm case, bi-directional rotating bezel and classic dive watch aesthetic.
The sapphire crystal, modern ETA 2893-2, and choice of colors help modernize this watch in a really fun way. Modern day Zodiac is all about fun color options and allowing the owner to find a watch as unique as their own personal style. Coming in at just under $1800 it is easy to see why these watches fly off the shelf whenever a new color way is released.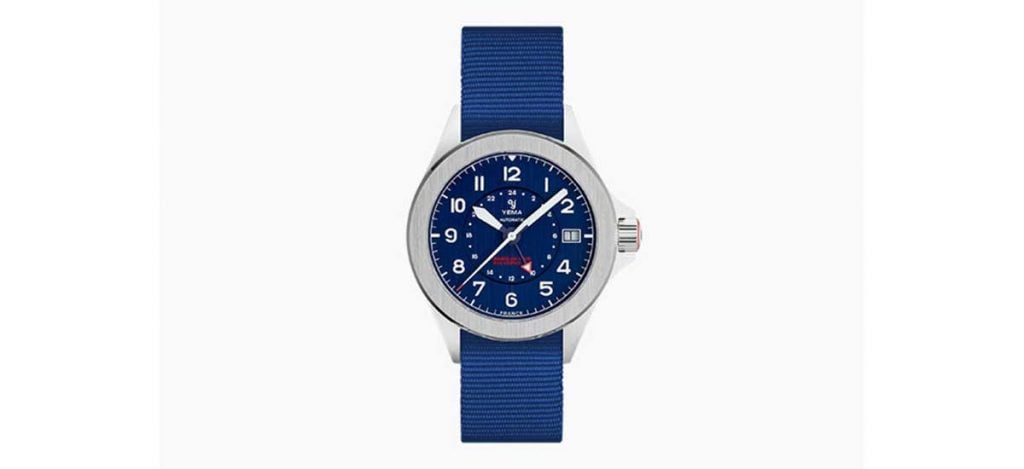 Over the last few years the micro-brand watch scene has been flooded by "zombie" brands. These once defunct brands have found new ownership and a new lease on life while being able to leverage their heritage and historical archives.
The verdict is still out on how enthusiasts feel about this trend overall, but when done well, the finished products have impressed even them most cynical of collectors. Take for example, Yema, this victim of the quartz-crisis has stormed back and been able to leverage their relationship with the French Military to strengthen their legitimacy as a watchmaker. The Flygraf French Air & Space Force GMT is a great example of this leverage yielding excellent results.
The watch features a 39mm stainless steel case, in-house Yema3000 GMT movement, and sapphire crystal. The details on this watch are heavily influenced by the French Air and Space Force collaboration, including the unique crown inlay. The watch carries with it a lot of the features we would expect to see on an entry level luxury watch, but the modest price of roughly $1200 reminds us that this watch is very much a micro-brand.
There are few micro brands that have been able to cross into mainstream watchmaking quite like Monta. Their focus on quality and design have helped elevate them above their competition and their Atlas GMT is no exception to this.
The watch comes in at a great size of 38.5mm and features a modified Sellita 330 GMT movement. What really separates this watch however, is their attention to detail and overall finishing. When you feel this watch in your hand the just under $2000 price not only seems justified but feels like an absolute bargain. The beautiful blue dial and stainless steel bracelet with flawless on-the-fly micro-adjust help to take this watch to the next level.
Monta is able to offer an everyday watch with practical complications and features at a price that the luxury Swiss watchmakers simply can't compete at. It is no wonder to see why they have been able to draw some mainstream collectors over to the micro brand dark side (or away from the dark side depending on how you look at it).
Conclusion
So, there you have it! We have journeyed through 15 different watchmakers and watches to help give you 15 of the best pilot watches under $2000. This is in no way a definitive list as several of these manufacturers could have their own list, but I hope it introduced you to some options you may not have thought of before.
Admittedly, pilot watches were never a genre that spoke to me directly, but after seeing some of the options out there I might be a full-on believer, a changed man so it seems. Perhaps that's the fun, or the danger, in reading lists like this. At the end of the day knowledge is power, but with great power comes great responsibility. For me, that great responsibility usually ends in me sleeping on the couch, but maybe it will be with a new pilot watch adorning my wrist!