15 BEST White Dial Sports Watches [Rolex, Omega, Tudor, Etc.]
Sports watches are one of the most popular categories of watches, with prominent models such as the Audemars Piguet Royal Oak, Patek Phillipe Nautilus, and many Rolex sport models taking center stage. Their versatility in style and durability are desirable traits for many watch buyers, even beyond enthusiast groups.
These watches are designed for durability, aimed to withstand the trials and tribulations of an active lifestyle and to look good while doing it. With attire standards becoming increasingly casual, the versatility of sports watches often makes for a one-watch collection. Usually more boldly designed than traditional dress watches, they also frequently feature dark dials, emphasizing their sporting character and increasing their versatility.
While not as popular, white-dialed sports watches can increase a watch's visual impact, often making them appear larger. Some designs can offer even more visual contrast, improving legibility. This article will explain the history of sports watches and offer 15 white-dialed sports watches for your consideration.
What Is a Sports Watch?
This may seem obvious to those involved in watches for some time, but it's a worthy distinction, especially compared to hardcore tool watches. Sports watches are usually aimed to have an element of durability over a dress watch. That usually means being made of non-precious metals (steel, titanium, even ceramic), increased water resistance (above 50 meters usually), and the inclusion of a bracelet or non-leather strap (textile or rubber).
There are always exceptions, as there are plenty of sports watches made of precious metals, watches with more sporting designs with less water resistance, and sporty watches on leather straps. Sports watches exist in the space between dress watches and tool watches.
An example of a sports watch that overlaps with the dress category would be the Jaeger-Lecoultre Reverso. Initially designed in the 1930s so that the reversing case would protect the glass front of the watch during polo matches, this is undoubtedly designed with sporting intentions and is one of the first sports watches ever made.
Nowadays, the art deco design and proportions, even with the larger models, lean more towards the modern idea of a dress watch than a sports watch. An example of a tool watch that overlaps with the sports watch category would be the famed Rolex Submariner.
Originally designed to be a tool for divers to time their dives (the rotating bezel would be used to time oxygen available during the dive), ever since Sean Connery wore a Submariner with a dinner jacket in Dr.No, the sartorial versatility of the Rolex Submariner has been cemented in popular culture.
Modern Submariners have more reflective surfaces and luxury appointments with white gold hands and indices, making the watch look and feel more high-end. This increases the flexibility between its originally utilitarian purposes and modern casual chic-ness.
Traditionalists would still shy away from wearing a Submariner or any dive watch with a suit, but modern tastes have allowed it for decades. Ultimately, if you look at a watch and question whether it is a dress watch or a tool watch, it will likely fall in the sports watch category.
A (very) Brief History of Sports Watches
As mentioned with the Reverso, sports watches are very close to tool watches considering they are often designed with a purpose. Another distinction is that sports watches combine utility and style (the Reverso is a great example).
Early Omega Seamasters are also quite dressy by modern standards but would have been considered sports watches back in their day, as they had more substantial steel cases and increased water resistance compared to the more traditional De Ville and Constellation collections in Omega's catalog.
It was not until Omega wanted to compete with the increasingly popular dive watch market of the mid to late 1950s that we saw the Seamaster resemble anything close to the Seamaster dive watches we are familiar with today.
The IWC Ingenieur reference 666 and Rolex Milgaus reference 1016 were tool watches in their day, offering increased durability in regards to magnetism, but with their clean but bold case designs leaning more into the sporting direction.
In the 1970s, watch companies began to release watches closer to the modern idea of a sports watch, particularly integrated bracelet sports watches. With the Audemars Piguet Royal Oak being released in 1972 and the Patek Philippe Nautilus in 1976, the idea of a luxury sports watch took hold.
The 1970s saw almost every major watch brand release an interpretation of the integrated bracelet steel sports watch. These watches varied in terms of thickness, water resistance, and durability of movements inside, emphasizing that sports watches are often more about style than all-out durability.
Compared to watches prior, these watches definitely made a bold statement, as they were larger than dress watches of the day, and the integrated designs made them appear even bulkier. These bold designs won favor with fashion icons and athletes. Fast-forwarding to the mid-2000s, brands were frequently partnering with athletes.
Audemars-Piguet and Hublot have released numerous limited editions commemorating sports stars they have partnered with. Even without celebrity partnerships, sports watches became the watch style of choice for many celebrities. This influenced consumers, as many wanted to mimic the style of their favorite stars.
Why a White-Dialed Sports Watch?
As mentioned in the introduction, white-dialed sports watches are much bolder than dark-dialed ones. Some white-dialed sports watches will have silver hands and indices, which will make them appear more formal but will decrease legibility.
Colored watch dials have become increasingly popular in recent years; however, they are not for everyone. If you want to make more of a prominent statement with your watch than a black-dialed sports watch but are unwilling to jump to a brightly colored one, a white-dial sports watch should be on your radar.
15 White-Dialed Sports Watches
This list is not in any particular order; it highlights well-made models from various brands that offer white-dialed sports watches in their catalog (both past and present). Hopefully, this list will aid in narrowing down your own choice for a favorite white-dialed sports watch.
1. Rolex Explorer II (ref. 226570-0001)
The Rolex Explorer II was originally designed as a tool for cave dwellers. A prominent feature of the Explorer II is the fixed external bezel indicating the 24-hour time. This was of concern for people working in caves, as they would be without any reference to day or night for extended periods.
When the GMT-Master finally received an independently adjustable 24-hour hand, so did the Explorer II. This allowed the Explorer II to track two timezones and maintain its original functionality.
In its current white dial configuration (reference 226570-0001), the Explorer II features black indices surrounds and outlined hands to increase legibility. The Explorer II also recently received a mild case re-design, creating more integration between the case and bracelet and allowing for a case design more reminiscent of vintage Rolex cases but at a modern 42mm.
With 100 meters of water resistance, screw down crown, a 70-hour power reserve, and a steel bracelet with Rolex's own "Easy-Link" that allows for 5mm of tool-less adjustment, there are more than enough modern features to make the 226570 an easy watch to live with (a desirable trait for a sports watch).
With a retail price of $9,650, the Explorer II sits somewhere in the middle of the Rolex sports model range. The good news is that availability is increasing, but still difficult as of March 2023. If you are considering searching for a used one, you should still expect to pay a premium over the retail price.
When Omega redesigned the Seamaster Diver 300m in 2018, many enthusiasts were quite excited to see the return of the wave motif on the dial. This release marked the arrival of the Omega Caliber 8800 in the Seamaster Diver 300m, which features an increased anti-magnetism rating to above 15,000 gauss.
The METAS Master Chronometer certification also certifies the watch to -0/+6 seconds a day, ensuring a high level of accuracy. The slight increase over previous iterations from 41mm to 42mm may seem negligible. With thicker lugs, case height, and an updated bracelet, the watch is bolder on the wrist.
The white-dialed Seamaster Diver 300m features black outlined indices and hands, ensuring good legibility. While this is a dive watch, meaning it definitely has tool watch capabilities, the detailed finishing of the case and bracelet put this watch in the camp of what is often called a "dress-diver."
It is still highly capable, but the case's greater attention to detail and light-catching quality increase the jewelry factor. This may be a drawback to some looking for a more tool-oriented watch, but it also increases its flexibility with varying attire. With a retail price of $5600 on the bracelet, Omega is offering a great deal of technology, finishing, and innovation for the money.
3. Rolex Oyster Perpetual 39 (ref. 114300-0004)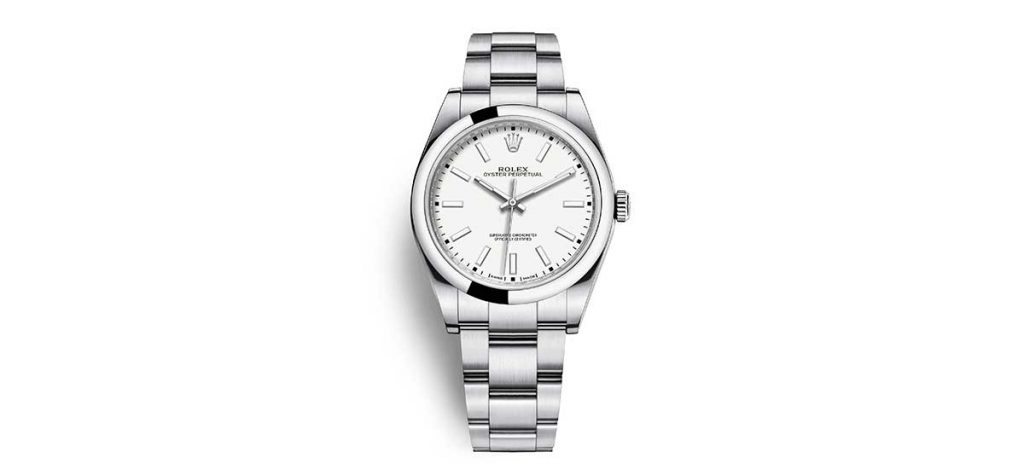 The Rolex Oyster Perpetual line is the closest to the original Rolex Oyster design in the current catalog. Recent years have seen many updates, including various sizes and dial colors. For a short period from 2018 to 2020, Rolex offered the Oyster Perpetual in 39mm, which was favored by many but has since been replaced by a 41mm version of the watch.
Still, many watch enthusiasts consider the 39mm to be a goldilocks size, especially since Rolex Oyster cases wear slightly larger than their measured dimensions. The white dial reference does have silver-colored hands and indices, making it less legible but more versatile in its ability to be worn with more formal attire.
If this is a concern, this version of the Rolex Oyster Perpetual would be a great choice, as the size and design are casual enough to handle the beach and can also be dressed up with a shirt and tie. Being an entry-level model from Rolex, the Oyster Perpetual does not feature a raised crown on the clasp, no flip-lock, and no Easy-Link adjustment on the clasp.
That does not, however, make the watch any less robust. Another downside of the white-dialed 39mm Oyster Perpetual is that it was discontinued in 2020. If you want to buy one, you are at the mercy of the used market regarding pricing.
4. Omega Seamaster Aqua Terra "GoodPlanet" (ref. 231.90.39.21.04.001)
This version of the Omega Aqua Terra features a titanium case and bracelet in a 38.5mm size. Coming from the previous generation of the Aqua Terra line, this case is slightly asymmetrical, similar to the Speedmaster, but does feature the Master Co-Axial anti-magnetic movement.
The dial is smooth, unlike the teak texturing that has been a hallmark of the collection for the last two generations of Aqua Terra. With the addition of the blue-colored indices and hands, this model will present on the more dressy side of sports watches, much closer to the original Seamasters of the 1940s and 50s.
While the style is pretty conservative, the watch still offers 150 meters of water resistance, making it a strong candidate for an only-watch collection. Should the bracelet be too sporty, a change of strap will allow this watch to pair with more formal attire easily.
The titanium case and bracelet will be a welcome upgrade for some, as it is hypoallergenic and significantly lighter than steel. If you are a fan of watches with more significant weight to them, then a standard stainless steel Aqua Terra may be a better option.
Another point worth considering is that the titanium models come at a slight premium over the stainless steel ones, and this model has been discontinued. They are available on the used market, and you may still be able to find a new-old stock example at a dealer.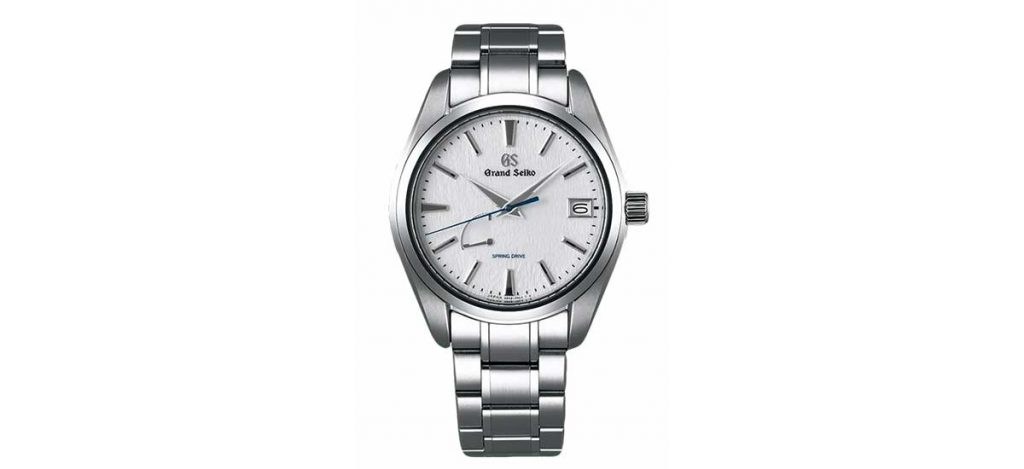 The Grand Seiko "Snowflake" has become a well-known model for the brand. Grand Seiko has been highly regarded for its case, dial, and movement finishing that competes with much more expensive timepieces. Grand Seiko has been more adventurous with dials recently, but the Snowflake was the first to garner mainstream attention.
Similar to the Aqua Terra "Good Planet," this watch also features a titanium case and bracelet. The SBGA211 utilizes Grand Seiko's caliber 9R65 Spring Drive movement, which uses a mechanical gear train and a quartz regulating system.
By doing so, Grand Seiko is able to offer accuracy that is rated to +/- 15 seconds a month. Another notable feature of the Spring Drive movements is the effortless glide of the seconds hand, moving across the dial much smoother than high-beat mechanical movements.
Featuring silver hands and indices, and no luminescent on the dial, the SBGA211 is one of the dressier options on this list. While it won't help in pitch-black situations, the hands and indices are polished so that they catch light in low-light conditions, so you should still be able to read the time if you find yourself in a dimly lit establishment late in the evening.
There is still a screw-down crown, and 100m of water resistance should the evening also involve a fair amount of water. Retailing at $6,200, Grand Seiko offers buyers quite a unique set of specifications, design, and fit and finish.
The first of the traditional "Holy Trinity" on this list (consisting of Patek Philippe, Audemars Piguet, and Vacheron Constantin), the Nautilus is Patek's offering in the steel sports watch realm. Designed by Gerald Genta, the Nautilus is softer and rounder in appearance compared to the Royal Oak.
The black outlined indices and hands on the white dial make this reference stand out compared to the more conservative blue and dark grey dialed Nautilus watches that are more common. While maintaining a pretty thin profile of 8.3mm and still using a highly finished caliber 324 S C that is up to Patek Philippe's standard of fit and finish, the Nautilus is rated to 120 meters of water resistance.
This makes the Nautilus a more than capable sports watch and could be someone's only watch. This would also be a great companion for a client's sporting ventures while their more traditional watches stay safe at home, likely the original intention of Patek Philippe.
If there is ever an opportunity to see one in person, it will probably be quickly evident why the Nautilus is so popular. This model was offered from 2012-2020, and in typical Patek Philippe fashion, the prices quickly rose past the original retail price soon after discontinuation.
7. Audemars Piguet Royal Oak (ref. 15400ST.OO.1220ST.02)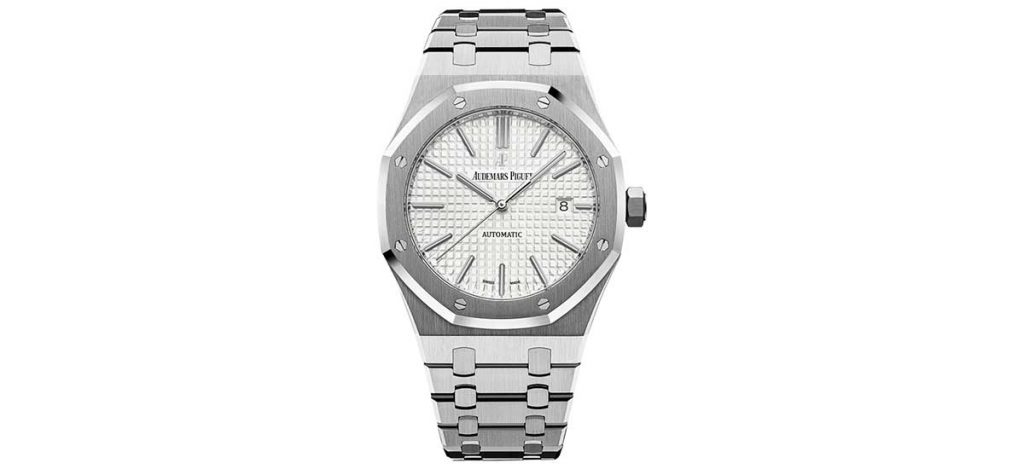 Possibly the most famous of the integrated bracelet sports watches (alongside the Nautilus) is the Audemars Piguet Royal Oak. This iteration is a more contemporary version in terms of movement and case size. The movement inside is more durable and up-to-date than the ultra-thin JLC-based movement used in the famous Jumbo iteration of the Royal Oak.
Featuring a full balance bridge to aid in balance spring stability, and a modern 60-hour power reserve, this movement is closer to the standards expected for a contemporary sports watch. While the Royal Oak has been offered in various sizes over the years, this 41mm version is one of the largest time-only Royal Oaks ever made and will have even more presence on the wrist, given the white dial.
The look on the wrist will be closer to the Royal Oak Offshore than the Jumbo. Fortunately, this watch is not as thick as the Offshore, measuring 9.8mm thick. The silver indices and hands will also help this watch dress up easily.
8. Vacheron Constantin Overseas (ref. 4500V/110A-B126)
Rounding out the traditional "Holy Trinity" of watchmaking is the Vacheron Constantin Overseas. Originally designed by Vincent Kaufmann and Dino Modolo, the design took inspiration from Vacheron's 222 model from the 1970s, which Jörg Hysek designed. While offering a very similar look and feel to the Nautilus and Royal Oak, the Overseas integrates the brand's Maltese Cross logo in the design of the bezel and bracelet.
While a tad thicker than the Royal Oak and Nautilus at 11mm thick, it is still slim enough to be worn with most dress shirts. A few benefits of the Overseas compared to the Royal Oak and Nautilus is that the Overseas is rated to 150 meters of water resistance and includes a leather and rubber strap along with the steel bracelet. The added durability and flexibility of these features allow the Overseas to fit into various situations, both in terms of style and functionality.
With a retail price of $22,500 and still being offered in the brand's current catalog, the Vacheron Overseas will be a good choice for many. It is still challenging to get from boutiques and authorized retailers, but more available than Nautilus' and Royal Oak's that are in their respective brands' current catalogs.
The Speedmaster Racing collection has been a line in Omega's catalog aimed at the more motorsport-oriented clientele. With the staggered seconds indications around the outer edge of the dial, this design allows for a more facile reading of partials of a second (in this instance, a 1/4 of a second).
Being a modern automatic Speedmaster, this reference uses a bi-compax layout (two subdials only). It still measures events up to 12 hours, with the hours and minutes totaled at the 3 o'clock subdial and the running seconds shown at 9 o'clock.
Another cool feature of the Omega Calibre 9900 is the jumping hour hand, which allows you to set the hours independently of the rest of the watch. This feature is convenient while traveling, as it enables the user to change the hours without completely stopping the timepiece.
Measuring 14.9mm thick and 44.25mm wide, this Speedmaster is quite large, but shortened lugs and a stepped case design allow it to wear well for its size. While less than other watches here, the rated 50 meters of water resistance is quite good for a chronograph and should be more than enough considering the intention is for motor racing and not water sports.
This watch also features Omega's Master Chronometer technology, creating a modern and durable anti-magnetic movement. The Omega Speedmaster Racing retails for $9,100 on a steel bracelet.
10. Tudor Black Bay Chrono (ref. M79360N-0002)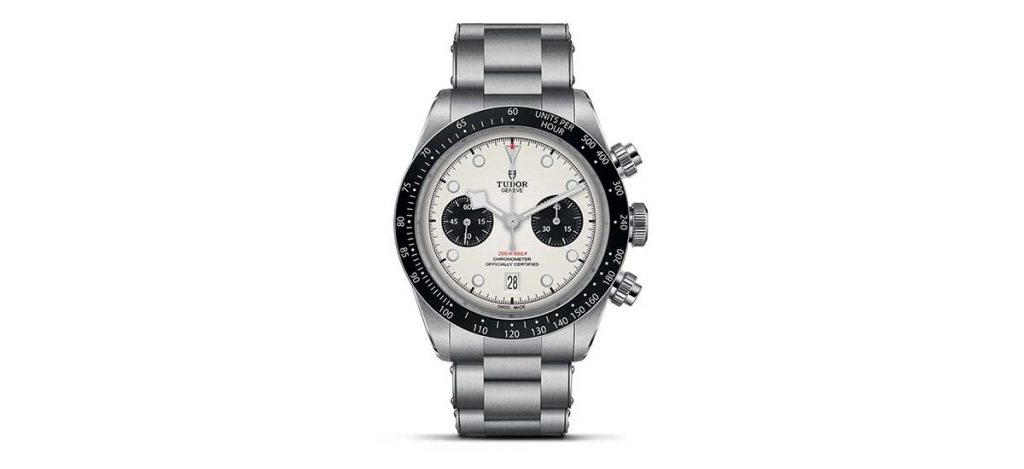 The Black Bay line has been a home run for Tudor. The Black Bay Chrono is no exception, as many enthusiasts see it as a more obtainable alternative to the Rolex Daytona. Tudor has managed to create their own identity, as their designs continue to differentiate itself from other brands.
With bold indices and "snowflake" hands, there is no doubt about the Black Bay's sporting intentions. The Black Bay Chrono is similar to the Speedmaster Racing with its black-and-white theme and bi-compax layout. Here, the Tudor can only measure events up to 45 minutes with the counter at 3 o'clock and the running seconds at 9 o'clock.
The Calibre MT5813 shares architecture with Breitling, as the two brands have partnered together to provide movements to one another. The MT5813 has a 70-hour power reserve, which adds convenience should you have a few watches you like to rotate through.
With screw-down pushers, the Black Bay Pro can be rated to 200 meters of water resistance (with the crown and pushers screwed in). While shown here with a bracelet, which is the most popular choice, Tudor also offers a variety of straps should the bracelet not be to your liking.
The 41mm dimension of the case seems quite reasonable on paper, but the Black Bay line typically has relatively long lugs, and large case sides, making the watch wear pretty large on the wrist. Combined with the fairly reasonable retail price of $5,450, the case dimensions have not stopped many buyers from being very happy with the Black Bay line.
11. TAG Heuer Night Diver (ref. WBP201D.FT6197)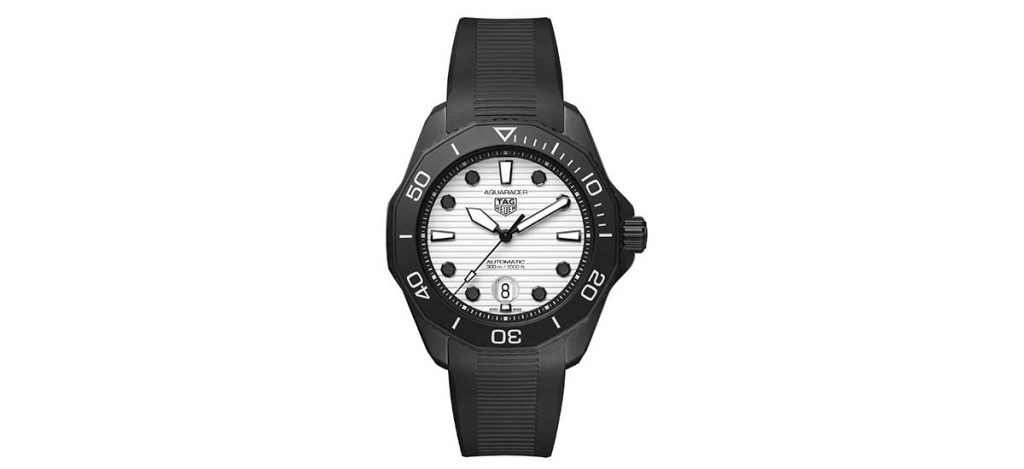 One of the more unique watches on this list is the TAG Heuer Night Diver. With a large 43mm black DLC-coated steel case, black ceramic bezel, and textured white dial, this watch will make a statement on the wrist.
The dial has white lumed indices at 12, 3, 6, and 9 o'clock and black indices for the remainder, with a date at 6 o'clock as well. The black indices on a white dial are very bold and striking. The main attraction of this watch is that the entire dial is lumed, meaning the white dial glows green in the dark.
If nighttime legibility is of utmost concern for you, this should be towards the top of your list for white dial sports watches. While the watch comes on a rubber strap instead of a bracelet, the clasp does include a micro-adjust mechanism, making quick adjustments easy.
The movement inside is not an in-house, high-tech movement like many other watches featured on this list. The ETA or Sellita-based Calibre 5 will allow for easy service down the road. Given the black case and luminescent dial, the Night Diver likely won't be as flexible sartorially compared to other watches on this list and will likely be best suited for casual and sporting environments.
Retailing at $3,750, the TAG Heuer Night Diver seems a bit expensive compared to similar dive watches, but few have such a bold, high-contrast look.
12. Breitling Superocean Heritage (ref. AB20303A1A1A1)
This specific Breitling Superocean Heritage was released as a limited edition for the Greek market in 2022 and was limited to 100 units. The good news is that for Breitling enthusiasts, this is definitely a watch to search for. The bad news is that it will be more challenging to find compared to standard models, and the secondary market will dictate prices.
On the other side of the Tudor and Breitling partnership, here Breitling utilizes the Breitling caliber B20, which is based on the Tudor MT5612. The movement has a 70-hour power reserve and is chronometer certified.
The vintage-inspired design, blue accents on the dial, and blue bezel should allow this watch to pair well with various situations, from full-on water sports to cocktail attire dinners. The timepiece is large at 44mm, and the Breitling Superocean Heritage line does wear its size.
Even though the design is vintage-inspired, the modern movement and ceramic bezel will ensure that the watch will stand up to the trials and tribulations of an adventurous Mediterranean vacation.
13. Panerai Luminor Marina (ref. PAM01314)
The Panerai Luminor is one of the brand's icons (alongside the Radiomir). Designed for the Italian Navy, these watches were designed to be extremely durable and legible. One of the design hallmarks of Panerai is its use of sandwich dials.
This means that the dial is multi-layered, with the lower layer containing luminescent paint, and the upper dial has the numerals and indices cut out, allowing them to glow in low-light environments. More traditional Panerai watches have black dials with green luminescent or, more recently, tan luminescent to mimic vintage lume.
Here, the lume is grey with a white dial. While the monochromatic look may sound dull, it makes for a very striking watch, especially with the iconic Luminor case that features the prominent crown locking mechanism. While 44mm is a large watch, Panerai watches have always been large, which is part of the look.
The movement inside is Panerai's P.9010 calibre, which uses two mainspring barrels to achieve a 72-hour power reserve. The watch is rated to 300 meters of water resistance, ensuring it can handle the aquatic duties the watch was originally designed for.
Additionally, Panerai watches have been known to look great on various straps, and there is a thriving community of Paneristi happy to share their favorite combinations online.
The Panerai PAM01314 retails for $8,400.
Should owning something rarely seen elsewhere be towards the top of your priority list, the Czapek Passage De Drake Ice White should be considered.
The Passage De Drake features contrasting brushed and polished finishing on the bracelet and case, with a mirror-polished bezel. The dial has a stamped "flinqué" dial, with an exclusive and registered "Stairway to Eternity" pattern.
Inside is the Calibre SHX5 movement, an in-house micro-rotor movement with 60 hours of power reserve from a single mainspring barrel. The micro-rotor design has the rotor in line with the movement instead of sitting on top, which allows for a thinner case design.
The Passage De Drake measures 40.5mm in diameter, 10.6mm thick, and is rated to 120 meters of water resistance. Also impressive is that Czapek managed to keep the watch thin with this water resistance and have a display case back to see this unique movement.
The bracelet features a micro-adjustment system in the clasp and an "Easy Release" system that allows for easy changes between the bracelet and an additional calf leather or rubber strap.
If you like the general look of integrated bracelet watches but want something different than the usual suspects, the Czapek Passage De Drake is worth considering and worthy of high praise.
The retail price of the Czapek Passage De Drake is $22,000.
15. Blancpain Fifty Fathoms (ref. 5015-1127-52A)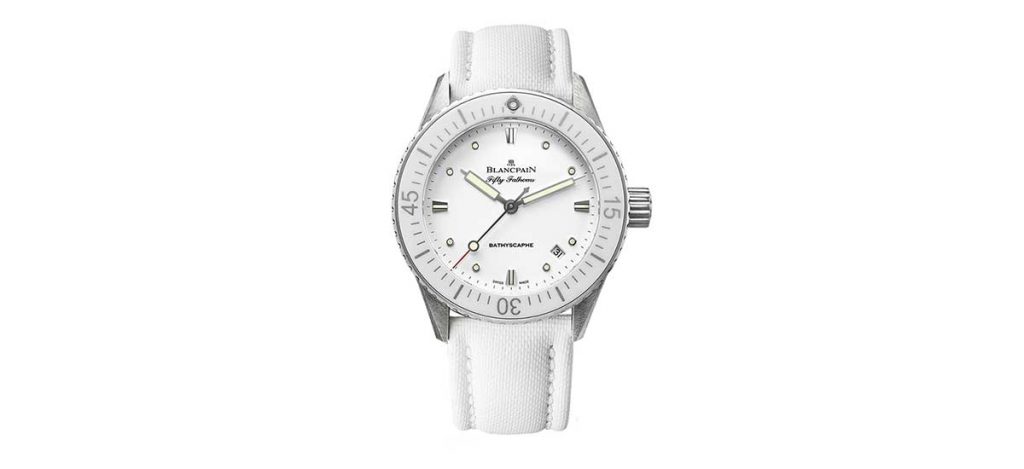 Blancpain often does not get enough credit, as they were the first to market with the modern dive watch in 1953, beating Rolex. Their Fifty-Fathoms line is their flagship dive watch, with the current iterations based on a model revamp released in 2007.
This Fifty-Fathoms uses the in-house caliber 1315, a high-jeweled movement with 35 jewels, and a 120-hour power reserve. While the finishing may look spartan in photos, in real life, the movement decoration is quite detailed and done to a high level.
Daytime legibility will be somewhat compromised with the white dial, silver hands, and silver with white luminescent indices. However, with the white bezel covered with a sapphire insert, and white strap, this almost entirely white watch is more of a fashion statement than a functional tool watch.
While highly capable with 300 meters of water resistance and more than enough lume on the dial and bezel, there will be no problem timing dives or the parking meter while on a night out. While no longer in the Blancpain catalog, some searching and patience should allow for a reasonable price on the used market.
Conclusion
The popularity of sports watches is easy to understand. For many, a good sports watch could be the only one they own, as it is often designed with functionality and style in mind. Even collectors with many timepieces may purchase several sports watches, as they can vary significantly in design.
Because of the variety of designs, there will certainly be a sports watch on the market that resonates with almost every buyer, whether their tastes align more on the slim and elegant side of sports watches or the more robust and utilitarian end. Should a white-dialed sports watch be appealing, hopefully, this list will aid in your search.