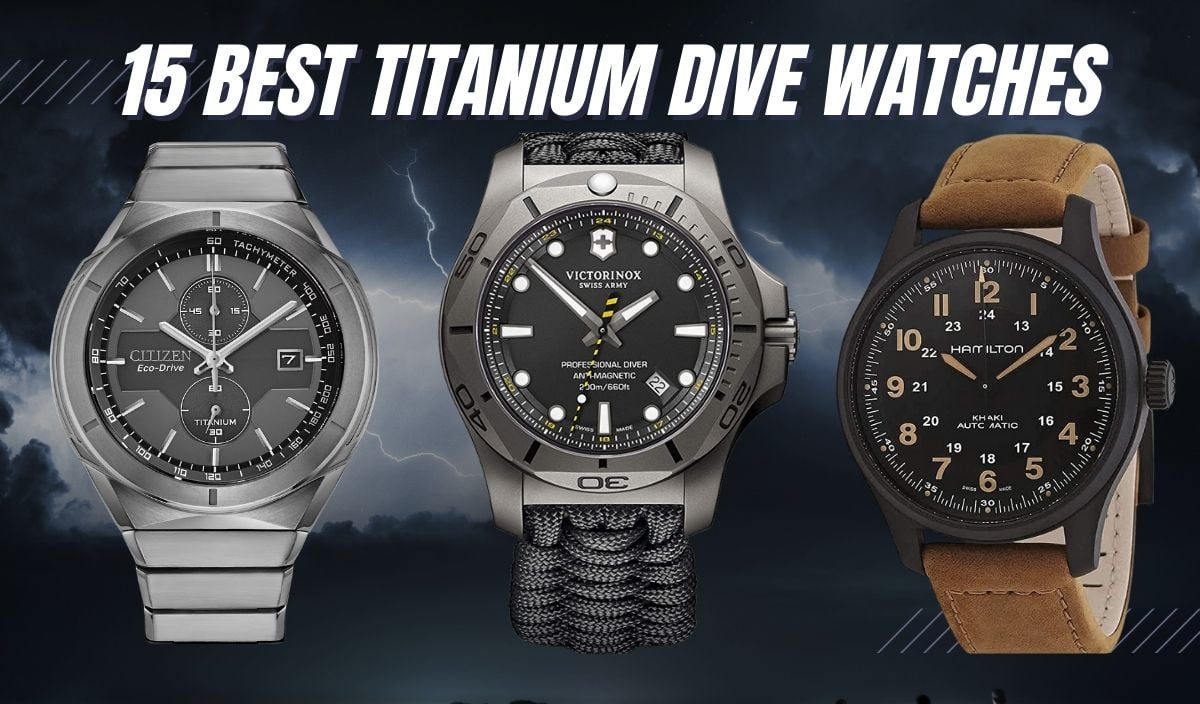 15 BEST Titanium Dive Watches (Durability Meets Luxury!)
Titanium is one of the most convenient materials for a dive watch. It's lightweight, corrosion-resistant, and fares well in extreme temperatures. Not to mention, it just sounds cool to say. Don't believe me? Try it. "This watch is Titanium." (So cool.) While divers are some of the most durable and useful tool watches, they're also quite popular for daily use, even for you pathetic landlubbers (apologies, but I'm ¼ pirate on my mother's side.)
A high-quality dive watch, regardless of whether you actually dive with it, shows the world that you appreciate well-made timepieces and have discerning tastes. The best titanium dive watches never sacrifice function for style, and vice versa. Whether you're looking for a basic three-hand diver or something with extra complications, we've got you covered. Check out the list below and you're sure to find the best titanium dive watch to suit your needs.
A History of Titanium on the Wrist
Titanium, though a practical material in use for personal products, has not always been the most cost-effective material to use in manufacturing. It only really began being used in earnest in the 1940's. However, by 1970, The Citizen Watch Company had created the first ever titanium watch, with the Citizen X-8 Chronometer.
Just a few years later, another famed Japanese watchmaker, Seiko, created the first ever dive watch to use titanium. Since then, titanium dive watches have been available from a number of different watchmakers in countless formats. That's why choosing the right one isn't always as easy as it might appear.
What to Look For
Shopping for a titanium dive watch is not unlike shopping for any other watch (including the internal justifications of why you need another watch.) While there aren't as many titanium divers to choose from as there are steel, you still have a fair number of options. For example, depth rating and complications such as a date window, a chronograph, or even a GMT function will all have an impact on the titanium dive watch you choose.
Another important option for a titanium or any other dive watch is the layout of timing bezel and whether it offers 60 or 120 clicks. Finally, whether you want a bracelet, rubber strap, leather, or nato will have a lot to do with how you plan on using the watch.
Many prefer rubber for diving and other active use, while leather and titanium bracelets are optimal for casual or dress settings. All of these things will come into focus once you think deeply about your most common use for the watch. Read on to see which might be the best titanium watch option for your needs and your budget.
It's fitting to start this list with a Blancpain Fifty Fathoms model, as it was the world's first truly modern deep diving watch. While this statement may make the Rolex fanboys clutch their pearls and point with shock at their Submariners, the Fifty Fathoms was released just months before the Submariner. With a 45-millimeter case, 300 meters of water resistance, and a 44-Jewel in-house Blancpain movement.
The Fifty Fathoms is one of the most iconic watches in the world and it's beautiful rounded 120-click bezel is one of the main reasons for that. Add the lightness of a titanium case and this might just be the perfect dive watch, combining heritage, looks, and utility.
Grand Seiko is the high-end big brother of Seiko, and this watch offers something for its little brother to look up to (and it also won't give you noogies in front of your friends.) This absolutely stunning titanium dive watch includes one of the things that makes many Grand Seikos so special; GS's patented spring drive movement. The spring drive keeps time with the use of a mainspring like most other mechanical luxury watches.
The difference with a Spring Drive movement is that it incorporates an electronic regulator to keep the accuracy to within one second a day. The case has a diameter of 44.2mm, includes a sapphire crystal and bezel insert, and a full titanium bracelet. With the Grand Seiko titanium diver you get all the bells and whistles that this amazing Japanese watchmaker has to offer, in a lightweight and corrosion resistant package.
3. Oris Aquis Titanium Date
Oris makes some of the most accessible and practical dive watches on the market. The Oris Aquis line has become synonymous with value and durability. This titanium model is no different. It has a beautiful grey sunburst dial, a 43.5mm diameter case, double domed sapphire crystal and a ceramic bezel insert. It also contains an automatic Sellita-based Oris caliber 733 movement.
It offers a 38-hour power reserve and the watch comes on a beautiful and light titanium bracelet. This watch is one of the best value titanium models available from any brand, let alone a respected Swiss heritage watchmaker. Are you going to consider buying this watch, Oris your decision-making a bit off today? (Yes. It was a dad joke. They can't all be winners.)
The Omega Seamaster Ploprof is one of the most interesting dive watches available from any brand. Let's start with the name: The word "Ploprof" is derived from the term Plongeur Professionnel, which is French for "Hey look at my watch!" Actually, a more accurate translation of the phrase would be "professional diver." The Ploprof was designed with deep water divers in mind.
The distinctive case is made from a single solid piece of Titanium with no case back so that there's fewer areas of weakness where water can enter. It's rated to go as deep as 1200 meters. It includes a sapphire crystal, a helium escape valve, and Omega's dependable and highly accurate 8912 movement. With a bulky 55mm diameter, it's no shrinking violet, but It's one of the best deep dive watches (if not the best) commercially available.
This model will look as good with a Tuxedo as it does with a wetsuit. Aside from the impressive titanium construction, it includes a ceramic bezel insert, 300 meter depth rating, applied circular indices, 42mm diameter, Omega's in-house caliber 8806 with the patented co-axial escapement, and a too-cool-for-school aesthetic.
You'll be ready to thwart any evil plots at a moment's notice; even if it's just the office jerk, Roger, stealing your paperclips whenever you step out (I know it's you ROGER!) Beware though, if you're looking for a watch that explodes, deciphers foreign codes, can crack a safe lock, or block trolls on Twitter, you'll have to look elsewhere (like maybe G-shock.) This one only tells the time. But it does so with a swanky British accent.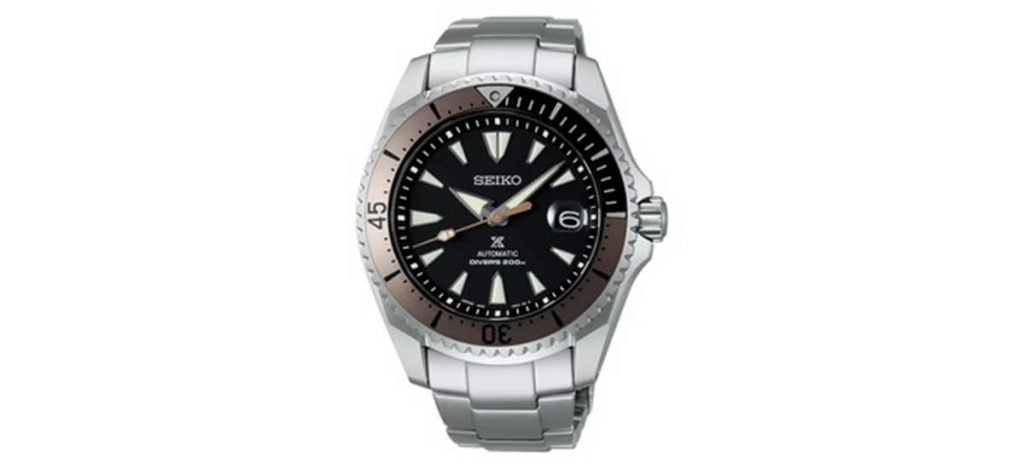 Seiko Prospex divers are some of the best highly-accessible dive watches on the market. They're also some of the best looking ones as well. This model adds titanium to its resume, so you won't be disappointed for sure. It's got a diameter of 35mm, a ceramic bezel insert, Seiko's dependable 5R65 automatic movement, and a super-cool all-black titanium case.
The large applied circular indices as well as the hands are filled with copious amounts of lume for high visibility in the water. The silicone band is also supple and soft, yet durable. If you're looking for a watch that stays under the radar, but makes you feel like black panther, then this is the model for you (Warning: We said the watch will make you feel like Black Panther. However, keep in mind you'll never look nearly as cool as him.)
7. Baltic Aquascaphe Titanium
Baltic just may be the most respected microbrand in the watch world. It's also one of the least microbrand sounding microbrands in the market today. "Baltic" sounds like the name of a brand that was started in a small mountain village back in 1846, but it wasn't. It was started in a non-descript office park in suburban France in 2017 (still romantic, if you ask me.)
The brand's founder wanted to base Baltic on his love for his grandfather's vintage watch collection. The Aquascaphe is the brand's most popular and recognizable release to date. This titanium version has a water resistance of 200 meters and a double domed sapphire crystal. It offers an almost unbelievable value proposition.
Utilizing a Miyota 9039 automatic movement, it's a dependable diver with great looks and a lightweight and durable case to boot. The comfortable and attractive tropic dive strap is an added bonus. Baltic is one of those brands that gives you "watch guy street cred" without spending an arm and a leg.
8. Tudor Pelagos 39
The tudor Pelagos has enjoyed a lot of popularity as of late, especially with the release of this 39mm variant. All the Pelagos models from Tudor have titanium cases, meaning you have a few different sizes to choose from. Inside they have in-house Tudor movements and 300 meters of water resistance. They're also a great alternative to the ubiquitous Tudor Black Bay line that, while great dive watches, are about as common to see as bad dancing on TikTok.
This blue variant of the is one of the more interesting models, and it looks as good with jeans and a t-shirt as it does with a full wetsuit. The bracelet is made from durable rubber and its soft and flexible enough to be one of the most comfortable bracelets in your collection.
As one of the most respected brands for pilot's watches, Breitling may not always be at the top of most peoples' list for dive watches. However, this Avenger Seawolf is one of the coolest looking titanium dive watches around. It's got a depth rating of 300 meters, and the 45mm case makes for a highly legible dial. It's also a COSC certified chronometer and includes a 3:00 date window. With the dark color and nice nato strap, you'll be ready for all sorts of covert ops, even if it's just sneaking a few Twinkies out of the cupboard in the middle of the night.
10. Gerrard Perregaux Titanium Sea Hawk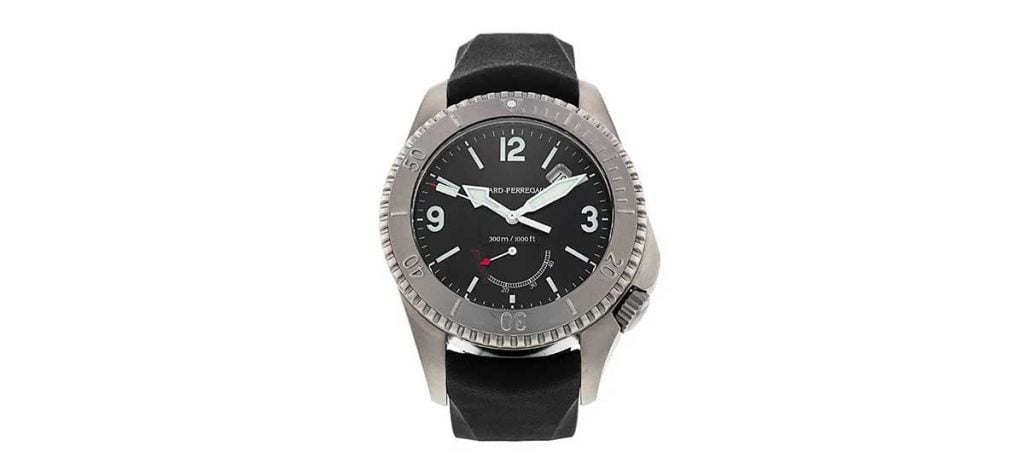 GP is a great Swiss brand, and this is an amazing looking 44m dive watch. While Gerrard Perregaux is more known for their "land-based" sports models, they have a long history of creating durable and practical dive watches for their customers.
The sapphire crystal, rubber strap with double folding clasp, and 200m water resistance make it nice, but the sleek looks and slick titanium bezel make it a dream on the wrist. It even includes a power reserve indicator to keep track of how long you have until you must take a break from your awesome titanium watch. It's a great complication that most titanium divers don't include.
11. Ulysse Nardin Titanium Diver Yoshida
The colors on this diver make it one of the most interesting options on our list. Ulysse Nardin is one of those brands that give s you instant credibility within the watch community. It's a brand that makes unparalleled watches in multiple different categories, but this diver is one of the best they have.
It includes a 44mm diameter, small seconds, sapphire crystal, and a highly legible power reserve indicator. It's also a chronometer that has 300 meters of water resistance. The blue white and black color scheme makes every facet of the watch easy to read, from the bezel to the beautiful black dial. What's more, you get to be a snob and correct people when they inevitably mispronounce the brand name of your watch!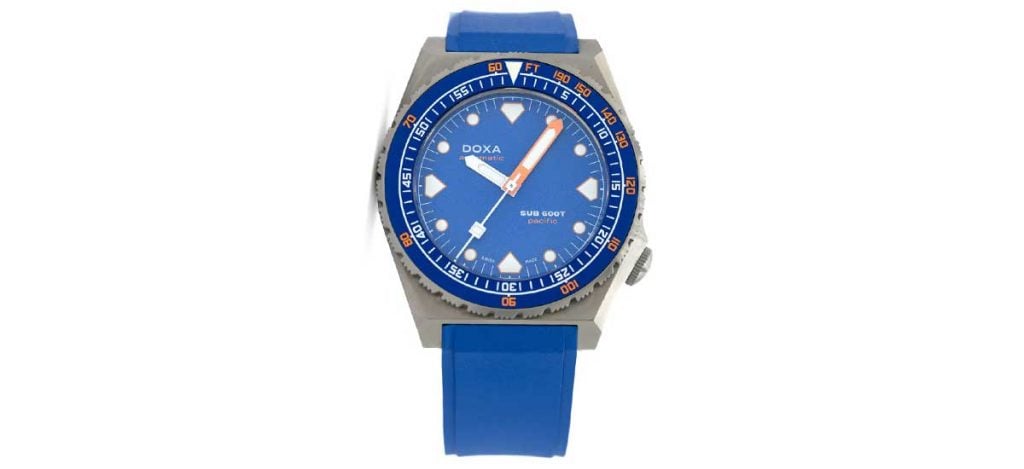 Doxa is one of the brands more synonymous with diving than any other. It was the choice of famed marine explorer Jaques Cousteau and continues to make some of the best divers around. This model has an insane dive rating of 600 meters, a durable FKM rubber strap with folding buckle, a 38-hour power reserve, and sports the iconic orange doxa color.
It also has an interesting angular case shape and the rubber bracelet has an integrated design, giving the whole watch a very retro 1970's feeling to it (but in the good way. Not like your uncle Fred's hairstyle.) It also has a lug width of 20mm, so you'll have an infinite number of different options to choose from if you want to swap out the strap for your own.
13. Tag Heuer Aquaracer Titanium
This titanium Aquaracer from Tag Heuer and famed watch designer George Bamford is one of the best mid-range titanium diver options anywhere. You don't necessarily have to spend an arm and a leg to get a great lightweight diver. This one has a beautiful dark brushed titanium look, a three o-clock date window, concentric circle-designed black dial, a 43mm diameter, and an impressive 300 meters of water resistance. The movement within is a TAG Heuer Calibre 5, based on the bulletproof ETA 2824-2. This watch is a great mid-range option for almost any situation, no matter who you're…Aqua racing.
Zodiac has so many throwback designs from their heyday in the 1960s and 1970s that it's hard to go wrong with one of their dive models. This one has a substantial lume-filled outer ring and bright orange inner chapter ring for high visibility, a beautiful jubilee style bracelet, 42mm diameter, 200 meters of water resistance and a Swiss automatic movement.
Not only is this a great practical dive watch, but the bracelet makes it stand out in a crowd even wearing it with regular street wear. Wear this one often enough and they just may start calling You the Super Sea Wolf.
15. Hamilton Khaki Navy Frogman
Hamilton has a long history of military watches that goes all the way back to world war I. Their Frogman watch began in the 1950s and this modern titanium model has some of that same DNA built in. However, the modern additions make it a new classic.
It has a diameter of 46mm, patented Frogman crown lock system, to keep the crown in place, and an incredible 1000 meters of water resistance. It also has a highly legible red bezel and futuristic rubber bracelet with folding clasp for added security. For once, you'll be glad to hear people say that you remind them of a "frogman."