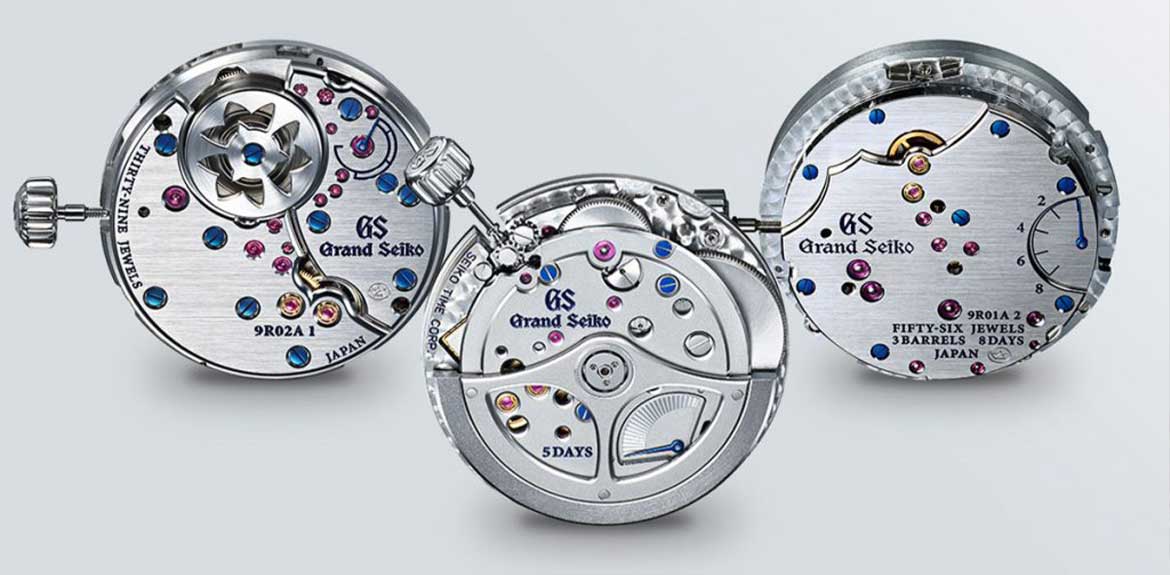 10 Cheapest Spring Drive Seiko Watches for Every Budget Range
Users of mechanical watches know the importance of spring drive technology. Unlike other luxury mechanical watches, the spring drive offers a unique electronic regulator that delivers the best precision. A spring drive watch can tell time precisely to the last second without making a mistake. Have we talked about the classic designs that offer confidence and prestige?
The mechanism and design make these watches the best for precision and style. If you know anything about spring drive watches, then you know that Seiko is one of the best brands to patronize. However, you may get overwhelmed by the number of options you find when patronizing the brand. Our article will outline the ten cheapest spring drive Seiko watches to consider when looking for the best spring drive watch options. 
How It All Started
The Seiko Spring Drive dream came alive in 1977 when a young, talented engineer with the brand decided to build on his dreams. The young engineer wondered how he could bring "the everlasting watch" dream to fruition. He dreamed of creating a watch with a mainspring that offered a one-second-a-day accuracy. This engineer envisioned the precision only attainable in the best electronic watches.
Yoshikazu took 28 years of setbacks, persistence, and dedication to achieve his dreams. After more than 600 prototypes, he finally arrived at what he wanted – the best everlasting watch. Ultimately, he and his team discovered other inventions in making the spring drive watch. Seiko launched his art in 2005 and the collection has flourished since.
Why Choose Seiko Spring Drive Watches?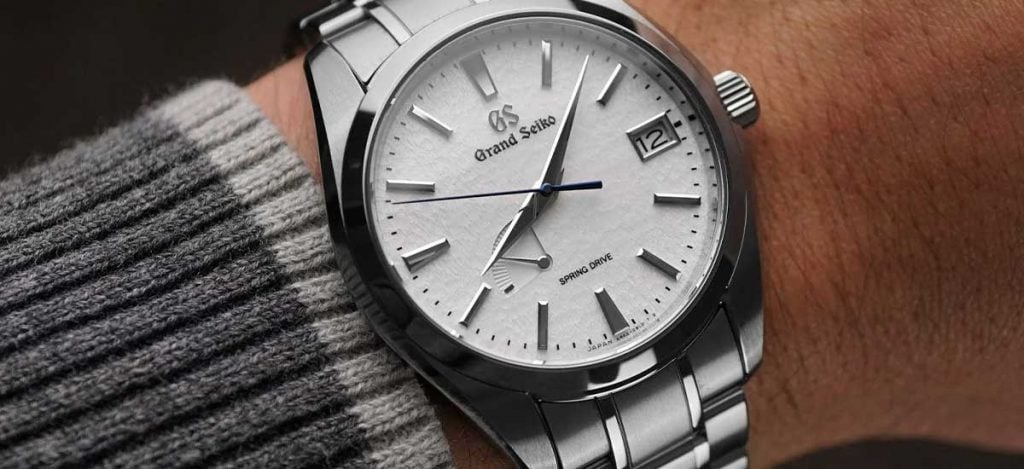 Seiko Spring Drive watches have certain features that make them desirable to all watch lovers. Since its inception, the Seiko brand has built on the initial design to foster three significant innovations. The tri-synchro regulatory design is a unique spring drive design created by Seiko to control the mainspring's mechanical energy.
Additionally, the tri-synchro regulator converts a small part of this mechanical energy into electricity. The converted electricity helps to power the Spring Drive crystal. Interestingly, the regulator also creates a magnetic force that regulates the glide wheel speed. Hence, unlike other Spring Drive watches, those from Seiko tend to offer a more efficient regulatory system for perfect time reading.
The alloy used in Seiko's Spring Drive watches offers extended power and accuracy. Furthermore, the brand uses a unique Magic Lever winding system that fits directly into the rotor shaft. Hence, the Magic Lever enhances the efficiency of each Seiko spring drive watch and also allows for shorter winding periods.
The lever also increases the power reserve for each spring drive watch you obtain from this brand. Certain features make Seiko's spring drive watches the perfect luxury chronograph. Such features include its 12 hours duration, vertical clutch, one-second-a-day, and clutch and column wheel. With these features, Seiko spring drive watches read time precisely and not to the nearest fraction.
If you love jewelry and hand-made designs, you will instantly love these watches. Each spring drive watch from Seiko is uniquely made with 416 parts, 140 oil points, 50 jewels, and five different lubricants. Also, the watch has a constant 72-hour power reserve which does not depend on the chronograph usage. These features combine to make Seiko spring drive watches the most desirable timepieces anyone could have. That said, here are some of the brand's brand's brand's most affordable spring drive watches.
Ten Cheapest Seiko Spring Drive Watches
Presage SNR037 – $4,500
Prospex SNR017 – $4,700
Prospex SNR025 – $5,000
Prospex SNR027 – $5,000
Prospex SNR033 – $5,000
Prospex SNR035 – $5,500
Prospex SNR049 – $5,500
Prospex SNR029 – $6,000
Prospex SNR031 – $6,000
Prospex SNR045 – $6,000
The Presage SNR037 is one of the watches outside Seiko's Prospex LX line with a spring drive movement. This watch has an excellent dial accompanied by a classic design that reflects the philosophy of modern Japanese design.
Features
Case Design: This watch has a stainless steel case with a width of 40mm and a 13.1mm thickness, less than the Prospex LX watches. The case back features an exhibition chamber that offers a hands-on user experience.
Dial Color: The watch has sapphire crystals like all other watches on our list. In addition, you will find a white enamel dial color and black hands. The dial markers are inscribed in Arabic Numerals.
Water Resistance: The Presage SNR037 has a caliber 5R65 movement with a water resistance of 100m.
Bracelet Style: An exciting feature of this design is the bracelet strap. This model uses a Cordovan strap and a three-fold clasp, offering maximum comfort. You also get a two-year warranty when you purchase this watch.
Functions: The watch has the hours, seconds, minutes, date, and power reserve functions. Unlike the Prospex LX watches, this model does not have the GMT feature.
2. Prospex SNR017 – $4,700
This model stands out because it is the only one with a Spring Drive and moonphase pairing. Other Spring Drive watches from Seiko have been paired with chronographs, GMTs, minute repeaters, and Chronograph GMT. This 200-watch limited edition has a touch of class.
Features
Moonphase and Power Indicator Pairing: Unlike other models on our list, this model pairs the moonphase and power reserve indicator on the watch's dial. The gloss black dial changes to a frosted texture between the 5:30 and 8:00 indices. Between these indices, you will see a chapter ring power reserve indicator. The power reserve indicator displays the 72-hour gas tank status at any given time.
Exclusive Case Design: Everything about this watch seems complete. The watch has a stainless-steel design with an exciting "three body" case. In addition, the watch, 42mm in diameter, has an interesting pseudo-stepped case form. The watch is quite thick and houses a 6mm thick caliber 5R67 which you can see under an exhibition case back.
Cote de Sole Pattern: While you may compare this watch to the Grand Seiko 9R65, it does not use Tokyo Stripes. Instead, it goes for the Cote de Sole pattern, and this pattern adds more rarity to the watch.
This model is a GMT version and belongs to the land variation of the Prospex LX line. Moreover, the model is an attractive and sturdy sports watch that won the best sports watch award of the year. The watch gets its design from the classic Professional Diver model from 1968. Besides its sports features, the watch suits individuals who love adventure.
Features
Basic Features: This watch has a broad and flat titanium case, making it lightweight. The watch case measures 44.8m and has a thickness of 14.7mm. In addition, the model uses Zaratsu Polishing on the surface, making the coating super-hard.
Water Resistance: The Prospex SNR025 has a water resistance of 200m. Since it is a land variation, this resistance is quite good. Additionally, you will find a titanium-made bi-directional compass bezel with a smooth movement on this watch.
GMT Hand: Another good feature is the GMT or second-hour hand, which tells the time difference from your home zone. The second hour hand has a nicely-finished yellow color corresponding to the 24-hour clock markers.
Elegant Dial Design: This brand used metal trims on this model to elegantly frame the hour markers and the power reserve indicator at 08:00. The watch has a sunburst grey to a black pattern that aligns well with the mustard yellow color on the GMT hand. Seiko also uses a satin-finished frame with a typical date font on the date window. Also, you will see a Seiko logo on the dial and markers.
Titanium-made Bracelet: The SNR025 has a titanium-made bracelet like the case. One good thing about this feature is that you can easily adjust the length of the bracelet. It also uses 30 jewels and sapphire crystals in its designs. Unlike our previous pick, this model features a super-clear coating.
This model follows the Seiko Landmaster legacy, which you can use for outdoor navigation. The watch is one among the black-coated collections released by Seiko a few years ago. Although this watch has similar features to other models from the Prospex LX line, some things make the SnR027 stand out. Like other names on our list, you can use this watch for diving and sports. However, you cannot enjoy deep diving because the watch only supports a limited dive depth.
Features
3 Days Power Reserve: You can enjoy a three-day power reserve when using this watch. The 3-day power reserve offers long-lasting precision as you go out for your adventures.
Bi-directional Navigational Compass Bezel: This watch has a dual direction compass bezel and a GMT hand inspired by a compass needle. Additionally, the color of the Lumibrite material used in the design gives this watch a classic feel. While other versions of this LX design have a white color, this design features a green-colored luminant material to ensure it stands out.
Scratch-resistant Black Coating: Seiko combines a scratch-resistant coating with a lightweight titanium case to offer a better wearing experience. Also, Seiko uses a band material made of calfskin for this watch.
Large But Lightweight Casing: Although the cases are not small, you will not feel the weight due to the titanium, which makes it lightweight. The Seiko SNR027 measures 44.8mm in width and 14.7mm in thickness. Additionally, it has a 50.9mm lug-to-lug distance. With a 106g weight, you can quickly wear this watch without feeling uncomfortable.
Water Resistant: Although this watch best suits land usage, you can use it for light diving that does not exceed 200m. This resistance outclasses other LX GMT watches that typically have 100m of water resistance.
Independent Power Reserve Dial: The SNR027 has a Seiko caliber 5R66 auto Spring Drive GMT movement. The movement indicates the date and time. In addition, you will find an independently controlled GMT hand inside the watch.
The SNR033 is another model belonging to the LX line of watches. Most people believe this watch is the successor of the Grand Seiko SBGE001. However, this model's styling and case materials suggest a superior taste.
All the materials used on this model point towards longevity and durability. One other impressive thing about this model is the exquisite color palettes used. The bold proportions are very enticing, along with its classical-looking GMT designs.
Features
Extremely Light Design: Although you will find that the watch has a diameter of 44.8mm and 14.7mm thickness, the titanium used to make the watch offers a lightweight outlook. Hence, you can wear this watch without feeling uncomfortable.
Super-hard Bracelet Coating: Seiko uses a super-hard bracelet coating to ensure the watch doesn't scratch easily. You can also find this coating on the watch case, which makes the watch long-lasting and suitable for everyday use.
24-hour Bezel: Seiko introduces a 24-hour bezel on this model. Regardless of the light conditions, you will enjoy excellent legibility. The blue and black color palettes blend correctly to give the watch a classic and relaxed feel. Seiko uses aluminum in its bezel design to make it shiny. Also, the brand uses a sapphire cover and 30 jewels in the design.
Comfortable Bracelet: Like all its other spring drive LX options, SNR033 has a titanium-made bracelet. The case also has this titanium design and spots excellent angles. However, the difference between this model and others is that it has slightly wider angles, and the surface has a nicer polishing which gets more light. The bracelet also houses a three-fold clasp with a push button. These features make the watch secure on the wrist.
This model is a member of the three black-coated watches that look much like the titanium models. Besides its black coating, this model differs from the others because the bracelet strap has a different material.
The model resembles the others within the LX line because it contains a GMT hand for travelers. Another difference you will observe is that this model has a lower water resistance compared to the other options we have presented on our list.
Features
Excellent Case Design: Prospex LX SNR035 has a beautiful case back and screw-down crown. It is no longer news to hear that the watch has sapphire crystals on its dial. Additionally, the model has a solid titanium-infused case with large dimensions. The case measures 50.9mm in length and 44.8mm in width, with a thickness of 14.7mm. This watch is relatively heavier than the SNR027 but still lightweight enough.
Blackout Bezel: The SNR035 uses a blackout bezel for its GMT function. In addition, the watch has a self-winding caliber with a 4800 A/m magnetic resistance and a power reserve indicator. You can find the power reserve indicator between the seven and eight o'clock hands.
Leather-Strapped Bracelets: This model spots a glorious black color that matches the silver-framed luminite hands of the bracelets. Furthermore, the brand uses luminite to fill up the bracelets. Unlike other designs on our list, Seiko uses a black crocodile leather strap containing a three-fold clasp. The leather design used gives the watch a classic and elegant touch.
Water Resistant: The Prospex LX SNR035 has a lower water resistance than the other options on our list. This model has a water resistance of 100m. However, considering this watch is not for diving, the resistance is enough.
7. Prospex SNR049 – $5,500
This titanium watch has a limited number of 400 watches. The watch has a faceted form that looks much like Grand Seiko due to its Zaratsu polishing. You can use this watch if you fancy deep diving activities.
Features
Compact Design: Although this watch has intimidating dimensions, you will be surprised that it is closer than you can imagine. Moreso, the watch is light and comfortable to carry despite having a diameter of 44.8mm and a thickness of 14.7mm. Also, this model has a lug-to-lug of 50.9mm. Surprisingly, the watch wears like a 42mm watch.
Unique Sapphire Bezel: One unique thing you will notice about this GMT model is the black and blue sapphire bezel that matches its black to blue-gradient dial. The colors blend naturally and provide pleasing aesthetics.
Time Adjustment Function: This reference piece has a time-reference, calendar-linked adjustment function that heightens your GMT experience. The Zaratsu-polished titanium case also helps to improve the model's functionality.
Water Resistant: This model only has a 100m water resistance. Hence, you can use this watch for shallow diving activities, and the design mainly favors sporting and adventure activities.
The Prospex LX Spring Drive Diver SNR029 is a refined classic tool watch. This typical Seiko dive watch has a surprising degree of refinements that brings back memories of the 1968 Hi-Beat diver design. A good thing about this watch is that it has mid-range pricing.
This watch also scores highly in fit, functionality, and finish. The watch has excellent legibility and keeps perfect time. Additionally, the watch has a quality dial and case design with a good-enough bracelet.
Features
Excellent Precision: The Seiko SNR029 has a ±1 second per day precision that ensures the watch tells the time accurately.
30-Jewel Design: The 30-jewel design adds more glamor to the design and improves its aesthetics. In addition, the watch uses Saphhire crystals with anti-reflective coatings on the inner surface.
Functions: This watch has a 72-hour power reserve with a power reserve indicator and a date display. With this model, you can find a "stop second hand" feature that allows you to pause the second hand's movement.
Titanium Casing: The titanium casing used in this model offers a super-hard coating that protects the watch. Also, the watch has a 15.7mm thickness with a diameter of 44.8mm and a lug-to-lug of 50.9mm. You will also find a three-fold clasp with a secure lock and push release button alongside a solid slide adjuster.
Water Resistant: The SNR029 allows users to dive as deep as 300m or 1000ft for saturation diving. The air-tight design prevents water from seeping into the watch.
9. Prospex SNR031 – $6,000
The SNR031 is a modern version of Seiko's SBDX001 Mrinemaster. One feature that distinguishes this watch from other diver watches is the different bracelet design. Also, this watch does not have the Seiko brand impressed on the dial like other options.
Features
Excellent Dial Design; Seiko's Prospex LX SNR031 comes in a brooding black shade with contrasting hands and indexes. The design has large hands with circular indexes except for the rectangular indexes at 3, 6, and 9 O'clock. The index hands have a luminescent design that allows for proper lighting and time reading in dim conditions.
300m Water Resistance: The luminiscent design and water resistance say everything about this watch. Seiko's SNR031 best suits deep diving activities.
Outstanding Case: This model has a smooth, curved profile with a single continuous edge that runs from the bottom lug to the top. The case has angular sections that reflect light even with the black super-hard coating.
Rotating Bezel: Seiko's SNR031 has a unidirectional rotating bezel fitted in the case. Furthermore, you will find a screw-down crown positioned at the 4 O'clock index.
10. Prospex SNR045 – $6,000
This model has almost similar features to that of SNR049. However, the distinguishing factor is that it does not have the GMT complication; instead, it has an added water resistance compared to the SNR049. This model also has additional features that elevate the user experience.
Features
Water Resistant: The most outstanding feature of this watch is the 300m water resistance feature. The feature gives more depth to divers who want to enjoy a quality watch without ruining its design.
Exquisite Bezel Design: Another thing you will notice at first glance is the green textured dial and green bezel. The color adds more glamor to an already splendid design.
Zaratsu Hand-Finished Case: Seiko uses Zaratsu hand finishing on the watch case. Together with the Spring Drive caliber 5R65, this watch stands stall among other green watches on the market.
Lightweight: Although this watch looks big on paper, the titanium used in its design makes it lightweight and easy to wear. Hence, you will not feel uncomfortable using this Spring Drive Seiko watch.
Conclusion
We have reviewed the ten cheapest Spring Drive Seiko watches you can patronize. You may have noticed that these watches are not that cheap. However, considering the design and materials put into their production, you will say these Seiko watches are worth the price. We have included several designs with varying prices to help you make a more preferred choice. Hence, you can pick from any of these watches to experience elegance with a touch of class and efficiency.