12 BEST Grand Seiko Spring Drive Watches for Every Budget
What can be said about the Grand Seiko Spring Drive technology that took 20 years to create and refine a revolutionary way to build a mechanical watch? For those not in the know, the unique movement blends quartz technology with the inner workings of a mechanical watch.
There is a wonder in watching the sweep of a mechanical watch, the way it glides around the watch dial. For mechanical and automatic watches, the seconds hand seems like it's doing a solid sweep, yet in fact, it's many small ticks going in quick succession.
With a quartz movement, everyone knows the movement's tick tick, and many associate that with typical timekeeping. Grand Seiko was able to marry the two technologies to have a seconds hand sweep that is the smoothest in the watch world today.
The Spring Drive Movement Explained
In simplest terms, the Spring Drive movement in Grand Seiko watches is mechanical in design. However, it uses a quartz crystal to maintain accurate time. A unique detail is that there isn't a battery; everything is powered through the mechanical workings of the watch. 
The Spring Drive movement houses almost all components of a traditional mechanical watch except for the escapement wheel. Instead, it includes a Tri-Synchro Regulator, a complex regulating system that utilizes electric, magnetic, and kinetic energy to synchronize the watch's operation.
This regulating system produces the necessary electric current that a battery would, which is then fed through the quartz crystal and back to the regulator to monitor the time. Additionally, this system is responsible for the truly mesmerizing sweeping of the seconds hand in the Spring Drive movement.
The History of the Spring Drive Movement
The Spring Drive movement started with one visionary engineer by the name of Yoshikazu Akahane, who worked for Suwa Seikosha, which is now the Seiko Epson Corporation. His idea for a new type of movement was conceived in the 1970s.
During the early 1970s, he began to work in Suwa Seikosha's quartz department. After many successful quartz innovations, he began to materialize his idea for the Spring Drive in 1982. After a few failed attempts, the first Spring Drive movement was developed in 1997.
The first Spring Drive movement was in an exhibition at Baselworld in 1999. The first ever watch with a Spring Drive movement was the Seiko SBWA001, and it was fitted with the caliber 7R68. Unfortunately, Akahane couldn't witness the culmination of his idea, as he passed away in 1998.
Grand Seiko – Mechanical vs. Spring Drive vs. Quartz
From Hi-Beat Diashock movements to Spring Drive and quartz, Grand Seiko does it all and prides itself in its craftsmanship on all levels of its watchmaking prowess. I myself have owned a 9F quartz GMT model from Grand Seiko, the SBGN005, and it is a beautiful no-nonsense watch.
The quartz technology in it allows for only 10 seconds plus/minus per year. No mechanical watch can compare to that level of timekeeping accuracy. However, there is something to be said about a mechanical watch.
The beauty is in its engineering and design that it doesn't require a battery to power the watch, just the energy of it being on your wrist receiving power as you move, allowing the rotor to keep the main spring actively going.
Other than the accuracy of quartz over mechanical and the price of a particular model, I don't think there is a wrong choice when it comes to the Grand Seiko you prefer. For me, buying a watch is based on its design and how it wears on the wrist.
If you want a Spring Drive over a regular mechanical watch or a quartz model, they are all good choices. In the end, you buy what you like, and with Grand Seiko, all of their models are fit for someone in the world.
12 Best Grand Seiko Spring Drive Watches
For this list, and in no particular order, I'm going to focus on mainly new watches regardless of their price; I'm just going off of design and what I think looks the best out of Grand Seiko's Spring Drive lineup. I believe the 9R series is the pinnacle of Grand Seiko Spring Drive watches.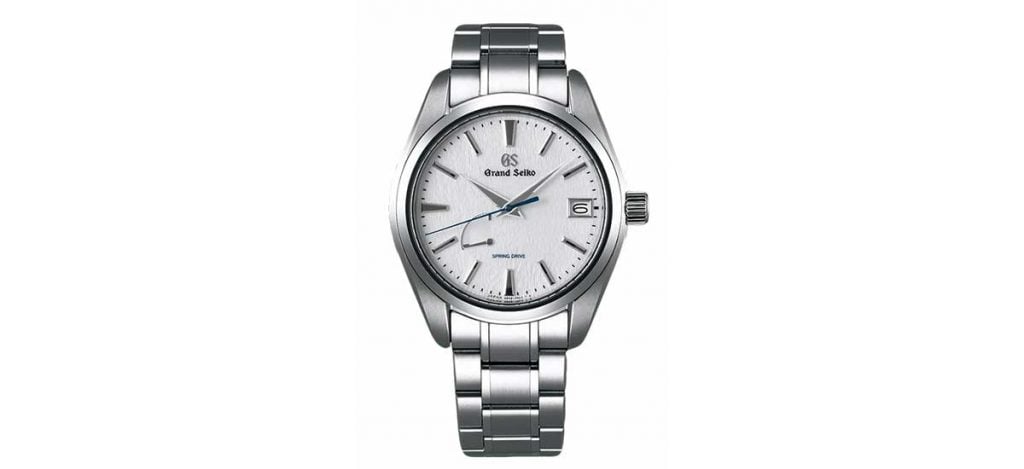 No list would be complete without the quintessential Grand Seiko Spring Drive watch, the SBGA211, also known as the "Snowflake". Its nickname derives from its captivating hand-made textured white dial that represents a terrain covered by snow. The watch also features attractive dauphine-style hands and an elegant blue seconds hand.
The Snowflake is powered by Grand Seiko's tried-and-true Spring Drive caliber 9R65. The movement has a power reserve of 72 hours that you can always look at thanks to the indicator on the dial. Plus, the case back on the Snowflake is see-through so that you can admire the beautiful movement inside.
Overall, the SBGA211 is an excellent watch for anyone. It works great in an office environment, and its titanium construction gives it the additional durability to survive your daily life. Whether you're looking for a multi-purpose timepiece or want to add another beautiful watch to your collection, the Snowflake should definitely be on your radar.
The SLGA021 is an amazing timepiece by Grand Seiko that embodies the tranquility of nature. The watch features a deep blue dial with a distinct wavy pattern that's inspired by the rippling waters of Lake Suwa in Japan. This truly mesmerizing blue dial sets this watch apart and makes it very elegant.
The SLGA021 features a stainless steel case built to last, with a screw-down crown that helps achieve the watch's 100m water resistance. Inside the timepiece beats Seiko's newest 9RA2 caliber, their most advanced Spring Drive movement yet.
The movement has an exquisite 5-day power reserve and a stated tolerance of ± 10 sec every month. All in all, if you want the best of the best in terms of Spring Drive movements in a magnificent package, the SLGA021 is for you. It's a great watch for all occasions that also fits several different fashion styles.
If you want a classic design with modern elements (e.g. the movement), look no further than the SBGY011. The design of the SBGY011 is a re-interpretation of an old Grand Seiko watch, the 44GS from 1967.
With its classic white dial, it is just simplicity at its finest. The watch has great legibility for its three-handed design, and the nice added touch of a blued seconds hand is just icing on the cake. Most Grand Seiko designs involve an element of nature, and this model is no different as it invokes the mountains of Shinshu, where all Grand Seiko Spring Drive Watches are produced.
This watch is excellent for those wanting something that disappears on the wrist as it weighs in at just 77 g, one of the reasons being the supple crocodile leather strap it comes with.
Of course, the 9R31 manual wound movement is Grand Seiko's renowned Spring drive movement, which gives the wearer 72 hours of power reserve and ± 15 seconds per month, which is amazing in terms of watch accuracy. It also has 100 m of water resistance, which most dress watches don't even come close to.
If you are in the market for a sporty watch with all of the bells and whistles and a Spring Drive movement inside, look no further than the SLGA015. It's a dive watch that can contend with all of the other dive watches in the market and then some. It comes with 200 m water resistance, magnetic resistance, sapphire crystal, and a titanium case and bracelet.
It's the ultimate watch for scratch resistance and toughness. This diver also houses the 9RA5 Spring Drive movement, which gives it an accuracy of ± 10 seconds per month with a tremendous 5-day power reserve. The power reserve indicator is also a nice added feature, so you can always know how long your watch will last.
The SLGA015 also includes Seiko's proprietary LumiBrite, for great nighttime and diving legibility. The watch does have a unique 23 mm lug width, so it may be hard to find additional straps for it. Still, I don't think you'll be taking off the amazing bracelet on this timepiece.
Every traveler needs a watch, and the tool they should use is a GMT function on their timepiece. It allows the wearer to track different time zones as they go about their journey. They can have that tool watch with a lot of added style if they choose the SBGE285.
It's a beautiful, elegant white dial watch that is both a tool watch and a dressier option for those on the go for travel and a pleasant night out with friends. This is another titanium watch that adds to the ruggedness of travel for the wearer. This watch also invokes the snowy mountains of Nagano, which is easily noticed in the beautifully patterned snow-like winterscape dial.
The SBGE285 uses the 9R66 Spring Drive movement with ± 15 seconds per month, 100 m of water resistance, just everything you need when you are a globetrotter. This watch is also a true GMT or a traveler's GMT, which has an independent jumping hour when adjusting from the crown.
For those looking for a refined chronograph/GMT with a Spring Drive movement, the SBGC249 is an easy choice for first-time buyers and collectors alike. I also chose the blue dial version as it has a striking yet romantic nighttime sky motif on the dial and bezel. The dial features two chronograph subdials, a power reserve indicator, and a dedicated GMT hand.
This makes the SBGC249 the ultimate tool watch. This watch houses the 9R96 Spring Drive movement with plus/minus 10 seconds per month and 100 m of water resistance. The timepiece delivers functionality and style. For those looking for a GMT or a chronograph, you can check off both boxes with this model.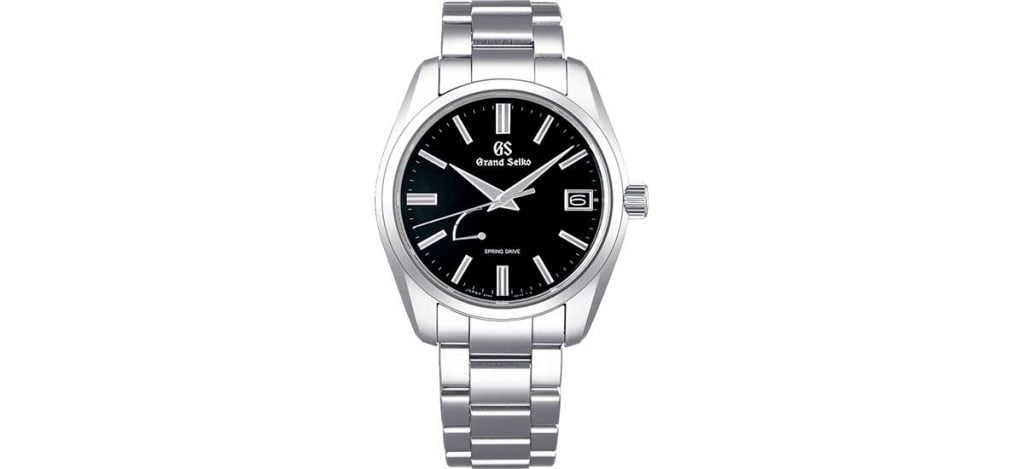 This watch is simple and elegant in its design. It is like the little black dress/slim black suit that goes with everything. The inky black dial goes with any formal attire and can accompany you on all your formal events.
Still, the watch's sportier nature makes it a great accessory for an everyday look with a t-shirt and a pair of jeans. The SBGA467 houses the 9R65 Spring Drive movement with 72 hours of power reserve. Thanks to its low price tag, it's an excellent affordable option for a timeless piece that can go anywhere with you.
The Grand Seiko SBGA461 is another no-nonsense dive watch, this time in stainless steel. It is an excellent sports watch that can also be used as a professional diver. A little heftier than titanium, the stainless offers extra weight for those who want something ampler on their wrist.
With 200 m water resistance, this watch houses the 9R65 Spring Drive movement with 72 hours of power reserve and ± 15 seconds per month accuracy. Like any other Seiko dive watch, it has the always trustworthy LumiBrite to take nighttime legibility to the next level.
This watch is a sign of coming up in the world, celebrating something wonderful in one's life or just something to buy because of its beauty. It is, of course, the prototypical yellow-gold watch. The SBGY002 comes in 18 k yellow gold on a beautiful crocodile leather strap.
It evokes images of the 1950s when men wore hats and suits, but it can be contemporary too in today's varied fashion trends. It houses the 9R31 Spring Drive movement with 72 hours of power reserve, giving the watch that modern touch with an old-world feel.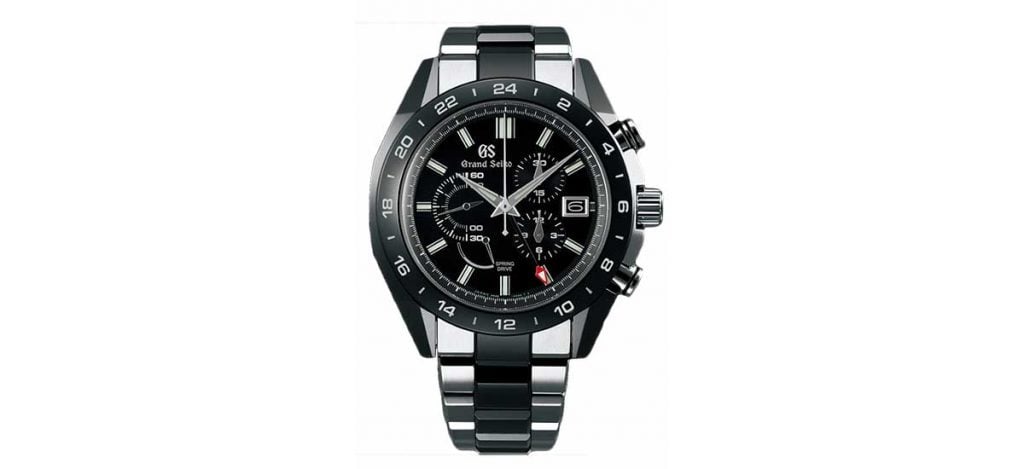 This next one is a hulk of a watch at 46 mm, so it's definitely aimed at people with larger wrists. The SBGC223 doesn't just involve the superb Spring Drive movement. It also has next-level technology in its combination of high-intensity titanium and ceramic in both the dial, bezel, and bracelet. The watch also combines the functionality of a chronograph and a GMT.
It houses the 9R86 Spring Drive movement with 72 hours of power reserve and plus/minus 15 seconds per month. This watch has a big presence for those who want or need a big watch. It's also very durable as it will be very tough to scratch with its combination of titanium and ceramic all over the watch.
A watch based on the 62GS from 1967, this beautiful watch with the beautiful scenery of a cherry blossom style on the dial is breathtaking. This is, without question, my favorite watch on the list. It is masculine yet feminine in its design, making you want to wear it. There's nothing else that needs to be said about this watch. It has the always excellent 9R series of Spring Drive movements. It's a watch that needs to be seen and experienced on the wrist.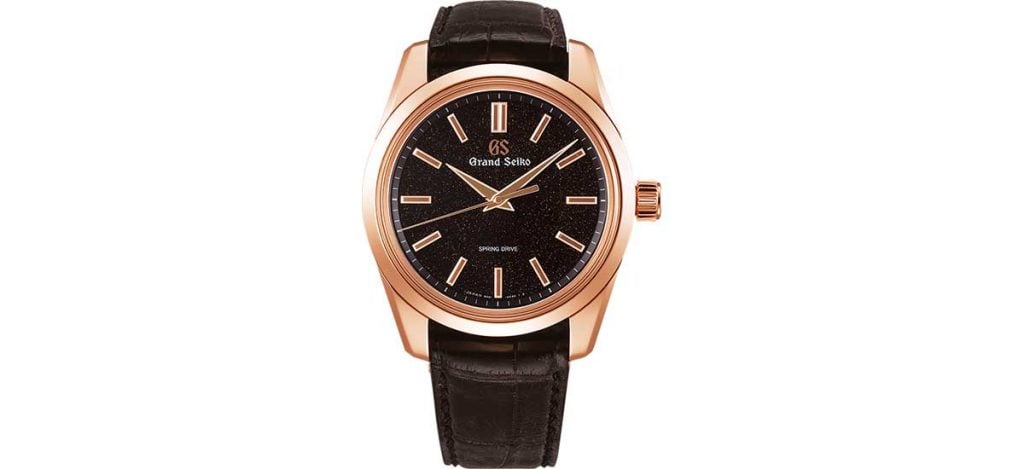 As part of the masterpiece collection, the SBGD202 is one of the most expensive watches in the Grand Seiko Spring Drive lineup. It has a beautiful design of a night sky in all of its glory and is in 18 k rose gold.
It also houses the 9R01 Spring Drive moment, giving the watch an astounding 8-day power reserve. This is one of those once-in-a-lifetime watches if you are able to purchase it as well as the platinum version. Grand Seiko continues to provide credibility as one of the premiere watchmakers in the world.
Conclusion
The 9R series of Grand Seiko is a wonder to the watch world. The Spring Drive movement is unparalleled in the sweep of its second hand. Any watch enthusiast or collector can tell you how satisfying the sweep of the seconds hand on a watch is. Throughout this whole article, I didn't touch on Zaratsu polishing, and the mirror-like finish of Grand Seiko watches.
Most or all of the watches on this list have Zaratsu finishing in some form or another, and let me tell you, it's amazing. Other watch brands have polished watches, but Grand Seiko is on another level. So, if you are on the lookout for a Grand Seiko, Spring Drive is an excellent option, especially the 9R series.