20 BEST Dive Watches Under $5,000 (Durability + Performance)
Are you looking for an affordable dive watch that still offers quality and features? The watches on the list are made with durability and performance in mind, and they're perfect for divers of all levels. Plus, several straps and colors in some models make them stylish to pass for everyday wear.
And within this price range, you'll find a few models with exceptional resale value for investment. While some budget-friendly ones only cost about $3000 (maybe even lower), they are just as capable as the big divers.
So, whether you're looking for a stylish watch or one packed with features, you'll be able to find what you're looking for without breaking the bank. Before we get into the details, let's see how to identify a suitable model of your choice if you're a first-time dive watch owner.
History Of Dive Watches
Dive watches have come a long way to become a norm. Before the 20th century, only explorers were privileged enough to use dust-proof or waterproof watches. Watchmakers would craft them as a special piece for each explorer, just like a sorcerer conjuring a talisman crafting a time machine.
But divers at the time were not so privileged. They'd put the typical pocket watch in their hard-hat helmets to check their dive time. It wasn't until the early 20th century (due partly to the war) that dive watches entered the horology scene.
Rolex took the first dip in 1926 when the company bought the patent for the Oyster case. To market the case, Hans Wilsdorf had Mercedes Glietze carry it around her neck as she swam across the English Channel for over 10 hours in 1926.
That exhibition opened the floodgates of dive watches to the masses. Admittedly, they were first produced for targeted groups like military underwater units, explorers, and divers. But it wasn't until Omega released the Marine that the first industrial dive watch was produced in 1932. 
However, it was the Rolex Submariner that set the pace for today's dive watches after its release in 1954. All dive watches still follow its design as a standard-rotating bezel, luminous hands, and corrosion-resistant straps.
How to Choose the Perfect Diving Watch
1. Consider Construction Materials
The best divers are made with water-friendly materials like titanium or stainless steel that are durable and corrosion-resistant. When choosing a dive watch, it's essential to consider the materials used to construct its parts. Here are five factors to consider:
The case: The case should be made of a durable material that can withstand the elements. Stainless steel is a popular choice, as it's corrosion-resistant, but titanium is a premium option because it's lighter.
The bezel: The bezel should be made of a rigid material that can withstand wear and tear, usually ceramic, in budget and pricey models.
The Strap: Go for watches that offer a silicone or sailcloth strap, which is water-resistant and comfy, but stainless steel and titanium are perfect too.
The crystal: Sapphire crystal is a popular choice, as it's scratch-resistant, durable, and affordable.
2. Look For Useful Dive Features
A good diving watch will have a water resistance rating of at least 100 meters.
A unidirectional rotating bezel is essential to track air in your oxygen tank while underwater. And be sure the hands and indexes have bright luminescence that's readable in low-light environments. Also, you should learn the workings of a dive watch if you're taking your first dip.
3. Brand Matters
While it is difficult to find a watch with a good resale value under $5,000, it is not impossible. We included a handful of prestigious brands like Omega, Breitling, and Tag Heuer with exceptional specs and functions and substantial resale value.
If you're not bothered about reselling or want a durable diver, you can opt for Sinn and Longines, which make prolific tool watches at more affordable retail price points. And some brands, like Doxa, Mido, and Seiko, offer quality models on a tighter budget, from $2,500 to $3,500.
4. Find A Reliable Store
There are a few things to look for when trying to find a reliable luxury dive watch dealer. First, ensure that the dealer has an excellent online reputation and is certified by an accredited organization. Also, ask the dealer about their return policy and warranty coverage.
Additionally, check if they have a physical store and schedule an appointment. Exquisite Timepieces, for instance, is located in Naples, Florida, and you can walk in to test the models you love. Finally, inquire about their after-sale services and response times before making your purchase.
The Best Dive Watches Under $5000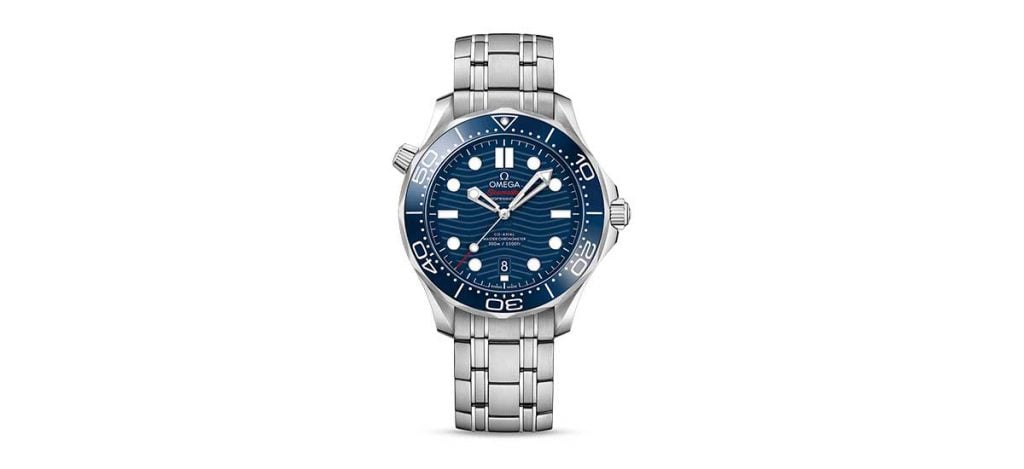 Starts from approx. $5,000
The Omega Seamaster diver 300M is one of the best value dive watches. Maybe it's because the classic design was introduced thirty years ago, as it sure can't be the iconic James bond connection. That's priceless. But the Seamaster heritage dates back to 1948 (when it was just a 60m dress watch).
It adopts the ceramic bezel and oversized design of the Planet Ocean but with a little twist. It has circular indexes instead of numerals and skeleton hands, unlike the Planet Ocean's solid design. The Omega Seamaster has a stainless steel case and band (or rubber) and a helium escape valve at 10 o'clock – it's the quintessential professional diving watch.
Its master chronometer-certified caliber is on display inside its exhibition case back and has a power reserve of 60 hours. It's also equipped with a silicon balance spring, which makes the watch more resistant to shocks and vibrations.
Finally, the Omega Seamaster diver 300M is certified by the METAS Institute for its accuracy and performance. If you're looking for a great diver's watch, the Omega Seamaster diver 300M is a great option. It's reliable, accurate, and stylish. And it's sure to impress everyone who sees it.
Movement: Caliber 8500-8800
Water resistance: 300 meters
Case size: 42mm
2. IWC Aquatimer 2000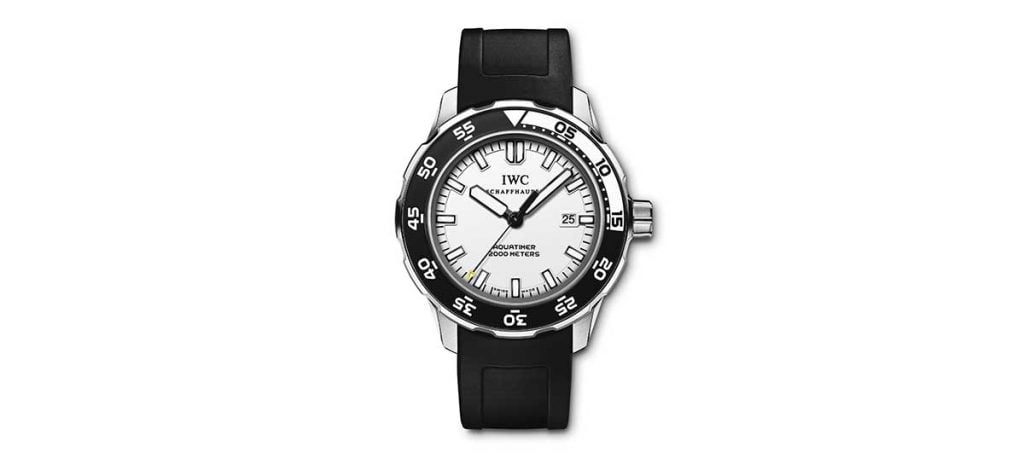 Price starts from approx. $3,900
The Aquatimer, IWC Schaffhausen's diving watch, is a magnificent timepiece. Actually, it's a simple diver from a prestigious Swiss watchmaker. It has a thick 14mm stainless steel case luminescent black dial, and markers.
The Aquatimer 2000 uses applied stick indexes, luminescent bezels, and Roman numerals to keep the time in the deep blue. IWC has a quick-change bracelet system. So you can swap the rubber strap for polished IWC leather or stainless steel.
The IWC Aquatimer 2000 is powered by an automatic 30110 caliber with 42 hours of power reserve. It also features a date display and 21 jewels. Ultimately, the IWC 2000 might be a basic diver, but its brand prestige poses a superb investment opportunity.
Movement: Caliber 30110
Water resistance: 200 meters
Case size: 44mm
3. Omega Seamaster Planet Ocean 600M 232.30.42.21.01.002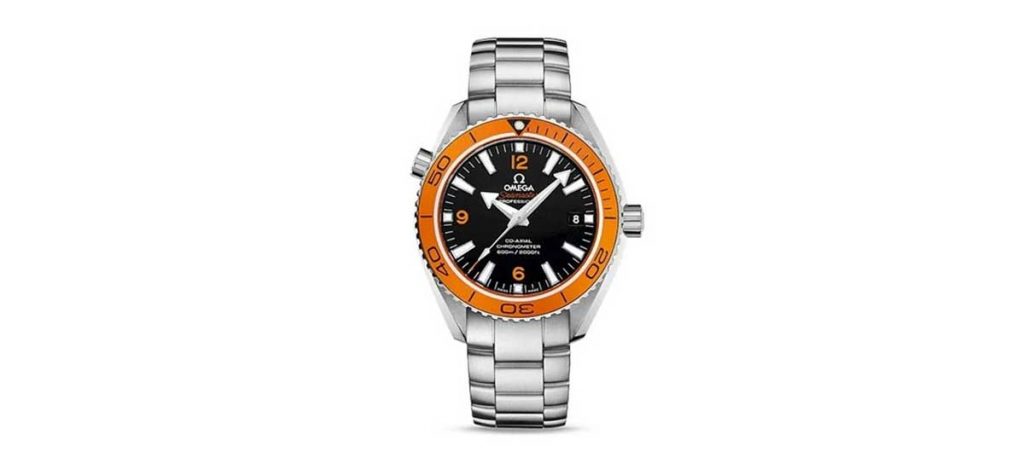 Starts from approx. $4,800
The Omega Seamaster Planet Ocean is a high-quality diving watch that is perfect for professional and recreational divers. If there's wiggle room in your budget, you should definitely consider the Planet Ocean.
It's comparable to the Rolex Submariner but at only a fraction of its price. In addition, the Planet Ocean is made with 316L stainless steel, sapphire crystal, and a helium escape valve at 10 o'clock, making it just as durable. And with a 600-meter water resistance, it's the hero for divers in this price category.
It uses the renowned Omega Co-Axial caliber 8500 movement, which is accurate to within 2 seconds per day and has a 60-hour reserve, so you rarely have to worry about rewinding. The only downside is that it's close to $5,000 without including tax, insurance, and shipping. So make arrangements for a little wiggle room.
It also has a date window, power reserve indicator, and a Pause and Play-like 12 o'clock index design to separate the Professional from Co-axial references.
Pro tip: The Omega Seamaster Planet Ocean is a top-of-the-line diving watch under $5000 for professional and extreme divers.
Movement: Omega Co-Axial Caliber 8500 with up to 60 hours of power reserve
Water resistance: 600 meters
Case size: 45.5mm
4. Breitling Superocean Limited Edition A17375211I1S1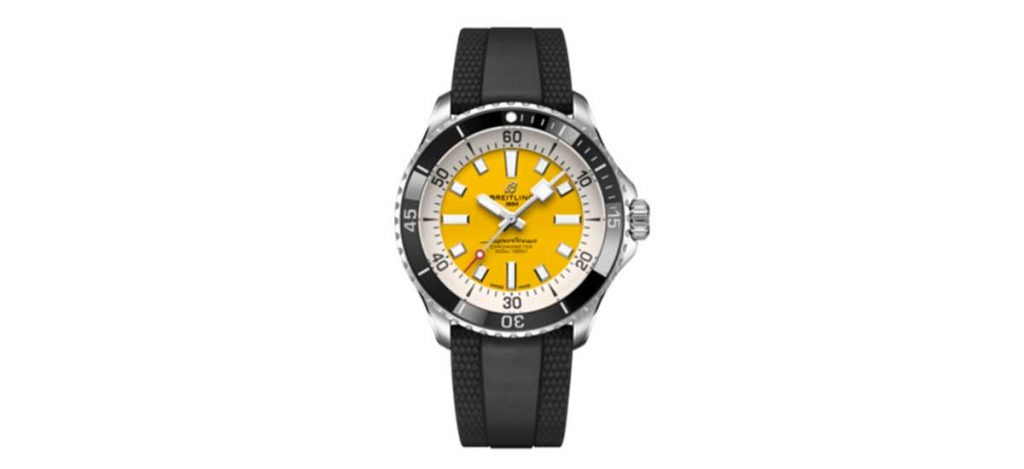 Starts from approx. $4,500
The Superocean is a feature-packed dive watch from Swiss watchmaker Breitling. It's a reincarnation of the Slow Motion line released in the 60s when scuba diving became a hot sport. But unlike the Slow Motion, which was strictly a dive watch, the Superocean fits any occasion.
This sporty timepiece is one of the most beautiful yellow dial diver's watches I've seen, despite its hardcore functionality. Its brightly-colored dial is paired with thick luminescent indexes and squared hands for easy readability.
The limited edition piece takes readability a step further by renewing the Slow Motion design of 1960. It has bold Arabic numerals for a 10-minute countdown on the inner bezel and a 15-minute one on the ceramic outer bezel.
It's safe for dives up to 300 meters and uses the Breitling 17 caliber. It features 38 hours of power reserve, 26 jewels, and is COSC-certified. Superocean is perfect for anyone who wants a diver from a reputable brand that doesn't break the bank.
It checks all the requirements of a diving watch and, to top that, is COSC-certified and reaches incredible depths of 500 meters. It's the perfect value diver's watch under $5,000. And because it's a Breitling watch, the Superocean can retain value if properly used and maintained.
Movement: Breitling Caliber B17, based on the ETA 2824-2
Water resistance: 300mm
Case size: 42mm
5. Tudor Pelagos FXD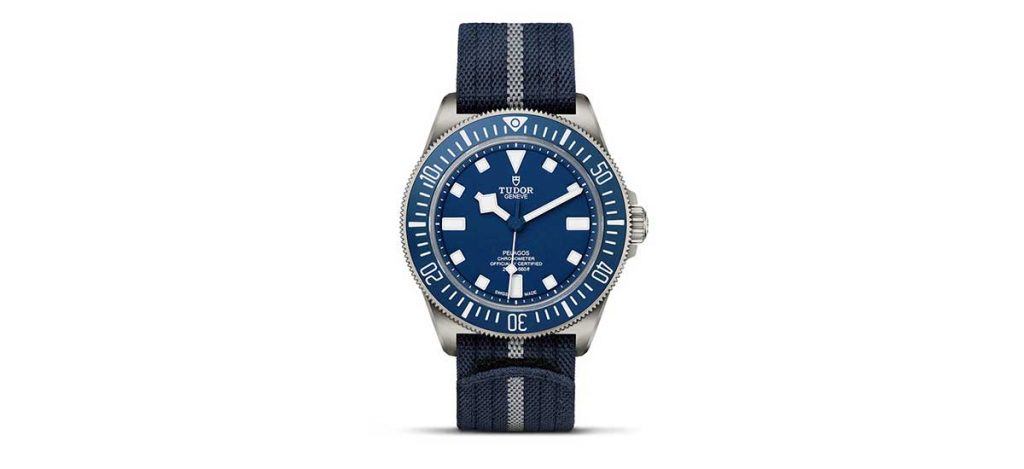 Starts from approx. $3,900
Tudor is at the top of my list of watch brands that cater to professional divers and marines. The Swiss watchmaker used to produce Tudor Submariners, especially for the U.S. Navy Seals and French Marines.
And for a little over $4,000, you can get your hands on a Pelagos FXD designed for the French Marine Nationale. The Pelagos FXD has a titanium case (which is impressive at this price point) that'll stay sharp for several generations.
Despite its colorful navy blue dial, it strikes a simple appeal. It has plain white round indexes and a signature Tudor shield on the hour hand. While it may resemble the Submariner, the Pelagos FXD is a powerhouse in its own right.
Powering the watch at over 28,000 beats per minute is the COSC-certified Tudor caliber MT5602. It's a self-winding bi-directional rotor movement with 70 hours power reserve, made in-house, and features a 70-hour power reserve and 25 jewels.
Also, the Tudor Pelagos FXD has a 5-year guarantee, with no periodic maintenance checks needed. The Tudor Pelagos FXD might be less than half the price of a Rolex Submariner, but it is a high-quality dive watch for any adventurer.
Movement: Tudor MT5602 (COSC)
Water resistance: 200 meters
Case size: 42mm
6. TAG Heuer Aquaracer Professional 300 (Orange Diver)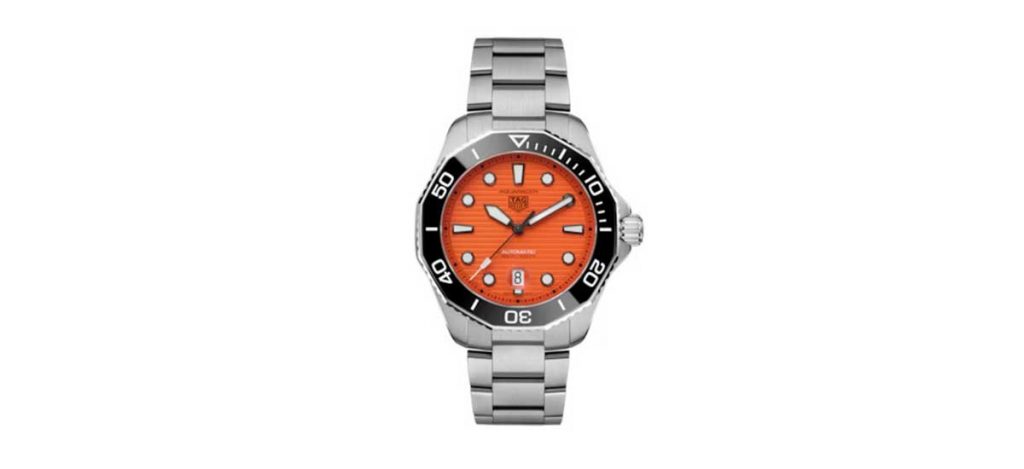 Starts from approx. $3,400
TAG Heuer's Aquaracer collection is a top-of-line diver watch under $5,000. But the Orange WBP201F.BA0632 is an attractive timepiece in the deep as well as the beautiful dry grounds.
What impressed me the most about this watch is its orange dial. Combined with its green and luminous blue hands, the Aquaracer contrasts remarkably underwater. Plus, it's a striking sight to behold on land.
The Aquaracer Professional is water-resistant to 300 meters, as its name implies, and uses a COSC-certified Caliber 5 automatic movement. It features a date display, 38 hours of power reserve, and 25 to 26 friction-bearing jewels.
This is one of the best movements you'll get for under $5000. Moreover, it's a high-end TAG Heuer, so you can resell it fast and for a good buck.
Overall, the TAG Heuer Aquaracer 300 is an excellent diver and dress watch. Dive as far as 1000 feet in your Aquaracer and turn heads with its luminous orange dial.
Movement: Caliber 5, based on the ETA 2824-2
Water resistance: 300 meters
Case size: 43mm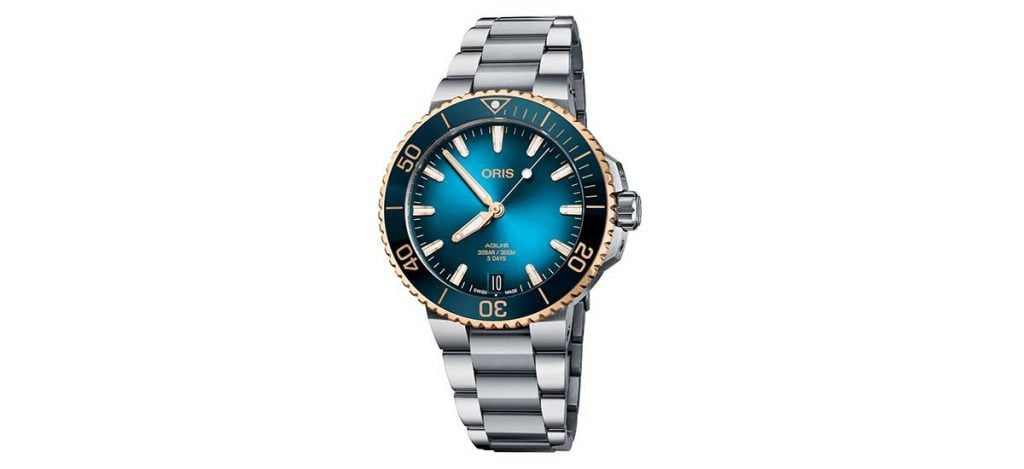 Starts from approx. $3,900
The Date Caliber is Oris' number 1 diver watch and arguably sports the most attractive design among divers below $5000.
It has the typical round case of most dive watches but with intricate bezel and dial colors. The dial is painted with a hypnotic chrome blue paint. It's accentuated with baton markers and hands and a ceramic bezel that is plated in 18-carat gold.
What's more, the in-house Oris Aquis caliber 400 has the longest power reserve among dive watches in this price range. It features a date window, a date corrector, an impressive 120-hour power reserve, and 21 jewels. Essentially, you can wear this watch for five days without worrying about winding up every other day.
Also, the Aquis reference has an open case back that allows you to take in the beauty of its engineering. Plus, it has an up to 10 years warranty on its COSC-certified movement and anti-magnetic protection.
If you are fascinated by the chrome blue dial of the Aquis 400, you'll be amazed by the rest of the designs in the collection. And you can purchase the majority of them for under $5000.
Movements: Caliber 400 (COSC)
Water resistance: 300 meters
Case size: 41.50mm
8. Seiko Prospex Sea SLA061
Starts from approx. $3,300
If you're a Seiko fan, you may love the Japanese watchmaker's most expensive diver watch, the SLA061. It's a 1000-piece limited reinterpretation of the Seiko's 1970s mechanical diver watch produced in all-black.
The odd case shape is the first thing that catches the eye with this Prospex. It's, in fact, an asymmetrical extension to protect the crown at the 4 o'clock position. And it was battle-tested by an adventurer when he made a 12,000km dog-sled journey from Greenland to Alaska from 1974 to 1976.
It has an all-around black design. The case and bracelets are made of hard-coated stainless steel and have a domed sapphire crystal. Also, the case back is solid black and has the edition number (what piece from the 1000 limited pieces) and its 200 meters water resistance encrypted on it.
The Seiko SLA 061's movement is equally as tough as its exterior. It uses the in-house caliber 8L35, which features a 50-hour power reserve, date display, and 26 jewels.
Movement: Seiko 8L35
Water resistance: 200 meters
Case size: 44mm
Starts from approx. $3,910
The Tudor Black Bay 79030B-0001 is a dressier alternative to the Pelagos FXD. This watch has a dressy 39mm case and the strong, impenetrable build of a diver's watch. It features a navy blue dial with white hour markers that contrast nicely and significantly aid with legibility.
This Black Bay 58 uses the Tudor caliber MT5402, which is COSC-certified and has an astounding 70 hours of power reserve. It also features a chronometer and 27 jewels. Overall, the Tudor Black Bay is a reliable and well-designed diver's watch and a top choice for both professional and recreational divers.
Movement: Caliber MT5402
Case Size: 39mm
Water resistance: 200m
10. Longines HydroConquest L3.784.4.56.9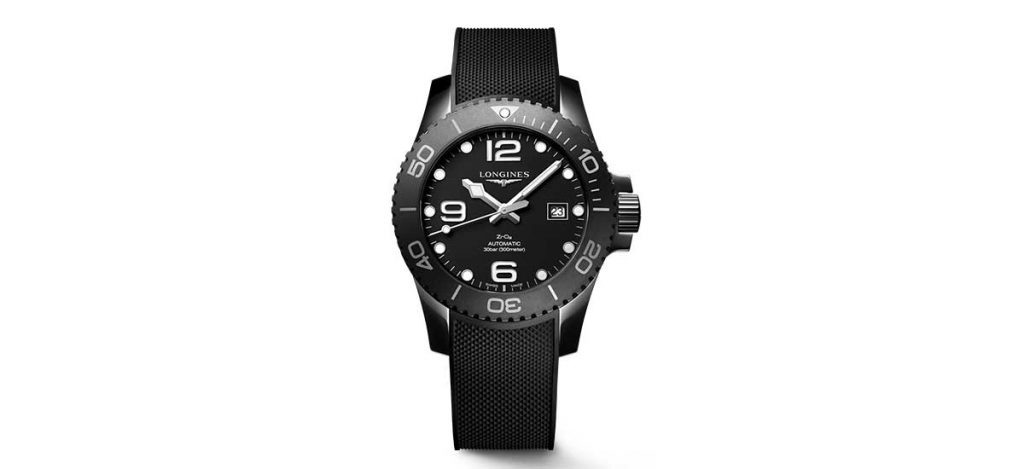 Starts from approx. $3,750
The Longines HydroConquest is an affordable luxury diver for sophisticated and stylish adventurers. It looks like a sleek Planet Ocean. It features a ceramic case, bezel, and dial. It uses a mix of round markers and Arabic numerals on the dial, signifying sophisticated craftsmanship.
The HydroConquest is powered by the L888.3 automatic movement and has a two-year warranty. The 25,200 beats per minute caliber also features a 65-hour power reserve, 300-meter water resistance, and 21 jewels for accurate performance.
The Longines Hydroconquest L37844569 is the ultimate casual dive watch for men. Couple its matte black face and case with sweat-repelling silicone bands to complement outfits for any occasion. This Hydroconquest model is a likely resale hot cake if Longines stops its production.
Movement: Caliber L888.3, based on the ETA 2892-A2
Water resistance: 300 meters
Case size: 43mm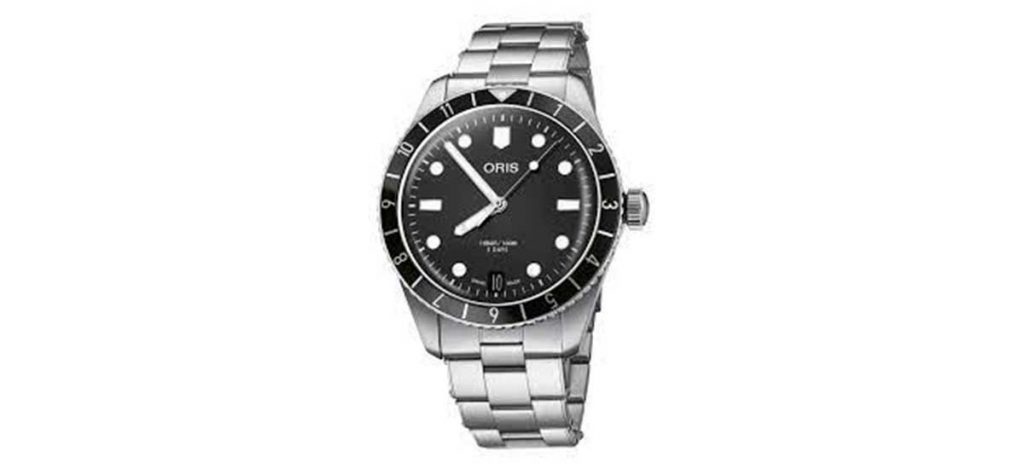 Starts from approx. $3,300
The Oris Sixty-Five dive watch is a true work of art. While it's categorized as a diver, the 12H caliber is more of a GMT (dual timezone) watch.
With its bi-directional rotating bezel with 12-hour etchings, you can set read two timezones on the dial and bezel. However, this capability makes it unsafe for serious diving because the bezel can go clockwise or anti-clockwise, which can be deadly underwater.
But it's water-resistant enough for outdoor use or formal diver. Its multi-piece bracelet is flattering for a dive watch, and its chic 40mm case completes the dressy look.
Oris, however, outdid themselves with their recently-launched in-house movement, the Caliber 400 automatic. It promises key performances starting from a 120-hour power reserve, antimagnetic, and a 10-year warranty. You must join MyOris to extend the warranty from the default two years, though.
The self-winding caliber 400 also has an instant date function which moves to a new day at midnight sharp. If you want a waterproof watch with dual time zones, the Divers Sixty-Five 12H is a perfect choice. Just avoid deep-sea diving!
Movement: Caliber Oris 400
Water resistance: 100 meters
Case size: 40mm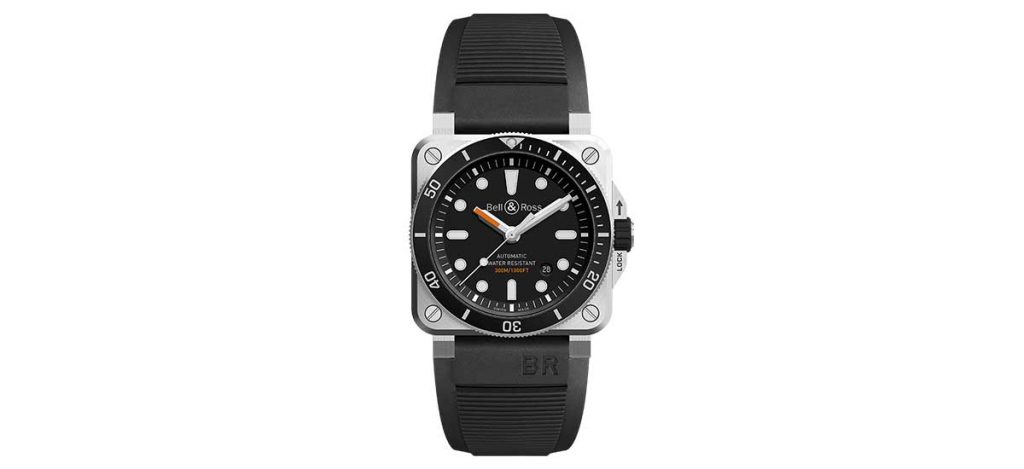 Starts from approx: $4,600
The Bell & Ross BR 03-92 Diver is the brand's first square diving watch. It sports an old-school diving helmet-inspired face that you can see the style come to life when you ignore its square case.
The bezel and black dial with luminous dials and indexes create the outlook. And the screw pins holding down its ceramic case (front and back) give it the bold and rugged appeal of the hard-hat helmet.
The Bell and Ross BR 03-92 also comes with a complementary black synthetic canvas strap for divers. And, of course, a 60-minute unidirectional bezel to keep time while protected from accidental rotation.
The Bell & Ross BR 03-92 Diver is an uncluttered, functional tool for divers, fighter pilots, mine clearers, and elite police officers.
Movement: BR caliber 302
Water resistance:300 meters
Case size: 42mm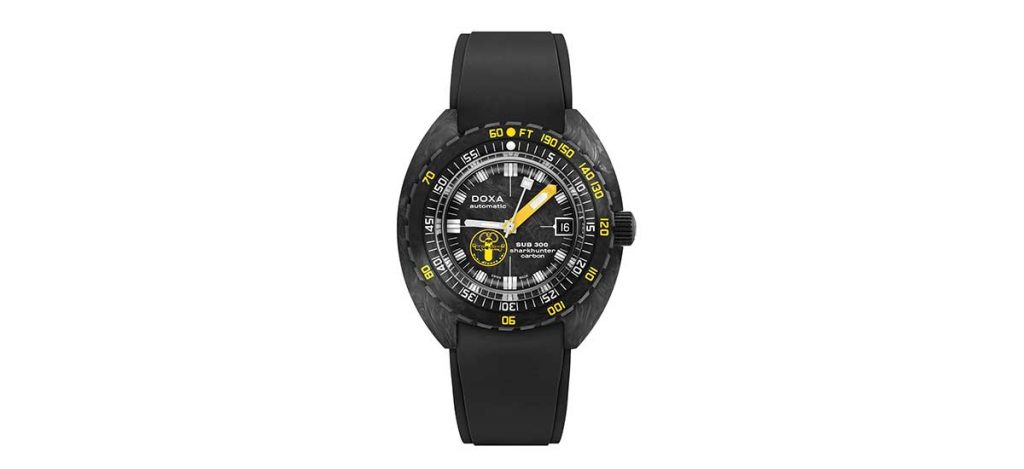 Starts from approx: $4,700
The Doxa Sub 300 collection is easily top 3 among the most beautiful professional diving watches. But the Carbon Aqua Lung, with only 300 pieces, adds exclusivity to beauty.
Rather than the colorful attraction of the Sub 300 line, it fuses various shades of black to create an "urban camo vibe." The case and dial are made with an ultra-lightweight matte black carbon that has shades of charcoal to give it an urban look.
The Sub 300 is also the first from the Swiss manufacturer to feature a unidirectional bezel with a dual scale for depth and dive time to calculate a safe ascent without decompression stops.
And at this price range, you can rest assured you're getting a certified diving watch. Inside the Carbon Aqua Lung US Diver is a COSC-certified automatic movement with 38 hours of power reserve.
All Sub 300 references have three tool-like hands, and every watch has the dome-shaped crystal of the original 1967. But it's now sapphire, not plexiglass.
Movement: Caliber ETA 2824-2
Water resistance: 300 meters
Case size: 42.5mm
Starts from approx: $4,600
The Panerai Base Logo is one of the most affordable models in Panerai's Submersible collection. The Snapback model is a simple, no-date, bezel-less case profile diver's watch with a signature crown protector.
The 01000 is named after the snap-in case back. And you'll love the cool stick and calligraphic Arabic numeral markers against its black dial. What's more, the Luminor Base Logo is simple, down to its core. Inside the case is the OP I hand-wound movement with 56 hours of power reserve, 17 jewels, and only 21,600 beats per minute.
The latter simply means the second hand will tick slower than usual. If you don't mind a diving-capable watch without a unidirectional bezel, the Panerai Luminor Snapback is a top-of-the-line model.
Movement: Panerai Caliber OP 1, based on the ETA 6497-1
Water resistance: 300 meters
Case size: 44mm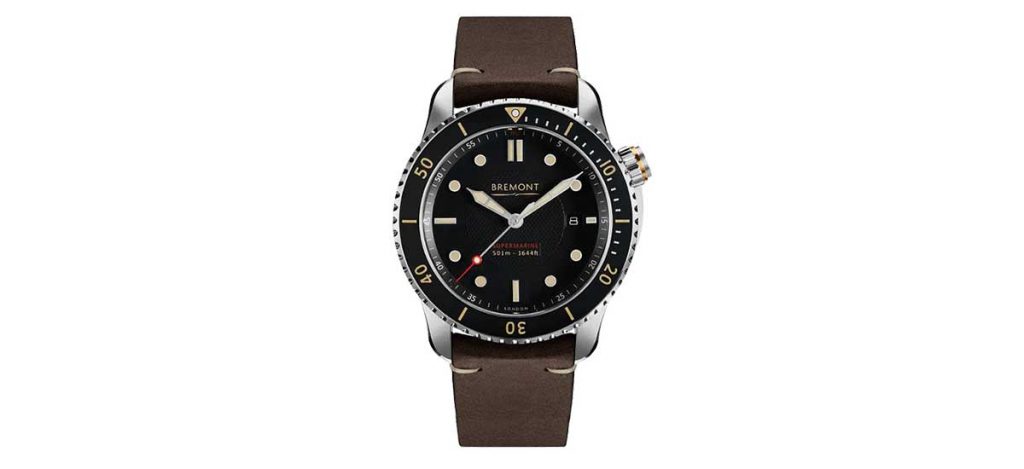 Starts from approx. $4,000
Bremont's S501, introduced in 2009, was the first diving watch by the UK watchmaker. The co-founders set out to build a timepiece that could hold its own against any professional diver in terms of design, price point, and engineering.
And the S501 Supermarine holds its own. It has a scratch-resistant stainless steel case, with an anti-magnetic Faraday cage protecting the caliber. Not to mention water resistance of up to 500 meters. The S501's protected movement is the modified caliber BEE-36AE automatic chronometer with 42 hours of power reserve, date function, and 25 jewels.
It's COSC-certified, perhaps as an homage to Bremont's British heritage, and it's enclosed in Faraday cage magnetism protection. In this light, the Bremontt S501 Supermarine is a top-notch diving watch and a collectible piece of British engineering.
Movement: Caliber BE-36AE, based on the ETA 2824-2
Water resistance: 500 meters
Case size: 43mm
Starts from approx. 3,600
The Sinn EZM 9 is a high-end pilot watch with all the features you need in a diving watch. It embodies the high standard of reliability and durability Sinn sets in the watch industry.
As with most Sinn watches, you get pure value for your money without overpaying for certificates and class. But you have the bells and whistles of a diver on your wrist, such as a helium escape valve and a 60-minute unidirectional rotating bezel.
The EZM 9 case is made from high-strength, zero-corrosive titanium for comfort and performance as a tool watch. Sinn provides a solution for scratches during use by hardening the titanium case with its trademark Tegiment technology.
Another useful trademark feature is Sinn's Ar Dehumidifying Technology which prevents fogging inside the dial. The EZM 9 runs on a top-grade Sellita SW200-1 automatic movement. It features a date function, a 42-hour power reserve, and 21 jewels. While certified as a pilot's watch by TESTAF, EZM 9 would make a great professional diver's watch.
Movement: Sellita SW200-1
Water resistance: 200 meters
Case size: 44mm
Starts from approx. $3,900
Montblanc's newest diving watch, the 1858 Iced Sea Automatic Date, was released in 2022 at the Watches & Wonders trade show.
This German diver has one of the most iconic dials on the list. It has a frozen texture that mimics the core of a glacier. Montblanc applied the icy effect using an old technique called gratté boisé.
And to signify the Iced Sea's water resistance, Montblanc added a 3D engraving of a scuba diver in the ocean and an iceberg on its case back.
Inside the Iced Sea Automatic Date is the MB24.17 caliber, an automatic movement with a date function based on the Sellita SW200-1 a. It also has a 42-hour power reserve and 21 jewels for reliable timekeeping.
In the end, if you love beautiful timepieces from reputable brands that can retain value, you'd love the MontBlanc 1858 Iced Sea Automatic Date.
Movement: MB 24.17, based on the Sellita SW200-1 a
Water Resistance: 300 meters
Case size: 41mm
Starts from approx. $4,000
The Engineer Hydrocarbon NEDU is the quintessential diving watch and could easily give the Omega Seamaster a run for its money.
First off, the Hydrocarbon NEDU was designed for the Navy Experimental Diving Unit. Members of the US Navy unit used to set diving and decompression rules for the entire Armed Forces.
Second, it's the first watch with a helium release valve built into the crown. Before the Hydrocarbon collection, performance diving watches used to have a separate button on the case.
Also, the Hydrocarbon NEDU case is made from Grade 5 titanium, a stronger version you'll only see in aerospace and marine equipment.
In addition, the Hydrocarbon has a unidirectional rotating bezel with 5-minute intervals markers up to 60. It's a nice add-on if you don't want to do arithmetics while calculating dive time.
And you also enjoy great visibility with Ball's luminous gas tubes on the hands and markers. Unlike the conventional luminous, it doesn't require external light to charge and is almost as bright as a smartphone in the blackened ocean depths.
And to wrap up an overall exquisite timepiece, the Hydrocarbon runs on a COSC precision-certified automatic movement with a date function.
Movement: BALL RR1402-C, based on the ETA 7750
Water resistance: 600 meters
Case size: 42mm
19. Sinn U50
Starts from approx. $2,250
The SinnU50 might be a budget dive watch, but perfect for serious swimmers and divers. One of its core features is its water and corrosion-resistant submarine steel, which sounds and performs as a diver watch.
If you're looking for a powerhouse on a budget, the Sinn U50 is your choice. Its unidirectional bezel is made from fortified stainless steel, known as Tegiment technology, which is renowned for its scratch resistance. Not to mention it's anti-magnetic.
Aside from its rugged build, the Sinn U50 can reach depths up to 500 meters. And it uses a reliable automatic movement that could easily pass the COSC accuracy and manufacturing tests. In fact, Sinn CEO thinks this watch and other models are as accurate as Rolex or expensive COSC-certified models.
This dive watch is also equipped with handy marine features, like a black dial and red inscriptions for visibility, a screw-down crown at 4 o'clock, luminous white hands, and indexes. It's also backed by a two-year warranty.
Again, if you're looking for a diving watch for half the $5,000 budget and built like a tool watch, the Sinn U50 is a great option.
Movement: SW300-1
Water resistance: 500 meters
Case size: 41mm
20. Breitling A17365D11C1A1 Superocean II 42
Starts from approx. $3,920
Last but not least. The Superocean II is considered an "ultra-sporty" diving by Breitling. It's also the sportiest watch on our list.
Its "sportiness" is in reference to the bold Arabic numeral markers on the dial and 60-minute unidirectional rotating bezel. Furthermore, it can dive up to 500 meters, which is way deeper than most of the competition. And to round off its design in style, Breitling gave the stainless steel case a polished finish.
The Superocean II is also remarkably precise. Its B17 automatic movement is COSC-certified and accurate to -4/+6 per day. It also features a date function, 36 hours of power reserve, and 25 jewels.
If you're looking for a high-end diving watch with large numbers, the Breitling Superocean II A17365D11C1A1 is a sublime pick under $5,000.
Movement: Breitling B17, based on the ETA 2824-2
Water resistance: 500 meters
Case size: 42mm
Conclusion
After considering all of the watches reviewed, the best dive watch under $5000 is the Omega Seamaster 300M. It offers superior features and performance compared to other timepieces in its price range while also providing exceptional resale value.
But that's not to say it's superior to exquisite timepieces like the Bremont S501 Supermarine, IWC Aquatimer 2000, or the Bell & Ross 03-92.
It sounds cliche, but you'd only find your best option from this list if you have a preference. If I were shopping, I'd pick the Montblanc 1858 Iced Sea with glacial blue dial and 3D relief case back because I like to admire my watch even when it's off my wrist.
Which dive watch is your favorite?
About Exquisite Timepieces
Established in 1998, Exquisite Timepieces is your one-stop shop for all things luxury watches! We are an authorized dealer for 60+ luxury watch brands including Omega, Hublot, Seiko, & Longines! We are proud to showcase one of the world's largest pre-owned watch collections, including renowned brands like Rolex and Patek Philippe. Check out our brand new watch arrivals here and popular pre-owned listings here.