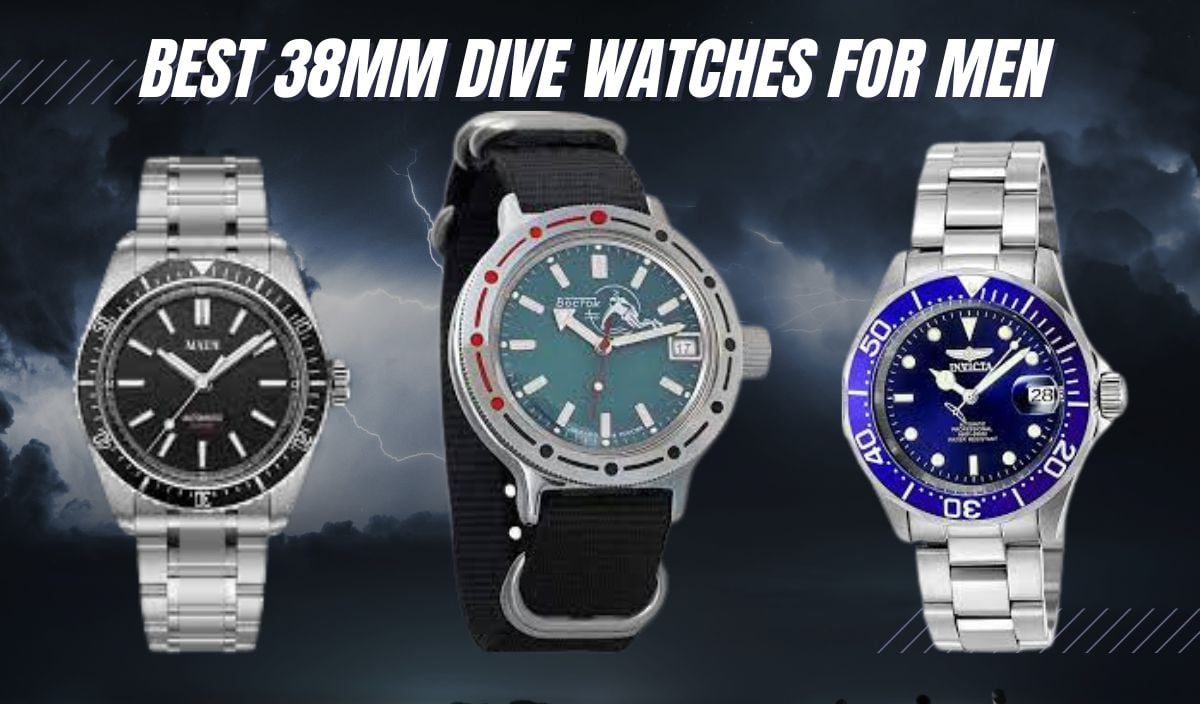 20 BEST Midsize Dive Watches for Men (38mm) – Classy Picks!
Below is my humble list of the 20 Best 38mm dive watches for men. While bigger might seem better in certain situations, there's something truly special about a smaller-sized dive watch that sits modestly on the wrist.
The 38mm size strikes a balance between classic and modern, making it the perfect choice for those who want a versatile timepiece that can go from the office to the ocean. Dive watches are designed to be rugged, reliable, and able to withstand the pressure of the deep blue sea, and the watches on this list are no exception.
From tried-and-true classics to innovative newcomers, I've scoured the market to bring you the best 38mm dive watches available today. Each watch has its own unique features and design, and I've taken care to select watches that not only perform well but also look great on the wrist. Whether you're a seasoned diver or a casual beachgoer, there's a timepiece on this list that's perfect for you.
About Dive Watches
Arguably the ideal combination of form and function, dive watches are built to withstand the rigors of underwater exploration, with features such as extreme water resistance, luminous dials, and unidirectional bezels for tracking elapsed time. But they aren't just practical tools for underwater adventurers.
They have also become a beloved fashion statement for watch enthusiasts and style-savvy individuals alike. With their durable construction, sleek designs, and reliable movements, dive watches have earned a reputation as a versatile and timeless addition to any watch collection.
Whether you're a professional diver or simply appreciate the aesthetics and craftsmanship of these timepieces, there's no denying the allure of a well-made dive watch.
A History of Dive Watches
Dive watches have a rich history that dates back to the early 20th century when they were first developed as a tool for military divers. As diving became more popular, so did the demand for watches that could withstand the underwater environment. The first dive watches were bulky and featured simple but effective features such as luminescent dials and rotating bezels.
As technology advanced, so did the look and functionality of these pieces. Today, they're not only reliable underwater tools but also stylish accessories. From the iconic Rolex Submariner to the innovatively affordable Seiko Prospex, dive watches continue to evolve and remain an essential part of contemporary horology.
Should You Buy a 38mm Dive Watch?
If you're in the market for a dive watch, the 38mm size is a great option for smaller wrists or those who prefer a more understated look. While the cost of these watches can vary depending on the brand and materials used, they are generally less expensive than larger models.
However, it's important to consider the features you need and whether a 38mm watch can provide them. If you require a more robust dive watch with additional functionalities, a larger size may be necessary. It's also worth considering alternative options, such as vintage or pre-owned watches, which can offer great value for money. As with any watch purchase, it's essential to do your research before putting any money down.
The Best 38mm Dive Watches for Men
Blancpain Fifty Fathoms Bathyscaphe 38mm (ref. 5100 1140 NAOA)
I'm excited by the Blancpain Fifty Fathoms Bathyscaphe 38mm – it's a timepiece that perfectly balances a minimalist design ethos with a strong, unapologetic build. This isn't easy to do, and it's certainly not cheap.
This watch is a modern interpretation of the iconic Fifty Fathoms collection, which was designed for the French Navy in the 1950s. The Bathyscaphe 38mm boasts a stainless steel case featuring a unidirectional ceramic bezel soaked in blue (like the dial). The watch's sapphire crystal glass is also anti-reflective and scratch-resistant, ensuring its longevity and clarity.
Blancpain's Calibre 1150 movement runs the show, and with a power reserve of up to 100 hours, it ensures unparalleled precision and reliability. The movement is also equipped with a silicon hairspring, which enhances its accuracy and durability, making it resistant to magnetic fields and temperature changes.
Luminescent hour markers adorn the blue dial and edgy baton hands, making it easy to read in low-light conditions, while the date window at 4 o'clock adds a useful touch to the watch's functionality. Given that it's water-resistant up to 300 meters, you'll likely never have to worry about taking this Bathyscaphe into the depths.
This Blancpain is a must-have for watch enthusiasts who appreciate the perfect combination of a good tool and a fine finish. It's an excellent investment for anyone looking to add a touch of sophistication and style to their collection.
Omega Seamaster Aqua Terra 38mm (ref. 220.10.38.20.03.001)
To say that Omega's 38mm Aqua Terra has made a splash since its release would be both a terribly cheap pun and an absolute understatement. Its stainless steel case contains a tastefully sporty blue dial and a date window at 6 o'clock.
The dial is decorated with the brand's signature teak pattern, which is inspired by the wooden decks of luxury sailboats, while sharp hands and triangular indexes are coated in Super-LumiNova, which, surrounded by polished steel, is attractive beyond its light-shedding characteristics.
The Omega Calibre 8800 movement powers the watch. It's a workhorse movement and, as to be expected from Omega, will likely outlive you. The movement is also resistant to magnetic fields up to 15,000 gauss, thanks to its anti-magnetic properties. The watch's stainless steel, 3-link bracelet is seamlessly integrated with the case and features a secure and comfortable butterfly clasp that won't pinch.
Given that the Aqua Terra is water-resistant up to 150 meters, it's perfect for light water sports and basic diving. Ultimately, the Omega Seamaster Aqua Terra 38mm is a must-have for watch enthusiasts who appreciate a watch that is subtle but edgy.
Breitling Superocean Heritage '57 (ref. A10340A71A1X1)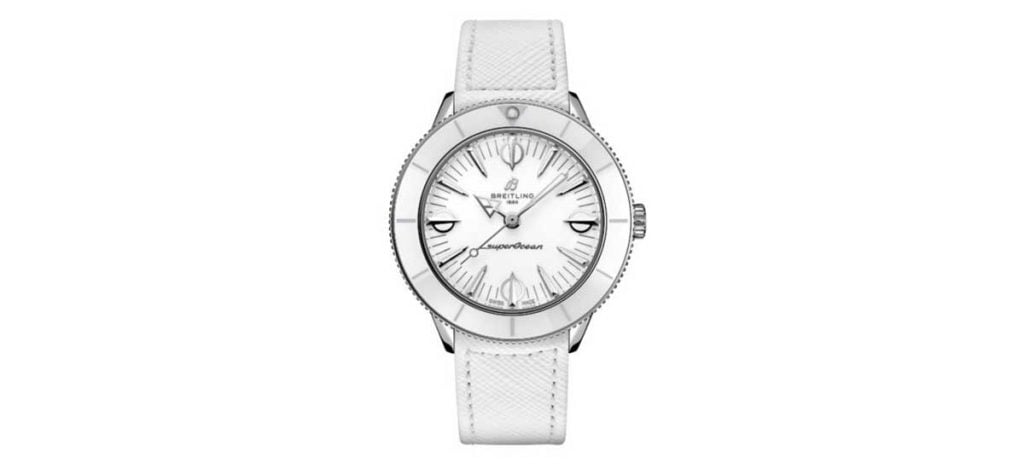 Breitling's Superocean Heritage '57 is a modern dive watch that oozes vintage appeal. The 38mm stainless steel case is a nod to the coveted original 1957 model, with an updated all-white color scheme that makes the watch pop on the wrist.
A unidirectional rotating bezel made of scratch-resistant ceramic has a luminescent dot at the 12 o'clock position for enhanced visibility. The timepiece is water-resistant to a depth of 100 meters, making it perfect for recreational diving.
Powered by the Breitling Caliber 10, a self-winding mechanical movement, the Superocean Heritage '57 has been certified as a chronometer by the COSC. The movement has a power reserve of 42 hours, so there's no practical limit on dive times here. Although there's no date function, I don't miss it – the complex design of the quarterly indices and the otherwise bare nature of the watch make this omission a welcome one.
Overall, the Breitling Superocean Heritage '57 is a stylish and functional dive watch that is sure to turn heads with its pearlescent appeal. It's a great choice for anyone who wants a high-performing tool with some style for just $4950.
Certina DS Action Diver 38mm (ref. C032.807.11.091.00)
The Certina DS Action Diver 38mm is a robust and reliable timepiece that certainly exceeded my expectations. It features a sturdy 316L stainless steel case and bezel, further reinforced by a scratch-resistant sapphire crystal with anti-reflective treatment on one side.
The gorgeous green dial is adorned with Super-LumiNova indexes and hands, ensuring excellent legibility in any lighting conditions. The watch is also water-resistant up to 300 meters, making it an ideal choice for professional divers who don't necessarily want to spend a huge wad.
Powered by a high-quality automatic movement, the POWERMATIC 80.611, the DS Action Diver has an impressive 80-hour power reserve. The movement is protected by the brand's patented DS Concept, which guarantees exceptional shock resistance and durability. The watch's PVD coating not only adds to its aesthetic appeal but also provides extra protection against wear and tear.
There's a nifty diver extension on the buckle, allowing for a comfortable fit over any wetsuit. So whether you are a professional diver or simply an enthusiast, the Certina DS Action Diver 38mm is a joyful wear, particularly as it offers more than many of its high-end competitors for less than $1000.
What can you buy for $475? A one-way ticket to Europe? A used bicycle? Sure, you can buy these things. Or, you can purchase a piece of Japanese engineering that will last you the rest of your life. Perhaps you should buy the Seiko Solar SNE573, a sophisticated dive watch designed for those who want a piece of gear that just works, no questions asked.
This timepiece has a stainless steel case and bracelet with a deep black dial that features contrasting luminous hands and hour markers. Seiko's solar-powered movement provides reliable accuracy and requires minimal maintenance, while the Hardlex crystal ensures durability and scratch-free wearing.
The SNE573 also has a unidirectional rotating bezel, allowing easy tracking of elapsed time during dives, and when paired with its 200-meter water resistance, this is a great budget choice for aquatic adventures. The elegant yet sporty design of this Seiko Solar diver makes it a versatile option that won't look out of place anywhere.
Oris Divers Sixty-Five Bronze (ref. 01 733 7771 3155-07 8 19 15)
Granted, a bronze case demands quite a specific taste, but if you're on the fence, the Oris Divers Sixty-Five Bronze will likely win you over. This timepiece's case and strap are made entirely from bronze, a material that is not only aesthetically unique but also incredibly durable.
The dial features a gorgeous gradient blue hue, giving it a sense of depth and dimension that is hard to match – the pastel colors of the entire range are very in vogue at the moment.
Super-LumiNova baton hands and geometrically-simple hour markers pull the otherwise flashy colored dial back into a 'safe zone', stylistically speaking. The watch is powered by the reliable Oris 733 automatic movement, with a power reserve of up to 38 hours, and is water resistant up to 100 meters, which is just enough for a spot of fun diving.
I love the layout of this piece – every part compliments the bit next to it perfectly, leaving nothing unsaid in terms of design and proportions. With its vintage-inspired design and modern color scheme, the Oris Divers Sixty-Five Bronze is a must-have for any watch enthusiast looking to make a statement in a classy way.
Although this watch is designed to meet the demands of pilots, due to its strong emphasis on functionality and legibility (and a 100-meter water resistance rating), it just so happens to meet the demands of divers, too!
This Hamilton exudes a bold and rugged aesthetic with a calf leather strap that complements the 38mm stainless steel case, and a black dial features cathedral hands and a faux patina that creates an altogether vintage aesthetic. Ample juice is provided by an accurate quartz movement, which guarantees precision timing for any individual, be they in the air or underwater.
The sapphire crystal is scratch-resistant, providing long-lasting durability, and overall, the Hamilton Khaki Aviation Pilot Pioneer is a great choice for old souls with a middling budget. It sure doesn't feel like a watch that costs less than $1000, and that is perhaps its greatest draw.
Christopher Ward C60 Trident Pro 300
The Christopher Ward C60 is, for a fair price, a true diver's watch that exudes quality craftsmanship and refined style. Featuring a modern, jet black dial, this watch is designed for frolicking in the depths, with a water resistance rating of 300 meters. Crafted with premium materials, including a marine-grade stainless steel case and sapphire crystal glass, the Trident Pro ensures that it can withstand the toughest underwater conditions.
Powered by a Swiss-made automatic movement, this piece delivers spot-on timekeeping at all depths. Whether you're a professional diver or simply enjoy a clean, sporty timepiece, the C60 Trident Pro 300 is an excellent choice for those seeking both style and function in a dive watch.
Yema Pearldiver (ref. YCL1-MRM)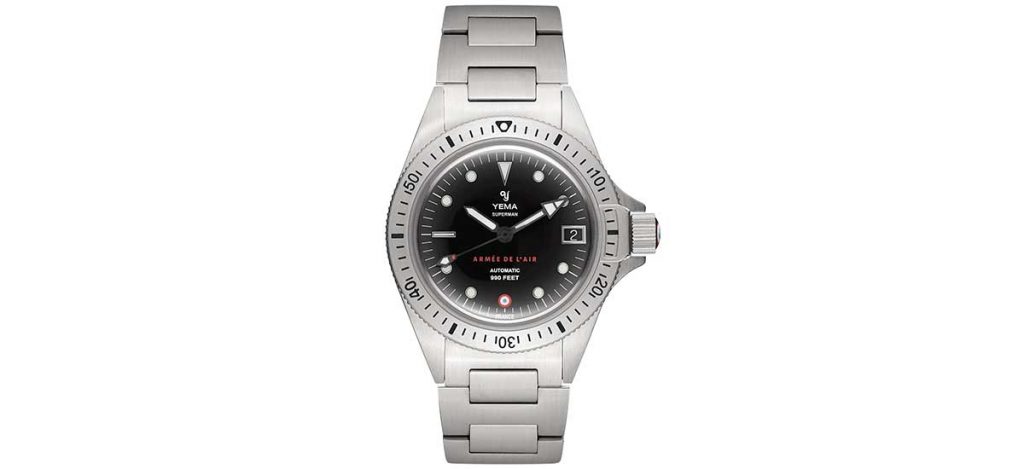 Ah, the Yema Pearldiver… what a wonderfully simple watch. This French-made piece is crafted with precision and panache and features a 38mm stainless steel case that's water-resistant up to 300m. The black aluminum rotating bezel is just as minimal as the dial, which uses luminescent indices to add deft shapes of color to the landscape.
Meanwhile, the 3.5mm Hesalite Superdome sapphire crystal provides all the strength you'd need above the watch face. The Pearldiver also features a screw-down crown and caseback, adding an extra layer of protection for its YEMA2000 in-house caliber.
Overall, this is an excellent choice for any diver or watch enthusiast looking for a high-quality timepiece that can handle anything the ocean throws its way. Bonus points for being an independent manufacturer that's competing with massive brands.
Squale Montauk 300 (ref. MTK-01)
If you're into vintage dive watches but find the Hamilton to lack a degree of masculinity, the Squale Montauk 300 is the watch for you. With its timeless design, this is a stark representation of the neo-vintage ethos. But don't be fooled by its stylish exterior because beneath the surface lies an impressive array of technical features that make it a reliable and high-performing dive watch.
Crafted from premium materials, the Squale Montauk 300 boasts a water resistance of up to 300 meters – it's not playing any games on or under the dial. It also features a unidirectional bezel and luminous markers for legibility in the gloomy, spooky innards of a sunken shipwreck.
But what really levels this watch up is its Swiss-made Sellita self-winding movement, which ensures absolute precision tick-tockery. Whether you're exploring the depths of the ocean or simply fancying a vintage look that you can rely on, this Squale has got you covered.
Seiko Prospex SNE575
Another entry from the land of the rising sun, Seiko's Prospex SNE575, is a timepiece that showcases the brand's commitment to high-performance dive watches. As much is made apparent by the presence of the PADI logo on the black dial. With a hardy stainless steel case and bracelet, this watch is built to withstand the rigors of diving to depths of up to 200 meters.
Large, easy-to-read hour markers and bold hands keep legibility at a maximum while blithe bits of blue bring a touch of intrigue to the party. The bezel is unidirectional and has a prominent (and satisfying) click for precise timing.
Seiko's reliable solar-powered movement keeps the show going without the need for a battery change, and a date display at 3 o'clock completes the functionality of this impressive timepiece. As it doesn't feel dainty in the slightest, the SNE575 is a perfect choice for anyone looking for a rugged and weighty dive watch that screams 'Japanese Design'.
Nivada Grenchen Broad Arrow Manual (ref. 86007M)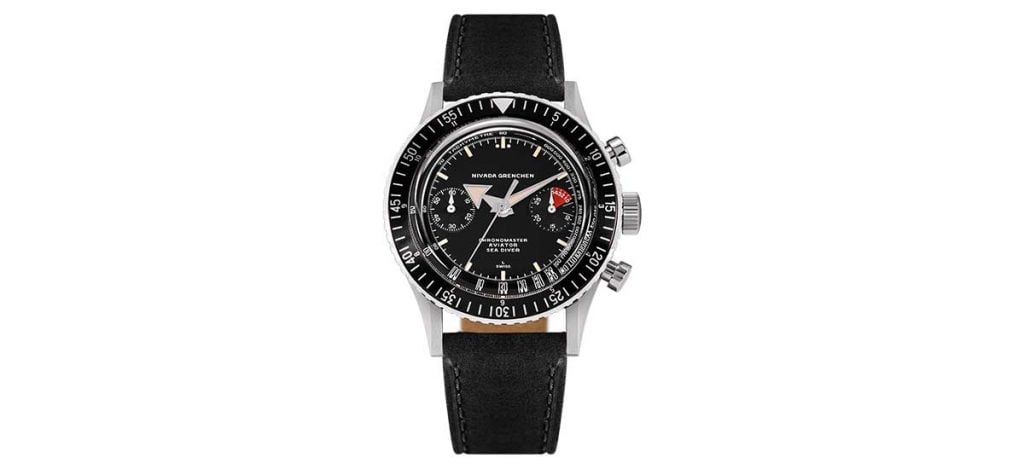 With vintage looks wrapped around a movement that pretty much does it all, the Nivada Gretchen Broad Arrow is quite a piece of work. Due to its iconic "Broad Arrow" hands and antiquated aesthetic, this watch captures the essence of mid-century dive watches and throws in chronograph functionality for good measure.
The 38mm stainless steel case is water-resistant up to 200 meters, a specification that is to be assumed from just looking at the sturdiness of the piece. A splash of red on the otherwise all-black dial adds to the instrument-leaning appearance of this tool watch in a subtle yet distinctive manner.
Available with manually or automatically wound Sellita movements, the Broad Arrow can be as versatile as you need. Further customizations are available in terms of straps, but in all honesty, a basic black leather really makes this timepiece sing. If it ain't broke…
Seiko SKX013
If we're talking about legends in the watch game, one would be remiss in not mentioning Seiko's beloved SKX007. However, at 42mm, that's a watch slightly too big for this list, but thankfully, there's a miniature version – the Seiko SKX013.
With many of the same characteristics and build elements, the SKX013 features a stainless steel case, a black rotating bezel, and a black dial with large, easy-to-read hour markers and hands. There's also day-date functionality on the face, a feature that is hard to find on a dive watch. The SKX013's automatic movement is really what you're paying for – a machine that will work for you without complaint for the rest of your life, as Seiko's calibers are known to do.
With its compact size of 38mm, the SKX013 is perfect for those who prefer a smaller, more understated dive watch without sacrificing performance. Tried and tested design ideals also ensure your watch maintains a timeless appeal. This isn't just the smart choice for someone with a small budget. It's a smart choice, period.
Helson Shark Diver 38 Blasted Titanium (ref. SD38 TALBKOM)
The Helson Shark Diver is a masterful example of a robust, modern dive watch. Its build quality is apparent at only a glance, and of course, a titanium case speaks for itself in that regard. While the Diver 38 Blasted Titanium is available in multiple configurations, I find the simple black dial/black ceramic bezel option to be the most attractive – tradition meets power.
Adorned with lume-filled markers and large, sharp hands, it's as easy to read as a watch can be, and touches of color enhance this feature. Miyota's 9015 Automatic movement runs the show here, so you can expect reliable Japanese precision at every tick. If you remain unconvinced, perhaps the 300-meter water resistance rating will tip the scales in favor of this underrated diver.
Armida A1 38mm (ref. 00061)
Relatively unknown among many enthusiasts, Armida is a dive watch specialist that manufactures its timepieces in Hong Kong, and their A1 model is a distillation of the modern dive watch in multiple ways. A stainless steel case, black dial, large lume patches, and vibrant additions of color are combined to make an altogether inoffensive watch.
The exclusion of a date window is a step away from distractions of any kind – this is a simple watch that does the difficult job of keeping time at 300 meters below sea level. The A1's look is decidedly modern, with bold edges and a brushed finish that speaks to its tool-headed nature. The only gripe I have with this timepiece is its considerate thickness.
At 15.5mm, this will always feel slightly bigger than 38mm. The consolation, as many of you will know, is that thickness correlates with strength, thus proving the A1's diver qualities. I'd say for $449, this is a watch worthy of the depths at which it is most comfortable.
Vaer D4 Solar Diver 38mm
The Vaer D4 Solar Diver is, much like the Armida, an understated and simple timepiece. Its charm lies in its minimalism, without a doubt. There's no date window – the dial is free from any such gregarious inclusions, to say the least.
The 38mm case is made from surgical-grade stainless steel, ensuring that it can survive the pressures and pleasures of underwater exploration, and the perpetual power of the sun juices the solar movement, filling a decent reserve to ensure that time is kept even in low-light conditions.
The watch features a unidirectional bezel with 120 clicks, providing precise timing capabilities, and the lume on the hands and markers is top-notch, making it easy to read the time even in the darkest environments.
The sapphire crystal is scratch-resistant, adding to the watch's durability. The Vaer D4 Solar Diver 38mm is both functional and fashionable, and for those who like to fly under the radar, it offers a classically uncomplicated look. And at $399, you're really getting some heft for your buck.
Maen Hudson 38 MK4 Midnight
This needs to be said from the outset – the Hudson MK4 is a whole lot of watch for a relatively small cost. Much of the timepiece's up-market appeal is due to its delightful sandblasted dial, a textural element that's not often executed this flawlessly on entry-level watches.
What's more, the depth created by the rehaut here adds a whole new level of dimensionality to the Hudson 38. There's very little not to love about this watch – it's clean, stylish, and very well-built. Smart design choices make this feel like the offspring of a Tudor x Seiko marriage, which no one can be offended by.
With a 38mm stainless steel case that offers up to 200 meters of water resistance beneath a domed sapphire crystal, you can rest assured that the Swiss-made Ronda R-150 movement will stay dry and ticking on time. Although there are multiple strap options, I'm a sucker for the integrated bracelet – strong, comfortable, and virtually seamless.
Victorinox Swiss Army Dive Master 500 (ref. VS 241555.1)
Certainly, the most militaristic-looking watch on this list, the Victorinox Swiss Army Dive Master 500 is an acquired taste. With a water resistance rating of 500 meters, this watch is built to withstand the toughest underwater conditions, and it looks that way too.
A somewhat futuristic design is expressed by the unapologetically edgy bezel, which defines this masculine timepiece. A black striped dial features a round date window at the 3 o'clock position, and the Victorinox logo is proudly located at 12 o'clock inside a secondary dial ring that displays 24-hour indices.
The standard Swiss-made quartz movement doesn't break the mold but will definitely provide enough accuracy for most wearers. Set on a black rubber strap for maximum sportiness, the Dive Master 500 is a unique and functional watch that is a dependable and exciting piece of gear, especially on the right wrist.
Sinn 556i
Sinn describes their 556i as "an elegantly sporty watch", and I can't think of a more astute manner in which to illustrate the character of this timepiece. It's clean, minimal, and, most importantly, in its element in both the open ocean and at company dinners.
The 38.5mm stainless steel case houses a reliable and accurate SW200-1 self-winding movement, with 28 jewels and a stop-second function for complete accuracy when setting the time.
While it may not look like it, the 556i is waterproof and pressure-resistant up to 200 meters, and its simple, numeral-bereft black and white dial is easily legible at darker depths.
Also included is a high-quality stainless steel bracelet, making it an obvious everyday watch. If you're a minimalist or are looking for a dive watch that doesn't look like a dive watch, this is undoubtedly the one for you.
Timex Q Diver Inspired (ref. TW2V00100)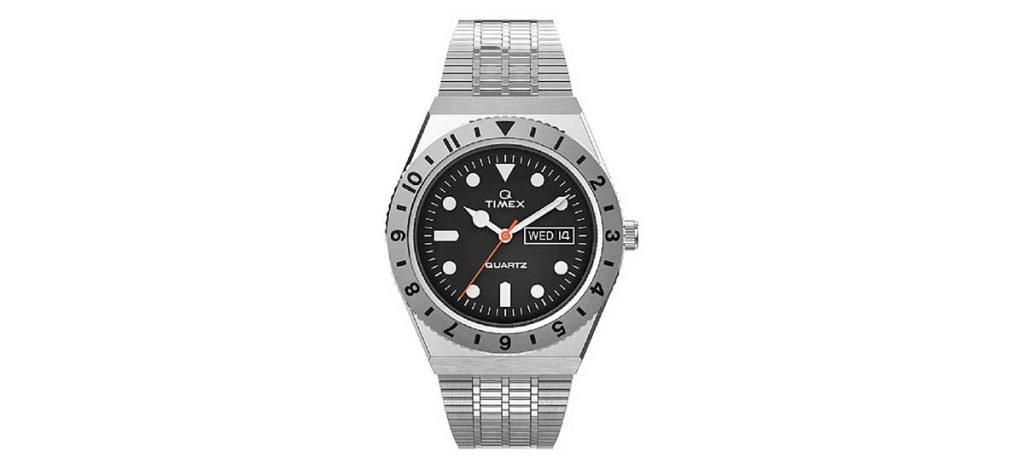 The Timex Q Diver Inspired is a charming, affordable ticker. It knows what it is and, more importantly, what it isn't – it doesn't claim to have a fancy movement or boast lofty specs that it can't live up to. This timepiece is about looks, ease of use, and reliability.
With its California cool-inspired design, it exudes a breezy sensibility through its angular stainless steel case and simple black dial.
The case is accented by a straightforward silver and black rotating bezel, and the face is granted some character by a red seconds hand, adding a sporty touch to the classic design. Luminous hands and markers make it easy to read in any lighting condition, and the comfortable, adjustable bracelet ensures a secure fit during any adventure.
At 38mm, the case size is perfect for those who prefer a smaller and more streamlined dive watch, and the simple quartz movement makes this timepiece as uncomplicated inside as it appears outwardly.
Diving Into A Smaller Fit
If you take anything away from this list, it should be that there's a wide world of 38mm dive watches out there and that, contrary to popular belief, smaller doesn't always mean less. These watches are perfect for those who demand both style and functionality in their timepieces, whether you're a seasoned diver or simply someone who loves the sporty look of a dive watch.
From well-known brands like Seiko and Breitling to lesser-known but equally impressive options like Sinn and Yema, there is a piece for every taste and budget on this list. Choose the one that speaks to you – I guarantee it will be a worthy addition to your collection!