15 BEST Seiko Solar Watches for Men (Handpicked Just For You!)
Quartz watches were watchmaking's crowning achievement when they debuted in the late 1960s. Seiko unveiled their first quartz watch on December 29th, 1969, the Seiko Quartz Astron 35SQ. At the time, it cost 450,000 Japanese Yen, which was as much as some cars at the time.
Today (March 2023), 450,000 JPY is equivalent to 3,300 USD. Even though early quartz watches were the pinnacle of accuracy, and brands charged accordingly, Seiko quickly figured out how to mass-produce quartz watches to make them affordable.
This sparked the quartz crisis, as quartz watches are more durable, accurate, and cheaper to produce and maintain than mechanical watches. From the perspective of practicality, quartz is much better than mechanical. But what if the battery never needed to be changed?
Seiko Solar Quartz: Background and Range of Models
To add to quartz watches existing practicality, Seiko unveiled their first solar-powered quartz watch in 1978, eliminating the pesky battery change every few years. Provided the user could keep the watch in some sort of light regularly, it would run accurately.
Modern solar-powered watches have power save modes that preserve battery life, should the owner stick the timepiece in a drawer for a short while. In their most basic configuration, solar-powered watches operate much like conventional watches. You set the time normally via the crown, and as long as the battery has power, it'll keep time within the tolerances allowed by the movement.
On the other end of the spectrum, there are Seiko's Astron GPS Solar watches, which host a wide range of complications, and sync to GPS signals, allowing to correct any inaccuracies with the movement, ensuring that the watch always displays the correct local time.
Seiko offers a range of solar-powered watches in their current catalog, from very simple and affordable to quite complicated and high-end, and everything in between. The most affordable models will be made with mineral crystals, have a small amount of water resistance, and will only show the time and maybe the date.
As the price increases, features such as titanium cases instead of stainless steel, sapphire crystals, higher water resistance, additional complications, and GPS functionality will enter the picture. In terms of battery life, simple models will run for approximately 10 months on a full charge.
More advanced models will have a power reserve of 6 months. Still, with the addition of a power saving function (similar to a computer's sleep mode), the watch will continue to keep accurate time for 2 years internally. But it will not display any functions until the watch is worn and exposed to light.
Due to the many benefits of solar quartz watches, they have proven popular with many consumers. Seiko has taken this into consideration and offers a wide variety of solar quartz watches and various different prices.
The Best Seiko Solar Watches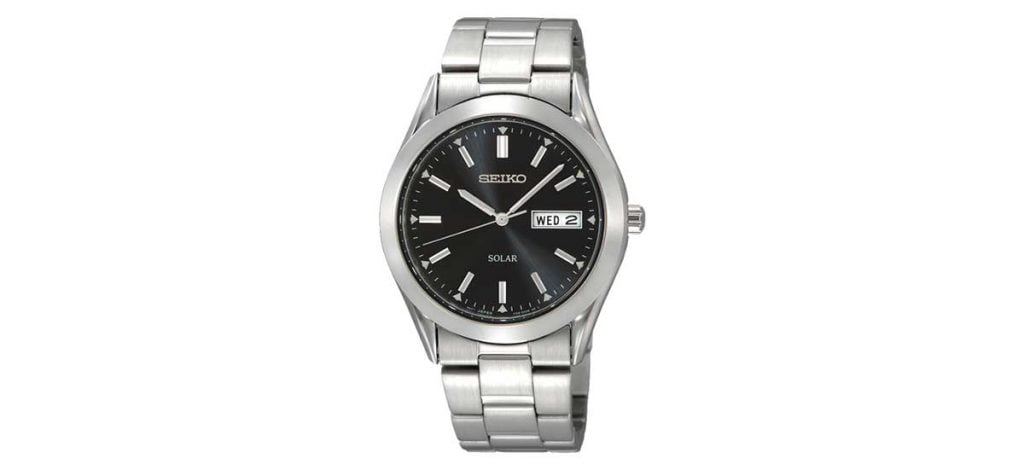 With a retail price of 195 USD, the SNE039 is very much on the affordable end of the spectrum. The splash-resistant rated stainless steel case measures 37.4mm wide and 9.2mm thick and has 20mm lugs. The black dial and lumed hands and indices are covered by a Hardlex crystal.
The V158 Solar movement inside is rated to +/- 15 seconds per month and has a 10-month power reserve when fully charged. The movement also features a day/date display and has a function that prevents overcharging of the battery. While the style of the watch is versatile, the limited water resistance limits this watch to desk duty. If hassle-free and unobtrusive are the order, the SNE039 will be a great fit.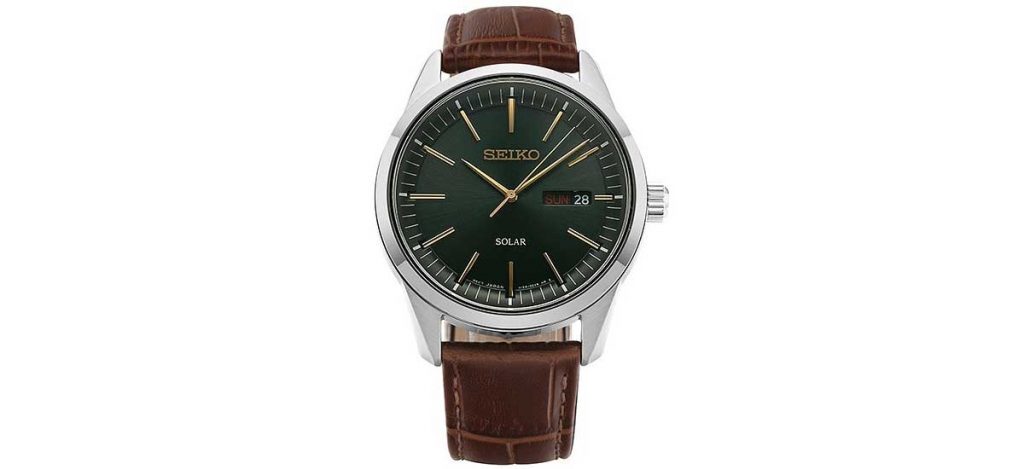 The SNE529 has the same V158 movement inside, but the finishing on the 40mm wide case is much improved. There are contrasting brushed and polished sections on the case and bezel, and the sunburst green dial with gold indices is covered by a sapphire crystal.
The 20mm wide brown leather strap may indicate more dressy attire, but a strap change will make this watch more water worthy with its 100 meters of water resistance. These upgrades do increase the cost to 240 USD, but they do make the watch very suitable for everyday wear. The SNE529 makes for a worry-free ownership experience.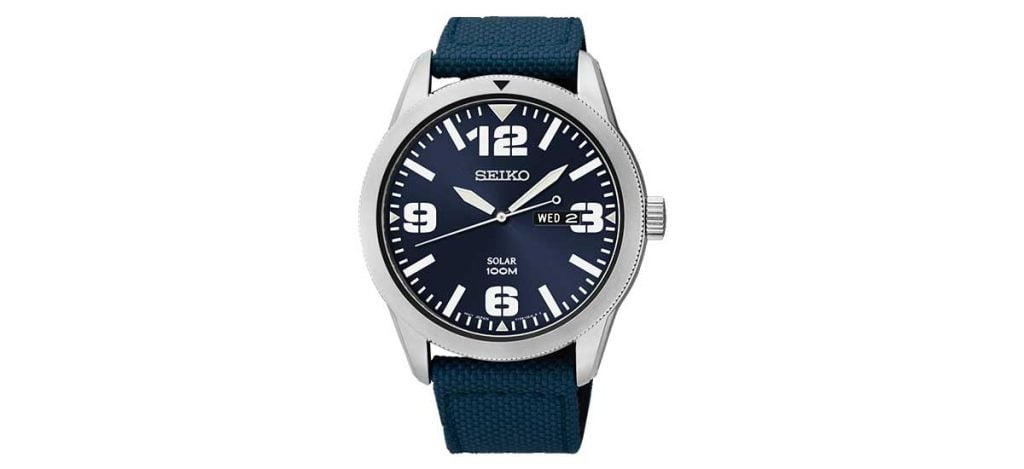 If dress watches are not the desired style, the SNE329 may be a better fit. At 195 USD, the blue pilot-inspired dial with lumed hands and indices is covered with a Hardlex crystal, but the sporting design is backed up with 100 meters of water resistance.
Significantly larger, the 43mm wide stainless steel case comes with the V158 movement inside and is attached to a blue nylon strap. The SNE329 is casual and bold and will definitely be more of a statement on the wrist.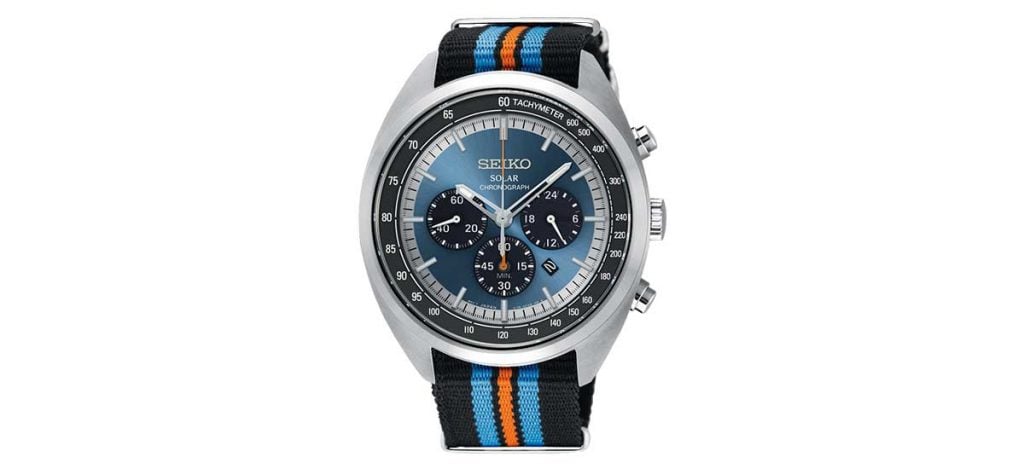 Part of the Recraft series, the SSC667 is inspired by Seiko designs from the 1960s and 70s. The case design and blue and orange color scheme is indicative of the era, inspiring notions of motorsport ambitions. The V175 movement is rated to +/-15 seconds per month.
It features a 60-minute chronograph, 24-hour indication, and date display. The battery will last up to 6 months when fully charged and includes an overcharge prevention feature. The sunray-finished bright blue dial and tachymeter are covered by a Hardlex crystal.
The 43.6mm wide case is 12.2mm thick, has 100 meters of water resistance, and the nylon strap measures 22mm wide. The 350 USD retail price is largely due to the added complication of the chronograph. Seiko's solar-powered chronographs have been an enthusiast favorite, as they offer a reliable and affordable way to add a chronograph to the collection.
Many collectors focus on sports watches but realize that their favorite dive watch is not always appropriate. If the need for a true dress watch is a rare occasion, a solar-powered dress watch is a great solution. The long power reserve and lower cost compared to a mechanical watch make these watches easy to wear whenever needed.
The SUP880 is powered by the V115 movement, displaying only the time, and has a 12-month power reserve when fully charged. Measuring 28.4mm wide and 6.1mm thick, the dimensions may seem small, but rectangular watches wear larger than their dimensions suggest.
The Hardlex crystal and splash-resistant rating may not put this watch in consideration for one of the most durable, but it should still be able to handle a formal evening out. The SUP880 has a retail price of 195 USD.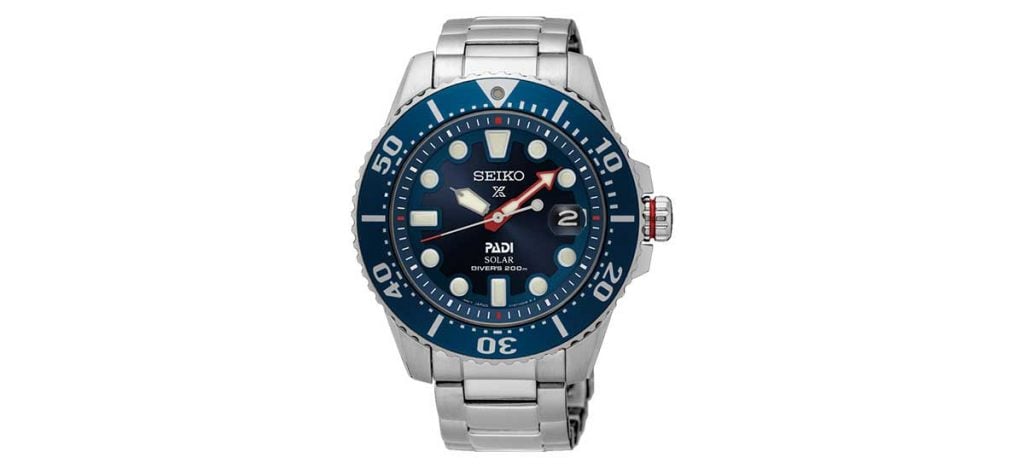 The convenience of a solar quartz watch still applies to sports watches. While mechanical movements are fascinating and charismatic, solar quartz watches allow for a low-maintenance user experience. The SNE549 is a PADI Special Edition dive watch that measures 43.5mm wide and 11.6mm thick, with a 20mm wide bracelet. The Hardlex crystal may be preferred in this context, as it is less prone to shattering than sapphire.
Inside is the V157 movement, which adds a quick start function, which starts the watch after the battery has been depleted, and the seconds hand will move every two seconds. With 200 meters of water resistance and a unidirectional bezel, the SNE549 is an ISO-certified dive watch, ready for water adventures. The SNE549 retails for 395 USD and provides a great affordable, low-maintenance option for a dive watch.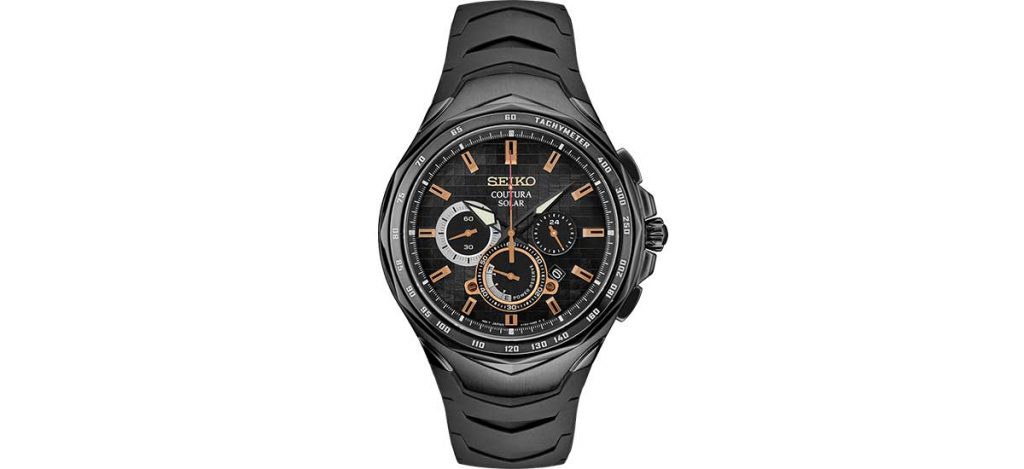 Coming from Seiko's Coutura collection, the SSC811 is one of Seiko's boldest designs. The large 45.5mm wide case measures 56mm lug to lug and 12.3mm thick. The stainless steel case is colored black with a hard coating, and the textured black dial with rose gold accents is covered by a sapphire crystal.
Inside is the V192 movement, which offers accuracy rated to +/-15 seconds per month, a 6-month power reserve, a 60-minute chronograph, power reserve indication, date, and 24-hour indication. Backing up the sporting looks of the SSC811 is a water resistance of 100 meters and a screw-down crown.
The silicone strap is integrated into the design, allowing for a cohesive look between the case and strap, but limits strap options to those offered by the brand. The added complications and more premium features increase the retail price to 495 USD, which is still a relatively low price for a reliable watch with a bold contemporary design.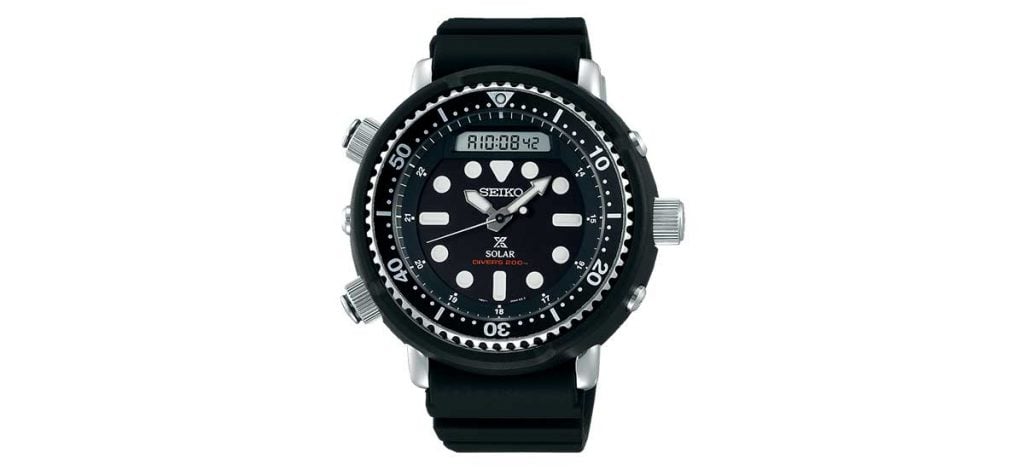 The SNJ025 has been nicknamed "The Arnie" after the watch the famous actor wore in Commando and Predator. This 47.8mm wide watch has a large demeanor to match the famous actor, but a relatively restrained 50.5mm lug-to-lug and 13.8mm thickness allow it to maintain some semblance of wearability.
The SNJ025 is utility focused, with the H851 Ana-digi movement inside. This solar quartz is rated to +/-15 seconds a month, with a 6-month power reserve, and 20 months when in power save mode. The movement functions include a 100-hour chronograph, alarm function, perpetual calendar, low battery warning, and an LED light function for the dial.
Rated to 200 meters of water resistance, and with a unidirectional rotating bezel, screw-down crowns and case back, this dive watch is prepared to deal with whatever can be thrown at it. The Hardlex crystal's improved shatter resistance is preferred in this application over a sapphire crystal. The SNJ025 retails for 525 USD.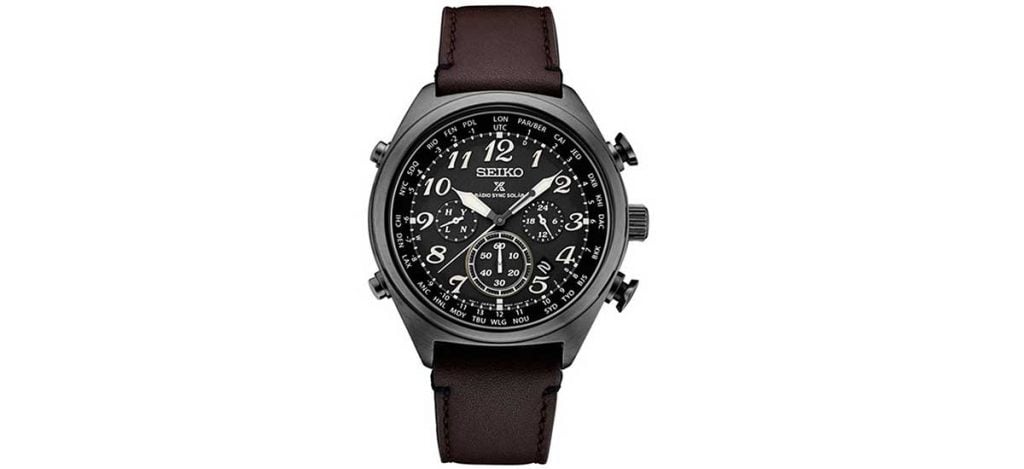 Adding a world time function and radio sync functionality to the previously discussed solar-powered chronograph and date movements, the SSG015 with the 8B92 movement inside ensures accuracy while traveling the globe. The quartz movement alone is more accurate than a mechanical watch, but the radio sync automatically receives radio signals to adjust the time, making certain the accurate time is displayed.
The 45mm wide black coated case measures 13mm thick, 50mm lug to lug, and is rated to 100 meters of water resistance, 13mm thick. The black dial with Breguet-style printed numerals is covered by a Hardlex Crystal. The SSG015 had a retail price of 595 USD but has been discontinued. New old stock and used examples are readily available, with prices varying depending on condition.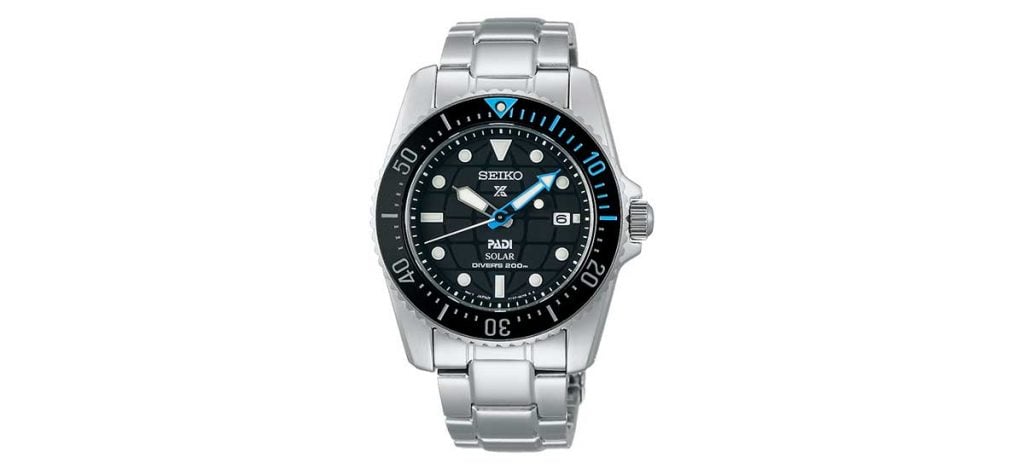 A common complaint of many modern dive watches is their larger size. While larger dials aid in legibility, the case sizes also increase, making them difficult to wear for many people with smaller wrists. Additionally, some buyers prefer a smaller watch. The SNE575 is a PADI special edition dive watch with 200 meters of water resistance, a unidirectional bezel, and a screw-down crown.
The case measures 38.5mm wide, 10.6mm thick, and 46.5mm lug to lug. Behind the dial and sapphire crystal is the V147 movement, with a rated accuracy of +/- 15 seconds per month, a 10-month power reserve, low battery indication, and a date display. While the size is smaller, the SNE575 is no less capable than many other dive watches on the market. The SNE575 retails for 495 USD.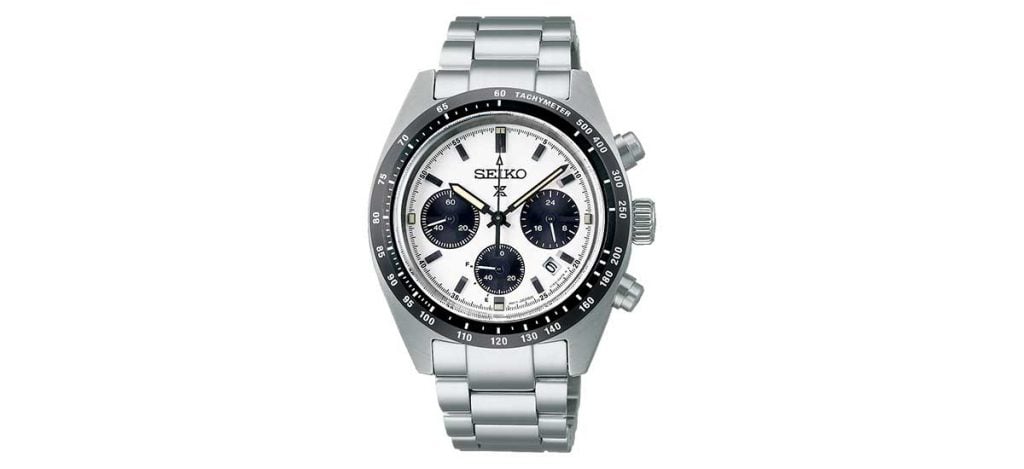 The SSC813 has been a recent fan favorite of the Seiko Prospex Speedtimer collection. With a conventionally sized 39mm wide case and tri-compax dial layout, the SSC813 allows collectors to own a conventional-looking chronograph without the headaches of a vintage mechanical one.
The white dial with dark sub-dials is covered with a curved sapphire crystal. The V192 movement is rated to +/- 15 seconds per month, has a 6-month power reserve, 60-minute chronograph, 24-hour display, and date.
The 100 meters of water resistance will also ensure durability for daily wear. The case measures 13.3mm thick and 45.5mm lug to lug, making it wearable for various buyers. With a retail price of 675 USD, a modern feature set, and good looks, it is easy to see why enthusiasts have been excited about the SSC813.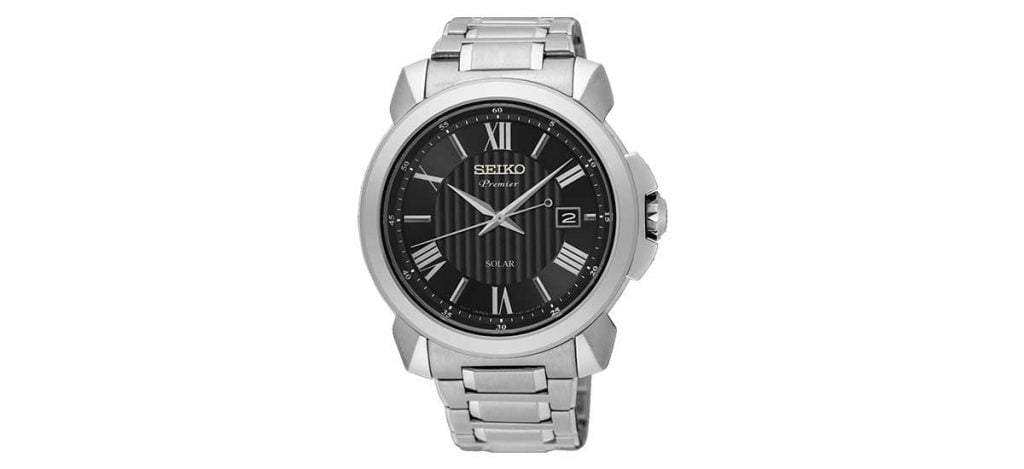 If a bold design without complications is desired, the SNE455 could be a good fit. Measuring 42.9mm wide and 10.99mm thick, the larger case diameter, angular case, and bracelet design will draw attention. Inside is the V157 movement, rated to +/- 15 seconds a month and a 10-month power reserve, with low power indication and date function.
The sapphire crystal and 100 meters of water resistance make this watch more than capable of handling daily wear and can handle light swimming use. The SNE455 retailed for 440 USD but has been discontinued. Fortunately, plenty of used and new old stock examples are available with some light research online.
As a full expression of what Seiko is capable of in solar quartz watches, the SSH065 is part of their higher-end Astron collection. The 42.8mm wide case and 21mm wide bracelet are made from titanium with a super-hard coating. Measuring 14.7mm thick and 50.3mm lug to lug, the watch will wear a little large, but some of the size is due to accommodating the various functions.
The 5X53 movement is a GPS-syncing solar quartz movement, which allows for accurate time display as long as the watch is able to receive a GPS signal. The battery life is rated to 6 months and 2 years while in power save mode. The movement also features a perpetual calendar, world time function, dual time display, day and date display, power reserve indicator, the ability to swap the two time displays, daylight savings time setting, and automatic hand position alignment.
In a way, this could be the ultimate traveler's watch, as it will automatically keep accurate time and display the correct local time anywhere in the world, assuming there is a GPS signal. With 200 meters of water resistance and a sapphire crystal, the SSH065 should be able to handle a wide variety of situations and look good doing it. The SSH065 retails for 2500 USD.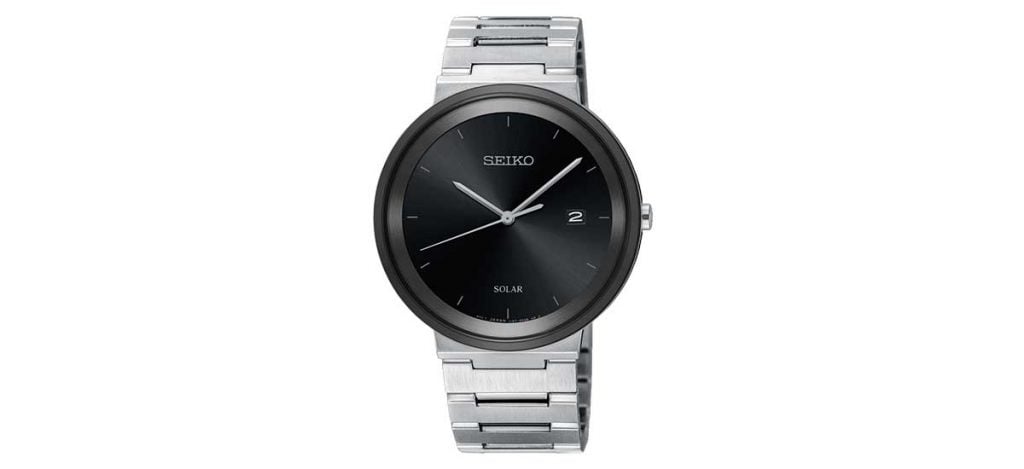 With an integrated bracelet and minimalist dial, the design-oriented look of the SNE479 makes for a striking watch. The 40.1mm wide and 9mm thick case features a hard coating and a Hardlex crystal. Inside is the V157 solar movement seen before.
While the hard coating will protect the case and bracelet from small scratches that result from daily wear, the watch is only splash resistant, making it unsuitable for sporting activities. However, the bold look of the large minimalist black dial and integrated design can handle a night out. The SNE479 retails for 250 USD, leaving room for another round.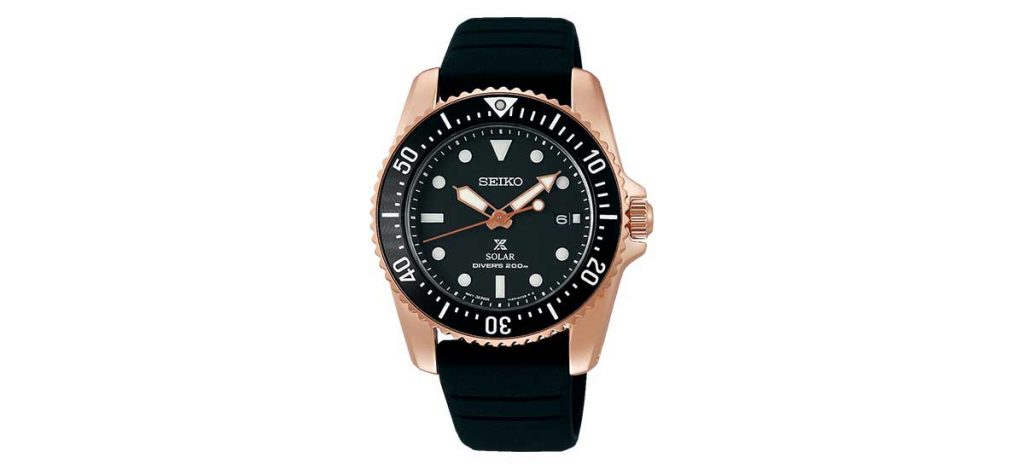 Should the SNE575 be a bit bland, the SNE586 offers a more contemporary and bold take on the smaller dive watch. Featuring the same case dimensions and features as the SNE575, the change to the rose gold plated case, and a black silicone strap to match the black dial and bezel make the SNE586 more fashion-forward.
While the look is more daring, it is no less capable than the SNE575, maintaining 200 meters of water resistance and a sapphire crystal. The SNE586 has the same retail price of 495 USD, making the decision between the two a matter of aesthetic preference rather than differences in specifications.
Conclusion
Seiko's development of their own solar quartz technology has allowed them to create a wide variety of watches for a wide variety of buyers. With long power reserves, no need to change batteries, and great accuracy, solar-powered quartz watches have many benefits.
Should the worry-free ownership experience be appealing, Seiko undoubtedly makes a watch that will suit any desired needs. These 15 watches offer a brief overview of the Men's models Seiko has available.
About Exquisite Timepieces
Established in 1998, Exquisite Timepieces is your one-stop shop for all things luxury watches! We are an authorized dealer for 60+ luxury watch brands including Omega, Hublot, Seiko, & Longines! We are proud to showcase one of the world's largest pre-owned watch collections, including renowned brands like Rolex and Patek Philippe. Check out our brand new watch arrivals here and popular pre-owned listings here.