15 BEST Omega Watches for 2023 (Divers, Chronographs, Etc.)
Omega is a Goliath in the world of precision watchmaking. The brand's pioneering spirit has made it one of the most loved and historically significant brands. The journey Omega has taken to simply tell the time accurately cannot be compared to any other; they are true innovators with a large and meaningful collection.
History of Omega Watches
A pursuit of accuracy and precision, founded by Louis Brandt as La Generale Watch Co in 1848 in a family-owned villa located in the small Swiss village La Chaux, the company we now know as Omega was only ever dubbed Omega after its second generation of family watchmakers took over in 1879. The Brant Brothers, in 1894, revolutionized watchmaking with the launch of the 19-Linge Calibre, an extremely accurate movement that could be serviced easily by any watchmaker.
Bringing us groundbreaking technology by combining the winding and setting of the time via the stem and crown, the Brant Brothers crowned this achievement "Omega", a name they deemed to signify ultimate accomplishment. Through this movement's huge success and provenance, the company was later renamed Omega Watches and Co and shortened by 1903 to Omega.
Timekeeper of the Olympic Games
In 1931, Omega set precision records in all 6 trials at the Geneva Observatory. Its commitment to record-breaking precision caught the attention of the Olympic committee, so since 1932 Omega has been the Official Timekeeper of 30 Olympic games.
Military Heritage
Between 1940 and 1945, Omega delivered over 110,000 timepieces to the British MOD, trusted for their water resistance, shock resistance, and anti-magnetism. In 1948, to celebrate 100 years of Omega, we were introduced to the first Seamster model to commemorate their military history in making reliable water-resistant tool watches that were increasingly in demand from the consumer market.
First Constellation
By 1952 Omega launched the Constellation, named after the medallion engraved on its case back, displaying the Geneva Observatory surrounded by 8 stars, paying homage to Omega's 8 record-breaking exploits in chronometric precision. This model was later followed by the Deville and the Ladymatic, expanding on their line of dressier offerings.
1957 Trilogy
In 1957, Omega expanded its collection with a trio of professional watches, each positioned to conquer its domain. The Seamaster 300 for diving deeper, the Railmaster for supreme anti-magnetism (being able to withstand an industry first of 1000 gauss), and the Speedmaster with the now legendary Lemania-based Calibre-321 chronograph movement for racing.
The Moonwatch
In the early 1960s, NASA launched the Apollo Project; they also set out to find a watch capable of withstanding the elements of space exploration, testing them to the point of destruction. Omega, Rolex, Longines, and Hamilton each submitted a watch.
But Omega's Speedmaster was the only one that survived and was certified by NASA for all manned space missions and extravehicular activity in 1965. It is still today the only watch with such an achievement.
The Speedmaster Professional would become the first watch worn on the moon in 1969 during the Apollo 11 mission, forever dubbed "the Moonwatch". In 1970 during the Apollo 13 mission, a stranded crew equipped with Speedmasters were able to successfully time a manual 14-second engine burn to correctly align their damaged spacecraft into the earth's atmosphere and bring them back home safely.
To show Omega gratitude for its contributions to the success of its human space flight missions and the triumphant return of the Apollo 13 crew, NASA presented Omega with the Silver Snoopy Award in 1970, representing the highest distinction awarded by NASA Astronauts.
Co-Axial Escapement
In 1993 Omega purchased a patent for the Co-Axial escapement, the first practical mechanical escapement introduced in 250 years. Invented by English watchmaker George Daniels in 1976, the Co-Axial escapement reduces friction in the movement, a common issue in the traditionally used Swiss Lever Escapement.
By 1999, Omega was finally able to adapt a movement to the Co-Axial Escapement, making the Calibre-2500 available. In 2013 Omega launched the Co-Axial-8508, the first truly antimagnetic movement. Capable of withstanding over 15,000 gausses through the use of non-ferromagnetic materials.
The movement itself resists magnetism; it saw no need for a protective inner case, allowing for date windows and a transparent case back. This technology paved the way for a new watch certification process in 2015, the METAS Certification.
Passing a series of 8 independent tests and performing within the parameters set by COSC, Omega now qualifies its timepieces as Master Chronometers. The key attribute of the METAS Chronometer Certification is that it ensures testing of magnetic fields up to 15,000 gausses, establishing a new quality standard within the watch industry.
James Bond
In 2021, Omega hit the silver screen for the 9th time, co-starring with the world's favorite spy, James Bond, in No Time To Die. Unlike many other Bond Seamasters, this watch took inspiration from Daniel Craig's personal feedback on what would become the ultimate tool Seamaster, with a penchant for style.
What Is the Status of Omega Today
Omega's competitive price point and better availability in the luxury watch segment generally allow us to position it as a healthier alternative to Rolex's offerings. The main sticking point in the future will undoubtedly favor its recent forays in technical advancements and accuracy certifications, rendering Rolex's current spec sheet inferior.
Omega's status today is that of a seasoned high, pedigree watchmaker, with currently the most diverse offerings. In unrestrained fashion, it has proved to be continually innovative and stays true to its values in delivering the industry's finest accuracy, precision, and robustness.
Its collection continues to be driven forward into the future of high watchmaking, with its own unique design language, case materials, and complications brands such as Rolex are not daring enough to challenge.
The Best Omega Chronograph Watches
For anyone who has racing in their hearts, a passion for humankind's exploits in space travel, or any chronograph complication enthusiast, Omega's chronograph offerings are unparalleled in diversity and history.
Following the launch of the 1957 Speedmaster, a watch initially intended for racing enthusiasts, the Speedmaster went on to conquer timekeeping in space as we know it today. Such accolades and watchmaking prowess have enabled Omega to release many diverse chronograph models, each with a different story through its aesthetics, functions, and heritage.
The Speedmaster Professional Moonwatch is arguably the most influential and talked about watch ever made. The only timepiece to be certified by NASA for all manned space missions and extravehicular activity since 1965, this watch was part of the most remarkable journey in the history of all humankind—the journey to the Moon and back.
It shares a remarkable resemblance to its predecessors and introductory models from 1963-1969. This is a huge testament to the legacy of this model, a design language that remains timeless. Due to its long lineage, however, the continued development of this model has seen it lose some of its beloved vintage cues.
In 2021, Omega cleverly revamped the model, re-incorporating collectors' favorite vintage elements and refining the model incrementally. We saw the return of a stepped dial, the dot over 90 on the tachymeter bezel, a revamped bracelet more fitting to its original aesthetic that rolls on the wrist better and tapers beautifully, and a new still 42mm case that's half a millimeter thinner and a millimeter shorter to give us a better wearing experience.
The most significant overhaul is in its movement, the 3861, a METAS Certified Master Chronometer manual-wind chronograph movement, now with a Co-Axial escapement and 50-hour power reserve.
Like previous models, it is offered with a Hesalite crystal or a sapphire crystal with a sapphire caseback. The Hesalite models are equipped with a nylon fabric strap ($6,300) or a thoroughly brushed stainless steel bracelet ($6,600). The sapphire models either come with a leather strap ($7,200) or with a brushed and polished stainless steel bracelet ($7,600).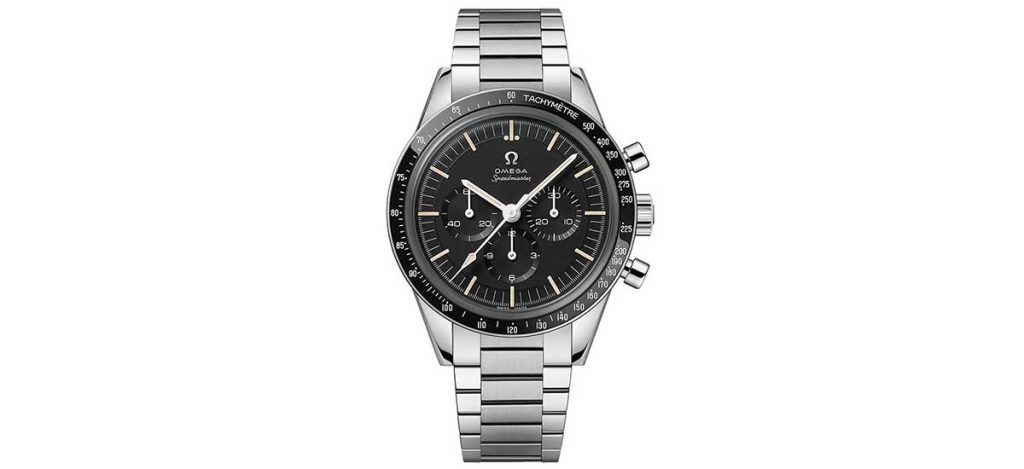 The Speedmaster Caliber-321, also known as "the Ed White Speedmaster", is a 2019 re-issue of the 3rd generation Speedmaster, the watch worn by Ed White during America's first-ever spacewalk in 1965. This model brings back the legendary Caliber-321, an essential part of the Speedmaster's original history.
Inspired by the incredible Lemania-2310, the fabled Calibre-321, was the first movement certified by NASA for all manned space missions and extravehicular activity in 1965. It later powered all Speedmasters worn during the Apollo missions, including all six moon landings.
The Calibre-321 is so unique that Omega produces it separately from all its other calibers, except the tourbillions. It is put together in a special Atelier by Omega's master watchmakers, each caliber assembled and regulated by the same person using a two-fold assembly method.
These manufacturing characteristics have made the Calibre-321 very limited in production numbers. At $14,600, its retail price is similar to that of a stainless steel Rolex Daytona. Its classical crown-guard-less case of 39.7mm makes for a more elegant wearing experience than the Professional Speedmaster.
It has a ceramic bezel, a laser-etched Omega logo on the sapphire crystal, galvanized dial, and a legendary and visually beautiful Sedna Gold plated movement. This is a special Speedmaster for the price of a regular Daytona.
This year marks the 10th anniversary of the sensational Speedmaster Dark Side of the Moon, originally launched in Baselworld 2013. The first official all-black Speedmaster, a huge deal for us fanboys, is a progressive model of the Speedmaster Co-Axial Calibre-9300 Chronograph launched in 2011.
A non-Professional model for those who love the NASA heritage, cult status, and design of the original; but require the practicality of a date window, a timezone function, and a 60-hour power-reserve automatic movement.
It has a twin register sub-dial layout rather than the Professional's triple, preserving the same functions and delivering an uncluttered aesthetic. The Dark Side of the Moon's 44.25mm case is crafted from a single block of zirconium oxide ceramic, the dial, pushers, and pin buckle are also made to match. The ceramic case has satin-brushed and polished facets just like its steel compatriot.
Despite its larger size and thickness of 16.2mm, it is a fairly light and wearable watch due to its ceramic construction, calfskin/textile strap, and 49.7mm lug-to-lug distance. It originally retailed for $12,000, nearly double the professional model, yet worthwhile to many collectors for its entirely new novelty within the Speedmaster lineage.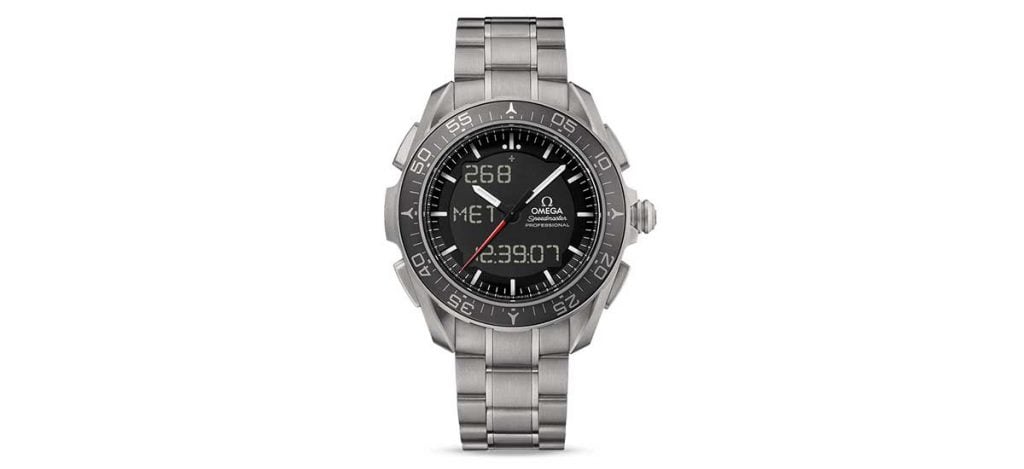 A call to the 21st century and development in the realm of quartz and digital technology saw Omega broaden its timekeeping capabilities with the launch of the X-33. First introduced as "the Mars watch", the 2019 Speedmaster Skywalker X-33 in its third iteration is still used today.
Developed, tested, and qualified by the European Space Agency, it is the preferred choice for NASA Astronauts and cosmonauts for onboard activities on the International Space Station. The Speedmaster Skywalker X33, fashioned in Grade-2 Titanium with a ceramic bezel inlay, is an all-out industrial design taking the Moonwatch into the modern era.
Its dial features analog hands and LCD windows, with a large case size of 45mm for easy readability and legibility. The X-33 displays 3 different time zones, a chronograph, a timer, a Mission Elapsed Timer, a Phase Elapsed Timer, 3 programmable alarms (80 decibels loud), and a perpetual calendar.
Regarding its pricing, it has a retail price of approximately $5,750, but as of writing this article, far less in the secondary market. The X-33 is one exceptional example of a non-mechanical, purpose-derived tool watch that was created for the demands of modern-day astronauts with a raft of functionality that can even be adapted to everyday use on earth.
The Best Omega Dive Watches
Omega's military background during World War II saw massive developments in shock resistance, anti-magnetism, and waterproofness and ushered in a new era of diving timekeeping technology.
This led to the release of the Seamaster in 1948, the Professional Seamaster 300 in 1957, the extreme Ploprof in 1967, the revamped Seamaster Diver 300M in 1993 that became 007's first Seamaster featured in Golden Eye 1995, the dressier Aqua Terra in 2002, and the modernized Planet Ocean in 2005 that pushed the envelope in embracing sporty utility and luxury. Omega now boasts a dive watch collection for every recreational or serious diving need.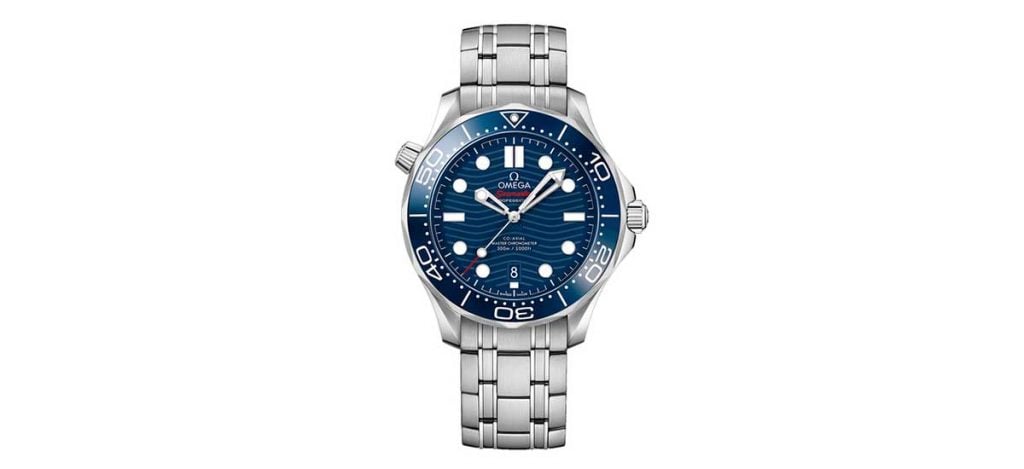 The Seamaster Diver 300M is easily identified by its fans as "the Bond Seamaster". On the silver screen, Omega took charge of its storytelling prowess and showed the world that it was within its ethos to produce a luxury tool watch capable of living up to the style and technical expectations of the world's greatest fictional spy.
Launched in 2018, celebrating its own 25th anniversary, the latest iteration of the Seamaster Diver 300M is now a Co-Axial Master Chronometer using the Calibre-8800, its most significant update that can be seen through the display case back.
This model is currently available in 5 steel variations, including the 'Seaweed' Green model released in 2022. Through its experimentation with ceramic, Omega has pushed its capabilities with the material extensively in the modern era.
The updated ceramic bezel comes with white enamel inlays, the ceramic dial is laser etched with the beloved wave pattern, the skeletonized hands have been updated, the now color-matched date wheel has been moved to 6 o'clock giving more symmetry to the dial, the case size has increased to 42mm making it more legible, the iconic turned lugs remain, and there's also an updated cone-shaped helium escape valve.
Priced at $5,300 on a rubber strap and $5,600 on a steel bracelet, it is technically, and qualitatively one of the most advanced dive watches you can buy for under $10,000.
The Seamaster Planet Ocean 600M, with a stainless steel case diameter of 43.5mm and 16.1mm thick, is a beefed-up version of a traditional Seamaster diver 300M, offering twice the depth rating (600m). It pushes the envelope with a heritage-inspired design but is still modern.
Unique to it is the usage of playful 70s colors, with 4 color variants available in steel, featuring heavy or restrained use of orange elements in combination with the primary color. This model offers a black dial made of polished ceramic, with orange Arabic numerals, and a date window at 3 o'clock.
Its black ceramic bezel, for the first time, features a rubberized inlay on the first 15 minutes of the diving scale; the rest is filled with Omega's Liquidmetal. The release of this third-generation Planet Ocean 600m in 2016 made it one of the first models to receive the amazing Co-Axial Master Chronometer Calibre-8800 movement.
At the time, this showed Omega's commitment to pushing the boundaries of luxury sports utility and innovation with this model, the Planet Ocean's mission statement, ever since. It is priced at $6,700 on a bracelet and $6,450 on a rubber strap.
Omega Seamaster Diver 300M "No Time To Die" (ref. 210.90.42.20.01.001)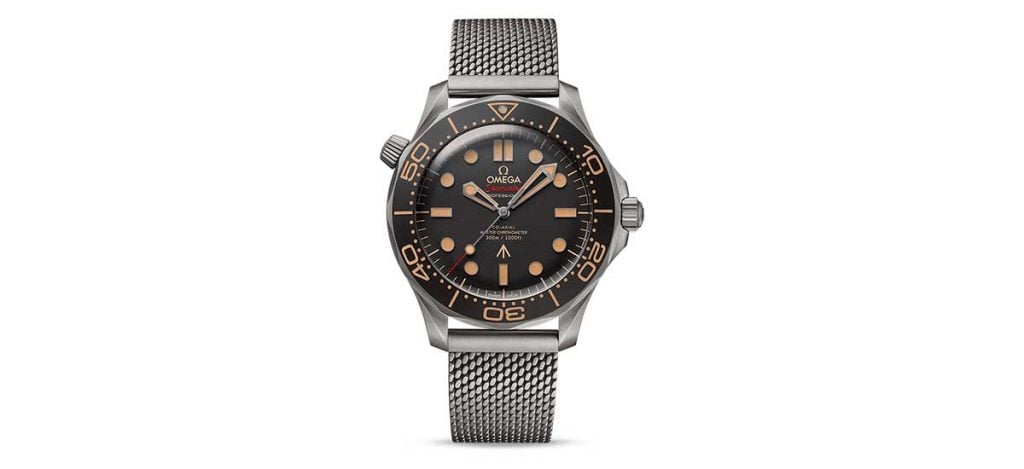 Through Omega's pursuit to create the ultimate Bond watch, in 2020, we received the Seamaster Diver 300M No Time To Die Special Edition. Designed with personal feedback from actor Daniel Craig, who plays James Bond in the 2021 movie No Time To Die.
Made lighter and tougher for Bond in his action-packed missions, much like a stripped-down 911 GT3 RS built for blitzing the Nurburgring, the Seamaster No Time To Die features a 42mm case and bracelet fashioned in lightweight Grade-2 titanium.
It is stripped of the date complication, giving a serious tool watch aesthetic, and made slimmer with the removal of its transparent case back, replaced by one engraved with the 007 and broad-arrow symbol. Less is more here.
The broad arrow marking also finds its way onto the dial to highlight its military inspiration. The dial is sported in rich tropical brown with faux caramel patina on its markers and hands. Paired with a matching lumed anodized aluminum bezel meant to age and wear gracefully with time.
It also features a domed sapphire with a sexy tapering milanese titanium bracelet on a deployant clasp. The whole watch is vintage-inspired but integrated uniquely and beautifully. It is priced at $9,500 on a bracelet and $8,400 on a Bond-style nato.
Omega Seamaster Planet Ocean 6000M (ref. 215.30.46.21.03.001)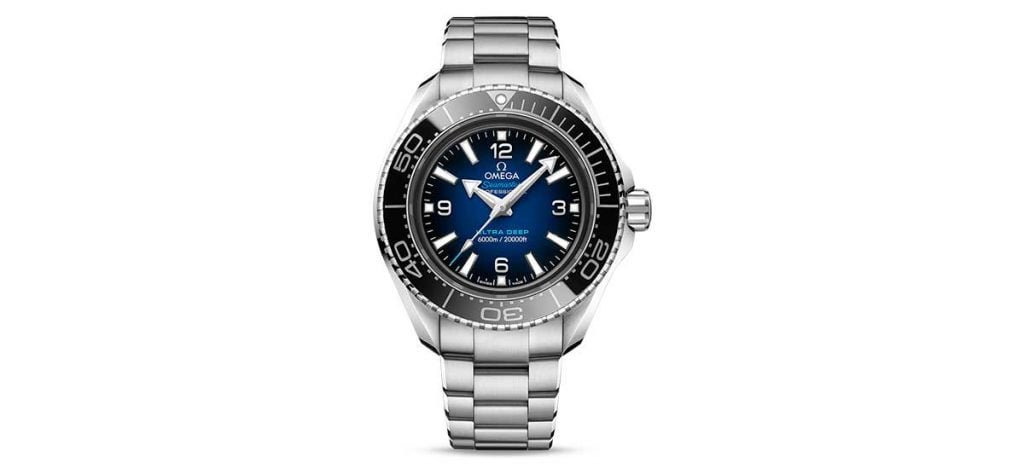 Water resistance is essential and celebrated in watchmaking, especially within sports watch segments. Naturally, brands such as Rolex and Omega have constantly innovated to push these boundaries to broaden and improve their lineup. At the very top of the food chain now sits the Ultradeep, which in 2019 beat Rolex to the bottom of the Mariana Trench, the deepest point in the ocean, by a few meters as part of a challenging expedition of 5 deepest dives.
This was done thanks to Omega's infusion of Liquid Metal technology into the crystal that can endure 22 tons of direct pressure. In 2021, the Planet Ocean 6000M Ultradeep, a commercial model, was finally made available with a water resistance of 6,000 meters; this is now the halo model of Omega's dive watch lineup.
At 45.5mm and 18.1mm thick, it handles its supreme water resistance as gracefully as the technically inferior Rolex Deepsea Sea-Dweller. The Ultradeep is a science experiment in unique proprietary Omega materials. Featuring an O-MEGASTEEL case, black ceramic bezel, diving scale in Liquidmetal, blue to black lacquered gradient dial, 18K white Gold hands and hour markers, and an O-MEGASTEEL patented adjustable dive bracelet.
Housing a Master Chronometer Calibre-8912, the Ultradeep is one of the most hardcore wearable tool watches on offer today. It is priced at $12,000 on a bracelet and $11,700 on a rubber strap.
Best Everyday Omega Watches
From the utilitarian-derived tool watches in the Omega collection, a few models are able to find the sweet spot in the form of versatility in everyday use. The Aqua Terra, Globemaster, and Railmaster are current offerings that thread the fine line of robustness and refinement extremely well.
Born in the 21st century, the Aqua Terra was Omega's take on a less professional, more elegant, refined dive watch aesthetic. For a more sophisticated look, it ditches the diving bezel for a polished one and is attached to a highly polished center flat link bracelet with a butterfly clasp.
The Aqua Terra is now heralded as a versatile daily wearer in the Omega dive watches collection with a great water resistance of 150m. From 2017, the case is now a symmetrical 41mm instead of 41.5mm, and the teak pattern on the dial is now horizontal, more identifiable to wooden decks of luxury sailboats as intended by its designers.
Also, the date window has been moved to 6 o'clock giving more symmetry to the dial. The most significant update is its addition of the METAS Certified Chronometer Calibre-8900 with 60 hours of power reserve, making it a serious contender as a robust, refined, uncompromised daily wearer. Priced at $5,900 on a steel bracelet, $5,700 on rubber, and $5,400 on leather.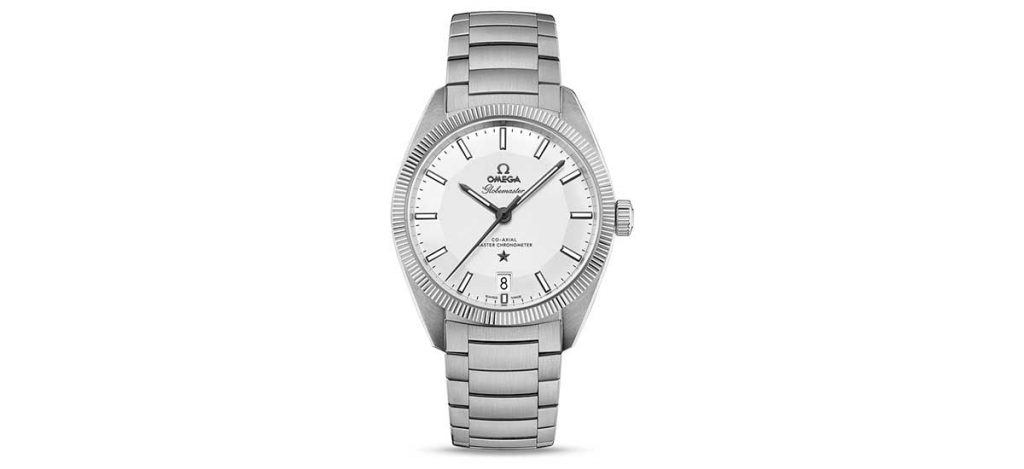 In 2015, Omega chose to launch the Constellation Globemaster and debut its first METAS Certified Master Chronometer, the Calibre-8900. As a successor to the model introduced to celebrate a century of watchmaking by Omega, and a history of housing top-tier movements, the new Globemaster would rewrite the technical script.
With an elegant pie pan dial reminiscent of the 1952 model and a fully brushed modern-vintage sized 39mm diameter by 12.6mm thin case with a steel fluted bezel reminiscent of the Genta designed 70s models, the new marries its vintage aesthetics of different eras to look like a modern, sophisticated everyday watch.
Not forgetting its history, set into its sapphire caseback, is a relief medallion of the Geneva Observatory surrounded by 8 stars. With a 5-pointed star to finish off the dial, its overall design uses a lot of symbolism to tell the story of its achievements within the Omega lineup. Priced at $7,100 on a leather strap and $7,500 on a bracelet, the Globemaster is a tasteful, sporty, and elegant timepiece.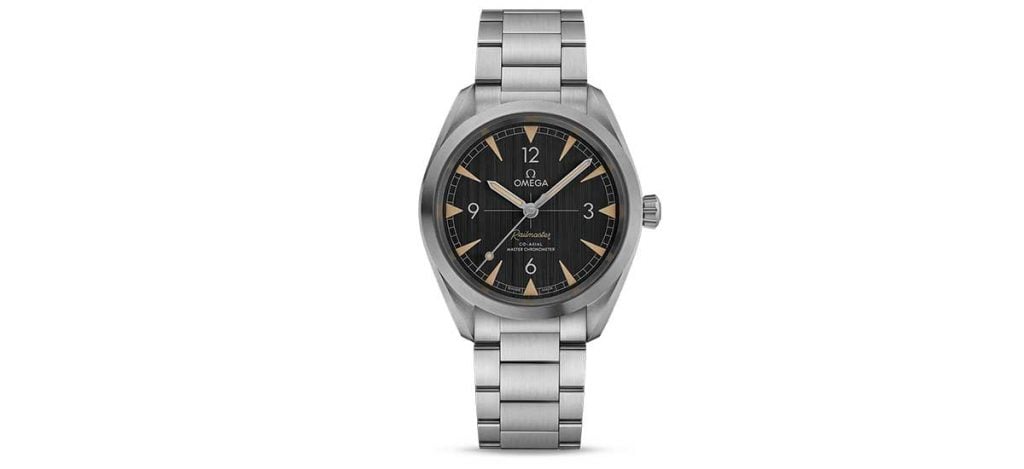 In 2018, we saw the launch of the new Railmaster, a reworked heritage model of the original 1957 Railmaster introduced for railway staff or anyone who worked close to magnetic fields.
Working with a timeless aesthetic, we have a fully brushed stainless steel case and bracelet, a heavily sun-brushed dial offered in black, grey, and denim blue, classic 3-6-9-12 painted markings, cut-out vintage style faux patina indices, and brushed hands to create modern vintage inspired daily wear tool watch.
At 40mm in diameter and 12mm thick, it is overall a universally wearable size. The original Railmaster could reach an industry first of 1000 gauss magnetic fields, and the new one finally gets the METAS Certified Master Chronometer Calibre-8806 able to withstand magnetism of 15,000 gauss.
Technically far superior to the Rolex Milgauss, and with a minimalistic timeless vintage tool watch design, the Railmaster is a tempting tool watch for $5,200 on a bracelet and $4,900 on a strap.
Best Dress Omega Watches
A good dress watch generally sacrifices conventional materials and finishes for a more elegant less-robust representation of a time-telling instrument. Generally, this requires better finishing capabilities and more intricate tolerances, with restraint from industrial design and favoring classical beauty and minimalism.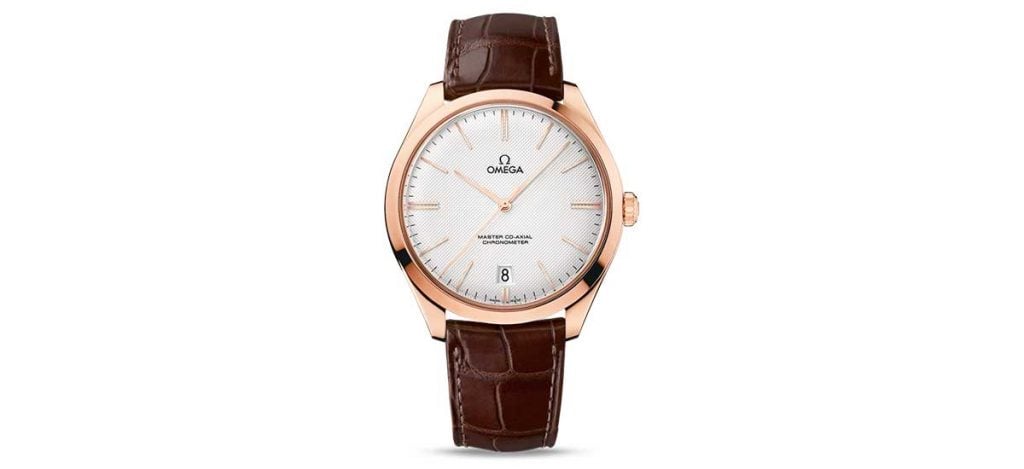 The De Ville Trésor is Omega's relaunch of the original Trésor from 1949 that housed a legendary caliber for the time. The design has been integrated timelessly into the modern age. With a 40mm case size, it wears its past inspiration nicely.
It features a silver opaline dial with a domed vintage clous de Paris structure, a date window positioned at 6 o'clock, gold stick hour indices, and dauphine hands, matching the 10.6mm thin Sedna-Gold case. Overall, it's a design focusing on simple elegance with high-quality watchmaking, finishing, and materials.
Underneath it all is a high-quality movement, the Master Co-Axial Calibre 8511, a manual wind with 60hr power reserve. It is priced at $14,000.
The Omega De Ville Prestige, available since 1994 as Omega's dress watch offering, now with an automatic movement, a power reserve indicator, and a date, is a refined dress watch with a few conveniences. Its movement is the automatic METAS Certified Master Chronometer Calibre-8810.
This 41mm stainless steel model has a domed PVD platinum-gold dial and PVD Sedna-Gold hands with altering Roman numerals and cabochon indexes. At $5,400, with its advanced movement, elegant looks, and dimensions, it is a great offering for a dress watch that follows all the rules.
Special Omega Watches
Omega's thirst for innovation has allowed them to create a few distinctive models with a quirky tool-derived purpose or for the purpose of showing off its ultimate representations in the form of high complications.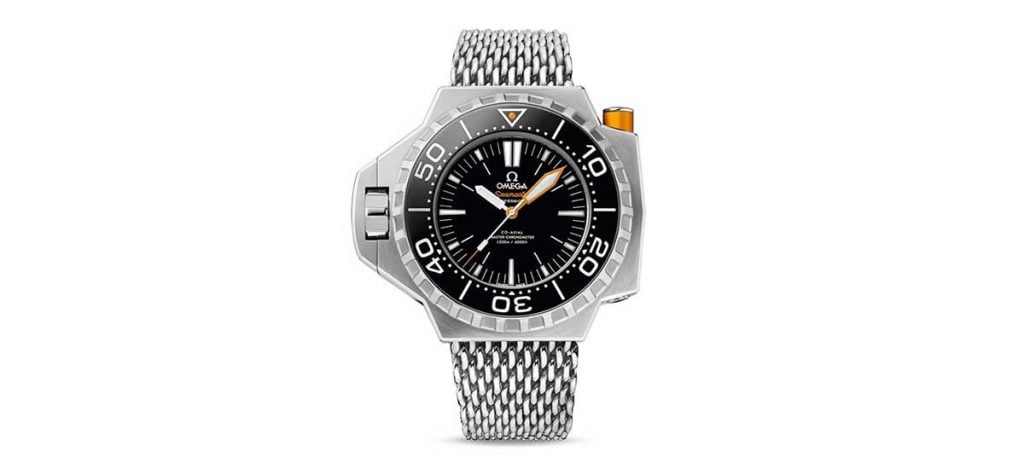 Omega still retains the unique '70s-inspired Ploprof in their dive-watch collection. During its time, the original Ploprof was legendary, utilizing its mono-block case to rival technology like the helium escape valve.
The Seamaster Ploprof 600 had a unique aesthetic reminiscent of its time from 1970, an era for quirky tool-inspired design. It was heralded for being the most robust dive watch on offer, and although its aesthetics have stayed polarizing, it works for being a tough watch developed for and with COMEX divers.
Following its re-launch in 2009 and technology advancing over 40 years, it now utilizes a helium escape valve, making servicing easier. It now features a depth rating of 1200 meters, twice the depth as before, and as of 2015, is offered with a METAS Certified Master Chronometer Calibre-9812.
This model comes with an electric blue ceramic bezel with Super-Luminova markings, a lacquered white dial with orange aluminum and varnished blue hands, a Grade-5 titanium case and clasp, with a Grade-2 titanium polished shark-proof mesh bracelet to make up a fun, retro, and tough dive-watch. It is priced at $12,600.
Omega De Ville Prestige (ref. 434.13.41.21.06.001)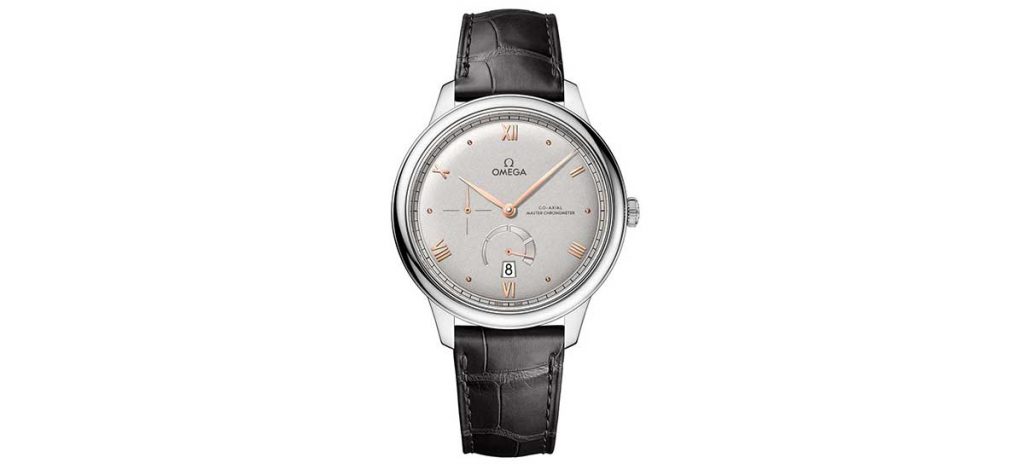 The Omega De Ville Prestige, available since 1994 as Omega's dress watch offering, now with an automatic movement, a power reserve indicator, and a date, is a refined dress watch with a few conveniences. Its movement is the automatic METAS Certified Master Chronometer Calibre-8810.
This 41mm stainless steel model has a domed PVD platinum-gold dial and PVD Sedna-Gold hands with altering Roman numerals and cabochon indexes. At $5,400, with its advanced movement, elegant looks, and dimensions, it is a great offering for a dress watch that follows all the rules.
An achievement in watchmaking can always be celebrated with another achievement that further emphasizes a brand's capabilities. This is the case with the De Ville Tourbillon, with the first-ever manual winding central tourbillon movement to be Master Chronometer Certified.
This watch is an exercise in Omega delivering haute horlogerie level watchmaking, in combination with the robustness of their everyday watches. The best of Omega's proprietary materials are used to match its high complication. Its 43mm case is a blend of Sedna-Gold and Canopus-Gold.
Its Sedna-Gold dial is treated in black PVD, and polished Sedna-Gold indexes and hands are visible. Its seconds hand is set in the tourbillon titanium bridge, giving it a distinctively theatrical, high-complication look. With a Sedna-Gold movement at the back to enjoy, this watch comes with a heavy price tag of $183,500.
Conclusion
With over two centuries of industry-leading watchmaking technology, Omega has maintained a legacy of being the most approachable, illustrious, and trustworthy partner in humanity's pioneering expeditions in outer space, at the deepest point in the ocean, in 30 Olympic Games, and on the silver screen.
A passion for reliable chronometric precision to be used in the real world has created legacies upon which Omega's storied collection is built. Looking into the future, Omega's diverse and legendary collection offers a great platform for evolution and innovation, a timeless luxury that will be enjoyed by its collectors for decades and centuries to come.