The 20 BEST Luxury Sports Watches That You Can Buy in 2023
Sports watches are the epitome of durability, comfort, and elegance.
Whether you want to play a racket game, race at the derby, frolic in a pool or wear your watch every day, luxury sports watches adorn your wrists while you sweat it out. They tell the time with superior accuracy and carry energy-conserving movements that can make or mar victory in particular sporting events.
Regardless of your intentions…
You will surely find a befitting timepiece in our review of the most iconic ultra-luxury to entry-level sports watch collections. No favoritism zone here. Only the best. There are superb options from Swiss to German to Japanese models with incredible complications and prestigious history.
Go through our list of the 20 best luxury watches to see which ones are worth your time, and don't forget to bookmark this to periodically weigh in on your options.
What's A Sport Watch?
A luxury sports watch is a rugged, comfortable timepiece with significant water resistance. There are no dedicated mechanical sports watches, except if you're considering a smartwatch or a digital watch. A sports watch typically has a strong case, significant water resistance, a tachymeter, or a stopwatch (if it's a chronograph). Interestingly, one fits the description – although quartz – and adds a smartphone connectivity function to our list.
Why Choose A Luxury Sports Watch?
As mentioned earlier, luxury sports watches are more than sports-specific. With various features, watch styles, and price points, men are guaranteed to find a watch that fits their preferences, budget, and lifestyle. So whether you enjoy activities like golf, polo, triathlons, or even watersports, get the most out of your day-to-day with a high-end luxury watch.
Unrivaled Accuracy
The best luxury sports watches use movements with certified high accuracy that keeps up with your ever-changing needs. Their movements usually last for at least 40 hours, giving you enough space before the next wind-up or activation. But more specifically, you can expect a sport to be accurate to +2/-2 to around +7/-7 a day.
Durability
A luxury sports watch will have reinforced bracelets and tough casing to repel scratches and jerks from wear. It also offers water resistance to reach great depths during fun activities like scuba diving, swimming, or watersports. Alternatively, even if you don't intend to dive with your sports watch, its corrosion resistance prevents rusting and skin irritation from daily use.
Befitting Straps
Men's sports watches typically have a stainless steel strap to handle rugged use and some comfort. It's a super comfortable material that's unlikely to irritate your skin from extended use. Plus, stainless steel watches are better immune to scratches than gold, are cheaper, and won't draw unwanted attention.
Nonetheless, titanium, a stronger and lighter than strap material than SS, is the ultimate metal sports watch strap (though more expensive). The most notable drawback of the SS strap is that it collects dirt over time. But most sports watch also have the option of a rubber or sailcloth strap that is highly functional for physical activities. You don't risk scratching the band, plus it's washable and won't fade from cleaning.
On the downside, though, rubber straps are best for sports, but not versatility. As a result, many watch enthusiasts avoid wearing them on night outs, business, and even casual outings.
Takeaway: If you're getting a sports watch strictly for rigorous, sweaty activities, a rubber, sailcloth NATO, or Perlon strap is your best option.
This is especially useful for a wearer with thick wrists that experiences steel bracelets digging into their skin. Ultimately, it's logical to have multiple sports watch straps to style your timepiece conveniently all seasons.
Top 20 Men's Luxury Sports Watch Models
1. Patek Philippe Nautilus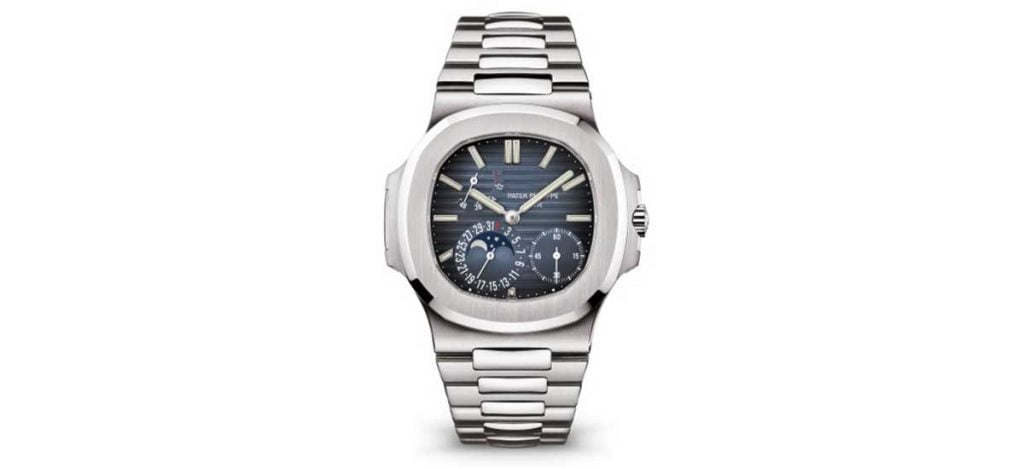 Starts from approx. $30,000
The Nautilus is the most iconic sports watch collection of the prestigious swiss watchmaker. It was released in 1976 as a luxury sport and dress watch for executives and high-class individuals. The Nautilus was a proverbial sword in the hands of a knight to slay dragons in the boardroom.
There are 5 different Nautilus models for men: Steel case and bracelet, Nautilus Ref 5712 with a moon phase, power reserve display, and pointer date, Time Travel Chronograph Ref 5990 with two time zones, stopwatch display in steel, rose gold, or white gold.
The Nautilus 5726 has the most complications Nautilus, carrying an annual calendar, moon phase, and chronograph.Ref 5980 had the first chronograph movement and is available only in rose gold and two-tone steel.
Pro tip: Patek Phillipe Nautilus is the apex luxury sports watch for the classic man, either in steel or precious metal.
2. Rolex Submariner Date/No Date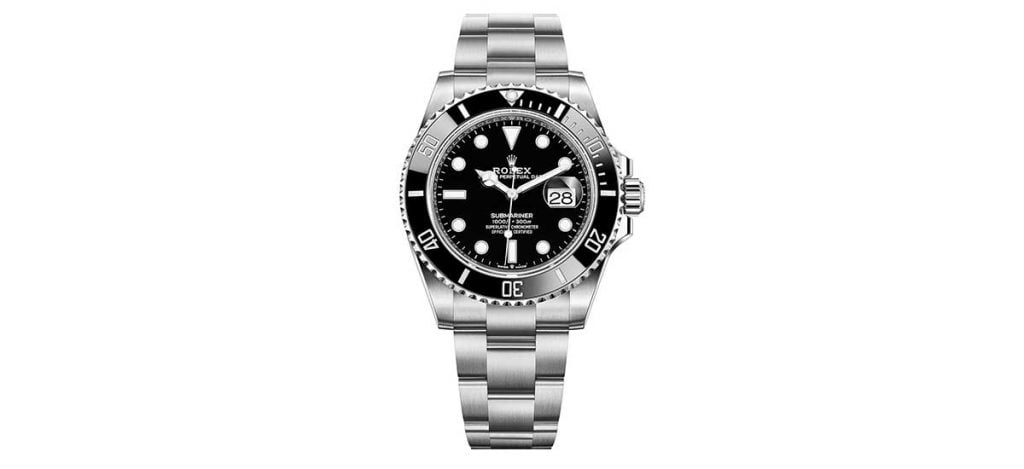 Price starts from approx. $14,000
The Submariner has arguably been the most iconic Rolex since its release in 1954. In fact, Bloomberg tagged it the most legendary watch of all time in 2019. Renowned as the "King Sub," it was designed as a diving tool watch with a 300 feet water capacity. Since its induction over a half-century, Rolex has preserved its timeless design, only available in 40mm or 41mm.
It keeps the simple time-only or time-and-date dial throughout the 10 references in the modern Submariner collection. But any of its steel, stainless gold variations. This sports watch is also battle tested and stylish. For example, Sean Connery's James Bond wore a Rolex Submariner ref. 6538 in Goldfinger. And Loren Janes', ref. 1655 gifted to him by Steve McQueen, survived a wildfire.
Movement: Rolex caliber 3135/3130
Case size: 40mmWater resistance: 300 meters
3. Omega Speedmaster Moonwatch
Starts from approx. $6500
The Apollo 11 astronauts wore the Omega Speedmaster to the first moon landing and accompanied subsequent NASA expeditions into space. You don't need any more field testing for a watch that's been to space and back (in one piece and with its precision intact). You can still buy the same Omega Speedmaster Moonwatch model Buzz Aldrin wore on the moon.
It's the reference 105.012-66 which costs around $35,000. Speedmasters are chronographs (stopwatch function) built for daily, energetic use. But you'll also find them in the display case or wish list of seasoned collectors. You must have also seen one in a James Bond movie, so they carry a high social validation and are as likely to hold value as a Submariner.
Unlike most watches that use a sapphire crystal, the Moonwatch uses plexiglass, which allows it to withstand heavy pressure in space or land. Its hand-wound calibers are designed by Lemania, a world-class movement maker for luxury brands.
Pro tip: Adorn the Omega Speedmaster to make a statement or have a story to tell anytime you step out without breaking the bank.
Movement: Omega caliber 3861
Case size: 42mm
Water resistance: 50 meters
4. Audemars Piguet Royal Oak
Starts from approximately $50,300
Any watch enthusiast looking for a high-end sports watch most likely has the Royal Oak on their list. When AP released this timepiece, designed by Georges Golay in 1972, it was the first luxury sports watch made of steel.
Not much has changed since, with its plain yet classy octagonal bezel and interchangeable strap system. Interestingly, the case's 50 meters water resistance results from the bold-looking, "fluid-tight" screws on its bezel. Its designer, Georges Golay, drew inspiration for this design from the old diver's helmets.
Although Royal Oak first carried Jeager-LeCoultre manufactured movements, they now use the spectacular AP caliber 2385 with a humble 40-hour reserve. It's also the world's thinnest automatic chronograph movement, measuring only 5.5mm.
Pro tip: Wear an Audemars Piguet Royal Oak if you want a sleek, dressy, and bold sports watch.
Movement: Rolex 3230 Automatic
Case size: 40mm
Water resistance: 300 meters
5. Zenith Defy Skyline
Starts from approx. $7,000
The Zenith Defy, with its stainless steel/titanium build and interchangeable rubber and steel bracelets, is perfect for everyday use. Launched in 1969, the Defy has maintained its sporty and dressy mix with its "toolsy" octagonal watch face.
In addition to a streamlined watch lug and bracelet, it's a more affordable but capable alternative to the AP Royal Oak. Inside the Defy is the El Primero 3620, which is Zenith's first movement that's accurate to 1/10th of a second. As if to honor the caliber, there's a 1/10th second indicator at 9 o'clock, plus a date indication at 3 o'clock.
Pro tip: Zenith Defy is an entry-level industrial-style watch you can rock every day in style.
Movement: El Primero 3620 with 60 hours of power reserve
Case size: 41mm
Water Resistance: 100m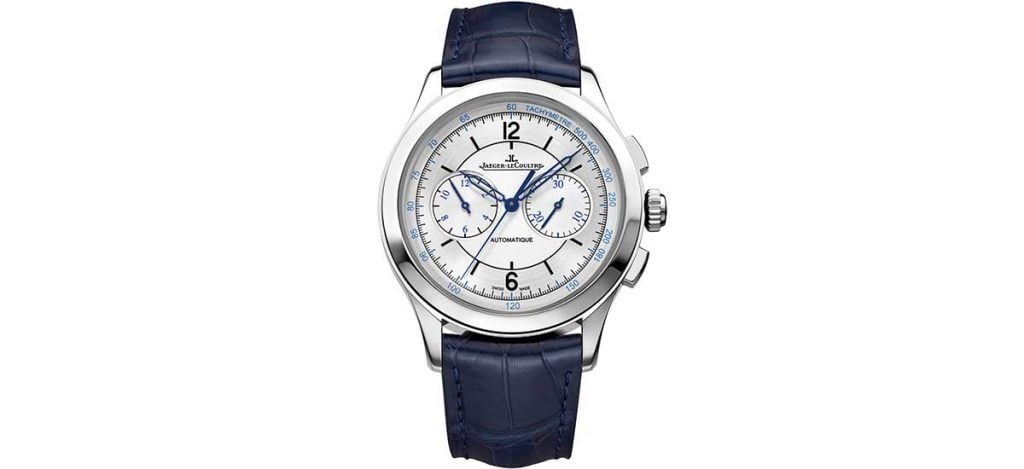 Starts from around $9,000
The Q1538530 is an exquisite timepiece from the Master Control line. It maintains the beloved round case that exudes modern elegance.
Its polished "bezeless" stainless steel case also gives off a relaxed character that passes for daily use and still slays elaborate occasions. Yet its triangular hands, chronograph, and in-built tachymeter on the sun-brushed dial tell of a tool watch.
Compared to several luxury watch brands, we love that you can easily acquire a set of bracelets from Jaegar. While the Master comes with a calf leather strap, you can order an alligator skin or stainless strap. The only drawback to the Master Control, depending on who's wearing, is its superior movement is hidden under Jaegar LeCoultre's medallion case back.
Pro tip: Master Control Q1538530 is for the gentleman who's bold enough to carry the dressy masterpiece on any occasion.
Movement: JLC Caliber 751G
Case size: 40mm
Water Resistance: 100m
7. Nomos Glashutte Autobahn Director's Cut A3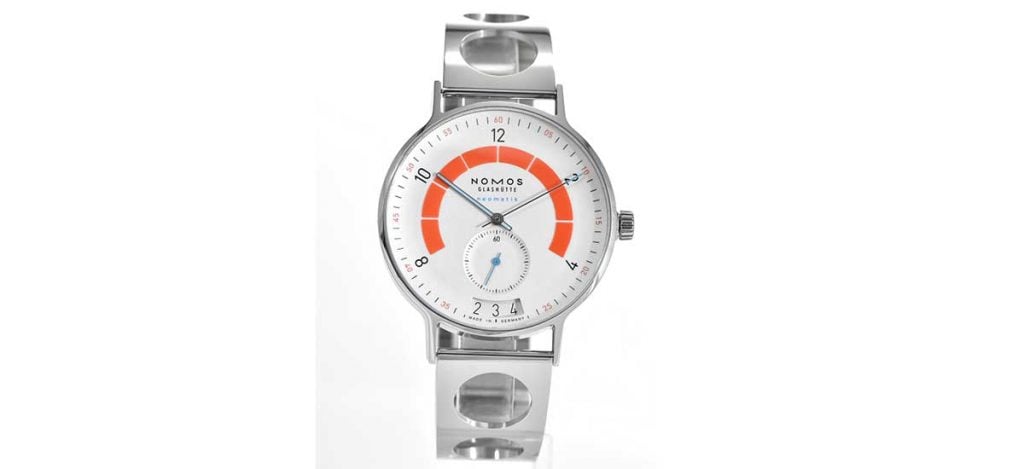 Starts from approx. $5,000
Unique. That's what you see when you shop a Nomos Glashutte collection. In typical Glashutte style, it has a striking two-tone dial with white background and bright orange accents. Strikingly, the seconds hand is in a separate window from the hour and minute hands.
The Director's Cut A3 also has a different stainless bracelet – two holes cut out on either side of the pre-bent bracelet – that you'd rarely see elsewhere. Combined with its flat folding clasp, the A3 is super-comfortable, easy to adjust, and won't ride up the wrist.
Only Breitling has ever produced a similar steel band. Moreover, this German work of art is limited to 175 pieces to celebrate Glashutte's 175th anniversary.
Pro tip: Nomos Glashutte's Director's Cut A3 is a true limited-edition sports watch with a one-of-a-kind bracelet.
You can find silvery white and blue dial models on Exquisite Timepieces.
Alternative models: Director's A7 and A9
Movement: In-house caliber DUW 6101 up to 42 hours
Case size: 41mm
Water Resistance: 100m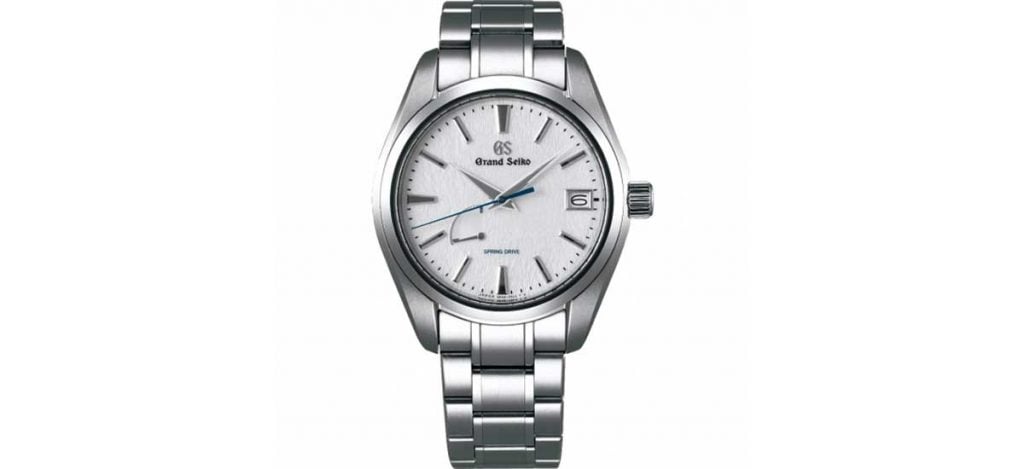 Starts from around $6,200
The Grand Seiko Spring Drive Power Reserve packs a ton of functionality for a sporting watch in its price range. It is another timepiece that rivals top luxury brands at a competitive price.
Its standout features are its power reserve indicator and a mindblowing 72-hour power reserve. You can keep track of the movement's energy reserve right on the dial, so it never dies. Plus, take in the magnificent engineering of the caliber through the transparent case back.
It has a clean white dial, stainless indexes, sword minute and hour hands, and a blue seconds hand. The latter drifts over the white dial in an intriguing gliding movement. But that's not the kicker.
The SBGA211 Spring Drive watch face is enclosed in a non-destructible titanium case and bracelets.
Pro tip: Perfect for outdoor tool watch to swim, adventure, or statement maker.
Movement: Grand Seiko caliber 9R65
Case size: 41mm
Water Resistance: 100m
Starts from approx. $13,000
The Big Bang is Hublot's earliest innovation from its commitment to the "Art of Fusion." under Jean Claude-Biver. The brilliant infusion of multi-layered materials that make up the case won an award for Best Sports Professional watch in 2005 (the first year of its release) at the Grand Prix d'Horlogerie de la Ville de Geneve.
This 301.SX.1170.RX model in stainless steel is arguably the most affordable, at about $13,000 upward. Other Big Bang models like the Unico Magic Gold – the world's first scratch-resistant 18k alloy – cost around $35,000. And the MP-11 with 2 weeks power reserve is worth over $90,000 new.
There's no denying the durability of the case and comfort of the rubber bracelet of any Big Bang.
Not to sound cheesy, but you'd enter a room with a bang wearing a Big Bang on your wrist. Its "toolsy" and unique appearance draws attention to your wrist within seconds, but it is also one of the most expensive "non-iced" sports watches.
Movement: Hublot caliber HUB4100 6101 up to 42 hours
Case size: 44mm
Water Resistance: 100m
Starts from approx. $11,000
Thinking of durable sports watch that's slim but not as expensive as Patek Philippe Nautilus or Richard Mille RM UP-01 Ferrari? Well, Piaget is revered as one of the best ultra-slim luxury watchmakers. In fact, Piaget's Altiplano once held the record for the world's thinnest watch for three months, measuring only 2mm.
But you'll need a much more reliable Piaget, like the Polo series. And as its name implies, it is remarkably comfortable if you play polo or any intense sport. Its polished stainless steel case is only 9mm thick, which is impressive compared to the 8.4mm thick and $30,000 more expensive Patek Phillipe Nautilus.
Pro tip: Grab a Piaget Polo if you want a cheaper alternative to the slim, octagonal, and sporty design of the Patek Philippe Nautilus.
Movement: Piaget 1110P with up to 50 hours of power reserve
Case size: 42mm
Water Resistance: 100m
11. Bremont Argonaut Automatic
Starts from approx. $3,600
Like an adventurer engaged in a quest, the Bremont Argonaut Automatic is another true sports watch. Its name is inspired by the Greek mythology of a band of heroes on conquest and has a history with the Royal Navy.
Built as a military-grade dive watch, the Argonaut can be used for formal or casual occasions. Its polished steel case and internal ten-minute marker bezel are particularly striking. Save your hands from fatigue or scuff marks with its lightweight sailcloth strap, which is ideal for extensive use under wet or sweaty conditions.
Pro tip: The case, blue dial, and strap are a befitting watch for every man.
Movement: BE-92AV automatic chronometer with up to 42 hours of power reserve
Case size: 42mm
Water Resistance: 300m
The Omega Aquamaster is a versatile collection that can be sported as a tool or dress watch. You'll find many dial, case, and strap variations, so you have options tailored to your lifestyle.
But it's stainless steel models like the ref. 220.10.41.21.06.001 is a simple sporty watch with 150 meters of water resistance. It has a round case with dark silver dials and a striking blue accent from its hands and indexes. And a day date function on its six-o'clock.
The Seamaster Aqua Terra collection is similar to Rolex's Datejust line. It's one of Omega's affordable lines, and like DateJust can become ultra-luxury level expensive depending on the model you pick.
Pro tips: This is one of the best entry-level luxury sports watches for men looking to hold considerable resale value.
Movement: Master Co-axial caliber 8900 with 55 hours of power reserve
Case size: 41mm
Water Resistance: 150 meters
Starts from approx. $15,000
The Breguet Marine 5817 is a rugged tool watch with a beautifully hypnotic face. It has a guilloche pattern dial that's breathtaking when glanced under a light. You can also spot a sun ray etching on the side of the watch case. In addition, the dial has three layers of black, gold, or silver indicating roman numerals and a black outer layer holding the indexes.
By the way, the black dials are actually gold – black rhodium gold, to be precise. The 5817 also has a magnificent grande date at 6 o'clock. It's a joy to watch it cross into a new day. Also, the Marine 5817 has prominent welded lugs that give you a sense of added security and actually provide it.
Instead of spring bars, the straps are joined to the case with screw pins, which are extra durable but more rigid to change bracelets. Breguet pays extra attention to details on virtually every part of the 5817, from case to straps, which are all hand-made. And you can tell almost immediately, as the watch is 11mm thick.
Pro tip: Get a Breguet Marine 5817 in stainless steel or rubber strap if you enjoy admiring the intricacies of your timepiece.
Movement: Automatic caliber 8900 with 55 hours of power reserve
Case size: 39mm
Water Resistance: 100 meters
14. Breguet Chronograph 5527
Starts from approx. $22,000
Continuing with the set Breguet momentum is another fantastic feat of engineering from the swiss watchmaker, the Chronographe 5527.
The $21,000 average chronograph is a luxury you can afford to wear to grace any occasion without fearing wear. Its 13mm thick case is made from titanium, which is almost indestructible and lighter than steel. Couple that with a rubber strap, and you can wear this watch for even the most challenging events and not worry about scuff marks. Fancy minimalistic but artistic watches?
You'd appreciate this 5527 with a slate gray dial, tiny indexes for each second, stylized roman numerals, and thin sword hands. The dial also has the hand-crafted guilloche wave-motive style that honors the watch's navy origin.
Pro tip: The Breguet 5517 can be dressed in rubber, stainless steel, or leather to fit every occasion.
Movement: Automatic caliber 582QA with 48 hours power reserve
Case size: 42.3mm
Water Resistance: 100 meters
Starts from approx. $12,500
The Fifty Fathoms Bathyscaphe was introduced as the first modern diving watch in 1953 by the world's oldest surviving watchmaker, Blancpain. It's a simple but rugged mechanical automatic timepiece with versions in 38mm and 43mm stainless steel or titanium cases.
Speaking of options, it has rubber, leather, and stainless-steel bands. True to its name, the Bathyscaphe – an old-world deep-sea dive vehicle – can enter depths of 300 meters unscathed. The Trieste reached over 10,000 meters, though, so they don't compare.However, the Fifty Fathoms Bathyscaphe has a sleek, minimalist design similar to a Rolex Submariner.
But even better – depending on your preference – it uses a ceramic casing that's lightweight, heat and corrosion-resistant. All versions of the Bathyscaphe watches carry in-house Blancpain calibers. And offer an impressive 192 hours of power reserve, as seen in the caliber 25c of the $117,000-worth Bathyscaphe Tourbillon.
An alternate version, the Fifty Fathoms Flyback Chronograph, graced the GT World Europe Challenge between 2014 and 2019 when it was sponsored by the swiss watchmaker. It depicts the versatility of this timepiece for diving, racing, and general sports.
Pro tip: Make a solid first impression with the Fifty Fathoms Bathyscaphe.
Movement: Automatic caliber 1315 with up to 120 hours of power reserve
Case size: 43.6mm
Water Resistance: 300 meters
16. VACHERON CONSTANTIN Overseas 5500V
Starts from approx. $40,000
To round off our list with the final "Holy Trinity" member, we included the Vacheron Constantin Overseas Chronograph. As VC puts it accurately, every watch in the Overseas collection is an elegant yet casual timepiece for men.
In addition, the collection includes a tourbillon, chronograph, perpetual calendar, and self-winding models that could easily cost up to $300,000 apiece. But we've stuck with the titanium, and stainless steel references, which are more sporty options for this review. Vacheron Constantin enhances the wearability of the Overseas with its interchangeable bracelet system.
You can swap out straps as quickly as you would an Apple watch. Although most luxury watch movements have jewels, the Overseas caliber 5200/1 has almost double the average (54). What's more, its open case back displays a 22-carat gold component.
Pro tip: Get an Overseas Chronograph for a bulky but comfortable sports watch of the highest luxury.
Movement: Automatic caliber 1315 with 52 hours of power reserve
Case size: 42.5mm
Water Resistance: 300 meters
17. BULGARI Octo Finissimo 102713
Price starts from approx. $16,000
The Bvlgari Octo is the thinnest automatic watch after the recently launched Richard Mille Ferrari and Piaget Altiplano. Compared to the UP-01 Ferrari, though, it's a lot more affordable and socially acceptable ultra-thin men's sports watch.
Despite its sizeable 40mm case, the Octo Finissimo, in its entirety, is only 5.15mm thick, while its caliber is just 2mm thick with an extraordinary 120-hour power reserve.The Octo Finissimo's unique octagonal design is inspired by the Messentius Basilica. It uses titanium from the dial and casing to its integrated bracelet to imitate the seemingly indestructible Roman structure.
The latter feature makes the Finissimo cuff up the wrist, though, so it feels slightly larger than your average 40mm. Another distinctive feature that jumps at you when you glance at the Finissimo is the standalone second hand replacing the 7th and 8th hour in an aperture.
Pro tip: Obtain a Bulgari Octo Finissimo to wear an ultra-sleek and modern everyday watch of the elite.
Movement: Automatic caliber 1315 with 60 hours of power reserve
Case size: 40mm
Water Resistance: 30 meters
18. BREITLING Exospace B55
Starts from about $8,000
Remember we promised to share a fascinating quartz chronograph? The Breitling Exopspace is a pilot chronograph with a glimpse of smartwatch features. It has the typical makeup of a durable sports watch with its titanium case and strap. And, of course, rubber and nylon strap options complete the sporty look.
In addition, its bi-directional bezel with bold minutes etchings is typical of hardcore men's watch. Plus, it's almost oversized at 46mm and 15mm thick. I saved the best feature of the B55 for the last. The B55 has two LCD screens that you control with the control to set timers, record activity times, and operate a tachymeter.
Pro tip: This sporty mechanical-like watch connects to your smartphone through a dedicated app.
Movement: Breitling B55 caliber Super-Quartz and 12/24-hour LCD digital display
Case size: 46mm
Water Resistance: 100 meters
19. TAG HEUER Carrera CBN2A1AA
Starts from approx. $4,500
Tag Heuer is a luxury watchmaker with a known affinity for making world-class racing and sports watches. The casing of this Tag Heuer Carrera combines finely polished ceramic and steel making it robust yet classy. But what puts the Carrera in a league of its own is its watch face.
It has an imposing black bezel and dial, red accents on the hands and crown, with s numbers and letters printed in bold fonts. Sure, there are watches with bold fonts, but the Carrera is special. The numbers stand out because the indexes are 10-60 minutes intervals, not the typical 1-12 hours. So they're right in your face. As you'd expect, there are regular bezel-less date versions in the Carrera line if the chronograph's imposing design's not your cup of tea.
Pro tip: Go for a Tag Heuer Carrera Chronograph if you love oversized but comfortable chronographs with a legible font.
Movement: Caliber 16 automatic
Case size: 44mm
Water Resistance: 100 meters
20. LONGINES HydroConquest L3.781.4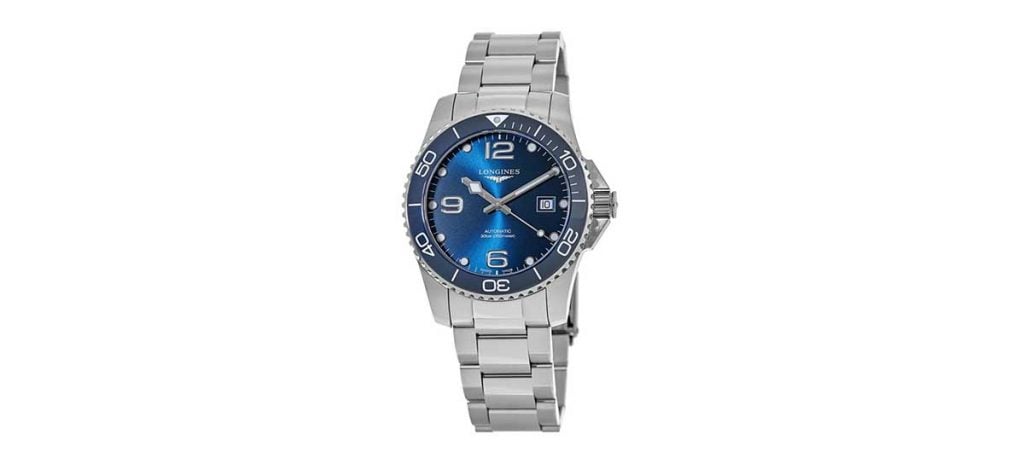 Starts from approx $1,350
We'll finish the list with a timeless dive watch from a Swiss watchmaker with the world's oldest unchanged logo trademark. Longines' HydroConquest may be the most affordable model on this list, but it is regularly compared to the Rolex Submariner.
Its sunray blue dial and bezel radiate an eye-catching attention to detail and luxury presentation. In fact, it is identical to a Submariner, except for the Arabic numeral dial and triangular (instead of round) hour hand.
However, the HydroConquest's all-stainless steel (ceramic bezel) engineering can be bulky, weighing over 185 grams. Longines categorizes it in its Sports collection and regularly extends the line with new, colorful iterations for men and women.
Pro tip: The perfect luxury watch to brave sporty, casual, and dressy occasions in style with a budget.
Movement: Caliber L888 with 72 hours power reserve
Case size: 41mm
Water Resistance: 100 meters