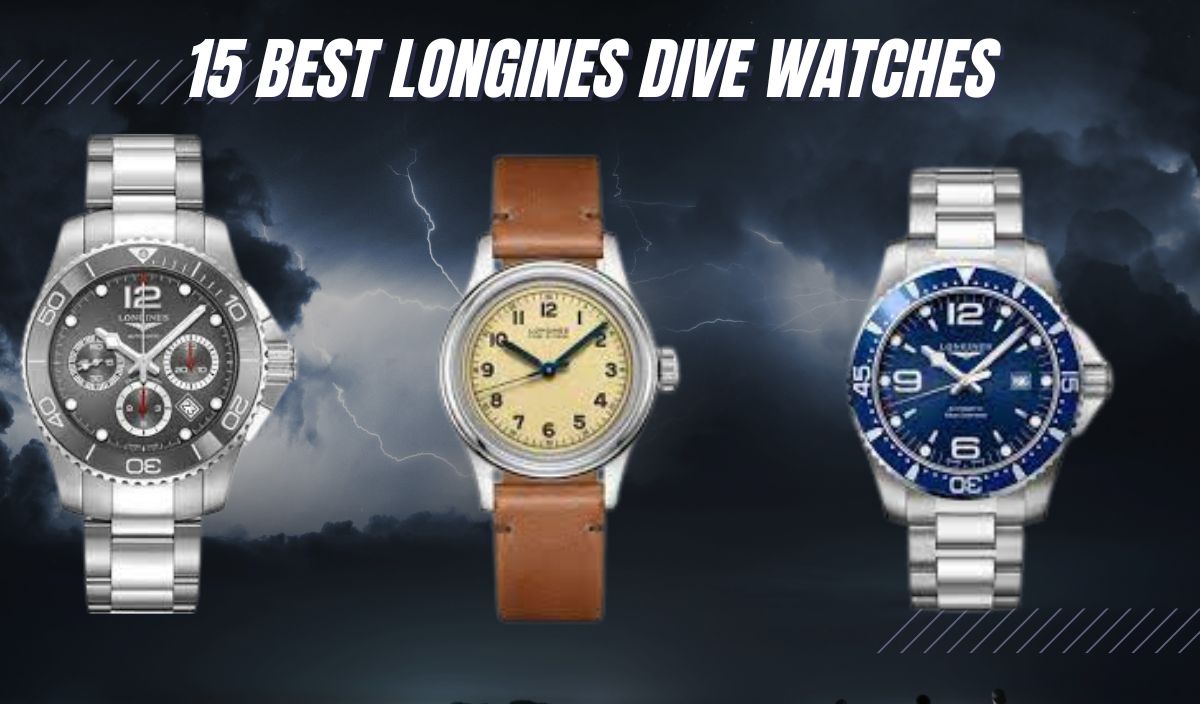 15 BEST Longines Dive Watches (Across ALL Collections!)
Longines is a Swiss luxury watch brand that has been creating timepieces of exceptional quality since its formation in 1832. The company was founded by Auguste Agassiz in Saint-Imier, Switzerland, and has since become one of the most respected watchmakers in the world.
With a nearly 200-year history, it should come as no surprise that the accolades and accomplishments of Longines are plentiful: the winged hourglass logo trademarked in 1889 (the oldest registered trademark of a watch brand being used today), the adoption of industrialized watchmaking from the United States in the 1870s, the first pocket watch indicating two time zones in 1908, one of the world's first wrist-worn chronographs in 1911, first wristwatch chronograph with a flyback function and two independent pushers in 1925, the Lindbergh Hour Angle for aviators in the 1930's, the first waterproof chronograph in 1937… the list goes on and on through the decades.
With these advancements, Longines quickly became known as useful tools for aviators, with their watches becoming essential tools for navigation and timing during flights. Longines also became involved in sports timekeeping, providing timing equipment for events such as the Olympics as early as 1896 and other international competitions.
This focus became the brand's bread and butter and, indeed, represents the watches we mostly associate with Longines today: pilot watches, chronographs, and sports pieces. Today, Longines lives on as part of the Swatch Group portfolio of brands (first acquired in 1983 with the merger of ASUAG and SSIH, later to become the Swatch Group in 1988), continuing their focus on a wide range of products from high spec tool watches to sophisticated dress timepieces.
About Longines Dive Watches
Though we might not immediately associate dive watches with the Longines name today, just as the brand had a hand in achievements throughout various watch categories historically (pilot watches, chronographs, etc.), they've also had a history of creating iconic and distinct dive watches as early as the 1950s and 60s when the sport became increasingly popular. 
History of Longines Dive Watches
In the latter half of the 1950s, following the leadership of the earliest dive watches from Blancpain (Fifty Fathoms), Rolex (Submariner), and Zodiac (Sea Wolf), a variety of Swiss watch manufacturers decided to throw their hats into the game. Longines was among them.
In 1959, the model 6921 (colloquially known as the Nautilus Skin Diver) was launched, featuring a pressure case in familiar skin diver form, an external rotating bakelite bezel, and 150m of water resistance. Soon after, in 1961, the reference 7150-1 Super Compressor (popularly called the Legend Diver) was launched with two crowns, one operating an internal timing ring for dives. Both models will see popular reinterpretations in the present day.

Moving into the back half of the 1960s, Longines diversified their dive watch designs with more experimental and technically capable references.
The Skin Diver 8248-1, with a quick set date and 19600 fluctuations per hour frequency (with orange minute hand and marker accents), the bold, thick, and broad reference 1542-1 Conquest with caliber 6651 movement, UltraChron labeled Hi-Beat divers, and the chronograph equipped diver reference 7981-1 with its unique red aluminum timing bezel. All are excellent examples of the brand trying new case shapes and colors to keep relevant with the times and consumer tastes.
With the advent of the "quartz crisis" in the 1970s, Longines was also quick to adopt electronic mechanisms such as the ESA 9162 with a tuning fork oscillator (Longines caliber 6312), even in their dive watches. Examples such as the reference 8484 featured an acrylic three-color bezel with bright oranges and contrasting gray.

Today, the legacy of Longines dive watches lives on in the HydroConquest, Legend Diver, and ULTRA-CHRON collections. Each collection has its particular focus and variations in size and color, whether serving as a modern line with traditional dive watch aesthetics and function or as reclamations of the past in modern material and updated tech. Without further ado, let's dive in (you saw that coming, didn't you).
The Best Longines Dive Watches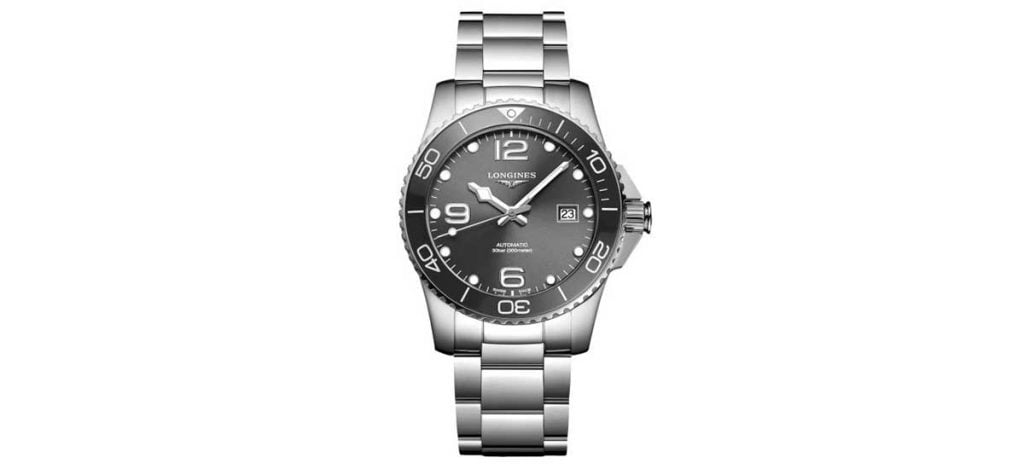 First launched in 2007, the HydroConquest is Longines' standard bearer modern diver. With all the classic calling card design traits of a modern diver, the HydroConquest line has come into its own with its reintroduction in 2018 in both 41mm and 43mm sizes with modern upgrades, along with multiple dial color variations.
Distinctly, the HydroConquest features a robust case with angled crown guards, a configuration of 12, 6, and 9 Arabic numerals with circular indices at the remaining hour makers, and of course, the classic Longines logo with winged hourglass just beneath the 12-hour marker.
Though the watch previously featured a sapphire crystal with anti-reflective coating and an aluminum insert rotating bezel, 2018 saw the introduction of a ceramic insert bezel, and the Caliber 888.2 movement (ETA A31.L01) with 65 hours of extended power reserve, both considerable additions bringing the watch on par with watches in the price range and beyond.
Measuring 41mm diameter, 12mm thickness, and 50.5mm lug-to-lug, the 41mm iteration on bracelet with polished center links should wear comfortably on most wrists (recommended 6 inches and above) as your standard black dialed modern diver for the office and the beach.

Retail Price: $1,775.00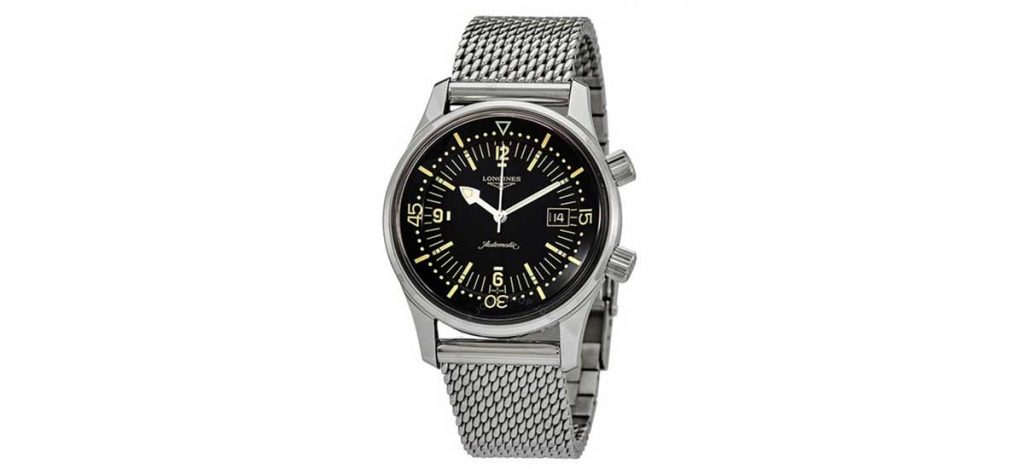 With a catalog as extensive and legendary as Longines, it only makes sense for the brand to offer modern reinterpretations of its more popular historical pieces, particularly in the modern-day era of nostalgia-driven design and aesthetic.
We mentioned reference 7150-1 above, the Super Compressor case that allowed nearly 200m of water resistance (increased underwater pressure yielded increased water resistance) with its iconic dual crowns (one for operating the internal timing bezel, the other to access the hand positioning), and in the "Legend Diver" of present day we have a near one-to-one aesthetic recreation of the 42mm size original.
Indeed, this iteration of the Legend Diver measures 42mm in diameter, 12.7mm in thickness, and 52.4mm lug-to-lug and is a most handsome timepiece for those looking to step outside of the usual "standard" dive watch archetype.
Though the lug-to-lug measurement may raise an eyebrow for the smaller wrists out there, paired with a strap such as Perlon to complete the vintage look should help reduce the visual impact if the size is a concern.

Retail Price: $2,500.00
Longines' focus on making rugged and capable dive watches at entry luxury pricing isn't limited to larger sizes only.
In the reference L3.780.4.96.6, we have a 39mm HydroConquest that has all the features of its larger 41 and 43mm brethren; a ceramic bezel, the same 12-6-9 Arabic dial design, angular crown guards, polished center link bracelet, 300m of water resistance, and L888 movement with approximately 65 hours of power reserve, all in a more traditionally sized 39mm diameter case, with 12.2mm thickness, and 47.75mm lug-to-lug.
If your wrist is on the smaller side of the spectrum, or you simply like traditional-size dive watches (e.g. the Rolex Submariner measured closer to 39mm for years), the 39mm Blue Dial variant is your choice.

Retail Price: $1,775.00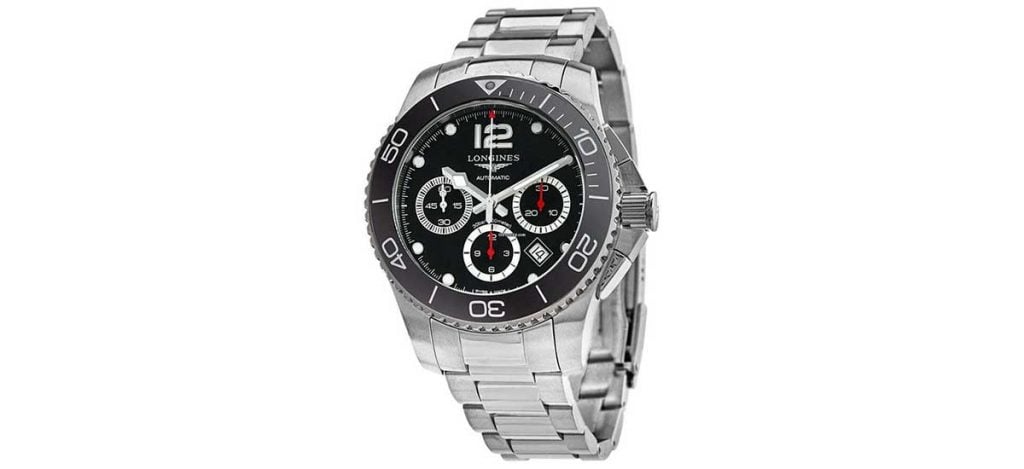 Laying claim to the first waterproof chronograph as far back as 1937, it is no wonder that Longines still has a stake in underwater timing via their HydroConquest Chronograph line today. Make no mistake, at 43mm in diameter, 15.9mm thick, and 53mm lug-to-lug, this watch is not for the faint of heart or "faint of wrist".
Yet despite the larger sizing, Longines has created a handsome addition to the HydroConquest line by staying true to the line's modern aesthetic; ceramic bezel, polished center link bracelet, 12:00 Arabic numeral, and most impressively, chronograph pushers incorporated into the trademark angled crown guards on the right side flank of the watch case. Though the 4:30 placement of the date window is always a controversial choice, its size, and placement encourage legibility when you need to check the date.
Retail Price: $2,750.00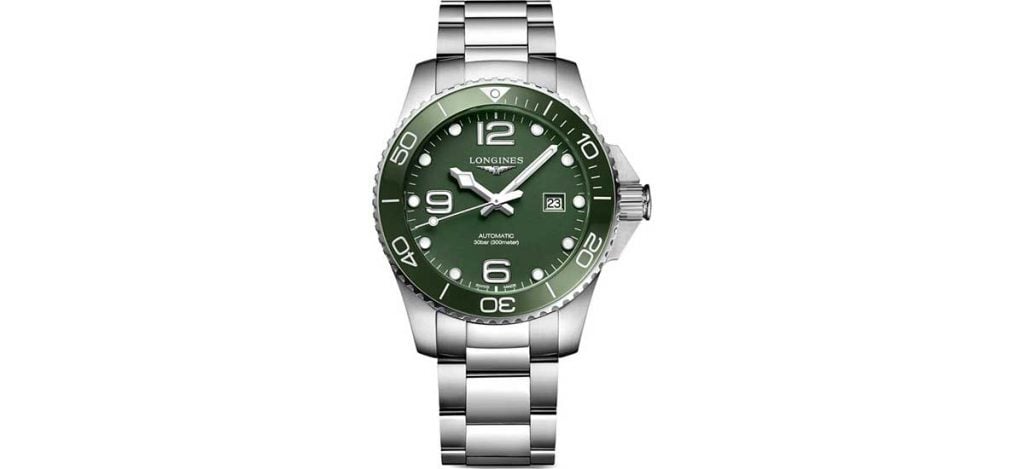 Every year claims a new "it" color in the world of watches. When 2020 rolled around, it was clear that Green was the new Blue, which was, for years, the new Black. And while a variety of colors have come and gone in the few years since (look no further than the Tiffany blue craze or the Rolex Oyster Perpetual dials of late), the Green HydroConquest remains to this day a most handsome iteration of the modern HydroConquest model.
Spec and size-wise, not much has changed (still 43mm in diameter with an 11.9mm thickness), but the particular execution of green here is most attractive, leaning more towards an olive drab green similar to green shades used widely in military applications, we're presented with a subtle yet punchy take on the HydroConquest line.
If you're tired of or already own plenty of black or blue dialed watches, Longines Green HydroConquest in 43mm would be a bold addition to your lineup.
Retail Price: $1,775.00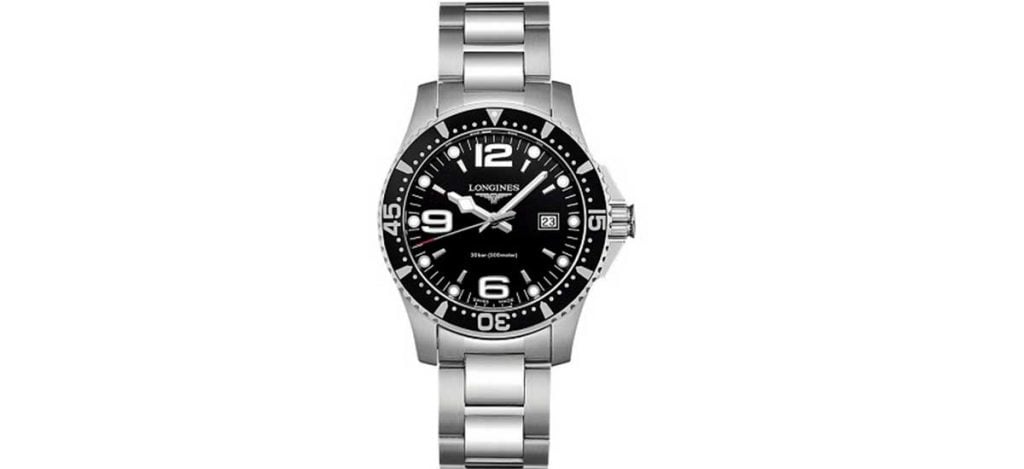 Though quartz can sometimes be considered a bit of a dirty word in hardcore mechanical watch snobbery circles, the truth is quartz can be executed at higher levels than your typical throwaway drugstore $15 watch meant to be thrown away when replaced.
Indeed, even luxury brands have pursued quartz technology, and still due to the present day, such as the watch we see here in the 39mm Quartz HydroConquest.
Featuring the caliber L156 movement (with an end-of-life battery notification system), the use of quartz in a daily driver/diver such as the HydroConquest platform is both reasonable and practical from a timing standpoint, where precision and accuracy are key, particularly in diving.
Paired with the familiar 39mm HydroConquest case and design cues, quartz also has the advantage of a slimmer size. Clocking in at only 10.1mm thick (39mm diameter and 48mm lug-to-lug), one can't undercut the importance of comfort and the low profile that results. As a grab-and-go-do-anything watch, it's hard to argue against the 39mm Quartz HydroConquest.

Retail Price: $1,100.00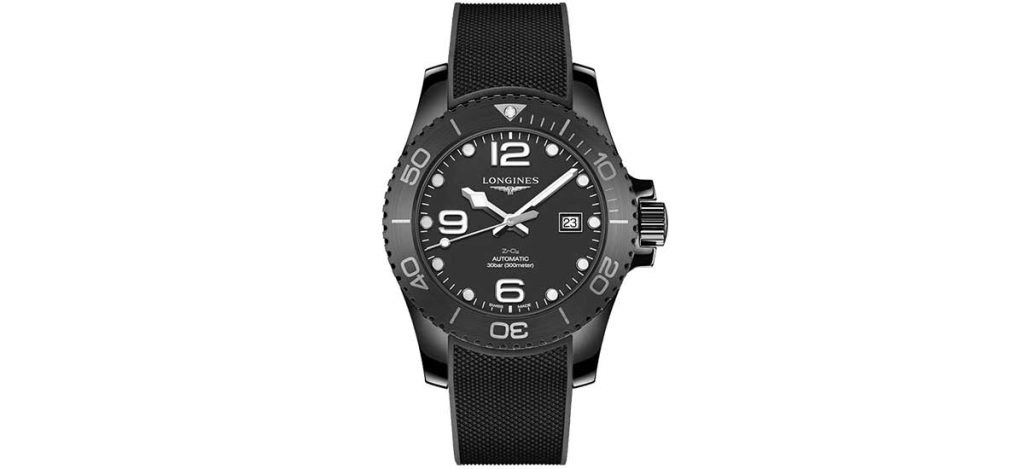 Introduced in 2019, the 43mm Full Black Ceramic HydroConquest took the 43mm HydroConquest platform and gave it a new facelift. This time, with a case entirely made of high-tech, scratch-resistant ceramic material (Zirconium Oxide Zr02 denoted on the dial) in an altogether stealthy and attractive blacked-out look.
All other technical features remain the same: 300m of water resistance, the typical 12-6-9 Arabic numeral indices, and a graduated unidirectional rotating ceramic bezel with sapphire crystal. And despite the 43mm size (13mm thickness), the watch wears comfortably, owing to its decreased weight to the lightweight ceramic material – a handsome and tactical watch for those looking for alternative case materials.
Retail Price: $4,150.00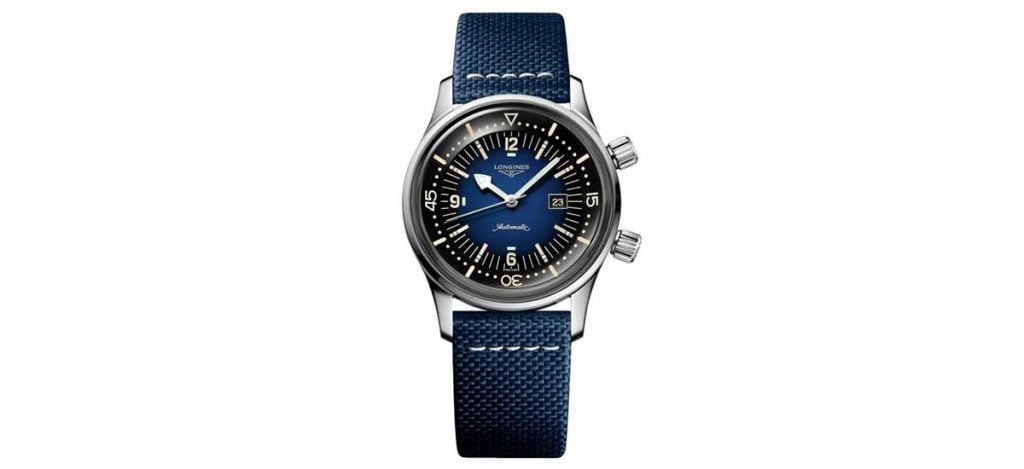 Longines' commitment to producing multiple size iterations within its watch ranges is commendable. In the Legend Diver 36mm (first introduced in its current form in 2018), we're provided with what's essentially a sized-down version of the 42mm Legend Diver, measuring at 36mm in diameter, with an 11.9mm thickness and 44.5mm lug-to-lug. If you found the 42mm version's lug-to-lug length a bit too much for your wrist, the 36mm is your answer.
Despite the smaller sizing, the style and overall aesthetic balance of the larger size is retained. Coupled with an attractive gradient blue dial in the reference L3.374.4.90.2, the 36mm Legend Diver will wear comfortably on any wrist and provide perhaps a greater sense of "vintage" feel and sizing as most divers of that era came in around 36-37mm.

Retail Price: $2,500.00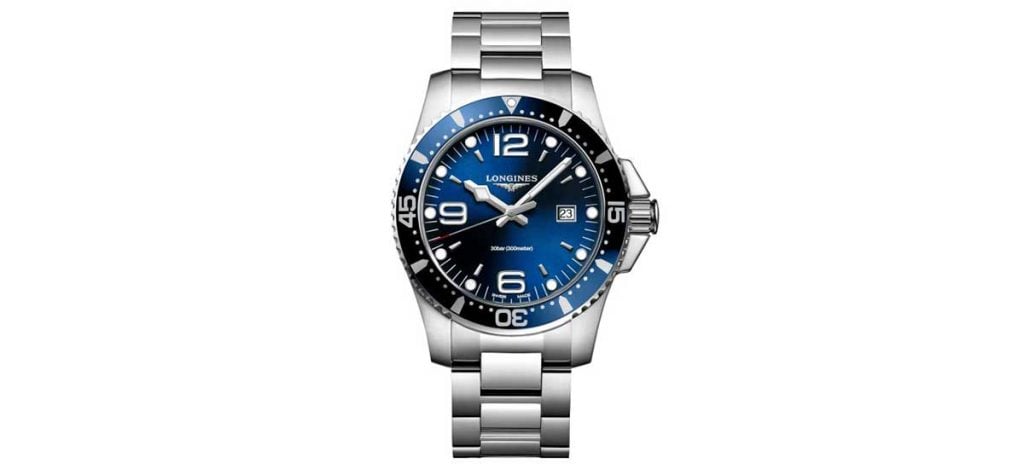 Continuing with the quartz variations of the HydroConquest is the 44mm quartz Blue Dial L3.840.4.96.6. Certainly a watch for larger wrists, or those who prefer larger sizes altogether, the timepiece measures 44mm in diameter with a relatively slim for the diameter (proportionally) 11.9mm thickness.
The caliber L157 provides the usual hours, minutes, seconds, and date functions power, with an end-of-life battery indication system for when a battery replacement is soon needed. The overall attractive modern looks and practicality of a quartz dive watch remain the same, just in a larger size.
Retail Price: $1,150.00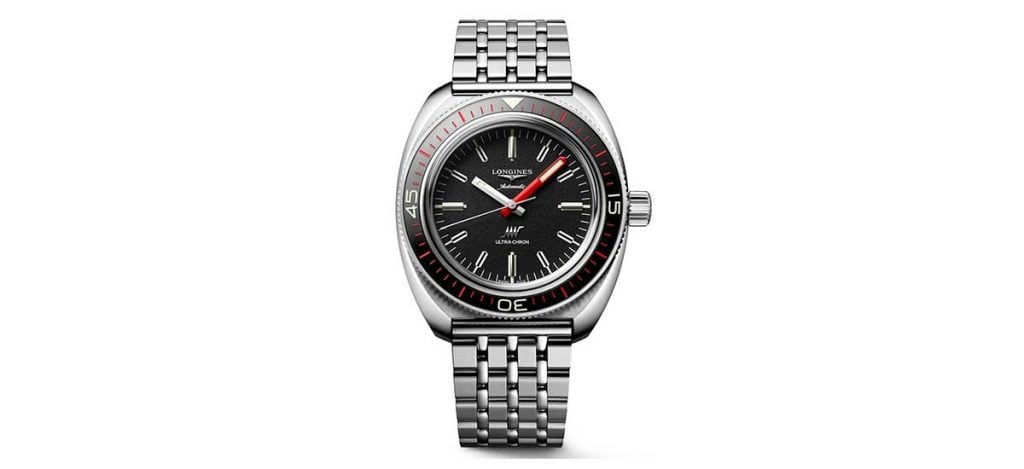 When the Ultra-Chron originally launched in the 1960s, it was a perfect culmination of the technical know-how and prowess of Longines at its near height of mechanical accuracy. With the reintroduction of the Ultra-Chron diver in 2022, the model was revived with the design of the original in the usual Longines "heritage" collection fashion, with modernized proportions (43mm diameter, 13.6mm thickness, 48mm lug-to-lug), manufacturing and material use.
Importantly, this modern version beats at 5Hz and is also "ultra-chronometer" certified (caliber L836.6; modified ETA base movement with increased frequency at 36,000 vibrations/hour, along with anti-magnetic silicon hairspring and 52 hours of power reserve).
What is "ultra-chronometer" testing? Rather than typical COSC certification, the Ultra-Chron diver is certified by TimeLab, for a 15-day period in five positions across multiple tests to meet ISO 3159:2009 standards. From an aesthetic standpoint, the watch benefits from modern materials and construction.
Take, for example, the sapphire bezel in place of the original bakelite and the grained black dial with the punchy red minute hand and bezel graduations. In sum, the Ultra-Chron diver represents the best of modern Longines, rooted in its legendary technical know-how, without compromise.

Retail Price: $3,600.00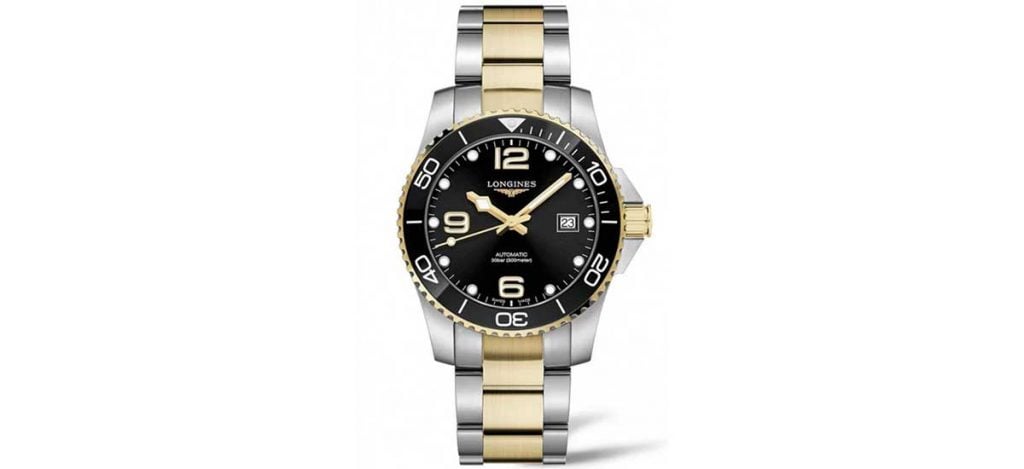 Mention the words "two-tone" in relation to watches, and your thoughts might immediately jump to the 1980s, a time of bravado, ostentatiousness, and flaunting of wealth. And while trends and styles truly revolve in circles in the fashion world, the same can be said of wristwatches.
In the past few years, as nostalgia for the 1980s and 90s has grown, so too has the increasing appearance of gold and two-tone watches. As such, the 2021 Longines Two-Tone collection was released in the flagship HydroConquest line.
We've spoken about all the features and design of the HydroConquest and its iterations to this point (ex: 41mm diameter, 11.9mm thickness, 50.5mm lug-to-lug), but the key call out for the L3.781.3.56.7 in question is just how effectively the use of yellow gold is applied. On the hands, the bezel grip, indices, winged hourglass logo, crown, along with polished center links in an altogether balanced way.
At the end of the day, Two-Tone (and, in particular, Yellow Gold Two-Tone) is a stylistic lifestyle choice. But if you're tired of the typical full stainless steel sports watches and decide to class it up (or just want to play Miami Vice), you could do much worse than the 41mm HydroConquest.

Retail Price: $2,025.00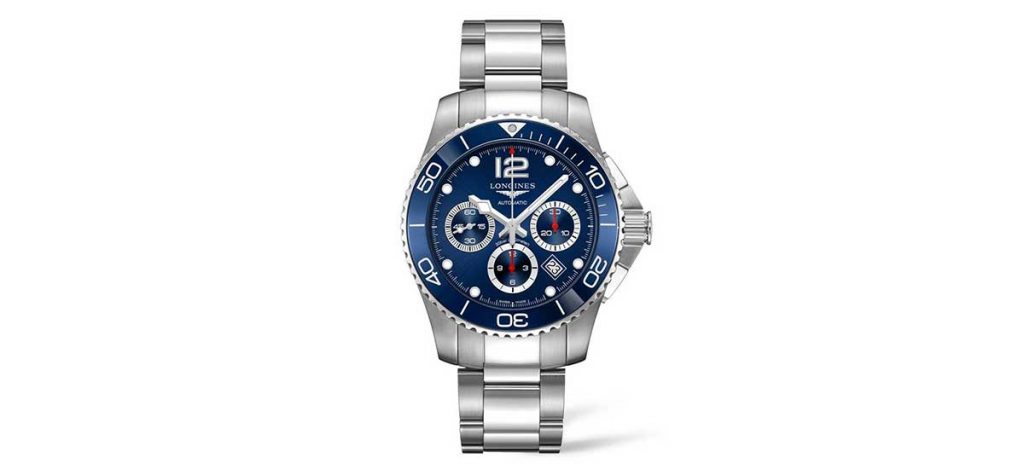 Another size variant within the HydroConquest Chronograph range, the 41mm blue dial iteration (15.6mm thickness), provides a bit of relief from the 43mm size alternative should you prefer tamer watch sizes.
Housing the L688 caliber with 28,800 vibrations per hour and approximately 60 hours of power reserve, the column wheel chronograph features a 30-minute counter at 3 o'clock, 12 hours counter at 6 o'clock, and small seconds at 9 o'clock for your various timing needs.
Being a dive chronograph, the 300m water resistance is retained, along with the intuitive chronograph pushers built in congruence with the angled crown guards as an altogether attractive package.
Retail Price: CHF 2,550.00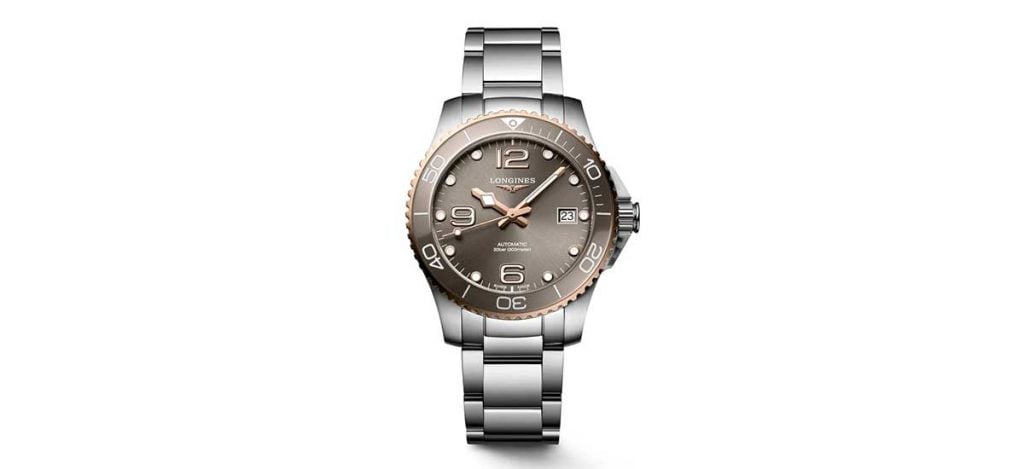 As part of the two-tone collection within the HydroConquest line, the reference L3.780.3.78.6 is arguably the most modern leaning aesthetically of the two-tone variations, with its use of Sunray gray on the dial and bezel, countered with pink gold colored accents in the hands, bezel, and winged hour-glass Longines logo.
The case size and technical specifications of the 39mm HydroConquest line are retained (39mm diameter, 12.2mm thickness, 47.75mm lug-to-lug), providing a familiar platform with an updated and attractive modern two-tone look that's subtle and minimalist in execution.
Retail Price: $2,025.00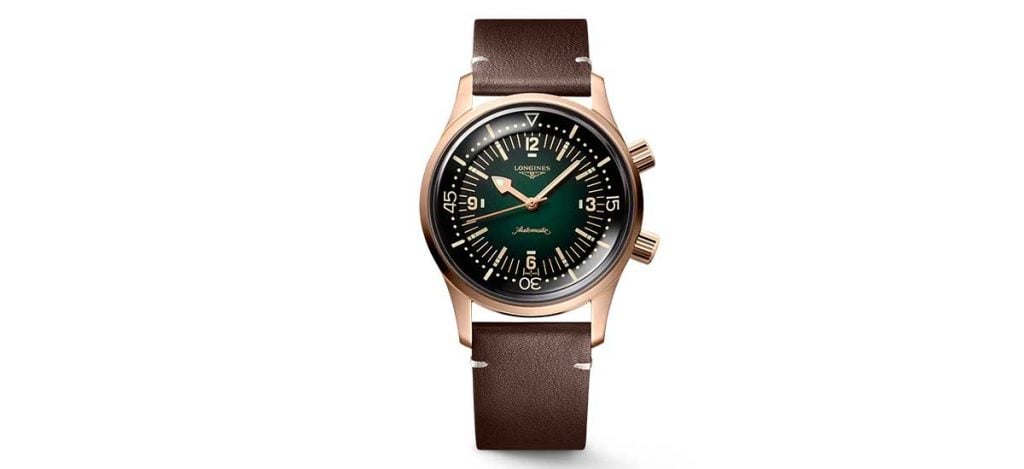 The use of bronze in dive watches is not a new concept. Indeed, the idea of bronze and diving often brings to mind images of the earliest divers in the 1900s with their hefty helmets and umbilical diving gear. Additionally, the tarnishing often associated with bronze (or, as we say in the watch collecting, "patina") provides a unique and organic look, particular to the users wearing habits and environment.
Longines launched the 42mm Legend Diver in bronze in late 2020. It remains familiar in size and spec as the standard 42mm iterations (42mm diameter, 12.7mm thickness, 52.4mm lug-to-lug). Still, it will be purely unique in its bronze patination, depending on the user.
Contrasted with an attractive green gradient dial and leather strap (including a second strap in green NATO-type nylon style), the Bronze Legend Diver is a unique take on the classic heritage model that will surely please anyone seeking a more experimental case material that will age over time and use.

Retail Price: $3,125.00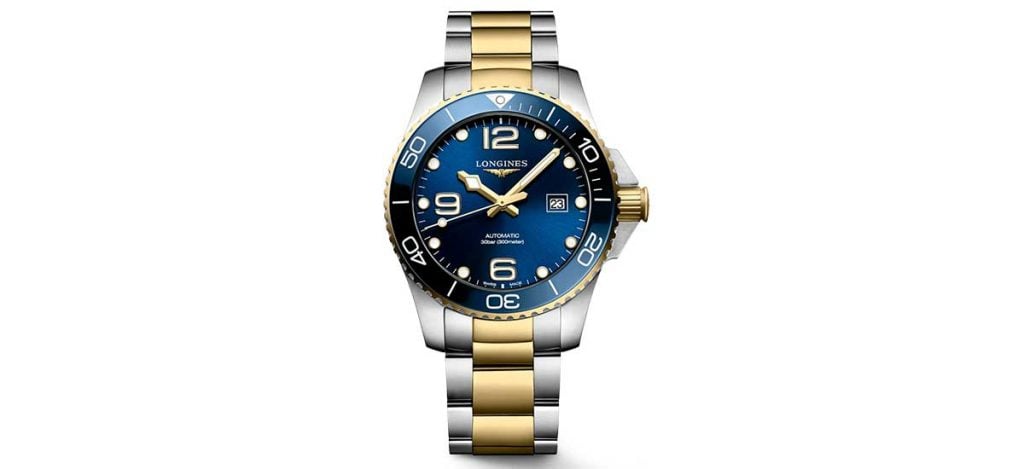 The final two-tone variation we'll be looking at is the 43mm HydroConquest in blue and rose gold. Measuring 43mm in diameter and 11.9mm in thickness, the watch is a slim and attractive option for those wanting the modern lines and design of the HydroConquest in a larger size.
The use of blue on the bezel and dial is a beautiful contrast to the pink (PVD) gold applied on the bezel grip, crown, indices, hands, and polished center links, creating a look that is both luxurious and modern in execution (as compared to a more traditional yellow gold).
Looks aside, the L888 movement continues to provide approximately 65 hours of power reserve. The watch is built to the same robust diver's spec as the fully stainless steel HydroConquest models, despite the addition of the inarguably more luxurious rose gold material.

Retail Price: $2,025.00
Conclusion
Longines has a long and storied history in the world of watchmaking, and their dive watches from the past and present are no exception. The brand's commitment to precision and innovation, as well as accessibility for a variety of wrists, has made it a leader in the industry for nearly two centuries.
Whether you're a dive watch collector or simply appreciate the art of watchmaking, a Longines dive watch is a true work of art built to a rugged capable spec that will stand the test of time.
About Exquisite Timepieces
Established in 1998, Exquisite Timepieces is your one-stop shop for all things luxury watches! We are an authorized dealer for 60+ luxury watch brands including Omega, Hublot, Seiko, & Longines! We are proud to showcase one of the world's largest pre-owned watch collections, including renowned brands like Rolex and Patek Philippe. Check out our brand new watch arrivals here and popular pre-owned listings here.