15 BEST 36mm Dive Watches (Rulers of the Mid-Size Segment!)
Whether you are new to the hobby or a seasoned collector, you can't help but notice the popularity of dive watches. They are the undisputed champions of not just the sports watch world but the watch world in general. I am by no means saying that they are the best or most practical for every situation, but they are the style of watch most responsible for carrying the financial weight of most mainstream brands.
I was kind of a late bloomer in the world of dive watches. I found myself more enamored with the simplicity of a time-only watch like the Rolex Explorer, while the Submariner garnered most of the mainstream attention. There were many factors that played into this preference, but one of the most substantial was simply the size. When I first got into watches, we were riding the peak of the big watch craze and slowly trending back to a more manageable case dimension.
In 2018, Tudor released the watch that really opened the floodgates into more compact dive watches with the release of the Tudor Black Bay 58, a 39mm vintage-inspired dive watch that lit the enthusiast community on fire and created waitlists for a watch whose sole purpose was to be an accessible watch to the everyday person.
Before the hype died down and I was finally able to pull the trigger on this dream dive watch, I went down a rabbit hole that many of us have gone down: The best mid-size dive watch. I discovered an incredible niche of watches that existed well before Tudor shined a light on the segment, and that was for 36mm dive watches. Often described as unisex, mid-size, boys, or women's, these watches checked a lot of the boxes us more conservative collectors were looking for regardless of gender.
We are going to take a look at some of the best examples of 36mm dive watches that are as capable as they are wearable. Before we dive (pun completely intended) into the list, let's first identify exactly what a dive watch is, some of the history, and who would actually want a 36mm example.
About Dive Watches
To put it simply, a dive watch is a watch that features a certain degree of water resistance, a method for timing elapsed time, and the ability to monitor this elapsed time in a dark environment. There is the ISO 6425 standard that places some more stringent qualifications on this description, such as 100 meters of water resistance and lume plots by every indice on the dial as well as the bezel, but not every dive style watch will be rated to this standard.
When I look for a dive watch, I am typically looking for a watch with at least 100 meters of water resistance and a rotatable bezel, whether internal or external. Bonus points are awarded to watches with 200 meters of water resistance and a screw-down crown. I don't need these features (nor do 99% of collectors), but I feel a lot more confident washing the dishes and paddling a kayak with them!
History of Dive Watches
The dive watch as we know it really came into fruition in 1953 with the introduction of the Blancpain 50 Fathoms. The watch featured the iconic rotatable dive bezel and was quickly emulated by Rolex with their Submariner and Zodiac with the Seawolf, and as they say, the rest is history.
There have been several enhancements to dive watches, including helium escape valves, lockable bezels, and full lume dials, but really the recipe hasn't strayed too far from the original. In the last 10 years or so, the greatest change has been the introduction of the vintage-inspired dive watch.
The process of looking back in the catalog for inspiration is a unique characteristic of watches today and is responsible for many of the watches on this list looking in their archive for their sizing as well. If you are looking for a more thorough history of dive watches, feel free to check out my best dive watches under $1000 guide.
Should you Buy a 36mm Dive Watch?
This is a great question that really comes down to personal preference. If you have a large wrist and like big watches, no, you should not buy a 36mm dive watch. If you have a small wrist and have longed for a capable dive watch, yes you absolutely should buy a 36mm dive watch. For those of us in between, with slightly smaller to slightly larger wrists, it will come down to preference.
If you like a larger modern aesthetic and don't mind the extra heft, I'd probably stick with some of the slightly larger options as the extra real estate on the dial truly is a benefit to the user experience. If you are bothered by a bulky watch or are someone that really wants to experience the feeling of a modernly built vintage-inspired watch, the 36mm is an absolute winner!
Not only do you get a watch that is capable and wearable, but most of the time you get to save a pretty significant chunk of change when purchasing one compared to their larger siblings. For those of us open to the smaller case size, this is truly a win-win.
The Best 36mm Dive Watches
Now that we have a little bit more of the backstory on dive watches, let's begin our list of the 15 best 36mm dive watches.
Any list of dive watches would feel incomplete without a selection from Omega. Known for their innovative movement technology, strong historical provenance, and value for money compared to industry leader Rolex, Omega is a brand that needs little introduction.
Since the introduction of the "Bond" era Seamaster Diver 300M, Omega has released 2 size variations of their iconic dive watch to appease a multitude of wrist sizes. Even though that trend came to an end with their most recent iteration, the fact that Omega continued to produce 36mm dive watches through the "bigger is better" era of the 2000s is admirable.
The Omega Seamaster Diver 300M, ref. 212.30.36.20.03.001, is a 36.25mm stainless steel watch that features all of the characteristics of the previous generation's full-size version. The helium escape valve, skeleton sword hands, and scalloped bezel are all present in this compact dive watch. The watch still utilizes the Co-Axial escapement in the form of the Caliber 2500, building off of the architecture of the ETA 2892.
Although available in several variations, the blue dial and ceramic bezel on the stainless steel bracelet are the most iconic of the style. You won't find the wave motif on this iteration, but coming in at a pre-owned price of $3000-$3500, this Seamaster offers a modern specification and a clean aesthetic other Seamasters cannot.
Although Rolex has not dabbled in the midsize dive watch game since their earliest examples in the 1950s, it doesn't necessarily mean they don't have an option for you. Even though Tudor set the watch world on fire with the 37mm case dimension of their Black Bay 54, there is a precedent for these smaller dive watches within their lineup.
The Tudor Submariner Mid-size, ref. 75090, is a 36mm stainless steel Submariner borrowing much of its design and parts from its bigger brother, Rolex. The watch features a sapphire crystal, Mercedes handset, tritium lume, and crown guards. The case comes in at a very svelte 10mm thanks to the ETA 2824 -2 movement that powers the watch. This watch is exactly what Hans Wilsdorf had in mind when he founded the brand Tudor.
A more affordable alternative to Rolex that can give a user a very similar ownership experience at a fraction of the price. Like most watches even associated with Rolex, that affordability part of the equation has slipped out of the grasp of many vintage collectors as most Tudor Submariner examples will fetch premiums near their Rolex big brother depending on condition.
Thanks in part to its smaller dimension, this reference will set you back anywhere from $4500-$8000, depending on the condition.
If you like the vintage styling of a watch from the late-1950s or early-1960s but want the modern construction and specification that comes with a new watch, few brands can provide as much value as Longines. They have a historical archive as deep as any Swiss watchmaker and are positioned in a place to provide these timepieces for an affordable price to a wide watch-collecting audience.
The Longines Legend Diver, ref L3.374.4.50.0, is a 36mm version of one of their most popular models since its release in 2012. This watch features an inner-rotatable dive bezel that is powered by a second crown on the timepiece. This helps prevent accidental knocking of the bezel and also helps to give the watch a distinct look compared to other options in this price range.
This watch is powered by the L592 movement, featuring a silicon hairspring and a 45-hour power reserve. Coming in at a price of $2400, this watch represents great value for someone looking for a great everyday watch with a vintage aesthetic and a few tricks up its sleeve.
If you are looking for value for money in the Swiss watch industry, few brands pack as much punch as Oris. The independently owned darling of the watch industry is known for providing consumers with well-built timepieces that can withstand a more active lifestyle.
The Oris Divers Sixty-Five is a model that has come to be a cornerstone of the Oris brand and provides entry-level luxury consumers with modern construction and specification while still maintaining the original charm of the Oris dive watches from the 1960s.
Perhaps none of these timepieces are as faithful to that original specification as the Oris Divers Sixty-Five, ref. 01 733 7747 4055-07 4 17 18. This 36mm stainless steel watch on a tropic-style rubber strap matches the original case dimension and style of the time. The dial layout represents a more standard approach than some of the models with Arabic numerals, but the watch still exudes a charm that many vintage recreation watches miss out on.
The watch has been criticized for its 100M of water resistance and less-than-perfect bezel action, but if you are looking for a modern spec monster, this may not be the watch for you. If you are looking for a dive watch that gives you the feeling of a 1960s classic while still maintaining many of the modern enhancements we have come to love, this Oris Divers Sixty-Five for $2100 is a great option to consider.
TAG Heuer is a brand with many identities. They have a strong vintage archive and are known for producing some of the most collectible vintage recreation watches available. They also have a more modern side that pushes the boundaries of engineering with watches like their Carrera Chronograph Tourbillon.
But if there was one aspect of TAG Heuer that they are most known for outside of the watch enthusiast community, it is definitely their entry-level luxury watches, many of which come from their Aquaracer line. This line of dive watches covers the entry-level luxury segments and is available in several sizes and color iterations.
The TAG Heuer Aquaracer Professional 300, ref. WBP231D.BA0626, is a 36mm stainless steel watch that comes on a matching stainless steel bracelet. Despite the smaller size, the watch shares the design language of its larger offering with the striped dial, 6 o'clock date, and dodecagon-shaped bezel (sounds crazy, but really just has some flat sides as opposed to the more standard circular shape).
The watch is powered by the caliber 5 movement, which is a dressed-up version of the ETA 2824-2 or Sellita SW200-1. Coming in at a price of roughly $3300, this watch is on the higher end of watches featuring this movement, but given the quality of the watch and name cache of the brand, there is quite a bit of value in this timepiece.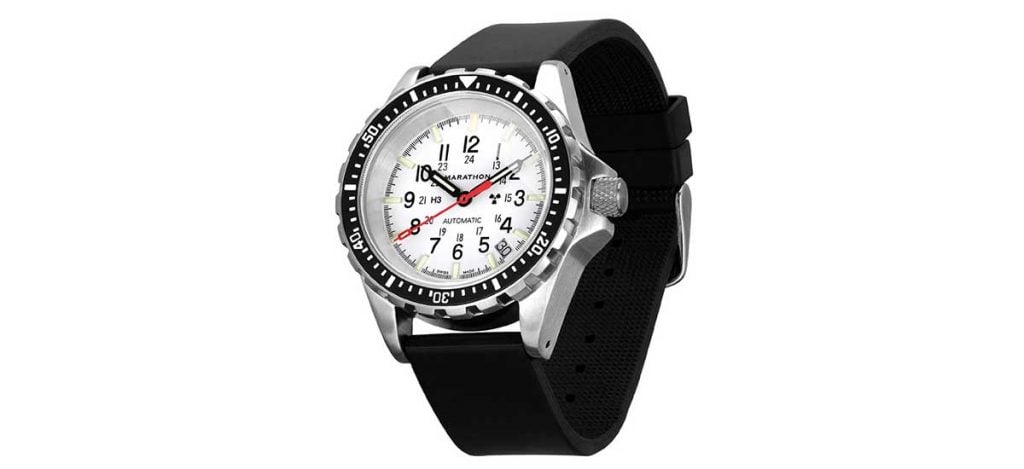 If you are looking for a modern-day military spec watch, few brands can compete with Canadian-based Marathon. While other watch brands lean into their historical archives to recreate their watches with military provenance, Marathon is able to look in their current catalog.
The biggest surprise to me, however, is not just that watches are being produced under military specification, but that they are being produced in sizes that are down-right wearable by those of us with slender wrists.
The Marathon MSAR Auto Arctic Edition, ref. WW194026SS-0530, is a great example of this capability. The 36mm stainless steel case is casual and wearable while maintaining the brutalist design language that made this watch a success in the larger variations. The arctic dial on this model absolutely pops while giving the dial an even smaller appearance with the contrasting black bezel.
The watch is powered by the M2 Marathon movement, based on the Sellita SW200-1, and features a very robust 300M of water resistance. Coming in at a price of $1100 on the rubber strap, this Marathon diver is a great option for anyone looking for a modern take on a military dive watch.
There are few brands that can offer the wide breadth of watches that SWATCH-owned Tissot can. From vintage recreations to modern classics, Tissot has a watch that will fit almost any need. One area that Tissot does not receive enough credit, however, is their ability to create very capable sports watches.
Tissot is pushing the boundaries of robustness more than any other entry-level luxury brand. While these innovations are definitely appreciated by the community, their ability to produce these watches in sizes anyone can enjoy is often overlooked.
The Tissot Seastar 1000 36mm, ref. T120.210.11.041.00, is a perfect example of a capable and versatile timepiece at a very comfortable price point for most enthusiasts at $395. What's the Kicker? The watch is powered by a quartz movement.
Before you rule this one out, think of its purpose and whether or not a quartz movement actually makes more sense here. I love mechanical movements as much as the next enthusiast, but if you're looking for a robust and affordable engine for your watch, it is not going to be powered by a Swiss lever escapement and a mainspring; it will be powered by a quartz crystal.
This 36mm stainless steel watch ticks a lot of boxes that we are looking for in an everyday or "beater" watch and even features a stunning blue dial, 300M of water resistance, and a better-than-expected stainless steel bracelet. If you are willing to look past the quartz movement, you can get yourself the best deal on the list with this Tissot Seastar 1000.
When you think of the brand Breitling, more than likely, a highly complicated chronograph design for pilots comes to mind. Breitling has created a remarkable legacy for itself in this space, but they do create many other watches that are worthy of attention. The Breitling Superocean line is one that deserves more attention than it currently receives. This line of dive watches is very broad and contains options for almost anyone.
The Breitling Superocean Heritage 36, ref. A17377211C1A1, features a 36mm stainless steel case and illustrates the Superocean lines' versatility beautifully. Available in several different colors at this 36mm case size (as well as the other sizes as well), the turquoise dial option really stands out for me. Accentuated by the cream-colored chapter ring and silver bezel color, the vividness of the turquoise immediately grabs your attention.
The watch is powered by a derivative of the Sellita SW200-1, which is a pretty big hang-up for some, considering the $5,150 price tag on a stainless steel bracelet. In my opinion, if you are someone who values the look of your watch more than the fact that your movement has a proprietary design, this watch is a great option to consider.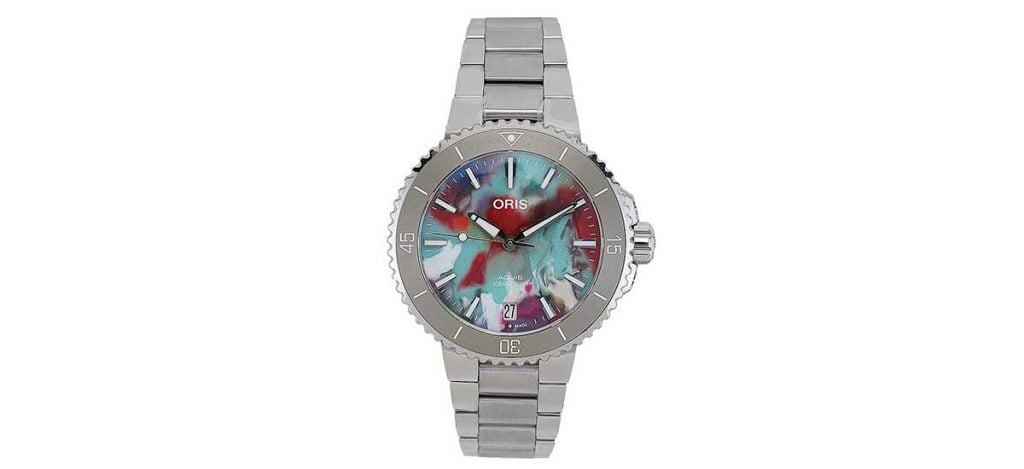 When you produce a watch as admired as the Oris Divers Sixty-Five in the entry-level luxury space, it is hard to believe that there is a lineup in their catalog that they are even more known for. That is, of course, the Oris Aquis. Where the Diver's Sixty-Five plays into the historical charm of the 1960s, the Aquis is the complete opposite, featuring a much more modern aesthetic and integrated bracelet.
The Aquis has been around for several iterations and has been available in several sizes and dial options. My favorite of the bunch is the Oris Aquis Date Upcycle 36.5mm. ref. 01 733 7770 4150. As the name suggests, this version is the more compact 36.5mm case and features a unique dial composed of recycled ocean plastic producing a unique dial for every watch.
Powered by a Sellita SW200-1 movement and featuring 300M of water resistance, this watch is ready for any task. Coming in at $2500, this version is a little bit of an increase in price over the standard Aquis, but given the unique look, absolutely worth the price.
Homage watches are a sensitive subject among enthusiasts. Whether you love or loathe them, you can't deny that they are great entryways into the world of horology. Not everyone has the budget for a vintage Rolex or even Tudor Submariner, but thanks to Davosa, you can now get the look for a fraction of the price.
The Davosa Ternos Medium 36.5mm, ref. 16619540, borrows almost all of its design identity from a midsize Tudor Submariner. While some may not be OK with that for the $899 they are asking, others will have no problem.
While the ceramic bezel, sapphire crystal, and Super-LumiNova are all modern features of a watch in current production, the design language of this watch follows most closely that of the 5-digit Submariner line. While I understand that this model may not be for everyone, if you are able to look past the borrowed design, you can get a great watch for a great price.
11. Glycine Combat Sub 36mm (ref. GL0397)
If you were to ask me a few years ago if I would ever recommend a watch produced by the Invicta group to a group of watch enthusiasts, I would have given myself whiplash from shaking my head side to side so aggressively.
Although Glycine still operates as an independent watchmaker, they are very much owned by Invicta. Thankfully for us, they are continuing to produce quality Swiss-made watches for affordable prices, even though you may have to look through the Invicta pricing smoke screen.
The Glycine Combat Sub, ref. GL0397, is a 36mm dive watch that takes inspiration from the Submariner design language. They are not as "inspired" as the Davaso mentioned earlier, but the resemblance is there. What makes this watch fun and different is the case treatment Glycine has decided to go with.
This Glycine Combat Sub features a gold-plated case and bracelet, giving this watch a touch of class or gaudiness, depending on your view of gold watches. The pricing on this watch is all over the map ranging from the MSRP of roughly $1550 (don't pay that!) down to $598 through some other retailers.
The look is unique, and if you are able to pick this up on the lower end of this range, you'll get yourself a unique take on a Submariner-inspired watch with 300M of water resistance and a Sellita SW200-1 as well.
Armida is a brand that has developed quite a fan following amongst the micro-brand enthusiast community. Their clean and classic designs that borrow just enough from more mainstream watchmakers and robust construction help to separate this brand from the hundreds of others in the price range.
The Armida A11, ref. 00055, is a great example of this ethos. The 36mm stainless steel case features an ETA 2836-2 movement with day and date complication. The unique placement of this day/date complication at 6 O'clock on the dial helps to give this timepiece a unique look, despite the familiar black dial, black bezel, and Mil-Spec Submariner dial and handset.
This watch comes in at $399 and represents a tremendous value for a watch with a Swiss-made movement, quality construction, and compact size.
After years of relative obscurity compared to their price equivalent competition, Alpina has finally started to break out of their shell and garner more mainstream attention. With several strong product lines to their credit, the Seastrong Diver is one of the favorites among many collectors.
The Alpina Seastrong Diver 36mm, ref. AL-525LNSB3VG6, is a different take on this winning formula. Although marketed as a ladies watch, a common fate for many watches in this size range, this 36mm watch features a polycarbonate and fiberglass case in a black finish that feels quite masculine.
The watch is paired with a bi-color blue nylon strap that complements the blue fume dial. This watch is powered by a Sellita SW200-1 and comes in at a price of $1595. If you are looking for a smaller dive watch that will stand out from the crowd, this Alpina Seastrong is a great option to consider.
I am not one to typically repeat watches from the same watchmaker, let alone product line, but when a brand carries as much weight as Omega I am willing to make an exception. The Omega Seamaster Diver 300M, ref. 2252.50, in 36mm, is very similar to the Omega Seamaster we mentioned earlier.
The case, helium escape valve, and scalloped bezel are virtually identical between these two models. Despite the similarities, these watches couldn't be further apart aesthetically. The blue dial and skeleton hands have been replaced by a black wave dial and standard sword hands, giving this model more of a Mil-Spec vibe than a Hollywood icon.
This seamaster is powered by the caliber 1120 based on the ETA 2892, and the aluminum bezel insert predates the ceramic found in the newer model. The subdued look helps this watch look more natural on the wrist today than its blue counterpart that feels distinctly 90s (not that that is a bad thing).
These can be had anywhere from $2,000-$3,000, depending on the condition, and there is also a quartz version available with the same design for a little bit cheaper. If you're looking for a luxury dive watch with some serious Military roots, the Omega Seamaster Diver, ref. 2252.50, is a great option to consider.
15. Vintage 36mm Skindiver
Alright, so I am kind of cheating here, but this style of watch definitely deserves a mention. The 1960s and early 1970s were the perfect cross-section of overproduction and lowered costs of manufacturing. There was no shortage of brands producing watches during this time, and because of this, there are still hundreds of thousands of them floating around in dresser drawers and garage sales, waiting to be discovered.
Because of the interest in recreational diving and water activities like surfing and snorkeling, many of these watches carried the Skindiver case style, capable of decent water resistance, while costing significantly less than the true dive watches of the day from brands like Omega and Rolex.
The 36mm case dimension was a favorite amongst brands due to its increased size compared to more casual timepieces of the era. Pricing for these watches varies from a few hundred dollars to a few thousand dollars, depending on the brand and the condition. You may not be able to take these watches with you diving, but they will likely hold the memories of many others who did.
Conclusion
So, there you have it, 15 of the best 36mm dive watches. Whether you just prefer a smaller watch, are a vintage enthusiast at heart, or only have the wrist to support a smaller dive watch there is a great option in this list for you. Thanks to the law of supply and demand, many of these watches can be had for a great price, slightly pre-owned, or straight from the Authorized Dealer with a discount.
A 36mm dive watch certainly isn't for everyone, but neither is 44mm or 42mm or even the universally loved 39mm. If you need more validation of the return to midsize dive watches, look no further than Tudor at Watches and Wonders 2023.
After years of carrying the torch of producing the most well-loved dive watch for smaller wrists with the Black Bay 59 at 39mm, they introduced the Black Bay 54 at an even more compact 37mm dimension with even more bells and whistles. If Tudor released this before revamping their flagship model in the Black Bay 58, there might be more weight behind this return to midsize watches trend than most of us even believed.
Either way, more choices will always be a win for the enthusiast community as more and more people of different shapes and sizes can find the watch that fits their wrist and style perfectly!
Happy Watch Hunting!
About Exquisite Timepieces
Established in 1998, Exquisite Timepieces is your one-stop shop for all things luxury watches! We are an authorized dealer for 60+ luxury watch brands including Omega, Hublot, Seiko, & Longines! We are proud to showcase one of the world's largest pre-owned watch collections, including renowned brands like Rolex and Patek Philippe. Check out our brand new watch arrivals here and popular pre-owned listings here.