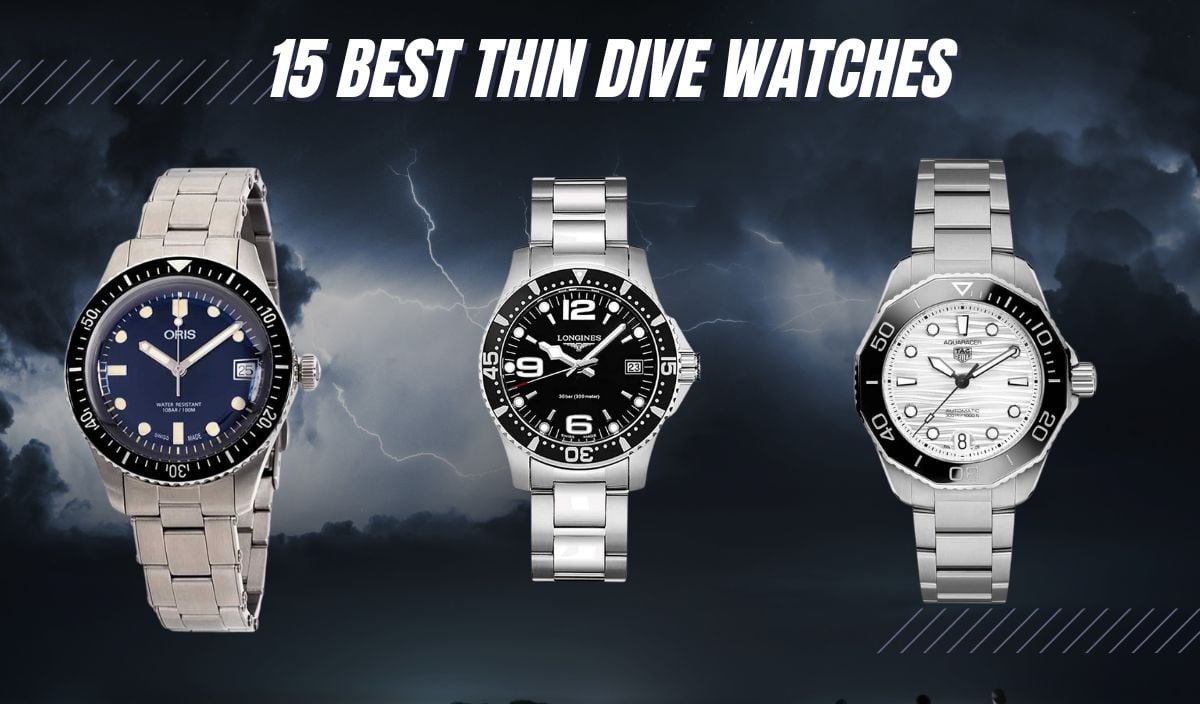 15 BEST Thin Dive Watches with a Sleek Design! (2023)
If you are reading this, you are probably tired of heavy and bulky dive watches, and you need a sleek design. You're in luck. The Exquisite Timepieces team scoured depths to uncover the 15 best thin dive watches.
These watches combine a relatively slim profile with a regular dive watch's renowned durability and precision timekeeping. As a result, they are versatile and stylish dive watches. Portable enough to style formal wear and lightweight for everyday fashion without bugging your wrist.
While they all have a similar design architecture, you'll find a variety of svelte styles for different budgets to choose from on our list. So let's get to it.
About Thin Dive Watches
When you think of a dive watch, you probably envision something big, bulky, and built like a tank – which is true. It's no surprise when they are designed to survive deep-sea diving. Ideally, they feature overengineered, often oversized cases with superior durability, legibility, luminosity, and water resistance, boosting their general demand and not being restricted to divers only.
You most likely thought, "you want all these quirks but in a streamlined and elegant case" when you embarked on the journey for thin dive watches. The good thing is there are quite a few quality timepieces that fit the category. However, you'll be out of luck if you expect models like the ultra-thin 2.4mm Bulgari Octto Finnissimo. Thin dive watches range from around 6mm to 13mm, and most fall within the 11mm range.
On the bright side, they are comfortable to wear for long periods and can be dressed up without getting caught under your sleeve or jacket cuff. Slim divers can serve you on formal occasions or in their element for casual or sports wear.
Thin dive watches are no pushovers, either. Some models can be slightly tougher than regular or oversized ones. However, they suffer no compromise to structural integrity due to the slimmer profile. They also maintain essential dive watch features such as a unidirectional bezel, water resistance, and luminosity. Plus, technological advancements have allowed for the creation of thinner movements that don't sacrifice accuracy.
Should You Buy A Thin Dive Watch?
It's no secret that more than half of the people who buy diver watches are not divers or into sports. Most enthusiasts buy them because they love the design, which is subjective. At the same time, another set of folks uses the unidirectional bezel to time an array of activities other than underwater duration.
For what it's worth, the closest action my dive watch sees is recording 20-minute intervals for regular breaks from work. Another thing is even bulky dive watches are designed to fit under a wetsuit. They are tool watches, so they fit perfectly under overalls if you work in an industry.
But a thin dive watch is your best bet if you want a low-profile model you can style with a dress shirt. It gives you that bold look, unmatched visibility, and functionality in a small case. Plus, they are a great choice for small wrists that struggle to wear divers without having the fit of an Omnitrix. Slim dive watches fit better and stylishly.
The Best Thin Dive Watches
We've compiled this list of the absolute best quality divers with cases thinner than 13mm. The selections are according to their value and respect among enthusiasts, not by size.
Starts from approximately $3,300
The Tudor Black Bay 58 Blue (ref. M79030B-0001) is a thin dive watch masterpiece with a vintage appeal. It has a 39mm case, slightly smaller than the conventional 40mm and 45mm, and is only 12mm thick – a perfect size for both men and women. It has a durable, corrosion-resistant case made from 316L stainless steel.
Its blue unidirectional bezel is a classic design with 10-minute Arabic-numbered intervals to 60 minutes. The aluminum bezel is fluted for non-slippery handling with gloves or underwater. Also, its markers are Super-LumiNova treated – meaning they glow in the dark. This "glow in the dark" feature extends to the hour marker and hands on the dial.
Speaking of the dial, it's yet another classic look, but in blue. It sports a domed dial plate, trademark round markers, and snowflake hands, which are simple yet aesthetic. You'd love the attention to detail in the finish of the Black Bay. Its case is polished down to the lugs, while the bracelet is a rough, bold, and dressy satin finish.
The Tudor Black Bay's standout function is arguably its long-lasting 70-hour power reserve. That's about three days' worth of juice powered by a COSC-certified in-house movement, the MT5402.
Starts from approximately $11,500
Since introducing the original Bathyscaphe watch, Blancpain has committed to creating smaller-sized sports diving watches, and the Blancpain Fifty Fathoms Bathyscaphe (ref. 5000 1110 B52A) is no exception.
This luxury dive watch stands out for its thin profile and sleek design. It's housed in a 43mm case of only 13.4mm thickness. And this size might not seem thin to casual wearers, but it falls in the sweet spot for professionals.
While this Bathyscaphe might seem relatively thin compared to dress watches, it is noteworthy for a dive watch, which typically requires a thicker case to withstand the pressures of deep-sea exploration.
In addition, the slim and flat bezel enhances the watch's thin profile with its ceramic inlay and Liquidmetal markers and numerals. The 23mm width between the horns also enhances its slim profile.
What I admire most about this dive watch is how Blancpain kept up with typical features while trying to achieve a slim profile. As a result, the watch maintains a high water resistance (300 meters), an impeccable 120-hour power reserve, and a high resistance to shock and magnetism.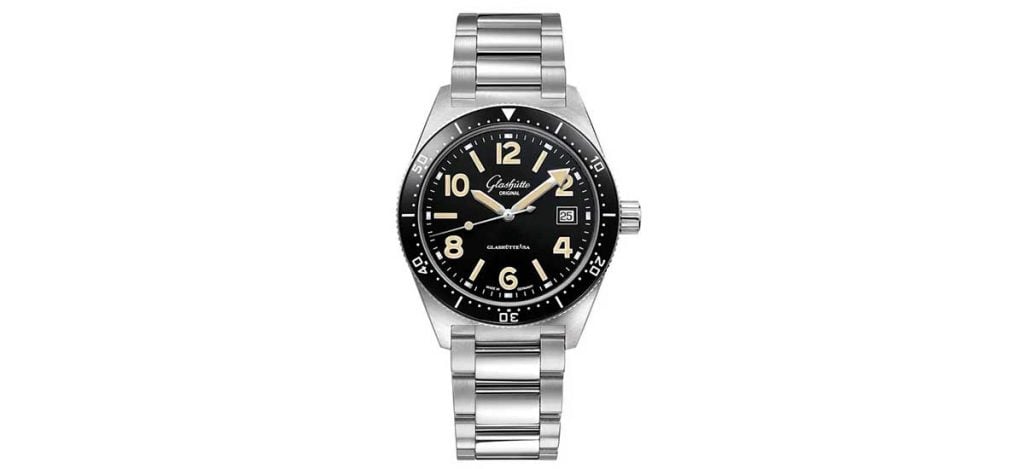 Starts from approximately $11,900
They say looks can be deceiving, and that's exactly the case with this Glashütte Original SeaQ model. Its gigantic numeral Arabic numerals can be misleading of its actual weight and frame. But it's only the brand's way of prioritizing visibility for underwater and low-light environments or reading the time at an angle.
But its enormous feature goes no deeper than the numbers. The SeaQ has a polished stainless steel case, possibly one of the thinnest certified dive watches. It's only 39.5mm and has a height of 12.15mm, which is impressive considering the watch's 200-meter water resistance rating. A small detail I loved about this diver is the representation of its 20-bar (200 meters) water resistance on the case back with 20 waves.
You'll also love its innovative dial design. It's a radiant combination of large orange Arabic numerals, baton markers on a sunburst black dial, and the date window at 3 o'clock.
Regarding functionality, SeaQ has all makings of a professional dive watch. It has a fully graduated 60-minute unidirectional bezel, luminescent markers, and hands. The brushed stainless steel bracelet is nice, but you also have more dive-friendly options of rubber and synthetic straps.
In addition, it comes with a Glashutte Original automatic caliber 39-11 with a 40-hour power reserve running at 28,000 frequency. Plus, the watch meets DIN 8306 and ISO 6425 diving standards.
Starts from approximately $2,300
This watch is another small adaptation of a classic diver – the Legend Diver – as a 10th-anniversary model. As its name implies, its round measures only 36mm, 11.90mm thick, with a 19mm lug width. Give it to Longines to add class and style to their rugged tool watches, as this Diver 36 gets a Milanese (mesh) bracelet. It's easily mistakable for a dress watch considering its skinny profile and unisex appeal.
The Longines Legend Diver 36mm (ref. L3.374.4.50.6) is remarkable for more than its sleek design, though. I love how its dial is caricature-like as it packs many functions into its portable 36mm case. For example, it has an inner bezel rather than a robust unidirectional bezel to stay thin and fashionable. And has distinct stick indices and mixed hour markers that make it even easier to read the time, despite the clutter.
Additionally, with water resistance of up to 300 meters, the Legend Diver L3.374.4.50.6 proves you don't need a 50mm thick case to go some distance underwater. It runs on a 45-hour power reserve in-house caliber L592.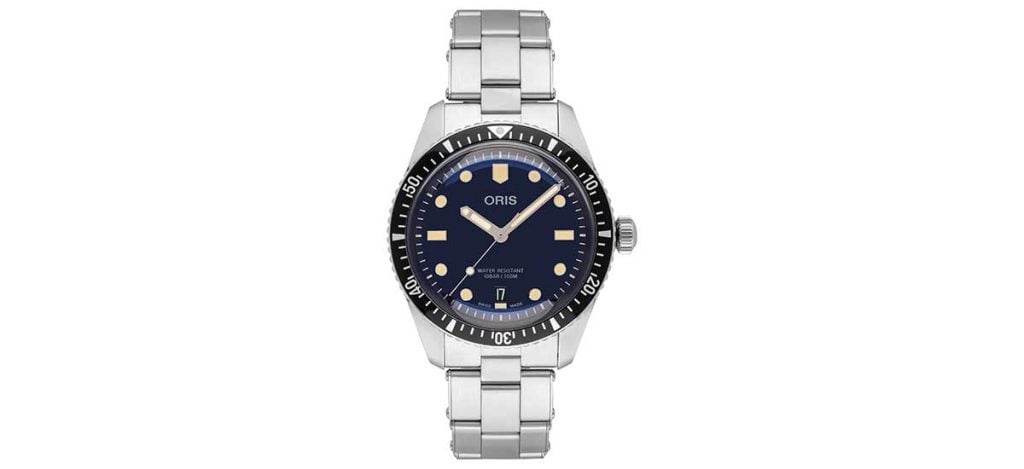 Starts from approximately $2,700
The Oris Divers Sixty-Five is another relatively thin dive watch worth taking a shot at. It's a sleek and fashionable diver of 40mm diameter and 13mm thick. I particularly like that you can make a statement wearing this watch on any outfit, whether a suit and tie or dressing down for a beach outing.
Aside from having a low-slung profile, Oris's (ref. 01 733 7707 4055-07 8 20 18) watch doesn't really strike all the right chords for me. For a watch that is 13mm thick, you'd expect it to have some high water resistance, which is not the case. The watch only has a 10 bar water resistance which is quite good if you don't intend to submerge it in water.
Starts from approximately $500
If you are not a fan of big dive watches or you have a small wrist, consider buying the Seiko SNE573 watch. It is small, only 10.6mm thick, and barely wide (38.5mm diameter). Although the watch is small, it is not uncomfortable.
The dial and bezel have legible numerals and markers with a LumiBrite coating. So, even underwater, you can tell the time clearly. It also has a very comfortable silicone rubber strap that doesn't bite into or leave marks on your skin. Despite a small frame and entry-level price point, this Seiko SNE573 houses impressive features.
One standout feature is the solar-powered quartz movement, which is very accurate and long-lasting. When fully charged, it can last for up to 10 months. And with its 200m water resistance, you can descend with this watch into deep waters – just be sure to ascend in ten months.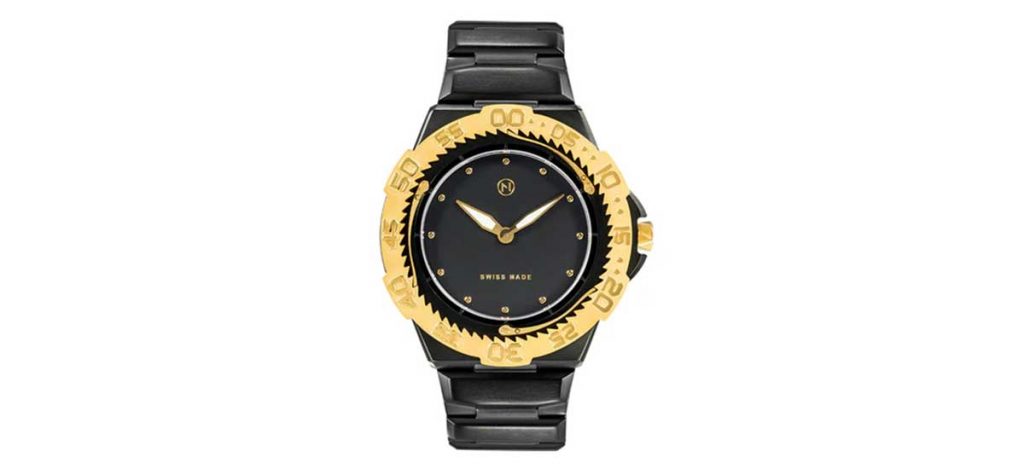 Starts from approximately $370
Now, this definitely has to be the slimmest dive watch you'll ever find. It is only 6.8mm thick, even though it has a relatively large 46mm case. So, if you want an extremely thin watch but with a huge face, the NOVE Trident E009-02 would be the perfect candidate for your collection. It's lightweight and among the most affordable luxury dive watches on the market.
In addition to a slim profile, the NOVE Trident E009-02 has a unique three-level stopper bezel system. They are designed to help the bezel stay unidirectional and are easy to clean after underwater use. Note, though, that only the hour and minute hands are luminous. It may not be ideal for use in dark or low-light environments, as the hour and minute markers on the dial and bezel lack applied Superluminova.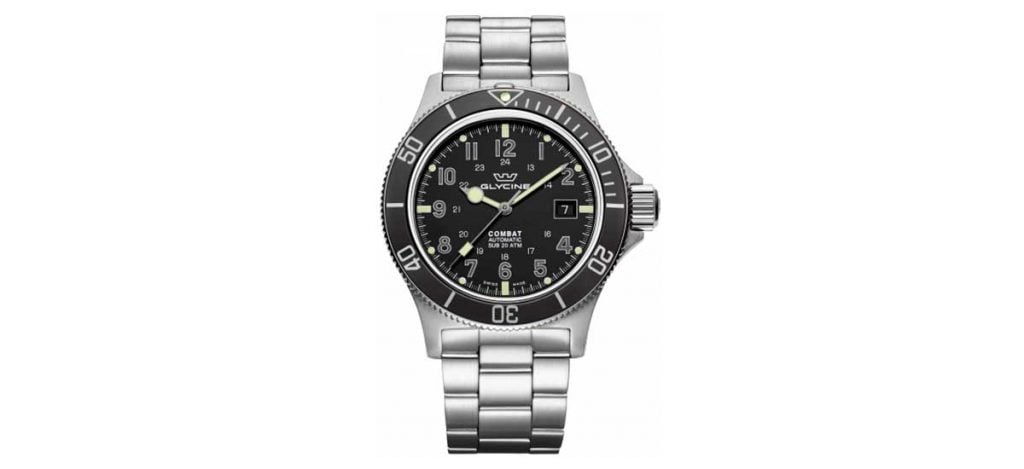 Starts from approximately $1,300
Here's another watch on our list of thin dive watches. Admittedly, the Combat Sub isn't exceptionally thin compared to the NOVE Trident E009-02 or Seiko SNE573. But at 11mm thick, it more than paints the perfect picture of a thin dive watch.
The case is 42mm in diameter and houses a very busy dial. Busy in the sense that there are 24-hour markers on the black dial – who cares about military time in this age? And only the 1 to 12-hour markers are visible in low-light conditions. So why include the other hour markers? If I'm a fan of military time, I'll want to use it in the light and the dark.
But then, different strokes for different folks, right? Still, on the cluttered dial, there is a date window at the 3 o'clock position and many brand and model name engravings. The dial is a bit choked up.
My issue with the dial aside, the Glycine Combat Sub (ref. GL0076) is a high-performance watch. It has all the kicks and perks of true dive watches – a unidirectional bezel, screw-down crown, water resistance, and powerful movement.
Starts from approximately $1,100
The Mido Ocean Star 200 (ref. M026.430.11.051.00) is also a top contender for those in the market for a thin dive watch. It has a thin case that is 11.8mm thick and 42.50mm wide. The case has a screw-down back, crown, and 20 bar water resistance.
What strikes me most about this watch is the dial's simplicity. Don't get me wrong; sometimes, complicated dials can be beautiful and functional. In fact, Mido has some watches in the Ocean Star collection with insane clutter.
But the simplicity of this model is quite intriguing. It features white stick markers and skeletonized hands on a black dial and bezel. Only the 15th, 30th, and 45th minutes on the bezel are numbered. Inside the Ocean Star, 200 is a COSC-certified Mido Caliber 80 (base ETA C07.621) with an 80-hour power reserve.
10. Christopher Ward C60 Trident Pro 300 38mm
Starts from approximately $1,150
What's more exciting to an enthusiast than a watch with an open case back? Probably a thin dive watch with the same case back or anyone with a worthy movement to display. Luckily, Christopher Ward's C60 Trident Pro ticks both boxes at a price I'd like to call a steal.
This C60 Trident is an ultra-thin (11mm) and portable (38mm) masterpiece, sporting a lightweight polished stainless case and bracelet. It's also highly customizable, with options to add an engraving or resize the bracelet for a token.
Not to mention, the bracelet is marine-grade stainless steel with micro-adjustment mechanisms (and screw links), a useful feature even top luxury watchmakers ignore. The Trident's dial and bezel are exceptionally stylish while staying rugged. It features a plain white dial, white markers and hands highlighted with black for contrast, and a black-on-white bezel with Arabic numerals.
One detail that particularly caught my eye was the Trident on the seconds hand. Finally, it uses an automatic movement with a 38-hour power reserve, date display, and an Elaboré' Colimaçoné' finish.
Starts from approximately $735
Next on our list of thin dive watches is the Baltic Aquascaphe Black Cream watch. Its stainless steel case is 39mm wide and 12mm thin. The watch offers a vintage charm with a modern performance. Its retro-inspired design draws inspiration from classic dive watches. However, it incorporates modern elements that make the watch safe and stylish.
The case and bezel are covered with double-domed sapphire glass. Being one of the toughest materials in the watchmaking industry, this solid sapphire glass is poised to protect the watch from scratches and breakage. So go ahead and surf the seas, knowing that your watch can take hard hits. Avoid bumping it intentionally into things because even the strongest materials have a breaking point.
In addition to a sturdy case and glass covering, the dial is powered by the iconic automatic winding Miyota 9309 movement, which has a 42-hour power reserve. This movement also powers the unidirectional rotating bezel and its 120-minute graduation.
Starts from approximately $3,500
Sinn U50 (ref. 1050.010) is a mid-sized version of the highly durable U1 watch. It offers nearly all the benefits of the U1 version but in a 41mm case instead of the 44mm. The U50 combines the rugged durability and water resistance of the U1 with the sleek and slim profile of a dress watch – its case is only 11.15mm thick.
But don't be fooled by the aesthetics and slim profile. The U50 is a super functional instrument watch and one of the most rugged dive watches ever made. The case is made of submarine steel, an antimagnetic material that's highly resistant to seawater corrosion and "tegimented" to prevent scratches.
And unlike conventional luxury dive watches, the U50 has a remarkable 500-meter depth capacity. It's powered by an efficient Sellita SW200-1 automatic movement with 25 jewels and 28,800 running frequency.
Its dial and bezel have an eye-catching toolsy aesthetic. The contrast of orange and white markers on its matte black dial is an ode to legibility in and out of water. It's an even more striking beauty when the dial's luminescent applications come to life in the dark.
The only gripe is that it uses a leather band, which can be an advantage if you get the U50 for casual and formal dressing. However, you'd need to buy a Sinn rubber replacement for diving purposes.
13. Orion Calamity Void
Starts from approximately $1,650
The Orion Calamity Void is a thin dive watch (11.3mm) with a bold face. It's only 39.5mm but has a double-domed anti-reflective coating and shielding lug design that covers the crown. So while it may appear large, it can fit small wrist sizes and dress cloths.
The dial also accentuates its bold and masculine appeal. The black-on-black combination with the bezel, sharp white hour markers, and hands, and oversized orange seconds hand are far from a calamity. However, it has a high-gloss finish that shines on its satin-brushed case and bracelet, making it a choice evening watch.
Furthermore, the Calamity has a 200-meter water resistance rating) and an exhibition case back. It displays the automatic Sellita SW300 movement with Geneva stripes and a gold Orion logo. Overall, the Orion Calamity Void is a mystifying combination of the hardiness of dive watches in a thin and stylish frame capable of dressy wear.
14. Formex Reef Automatic Chronometer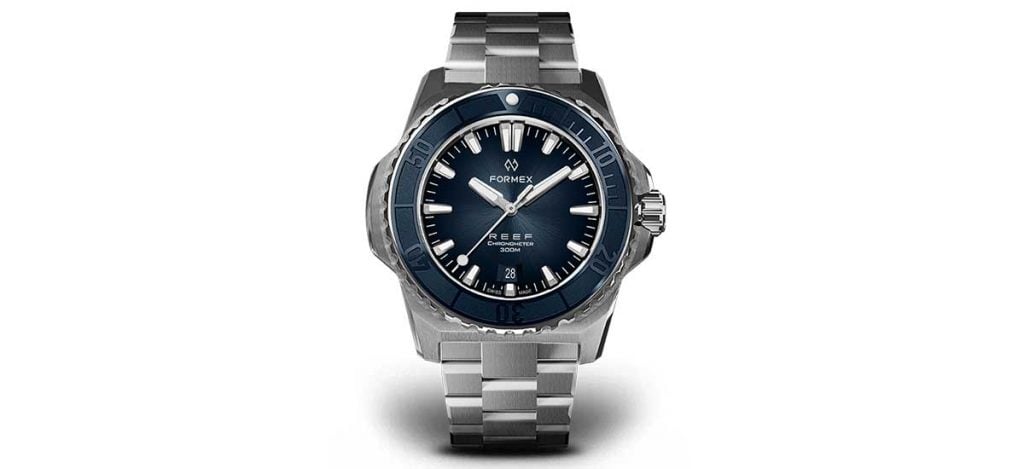 Starts from approximately $2,100
This watch is a bad boy in every sense. It's a true diver by design, with a case similar to an old diving helmet. While the case is 42mm across, it's only 11.4mm thick and built with the toughest materials all around.
The Reef's case uses the same 316L stainless steel as our number 1 pick, the Tudor Black Bay 58 Blue. And features a scratch-resistant zirconium oxide ceramic bezel with 3D graduations of 60 minutes. It's the only watch on the list with a 3D effect engraving on the bezel.
The exceptional bezel glows in the dark with its Rehault-syle baton markers on its sunray-finished dial. You can take this beauty down to 300m, which is also impressive since most thin dive watches only have the standard 200m water resistance or less.
However, a patented micro-adjustment system sets the Formex Reef Automatic Chronometer apart from the crowd. This rubber strap has a patent clasp that allows seamless adjustment and safe lock in all conditions.
The Reef also has a stainless steel bracelet with screw links for easy adjustment to any wrist size. Further, inside the 11mm thin dive watch is a COSC-certified movement. It's a Sellita SW300-1 with 56 hours of power reserve.
15. Ole Mathiesen Navy Diver 40 (ref. OM12.40A1.NA)
Starts from approximately $2,500
At just 10mm thick, the Ole Mathiesen Navy Diver 40 (ref. OM12.40A1.NA) is one of the thinnest dive watches on the market. But some of its features are less impressive than other thin dive watches on the list. Particularly, the 12-bar water resistance rating is too low. There are thinner watches with higher water resistance. So don't attempt submerging this watch into deep waters.
Despite its low water resistance, it is still one of the best thin dive watches on the market. The black dial is accented with white luminous indices allowing easy readability. And the case also has a tough crystal made from scratch-proof convex sapphire.
Conclusion
There are plenty of options if you're in the market to own your first stylish and functional thin dive watch or add to your collection. But options start to shrink when you have a size, thickness, and design in mind. Otherwise, getting lost in a sea of slim dive watches is easy, and buying all or nothing is possible.
Regardless of the size or features you prioritize, you'll find that these 15 models are the best options for your budget. Hopefully, this list informs you of the best thin dive watch for your style or points you to suitable alternatives.
About Exquisite Timepieces
Established in 1998, Exquisite Timepieces is your one-stop shop for all things luxury watches! We are an authorized dealer for 60+ luxury watch brands including Omega, Hublot, Seiko, & Longines! We are proud to showcase one of the world's largest pre-owned watch collections, including renowned brands like Rolex and Patek Philippe. Check out our brand new watch arrivals here and popular pre-owned listings here.