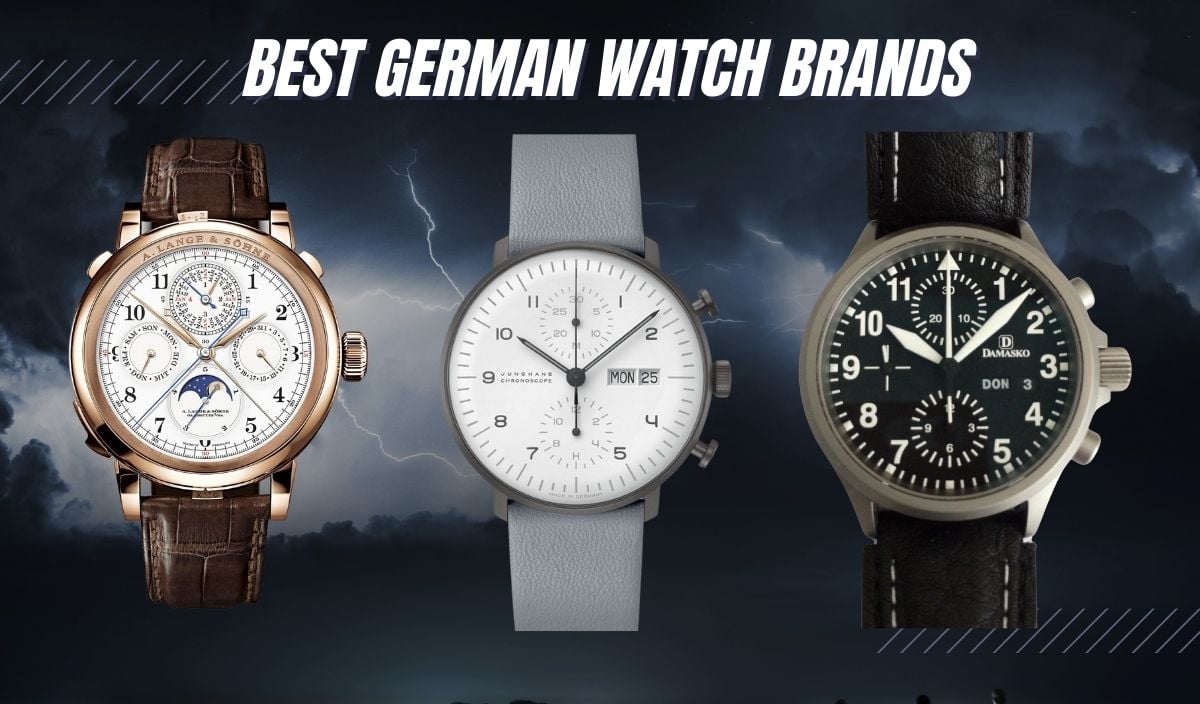 12 FINEST German Watch Brands for 2023 (Only the Best)
Switzerland and Japan typically come to mind when one thinks of watch brands and watchmaking. However, a third country to the party is Germany. Germany has a rich history of watchmaking, and as an indicator, German brands are somewhere between Swiss brands and Japanese brands when considering different factors. Today we will discuss a variety of brands, including A. Lange & Söhne, Glashütte Original, NOMOS, and more.
History of German Watch Brands
There are varying accounts of the origins of watchmaking in Germany. Based on my research, German clock-making and watchmaking trace their roots back to the 1700s in the town of Pforzheim. Several watchmaking institutions were established in Pforzheim to create job opportunities and a workforce at that time. These and the demand for wristwatches became a catalyst for Glashütte, eventually becoming a vital region for watchmaking in Germany.
The impact of World War I on German watchmaking had the effect of reform. The War brought about the significance of the wristwatch as it shifted focus away from pocket watches and their production. World War II also significantly impacted German watchmaking as many factories were destroyed due to heavy bombing, and as a result, they closed.
Following World War II, whatever watchmaking within Germany was taken over by the State, and progress waned. Following the Fall of the Berlin Wall in 1989, signs of innovation and evolution returned. Several of the watch brands in this discussion were founded or re-born following 1989, so this was a crucial period in German watchmaking history.
German Watch Brands vs Swiss Watch Brands
Let us consider how German watchmakers compare with the Swiss in a variety of characteristics. Firstly, the label "Swiss Made" means something special to the general public. Thus, given the public perception and marketing, Swiss brands have a point over German brands, but this could soon change with time.
Regarding the variety of brands, Switzerland trumps Germany due to a broader array of Swiss brands at every price point. Historically, watchmaking has been the "bread and butter" of the Swiss manufacturing industry.
Even as I look at my current collection of watches, over 40% are Swiss Made, and the rest are made up of Japanese brands. This is not to say that German timepieces are lacking, but Swiss Made watches are more accessible and promoted.
In terms of build quality, German watch brands take a point over their Swiss rivals. Germany is a country renowned for their high-quality engineering, including watches. Some German watch brands use submarine steel, Tegiment steel, and hardened coating, to name a few features. German watches are also typically sturdy and have tight tolerances.
So, expect nothing less, as this is German engineering at its pinnacle. Concerning movements, the Swiss have a wider variety of standard use movements that have been shared throughout many brands, namely ETA, Sellita, STP, Soprod, and La-Joux Perret.
German watchmaking is outshone here, but this does not tell the bigger picture regarding in-house manufacture movements, as German watchmakers have a host of in-house movements. For example, NOMOS has the in-house Alpha hand winding movement within their Club Campus series of watches at $1,500 MSRP.
That is great value for money when considering the price of in-house movements from Swiss brands, which typically begin at much higher price points. Now, we will inspect several German watch brands in more detail alphabetically.
1. A. Lange & Söhne – German Watchmaking at Its Finest
A. Lange & Söhne was founded by Ferdinand Adolph Lange in 1845 in Glashütte. But they were severely affected by World War II as their production ceased in 1948 due to the division and occupation of Germany. Following the Fall of the Berlin Wall in 1989, A. Lange & Söhne was re-born with the efforts of Walter Lange, the great-grandson of Ferdinand Adolph Lange.
My grail watch brand is A. Lange & Söhne because they are the only watchmakers that assemble every watch movement twice in a process called the "two fold assembly" process, which allows the mechanical pieces within the movement to be adjusted to perfection.
In addition, their most affordable watch (The Saxonia) is finished to the same standard as their more expensive watches, such as the Zeitwerk and Datograph. The Lange 1 Moon Phase is highlighted because of its distinct designs to A. Lange & Söhne. It has an asymmetrical dial, yet it is beautiful and interesting.
The dial layout contains the hour and minute hands, small seconds, large date cut-outs, moon phase, and power reserve; this is perfectly imperfect. The movement of the watch is displayed by the exhibition case back and finished to the highest standard. So I recommend this brand wholeheartedly as you will be amazed by it on many levels.
Notable Watches: Grande Lange, Zeitwerk, and Datograph.
2. Archimede – Outdoor Companion
Archimede has roots going back to 1924, with Karl Ickler founding their original family business. Following the dormant period of the brand during World War II, it was rebuilt by Karl's two sons. The company is now managed by Thomas Ickler and remains an independent and family-run business. In 2003, Archimede came to the forefront with their modern release models and as we know the brand today.
What makes Archimede interesting is their variety of designs with their tool and vintage-styled watches. My friend Kim purchased the Archimede Outdoor in 2018, and his opinion of the watch is that it is of "…military grade and can handle tough environments and handle extreme conditions", so it is a great watch for exploring and an excellent choice for a GADA Watch (Go Anywhere, Do Anything).
The Archimede Outdoor model has a barrel-like shape with 39mm or 41mm case sizes. The Outdoor models vary with simple 3 hands with date or chronograph and are extremely anti-magnetic. But what makes this ready for the wild is that the watchcase uses a hardened coating and is 200 meters watch resistant, so you can dive, hike, cycle, and surf with it.
Notable Watches: Pilot and Klassik.
3. Damasko – German-Made Watches With Robust Construction
What makes Damasko watches great and robust? Maybe it is because they use submarine steel and have a hardened coating.
A key watch model of their current lineup is the DK30 range of watches; these contain their in-house A26-1 movement. This is impressive at the starting retail price of €1,645. The watch's blue or black military-style dial also contains cross hairlines, which allows the watch to remain legible and yet adds an extra touch to it. This watch is a great tool with robust construction and Damasko's hardened coating, enabling them to withstand more hits than a heavyweight boxer.
Notable Watches: DS30 and DC Chronographs.
4. Glashütte Original – Elegant Watches Designs With Innovative Watchmaking
When I think of Glashütte Original, elegance and innovation come to mind. Glashütte Original has roots dating back to 1845, but I wish to focus on the brand in its modern form, which began in 1994. Since then, it has represented high-end watchmaking, which is obvious when viewing its finishing and movements.
In 2000, Glashütte Original was acquired by the Swatch Group but still remains distinctly German in design and heritage. My first experience with Glashütte Original occurred in March 2017 when I visited the Glashütte Original Boutique in The Shoppes at Marina Bay Sands in Singapore with a friend. Richard Goh, Boutique Manager, pleasantly greeted us.
We sat down, and Richard allowed us to try on a variety of watches; one of the models that stood out to me at the time was the Seventies Chronograph Panorama Date in blue and gray dials. I remember being impressed by the beautiful dials, sturdiness of the case, and finish of the movement through the exhibition case back. Since then, I've told myself that I will own a Glashütte Original watch.
Notable Watches: SeaQ and Pano.
5. Hanhart – High-Quality Military Chronograph Watches
Hanhart has Swiss-German roots, having been founded by Johann A. Hanhart in the village of Diessenhoffe, Switzerland, in 1882. In 1902 he relocated his company to Schwenningen, in southern Germany. Hanhart created the world's first reasonably priced mechanical stopwatch in 1924, and ever since then, they have been renowned for stopwatches and chronograph watches.
The iconic Steve McQueen was a notable wearer of Hanhart, specifically the Hanhart 417 Chronograph Watch. The modern iteration of that watch is the Hanhart 417 ES Chronograph Watch in 42mm and 39mm case sizes.
These are faithful to the original watch by combining design with history with the 2-sub dial layout on a lovely leather bund strap. The watch is ready to be worn and taken into action like it was intended to be when created as a military tool watch.
Notable Watches: Pioneer One and Pioneer MK I.
6. Junghans – The Original Minimalist Watch
Junghans personifies the saying that "less is more". Junghans was founded in 1861 and, in 1866, began making clocks. In the 1930s, Junghans began fitting their movements within wristwatches, and in 1946, they ventured into chronograph watches.
Moving forward, the 1950s was the catalyst for Junghans as we know them today, and they began working with Max Bill (scholar of Bauhaus) in designing kitchen clocks. In 1961, Max Bill worked with Junghans to create a wristwatch, which has since become the brand's icon that watch enthusiasts admire.
So it's no surprise I am promoting the Junghans Max Bill collection consisting of automatic, hand winding, chronograph, solar, and quartz models. Each utilizes the simple dial layout consisting of minimalism and thin lines as hour and seconds markers.
Some models even contain small Arabic numerals and small seconds, but one look at them, and you can tell the models are all related. The Max Bill collection also includes a variety of case sizes from as small as 32.7mm to 40mm. Thus, this collection can be for any gender as it is clean, simple, and does not contain superfluous features.
Notable Watches: Chronoscope, Form A, and Form C.
7. Laco – One of the Original Flieger Manufactures
Laco was founded in 1925 and is famous for being one of the five original Flieger manufacturers for the pilots of the German Luftwaffe. Their watches were created to be large, legible, and built for battle. Yet, Laco watches are distinct and simple.
Typically, Flieger watches are larger in size, 46mm, and upward, as they were designed to be as legible as possible when flying in the skies. But the watches I choose to recommend are smaller and suitable for wearers. The Aachen and Augsburg Flieger watches are notable because they represent great value and tradition. The price point begins at $410 MSRP, which is exceptional as it's accessible and affordable.
Those models are available in 39mm and 42mm sizes, making them suitable for various wrists. Also, those watches have black, blue, and white dial variants. My preference is the black for due to the connection with the original Flieger watches. However, the white dial makes for great summer wear. Thus, if you can, give the brand an opportunity and open up your horizon.
Notable Watches: Leipzig and Heidelberg.
8. Montblanc – Traditional Instruments
"The pen is mightier than the sword" – Edward Bulwer-Lytton, 1839. Montblanc is a very famous brand within the sphere of writing instruments. However, many may not be aware that they are a German brand. In 1997, Montblanc added time-telling instruments to its catalog, and it has grown ever since.
The Montblanc watch that should be on your radar is the Nicolas Rieussec Chronograph GMT (with R200 movement). One look at this watch, and you are mesmerized because so much is happening on the dial. The timepiece consists of three sub-dials with the main time and GMT on the center dial, then on the lower left is the running seconds hand, and on the lower right is the chronograph minutes counter.
Also, most people tend to miss the day and night indicator on the peripheral of the 8 and 9 o'clock markers, which is a subtle touch on an elegant watch. Easily missed is the date indicator on the peripheral of the 3 and 4 o'clock markers. These details allow the watch's dial to appear symmetrical and beautifully proportioned. In my opinion, this is the icon within the Montblanc watch collection.
Notable Watches: 1858 and Heritage Collection.
From a modern perspective, Moritz Grossmann was founded in 2008 by Christine Hutter. She had acquired the right to use the name of the famous German Watchmaker. Since then, the brand has gained a following with high-end watch collectors due to the brand's artisanal hand finishing to that of the standard of true haute horology. According to reports, Moritz Grossmann produces approximately 200 watches a year.
The Heritage collection from Moritz Grossmann is simply stunning and they have created masterpieces in every detail, from the proportions of the watch, dial color, and hands on the dial to the engraving on the movement. These are the reasons why the brand charges upwards of €29,400 for their watches. In my opinion, Moritz Grossmann creates works of art on your wrists, which are worth every cent they charge, but that's just my two cents.
Notable Watches: Central Seconds and Universalzeit.
10. NOMOS Glashütte – Classic Designs & Beautiful In-House Movements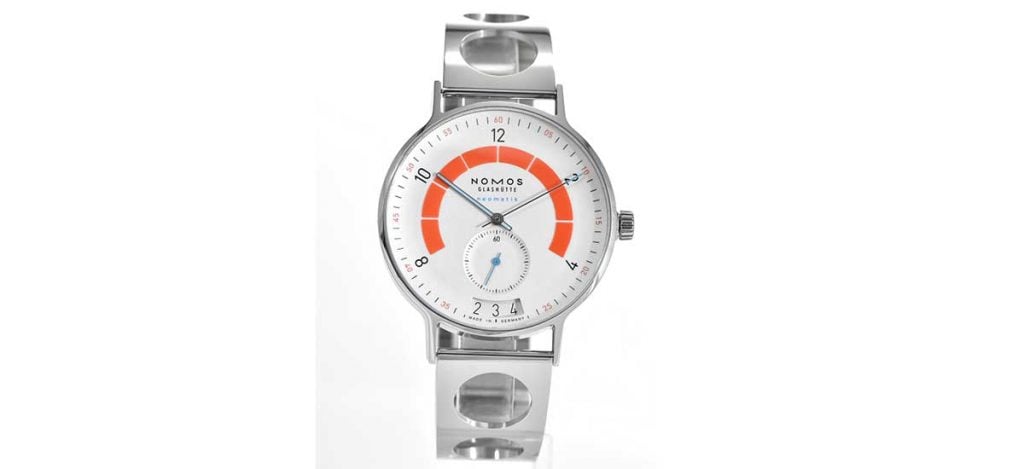 NOMOS Glashütte can be considered a new kid on the block in German watchmaking as Roland Schwertner founded the company in January 1990. The style of watchmaking by NOMOS can be regarded as Bauhaus, given that many watches feature simple dial layouts with modern designs.
A unique set of aspects of NOMOS that should be highlighted is their in-house movements and product finishing. The Alpha Hand Winding movement and DUW automatic movements are great value-for-money in-house movements that do not break the bank, and typically, in-house movements indicate innovation from the brand.
The case finishing of NOMOS watches is typically mirror-polishing to a high standard. The movement decoration includes ribbing and a perlage finish, which adds beauty to such an outstanding watch. The NOMOS watch I highlighted is a watch I previously owned, the Club Campus Nacht in 38mm. The story of how the watch entered my collection began with Baselworld 2017.
NOMOS presented this as a watch to be gifted following graduation or a great achievement. The Club Campus contains a sterile case back (also available in the exhibition case back) if one wants it engraved with a special message. I love this idea. I was impressed by the case finish and thinness of the watch (being less than 9mm thick) due to the in-house Alpha hand winding movement.
My experience with NOMOS has been very positive, but a critique is that the lugs are very long for the case size. The long lugs also show a sizable gap between the strap and the watch case. However, these criticisms are easily overcome on larger wrists or the use of a one-piece nylon strap.
Notable Watches: Zurich World Time, Orion, and Ahoi
11. Sinn – The Ultimate Tool Watches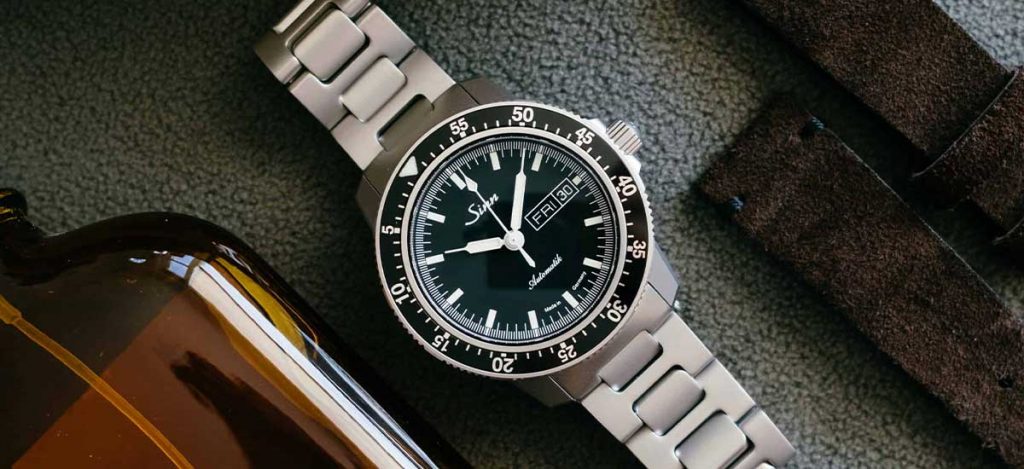 Sinn has a well-documented pilot and military history, having been founded by Helmut Sinn (pilot and flight instructor). An interesting fact is that Sinn produced the cases for early Bell & Ross watches. Since Sinn's inception, its focus has been on military watches and cockpit clocks. Also, Sinn utilizes submarine steel for many of their watches cases along with Tegiment coating, which makes their watches highly resistant to scratches.
Moreover, some Sinn models include dehumidifying technology built inside via a capsule. The capsule indicator on the side of the lugs shows when the watch has accumulated too much moisture, and then at that stage, you should contact Sinn to get the watch serviced.
The Sinn 556i is a great watch, though; firstly, the case size of 38.5 mm and a thickness of 10mm. These measurements make it a universal size, as those with small to medium wrists can wear it. Also, the dial is glossy black, and the gold-plated rotor of the watch has been customized by Sinn to add an extra depth of quality. Overall, the Sinn 556i is fantastic, over-engineered, and dependable.
Notable Watches: Sinn 104, Sinn 856, and Sinn U1.
12. Tutima – Best of Both Worlds
Tutima may be a lesser-known watch brand, but they produce both tool and dress watches with immaculate quality, thus making them ideal to be on your radar. Tutima was founded in 1927 in Glashütte and specializes in military and tool watches.
I highlight the Tutima M2 Seven Seas diver watch and the Patria dress watch range. The Tutima M2 Seven Seas is a dive watch released in 2022. The watch has several dial color variants, including blue, yellow, green, and red. Although colorful dials are not something revolutionary, these colors make the watch feel more trendy and suitable as a fun weekend watch.
Furthermore, the Patria range is a hidden gem in German watchmaking as it contains an in-house hand-winding movement with excellent case, dial, and movement finishing comparable to watches costing upwards of $10,000. The Patria comes in stainless steel or 18K rose gold, but, in my opinion, go for the stainless steel option as it is a bargain and can be had for less than the price of a Rolex Submariner on the secondary market.
Notable Watches: Saxon One and Grand Flieger.
Conclusion
In summary, we've inspected several German Watch brands that should be on your radar. From my own experience, having owned the NOMOS Club Campus, I can attest that German watchmakers offer exceptional quality that can be seen and experienced in the metal better than in images.
Also, with many Swiss watch brands raising prices regularly, it is a great time to purchase your first German watch or add more to your collection. It will only be a matter of time before word gets out on German watch brands and their popularity skyrockets. To my audience, danke!