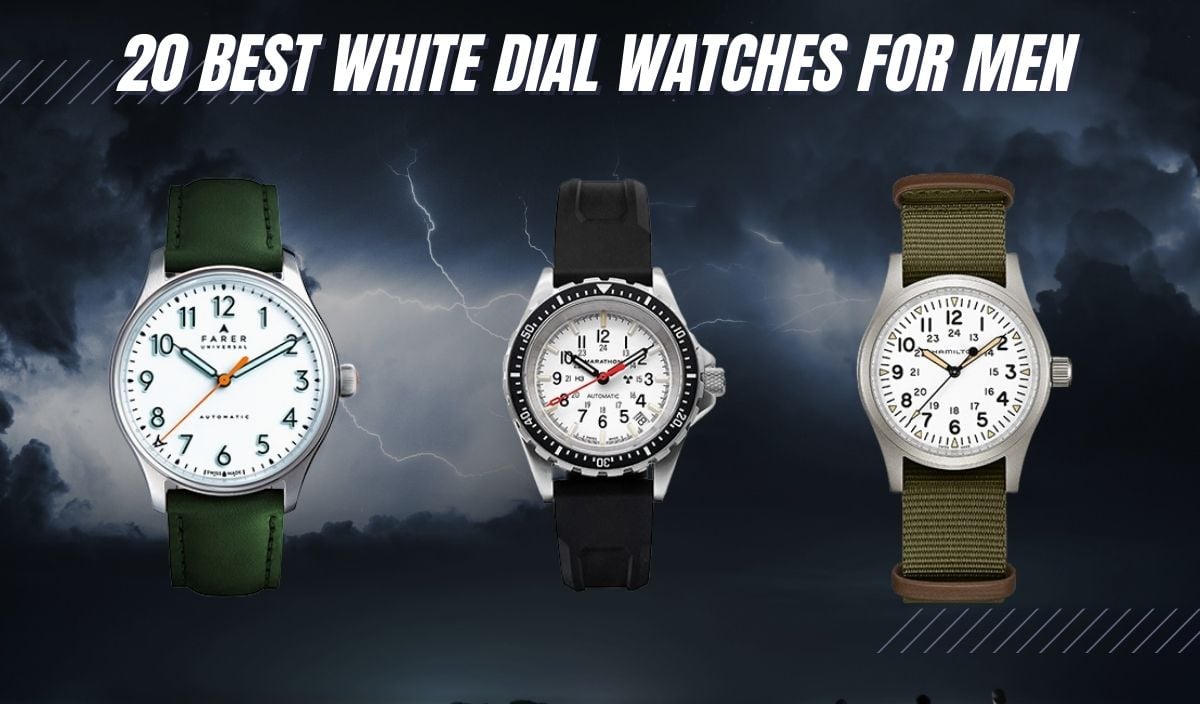 20 BEST White Dial Watches for Men (From Affordable to Luxury)
As I sit here in my home office wearing my Datejust 41 (ref. #126300), with the white dial, of course, I'm smiling to myself. You see, ever since I got into watches, I've always been drawn to the ones with white dials like my dog is to socks. While I haven't quite pinpointed what it is about them, I know they look great, whether on my wrist or someone else's.
Walk around your local downtown, grocery store, or mall, and us watch enthusiasts can spot a white dial watch from a mile away. Finding the right one can be a daunting task as there are endless options but don't worry; we'll discuss a few that I believe to be great.  
What's a White Dial Watch?
You probably just read the header to this section and thought, "AJ – a white dial watch is simply a watch with a white dial," to which I would respond, "yes, but there's more!" The dial (or face as it's sometimes referred to) color can be very important for how the watch presents on the wrist, which I'll touch on in a bit.
While the first introduction of these watches is open to debate, we can safely say that they can be traced back to at least the 1940s. Historically speaking, you'll find white dials popular among dress watches, but that isn't to say you can't find them on sports, dive, or other types of watches.
Over the years, watchmakers such as Tudor, Omega, Patek Philippe, and Rolex have introduced models in white that have become icons. Speaking of Rolex, the Daytona (ref. #6239) has become one of the most famous watches over the years. Not too difficult, I believe, when the legendary actor and race car driver Paul Newman wore it.
To Buy or Not to Buy a White Dial Watch?
Yes, you should. Ok, I think we can move on now. I can't make choices for you, but I'll try to explain my fascination with these watches. You should know that I'm not a person who likes attention, but I like to zig while others zag.
Amongst a sea of black, blue, and silver dial watches, white tends to stand out a bit. I know 3 seconds ago I said I don't like attention, but there is a certain degree of flashiness a white dial offers while not going over the top.
They're also incredibly legible, and it's nice to be able to quickly and easily read the time on our watches, right? Before purchasing any timepiece, it's important to put it on your wrist, especially if you're considering a white dial watch. You see, watches with this dial color tend to present larger than they actually are.
An example is the Rolex Explorer II. The watch comes in black and white. If you try both on or look at pictures, you'll see that the white dial looks considerably larger than the black one, even though they're the same size. At 42mm in diameter, it should be noted that dial color matters, especially if your wrist leans on the smaller side. Let's discuss some other greats, shall we?
20 White Dial Watches that are Outstanding
1. Citizen Tsuyosa (ref. #NJ0150-81A)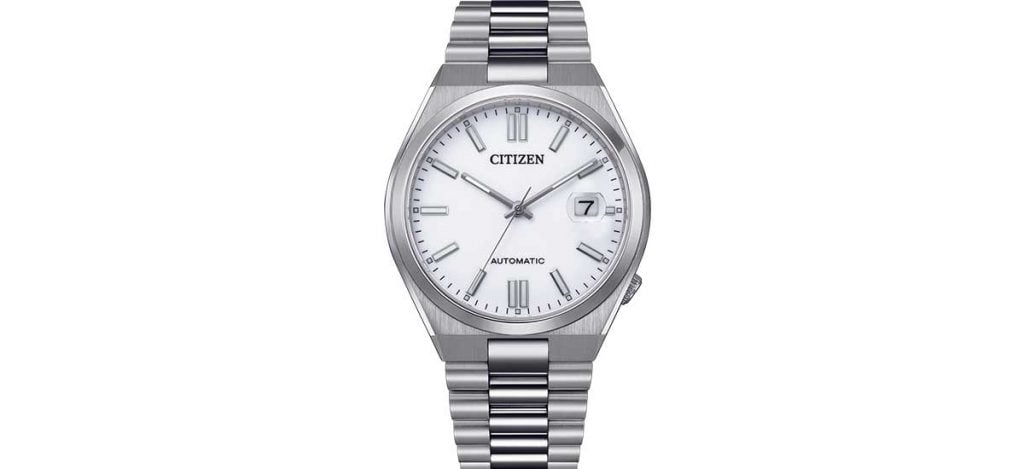 Citizen is a great brand, so it's no surprise they're included. The Japanese watchmaker offers an excellent everyday watch with an automatic movement, the caliber 8210, with approx. 40 hours of power reserve. The case is 41mm in diameter and only 11.7mm thick, which are great proportions for a lot of wrist sizes.
What I love most about it is the price point, which is very accessible at under $500. The watch is also well proportioned with a running seconds hand beating at 21,600 vph (vibrations per hour) and a cyclops date window. The only text on the dial is "Citizen" at the top & "Automatic" at the bottom. Minimal text for the win! The bracelet offers high-polish center links and brushed outer links.
I think this contrast in polishing is wonderful and adds a mix of dressy and sporty. The clasp is fully brushed, so while it will scratch, it won't show them as much as a high-polish clasp would. Citizen decided to offer an exhibition-style case back, meaning the wearer can see the movement while the watch is off their wrist. A nice touch that I personally wish more brands would offer with their watches.
2. Tissot Gent XL Swissmatic (ref. #T1164071601100)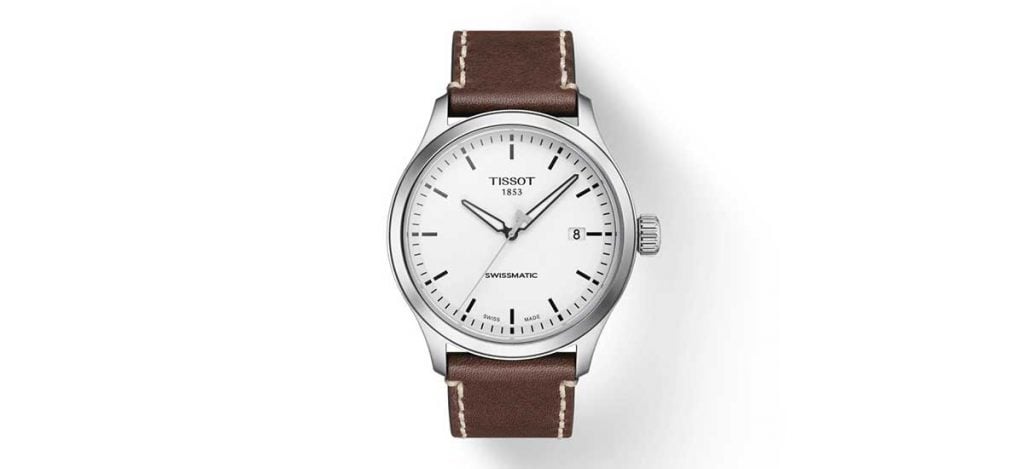 Tissot has a reputation for excellence, and I love what they're doing lately. The Tissot Gent XL Swissmatic, which I will now refer to as "The Gent" for short, comes in a 42mm case diameter, 12.3mm thick, and 22mm lug width. Lug width may not be a big deal to everyone, but for some, 20mm or 22mm size means lots of options for strap changes.
Speaking of straps, this one has the option of either leather, steel, or fabric. The case is made with 316L steel, a highly scratch-resistant and great metal. It has 100 meters of water resistance, so if you elect the steel bracelet or other waterproof straps, this one can easily be taken in the pool or ocean. Not sure I would dive too deep with it, so be weary if you're into that sort of activity.
I'm fearful of the ocean, so you won't find me going below a few feet anyways. What really blows me away is the movement. Tissot has a patented "Nivachoron" balance spring, a titanium-based alloy that is more resistant to magnetic fields. The cherry on top is The Gent's 72-hour power reserve (chef's kiss).
3. Hamilton Khaki Field Mechanical (ref. #H69439411)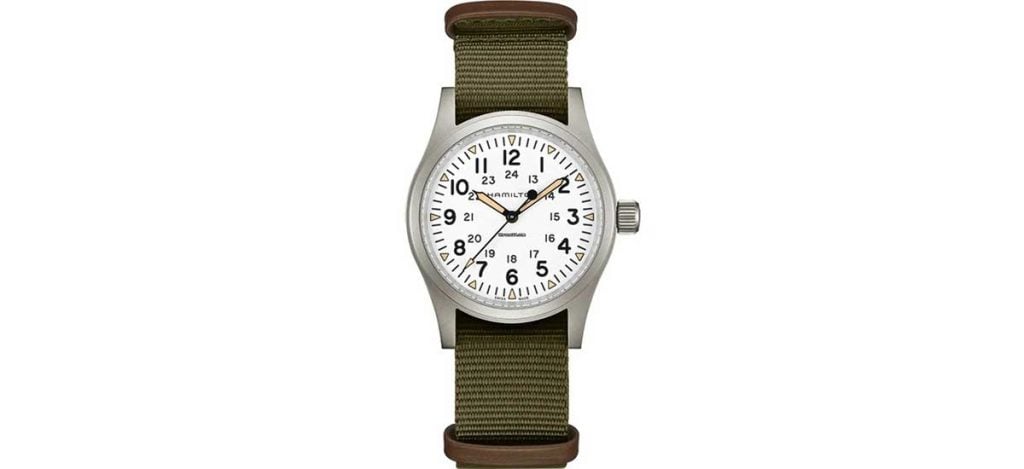 The hardest part of writing about watches is that I want every watch I write about. I know it's a tough job, but someone's gotta do it. I'm sure my fiance won't mind if I just get one more, right? The Hamilton Khaki Field Mechanical is no exception.
Wow, what a watch! 38mm matte finished case, durable military green NATO strap, automatic movement, 20mm lug width, and 80-hour power reserve. Do I really need to say more?! I have yet to touch on lume, and this watch has Super-LumiNova, which means it'll be bright and long-lasting.
If you're unaware, lume is charged by the sun or other light sources and enables the wearer to wear the watch in low light or darkness because it offers a nice glow. Typically lume is applied on the hands and hour markers. A fun fact about the Hamilton Khaki is that it's a recreation of the original 1960s version, and I think it does a great job of keeping that military-inspired look.
4. Victorinox Alliance (ref. #241871)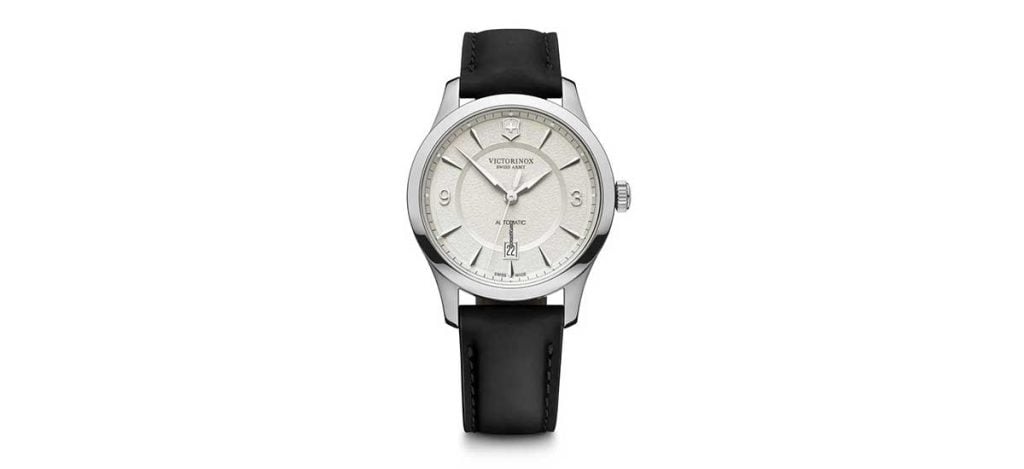 Somehow (don't ask me how), Victorinox has pulled off a simple-looking watch that has a lot going on. That is if you allow yourself to look closer. The dial offers what they call three-dimensional, and it certainly gives that illusion with its stepped-down dial.
The company's logo is at 12 o'clock, 9, and 3 are in Arabic numerals on the dial and a well-executed date window at 6 o'clock. That dial is mesmerizing with its grainy textured appearance. Again, we have a great size of 40mm and a lug width of 20mm, all held on with a black leather strap. I absolutely love the contrast between white dial watches and black leather straps.
The ticking happens with the ETA movement 2892, which can be viewed through the exhibition caseback. ETA movements, along with Sellita, are popular choices among big watch brands, extremely reliable, and easily serviceable. While the leather strap fancies this one up, the design of the dial brings it back to sporty, enabling this watch to be very versatile.
5. Seiko Presage (ref. #SARX055)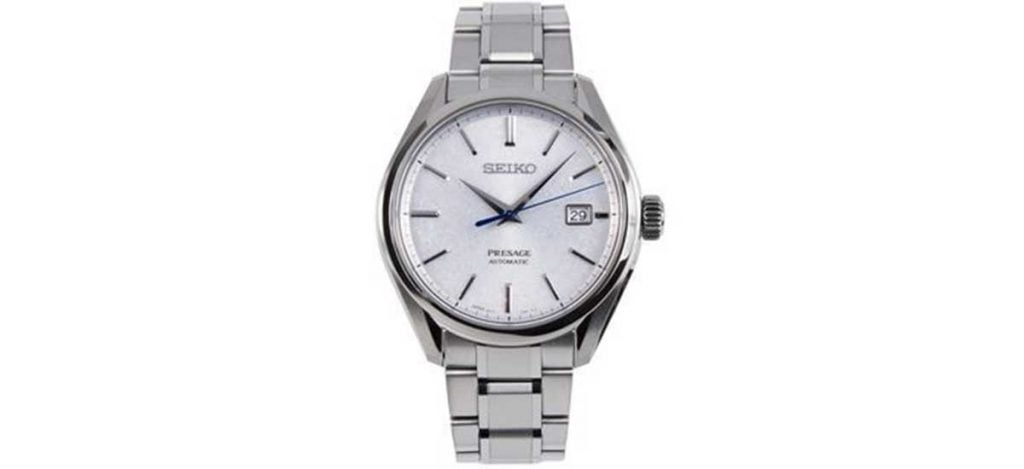 Only a matter of time before I mention this brand. Nicknamed the "Baby Grand Seiko Snowflake" due to its stunning textured dial, this Seiko is a real looker. First introduced to us in 2017, it offers a 40.8mm titanium case. You read that right—the first watch on the list to offer this type of metal.
If you've never experienced a titanium watch, they're worth trying on and can be pretty surprising if you're not expecting their lightness. Inside is the reliable 6R15 automatic movement with an accuracy rating of +25/-15 seconds per day.
Of course, it's not the best timekeeping watch on the market, but it's certainly fair given the sub $1,000 price point. What stands out most to me is the elegance of those sword-style hands and the splash of color we get with the blue seconds hand. It's easy to get caught staring at this one. The watch leans more on the dressy side, but there's no doubt it can be paired with a tee shirt and jeans.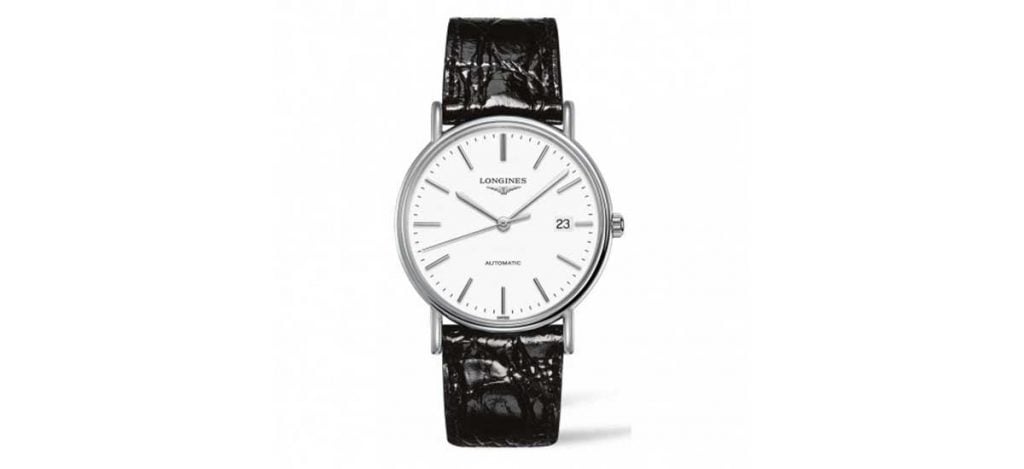 I typically wear my watches with anything and don't particularly like putting them in a specific corner. That being said, it's tough not to look at this watch and think, "wow, what a classy-looking timepiece. That would look nice in a fancy restaurant." For me, what puts this watch in the category of a dress watch is the calf leather, crocodile-style black strap. It also comes in stainless steel at 38mm in diameter and only 8.3mm thick. If you're keeping track at home, that's quite thin for an automatic movement, which in this case is the caliber L888 (a Longines exclusive) conditioned to go 72 hours on a full wind.
It has some water resistance but just enough to get a few splashes on while washing your hands. The dial is clean, with the only text besides Longines being the word "Automatic" in all caps at the bottom. Longines offers excellent watches with a rich history. My grandfather owns a gold Longines watch from the 1960s, so the brand certainly has a special place in my heart.
7. Oris Divers Sixty Five "Social Club Edition" (ref. #01 733 7707 4051 OSC-MIL-Set)
Our first dive watch! And it's not just any dive watch; it's the Oris Divers Sixty Five inspired by the iconic model from 1965. While there are many variations from the Swiss brand, this one is the "Social Club Edition" and is unique because a portion of the purchase goes back towards your community.
Now, I've always been a sucker for black/white watch combos, and this one is no exception. There's just something about that white dial with the circular indices and the black bezel. It just pops so well. Divers can get chunky, but luckily, this one is only 40mm in diameter and relatively thin.
It's got everything you'd want in a watch under $3,000: screw-down crown, automatic movement (Sellita SW 200-1), 100 meters of water resistance, excellent brand, and comes with a black leather strap. Just be sure to swap it for something that will handle water a bit better before jumping into the pool. What I love most about this beauty is the ability to dress it up or down, as it works in all situations.
8. Tudor 1926 (ref. #M91550-0005)
When I first look at this watch, a couple of thoughts immediately come to mind. First, the blue against the white dial is perfect. It had the danger of being too striking, but Tudor did a fantastic job of toning it down with that amazing textured dial.
And second? It's dressy in nature when you consider the 7-row steel bracelet, but then it has that mix of arrow/numeral indices and "Self-winding" text that appears to smile up at the wearer. The watch is going to fit a lot of wrists with a steel case of 39mm. It's a time and date watch powered by the caliber T601 movement, with a power reserve of approximately 38 hours.
This piece also comes in a variety of sizes ranging from 28mm to 41mm and can be paired with various straps from Tudor. If you didn't know, Tudor is a sister company to Rolex. They make many incredible watches, and what I love is that you get that Rolex quality but at a more affordable price. By the way, the watch is called 1926 because that's the year Tudor was founded by Hans Wilsdorf.
9. Nomos Tangente (ref. #101)
Can we take a quick moment to thank Nomos for that easy-to-remember and, most importantly, short reference number? Other companies can learn from Nomos' ways (looking at you, Omega). The first German watch to be discussed today, the Tangente's unique design makes this a winner to me.
Dimensions are great: 35mm case diameter, 6.2mm thick, and only 45mm lug-to-lug. A quick note: the lug-to-lug measurement is important when discussing the wearability of a watch because a large size here can make the timepiece hang off either side of your wrist. In other words, it's the length from the bottom of the lug to the top.
It's powered by the caliber "alpha manual," an in-house movement that is manual wind. This means that the wearer will need to wind the watch once every two days, according to Nomos. It has a small running seconds hand at the 6 o'clock position and the only text being "Nomos Glashutte" at 12 o'clock. It stays on the wrist with the help of a Horween Genuine Shell Cordovan black strap. Bravo Nomos, and please keep them coming.
10. Cartier Tank Must Watch Large (ref. #WSTA0041)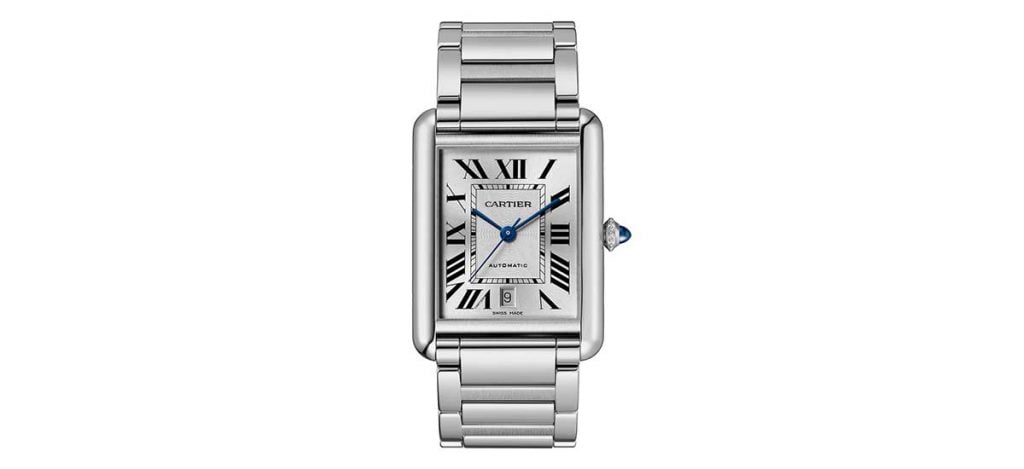 I must confess something. I've been into watches for years, but until recently, I didn't pay much attention to Cartier as a watch brand. That's a mistake I'll have to live with forever, but luckily, I'm on board now. The Cartier Tank Must Watch Large is beautiful, coming in steel with a case dimension of 33.7mm by 25.5mm and 6.6mm thick.
This model contains a high-autonomy quartz movement, although there are other options. The other quartz movement is the "small" version and has dimensions of 29.5mm by 22mm and 6.6mm thick. Lastly, there is an automatic option called the extra-large model. It has a case size of 41mm by 31mm and a thickness of 8.4mm, all while being the only option with a date function.
The Tank Must watch comes on an interchangeable black-grained calfskin strap. When I look at the watch, my eyes immediately fixate on those blue hands and how they perfectly align with the second, minute, and hour markers. These fine details in watchmaking make me absolutely adore this wonderful work of art.
11. Baume & Mercier Clifton Baumatic (ref. #10518)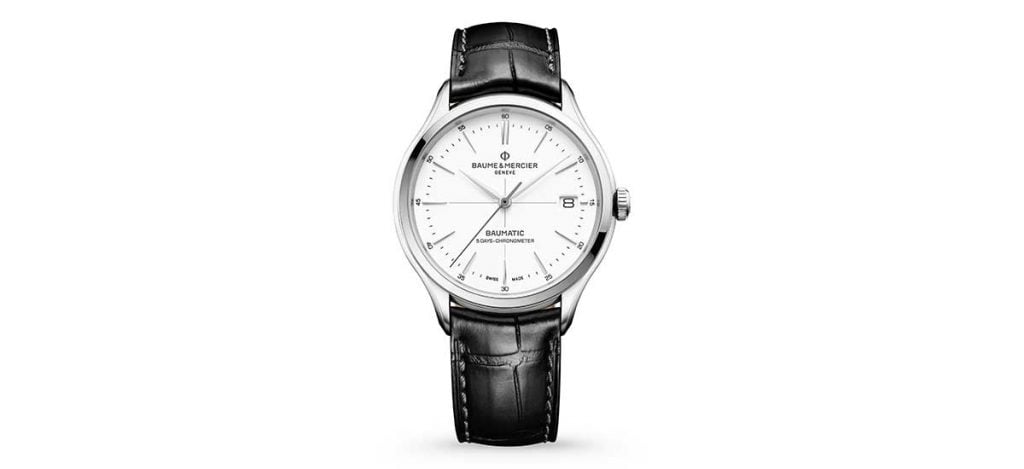 As a watch geek, I can get caught up in the nerdy technical specifications of a watch in an instant. So when I see that this watch, the Baume & Mercier Clifton Baumatic, is COSC certified, it grabs my attention. A COSC certification is only for Swiss-made watches, and means that the watch has been tested and passed a certain level of accuracy and precision. In other words, it's going to keep great time.
Baume & Mercier has been making incredible timepieces for a while now, since 1830, to be exact. Not only does the Clifton Baumatic look awesome, with its perfectly proportioned dial, but it has 5 days of power reserve!
The movement beats at 28,800 vph and is protected by a 40mm steel case at only 11.3mm thick. It also comes on a black alligator strap and has an exhibition caseback, allowing the movement to be visible. The minute/second numbers on the edge of the dial make it just a smidge casual and easier to wear with almost anything.
12. Omega Seamaster Aqua Terra (ref. #220.10.41.21.02.001)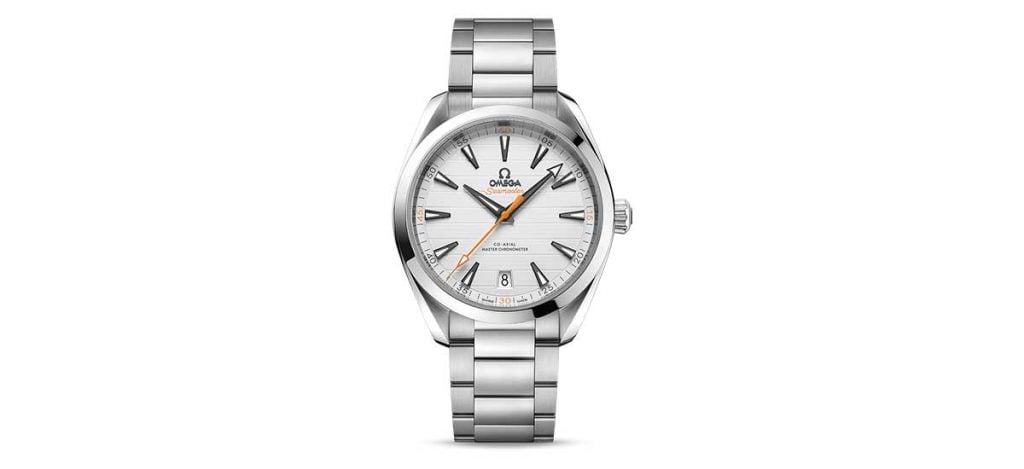 Look, as a collector, there is no such thing as a one-and-done watch. My wallet doesn't love me for saying that. That being said, if there was such a timepiece, this is the watch you're looking for (to quote the great Obi-Wan Kenobi). The Aqua Terra lineup from Omega is superb, and this particular model comes with a stunning white dial. The lovely, horizontal lines across it sort of resemble wood planks across a wall.
The arrow indices pop, and the color contrast between the hands and the dial makes seeing the time extremely easy. We also get a few hints of color, which I love, with orange splashes on the seconds hand, every 15-minute mark along the outside, and the iconic "Seamaster" text. It comes in a 41mm diameter steel case that's 13.2mm thick and has a water resistance of 150 meters.
The movement is a co-axial, anti-magnetic one from Omega, the caliber 8900, and has 60 hours of power reserve and is resistant to magnetic fields up to 15,000 gauss. If that weren't enough for you, it's also METAS certified as a Master Chronometer, meaning it has undergone extensive testing. It's the highest certification a Swiss watch can achieve, so yeah, it's a fantastic watch.
13. Grand Seiko SBGA289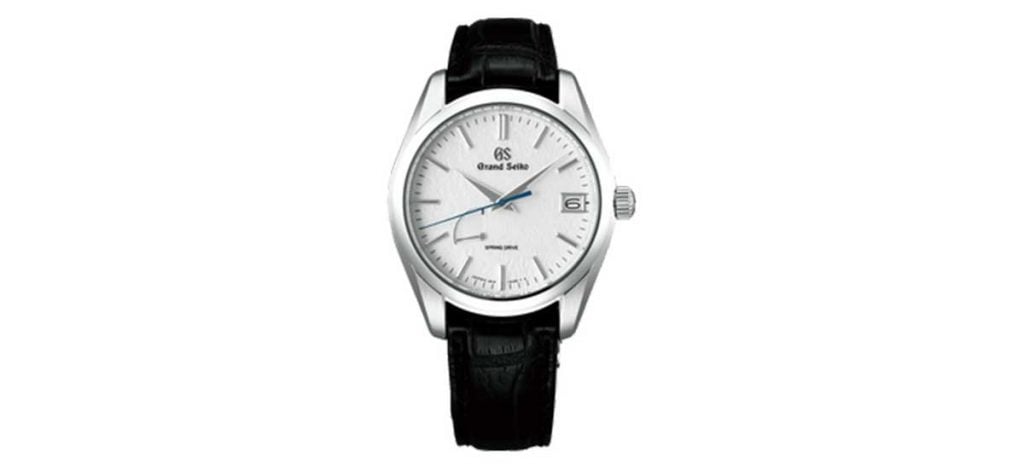 Finding a watchmaker who makes a better dial than Grand Seiko would be difficult. Their finishing ain't half bad, either. The SBGA289 has a 39mm case size, is 12.5mm thick, and comes in white gold. It's simply breathtaking when you see it.
The dial is textured, with a sword-style handset and a blue seconds hand. The movement is the 9R15, a spring dive with a power reserve of up to 72 hours and an accuracy of +/- 10 seconds per month. That's right, per month! I nerd out with mechanical movements, but when you watch a spring drive tick, it's mesmerizing how it sweeps across the dial.
The dial also includes a power reserve indicator, so you never have to wonder how much power your watch has left. It comes on a black crocodile strap, which is a color combination I never tire of. It's been stated by many that no one in the watch industry works harder for your money than Grand Seiko, and I can't help but agree with that statement.
14. Blancpain Fifty Fathoms (ref. #5015-1127-52A)
Blancpain markets this watch, which is a part of a larger collection, as the "first modern diver's watch." In recent years, vintage-inspired dive watches have largely taken over watch enthusiasts' Instagram feeds, but with a quick look at this Blancpain, one can spot a fresh look immediately.
The case size is a bit larger than the previous pieces we've encountered here. A 45mm steel case diameter at a thickness of 15.4mm is no small watch, but everything is wonderfully proportioned. The unidirectional rotating bezel is a glossy white with a silver 60-minute indicator. The quite impressive power reserve of 120 hours is due to Blancpain's caliber 1315 movement.
With a water resistance of 300 meters, this watch should be suitable for recreational divers, and it even comes with a fabric strap. This, to me, is one of those watches that would look awesome on various colored straps to break up the tone of it with a splash of color. Do that, and you got yourself one heck of a watch.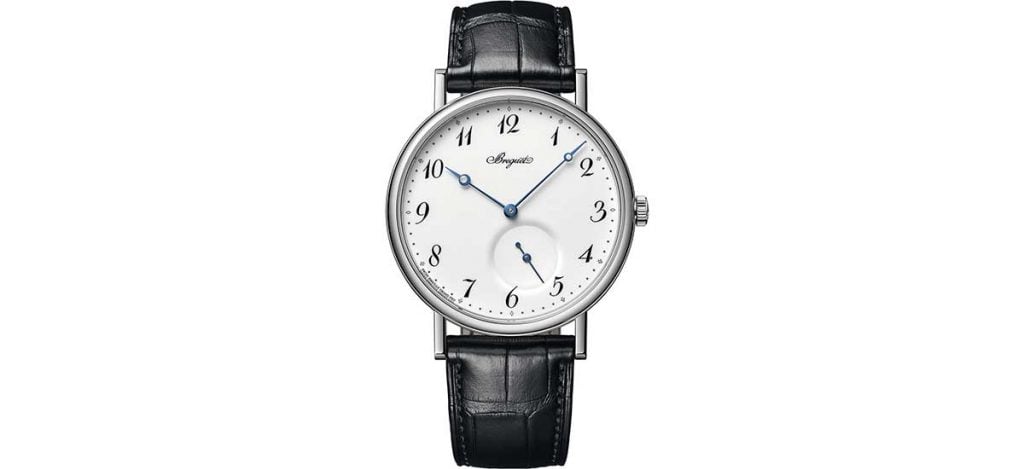 Details, details, details! The 40mm 18K white gold case, sapphire crystal, "Grand Feu" enamel dial, Arabic Breguet numerals, blued steel hands, and that offset small seconds hand tucked in nicely between the 5 and 6. This watch is pure class and is wrapped up beautifully with a black leather strap.
The piece is powered by the automatic caliber 502.3 SD with a 45-hour power reserve. The small details are, in my opinion, what set this watch apart from the rest.
The only text on the dial is "Breguet" in the iconic font, along with the words "Swiss Emaille Grand Feu" in small text that wraps around the bottom from the 8 to the 7. The minute indicators are quite pleasing to look at as well. Along with the 18k white gold version, this watch also comes in rose gold as another white dial option.
If you've been even a little bit into watches, then you've likely heard of Omega. That means you're probably aware of their most famous watch, the Speedmaster. This iconic lineup of watches has a wide array of options, but if you're looking to go against the norm, the "White Side of the Moon" is a good place to start.
The case is 44.25mm in diameter and machined from a single ceramic block. Since it is made out of this material, it will be highly resistant to scratches. It features 50 meters of water resistance, so while I wouldn't recommend swimming around, it certainly can get caught in the rain and be just fine.
The sapphire crystal has anti-reflective treatment on both sides, making it very easy to see the time even as the light reflects off it. Omega's co-axial caliber 9300 powers this timepiece, and its automatic movement has 60 hours of power reserve. When it comes to iconic chronographs, one would be hard-pressed to beat out the Speedmaster.
17. A. Lange and Söhne Lange 1 (ref. #110.029)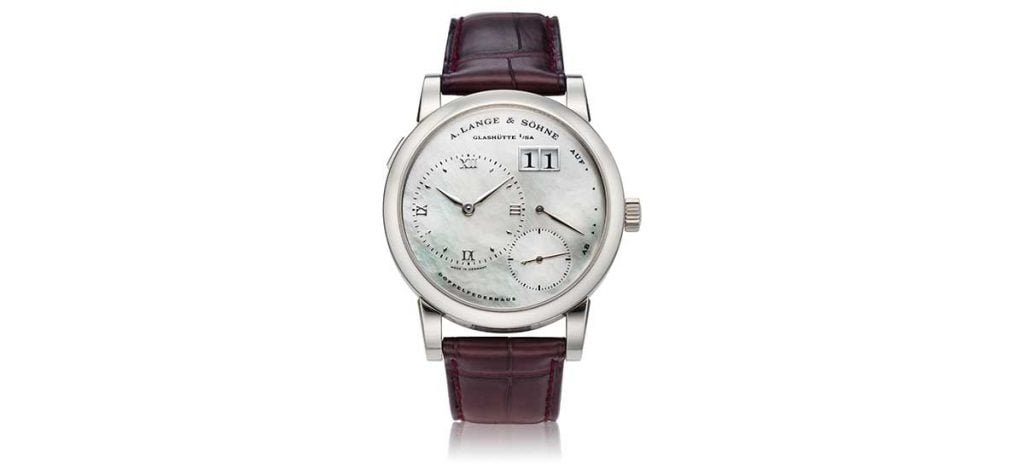 Certain brands are known to many, even if you're not much of a watch person. Other brands, such as A. Lange and Söhne, may not be as recognizable to non-watch folks but do not make any mistake about it: they pack quite a punch.
This watch, in particular, the Lange 1, immediately requires a double take upon first viewing. The case is 18k white gold and measures 38.5mm in diameter and 10mm thick. The ticking comes from the caliber L901.4, which includes the patented big date at 2 o'clock and an impressive 72-hour power reserve.
Since it's a manual wind watch, the exhibition caseback allows us to see that incredibly finished movement without the rotor covering it up. I know I've stated my love for the white dial/black strap combo, but this one works so well with that dark brown alligator strap. This watch proves you don't need dial symmetry to have an excellent timepiece.
18. Audemars Piguet Code 11.59 (ref. #15210OR.OO.A099CR.01)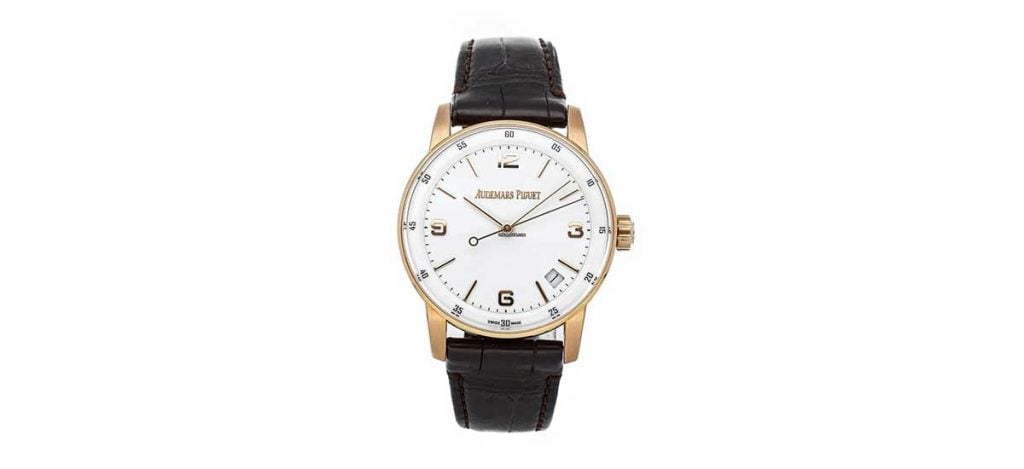 Tough to mention Audemars Piguet, or AP, without immediately thinking of the Royal Oak. How can I blame you? But AP makes other incredible watches, too, including this Code 11.59. The dial is "white lacquered" and surrounded by an 18K pink gold case. An interesting tidbit about this watch is the sapphire crystal.
It's actually double-curved and gives off a unique perspective to the wearer in terms of depth as it moves around. The real estate taken up on the wrist is 41mm in diameter and 10.7mm thick. While there are other strap options, selling me on anything other than the hand-stitched brown alligator strap with the 18k pink gold pin buckle it comes on would be tough.
Finally, the caseback. You know, I have a love/hate relationship with beautiful exhibition casebacks. Obviously, I love looking at a well-finished movement, and well, it's AP, so you know it's going to be spectacular. What's difficult is that it would always be on my wrist, which makes seeing the movement a challenge.
19. Patek Philippe Calatrava (ref. #5116G)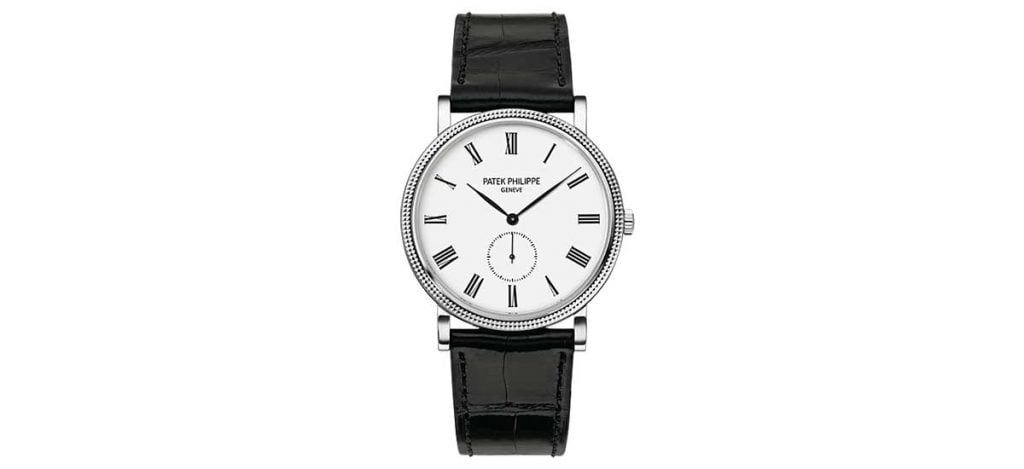 This is THE dress watch. All right, everyone, dust off your hands, and let's go home. Ok, I may be slightly kidding, but this watch is it. The case is 36mm in 18k white gold and is manual wind (caliber 215 PS), time only. It features a double Hobnail bezel and comes on a black alligator strap.
The Roman numeral style handset ties in so well with that small seconds hand at 6 o'clock. The exhibition caseback displays a beautiful-looking movement, which is finished to perfection. One would expect nothing less from one of the finest companies in the history of watchmaking.
20. Vacheron Constantin Patrimony (ref. #81180/000G-9117)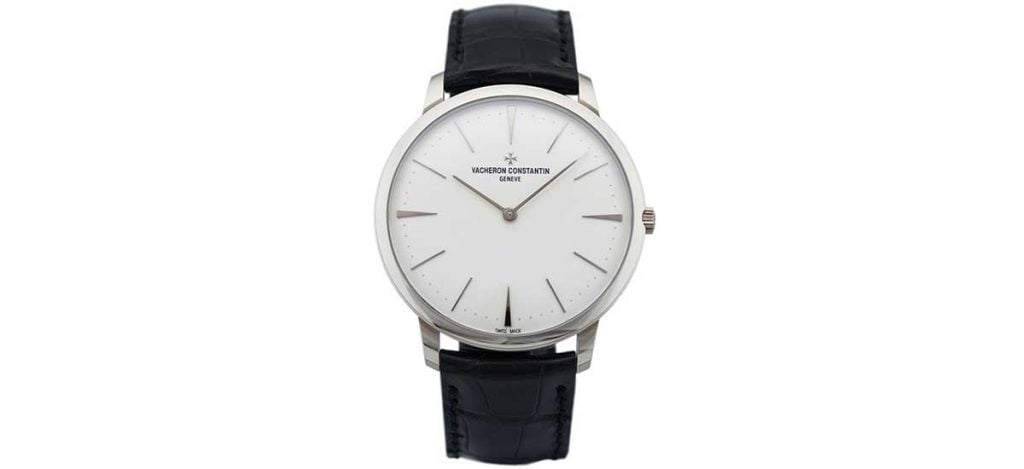 Remember when I said that the Patek Philippe Calatrava was THE dress watch like 5 seconds ago? This is the problem (beauty?) with watchmaking: there are so many amazing options out there. Honestly, I would feel like the luckiest watch collector in the world with either of these. Inspired by the watches of the 1950s, this VC Patrimony comes in a white 18k gold 40mm case.
The dial is simple, with only hour and minute markers sweeping across the "Vacheron Constantin Geneve" text. The strap is black alligator called "Mississippiensis." The movement is manual wind, the caliber 1400, and has a power reserve of 40 hours. It beats at 28,800 vph and is stamped with the "Hallmark of Geneva" certification. Not many certainties in life, but I can say for sure that this watch is timeless.
Conclusion
As a multi-white dial watch owner, I can admit my biases in this discussion. Earlier, I talked about how when you walk through your local grocery store, mall, and restaurant, you'll see an abundance of blue, silver, and black dial watches.
Do not mistake my intention here because there is nothing wrong with that. But if you're in the market for something less common, go try on a watch with a white dial. The best part? As you've just seen, there's something for everyone.