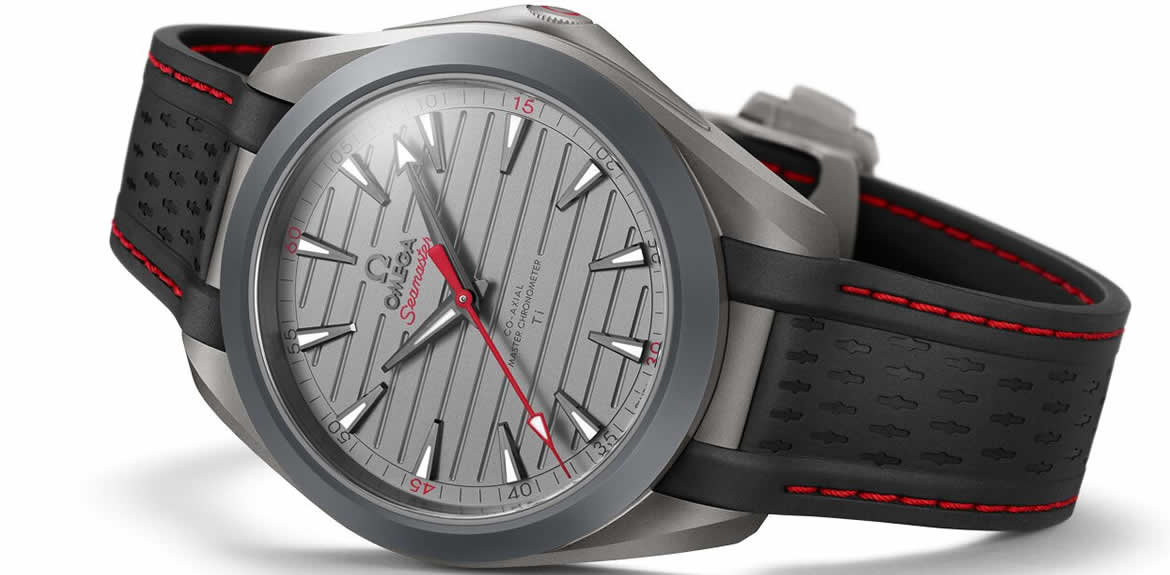 Introducing The New Omega Seamaster Aqua Terra "Ultra Light"
Built with less weight and more comfort in mind, OMEGA's striking new sports watch has achieved its on unique fit and feel. It's the ideal companion for any game you play and weighs just 55 grams on its sporty fabric strap.
Heavy metal? Not on our watch! The Aqua Terra "Ultra Light" has two kinds of titanium and a touch of aluminium, to keep it sitting easy on the wrist. After all, the only thing you should be focused on is your own performance.
OMEGA's matt finish "Ultra Light" makes bold use of colour on the aluminium seconds hand, Seamaster logo, quarter hour indexes and strap stitching. You can choose from red, green or blue. Which do you prefer?
Since the introduction of the collection in 1948, the Seamaster family has been synonymous with an active lifestyle. Nothing could embody this original inspiration more than the new Seamaster Aqua Terra "Ultralight". This revolutionary timepiece has been designed with both athletes and sports in mind. OMEGA worked heavily with brand ambassador Rory McIlroy over a period of 18 months to create an entirely new timepiece designed to be used in the most active and strenuous situations. This is the perfect athlete's timepiece.
This new Aqua Terra is crafted on a unique titanium alloy that combines both aluminum and titanium into a super alloy known as Gamma Titanium. It is lighter and stronger than your traditional titanium, and highly resistant to high heat and corrosion. Gamma Titanium has proven itself a viable material to be used in the aerospace industry and is commonly used to construct the turbine blades of jet engines.
This new material is a first for OMEGA, and has been utilized to construct the case and case back of this revolutionary timepiece. In addition, OMEGA decided to construct an entirely new manual wind, Master Chronometer calibre (8928 Ti), making the bridges and plates for the movement out of ceramized titanium. This further adds to the weight reduction of this incredible timepiece. Top it all off with a ceramic bezel and you have a timepiece that is designed to handle anything the athlete inside you can throw at it.
Lastly, OMEGA has developed and incorporated an entirely new telescoping crown into the case design. The crown remains securely tucked into the case's crown guards until the wearer releases it by pushing on it. This will access the timepiece's functions when necessary, but will protect the crown from impact and digging into the wearer's wrist when not in use.
The new Seamaster "Ultralight" will be delivered in three distinctive model colors (green, blue and red) and will be included with two strap options (rubber and nylon). When the timepiece is worn on the included fabric strap, it weighs an astonishing 55 grams!
"Ultralight" marks the beginning of a new generation of highly sophisticated OMEGA timepieces, so the only question you have to ask yourself is, "are you ready to take 5 strokes off your golf game?"