10 BEST California Dial Watches for the Vintage Timepiece Lovers!
It's about this time of year for those of us in the Midwest of the United States that Winter seems to really drag. The sunless days and subzero temps will have you "California Dreamin" like the Mama's and the Papa's. What if you could escape the cold gray tundra for the golden coasts of California with a glance of your wrist?
The ever-controversial mix mash of Arabic and Roman numerals may not be enough to physically transport you to a warmer climate. But its unique dial layout may be able to break up the monotony of Winter just the same.
History of California Dials
The history of the California dial is a lot more interesting than what you expect when looking at the quirky Arabic and Roman numeral combo. The 1930s first introduced the dial design as we know it, commonly referred to as the "Error Proof" or "High Visibility" dial.
First utilized by Rolex, the dial layout would become synonymous with Italian tool watchmaker Panerai, a brand you will see throughout this article. What makes this history interesting is less about the actual origin of the dial and more about why we now refer to it as a "California" dial.
Fast forward from the 1930s to the 1980s, and the world of watch collecting began picking up steam. Collectors were drawn to the classic watches of the 1930s-1950s. What separates the 1980s from the current state of vintage watch collecting is our current obsession with originality.
Unpolished cases, patina, and refinished dials were not driving the market prices like they do today. The name of the game in the 1980s was having the most sought-after dial, whether it was original or not. One aspect that does carry through with vintage watch collecting today is the obsession with quirky details. One of these coveted details was that of the "Error Proof" dial.
Although many watch dial refinishers were renowned for their expertise in recreating these dials, Kirk Rich Dial Co became synonymous with the style. So synonymous, in fact, that the California dial nickname is based on the location of their facility in, you guessed it, California. You can think of them as the Bamford Watch Company of their day.
Should You Buy a California Dial?
Despite having a unique origin story and appearance, the California dial is not for everyone. Although having a self-confessed soft spot for vintage recreations, I recently warmed up to the uniqueness of the California dial. Should you buy a watch with a California dial? That's going to be completely up to you!
There are some great options, 10 of which we will look at in this article, but if you instinctually give these watches a confused look, you're not alone. If you are not repulsed by the dial, you need to give one of these watches a try! They're different and unintentionally fun in a no-nonsense kind of way. Let's take a look at 10 of the best watches with California dials.
The Best Watches With California Dials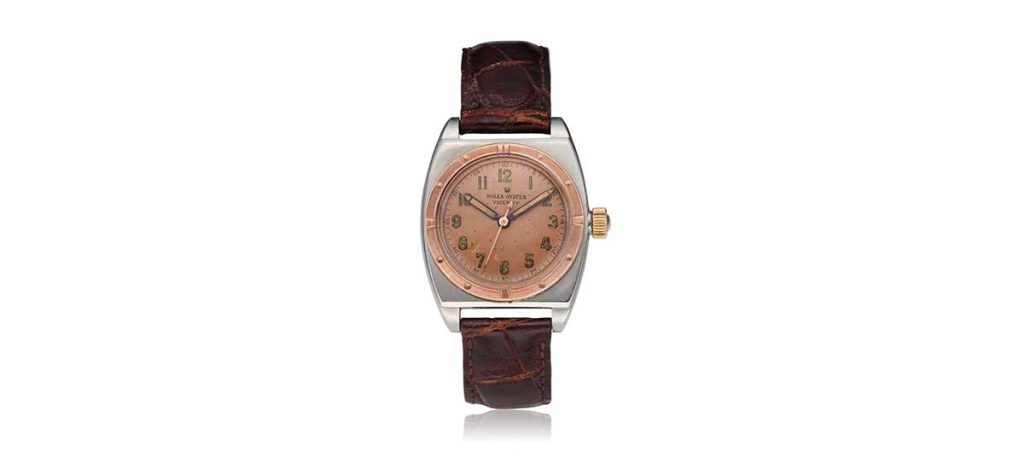 There is no better place to begin than with Rolex. The luxury Swiss brand is credited with trademarking the "Error Proof", later nicknamed "California' dial in 1941. The first known references from the brand to feature the unique dial layout were released during World War II. One of the most revered models is that of the Viceroy Radium, ref. 3116.
These models come in a very modest 31mm case in various metals. The case features the elongated shape of the later released "bubble back' automatic models, despite being powered by a manually winding movement. This model was available in several dial configurations, the rarest of which being the error-proof.
Due to the rarity of original error-proof dials, this style of Rolex was commonly the victim of the previously mentioned redial from the likes of Kirk Rich Dial Co or other prominent refinishers of the time. Due to the rarity of the model, pricing this model can be difficult. My advice, if you see one, and can afford it, just get it!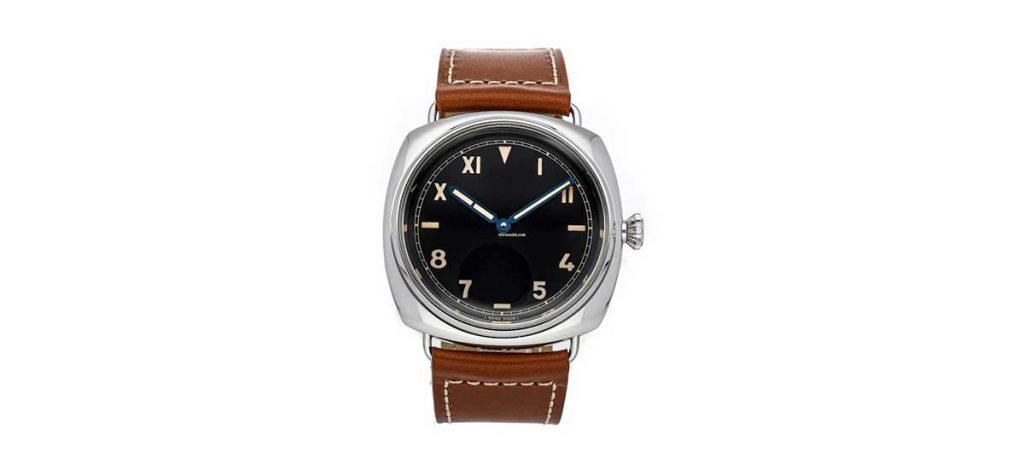 Despite not owning the California dial patent, Panerai is synonymous with its current utilization. This list will be admittedly Panerai heavy, but given the brand's history and current lineup, there was no other way around this. If you like the look of vintage military-inspired watches with a clean aesthetic and modern sizing, Panerai is the brand for you.
Leading the charge from Panerai will be the Radiomir 1936, ref. PAM00249. The Radiomir style features distinct wire lugs, sporting a very Panerai 47mm stainless steel case and manually-winding movement. The dial features a clean black dial and California dial and handset in an aged radium color. This 1936-piece limited edition was originally released in 2006.
Despite the 1936 namesake on this watch, there is some debate whether this watch originally featured a California-style dial at this time due to the Rolex Patent for the design not occurring until 1941. Regardless of the controversy, this may be the cleanest execution of this dial layout and well worth the roughly $9000-$10000 price they can be purchased for.
Rolex is not the only Hans Wilsdorf founded company to produce a California dial throughout the years. Tudor has been producing similarly designed watches at more affordable prices to their older brother since their original release in 1946 (20 years after Hans Wilsdorf registered the trademark back in 1926).
Although many of their designs are heavily inspired by the folks at Rolex, they usually have some slight variances to keep things interesting. This is definitely the case with one of their most popular utilizations of the California dial.
The Tudor Prince Date-Day California dial, ref. 76200, is reminiscent of a few different Rolex models. The functionality and name are heavily inspired by the Rolex Day-Date. The Dial pulls from the Viceroy model we mentioned earlier while having a cleaner and sportier appearance with the Mercedes handset.
This watch is powered by an off-the-shelf ETA 2834-2 movement in true Tudor spirit. If you are looking for a watch that embodies the true purpose of Tudor, as seen by Hans Wilsdorf, the Tudor Prince Date Day with California dial for roughly $3000-$5000 is a great option to consider.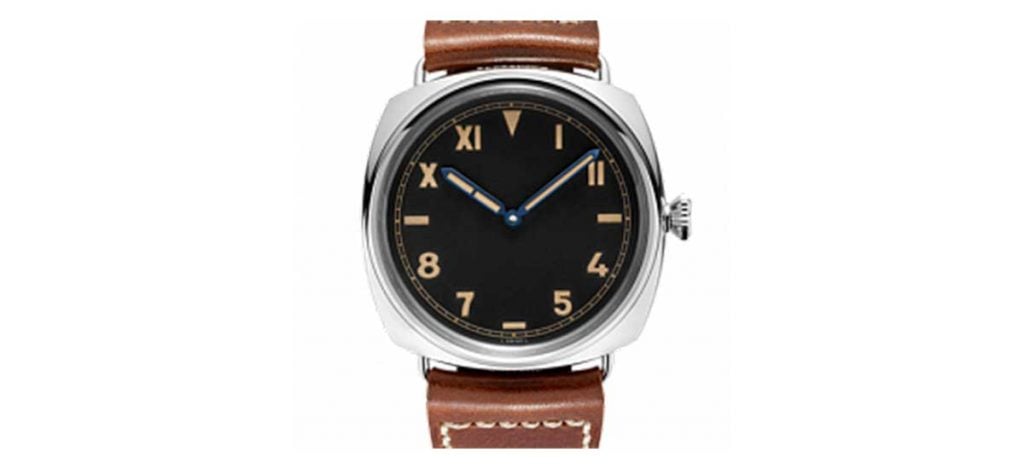 Stop me if you've heard this one before: a 47mm stainless steel case Panerai Radiomir with a manual winding movement and a clean California dial on a black dial. Without a doubt, Panerai is not a brand known for producing wild designs aimed at wowing us year after year.
If you think Rolex is boring and moves at a glacial speed, you haven't seen anything yet. Like all great collector items, the devil is in the details, and this next model from Panerai is no different.
The Panerai Radiomir California 3-day, ref. PAM00448, is cosmetically very similar to the other Panerai watches on this list. However, what separates this watch from the pack is on the inside. The P.3000 movement by Panerai features a 3-day power reserve to add functionality to the simple design.
The movement is beautifully finished to match the aesthetic to the functionality that the added power reserve provides. If you are looking for the timeless Panerai design with a beautiful and functional movement to match, the PAM00448 from Panerai for $7500-$8500 is a great watch to consider.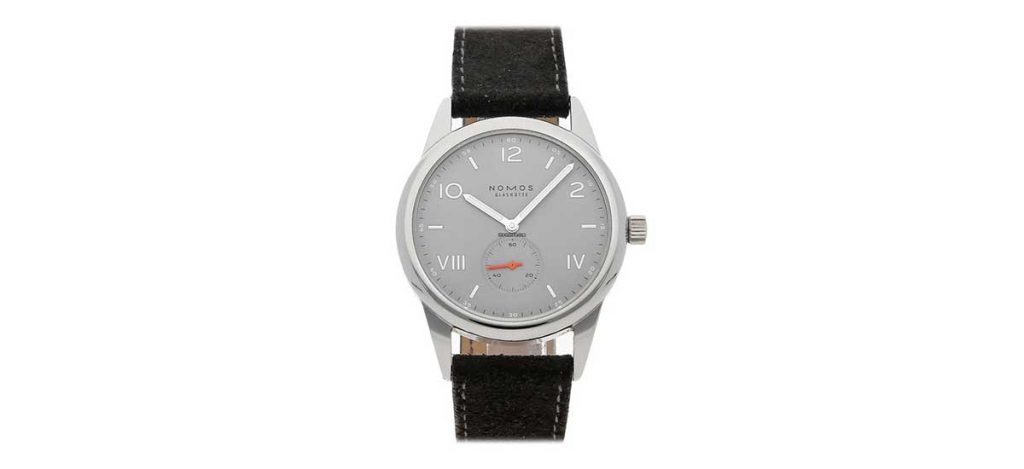 If you love the idea of a California dial but can't quite get behind the idea of a vintage-inspired timepiece, Nomos Glashütte has your back. Nomos is a relatively new brand, dating back to 1990, but they have made a tremendous impact since their introduction.
Known best for their modern take on the Bauhaus design, Nomos has taken the California dial and modernized it in a way only Nomos can do. The Nomos Club Campus is the entry point into the brand. They have several color iterations, case sizes, and material options to allow you to really pick the watch that fits your needs and personal style.
My favorite feature of this watch is its unique take on a California dial by switching the orientation of Arabic and Roman numerals from the traditional options available. It is choices like this that give Nomos their fun identity and help differentiate them from other brands available today. Starting at $1500, the Nomos Club Campus is some of the most fun you can have in this hobby, whether you want a California dial or not.
As mentioned earlier, Panerai is going to be featured a few times on this list. If you like what Panerai did with the PAM00448 but wish they leaned even heavier into the vintage aesthetic, this watch might be exactly what you were looking for. The Panerai Radiomir California, ref. PAM00931, shares many similarities with the previously mentioned PAM00448.
The 47mm stainless steel case, wire lugs, and P.3000 Hand winding movement with a 3-day power reserve are consistent between these two models. Even the simple, clean layout and California dial remain virtually identical between the two models. The difference here is in the color of the dial and the feeling it evokes.
While the PAM00448 features a traditional black dial, the PAM00931 sports a honey-colored fume dial that gives the appearance of a dial that has been exposed to the elements for decades.
The watches are very similar, but the feeling they evoke is completely different. If you are looking to spend roughly $6000-$7000 on a California dial watch and want something that leans heavily into vintage inspiration, this watch might be for you.
There is no shortage of Micro or Independent brands on the market today for watch enthusiasts. Several of these brands were conceived by savvy entrepreneurs eager to capitalize on the growing market. Some of these brands were started by passionate enthusiasts.
However, few of these brands were created by as passionate enthusiasts as Richard Paige. Richard Paige is a 4th generation watchmaker and founder of Timezone.com. Yes, the watch forum that changed the way enthusiasts engage with one another.
The RPaige Barrage is a limited edition of 50 watches featuring a 44mm stainless steel case and Panerai-inspired black dial with aged radium California dial. What separates these watches from others in the market is their use of repurposed pocket watch movements housed with new cases and dials. This model features either a 15 or 17-jewel Waltham or Elgin American pocket watch movement.
For anyone lucky enough to have seen one of these movements in person, the amount of finishing and detail on these antique rivals that of almost any current Swiss movement in production today. Coming in at a price of $2400, the RPaige Barrage is a timeless design with a unique value proposition that you simply can't get from the big boys in this space.
I know, another Panerai! Hear me out; this one is completely different! As much as I love the vintage appeal of the Panerai Radiomir, this next model utilizes the more modern Luminor case and is my favorite of the bunch. The Panerai Luminor California 8-day, ref. PAM00779 features a hefty 44mm case size made of DLC-coated titanium to help with the everyday wearability of this piece.
The Luminor case shape is more closely associated with Panerai and helps to give the watch a robust and masculine look. This watch features the enhanced P.5000 hand-wound mechanical movement providing an impressive 8-day power reserve.
The classic black dial and aged radium California dial and handset provide a familiar vintage aesthetic to help offset the modernity of the case. If you are looking for a modern interpretation of a California dial from the brand most synonymous with the look, the PAM00779 Luminor for roughly $8500 is a great option to consider.
9. Ralf Tech Academie California Bronze
The worlds of professional diving and watchmaking are often intertwined. You'd be hard-pressed to find a watch enthusiast who doesn't appreciate the functionality of a good dive watch, regardless of whether or not they would ever use it to its full potential. Ralf Tech is a great example of this intertwining.
Originally founded in 1996, producing diving equipment for professionals, Ralf Tech began to focus much of its attention on watchmaking in 2003, ultimately leading to this being their sole product line in 2008. Since then, Ralf Tech has been bringing some of the most robust watches available, even venturing beyond the comforts of dive watches.
The Ralf Tech Acadamie is a 41mm case manufactured out of bronze. This unique case material will age over time and give your timepiece a unique appearance mere months after removing the stickers. This look is not for everyone, but given the vintage aesthetic of the California dial and gilt lettering with aged radium-colored lume, this watch will look more at home once the shine dulls a little bit.
The Academie range is powered by an automatic mechanical movement and comes paired with a vintage-styled leather strap. If you are looking for a new California dial watch that will age with you, the Ralf Tech Academie California in bronze for roughly $2400 is a watch you should strongly consider.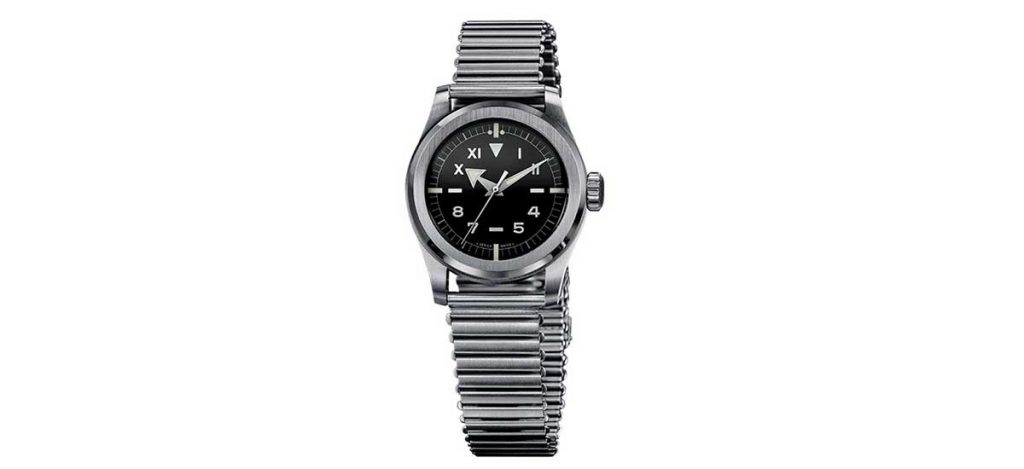 Serica is a Microbrand that has taken the watch world by storm. Since its inception in 2019, Serica watches have been recognized for their incredible quality, unique designs, and affordable pricing. In many ways, these three features are the blueprint that any Microbrand should follow if they are aiming to be successful. Even with all 3 of these qualities, very few brands will skyrocket as quickly as Serica.
The Serica 4512 with a California dial features a very wearable 38mm stainless steel case with a straight-end link Bonklip bracelet. The lacquered black dial and California dial bypass the commonly used aged luminova for a crisp white giving the appearance of a watch from the 1950s that found a way to evade aging for the last 70 years.
The broad arrow hand is reminiscent of those found on early Omega Speedmasters while maintaining their own identity. The watch is powered by the STP1-11 Swiss automatic movement, and it's priced at a very reasonable $615. If you are looking for a quality Microbrand offering a unique design for a fraction of the price of others on this list, the Serica 4512 California is the route I would go.
Conclusion
There you have it, 10 of the best watches to feature a California dial. The California dial will not appeal to everyone, and that's OK. Our brains spend a tremendous amount of energy trying to put things into defined categories. Safe or dangerous, boy or girl, Arabic or Roman numerals.
These categories can serve us well at times while simultaneously limiting our ability to see in between the lines. If Arabic and Roman numerals can coexist on a watch dial, perhaps there is a world where other categories don't have to be as set as we previously believed.
There was a time when even the biggest fan of California dials had to do a double-take. Something that falls outside our defined categories can be hard to accept at first, but once you look at it for what it is, the uniqueness is the appeal. After all, a watch dial is just a dial; it doesn't have to look like all the others to tell the time.
Happy Watch Hunting!
About Exquisite Timepieces
Established in 1998, Exquisite Timepieces is your one-stop shop for all things luxury watches! We are an authorized dealer for 60+ luxury watch brands including Omega, Hublot, Seiko, & Longines! We are proud to showcase one of the world's largest pre-owned watch collections, including renowned brands like Rolex and Patek Philippe. Check out our brand new watch arrivals here and popular pre-owned listings here.