20 BEST Vintage Collectible Watches (From Affordable to Luxury!)
Of all the reasons to be enamored with the mechanical marvels on our wrists, one of the most enduring is the story! These stories come in many forms on a wristwatch, whether it is the historical provenance of a significant timepiece or just the history of the brand in general.
I am an absolute sucker for watches that play into these stories and can offer that historical feel but in a fancy modern execution (Black Bay 58 is my current daily driver). As much as I love the look of these timepieces, I oftentimes struggle to build a real connection, and they find themselves on the chopping block. So what gives?
Turns out the stories a marketing department can tell are only part of the picture. When I am looking for a story, I am looking for more. I am looking for the story of the exact watch. Every scratch and ding helps to tell the story that gives these watches a unique history, one that you can't just read about in a watch review. Sometimes you need to pick the watch up and let it speak to you.
When Is a Watch Considered Vintage?
It is true that even modern watches can pick up a history of their own, some faster than others depending on the clumsiness of the wearer. As scratched as they may be, these modern watches don't carry the same level of charm as ones that we would consider vintage. For a watch to be considered vintage, I use the guideline of 40-70 years.
For some products, that may seem like an eternity, but considering the lifecycle of a properly maintained wristwatch, there is still plenty of tread left on the tire, even at this age. Ultimately, you want enough time to have passed for the trends to come back into fashion but not so much time that they seem completely antiquated.
Should You Buy a Vintage Watch?
With all the great modern options available to consumers, should you really purchase a vintage watch? Absolutely yes! There are 2 main reasons everyone should own at least one vintage watch throughout their collecting journey.
The first reason is financial. The world of vintage watches is some of the most fun you can have in this hobby for a relatively low amount of money. There are several brands that can be acquired in the vintage market that cost less than a replacement strap for a current example from the same brand.
The second and more sentimental reason comes back to history. Some things you just need to hold in your hand to appreciate, and watchmaking is a great example. To appreciate how perfectly machined your new Omega Aqua Terra is, you need to hold an Omega Seamaster from the early 1950s.
You can immediately notice the resemblance, but the glacial improvement in quality over 70 years has resulted in a product that doesn't feel the same in hand. Both are incredible and offer the wearer a unique experience, but they are not the same.
Vintage Watch Buying Guide
Despite the unmatched coolness of a vintage watch, there are several reasons you should pump the brakes before immediately pulling the trigger. The world of vintage watches is filled with far more landmines than diamonds in the rough.
If you're new to vintage watches, take a look at a previous article I wrote that references my 3 guidelines for purchasing a vintage watch. If you're watching the deal of a lifetime auction count down and don't have time to read that article, here are the cliff notes. Research is key! Pick a reference and learn everything you can about it!
The worst thing you can do is start learning about the reference once you have already made a purchase. Cheap does not equal good. Rarely is the lowest price you can find for a reference the best value. Don't be afraid to pay tomorrow's price today if the watch comes from a trustworthy seller or a better example.
Finally, condition is everything. When it comes to vintage watches, the smallest variance in condition can swing the price by hundreds, if not thousands, of dollars. Be patient and get the best example of the watch you are looking for.
Those lessons took years to learn and seconds to read! Do yourself a favor and use them! Now that we have a feel for what a vintage watch is and what to look for when purchasing one, let's take a look at 20 of the best vintage watches, from affordable to luxury.
This list will be broken down into several price categories featuring examples for every budget. To keep things interesting, I have only included 1 example from each brand. Kick back, grab a coffee, and get your flux capacitor ready; we're going back in time and exploring 20 of the best vintage watches you can buy!
Best Vintage Watches Under $1000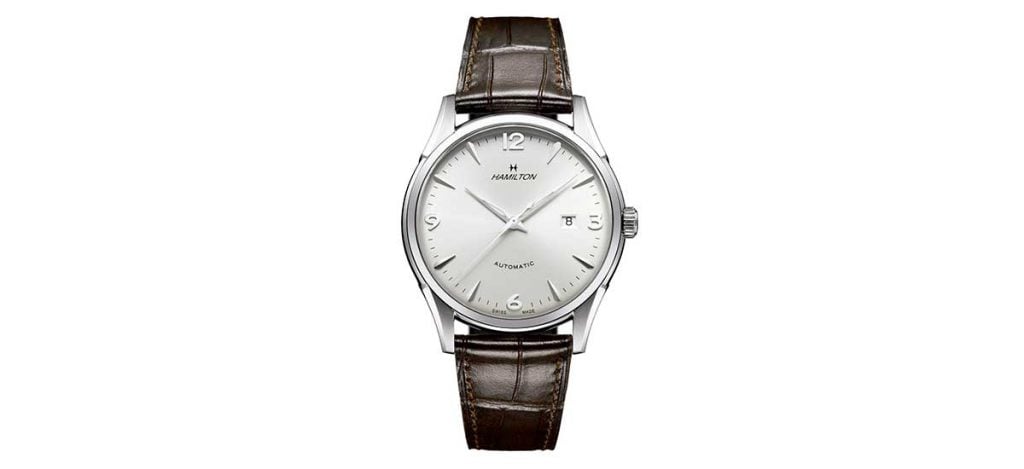 Kicking off our list is one of two classic American watch companies on this list. From the early 1800s through the 1970s, Hamilton was one of the most prolific watchmakers producing timepieces on American soil. The 1960s would see them make several timeless designs, none more timeless than the Thin-O-Matic.
The Thin-O-Matic earned its name with its thin case design and automatic winding capability, both made possible by their adoption of the Micro-Rotor developed by Buren. These watches come in several varieties but are mostly available in 33-35mm cases made of stainless steel, gold filled, or 10K gold.
The dials tend to lean toward a minimal design but share one detail that helps them stand apart. The "Thin-O-Matic" logo on these utilizes some of the best fonts I have seen on any watch dial. Depending on the style and condition, these watches will set you back anywhere from $300-$800. Given the brand history, movement technology, and timeless design, this price is an absolute bargain!
Ball Trainmaster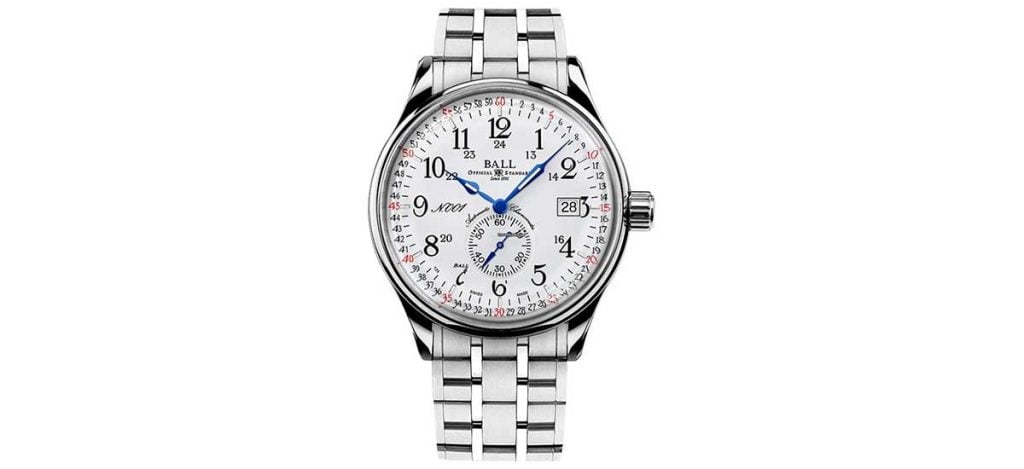 The second watchmaker on this list from the United States is none other than the Ball Watch Company. Founded by Webb C. Ball in 1891 after the famous Kipton railroad disaster, Ball initially specialized in very accurate pocket watches and later transitioned into wristwatches.
The most classic example of this transition comes in the form of the Ball Trainmaster. A white enamel dial with black Arabic numerals and red second hand became the distinct look of a Ball Official Railroad Trainmaster. What would change in these models, however, was the case shape and material.
Despite being available in several case materials and shapes, the 34mm stainless steel with twisted lugs is my favorite of the bunch. Coming in at anywhere from $300-$800, these watches represent a tremendous value for a piece of American railroad and watchmaking history.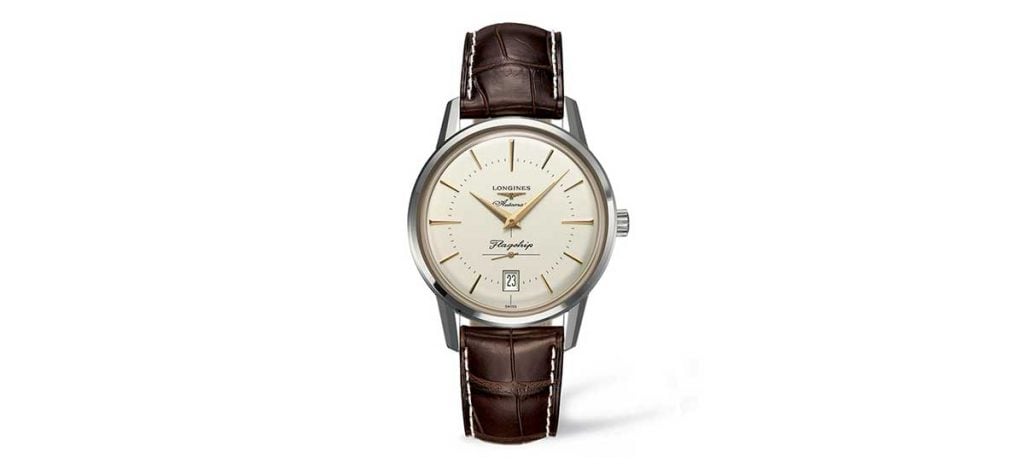 Before their acquisition by the now SWATCH group, Longines was a luxury watch brand often compared to the likes of Rolex and Omega. Despite their recent increase in popularity, they now comfortably occupy a position beneath both of these prestigious brands in the luxury hierarchy.
Thankfully for us collectors, nobody told their vintage models that they are no longer the prestigious pieces they once were. Their vintage timepieces are every bit the luxury watch of a Rolex or Omega from the equivalent time period.
One example of their luxury vintage watches is the Longines Flagship. First introduced in 1957, the Longines Flagship shares a lot of DNA with other luxury watches of that time. The 33-35mm case size and simple dial with dauphine style hands could come to describe any multitude of brands producing watches during the late 1950s and early 1960s.
The difference between these models is in the details. From the quality of the manual wind 30LS in-house movement to the impeccable finish on the sunray dial with complementing hands and markers, this watch exudes class and quality.
If you are looking for a vintage timepiece that has the hallmarks of the more expensive luxury brands but comes in at around $500-$1000 instead of the $2000-$5000 mark, the Longines Flagship is a great place to start your search.
Vulcain Cricket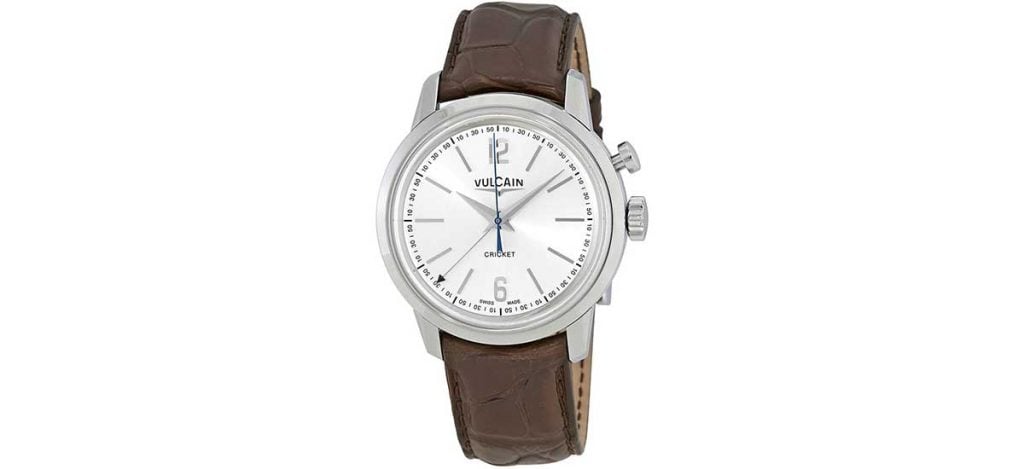 Few brands have been featured on the wrists of as many influential people as Vulcain. Their timepieces have been seen on the wrist of almost every American President since 1953, when the first Vulcain Cricket was gifted to President Harry Truman.
Since then, the tradition of receiving a Cricket watch as US President has become an honorary tradition, even resulting in the nickname of the Cricket as the "Presidents Watch". What made the Vulcain Cricket so special? The alarm feature helped to set this watch apart from other timepieces of the day.
Featuring a 33mm case dimension and hand-winding caliber 120 movement from Vulcain, these watches didn't necessarily look too different from their less complicated competition. My favorite feature of these iconic timepieces is that you don't need to be a president or even get paid like one to have it occupy a space in your watch box.
Coming in at a price of $500-$1000, these watches offer a great history and tremendous value in the vintage watch market.
Zodiac Seawolf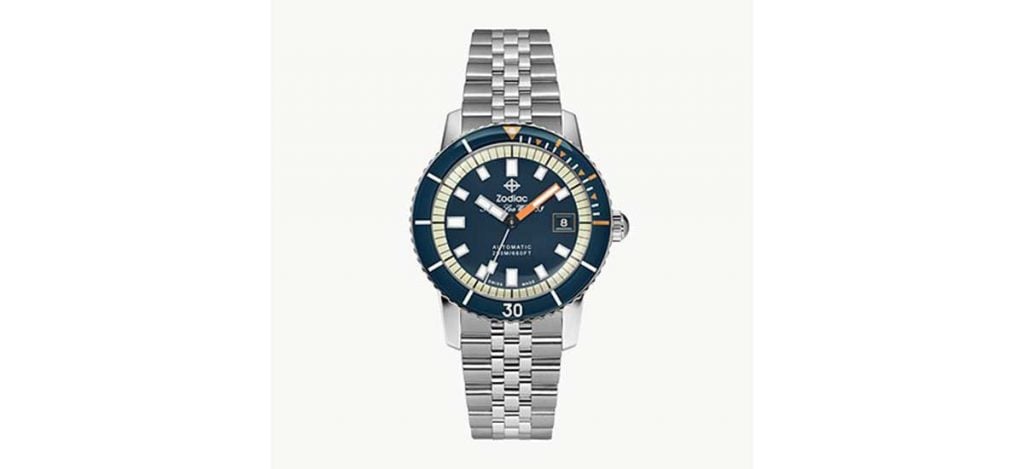 In 1953 the world of watches was absolutely flipped on its head. The Rolex Submariner was introduced to the masses, garnering mainstream appeal for a complication first seen on the Blancpain Fifty Fathoms a year previous. The dive bezel fundamentally changed the watch market.
Although Rolex is synonymous with this feature, they weren't the first to introduce it, nor were they the only manufacturer to introduce one in 1953. The Zodiac Seawolf was introduced alongside the Rolex Submariner in 1953 and offered something more compelling for your everyday underwater explorer.
Where original examples of the Rolex Submariner can cost as much as a new luxury vehicle, the early examples of the Zodiac Seawolf can be found for anywhere between $500-$1000, depending on the condition.
These watches were a little smaller, coming in at 35mm, and featured fiction fit brass coated bezels, but the functionality was much the same as the Rolex. If you are willing to compromise on the size and wait for a good example without a worn-out or refinished bezel, these watches deserve the same level of dive watch street cred as the almighty crown.
Best Vintage Watches Under $5000
Omega Constellation 168.005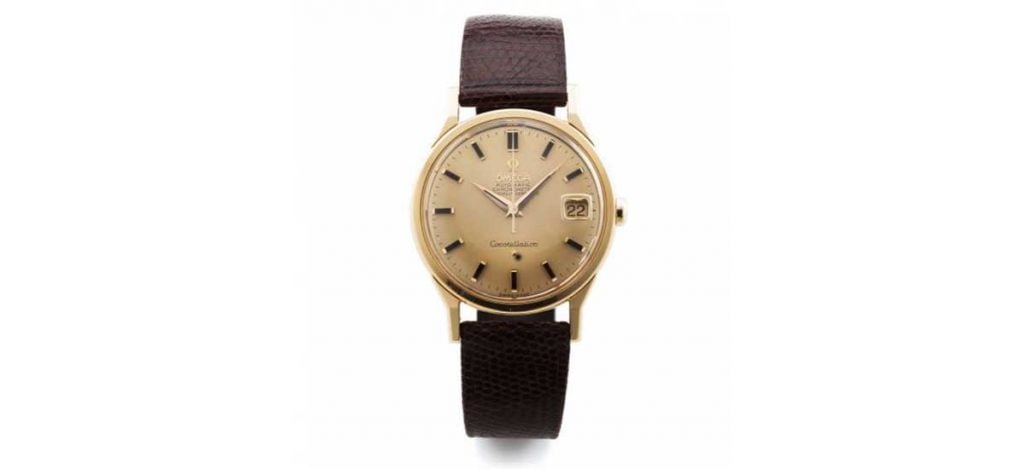 Stepping up to the under $5000 price mark, you start to see an increase in brand equity. In terms of mainstream luxury watch brands, few carry as much cache as Omega. They have a history of producing some of the most iconic timepieces and have great vintage pieces that could fall under any of the price categories available on this list.
At the crossroads of quality and price is the Omega Constellation, specifically with the "pie pan" dial and "dog leg" lugs (you've got to love the ways us watch enthusiasts find to describe a timepiece). The Omega Constellation is a line of watches produced by Omega beginning in 1952 and is still in production, albeit with a completely different design.
These watches were the premium offering from Omega during their initial run and have come to represent the very best in terms of construction and precision from Omega in their heyday. The reference number 168.005 was prevalent in the 1960s and, in my opinion, utilizes the very best design elements from this product line's illustrious history.
The angular facets on the "pie pan" dial help to give this watch dimension and personality. The "dog leg" lug design compliments the angular dial while offering a more visually interesting appearance than a straight lug design.
Coming in at a price of $1500-$3500, these watches are a considerable price increase from the similarly designed Seamaster but given their design and chronometer-grade movements are well worth the extra investment.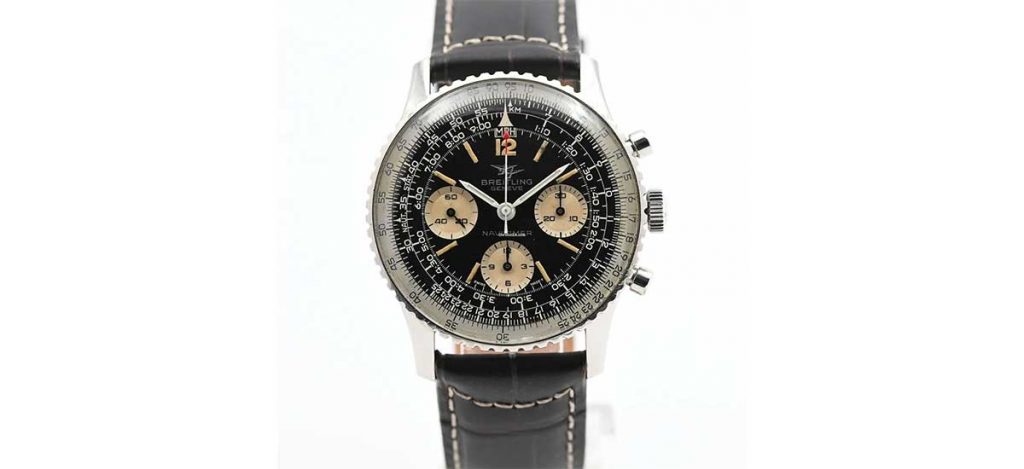 Another luxury brand that has managed to transcend the watch market into pop culture is Breitling. Their celebrity brand ambassadors, such as John Travolta and Brad Pitt, have ensured that their timepieces have remained at the forefront of the general public's mind when it comes to luxury timepieces.
There are several iconic models they have to their credit, but there is no doubt that the Navitimer is the show pony of the brand. The 7806 Breitling Navitimer is a vintage example from the 1970s that provides the function and design that have helped this timepiece stand the test of time.
Breitling, of late, has been slowly transitioning away from the oversized designs of the early 2000s and back toward the classic aesthetic that this model evokes. While not diminutive, the 41mm case size is a welcomed size for a collection that regularly pushes 44mm+.
The manual winding Valjoux 7740 is technically a step down from the modern B-01 in-house automatic movements Breitling uses today but is unmistakably vintage and beautifully designed. Starting at $4500, these vintage examples offer a great entryway into the Breitling Navitimer, with an overall aesthetic in line with the current brand's direction.
International Watch Company (IWC) Caliber 89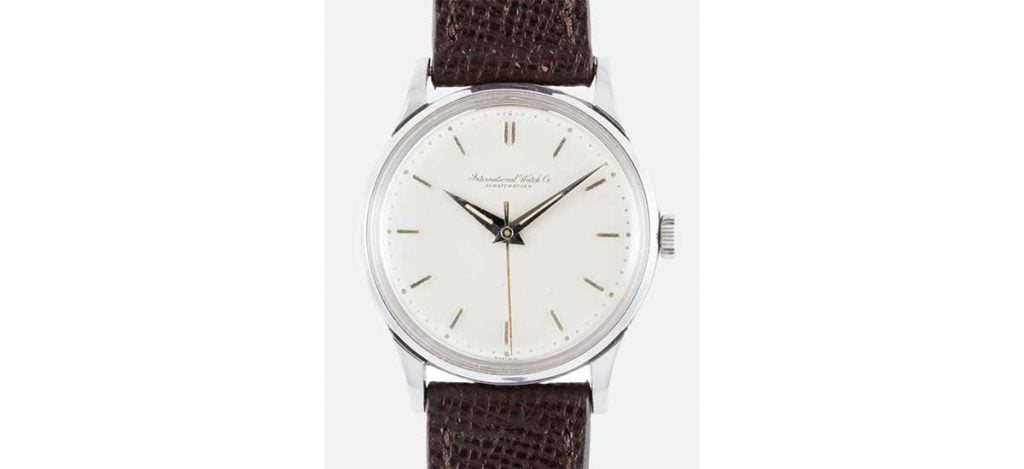 Many of the watches on this list are here because of the design or function they provide their end user. Although several models from the International Watch Company could fall into that category, it is their mastery of the simple 3 handed time-only movement in the 1950s that provides the best value for those hunting for a vintage watch from the brand.
The Caliber 89 was originally developed in 1946 and was utilized through the 1960s. These watches are simple dress watches in design, featuring a 35mm stainless steel or gold case, with thin hands and central seconds.
The beautiful script of the brand's name and city of origin was often the only writing on the dial. The Caliber 89 movement itself was an overengineered 17 jewel manually wound movement ticking away at 18000 beats per hour.
The movement featured a tasteful finish and easy serviceability to please any watchmaker lucky enough to open one up. These watches can be found between $1500-$5000, depending on the case material. If you're looking for a watch with a simple movement that got it right the first time, this is the watch for you.
Doxa Sub 300t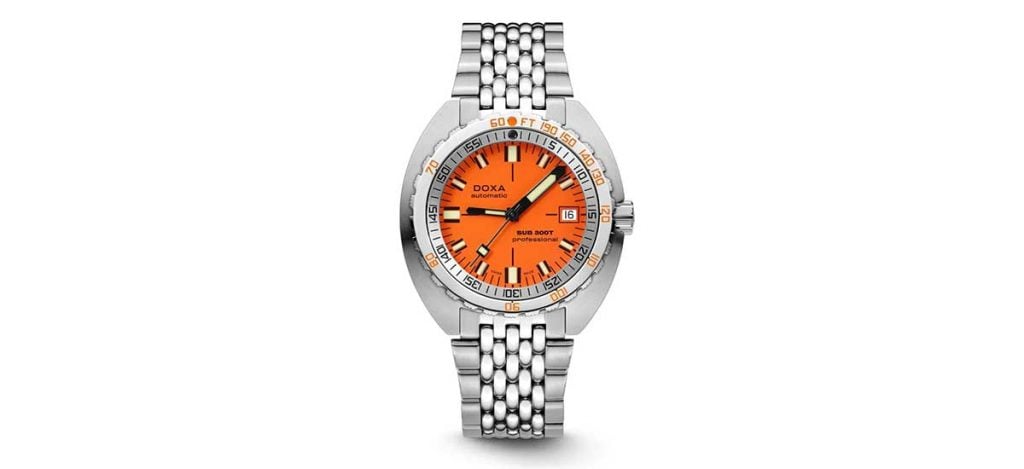 In terms of luxury prestige, Doxa is not often a brand that comes to mind for many watch enthusiasts. They make some excellent watches but fall more comfortably in the premium tool watch category. Likewise, their vintage timepieces fall into a similar category as premium tool watches.
Because of their incredible functionality and iconic dive watch history, many of their vintage pieces have crossed into the luxury price range. Despite dating back to 1889, Doxa, as many of us recognize it, really began in 1967 with the release of their iconic Sub 300t dive watch.
This watch was different from anything else on the market and was aimed directly at the diving community. The bright colors helped with visibility underwater, while the no-decompression scale helped divers calculate safe descents with a click of a bezel.
It wasn't long before Jacques Cousteau, the grandfather of modern diving, chose Doxa as his team's watch to accompany them as they explored undersea. The watch itself features a 42mm stainless steel case and comes in a variety of colors, my favorite being the Professional orange.
If you are looking for a vintage dive watch with an incredible history but doesn't look like every other one on the market for between $3000-$5000, the Doxa Sub 300t is a great option.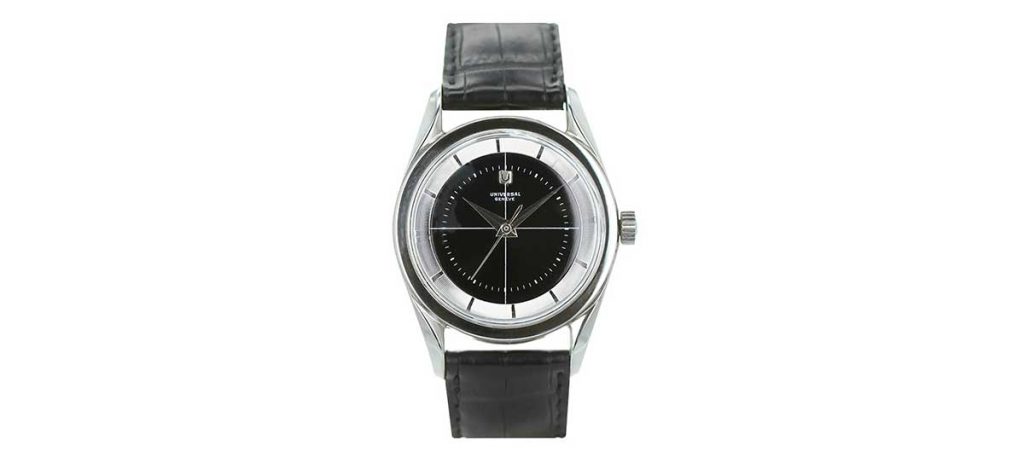 Few brands have seen the spike in popularity with their vintage timepieces as Universal Geneve. They have some of the most revered chronographs to their credit while also producing the watch we will mention here, the Polerouter.
Perhaps, the greatest achievement of this brand is that much of its success has occurred recently, while the company can only be described as a shell of its former self. The Polerouter began production in 1954 to celebrate flights between Los Angeles and Europe that could now fly directly over the north pole to save several hours of flight time.
These watches provided a degree of anti-magnetism while packaged in an elegant design that evoked the class and sophistication of flying during the golden era. The Polerouter featured a 35mm case with twisted lugs and a textured dial ring. The later versions featured micro-rotor movements that helped to keep the profile slim while still offering the functionality of an automatic movement.
Perhaps the greatest part of the Polerouter's history for watch nerds is that it was designed by a young Gerald Genta (I think he went on to create a couple of other iconic pieces, if memory serves!). If you're looking for a watch with an interesting history, both mechanically and aesthetically, the Universal Geneve Polerouter for $2000-$4000 is as good as it gets.
Best Vintage Watches Under $10,000
Seiko Hi-Beat Diver 6159-7000
Whether vintage or modern, Seiko is a brand known best for its hits on the more affordable side of the spectrum. They have beautiful examples from their Seiko 5, Lord Matic, and King Seiko lines that could build a beautiful collection by themselves. In the 1960s, Seiko became a fundamentally different brand from what it was during the 1950s.
The main reason for that transformation was the introduction of their iconic dive watches. There is a lot of fanfare, deservedly so, for the 62 MAS, and as much as I love this watch, I had to choose another model from their iconic archive for this list.
The 6159-7000 series Seiko Hi-Beat diver is the watch that really laid the groundwork for Seiko to become the dive watch powerhouse that it is today. Many of the design elements that we see in Seiko's current lineup are present here with this model. The sharp edges and compact case design help this larger-sized 44mm watch fit great on even smaller wrist sizes.
At roughly $6000-$8000, the 6159-7000 Hi-Beat Diver carries a premium fit and finish to match the premium price. If you are looking for the watch that set the foundation for some of our favorite Seiko dive watches today, the Hi-Beat diver is the one you're looking for.
Enicar Sherpa Graph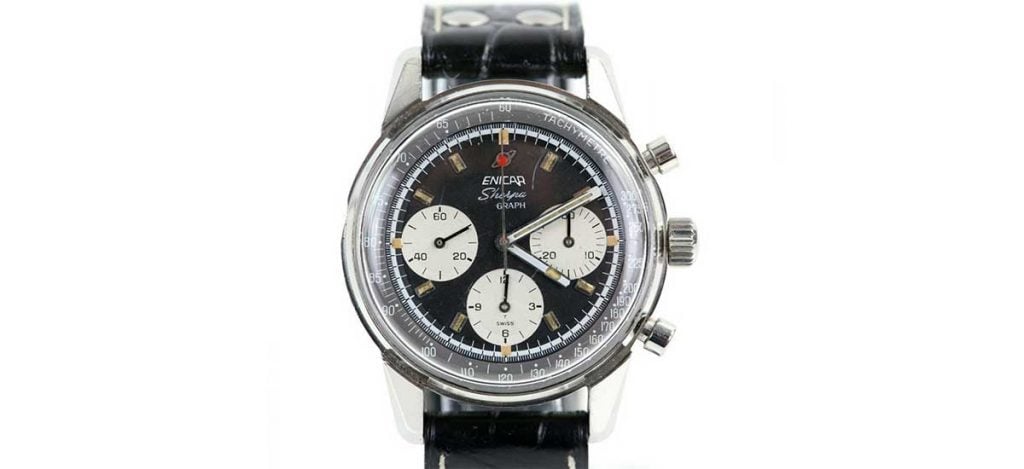 One of the most exciting parts of exploring vintage watches is discovering brands no longer in production. One of the best examples of this discovery for me has been with Enicar. Despite being widely unknown outside select watch enthusiast circles, they designed some of the most beautiful tool watches of the golden era.
Unlike most of the now-defunct brands, however, Enicar has an impressive collector community, and their timepieces have become highly sought after. If I am looking for the watch that really grabs my attention from the brand, I have to pick the Enicar Sherpa Graph.
This 40mm stainless steel chronograph is one of the most balanced and aesthetically pleasing dials I have ever seen. The internal tachymeter scale and contrasting sub-dials give this watch a balanced and timeless design. However, the pops of color and fun logo take this watch to another level.
These watches are powered by the infamous Valjoux 72 and can be found for $6000-$9000 (just a little cheaper than the more famous Rolex Newman Daytona that utilizes this same movement). If you are looking for a vintage chronograph with one of the best designs available, the Enicar Sherpa Graph is a great option for you.
Jaeger LeCoultre E2644 Chronograph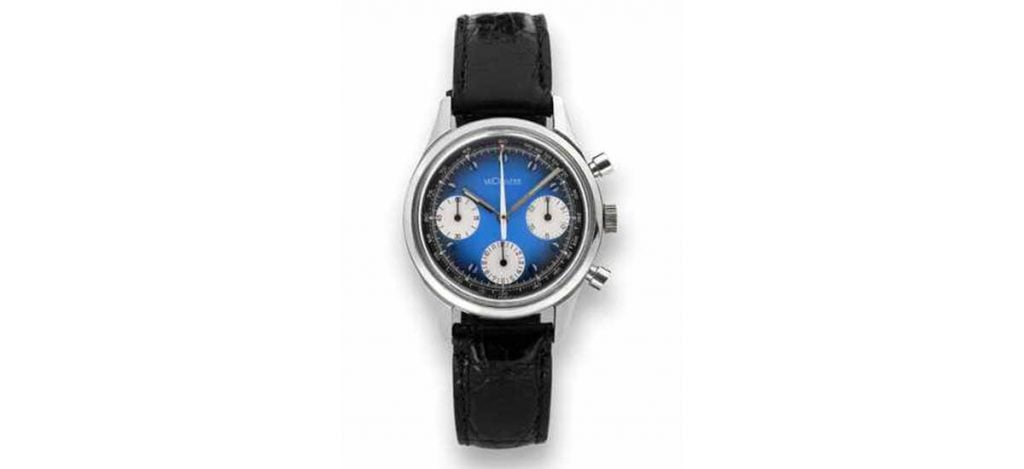 You don't get the moniker of "the watchmaker's watchmaker" by accident. Jaeger Lecoultre is a prestigious brand with several mechanical innovations under its belt. Despite having designed movements for the most luxurious Swiss watchmakers, some of their namesake watches, especially those not named Reverso, can fall into the category of under-appreciated.
I hesitate to call the brand under-appreciated overall, but with a historical archive as impressive as Jaeger LeCoultre, it is almost impossible not to have some models that slip through the cracks. The Jaeger Lecoultre E2644 Chronograph is another Valjoux 72 powered chronograph that hasn't yet seen the unobtainable pricing of other watches using this movement.
Coming in at a price of $5000-$7500, this watch features a 35mm case and a 3-dial layout. Despite being considered small by today's standards, the chronograph pushers will help this watch provide a more suitable wrist presence.
My favorite aspect of this timepiece is the fun use of color, particularly the fume blue dials that help give this watch a unique personality. If you are looking for an under-the-radar vintage watch from Jaeger Lecoultre, the E2644 Chronograph is the one to go with.
Heuer Carrera 2447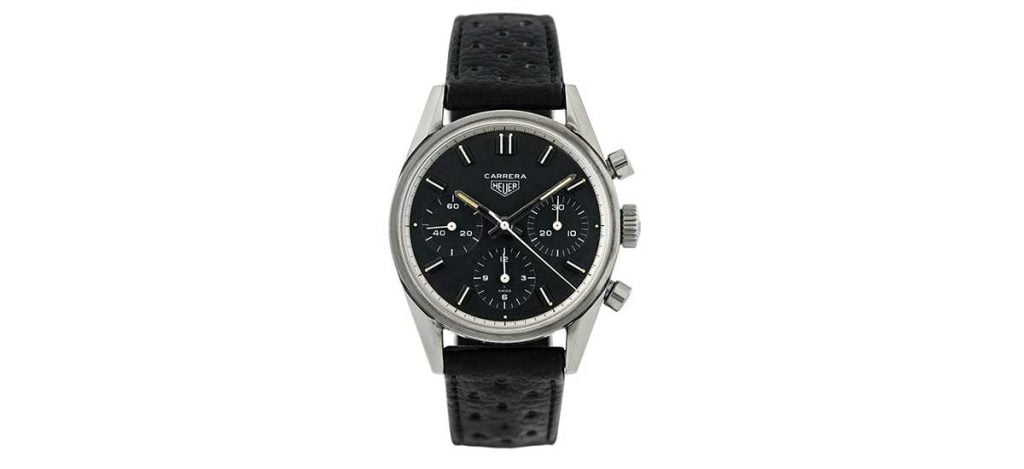 While we are on a roll with vintage chronographs, we might as well look at one of the brands most associated with the complication, Heuer. Finding their fame with their association in motorsports, it is no surprise that Heuer would invest heavily in the chronograph complication.
They have produced several iconic timepieces utilizing the feature, but there has always been one that stands above the rest, in my opinion. The Heuer Carrera, reference number 2447, is about as perfect of a watch as you will find. They feature the Valjoux 72 chronograph movement and a 36mm stainless steel case.
The watch utilizes a 3-sub dial design and has a very balanced dial. These watches are perhaps the second most famous watch to utilize this movement, behind the Rolex and have continued to rise in popularity because of it.
As of the beginning of 2023, these watches can be found starting at just under $10,000, but I don't expect that to be the case forever. There are plenty of examples that exceed this amount, but if you are patient and willing to put in some work, you can get this iconic model for a price that can feel like a downright steal when compared to the competition.
Tudor Submariner 94110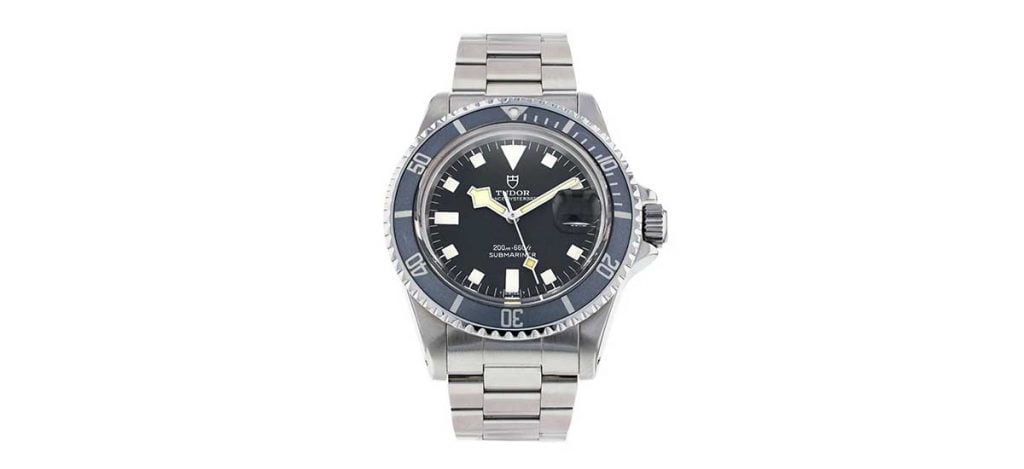 When looking into vintage watches, it is hard to overlook the popularity of the Rolex Submariner. The design has changed gradually throughout the years, allowing the aesthetic to remain virtually the same while the user experience is completely different.
Unfortunately for those of us without DuckTales money, a vintage Rolex Submariner is unlikely to happen. There is, however, another vintage Submariner available, and it comes from Rolex's sister brand Tudor. The brand ethos of Tudor to produce lower-cost quality watches utilizing Rolex parts and design with stock movements has paid dividends for vintage watch lovers everywhere.
The 40mm Tudor Submariner 94110 is a beautiful stainless steel dive watch with a very similar design to a Rolex Submariner but featuring the iconic Snowflake hands. There is something so pleasing about the square indices and Snowflake hands that the modern Black Bay or Pelagos just can't compete with.
These watches will set you back roughly $7500-$10000 but represent a great value when compared to their sister brand Rolex. If you're looking for a Submariner with a unique story and design, the Tudor Submariner 94110 is the one that I would go with.
Best Vintage Watches Over $10,000
Zenith El Primero A386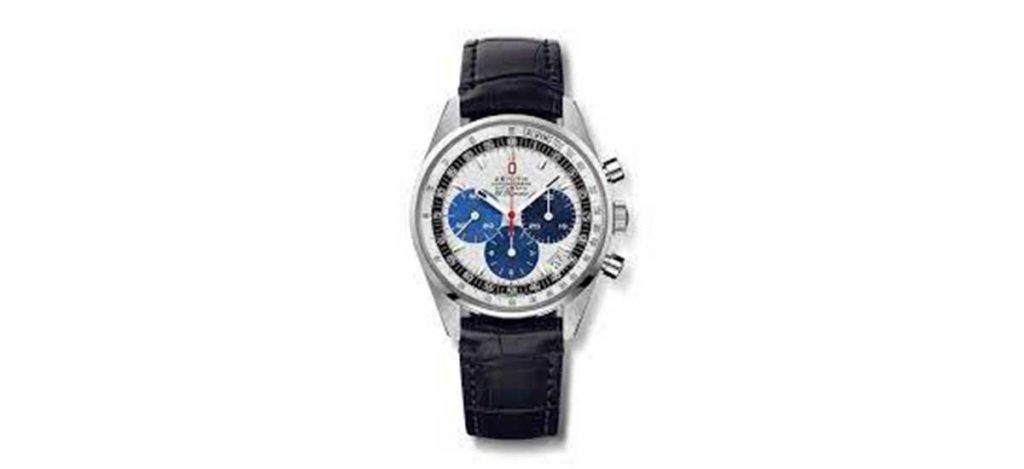 Here is the point in this list where things get a little crazy! To kick us off for our over $10,000 budget is a brand that is used to being first (just don't ask Seiko), and that is Zenith. The brand most famous for its automatic chronograph known as the El Primero, Zenith is a premium luxury brand.
The El Primero line of chronograph watches is still the brand's staple today, so let's look at the model that has inspired many of the watches available today. The Zenith El Primero A386 is a 38mm stainless-steel watch featuring the high-beat automatic El Primero chronograph movement.
This movement has gone on to power several prestigious watchmakers, such as Rolex, with their Daytona model before going in-house. As much as I love this watch's mechanics, it's not the only reason it is on this list.
The aesthetics of the tri-color dial layout are really what separates this watch from the competition. Whether you are a movement aficionado or just someone who appreciates beautiful design, for $12500-$15000, this is one of the best vintage chronographs that money can buy.
Rolex Explorer 1016
It was only a matter of time before Rolex made the list. The watch I went with is not the most expensive or the rarest vintage Rolex I could have put on this list, but simply the one with which I connect the most. Based on its surge in popularity over the last 10 years, it's safe to say that I am not the only one that feels this way.
The Rolex Explorer 1016 is a simple field watch housed in a 36mm case and powered by an automatic Rolex in-house movement. This watch saw the largest production period of any Rolex model spanning 40 years with only very subtle changes. The painted 3-6-9 dial has become so synonymous with this watch that it is now referred to as an "Explorer" dial.
Given the large production run and the fact that Rolex collectors are willing to pay astronomical prices for the most minute details, this watch will set you back anywhere from $10000-$25000+. It may not be the rarest or most sought-after from the brand, but If I won the lottery today, it would be the first watch I would drop my money on (certainly not the last, though).
Vacheron Constantin 222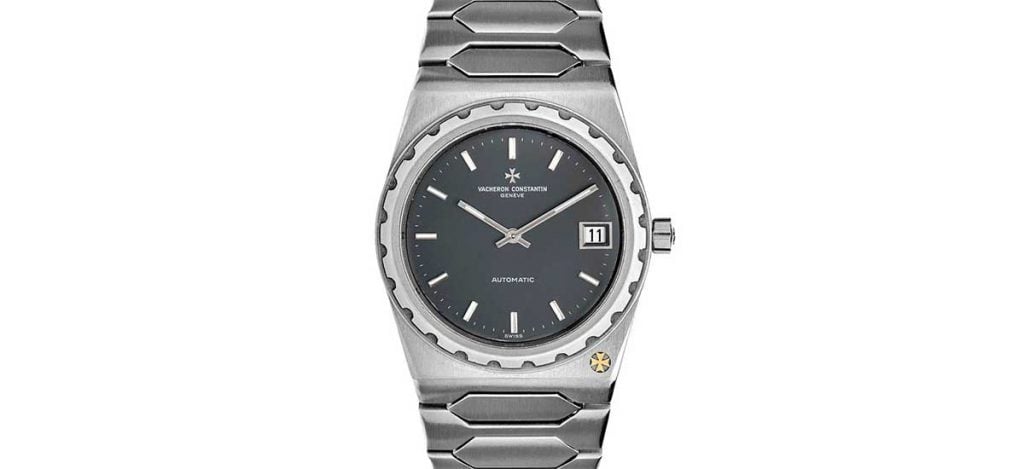 The 1970s were a pivotal time of transformation for the watch industry. The increased pressure from Japan and their quartz technology began to filter out any brand pausing long enough to take a breath. In contrast, the most prestigious watchmakers of the time began to dabble in a completely new market, the stainless-steel luxury sports watch.
It's hard to believe that luxury and stainless steel had not really crossed paths prior to this period. Although several of these models are available, let's look at one that often gets overlooked. The Vacheron Constantin 222 in stainless steel is an integrated bracelet sports watch that, despite having some inspiration from industry competitors Audemars Piguet and Patek Philippe, has a very unique look.
The 37mm case was considered "Jumbo" for the time period but allows this watch to be worn today in almost any situation. The distinct knurled bezel and hallmark imprinted insignia in the case help to differentiate this watch from the competition while also playing into the watch's sportier vibes.
Powered by a JLC 920, also known as the VC 1121 movement, this watch is as beautiful on the inside as it is on the outside. Although currently not in production outside of a few re-releases, the 222 gave direct inspiration to their current sports watch, the Overseas. If you are looking for a timepiece with a distinct design from a Holy Trinity brand, the Vacheron Constantin 222, for $20,000+, is a great watch to consider.
Patek Philippe Nautilus 3700
When looking into iconic vintage watches, it is hard to overlook the significance of Gerald Genta. His designs helped to create an entire watch genre, not to mention help save the Swiss luxury watch industry from the impending threat of the "Quartz Crisis".
Despite having several iconic models to his credit, some already appearing on this list, let's look at perhaps his most hyped watch of all time. The Patek Philippe Nautilus 3700 is the original version of one of the most influential watches of all time. This Nautilus remains aesthetically very similar today to the original released in 1976.
The integrated stainless steel bracelet and symmetrical crown guard design have become the signature attributes of this watch. The movement powering this watch is the 28-255C self-winding, which is based on the same JLC 920 movement that Vacheron Constantin used for their 222 line.
The 42mm stainless steel case with the horizontally striped dial looks as timeless today as it did when it was first released. If you are looking for a truly iconic watch design and can afford the eye-watering $200,000+, the Patek Philippe Nautilus 3700 will be hard to beat.
Audemars Piguet Royal Oak 5402ST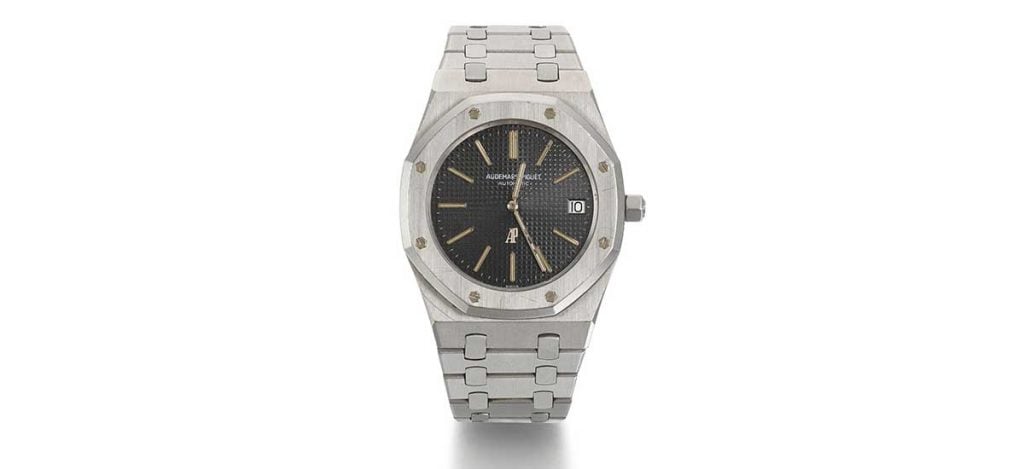 I bet you couldn't see this one coming. We are wrapping up this list with the third member of the enthusiasts crowned "Holy Trinity", none other than Audemars Piguet. There are several vintage models that would meet the criteria for this list, but given some of my previous picks, I can't overlook the original stainless-steel luxury sports watch designed by Gerald Genta.
The Audemars Piguet Royal Oak 5402ST is the watch that changed it all in 1972! It inspired 2 of the other watches on this list that I would purchase if money was no object. As much as I love the 222 and the Nautilus, the Royal Oak has the most purposeful design of the bunch.
The 39mm stainless steel octagonal case with an integrated bracelet is as tied to the Audemars Piguet brand as the name itself. The watch is powered by the caliber AP 2121, once again based on the JLC 920 movement (I guess that whole "watchmaker's watchmaker" thing is more than just a marketing gimmick, after all). If you are looking for a watch that truly changed the trajectory of the luxury Swiss watch industry and have $60,000+ to spare, the Audemars Piguet Royal Oak 5402ST is the watch for you!
Conclusion
There it is, 20 of the best vintage watches you can purchase from entry-level to "who actually has that kind of money?". Some of these options were layups, but I struggled a lot more than I expected putting this list together.
The under $1000 and over $10,000 were a breeze, but those in between budgets can actually be pretty tricky. No matter what your budget allows, following the guidelines discussed earlier will be your key to success.
Whether you're looking for an undiscovered gem or tracking down one of the most influential vintage watches of all time, make sure to enjoy the process. There is a lot of potential risk in the vintage watch market, but if you're patient and well-informed, there can be even more rewards!
Happy watch hunting!
About Exquisite Timepieces
Established in 1998, Exquisite Timepieces is your one-stop shop for all things luxury watches! We are an authorized dealer for 60+ luxury watch brands including Omega, Hublot, Seiko, & Longines! We are proud to showcase one of the world's largest pre-owned watch collections, including renowned brands like Rolex and Patek Philippe. Check out our brand new watch arrivals here and popular pre-owned listings here.