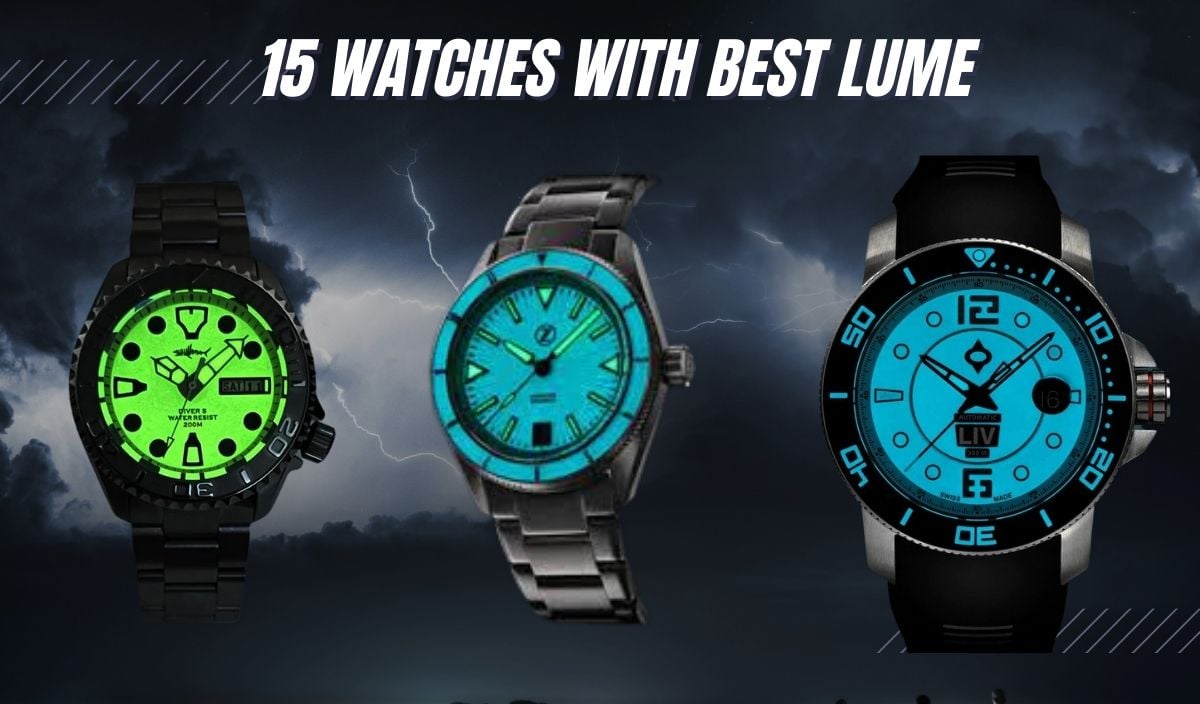 15 BEST Lume Watches for That Magical Glow (Across All Brands)
Glowing lights in dark places have often sparked a childlike fascination in humans. Think of bioluminescent insects like fireflies, glowworms, etc, and the naive thrill that emanates from watching these enchanting marvels immediately comes to mind.
It's the same for watches. You don't have to be a watch enthusiast for the luminescent material that glows through a watch's dial in the dark to kindle a childlike sense of delight.
Lume is the term given to the luminescent material or glowing solution applied on watch dials to keep them legible in the dark. The first instances of watch luminescence surfaced during the first World War when soldiers desired to tell the time without using a flashlight.
In response, watchmakers began applying self-luminous paint on watch dials. These luminous watches turned out to be a critical tool, enabling soldiers to tell the time in the dark during battles. Despite being a historic advancement in the watch world, the luminous materials were radium-based.
Repeated exposure to the radioactive substance proved fatal, leading to a drastic reduction in its use and a subsequent ban in 1968. Since then, lume has evolved. From the story about how luminous timepieces saved lives in hellish trenches to the best lume watches trending right now, read on!
Short Guide
What Is A Watch Lume?
Lume is a shortened form of the word luminescence. So when we talk of 'lume' watches, we mean watches with properties enabling them to emit light rays visible in the dark.
A luminous phosphorescent solution is generally applied to the hands, dials, hour markers, and sometimes the bezels of a watch. Usually, in a green or blue hue, the glowing solution absorbs light and re-emits it. Though this normally occurs during production, it is possible to "relume" a watch's dial. 
Reluming means removing the old luminous material from the dial, hands, and hour markers, and applying new luminous material to it. It is important to relume a watch if it is a vintage timepiece and has a dial containing radium lume (which is radioactive).
The duration of the lume effect varies according to the type of luminous solution (more on this later) and the amount applied to the watch. Whether single or multiple layers are used to ensure a long-lasting glow depends on the cost of the watch and the brand.
Which Watch Brand Has The Best Lume?
Different watch brands use their proprietary blend of luminous material (often strontium aluminate), and the brightness produced at the end depends on the chemistry of the luminous materials. Many watch enthusiasts argue that Omega, Seiko, and Panerai are the lume kings. Super-LumiNova is what Omega uses and is a blend of strontium aluminate.
It also is one of the brightest and longest glowing lume with exceptional legibility. Seiko uses its proprietary LumiBrite, an impressive luminescence variant found in all its diver watches ranging from affordable models to ones reaching thousands of dollars. Even though LumiBrite is relatively new in Seiko luminous dial painting, the glowing solution is impressively bright, longer-lasting, and free of radioactive substances.
About Lume In a Watch
A timepiece is generally as useful as its capacity to tell time. That said, most watches invented before luminescence was applied to watch dials had limitations. Though exquisite and finely crafted, they were, at best, 'part-time' watches.
With no smartphones or streetlights, time reading at night meant holding your timepiece to candlelight. This soon became a major problem, leading to the invention of the minute repeater complication. Timepieces that featured this complication came with an independent chiming machinery that could strike distinct sounds for minutes, quarter hours, and hours with the aid of two small hammers.
Unfortunately, it was only for rich folks, and the problem continued until people got innovative, leading to the invention of lume. Applied mostly for the legibility benefits it offers, watch lume has proved immensely beneficial for telling time in less-than-ideal lighting conditions.
Luminous hour markers and hands were first applied to wristwatches when World War 1 was raging, and since that time, most tool watches have continued to use a healthy dose of lume.
Inherently a byproduct of warfare, lume was conceived solely for utility. As a matter of fact, among the British troops, a luminous wristwatch with unbreakable glass was part of the soldier's kit.
Some contemporary watch enthusiasts may consider lume as nothing more than a cool detail that enhances the aesthetics of a watch. However, it does more than improve the visual complexity of any timepiece. It provides legibility in low light conditions, which remains extremely useful for camping and diving.
Tales of Lume Watches: Where it all Began
Luminescent materials have been used in watchmaking for over a century. The history of watch luminescence goes way back to 1898 with the discovery of Radium by Marie and Pierre Curie. Already known for its self-luminous properties, watchmakers began applying radium paint on the dials and hands of watches to make them legible in the dark.
The first instances of this application surfaced around World War I when soldiers deserted their pocket watches and began depending on wristwatches because of the ease of telling time promptly. However, they couldn't read their timepieces in the dark, and using a flashlight on the combat front meant giving away their location, hence the necessity of watch luminescence.
The revolutionary lume technology was groundbreaking then, leading to global demand for wristwatches with it. Radium, which produced a bright glow when combined with zinc sulfide, was applied to the hands and indices to provide luminescence with a precision brush.
The brushes are pointed with the tongue before the application of the solution by the employees (primarily young women) to shape the bristles and achieve a fine line. Unfortunately, radium proved to be radioactive (yup, radioactive!), and several of these women developed severe medical complications as a result of the radiation exposure (the "Radium Girls" story comes in here).
Of course, it was time for a new type of luminous material. So watchmakers quickly replaced radium paint with tritium-based luminous material in the 1970s. Undeterred by its weak radioactivity, Tritium was used up to the 1990s. It was in the mid-90s that Kenzo Nemoto, a Japanese entrepreneur, developed a safe and non-radioactive phosphorescent solution.
The strontium aluminate-based photoluminescent material gradually took the place of tritium. However, it only partially replaced it. References to tritium today in watchmaking are often about tritium gas tubes. These tubes are thin cylindrical glasses filled with gaseous tritium to ensure a luminescent glow.
Recent luminous materials are based on photoluminescent solutions (like strontium aluminate). These non-toxic materials are used as lume and work by absorbing and re-emitting light. Examples are Super-LumiNova, Chromalight (Rolex), and LumiBrite (Seiko). They usually come in green or blue hues.
What to Look for When Shopping for Watches With the Best Lume
Luminosity
A perfectly lumed watch should glow homogeneously with no obscurity or shades of luminescence in the dial. The hands, indices, etc, should shine brightly for a long time. Some watch brands have mentioned that if the lume is exposed for up to ten minutes to the light of more than 520 lux, it will glow for somewhere between 30 minutes to three hours.
Lume Material
There happens to be an array of luminous materials used by different watch brands to keep watches legible in low-light conditions. Many brands even use patented photoluminescent formulas.
For instance, Rolex's Chromalight has a signature blue sheen and lasts up to eight hours when fully charged, while Seiko's Lumibrite can last for over nine hours. It's important to note the lume material used for a watch before buying it if you're particular about this feature.
Duration
The duration of the lume is just how long it will glow in dark conditions. It is clear that tritium was the strongest lume and lasted for several hours, but it's now gone for all the right reasons. The lume of any timepiece is useless if the glowing effect endures only for a few minutes.
Factors that affect the duration of luminescence range from exposure to a strong light to the amount of lume applied and the type of luminous material used.
Looks
There is an assortment of preferences when it comes to the luminous coating in watches. The appreciation of lume does not end at its functional purpose but stretches to its looks as well. You would think that lume is one size fits all, but the range is quite varied, with the green and blue lume being the most common.
C3 Super-LumiNova has the brightest strength and gives off a green (sometimes yellow) color. BGW9 follows closely and is light blue in the dark but somewhat whiter during the day. There are many other colors you can choose from but expect a reduced amount of brilliance.
Watches With Tritium Lume
1. Marathon General Purpose Mechanical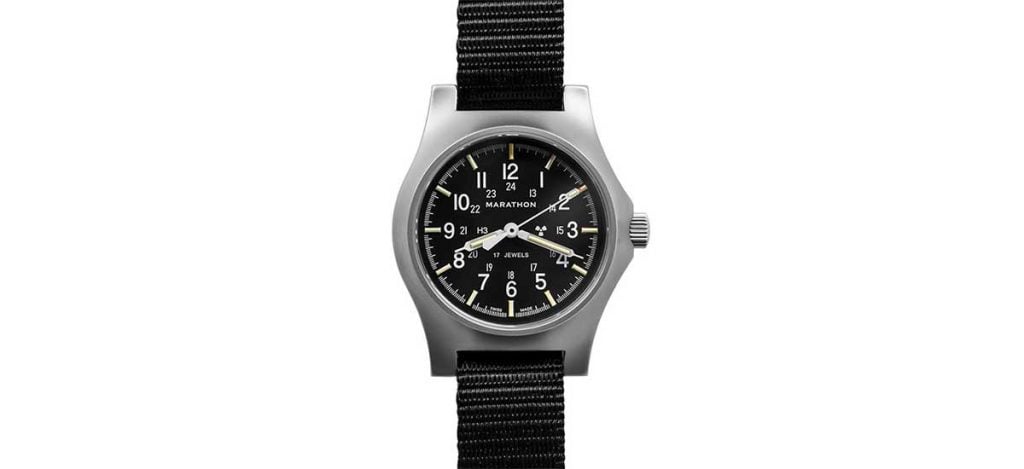 Starting this list is none other than Marathon's General Purpose Mechanical (GPM) – 34mm watch. Loved for Its military-issued timepieces, Marathon is renowned for combining Swiss engineering and expertise with military robustness.
Tritium radiance is a pivotal element across the brand's collections, and if you really want a functional watch with outstanding tritium lume, Marathon is highly recommended.
Made in Switzerland and created to meet tough MIL-W-46374 specification standards, the GPM (General Purpose Mechanical) watch was designed with the highest level of craftsmanship and quality.
The high-impact composite fiber shell case measures 34mm and will stay tightly fitted to a range of wrists, thanks to its 16mm nylon strap that coordinates with the color of the case. Born out of military necessity, the dial is everything you'd expect from a function-first tool watch.
The Lume used on the indices and hands is none other than tritium gas tubes which will continue to glow without exposure to light. Unlike other contemporary luminous materials, tritium is also known to offer consistent brightness for prolonged periods.
The dial is thus guaranteed to offer impeccable legibility in all lighting conditions, especially when you include spectacular white hands projecting from a matte black dial.
Beating inside the heart of the watch at a rate of 21,600bph is Seiko's NH35, a reliable automatic movement with 24 jewels. The dial of the GPM is guarded by extremely strong and scratch-resistant Sapphire crystal.
2. Ball Roadmaster StarLight Bronze Watch (42mm RR1102-C)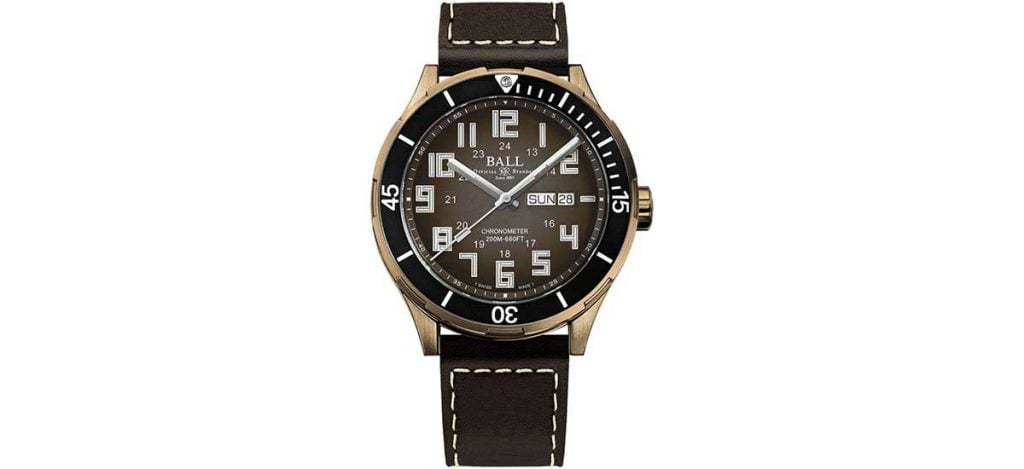 Ball Watch is a Swiss luxury company known for its quality timepieces that work incredibly well in adverse conditions. Apart from churning out elegant watches, Ball is one of the major brands that employ the use of encapsulated tritium hour markers on its timepieces to enhance legibility.
In terms of design, the watch brand stands out for creating timeless watches that feature a modern yet classic look. Coming in a bronze case that measures 42mm, the corrosion-resistant Ball Roadmaster Starlight Bronze Watch demonstrates a strong emphasis on functionality.
Since the clear and swift reading of the dial has always been a top consideration for every BALL watch, the numerals and hands feature the brand's signature tritium gas tubes. The luminous properties of these tritium tubes can glow perpetually for up to 25 years without requiring charging from an external light source.
Due to the glass tubes used here, the numerals have turned out to look a bit digital, giving the watch a distinct look that offsets the vintage idea. Apart from the copious luminescence, the dive watch is water resistant to a depth of 200 meters and is COSC chronometer-certified.
For those unfamiliar with the term, COSC stands for Contrôle Officiel Suisse des Chronomètres. Every timepiece certified as a chronometer by the COSC must have undergone a series of rigorous tests. The bronze watch is equipped with the automatic ETA 2836-2, which provides 38 hours of power reserve.
3. Luminox Leatherback Sea Turtle Giant, 44MM – 0337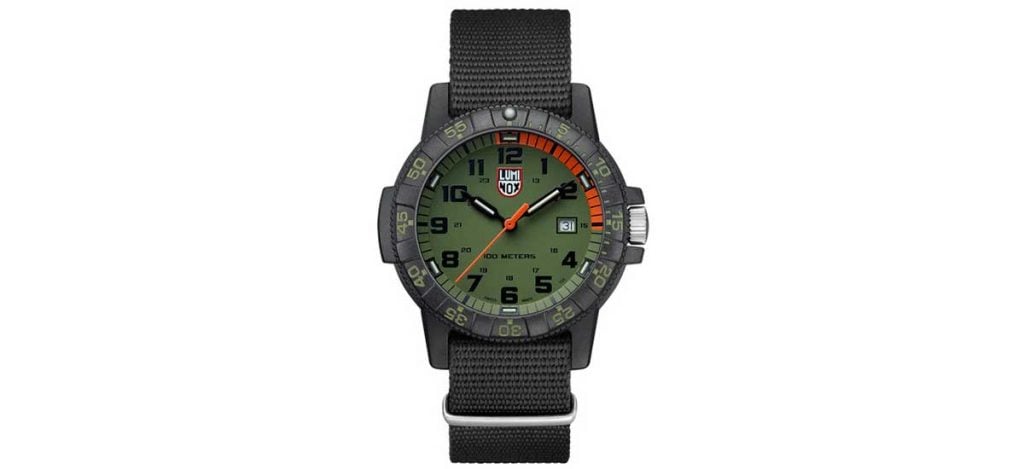 Luminox is a luxury watch brand notable for its value-driven timepieces that were rugged enough to be the number one choice for U.S. Navy SEALs in the early 1990s.
The California-based watchmaker has made Its mark in the watch world thanks to its readable, robust, and high-quality tactical watches. The Swiss-made timepieces are known for providing long-term luminescence with the use of GTLS (Gaseous Tritium Light Source).
The Leather Sea Turtle Giant features a case back that mimics a turtle's curved shell earning it the turtle nickname. The dial features the proven GTLS Luminox technology that guarantees self-powered readability in low-light conditions with a constant glow for up to 25 years. GTLS tubes are incorporated into all the hour markers.
Additional tritium inserts adorn the hands of the watch, offering a 24hr illumination. The Cabonox case is extremely lightweight, weighing only 45 grams on its webbing NATO strap. Coming from Luminox, the watch is flawlessly styled with orange accents that contrast with the green dial producing an overall legible effect.
With a diameter of 44mm and a lug width of 22mm, the sports watch will sit snugly on various wrists. Inside, an affordable and highly accurate Swiss Quartz movement powers the watch. Apart from requiring little or no manual maintenance, quartz movements are known for their longevity, as they can last the user up to 30 years. Finally, this affordable timepiece has a screw-down case back that ensures 100 meters of water resistance.
Watches With Super-LumiNova
Super-LumiNova happens to be the go-to luminous material of many reputable watchmakers. It is a Swiss-made lighting product with no radioactive properties (unlike radium and tritium). As a result, it is 100% safe for the end user and the manufacturer. It is based on alkaline earth aluminate and works by absorbing natural and artificial ultraviolet light during exposure, which illuminates in lowlight conditions.
4. Omega Seamaster Aqua Terra 150m Ref. 220.10.41.21.10.001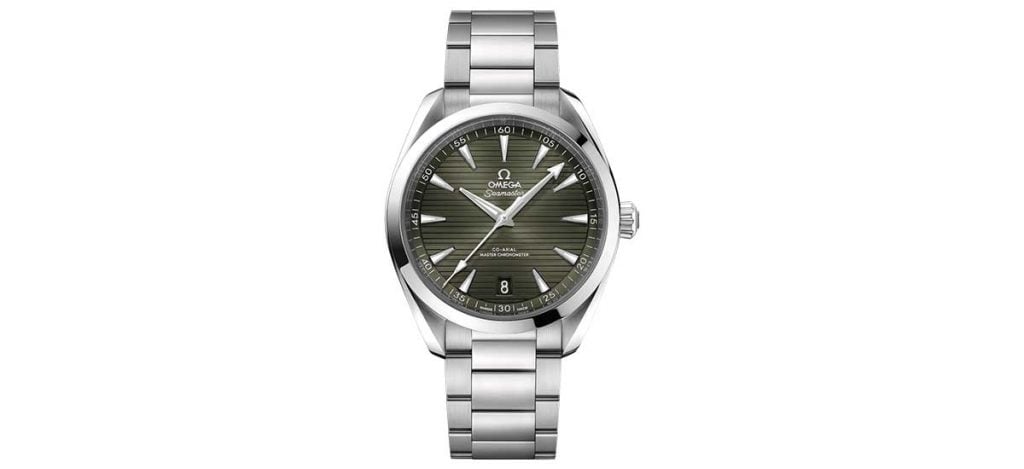 Starting this part of the list is none other than Omega Seamaster Aqua Terra for all the right reasons. In 1997, Omega announced that all its watches would no longer use tritium. In replacement, a blend of strontium aluminate or Super Luminova was to be used.
Since then, Omega has stayed as one of the watch brands with the brightest and longest glowing lume. Indeed this timepiece is a nod to Omega's long-standing reputation for top-notch legibility.
Equipped to remain readable at profound depths and darkness, the Seamaster Aqua Terra comes in a stainless steel case with a polished and brushed bracelet.
The sun-brushed green dial is both legible and stunning, with a design that features horizontal teak patterns. Omega does a great job marrying functionality with aesthetics to create an elegant timepiece.
The rhodium-plated hands and indices are all filled with white Super-LumiNova, ensuring optimal readability even at depths of 150 meters underwater. The 41mm stainless steel case houses the Caliber 8900, which offers an impressive power reserve of 60 hours.
Manufactured to the highest standards, the Aqua Terra 150m is a standard luxury selection for anyone desiring one of the best luminous watches with a quintessential design. Lastly, it has a transparent case back, a self-locking crown, and a date display window at 6 o'clock.
5. TAG Heuer Aquaracer Ref. WAY2012.BA0927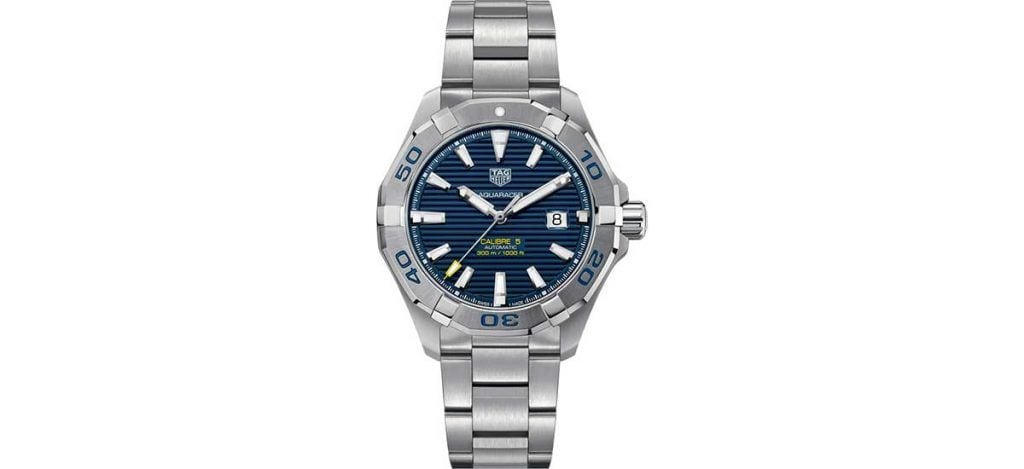 Famous for its chronographs, TAG Heuer remains a favorite sports watch brand with one of the most renowned racing and diving timepieces. The Aquaracer Ref. WAY2012.BA0927 bears TAG Heuer's sporting spirit with a subtle masculine flair that is complimented by a modern touch.
The iconic sports watch was designed with refined hands and indexes that are easily readable even at top speed. Horizontal stripes add depth to the blue dial, while the bold hour markers and hands have been generously coated with green C3 lume.
Everything looks particularly sharp; the uncluttered dial, dodecagonal bezel, bold hour markers, etc, all with a generous application of Super Luminova for excellent legibility all around the clock.
The sharp-lined geometric steel case measures 43mm in diameter. Together with the slightly elongated lugs, a perfect balance between aesthetics and comfortability is attained. A combination of brushed and polished surfaces makes it sharp but not overly glittery, which is just ideal for sports-car enthusiasts.
Overall, the Aquaracer Ref. WAY2012.BA0927 was designed to offer optimal legibility at top speeds and does that beautifully. It is water resistant to a depth of 300 meters (30ATM), and a Sapphire crystal protects the dial. Powering the watch is TAG Heuer's Calibre 5, which offers 38 hours of power reserve.
6. Tag Heuer F1 Grande Date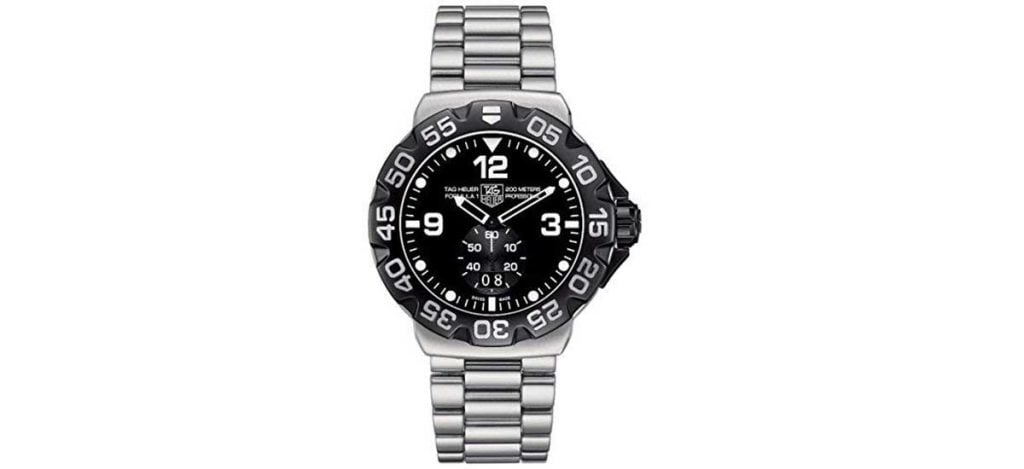 Coming in the sub-$1000 range, the Tag Heuer F1 Grande Date elaborates on Heuer's technological innovation in motorsports. Built for those who dare to constantly be on edge, the watches in the F1 line are all bold, precise, and ultra-legible.
The Grande Date comes in brushed stainless steel that measures 44mm in diameter with a height of 12.50mm. The measurements might seem big, but due to the shape of the case and bezel, it wears thinner than the measurements indicate.
The dial layout is flawlessly styled with luminous hour markers and numerals. One of the most interesting things about this timepiece is that it offers a full lume dial against other luminous watches with lume applied only on their hands and hour markers.
That said, the entire dial glows in low light conditions, but different shades of Super-LumiNova are used for the numerals and markers. Readability is optimized with this approach making it an integral tool for racers and divers alike. There's a beautiful sub-dial for the seconds with a perfectly integrated date display ("Grande Date") at 6 o'clock.
Overall, the whole dial is super legible with raised black markers that are round, just like the classic F1 timepiece. A distinctive triangle above the 12 o'clock position adds to the symmetry of the dial, while brightly brushed numerals on the uni-directional bezel can be seen at 5-minute intervals.
A quality quartz movement keeps the watch highly accurate, which is just appropriate because racers should never have to bother about winding their watches. The elegant timepiece is water-resistant to a depth of 200 meters, and the dial is protected by a flat Sapphire crystal.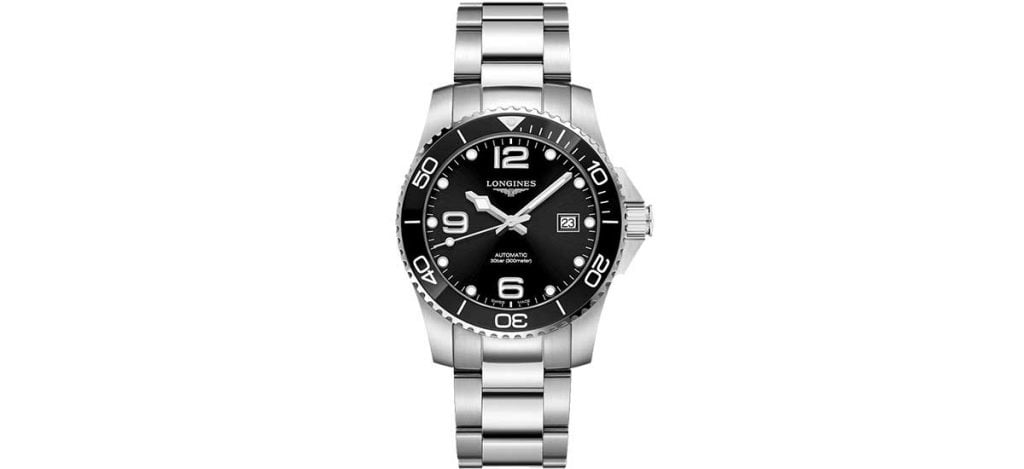 Longines is a brand with a strong heritage in the vast world of watchmaking. Known for creating the first chronograph movement for a wristwatch (the '13.33Z), Longines has longstanding ties to varied forms of water sports and horse racing. The Hydroconquest line boasts this rich tradition with refined elegance and technical innovation.
Measuring 41mm in diameter, the Hydroconquest Ref. L3.781.4.56.6 is a high-performing timepiece with a lug-to-lug of 50mm. Though the dimensions suggest the watch is hefty, the curved lugs and flowing bracelet ensure a firm grip on the wrist. The case features a matte brushed finish letting the sunray black dial reflect pleasantly.
Large applied Arabic numbers at the 12, 6, and 9 o'clock positions contribute to the personality of this timepiece, while silvered polished hands and lumed dots keep the dial ultra legible and neat. There are no lumed dots on the 12 and 6 o'clock positions, and the Arabic numeral at 3 o'clock has been discarded for a date window to maintain the dial's symmetry.
All the hands are silvered polished and have been treated with Swiss Super-LumiNova that will glow green in lowlight conditions. The central second's hand has a 'lollipop' on its head, which is luminescent, the minute's hand has lume down its spine, and the hour hand has a diamondlike area also filled with lume.
Overall, Longlines goes above and beyond to offer maximum legibility, which can immediately be noticed with the way the dial has been tidied up with all the extra details done away with. The bare essentials are further heightened with the sunray black and silver color; just the right color scheme for top-notch legibility.
8. Glashütte Original Senator Excellence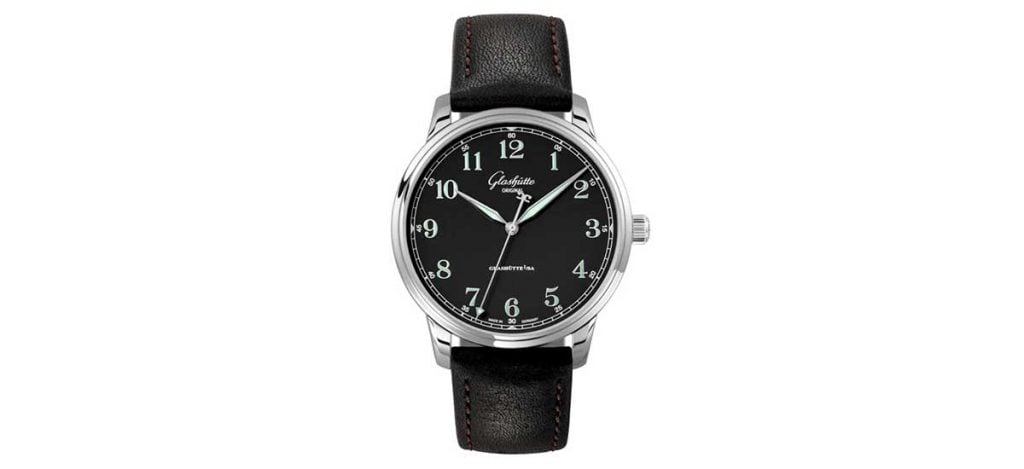 Presented in a stainless steel case that measures 40mm in diameter, the Senator Excellence 1-36-01-03-02-65 is an elegant watch with a vintage feel that does not compromise its sporty look. The case fit and finish are superb, with polished and satin-brushed surfaces that elegantly reflect the light.
The top is brushed vertically, the bottom axially and the sides of the case are horizontally brushed. Under the scratch-resistant Sapphire crystal is a grainy matte black dial moderately inlaid with Super-LumiNova. The black dial contrasts perfectly with the large and luminous Arabic numerals in white, offering crisp clear legibility whenever you need it.
The steel glaive hands of the Senator Excellence are also filled with Super-LumiNova, and little triangles on the chapter ring at 12, 3, 6, and 9 o'clock highlight the practicality of the timepiece.
Day or night, the details on the dial can be read at a glance with zero inconveniences, as Glashütte's designers have worked at keeping it visually striking. Inside the beautiful watch is the Calibre 36-01, a robust automatic movement operating at 4Hz (28.800 vph) with an impressive power reserve of 100 hours.
The finely finished movement with polished chamfers, 21-carat gold oscillation weight, a skeletonized rotor, and blued screws can all be savored through the sapphire crystal case back. It is water-resistant to a depth of 50 meters.
9. Hublot Big Bang Integral Grey Ceramic (Ref. 451.FX.6923.FX)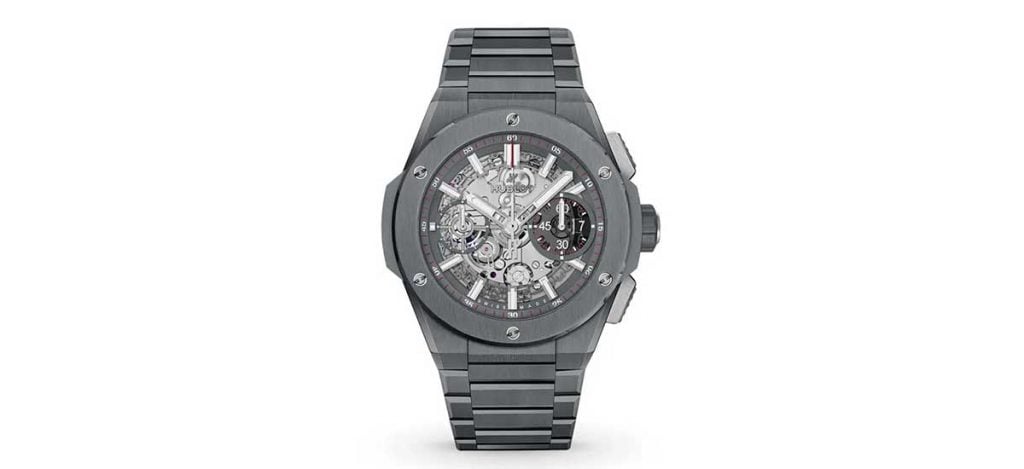 Recognized for its mastery of complex materials, Hublot is a brand loved by many for its bold designs. The Big Bang Integral Grey Ceramic is a sporty chronograph watch that bears Hublot's innovative spirit and craftsmanship.
Coming in a 42 mm x 13.45 mm case, the model of this timepiece is monobloc so the first link of the bracelet has been fused with the case (hence the name of the watch). A high-tech ceramic that is highly resistant to scratches and about three times the hardness of steel is used for the entire timepiece except for the crown, folding clasp, H-shaped bezel screws, and a few others that have been crafted from titanium.
The open-worked dial is protected by a flat sapphire crystal with an anti-reflective coating. The stunning dial showcases gears, a date disc, and a chronograph column wheel. At 9 o'clock is a skeletonized sub-dial, while at 3 o'clock is a chronograph counter.
The dial is profoundly readable due to its large hands and indices being filled generously with Super-LumiNova. The sports watch also has a sharp look that is just ideal but not shiny due to the alternating polished and satin-brushed finishing of the case and bracelet.
Beating at the frequency of 28,800 vibrations per hour is the Unico HUB1280, a self-winding chronograph flyback movement that offers 72 hours of power reserve. It is water-resistant to a depth of 100 meters.
10. Oris Aquis Date (Blue)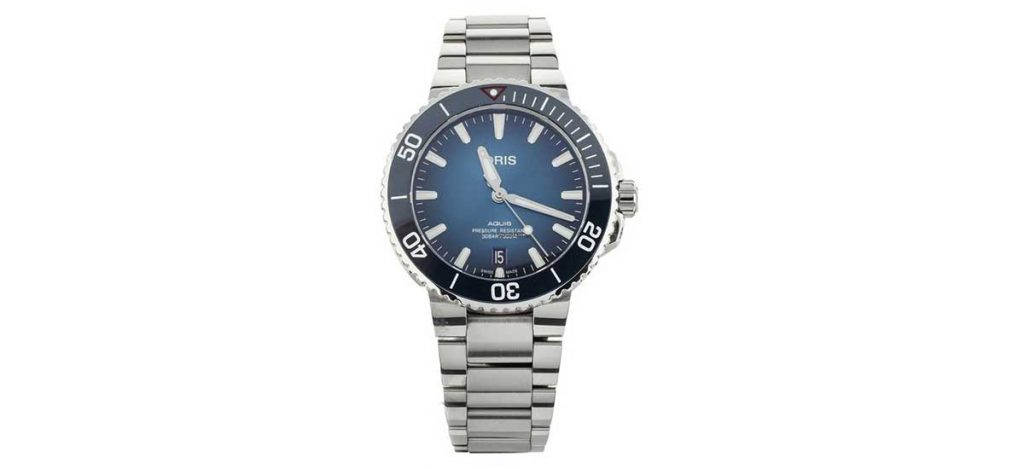 The Oris Aquis Date is a stunning timepiece perfect for divers who desire to tell the time at a glance at depths where legibility is crucial. The dial has a shimmering effect which Oris attributes to the appearance of sunlight on the water surface, bringing considerable gleeful design to the otherwise tough and high-performance watch.
The ref:73377304135MB comes in a 43.5mm stainless steel case and bracelet. The sunburst dark blue dial is protected by a double-domed sapphire crystal that has an interior anti-reflective coating. The overall legibility is captivating as the blue dial contrasts perfectly with the applied silver indices.
The silver indices, hour, minute, and second hands all have white Super-LumiNova inserts that glow green for maximum legibility under the waves. A date window sits neatly at 6 o'clock, keeping the uncluttered dial very balanced, so a lot of thinking must have gone into this dial to keep it legible and clean.
The bezel on the Aquis Date is also surprisingly crisp, and as usual, a ceramic bezel is known to be a champion against scratches is used. True to its purpose as a high-performing dive watch, the bezel has 15-minute markers and a dot in the triangle at 12, which is luminous.
Powering the timepiece with a 38-hour power reserve is the robust Oris 733 automatic which is based on Sellita SW200-1. It beats at 28,800vph and has 26 jewels.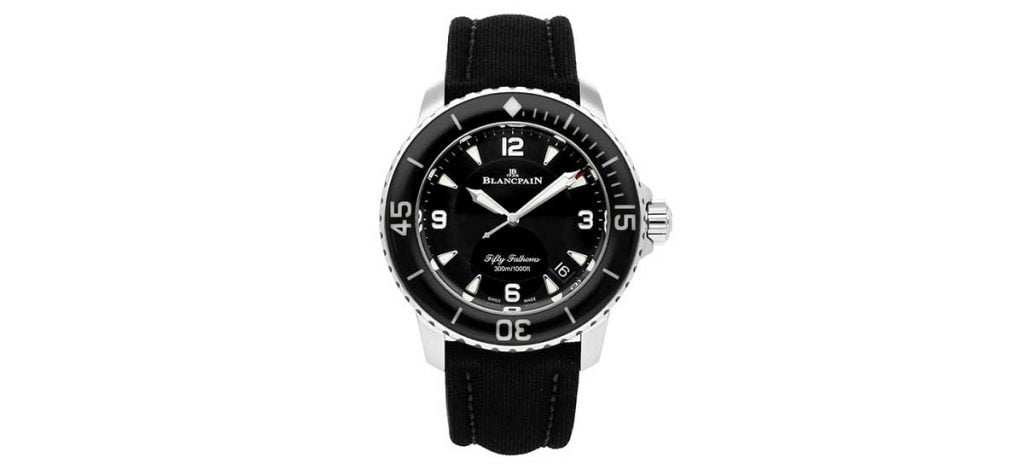 Ending the best lume watches with SuperLumiNova is an extraordinary dive watch… I present to you Blancpain's Fifty Fathoms in all its glory. The one word that can be used to describe this timepiece is 'breathtaking'. It is bold, lovely, alluring, and radiant.
The watch features a black sunburst dial that contrasts excellently well with the white gold indices. The bezel also features Arabic numerals at fifteen-minute intervals with a few hash marks from 12 o'clock to 3 o'clock. All of the markers are crisp white gold and contrast beautifully with the gloss black bezel.
The sword-shaped hands have been treated with Super-LumiNova and will let out a greenish glow in the dark. The handset is a defining feature of this watch; the large hour hand has a diamond-shaped area filled with lume, the longer minute hand features lume down its spine, and the lollipop zone of the central second hand is also luminescent.
To avoid undesirable reflections, the central facet has been flattened. Together with a fully-lumed bezel insert, the dial is profoundly luminescent, offering amazing low-light visibility. The case measures a full 45mm in diameter and is more than 15mm thick, so it's not for people with narrow wrists. It is water-resistant to a depth of 300 meters. At the heart of the watch is the caliber 1315, an automatic movement with a solid gold rotor with 120 hours of power reserve.
The Best Lume Watches
12. Seiko Monster SRPH13K1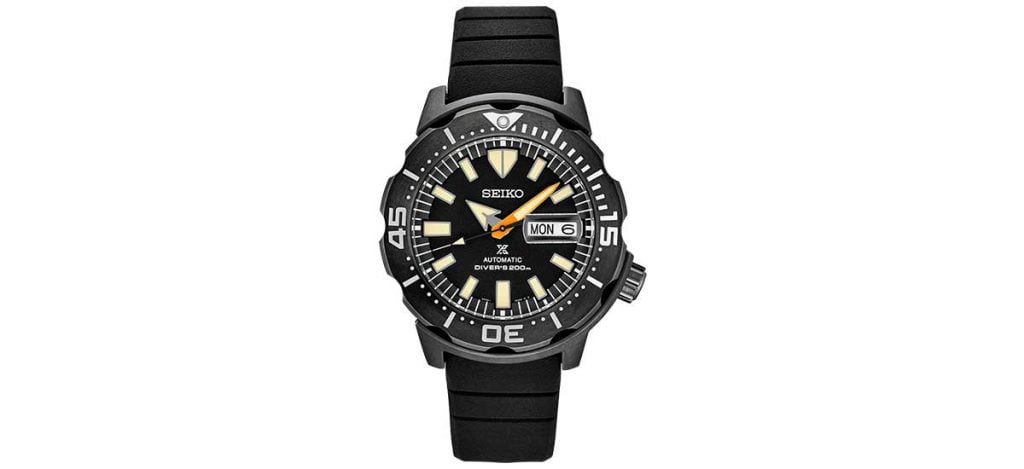 Seiko is undoubtedly a legend in the field of dive watches. The Prospex collection (Prospex is short for Professional Specifications) continues the brand's legacy with this tough and durable timepiece. Presented in a DLC-coated stainless steel case that measures 42.4mm in diameter, the Prospex Monster SRPH13K1 is a true sports watch with a sharp design.
The striking black dial is consistent with the overall back theme of the watch. The watch has a lug width of 20mm, so you can quickly replace the silicon strap. The dial has a day-date window function at 3 o'clock with rectangular applied hour markers large enough to contain a generous amount of lume.
Seiko's Lumibrite has been lavishly applied on the hour hand, minute hand, and triangular tip of the second's hand, making the watch excellently legible in low-lit conditions. Since the watch has to be perfectly visible underwater, it is great to note that it meets the stern ISO 6425 "Diver" watch specifications.
The dial is protected by the brand's proprietary Hardlex crystal, which is harder and more scratch-resistant than mineral glass. Above the day-date display is a magnifying glass (cyclops) to aid reading. It is powered by Seiko's caliber 4R36, an automatic movement with hacking and manual winding functions that offers a power reserve of 41 hours.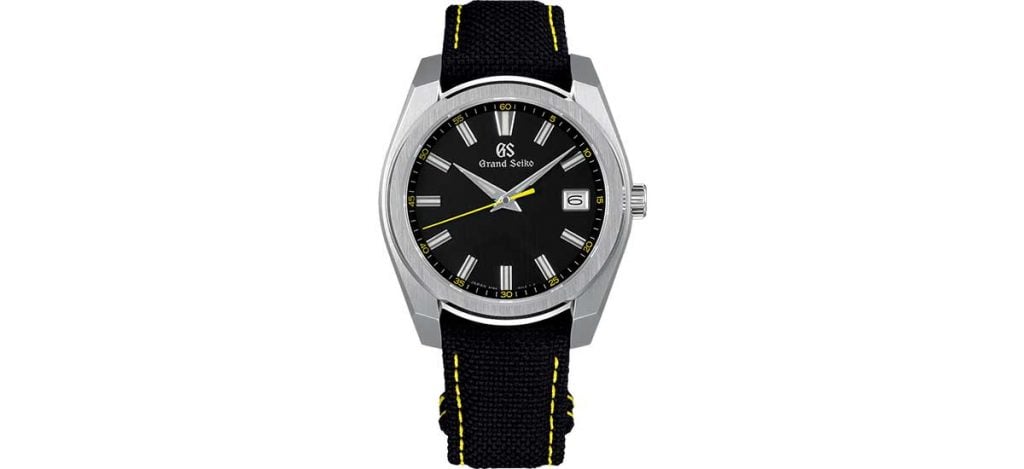 Instantly recognizable for its high-grade materials and understated elegance, Grand Seiko has become the number one go-to luxury brand with affordable and elegant timepieces. The Grand Seiko Ref. SBGV243 measures just right at a diameter of 40.1mm across its stainless steel case, with a 46.6mm lug-to-lug and a thickness of 11.8mm.
The dial is black with a subtle vertically-brushed texture, and the yellow accents add a certain sporty flair to the timepiece without taking away the overall vintage vibes. Large, applied indices have been generously filled with Seiko's LumiBrite for legibility anytime, anywhere. LumiBrite is an improved fluorescent luminous material that is brighter than some conventional luminous materials and is known to last up to 10 times longer.
The minute and hour hands also have a great deal of lume applied carefully to ensure excellent legibility. Besides clarity, Seiko's Lumibrite also improves the aesthetics of the dial, giving it an additional dazzle. The quality of the case finishing is outstanding, with a screw-down crown and water resistance rating of 200 meters.
Overall, the highly accurate quartz watch has been built with great precision and care, as can be observed in the diligence given to its execution. A sapphire crystal treated with an anti-reflective coating on the inner surface protects the dial.
14. Hamilton Khaki Navy Scuba (Ref. H82201131)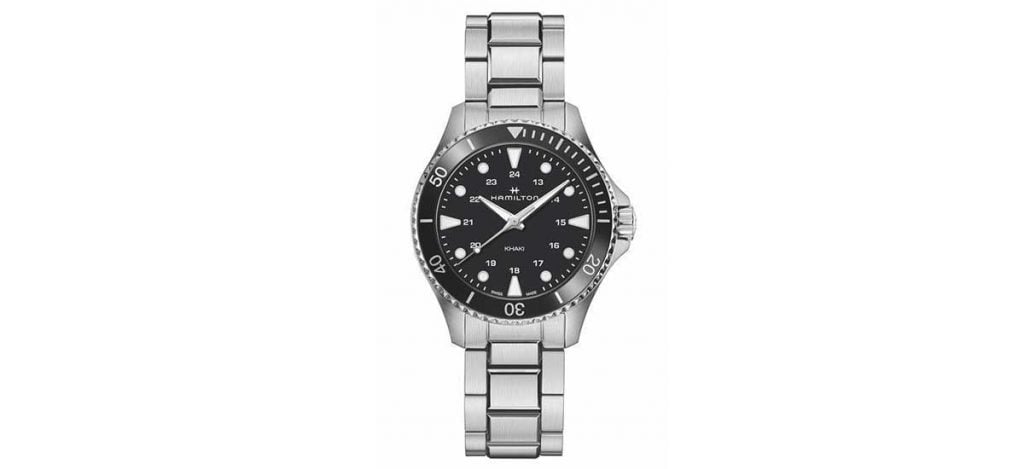 Coming in a 37mm stainless steel case, the Khaki Navy Scuba is a highly functional unisex watch with 100 meters of water resistance. The affordable timepiece exudes a sense of luxury with its black dial and stainless steel bracelet. The dial contains a lot of information but manages to remain uncluttered.
A 24-hour scale surrounds the inner part of the hour markers, which is typical of the Hamilton Khaki design. Bold white trapezoids take up all the cardinal positions (12, 3, 6, and 9 o'clock), while rectangular ones are used for the other hour markers.
All the hour markers are filled with a generous amount of lume. The hands are mirror polished, and the hour and minute hands have also been treated with lume. The healthy amount of lume in the hour markers and mirror-polished hands will keep the watch ultra-legible in the dark.
Prominent crown guards executed in a fine manner give the timepiece a tough look, while the screw-down crown, which feels smooth and pleasant to operate, has an H logo that compliments that of the dial. The highly accurate quartz watch is water resistant to a depth of 100 meters. Much thought has gone into the design and proportions of the Khaki Navy Scuba, and it is executed extremely well with profound legibility of the dial, hands, and bezel.
15.  A. Lange & Söhne Datograph Lumen (Ref: 405.034)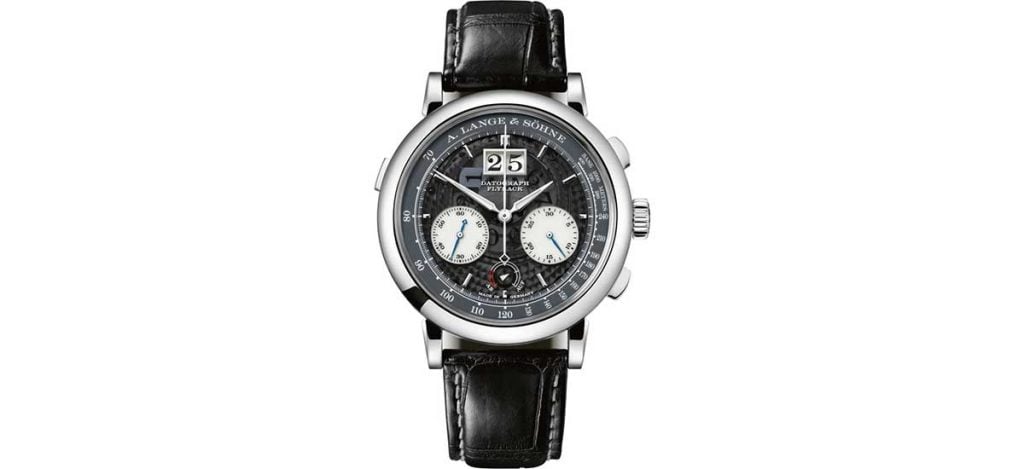 A. Lange & Söhne is respected for its outstanding models with complications that range from chronographs, tourbillons, annual calendars, and perpetual calendars… you name it.
The 'Lumen' collection is defined by its luminescent-inclined timepieces that feature a copious amount of lumed markers. The Ref: 405.034 is a particular stunner in this regard and pays tribute to the brand's long-lasting watchmaking tradition.
The 41mm case is made from platinum, a pure metal which, apart from being uncommon, is hypoallergenic and has a lovely density. The Datograph Lumen has a flyback chronograph (which allows you to operate the reset function without having to stop the chronograph), two sub-dials, a power reserve indicator, and a quick-set oversized date window.
The smoked sapphire dial is breathtaking and can be dubbed the king of lumed watches. Nearly all the indications on the Datograph Lumen are luminescent. The watch's numerals, hour, and minute hands have an ample amount of luminous material and will glow brightly in the dark through the sapphire glass that features a light-permeable coating.
The grand date is ultra legible and also luminescent. The chronograph sweep-seconds hand, the registers, the chronograph counters, the tachymeter, and the minute scale are all luminescent and will let out a magical glow in the dark.
Conclusion
Watch luminescence has evolved over the decades with upgraded and better-quality luminous materials coming into the scene. Though solely conceived for utility, the patina craze reveals to us that the appeal of lumed watches is not only driven by their illuminating properties.
Having a great lume watch is a necessity, and many watch brands now design their timepieces with a healthy dose of lume. Here at Exquisite Timepieces, we carry a lot of respectable brands that produce watches with excellent lume. If none of the watches in this list meets your expectations, check out other brands here.