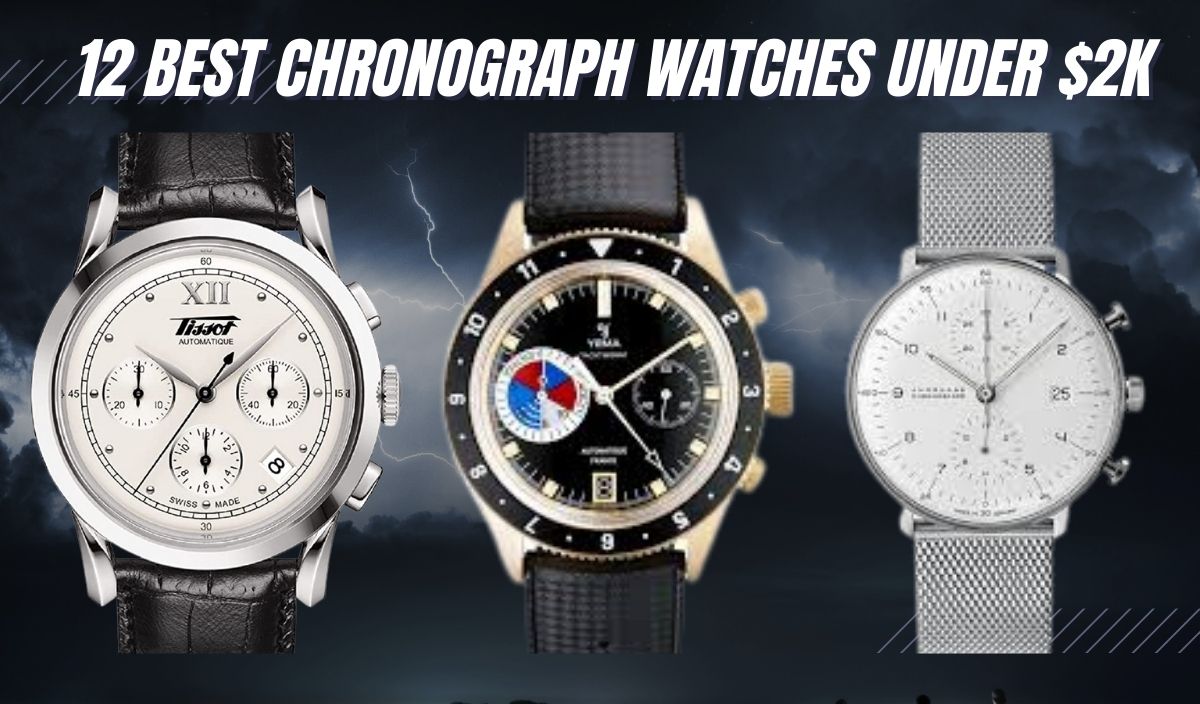 12 BEST Chronograph Watches Under $2,000 (No Compromise!)
There are few features that enamor a watch enthusiast like a chronograph function. I am not sure exactly what it is that draws us in, but their popularity among enthusiasts speaks for itself. With limited objective purposes that a wristwatch can provide outside of telling the time, it could simply be the fact that a chronograph gives us another way to interact with these machines we obsess over.
If that was the only factor, wouldn't we all just aspire for the most complicated watch that we can afford? It must go deeper than that. The chronograph function turns the watch we love into an actual tool. It makes them easier to justify their necessity of ownership, not only to yourself but to your significant others as well (and isn't that what really matters)!
If we are honest with ourselves (something most of us watch enthusiasts HATE doing), a chronograph watch doesn't really serve any practical function in our lives that we couldn't get from our phones. To those of you logical enough to make that argument; How exactly did you find this article? And why are you still reading? This hobby is clearly for the unhinged radicals who value precision over practicality and craftsmanship over convenience!
How many types of Chronographs are there?
As we evaluate the chronograph there are several ways to provide this functionality to our timekeepers. There are affordable quartz offerings, hand-winding mechanical movements, automatic mechanical movements, and then jaw-dropping artistry coming out of the ultra-luxury brands such as A. Lange & Sohne or Breguet. Add to this the fact that almost every brand all the way from entry-level to ultra-luxury, both mainstream and micro brands, creates a watch with a chronograph and we are certainly spoiled for choice.
Are all chronographs expensive?
Time to slam on those brakes! If you're reading this article, you very well could be in my same shoes. A mere mortal, with enough money to pay for things you need and a little extra for the fun stuff. Unfortunately for us instead of choosing a perfectly fine hobby like collecting rocks or another free medium, you chose wristwatches; A hobby most enjoyed by those with copious amounts of spare cash.
If you work hard and are disciplined most of us could save up $2k. There are some excellent examples of wristwatches under this price that really make me question why I ever need to spend more. Chronographs rarely make these lists of best watches under $2k and there's a good reason.
These complicated watches are expensive! Let's take a journey to the most affordable corners of the entry-level and luxury watch market (the irony is not lost on me) and find the 12 best chronograph watches under $2k. And because I want this list to be as interesting and informative as possible, I am only going to select one watch per brand.
Budget Options for the most Frugal of Collectors
Starting off our list is a true hero of the frugal watch community. The Seagull 1963 provides a mechanical hand wind movement at a price that many other watch companies charge for a replacement strap. The version that I would go with comes with a 38mm stainless steel case, sapphire crystal, and a classic cream dial with gold indices. The watch screams vintage and has small pops of flair like a red star on the dial to help it stand out from the crowd.
The real showstopper here is the in-house Seagull ST19 hand wind mechanical chronograph. The movement is manufactured in China but based on the famed Venus caliber 175. Prices vary on this model depending on how you choose to spec it out, but even if you spec it to the top, you'll be under $500, let alone the $2000 budget we have here. You might even have enough left over to pick yourself up a nice time-only piece to round out the collection.
If the vintage design is your thing, but you'd rather have a piece that you can just pick up and go, look no further than the Bulova Chronograph A. This model, which is commonly referred to as the "surfboard" by collectors, has a great vintage aesthetic but will be ready for action thanks to the robust quartz movement.
The watch features a 40.5mm stainless steel case, sapphire crystal, and a nice 200-meter water resistance. The real stand out for this watch is the surfboard-style sub-register layout and bicolor dive bezel. This gives the timepiece a very sporty vibe. There are lots of colors to choose from within this model, but the black and red really sing to me.
This model will come matched with a tropic-style rubber strap allowing you to not only look at a surfboard on the dial but have the option to actually jump on a real one and catch some waves. With a list price hovering around the $700 mark and discounts almost always available, this watch is far from a budget buster.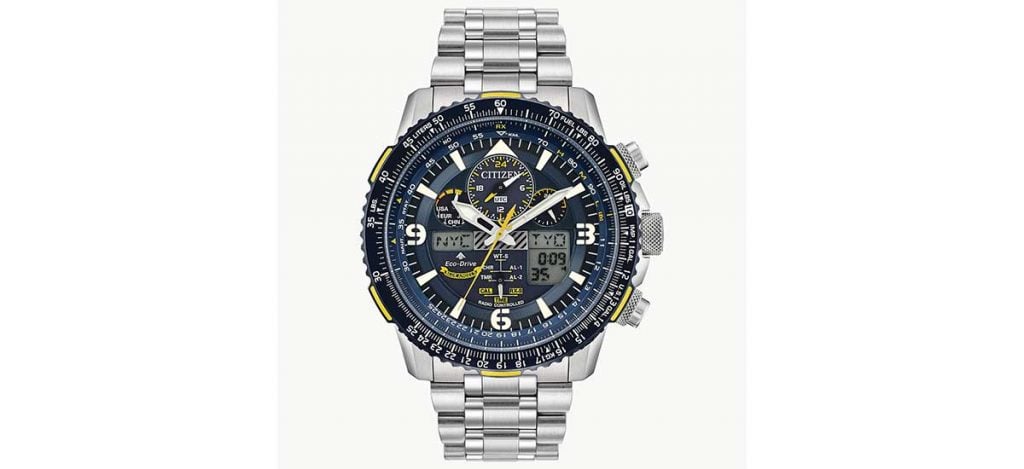 In the world of chronographs, pilot-inspired timepieces are highly coveted and commonly drawn upon for inspiration. If the $6k plus market for a new Breitling Navitimer isn't for you, but you want something with serious aviation heritage, then Citizen and their Promaster Skyhawk line might be exactly what you're looking for. This version is a Blue Angels edition and comes with a classic blue and yellow color scheme to match.
The stainless steel case comes in at a hefty 45mm, but given how many complications they managed to squeeze on this, the size is more than justified. My favorite attribute of this watch is the Eco-Drive movement, gaining its power from the sun as opposed to a traditional battery. Add to this the atomic timekeeping feature, slide rule bezel, and endless digital features and you have a watch that can almost do it all, whether you're in a plane or not, at less than $800.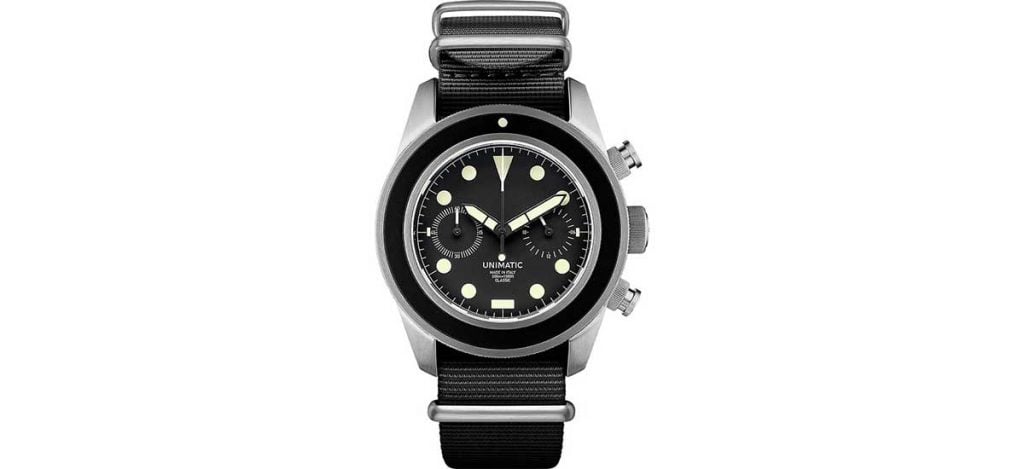 One of the best ways to stretch your hard-earned dollar in the world of watch collecting is through the exploration of micro brands. This area can be hit or miss, but there are a few brands on this list that absolutely knock it out of the park. The first of these brands is Unimatic with their U3 Classic. This quartz-powered chronograph carries the distinct Unimatic Italian aesthetic and seamlessly integrates a chronograph function.
This watch comes in a 41.5mm stainless steel case and features a sapphire crystal and unique meca-quartz caliber with the use of the Seiko VK64. This movement utilizes a mechanical chronograph module that is added to a typical quartz-powered watch.
If you are mesmerized by the smooth sweep of a mechanical watch, this chronograph may be enough to scratch the itch. Combine this technology with the distinct no-frills look of a Unimatic and you have a very compelling option at roughly $700.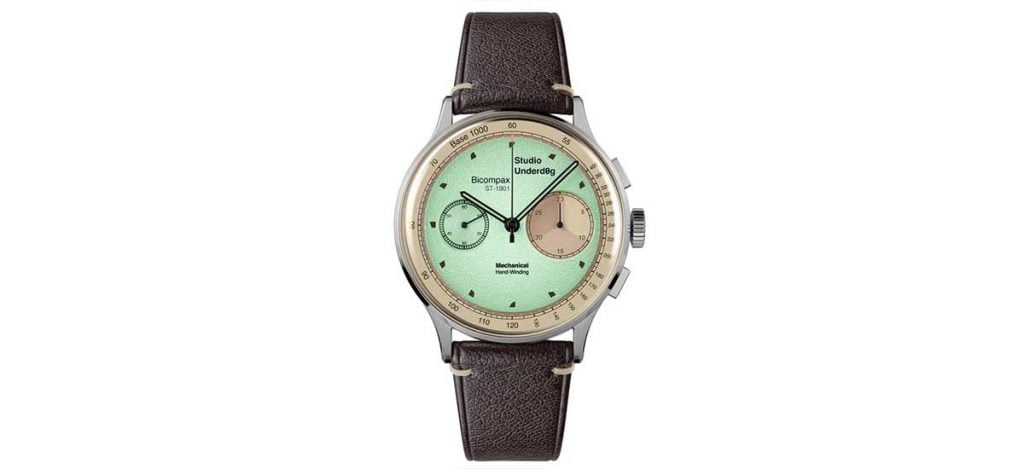 Perhaps one of the best examples of a microbrand catching fire in the watch community is Studio Underd0g. Their bold color choices helped them achieve success almost immediately while introducing their collection to the world during the uncertainty of a global pandemic. The watermelon color iteration receives a lot of glory, but I am an absolute sucker for their Mint Ch0c Chip design. The mint green dial and brown accents help to give this watch its namesake and the combo works surprisingly well.
This watch features 38.5mm stainless steel case and is powered by the previously mentioned ST19 mechanical chronograph. The price will come in at close to double what you could find a Seagull 1963 for and good luck finding one in stock as they are almost always out of stock. Even with those drawbacks, this watch deserves all of the hype that it has received and I would certainly line up for 2 scoops of this!
If you're open to a micro brand but lust after something a little more traditional, there are few brands that can pack as much of a punch as Maen. Their Skymaster 38 MKII has a beautiful 38mm stainless steel case and features a 12-hour ceramic uni-directional GMT bezel.
Add this functionality to the already pleasing visual representation and you have a watch that is hard to beat at any price. Where Maen really separates itself from the other micro brands on this list is its use of a top-grade Swiss ETA 2892-2 movement.
This modular chronograph allows this watch to come in at a very svelte 12.9mm. The panda dial variation with the bracelet is my favorite of the current offerings and even with this upgrade, you are still looking at less than $1100. As is the case with many of these lower-production micro brands, supply can be hard to come by. It's like people have figured out that this is a tremendous value or something.
Sticking to the Classics of Mainstream Entry Level Luxury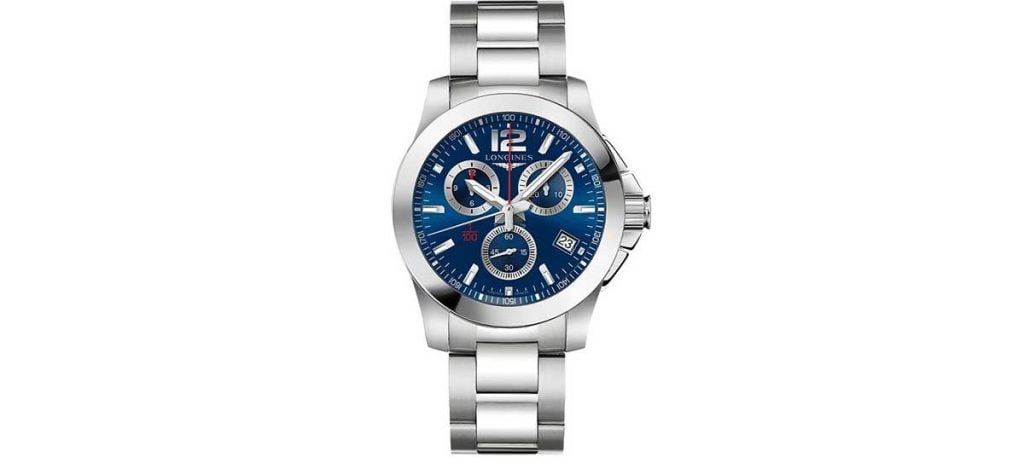 There are few brands in the luxury watch space that carry as much name cache among the general population as Longines. With a history dating back to the 19th century and some of the greatest watchmaking achievements under their belt, the Longines name stands for something.
All of their traditional mechanical chronograph movements, despite presenting some of the most significant value among all chronograph watches, do fall just outside of our $2k parameter. That's when our favorite cost-saving movement, quartz, is here to save the day.
The Conquest Chronograph is aesthetically very similar to the automatic version, featuring a 41mm stainless steel case, sapphire crystal, and unique button pushers that scream Longines. The quartz movement in this watch is the L440.2 manufactured by ETA and is capable of measuring 1/100th of a second.
Considering that human reaction time is considerably higher than that number, this watch is as accurate as humanly possible. If precision in a chronograph is what you are looking for, you simply won't do better than this Longines Conquest Chronograph and you won't even need to spend $1500 to get it.
Long considered one of the mainstays of the micro brand community, Christopher Ward has done enough for the watchmaking community, and British watchmaking, in particular, to graduate to a mainstream brand. Sure, they are still disrupting the industry and cutting out the middleman (collective watch enthusiast eye roll), but they are going about it the right way. The C65 Chronograph is a beautiful example of what makes Christopher Ward so great.
A 41mm Stainless steel case, screw-down pushers, and sapphire crystal help give you the confidence that this watch will stand the test of time. What really helps set this watch apart is its use of vintage-inspired colors and sub-dials.
I can't help but picture this watch in a Steve McQueen film and very much look the part. Pair this with their use of a Swiss-made Sellita SW510 automatic movement and you have a very compelling option for anyone looking to buy a chronograph, whether you have a $2k ceiling or not. Lucky for you, this great watch will set you back at less than $1800.
If traditional watch design is more your speed, there are few options that will look as classy as the DS Chronograph from Certina. This design evokes the spirit of something that would be coming out of the Holy Trinity and not a mid-tier brand of the Swatch group.
Coming in with a 42mm case and 14mm case thickness, this watch may struggle to be your exclusive dress watch, but luckily with the swap of a strap, this watch would look just at home with jeans and a sweater. The DS Chronograph is powered by a modified ETA movement that incorporates silicone components into a traditional 7750.
Despite looking the part of a watch from a bygone era, the modern sizing and use of modern components help elevate this watch to suitable everyday wear. Despite having these improvements, this watch still finds a way to slide beneath the $2k budget, even if there is literally nothing to spare.
My picks- The 3 Chronographs that have me in Jeopardy of Sleeping on the Couch
I am not sure if you know this, but blue dial integrated steel sports watches are kind of having a moment. Despite most of these mainstream offerings being presented from brands who would never be on a list like this, Tissot decided to change the game and make something for the common folk.
The Tissot PRX has had a meteoric rise in popularity and the expansions in this line are evidence of this. The PRX Automatic Chronograph is the best iteration of this line yet, combining the iconic design and Swiss Made automatic chronograph movement.
The 42mm stainless steel case and integrated bracelet may reserve this option to watch enthusiasts with average or above-average wrists, but the cool vibes of this piece have me considering bulking up to put some meat on these chicken wrists.
The Blue dial and white sub-dials give this watch a classic look, that will have no problem adding just enough pizazz to any outfit. This watch is coming in at under $1800 and with the extra cash, you might be able to score yourself a nice integrated rubber strap to mix things up.
Of all the watches on this list the Hamilton Aviation Pilot Pioneer Auto Chrono surprised me the most. To be honest, I didn't know that it existed. I went to Hamilton's website only to be gutted that the beloved Intra-Matic falls outside of my price range. This watch however is the silver lining to that devastating story. This watch features a 41mm stainless steel case and is powered by the same H-31 automatic movement as the aforementioned Intra-Matic.
What makes this watch really stand out is its timeless design. There is something about this watch that feels very familiar and I can't quite put my finger on it. Of all of the watches that have made this "prestigious" list, this feels like the safest choice.
A watch that will go unnoticed yet always be there when you need it. The Aviation Pilot Pioneer Chrono comes in at just under our $2k budget but considering the stainless steel bracelet and similar components of the Intra-Matic (the one well over our budget) you're getting a terrific value.
If you thought that I was going to complete a value-packed list of any type of watch and not include a Seiko, you must be out of your mind! There is no brand that can pack as much value into a wristwatch as Seiko. Even after allowing their prices to catch up to the rest of the market, what you get far exceeds what they are asking for their watches.
The Seiko Presage Chronograph is no exception. Much like the Certina, the modern case size of 42mm and 15.2mm (that's thicc with 2 c's) may not match up exactly with the traditional design, but I am ok with it!
The beautiful dial pattern, intricate numerals, and stunning case finish are enough to let me overlook the extra heft. The in-house 8R48 Movement powering this watch offers all of the robustness you would expect from a Seiko while also rivaling the Swiss in overall construction and build quality.
We all know that Seiko can sometimes fall behind the Swiss in terms of +/- tolerances of daily deviation, but that's something a qualified watchmaker could sort out in an afternoon. You're going to eat up almost all of that $2k budget with this watch, but this Seiko absolutely deserves it.
Conclusion
So there you have it, 12 of the best chronograph watches your hard-earned $2k can afford you. There are several other options we could explore if we were willing to look at more than one option from each brand.
Even with this price restriction, it appears we are still very spoiled for choice. You might have to explore some options you wouldn't need to if it wasn't a chronograph you're heart desired, but if there is one thing I learned from this exercise it's that variety is fun!
Take a look at micro brands when you're bored of seeing the same old options. Be willing to look past that quartz watch snobbery when looking for a more complicated watch on a budget. More than anything, however, when researching a watch with the value being the main criteria, remember this one simple adage; All roads lead to Seiko (at least for me they do)!
Happy watch hunting!