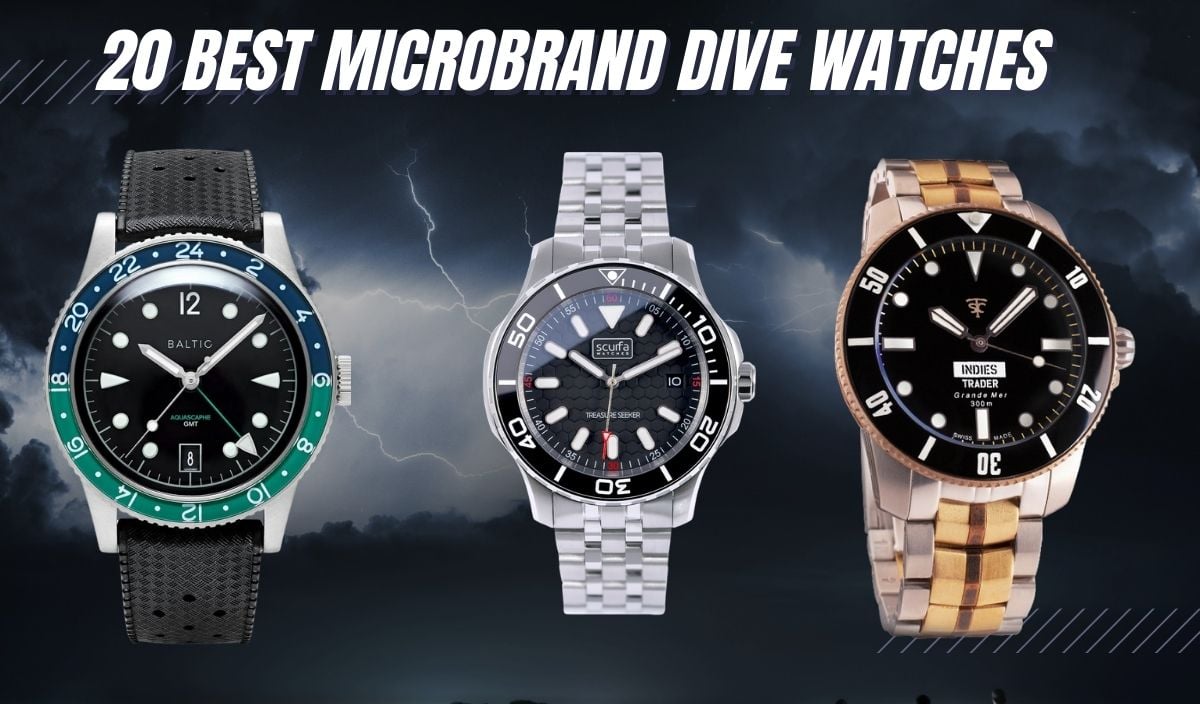 20 BEST Microbrand Dive Watches that We are in LOVE With!
Dive watches are some of the most popular modern timepieces in the marketplace, and many microbranddive watches offer the added benefit of unparalleled value proposition. Dive watches are popular with collectors because they tend to be highly durable, they have a distinctly sporty design language, and they also send the non-verbal signal to everyone else that "I might be an intrepid underwater explorer" (even though we all know you aren't.)
But the point is that you could be, and your watch would be no worse for wear (though anyone who has seen your odd swimming form knows you're obviously not comfortable in the water.) Lack of coordination aside, finding the best microbrand dive watch for your needs shouldn't feel like searching for The Titanic. That's why we've made this list of the 20 best microbrand dive watches for your review.
While the ubiquitous dive watches from the big Swiss brands are nice, it's also fun to mix it up sometimes. That's where a good microbrand dive watch can really shine. Due to their independent status and small production runs, microbrands can often exercise more freedom when it comes to their design aesthetic and mechanical experimentation than the bigger brands.
If you're looking for something with a little more flair that the usual, but you don't want to sacrifice quality for style, then consider buying yourself one of these great microbrand dive watches. Take the plunge. Just not in the deep end because, again, we all know you're a very weak swimmer.
What makes a microbrand?
Contrary to what you may think, microbrands do not in fact make watches for mice. They're independently owned brands that usually only make small runs of watches every year. Most often they have production runs of less than 300 watches, though that's not a hard and fast rule. While some microbrands have heritage going back a century or more, most are relatively recent start-ups. We think we've found 20 of the best microbrand dive watches for you to take to the office, the beach, or both if you happen to be a lifeguard.
Dan Henry is a microbrand with one of the most interesting back stories of any microbrand on the planet. Believe it or not there actually is a Dan Henry behind the brand. He's a Brazilian watch collector with over 1,500 vintage watches in his collection. He launched the brand in 2016 as a way to share his love for vintage watches with the world, and we thank him for it.
The 1970 Automatic Diver has a dependable Seiko NH35 movement, rotating inner timing bezel, a depth-rating of 200 meters, and a sapphire and anti-reflective coated mineral crystal. The screw-down crown and textured rubber dive strap are just the icing on the cake, and we all know how much you love cake.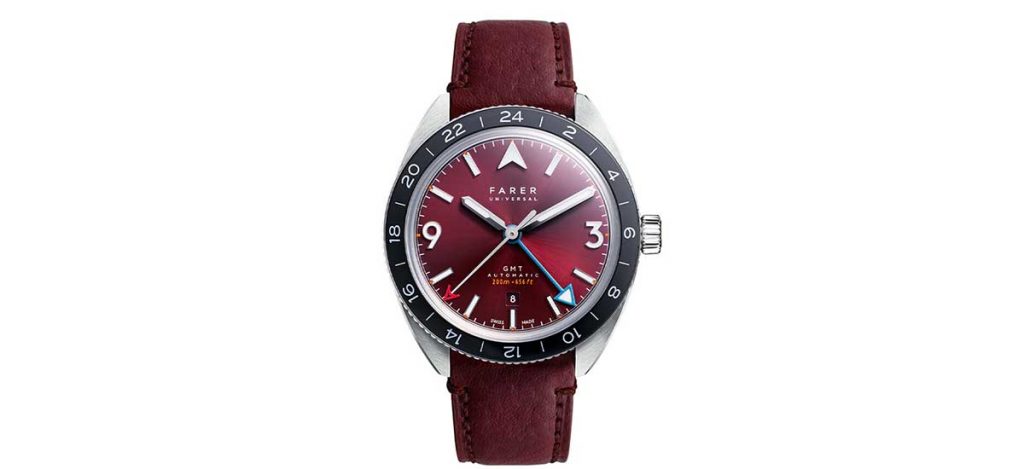 While the designs originate from their studio in London, Farer watches are all produced in Switzerland. The brand makes watches in just about every different style, and this GMT diver is one of the most practical models in their entire catalogue. It's a GMT with a scratch-resistant sapphire 24-hour bezel and a 6 o'clock date window to boot.
It runs on a Sellita SW330-2 automatic movement and offers 200 meters of water resistance. The deep red dial, see through caseback and lumed three and nine markers make for one of the most beautiful microbrand dive watches on this list.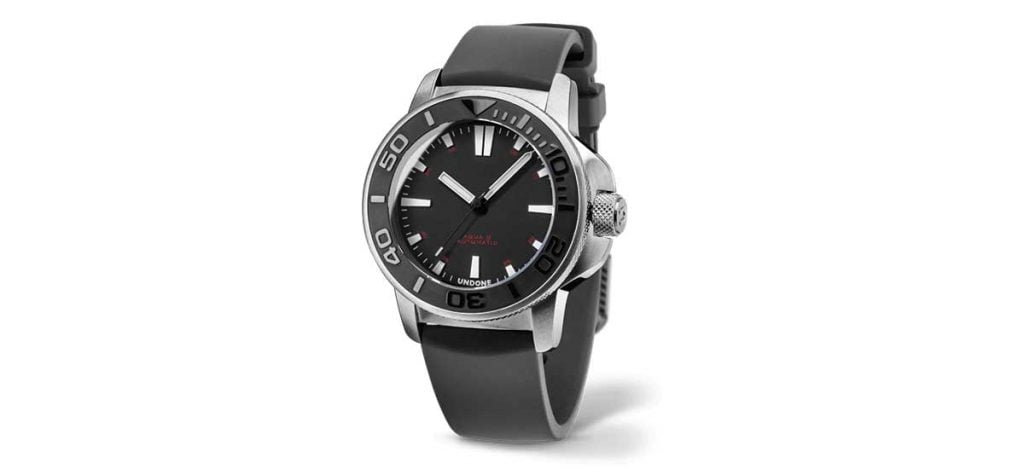 You'll be undone by this sleek black diver from the brand by the same name. It features 200 meters of water resistance, a large 43mm case allowing for great visibility, and a matte black under-the-radar bezel. The slightly domed sapphire crystal creates a beautiful curvature when looking at the watch from the side, and the dependable NH35A movement has a 42-hour power reserve.
What's more, Undone offers the added benefit of custom printing on the dial. That means you can personalize the watch as a gift, or just print your anniversary date as a reminder to stay out of the doghouse!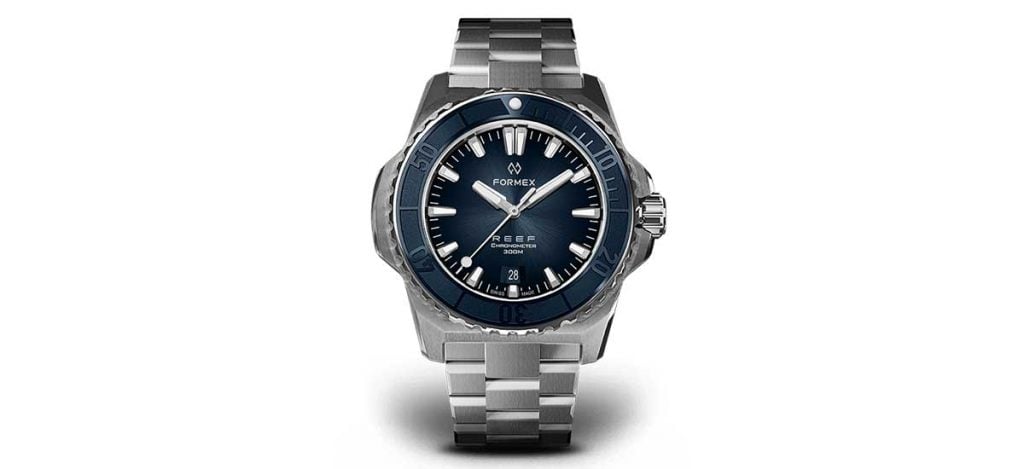 White dial dive watches are a favorite due to their high visibility. The Formex Reef has a hand-sprayed gradient dial that offers a beautiful texture that you won't find on other watches. But this one's not just another pretty face.
It has 300 meters of water resistance, a near-perfect 42mm diameter, and it's a chronometer as well, meaning it's one of the most accurate watches you can buy. It even offers different colored bezels when you purchase. Who says you can't have it all?
The Neptune from New York City-based microbrand Lorier was their first ever model. A dive watch with vintage heritage, this model's gilt dial, domed sapphire crystal, circular lume plots, and coin-edged bezel make for a gorgeous classic-look diver with modern tech.
With a Japanese NH35 movement and an oh-so-vintage diameter of 39mm, this one looks as good on the deck of a yacht as it does in the water. Buy the Neptune IV and so can you!
Some might consider Baltic the big kahuna of microbrands. Baltic is a French microbrand that highlights vintage design style in a modern package (like a hipster in a tie-died shirt, but less obnoxious.) The Aquascaphe is one of their most popular models, and with good reason. This particular version comes with a convenient 12 hour bezel for tracking a second time zone.
It has a water resistance of 200 meters and includes a beautiful beads of rice stainless steel bracelet. This watch is for anyone who wants the quality of a luxury dive watch without spending all their allowance money from mommy and daddy.
Melbourne Watch Company is based out of, you guessed it, Kathmandu, Nepal. Just kidding. This Australian microbrand makes great looking watches at an affordable price point. This model, the Fitzroy GMT quartz offers amazing value for money.
It's a Swiss Ronda quartz movement with a true GMT function and a 24-hour bezel, allowing you to track a third time zone. It also has a screw down crown, a width of 44mm, and a domed sapphire crystal. The Fitzroy GMT Quartz is proof you don't have to spend like a baller to look like one.
Monta is a microbrand that maintains traditional Swiss watchmaking roots while pairing it with precise attention to detail. The automatic Skyquest GMT is perhaps the best example of what a microbrand can accomplish when they maintain high standards.
With highly legible diamond cut hands, a 6 o'clock date window, 300 meters of water resistance, and a 40.7mm diameter, you'll get just as much enjoyment out of this watch as you're like to get out of one that cost 10 times as much. And with that extra money, maybe you can get yourself some swimming lessons!
Vaer is an American microbrand that offers watches both assembled in Switzerland as well as some assembled in the US. This dive watch has a 39mm diameter, beautiful monochromatic dial design, Sellita SW200 automatic movement, and a domed sapphire crystal. It's got everything you want in a dive watch, including a solid 200 meters of water resistance. What are you waiting for?
As shocking as it may be coming from a brand that calls itself Ocean Crawler, they actually make some really great dive watches. One of the most interesting is this Paladino Wavemaker V2. It's got a pleasing retro look that harkens back to the old divers of the 1970s.
Pressure tested up to 2000 feet, you can get lots of deep sea use out of this beautiful watch. The internal rotating dive bezel and bright orange strap are perfect for a day in the water, and the fully-lumed dial makes for one of the most visible dive watches on this entire list in low light.
Zelos is quickly becoming one of the most well-respected microbrands in the game. They make beautiful watches, with solid specs, and they do it for a surprisingly affordable price. This model is the perfectly sized 40mm Swordfish diver.
It comes in a number of different bright colors, has a Seiko NH35 movement, a six o'clock date window, a depth rating of 200 meters, highly visible Super-luminova, and a unidirectional timing bezel. If people around the office have ever referred to you as "a colorful individual", then this just might be the perfect dive watch for you.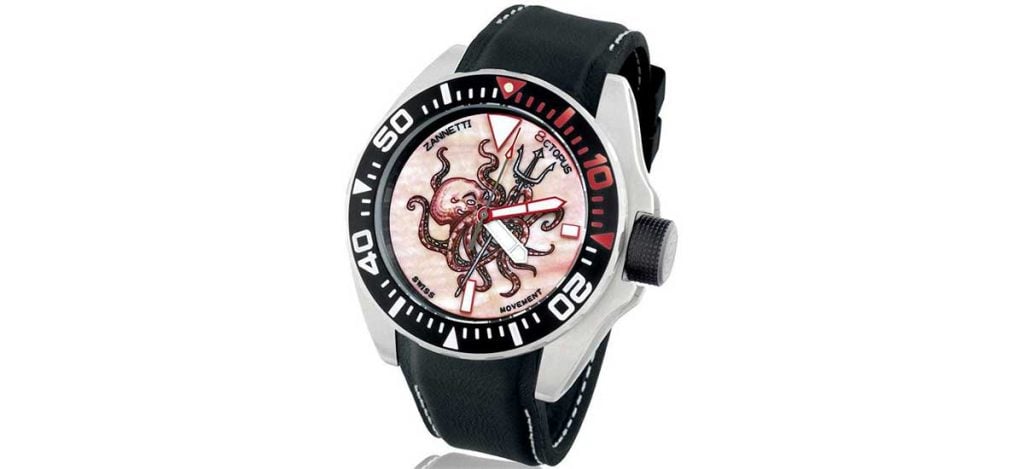 Zanetti Watches is a multi-generational family business that incorporates specialty art dials into each watch. This one has a polychrome champleve image of a hand-drawn octopus. The watch has an astonishing 550 meters of water resistance, a scratch-resistant sapphire crystal, and a and impressive diameter of 51mm.
The screw down black crown is easy to use and looks great against the matching black bezel. Most watches could be considered works of art, but this luxurious microbrand diver takes that to a whole other level.
Reservoir is a Swiss watchmaker that's all about taking a new approach to classic problems. The design of this gorgeous Hydroshpere model uses a single hand to tell the time. It's a fun and interesting looking watch that's more practical and clever than your average diver. It includes a retrograde minute track and jumping hour indicator, helium escape valve, and sapphire crystal.
It also has a fully lumed dial for extra visibility, and a briefcase style box that'll make you look like a secret agent way more than your stained "CIA" t-shirt ever could. If you want a different looking dive watch than anything you're likely to see out in the water, then get a Reservoir Hydrosphere.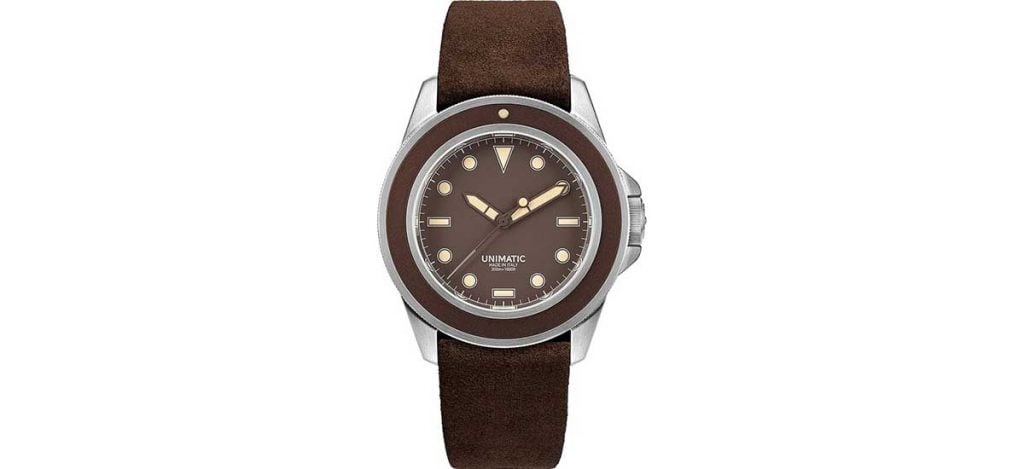 Unimatic is a microbrand out of Florence, Italy, and they make some of the most basic yet sophisticated dive watches you'll find anywhere. This beautiful deep brown model comes on a soft leather strap that matches the dial and bezel.
It has an impressive 300m of water resistance, double-domed anti-reflective sapphire crystal, and a screw down crown. The Sellita SW200 automatic movement inside has a 32-hour power reserve and hacking seconds. If this gorgeous watch doesn't make you want to go Italian, nothing will.
Serica is a Swiss microbrand that packs a serious punch. The 5303-1 has all the design elements of a top-tier professional dive watch, at a mid-ranged price. It has a double-domed sapphire crystal, 300 meters of water resistance, Swiss automatic movement with a 44-hour power reserve, ceramic bezel insert, oversized screw-down crown, Super-luminova, and a perfect size of 39mm. What more could somebody want? Stop asking for so much!
Ikepod makes some of the most interesting-shaped dive watches available anywhere. Designed in Switzerland and manufactured in Hong Kong, Ikepod's design team really takes the phrase "be yourself" to heart, and their watches are better for it.
This Seapod S003 Francois model features a hefty 46mm case size, 200 meters of water resistance, a supple and durable rubber diving strap, and a dependable Miyota automatic movement. This watch will definitely get you attention both in and out of the water.
Hong Kong based microbrand Spinnaker makes what just may be the most gorgeous dive watch on our list. The Spinnaker Bradner Pacific Blue has an incredible textured dial, spinning internal dive bezel, 42mm case size, 180 meter depth rating, anti-reflective coated sapphire crystal, and bulletproof Japanese movement based on the solid NH35. And that's not to mention the beautiful jubilee style bracelet. Wait. I guess I did mention it. Anyway, you get the point.
Alexander Shorokhoff makes interesting if not out-of-the-box designs from their workshop in Germany. That's why this out-of-the-box entry deserves to be on the list. Even though this particular watch only offers a humble 50 meters of water resistance, it's still a beautiful dive-style watch that looks great on the wrist.
It has a beautiful white mother of pearl dial, alternating orange and blue internal 24 hour bezel, spade-shaped hour hand and a large printed 60 at the 12 o-clock position. This watch is stylish and a bit avant-garde which is where many microbrands like this really shine.
Just look at a Norquain watch closely, and you'll see that attention to detail is one of their hallmarks (catchy names is another.) Their Neverest series offer great quality watches with a host of benefits. This one includes a highly textured dial, applied indices, 200 meters of water resistance, a sapphire see-through caseback, and a small "plaque" on the side of the case to allow for engraving if you so wish. It makes for the perfect gift for a special occasion, or even just because you remembered to take the trash out last night even though you said I would forget SHEILA!
Heritor is another microbrand that offers incredible value for money. Their Edgard automatic model comes in a number of fun and original color variations and has a cool neo-vintage flair to their case design. With a 24 jewel NH35 automatic movement, 42-hour power reserve, 45mm case size, water resistance of 200 meters, and a transparent caseback, you really don't have to sacrifice much of anything for price, and it's just as good in the water as out of it.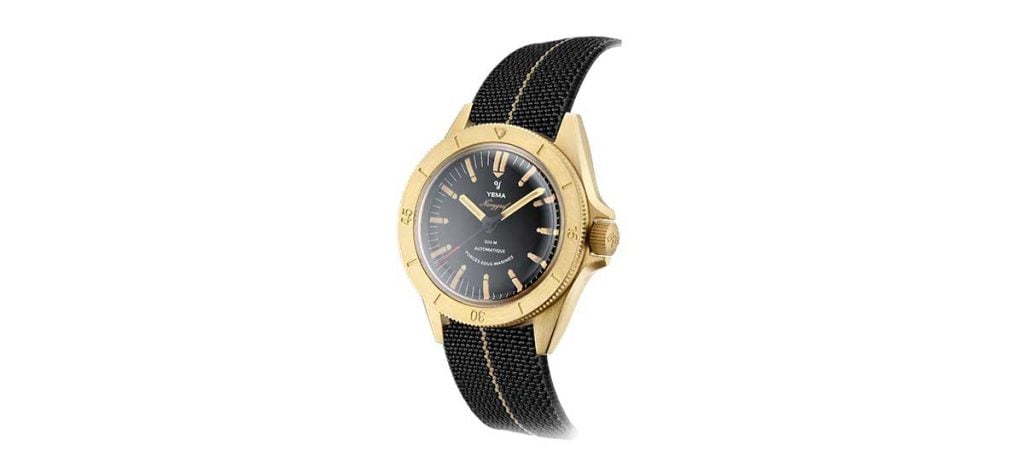 Yema is yet another French brand that's been around for over 70 years. While they have an impressive horological pedigree, they're still considered a microbrand due to their low production numbers, and recent reemergence in the marketplace. The original Superman model was released in 1963 and was later issued to pilots in the French Air Force.
It was one of the first watches with a patented bezel lock system to ensure accuracy, and this modern version stays quite true to the original. The bronze case comes in both 39mm and 41mm sizes and houses an impressive YEMA200 fully in-house automatic movement.
It also includes a sapphire crystal and bezel insert, 300 meters of water resistance, and bright Super-luminova on the applied indices and hands. Remember, just like your reputation after a night of karaoke, the bronze case will tarnish over time, but that's a good thing.