25 BEST Day-Date Watches for Men (ALL Price Ranges)
Wristwatches may look the same, but there are a few that dare to transcend the ordinary by fusing functionality with timelessness. I'm talking about the day-date timepiece! An incredibly handy tool that offers a practical function for everyday life. In addition to the time, day-date watches display the date, and the day in full, clearly at the top of the dial in a segment-circular window.
The implementation of the day of the week and the date display originated from Rolex when the luxury brand launched its first Day-Date watch in 1956. From Rolex's catalog that dates far back to 1963, we can see that the day-date watch even existed in eleven languages! Even though Rolex was the first, they aren't the only one right now ( especially since Rolex's steep prices are sometimes out of reach for most).
So if you like luxury watch brands such as Omega, Grand Seiko, Glashutte Original, Hublot, Breguet, Blancpain, Oris, Longines, and Seiko, then you're sure to like some of these stunning day-date watches. And don't worry, you don't have to break the bank for an elegant day-date watch, nor do you have to be a "watch connoisseur" to make your pick, as this list offers watches that appeal to the modern gentleman from entry-level to high-end price range with simple descriptions for newbies just getting into the hobby as well as long-time collectors.
What exactly is a day-date complication and just how does it work?
The day-date complication is quite possibly the simplest watch complication in existence. For newbies (I still got you), a complication is simply any feature on a watch that does something more than tell time. So the day-date complication displays the day of the week in addition to the numeric day of the month.
Normally this feature is observed through small apertures on the face of the timepiece, with the day display traditionally being positioned below the 12 o'clock marker while the numeric day of the month stays beside three o'clock. However, this positioning varies depending on the brand's design. It works by rotating two small discs that are positioned beneath the dial and automatically change at midnight.
Who invented it?
Rolex. In 1956, Rolex officially became the first watchmaker to launch a waterproof and self-winding chronometer wristwatch that came with a modern calendar and instantaneous day-date display spelled in full. The watch was a huge success and soon gained popularity when President Dwight Eisenhower was given one to celebrate his re-election.
After that time, the Rolex Day Date was known as the President's Watch and has been a favorite timepiece of great presidents of the United States, including Presidents Nixon, Ford, Reagan, and President Donald Trump. Rolex remains the leading brand in day-date watches today.
Why You Should Consider Buying a Day-Date Watch
Pet peeve aside, watches resonate with memories and moments and many times even recreate a bond to past times, events and seasons. And what better watch to take you for a trip down memory lane other than a day-date watch huh? Apart from day-date watches offering you quality timekeeping, they are convenient. Extremely convenient.
Good luck having to rustle around in your pocket every single time you need to check on the date when with one glance at the wrist, you can get the accurate time as well as the day of the week. Lastly, if you pick the right day-date complication timepiece, it could be a stellar investment because these watches are assembled with scrupulous attention to detail and are often crafted from the finest raw materials.
Best Entry-level Day-Date Watches For Men Below $2000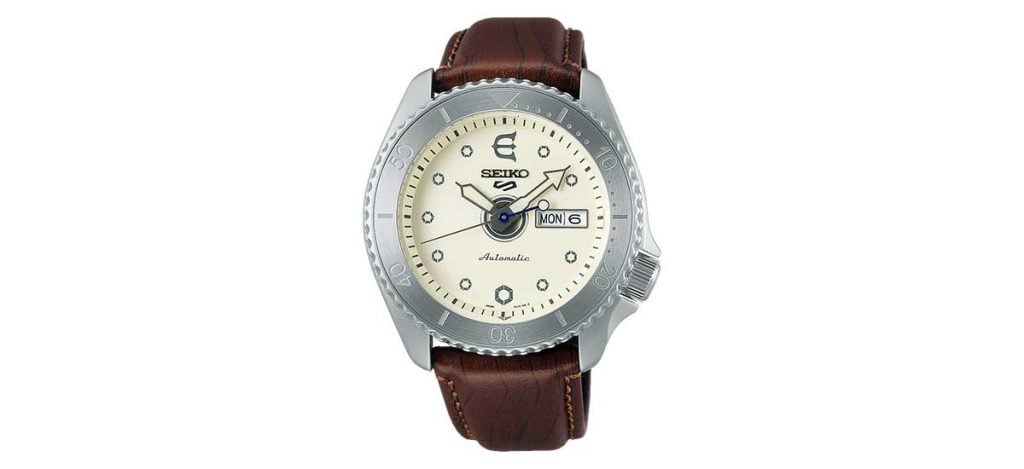 Undoubtedly one of the most respected manufacturers of iconic watches in the world, Seiko holds a special place in the vast world of watchmaking, especially for constantly offering tremendous value for money. A partnership with the popular Japanese skate brand, 'Evisen' has led to the Seiko 5 Sport Evisen Skateboard, a timepiece that incorporates ancient Japanese traditions and culture with Seiko's technological innovation.
Damn near the best day-date watch anyone can find under $500, the Seiko 5 Sport Evisen Skateboard comes in a 46mm stainless steel satin-brushed case with a tapered polished bevel, and a thickness of 13.4mm. The off-white dial is all about legibility with Seiko flaunting Evisen's skateboard at the center of the dial to drive home the skater aesthetic.
The large hour and minute hands are made of stainless steel with off-white LumiBrite coating (which will glow in the dark), matching the tone of the dial. Underneath the hardlex crystal case back lies the powerful Seiko in-house caliber 4R36. A robust and reliable movement that can provide up to 41 hours of power reserve, with a classic beat rate of 21,600 vph. It is water resistant up to 100 meters which means it can withstand light splashes and all.
Another rendition of affordable sports watches from Seiko's collection of sports watches that combines the very best of Japanese craftsmanship with the brand's technical expertise and innovation. Coming in a 42.2mm sapphire crystal stainless steel case, and a thickness of 13.7mm, the Seiko Presage SPB219 is undoubtedly a large watch that will sit perfectly and fabulously on large wrists.
The dial shows impressive attention to detail and features a Japanese Asanoha hemp-leaf pattern in a rich Tokiwa, an evergreen tree texture of nature that symbolizes strong growth. Like the Sport Evisen Skateboard, the hour and minute hands have a sharp tip and feature strips of LumiBrite down their spine, while the steel bezel is coated with Seiko's DiaShield protective coating which will further protect the bezel from fading.
Overall, the watch is well built with sharp facets, strong lines, polished surfaces, and a useful GMT function, appearing as a second-hour hand on the dial that is geared to rotate once every 24 hours – a useful complication for travelers because it allows you to know the time anywhere in the world.
The three-fold clasp with push button release means it will be quick to throw on in the morning. The water resistance is comfortable 100 meters and underneath, the Seiko's automatic 6R64 with 28,800vph provides a power reserve of approximately 45 hours.
With roots that date back to the 1900s, Marathon watch company has remained a respected Canadian watch manufacturer with a reputation for producing some of the best military watches with unmatched quality. Marathon's meticulous attention to detail and precision is easily seen in this big, beautiful, high, and heavy Jumbo Day Date men's watch that was built to withstand extreme circumstances.
The watch is sized at 46mm and is Marathon's largest watch with a case thickness of 18mm that offers a wonderful wrist presence making the overall feel comfortable despite the size. The dial stands out with military markings with a time scale on a flange ring around it, offering beautiful readability during the day and night. Also called a search and rescue watch, the Jumbo Day Date has luminous features as tritium gas tubes were used for the hands and hour makers for flawless legibility at night.
With a bidirectional rotating bezel, comfortable 22 mm wide black rubber strap, easy-to-use screw crown, and the fact that it offers an incredible 300 meters of water resistance with a thick elegant sapphire crystal dome, this watch is a tank, not just any tank, a tank built to withstand an apocalypse. Inside the case is Swiss-made ETA 2836-2 automatic day/date movement which operates at 4Hz with approximately 48 hours of power reserve.
Produced to mark the launch of Ball's partnership with Maewan; a worldwide adventure-based nonprofit organization, the Ball roadmaster skipper watch also comes in under the magical $2,000 price threshold while featuring a mechanical movement built with robust materials and expert craftsmanship that is also able to deliver COSC Certified precision to your wrist.
The bezel plate features sixteen multi-colored and micro-gas tubes on it. The hands and dial also have micro-gas tubes that glow throughout the night, which can be quite mesmerizing while offering excellent readability at the same time. Both the bezel and the stainless steel bracelet are fortified with high corrosion-resistant aluminum bronze, and the watch comes in a 40mm stainless steel case with a grey dial that offers it a streamlined look.
It is water resistant to 200 meters, making it the perfect dive watch for you. Underneath the see-through case back, you can catch a glimpse of the Caliber BALL RR1102-C mechanical movement which is protected by Ball's patented Amortiser anti-shock system and powers the timepiece.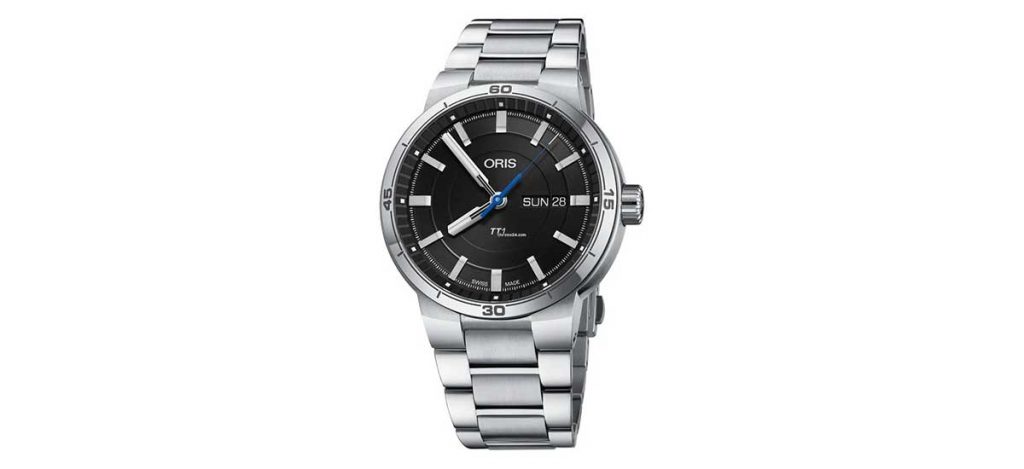 Stemming from a partnership between legendary British motorsport team Williams Formula 1 and Swiss watch brand Oris, the TT1 collection is made of a series of bold and elegant timepieces inspired by motor racing, and made for contemporary motorsports enthusiasts. The TT1 day date collection has made a name for itself in the world of diving watches and was what inspired the widely recognized Williams and Aquis models.
Coming in a 42 mm stainless steel case, the Oris TT1 day-date black dial watch is perfectly on trend, and takes legibility to another level by incorporating well-developed luminous hands and index hour markers, with the second hand finished in Williams blue.
The timepiece is very easy to read thanks to its superimposed Arabic numerals, which mark the six, nine, and 12 o'clock positions, indices that stand out against the black background, and minute markers that can be seen around the outer rim.
It also features a domed and anti-reflective sapphire crystal and is water-resistant up to 100 meters. Ticking inside the heart of the watch is Oris's automatic Calibre 735, a Sellita SW-200 base movement with 26 jewels, a 28,800-vph frequency, and approximately 38 hours of power reserve.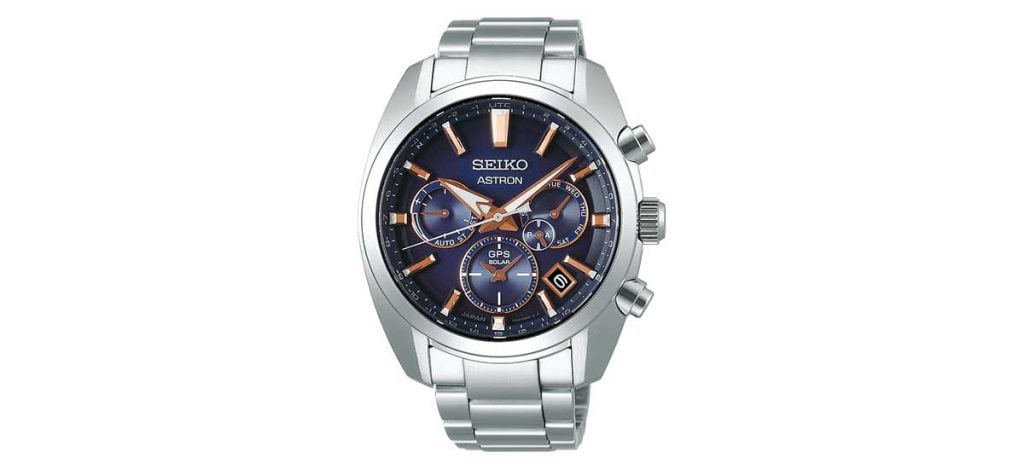 The Astron wristwatch by Seiko was the world's first "quartz clock" timepiece. It changed the world when it was launched in 1969, by achieving an amazing accuracy of +/- 5 seconds per month, and since that time Seiko Astron secured its place in the history books of timekeeping. All the watches in the Astron collection are solar-powered and receive GPS satellite signals which allows them to adjust to the precise local time anywhere on Earth.
Coming in a 42.7 mm stainless steel case, the Seiko Astron SSH049 is the ideal choice for this list as it combines amazing mechanics with a subtle charm and pocket-friendly price tag. Its functions include; overcharge prevention, power saving ability, perpetual calendar to February 28, 2100, World time function (39 time zones), day display, power reserve indicator, time transfer function (switching between the main dial and sub-dial), GPS signal reception function, and automatic hand position alignment function amongst others. It is water resistant to 100 meters and when fully charged, can operate for as long as six months.
For Haute Horlogerie enthusiasts, it can be difficult to find a perfect luxury watch below the $2000 mark, which is why the best day-date luxury watch for men from $2000 to $5000 is featured from this point on. Enjoy!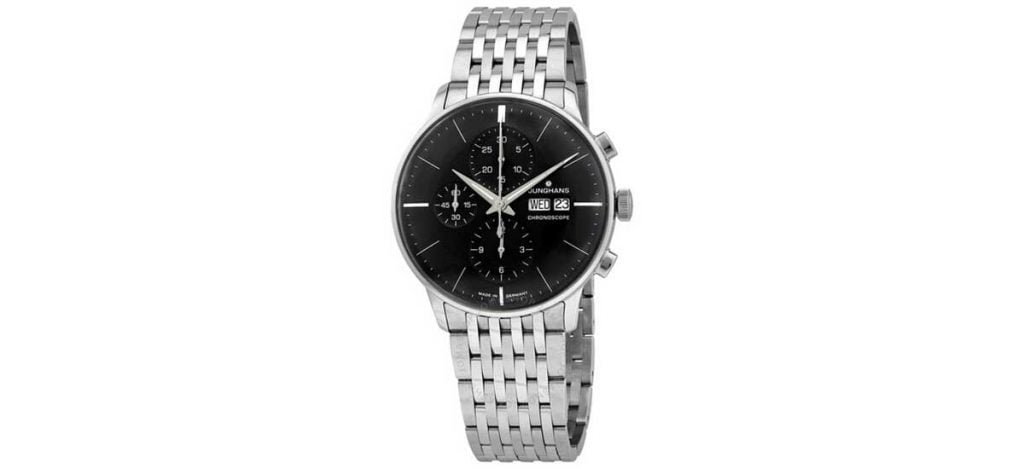 Junghans is undoubtedly the number one German brand anyone can rely on for the best accessible luxury watches in the world. The Meister collection exhibits the understated German aesthetic by combining minimal Bauhaus-inspired designs with profound technicalities engineered to perfection. The Junghans Meister Chronoscope is particularly intriguing because of its domed dial with bowl-like sub-counters and sunray brushed finish that offers it an overall cool effect.
The hands and markers are all polished and plated with rhodium, while the hour and minute hands feature thin luminous inserts, offering legibility on the dial even in the dark. A day-date window lies classically at the 3 o'clock mark and the Junghans Meister Chronoscope's water resistance is rated at 50 meters. With a maximum accuracy deviation of up to 16 seconds a month, the watch is far from minimal in its functionality.
Under the hood is a respectable movement known for its robustness, the caliber J880.1; an automatic chronograph that beats at 28,800 vph and stores up to 48 hours of energy. The strap is in beige ostrich leather and comes with stainless steel pin buckle. Alternatively, there is another Junghans Meister Chronoscope that comes with a fir green sunray brushed dial.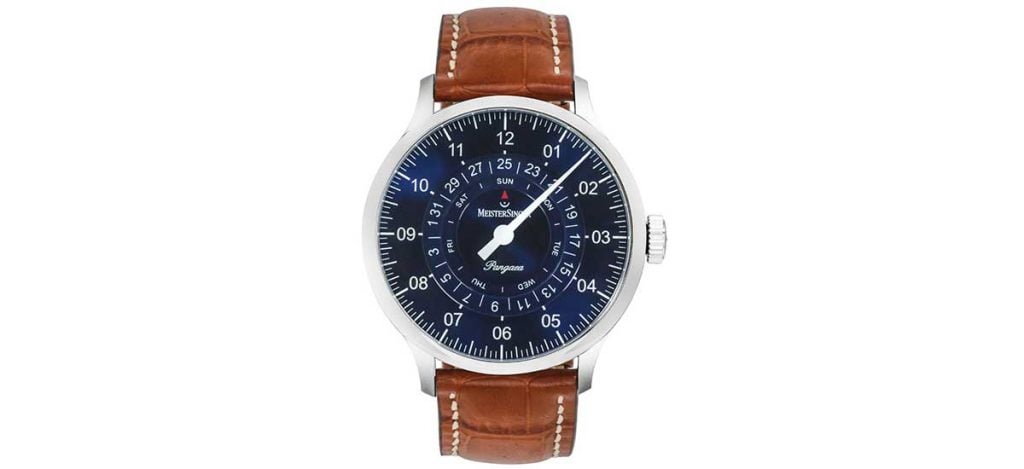 Renowned for churning out the best single-hand watches, MeisterSinger is a German watch brand that was founded by Manfred Bressler 21 years ago. The MeisterSinger Pangaea Day Date watch comes from the Pangaea Collection and is the only watch from the MeisterSinger family to receive the Red Dot Design Award, the GOOD Design Award, and most importantly, the German Design Award.
MeisterSinger's goal when designing the PDD901 was time accuracy, which is why the PDD901 features a pure white dial with a blue hour hand that assumes responsibility for indicating both the hours and minutes indexes.
The combination of white and blue offers a pleasant and nice contrast for the dial, while the circular bands of white exhibit a notable boldness even though a lot of information such as the day and date disc is presented on the dial, the face of the watch remains uncrowded and appears balanced and pleasant.
The case of the Pangaea Day Date measures 40mm in diameter, with a width of 10.4mm meaning it will sit snugly on any wrist while a domed sapphire glass stays on top. The water resistance is about 50 meters and on the rear, a stainless steel with 6 screwed fixed back case offers a view of the movement. In the heart of the Pangaea Day Date PDD901, is the modified ETA 2836. An automatic movement with 26 jewels, an antishock system, and a power reserve of 38 hours.
First off keep aside the mentality of what you expect every Speedmaster to look like because this one deviates a little with a whole lot of quirky functions and a very busy dial that features a little more of just about everything. Omega effortlessly crammed in three sub-registers into the dial (technically speaking, it could be four if you consider the stacked sub-dial as two), and this timepiece easily stands out from other Speedmasters for having a six, nine and twelve sub-dial arrangement.
The hands together amount to eight, there are two windows, hour, minute, and second marks, and of course a full date index. Together, the end result in borders on chaotic but a kind that gives it a charm –an appealing instrument-like charm– and though it might not be for everyone, it is an extremely versatile piece because you are bound to get everything you need.
Accurate time? Check. Date? Check. Day? Check. Month? Check. Stopwatch? Also check! And you get this in a sharp, bold, comfortable and fantastic 40mm stainless steel case with a sapphire crystal and solid back, in addition to pushers for the chronometer and the Speedmaster bracelet that features a hidden clasp with a single button release for easy use.
It is water resistant for up to 100 meters and ticking inside is the Omega 1151 / Valjoux 7751, a 25-jewel automatic movement with approximately 54 hours of power reserve and a frequency of 28,800 bph.
Junghans is another quintessential German watch brand founded in 1861 with a long tradition of combining classic watchmaking with modern technology while maintaining sensible prices. The brand's focus on quality and innovation can easily be seen in the Junghans Meister Kalender; an intriguing timepiece with a day, date, month, and moon phase complication.
If you have a soft spot for vintage timepieces, but also desire a watch that looks and feels like a modern sculpture on your wrist, the Junghans Meister Kalender 027/4906.01 will make your heart skip a beat. With a case diameter of 40.4mm, it will wear quite comfortably on the wrist. A massive domed acrylic crystal with Sicralan coating makes it scratch resistant and adds unique aesthetic qualities to its overall look and feel.
The blue dial, which is just beautiful by the way, features applied markers of polished steel at twelve, three, six, and nine, and printed markers for the hours and minutes in between. A window shows the day at the 10 o'clock mark, the month at 2 o'clock, and the date appears inside the moon phase (this is a proper moon phase and is not just a day/night indicator).
The watch is automatic but can be hand-wound with the 5 x 2.2mm push-pull crown on the right side which is very easy to use despite its small size. At the center of the case back, a display window shows the finely decorated Junghans Calibre J800.3, which is based on an ETA 2824 and offers a 38-hour power reserve.
Longines has been in the business of producing watches with timeless designs for almost two centuries, and have a longstanding reputation for producing watches with aesthetics tied to horse racing and other equestrian sports so it's no surprise that the Longines Master collection features a compelling sporty combination of technical proficiency, heritage, and affordability.
Coming in a 40mm round stainless steel case, the Longines Master Black timepiece has a particularly striking black barleycorn guilloché patterned dial with contrasting silver-toned Roman numerals that offers it a notable look and feel. At the right hand corner of the dial, 3 o'clock in particular is the complication that tells the date and month.
A scratch-resistant sapphire crystal boosts the overall legibility of the dial. Underneath the transparent case back, the Caliber L897 automatic movement beats at an unconventional rate of 25,200 vph (as against the usual 21,600 or 28,800 vph) and offers 64 hours of power reserve. It is water resistant up to 30 meters and features a stainless steel bracelet.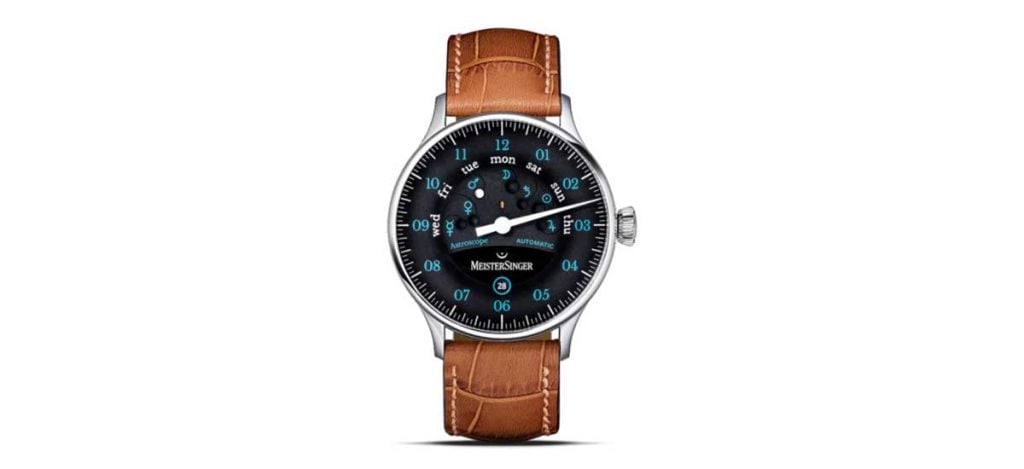 German brand, Meistersinger might be a new kid to the vast world of watchmaking, but thanks to its unique design of one-handed watches, the brand has become one of the fastest-growing independent brands with continued inspiration from Middle Age clocks. A descendant of their distinctiveness is this high-functioning Astroscope, a watch that would be a valuable asset to any collection.
The blue-old radium dial features sizeable bright blue roman numerals, a central hour/minute hand display, a date indication at 6 o'clock, and a domed sapphire crystal that offers a pure view and makes the dial stand out beautifully. The 26-jewel Swiss-made Sellita SW 220 self-winding movement, which oscillates at a frequency of 28,800 vibrations per hour, powers the watch for 38 hours, and can be counted on for accuracy and reliability.
This exquisite movement is also water-resistant (pressure tested) to a depth of approximately 50 meters, and has a decent finish that is showcased via a sixfold screwed glass exhibition back. Overall the watch exudes classical proportions and has a diameter measuring 40mm (excluding the crown which is slightly oversized). A wide variety of straps are available to offer you versatility like no other. However, a dark brown or cognac leather strap with faux crocodile grain is the most popular.
Mühle Glashütte produces timeless watches superbly equipped with a variety of sporty functions that are fit for hiking and deep sea diving. The Terranaut collection is uniquely geared towards mountain biking or other mountain sports and the Terranaut Chronograph I in particular comes with a design made particularly for an active environment. Measuring 44 x 53 x 14mm, the Terranaut features a large case with a cylindrical center and a tall bezel that grooves toward the domed sapphire crystal.
Different proportions of the bezel, central body, and case back give the watch an overall distinct look and the dial further heightens this look with its matte black face, non-numerical indexes, and sub-dials. SuperLumiNova on the minute hands, and hour hands, as well as the primary index. The day/date indication is presented in white on black, and when combined with the large digits, night readability and legibility are certain.
Ticking inside at 28,800 beats per hour is the MU 9408, Mühle Glashütte's iin-housemovement, launched in 2008 with 25 jewels, day/date, chronograph function, hacking seconds, and a 48hr power reserve. The Terranaut Chronograph I comes with a comfortable black Russian leather strap with white stitching and buckle.
Again we move on to the next category. From this point on you would find the Best day-date luxury watches for men from $5000 to $10,000. Enjoy!
When Zenith collaborates with watch enthusiast and curator of the Musée International d'Horlogerie, Ludwig Oeschlin, to design an annual calendar timepiece, you can be sure that the result would be impressive.
Featuring a simplified silver-toned guilloché treatment that appears at the center of a large silver dial, the Zenith El Primero Winsor Annual Calendar watch comes with a day-date complication with only nine mobile parts, as against the usual thirty to forty mobile elements used in other calendar watches.
The faceted gold plated indices offset the monochromatic dial and blend excellently well with the 42mm stainless steel case and brown alligator leather strap. Launched years ago, but a novelty in Western markets, Zenith Calibre El Primero 4054 automatic movement beats at 36,000 vibrations per hour (the only series-produced movement to beat at this rate) and has a 50-hour power reserve for hours, minutes, small-seconds, and day, date, month, annual calendar and chronograph.
A sapphire crystal (which is the most durable and hard crystal material) with anti-reflection treatment on both sides gives the entire watch a dome shape. It is water resistant to about 50 meters / 165 feet, and the date display can be seen at the 6 o'clock position, while the day of the week and month display can be seen at the 3 o'clock position.
Launched at Baselworld in 2016, the Oris Artelier Calibre 112 is in the simplest terms, a powerful watch with 10 days of wound power within its sole spring barrel. At 43mm in diameter, the Oris Artelier Calibre 112 is both contemporary and dressy (Oris includes this in its Culture Collection, so it comes more as a sophisticated dress watch than a sporty/robust timepiece), with a silver opaline dial features hour and minute hands that are lined with luminescent material that will reveal green emission in dark conditions, allowing the wearer interpret the time both during the day and at night with little interference.
The date aperture is eccentrically positioned at 9 o'clock, eschewing the customary positions of three or six o'clock, while a slightly recessed sub-dial for the GMT function can be seen below 12 o'clock. The short and curved lugs exhibit a gentle, softly spoken demeanor, and together with the thin downward sloping bezel, a visual illusion that the 43mm diameter case watch is smaller than it looks is effectuated, leading to a snug and comfortable feel when worn.
At the heart of the watch, a well-made Calibre 112 movement, beating at a steady 21,600 vph, and offering 240 hours of power reserve can be seen through the sapphire exhibition case. Overall Oris has delivered an admirable quotient of originality and a degree of excellence seldom seen at this level in the Artelier Calibre 112.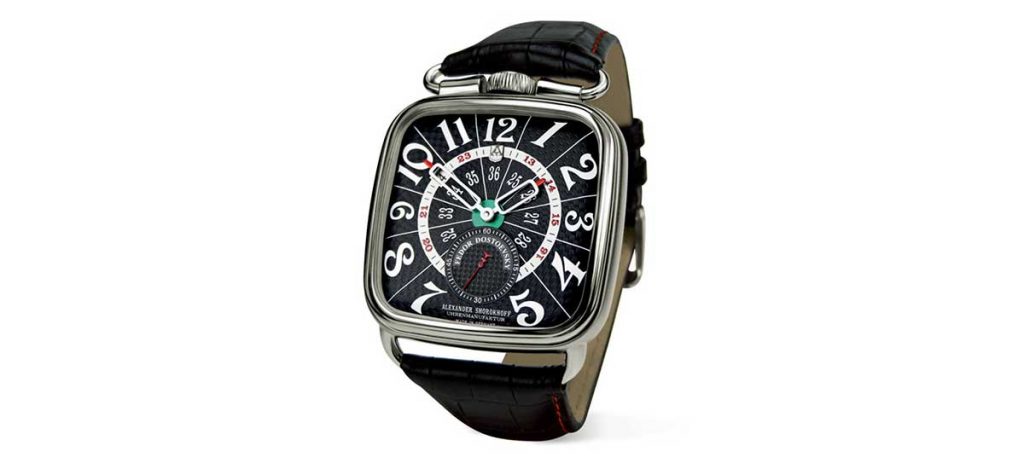 Founded by Alexander Shorokhov a German-Russian entrepreneur, the Alexander Shorokhoff watch brand has built a legacy around the word 'unique'. Designed to provoke and generate emotions, the Fedor Dostoevsky Unique bridges the gap between fashion and art with its unconventional designs. The 3D hand-engraved rhodium-plated dial is inspired by the Russian avant-garde school of art and stands out with boldness as it was built to go beyond all ordinary ways and hit the spirit of today.
The case is large at 43mm but thanks to that there is plenty of room for the indications on it, leaving the dial uncluttered. Shorokhov combines intense patterns, producing a very new perspective of view in the watch world and, at first even of absurdity. Time is indicated centrally, with two sub-dials at the 3 o'clock and 6 o'clock positions.
The date aperture is positioned at 12 o'clock, the weekday at 6 o'clock, and the power reserve display at 3 o'clock. All surfaces of the case are highly polished, and the hands coming in fierce blue makes the watch excessively flamboyant. This is a class act. At the heart of the watch is the Caliber 9060. Soprod automatic movement, which offers approximately 47 hours of power reserve. It is water resistant up to 30 meters and features a black genuine crocodile leather strap with a massive stainless steel pin buckle.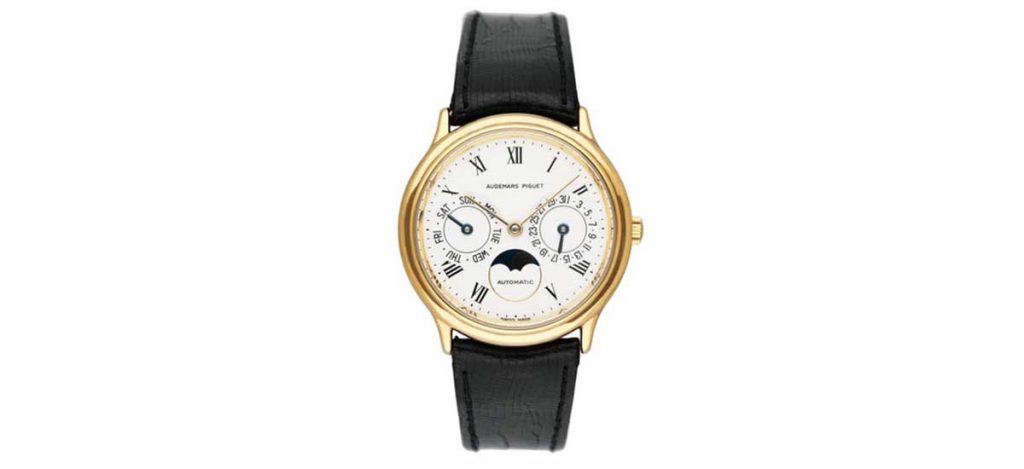 Together with Patek Philippe and Vacheron Constantin, the highly esteemed Audemars Piguet is one of the ultra-high-end brands that make up the "Holy Trinity of Watches", also known as the 'Big Three." Dating back to 1995, the Audemars Piguet day-date moon phase with ref. 25589, was made for the elegant and knowledgeable gentleman.
It comes in an 18k yellow-gold case of 33 mm by 8 mm, making it the perfect dress watch. The layout of the dial shows attention to detail without cluttering the display, and the brand's attention to detail is easily seen in the double-stepped arrangement of the bezel and case back, heightening the overall appeal of the timepiece.
A moon phase can be seen at 6 o'clock, and vertically above in a bicompax-inspired layout, is the brand's name at 12 o'clock. Proudly displayed at nine o'clock, is a sub-dial showing the day of the week, and opposite, at three o'clock is the date. Overall, the dial design is uncluttered, symmetrical, and pleasing even to the untrained eye.
And now, all the best high-end luxury day-date watches for men beyond the $10,000 mark. Enjoy!
When Arnold & Son began in the early 1700s, their watches were pretty much unknown. Fast forward to three centuries later and the brand has occupied a special position in the vast world of watchmaking, and has gained an elite following in the world of Haute Horlogerie thanks to its unique watches with extraordinary colors, textures, fonts, and layouts.
The Arnold & Son Eight-Day Royal Navy is one of such stunning timepieces first showcased in 2016. The case is wide at a diameter of 43mm, but the downward curved lugs and 10.7mm case thickness will make the watch fit snugly and comfortably on the average wrist. A machine-made guilloche dial overlaid with a blue lacquer renders a gorgeous blue color to the dial while the sapphire crystal glass enhances legibility.
Polished modern faceted hands blend beautifully with the diamond-polished applied hour markers giving a breathtaking sexiness with a notable enunciation of time telling. Adjacent at 6 o'clock, a subdial neatly displays the running seconds, while an aperture within this subdial displays the stylized numerals that eloquently impart the date.
On the right side, the crown has the Arnold & Son's logo; a crown sheathing a floating anchor) embossed on it; a subtle reminder to the owners that they now own a piece of the past, particularly that of Arnold's contribution to the Royal Navy in the 18th century. The Eight-Day Royal Navy timepiece is equipped with an exhibition case back, allowing the wearer to view the finely finished hand-wound Calibre A&S1016 with 18-carat white gold chatons, a power reserve of 192 hours, and an oscillation frequency of 3Hz.
The Glashütte, ummm hold up, pronounce it ˈɡlaːsˌhʏtə' (and thank you), Original PanoLunar Tourbillon comes in an exquisite 18k red gold case and is reasonably sized at 40mm x 13.1mm. Considered a dress watch that will emit a warm charm and luxurious atmosphere, this watch is a perfect choice to express the personal style of a gentleman on a daily basis.
The Panomatic Tourbillon sustains the basic layout of the Pano family. Very noticeable is the face of the watch which might come on as being unbalanced at first due to the off-centered dial for the hours and minutes, and the large date window at 4 o'clock but with a closer look will reveal the charm that it exudes.
The face could very well be seen as unbalanced at first sight but once in front of it, it gives a real personality and some elegance to this timepiece.
The hours sub-dial comes with a concentric guilloché finish while the dial itself is finely grained, with an off-centered timekeeping section appearing on the left, the hour and minutes thermally blued to contrast the silver background, displayed on the top, while a cantilevered Tourbillon (the Tourbillon is supported from one side only by a single axis) with a second's hand comes at the bottom.
Operating at a frequency of 3Hz, is the Calibre 93, an automatic movement that boasts 48 hours of power reserve, and features an off-centered rotor, polished steel parts, hand-beveled and polished bridges, in addition to the 21-carat gold off-centered oscillation weight adorned with the double-G logo, which can be all be savored through the exhibition case back. This timepiece comes with a fascinating matte brown alligator strap with a velvet finish.
Limited to 140 pieces, the Grand Seiko SLGH007 immediately makes a statement, thanks to its intense dark dial with alternating finishes between hairline brushing and Zaratsu polishing on its platinum case. Inspired by the tree rings of cedar, the Grand Seiko SLGH007's dial has an almost organic texture, with intriguing swirling patterns of darker and lighter shades of black that seek to emulate the rings of a cedar tree.
The case is 40mm in diameter, with a thickness of 11.7mm. Offering excellent legibility is the wide and flat hands and applied white gold indices. Accurate to a maximum of five seconds per day is the high-beat mechanical calibre, launched by the brand to mark Grand Seiko's 60th anniversary in the year 2020. The new 9SA5, called the hi-beat calibre, represents a profound advancement from the first calibre 9S which was launched in 1998.
It maintains the high-beat frequency of 36,000 vibrations per hour, but extends the power reserve from 55 hours to 80 hours and goes further to add a Dual Impulse Escapement. The indices and calendar frame are solid gold, while the case is made from platinum; a more dense and harder material than gold that even takes three times longer to produce than gold.
Did you know that the name "Louis Breguet" is crested on the Northeast side of the Eiffel Tower because of the contribution Louis made to its construction? From telecommunications to aviation and beyond, Breguet's inventions determined the vector of development for many sectors.
In watchmaking, Breguet remains famous for inventing the tourbillon, and for also being the first watch company to feature the guilloché technique on its dials, advancing fantastic technical developments in the watch world since its establishment in the year 1755.
Coming in an 18-carat rose gold case that measures a fitting 41 mm diameter, the Breguet 3795BR/1E/9WU is a quintessential connoisseur watch that will remain attractive for decades to come. The skeletal dial does away with a major part of the dial plate via the cutouts in the center and subdials, revealing a breathtaking view of the complex components in the manually wound movement. Legibility is not compromised despite the sophisticated look and beautifully detailed guilloché.
Retrograde dates indication can be seen at twelve o'clock, the days of the week are at nine o'clock, and the months and leap years are at three o'clock. The Cal. 558QP3 provides an impressive power reserve of 50 hours, with a frequency 2,5Hz. The watch comes in a leather strap with a triple-blade folding clasp.
Blancpain needs no introduction. It's standing as the oldest Swiss watch company in operation is uncontested, as is its fame for producing one of the world's most iconic diver's watches known as the Blancpain Fifty Fathoms. Made in 1953 for French Navy combat divers by Blancpain, Fifty Fathoms cemented its success in the watch world when it reemerged as the Bathyscaphe, with more useful functions and features.
While many details that carry over from the unique design of all Blancpain's Fifty Fathoms watches are evident in the Blancpain Fifty Fathoms Bathyscaphe Day Date 70s, modern additions are also obvious. Limited to 500 pieces, the 43mm satin-finished case is equipped with a unidirectional bezel and a dial that is very attractive and wearable. The gradient gray dial with its sunburst finish is darker on the outer perimeter and infused with lighter tones toward the center, enhancing legibility and creating a perception of a larger dial size.
True to the look of the 70s model, the day-date window is displayed at 3 o'clock, with a generous amount of lume to assist legibility at depths of up to 300 meters. Inside the heart of the watch, the caliber 1315 DD, an automatic movement based on Blancpain's caliber 1315 of 2007, with three mainspring barrels offers a robust power supply of 120 hours and can be seen through the sapphire crystal case back.
23. Rolex Day-Date 40mm
The Rolex Day-Date was the first watch to indicate the day of the week spelled out in full, and it remains the most instantly recognizable watch on earth. It debuted at Baselworld in 1956, and even though the world of watches keeps changing in more ways than one, the Day-Date has remained virtually unchanged for over 60 years. Famous for being the "presidents' watch ", the Day-Date was the first self-winding, waterproof chronometer wristwatch to display the date and the day of the week spelled out in full in two separate windows.
The Perpetual Day-Date 40 is the largest of the Day-Date line of Rolex watches and epitomizes prestige and innovation with more impressive features. Characterized by hour markers fashioned from gold to prevent tarnishing, the 40mm Day-Date features a silver dial, designed and manufactured in-house largely by hand to ensure perfection with a day-date display, center hour, minute and seconds hands, unrestricted rapid-setting, and stop-seconds for precise time setting.
The watch is extremely comfortable to wear and it keeps excellent and reliable time. A concealed folding crown-shaped clasp keeps the bracelet secure, and the bracelets, made from solid 18k yellow gold, is of outstanding quality and is extremely comfortable to wear. It even flexes easily despite the secure buckle, offering you just more and more golden views. Unlike the Rolex Day-Date 36 mm which uses the caliber 3155, this one houses the Rolex caliber 3255, which Rolex claims delivers a 15% increase in efficient energy.
The Caliber 3255 is also the first movement to be regulated to the superlative chronometer standard of a maximum of -2/+2 seconds deviation in rate per day. It provides approximately 70 hours of power reserve and is water resistant to 100 meters.
Visit Rolex.com for more info
24. PATEK PHILIPPE IN-LINE PERPETUAL CALENDAR 5236P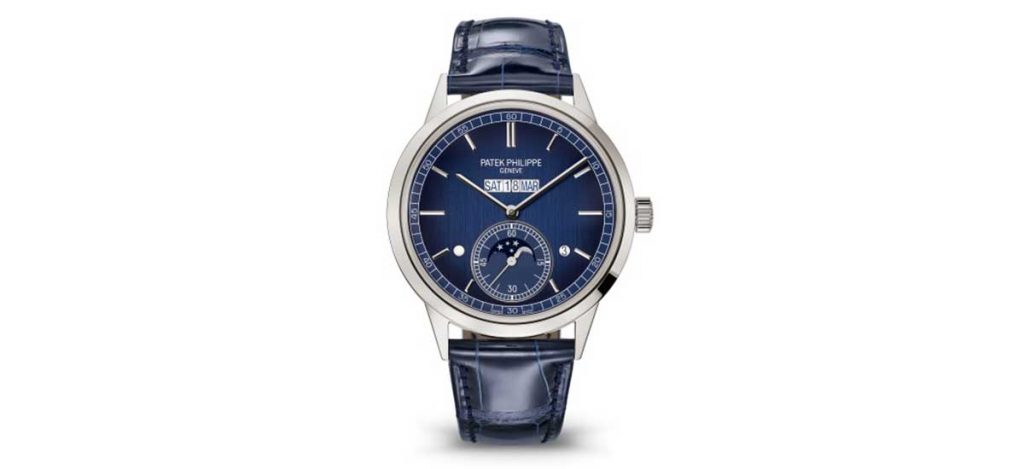 The Patek Philippe In-line Perpetual Calendar Ref. 5236P-001 is a watch that simply oozes wealth in its heft and presence. Since the first perpetual calendar complication was presented by the brand in 1925 (the No. P-72), Patek Philippe has not had any timepiece with a full calendar displayed in a single horizontal line of apertures across the dial.
Not until the launch of this In-line Perpetual Calendar Ref. 5236P-001; a watch that showcases extraordinary wealth. Coming in a 41.3mm x 11.5mm platinum case, the watch features a chamfered bezel (completely mirror polished by hand), an immediately noticeable brass-based blue dial with black gradation to the periphery, sharp and slender lugs, and a navy blue hand-stitched alligator leather strap.
The elegant dial offers a lot of information yet remains very clean and uncluttered. An aperture for the moon phase is displayed at six o'clock, one for day/night can be seen at eight o'clock, and a leap year display is at four o'clock. The hour makers and baton hands in white gold offer top-notch legibility while the minute tracker on the periphery gives the dial a technical touch.
Oh, and the case flank at the six o'clock position is adorned with a small diamond so that what the timepiece lacks in affordability, it makes up for in elegance, timelessness, and stunning beauty. Visible through the sapphire crystal case back is the Calibre 31-260 PS QL, an in-house movement that provides approximately 48 hours of power reserve, with decorations and techniques like circular graining, Geneva waves, black polishing, anglage, perlage, etc.
Visit Patek.com for more info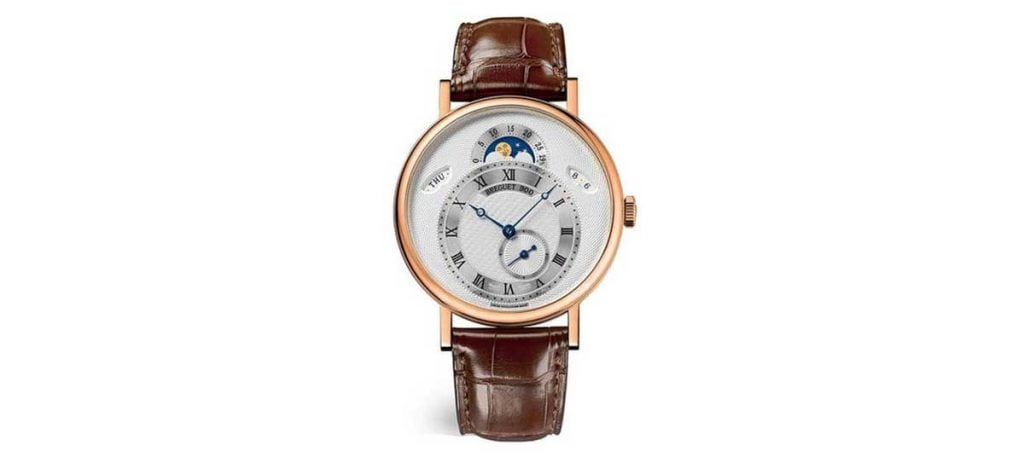 Breguet has been dubbed a watch brand for royalty and is one of the watchmaking brands that doesn't pay endorsers to wear its watches. So it's only right that this list ends with none other than the Breguet Classique Day Date Moonphase; a unique and luxurious timepiece inspired by the renowned pocket watches created by Abraham-Louis Breguet (particularly the Ref.3833) in the 1820s. Coming with a blend of traditional aesthetics and modern techniques, the Breguet Classique day date moon phase is very difficult to not fall in love with.
The execution of the silver dial is nothing short of stunning. The main dial features a fine concentric criss-cross guilloche texture, the time sub-dial has a unique cross-weave basket pattern, and the small seconds' sub-dial features a linear sunburst texture.
The day aperture lies just above nine o'clock, a date aperture can be seen at three o'clock and a moon phase indication is at the twelve o'clock position. Breguet hands bring on a playful elegance to the somber no-nonsense framework of the watch, and all the disparate elements on a dial join forces to create a harmonious effect.
While the aesthetics of this vintage timepiece draw upon history, the watch takes advantage of Breguet's latest technical advances. Inside the watch, the in-house Breguet caliber 502.3 QSE1, an automatic movement powered by the nautical wheel-shaped rotor, with 384 components, is nothing short of extraordinary to watch in action through the sapphire crystal porthole on the case back Beating at 28,000 vibrations per hour, the machine-finished movement is equipped with a silicon balance against magnetism, and provides 55 hours of power reserve.
Didn't find one that made your heart skip in all 25? Check out our complete selection of day-date models right here.