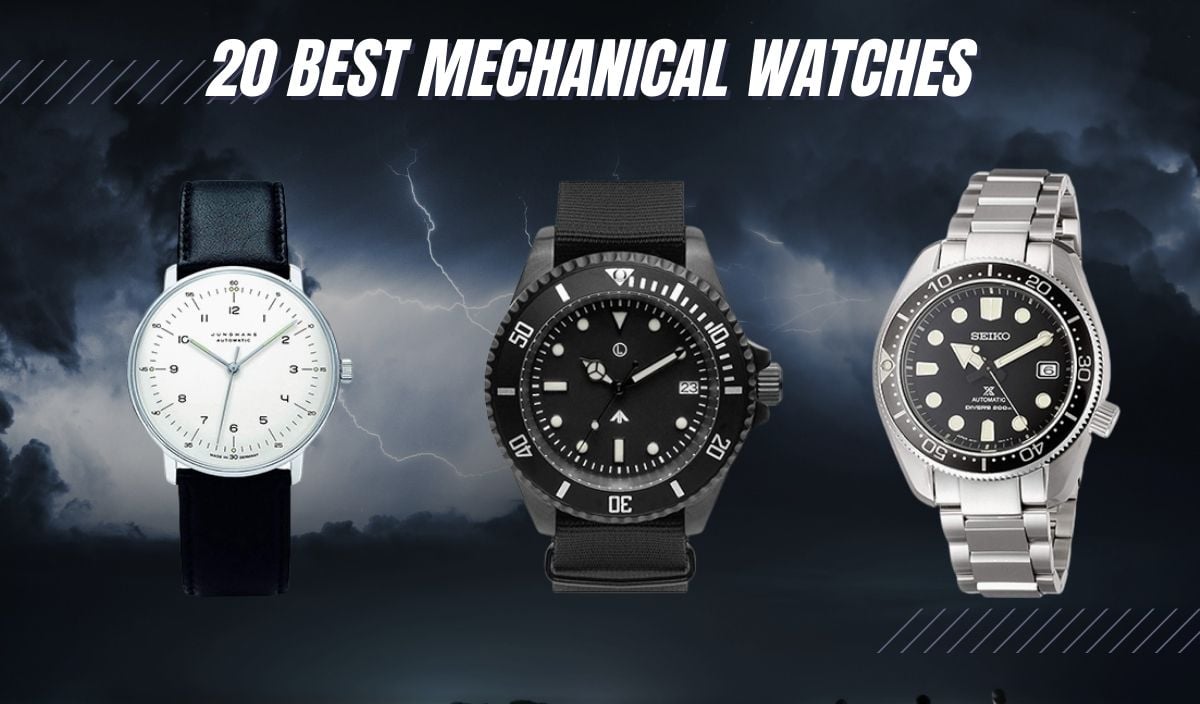 20 BEST Mechanical Watches From Affordable to Luxury (2023)
Mechanical watches are timepieces that utilize non-electronic means of keeping the time. Just about any watch that isn't quartz (save for Grand Seiko, but more on that later) is considered a mechanical watch. While the original mechanical watches were all hand-wound, the technology eventually advanced to the point where self-winding or automatic watches became the standard.
While mechanical watches aren't necessarily the most high-tech timepieces on the market, there's just something special about that analog feel you get with a traditional mechanical watch. That's why the luxury watch market is mostly comprised of mechanical watches rather than quartz watches.
What Is a Mechanical Watch?
Mechanical watches utilize a mainspring which is wound to release that energy in short bursts, using gears to keep accurate time. Even though the first mechanical watches had to be wound by hand in order to keep time, the development of automatic watches allowed for a rotor that spins using the movement of your hand to continuously wind the mainspring.
There's beauty, and some might even say romance, to the inner and outer workings of a mechanical watch. A mechanical watch releases energy in small quick bursts, which allows the second hand to sweep somewhat smoothly across the dial. This is a pleasing sight to most watch collectors and something that a quartz watch simply can't replicate.
In the late 1960's Japanese watchmakers developed the quartz movement, which allowed for a battery to send an electrical signal through a quartz crystal, which would regulate the time. It was more accurate than most mechanical watches and never needed to be wound.
The main disadvantage to quartz was that you had to continually change the battery. However, to some watch collectors, quartz is too clinical and cold. They prefer the mechanical heartbeat of a hand-wound or automatic watch, and quartz just can't scratch that itch.
The most obvious external difference between a mechanical watch and a quartz watch is the second hand. As stated above, mechanical watches tend to have a smooth sweep of the second hand.
On the other hand, quartz watches tick one second at a time, which is manifested in a slowly ticking second hand across the dial. While it doesn't have an impact on the accuracy of the watch, it's something that's just not as pleasing to many collectors as that smooth mechanical sweep.
Types of Mechanical Watches
Hand-wound mechanical watches are just as they sound, wound by hand. These were the first mechanical watches that were available. Every day or two, a hand-wound mechanical watch must have its crown rotated.
This builds up the energy in the mainspring, which gets released throughout the day, allowing the timepiece to keep accurate time. Later, watchmakers and engineers developed the automatic movement. While this movement works in essentially the same way as a hand-wound one, there's a single difference.
Rather than requiring the crown to be rotated, the watch has an internal weighted rotor. The rotor spins around whenever the user walks or moves their hands, winding the mainspring. This allows for a more user-friendly and less labor-intensive experience for the wearer.
The Best Mechanical Watches
That's why we've compiled this list of the 20 best mechanical watches at every price level. Because you shouldn't have to sacrifice the joy of having a mechanical watch on your wrist just because of the cost. Read on to see the best options at every price point, and you're sure to find at least one that meets your needs.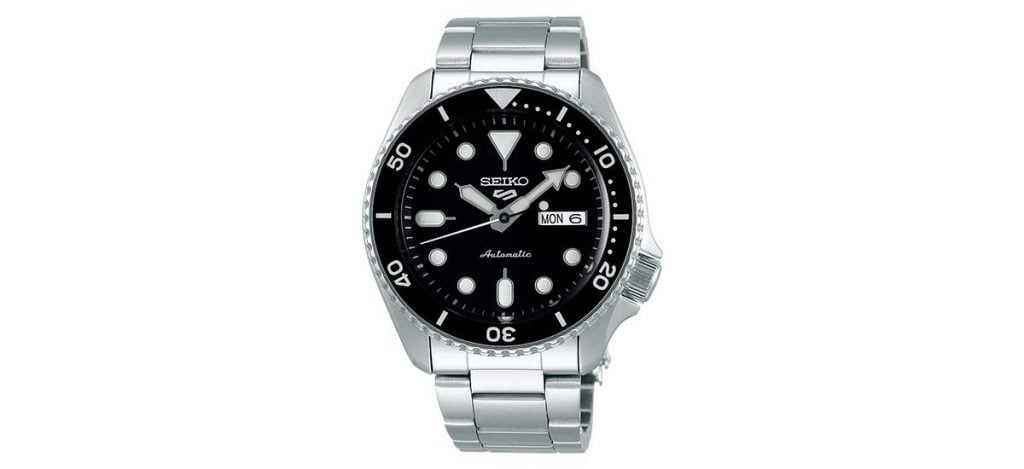 Seiko is known for having high-quality watches at nearly every price point, so it's fitting that we start our list with this classic Seiko option. The SRPD55 comes from the vaunted Seiko 5 collection of steel sports watches. It has a diameter of 42.5mm, making it both comfortable and legible.
It also includes an automatic Seiko movement with a 41-hour power reserve, a unidirectional rotating dive bezel, and a tri-fold clasp. To top it off, the SRPD utilizes Seiko's proprietary LumiBrite lume and Hardlex crystal, offering a whole lot of bang for your buck. Wear this beauty out in the water, and you'll likely garner as much respect as those wearing a Rolex Submariner.
This watch is priced at $295.
Seagull 1963
Seagull is a brand with an interesting history. Initially conceptualized by the Chinese government in the mid-20th century, Seagull was first created to create high-quality watches for the Chinese military. This model, ref. 6345G-2901 is a reimagining of their original 1963 hand-wound chronograph manufactured for the Chinese Air Force.
The movement is a Seagull ST21, based on the classic Venus hand-wound movement. When Swiss company Venus needed to sell all their old movement-making equipment, the Chinese government purchased it and installed it in their factory.
The watch comes with a classically-sized 38mm case, scratch-resistant sapphire crystal, 21,600 VPH, and a 45-hour power reserve when fully wound. This is an affordable watch with looks, heritage, and functionality, all for less than $400.
This watch is priced at approximately $400.
When it comes to legendary field watches, few models are more respected than the Hamilton Khaki Field Mechanical. This particular model, ref. H69439931 comes with a traditional case size of 38mm, the Hamilton H-50 hand-wound movement, and availability on a steel bracelet or fabric nato strap.
This watch is all about braving the great outdoors and getting home safely. The Hamilton Khaki Field Mechanical has a loyal following, even among those who collect watches in the tens of thousands of dollars. It's a dependable workhorse and one with real heritage and history. And it comes at a great price to boot, so what are you waiting for?
This watch is priced at $575.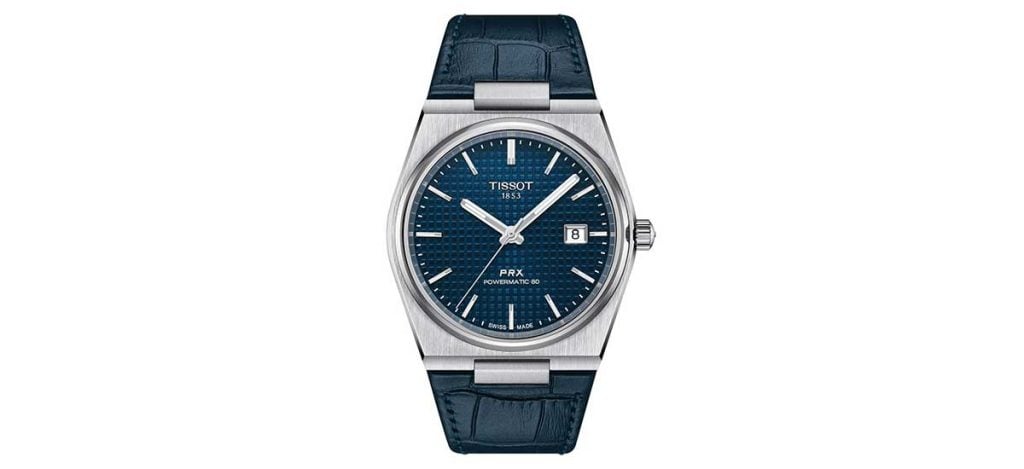 The Tissot PRX, ref. T137.407.11.041.00 is a watch that was released using inspiration from one of their earlier models from the late 1970s and early 1980s. Utilizing a slim integrated bracelet and modern case design, the PRX quickly became a "must-have" throughout the greater watch community.
It utilizes Tissot's famed Powermatic 80 automatic movement that boasts a whopping 80-hour power reserve. The case measures 40mm in diameter and includes a scratch-resistant sapphire crystal, a display case back, and a beautiful textured dial.
If you want to be in with the cool watch crowd but don't want to spend thousands, then the PRX is the way to go. It also comes in a black and a gorgeous deep green dial variant.
This watch is priced at $675.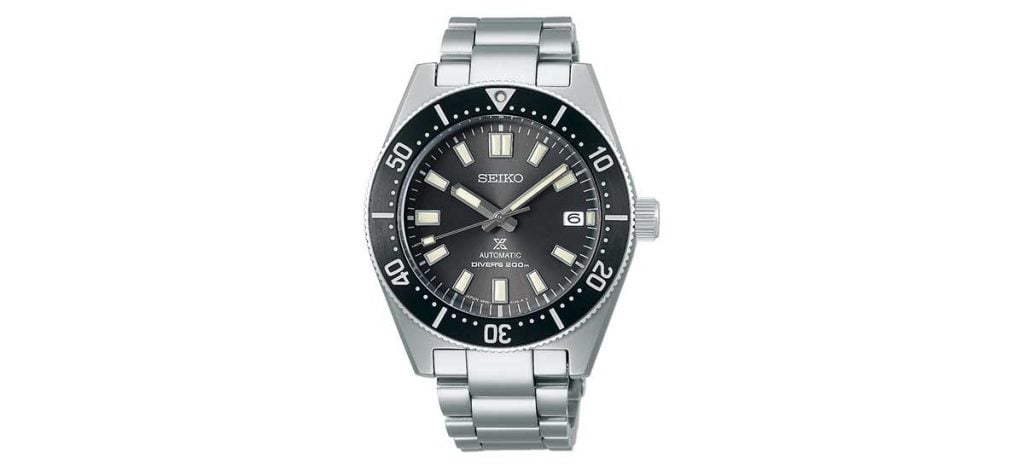 Seiko is a giant in the world of watches at almost every level. This solid diver that can be found for less than $1000 is the perfect example of why the Japanese brand is so revered. It has a perfect diameter of 40.5mm, 200m of water resistance, a 24-jewel Seiko automatic movement, and a full 70 hours of power reserve. Unlike many other Seiko divers, this one comes with a solid sapphire crystal rather than Seiko's proprietary Hardlex, making it even more durable for those long days in the water.
This watch is priced at $575.
Longines is a legacy Swiss brand that offers something for just about anyone in the watch world. With their Flagship Heritage models, they went back to their roots and delivered a classic dress watch.
Offered in silver and black dial models, this (ref.L47954782) 38.5mm stunner has a scratch-resistant sapphire crystal, a small seconds function, a 6 o'clock date window, and an automatic movement with 42 hours of power reserve. This gorgeous watch is perfect for a night out on the town or a day at the office.
This watch is priced at $1200.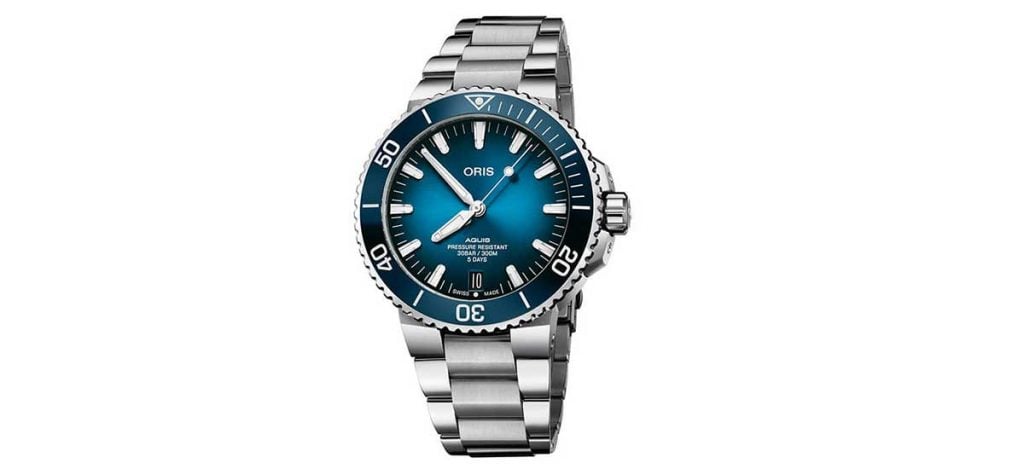 Oris creates some of the best mid-range dive watches on the market. The foundation of their dive watch line, with good reason, is the Aquis Caliber 400 (ref. 01 400 7763 4135.) Available in a few different colors, the Aquis Caliber 400 comes in a sturdy 43.5mm case.
It's also available in a slightly less expensive option, with a third-party movement. This one has all the bells and whistles of a luxury dive watch, including a scratch-resistant sapphire crystal, a self-winding automatic movement, and a gorgeous ceramic bezel insert.
But the Aquis isn't just another pretty face (although it has that too). You get a depth rating of 300 meters, so this is a real diver that can take a whole lot of wear and tear in the water.
This watch is priced at $3700.
While Oris may be best known for their dive watches, their pilot watches are almost as popular. The Pro Pilot X is a gorgeous line incorporating Oris' heritage of pilot's watches with modern design and materials. The beautiful textured outer bezel gives the watch dimension, while the dial is all about refinement and simplicity, also offering a date window at 6 o'clock.
The case and the bracelet are both made from lightweight titanium, making this one of the most comfortable watches you'll ever own. It also has a power reserve of 120 hours, a scratch-resistant sapphire crystal, and a screw-down crown which helps the watch offer a water resistance of 100 meters. While this blue variation (ref.  01 400 7778 7155-07 7 20 01TLC) is lovely, it also comes in gray or bright salmon colors.
This watch is priced at $4300.
Tudor Black Bay 58
What can we say about the Tudor Black Bay 58 (ref.M79030N-0001) that hasn't already been said? It has a diameter of 39mm, a sapphire crystal, snowflake hands, a 70-hour power reserve, and a screw-down crown with 200 meters of water resistance.
The design of the case and the dial go back to the days of vintage Rolex and Tudor divers, and the smaller case size takes those similarities even further.
The watch's name was derived from the first-ever Tudor dive watch. It's an example of how going back to what made a brand great in the first place can take them even further. The Tudor Black Bay 58 just might be the perfect dive watch for anyone.
This watch is priced at $4300.
IWC Mark XX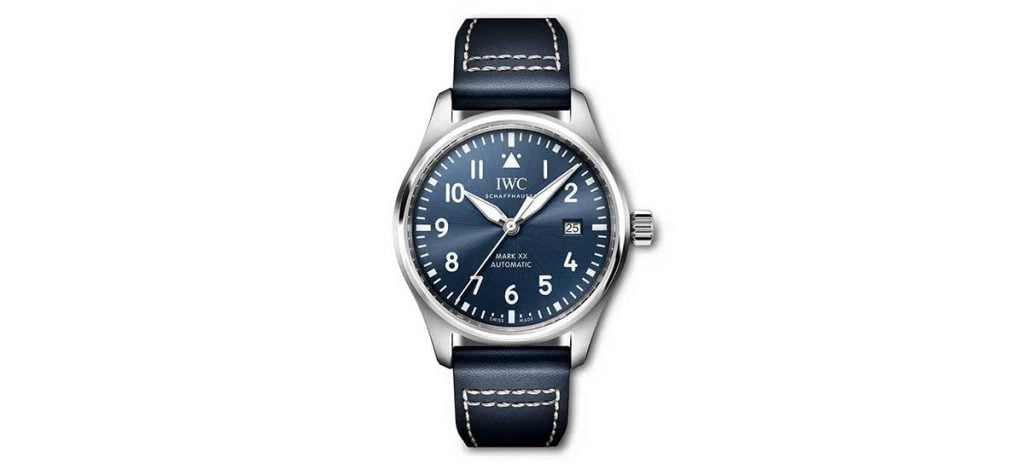 IWC made a name for themselves by creating legendary pilot's watches. The famed Schaffhausen watchmaker has created some of the most iconic timepieces of the past century, and the Mark XX (ref. IW328204) lives up to that standard.
IWC is one of the most underappreciated brands in the Swiss watch market, especially in terms of its value proposition. With its straightforward pilot dial design and gorgeous blue color, this watch is just as impressive at a fancy dinner party as it is in the cockpit.
It has a moderate width of 40mm but a surprisingly svelte height of just 10.8mm, making it fit perfectly under a cuff. The three o'clock date window and automatic movement with 120 hours of power reserve make this model fly out of boutiques, so get one while you still can.
This watch is priced at $3950.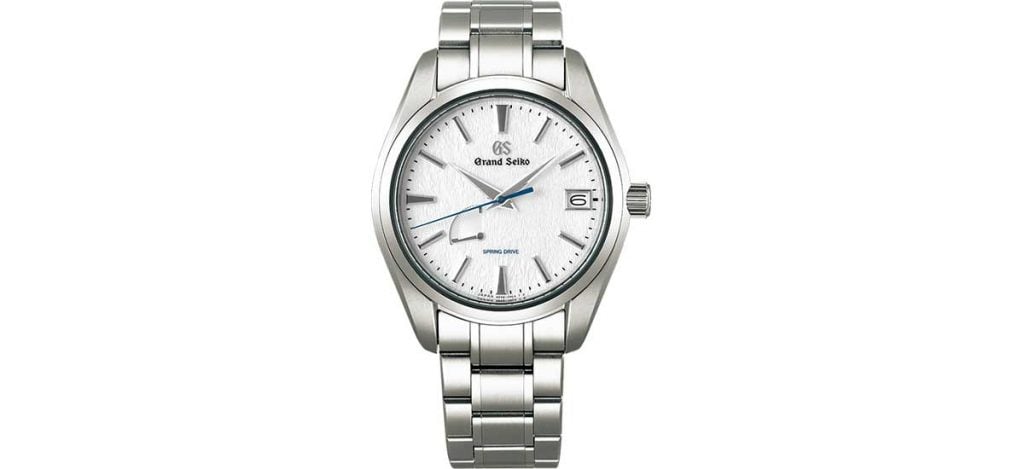 Grand Seiko is all about beauty and precision. The SBGA211 offers all that and more. Starting with perhaps the best thing about this watch, it's powered by Seiko's patented Spring Drive movement. The Spring Drive is a mechanical movement that uses a quartz crystal to regulate timekeeping.
This means it has the best of both worlds, combining the romance of mechanical watchmaking with the technical superiority of quartz technology. That gives it an accuracy of plus or minus one second per day.
It also has a power reserve display and one of the most stunning textured dials you'll find anywhere. Add to that a lightweight titanium case and 100 meters of water resistance, and you might never need to own another watch again.
This watch is priced at $6200.
Omega Seamaster Diver 300M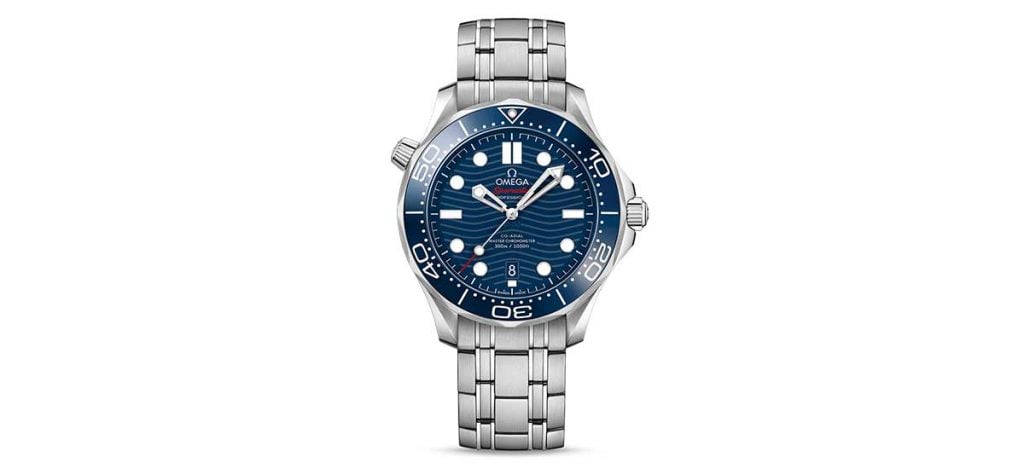 The Omega Seamaster range offers a real dive watch for real divers. That's not to say that everyone else can't enjoy it just as much. This gorgeous blue dial watch (ref. 210.30.42.20.03.001) has the signature Seamaster wave pattern, a 42mm case size, the Omega caliber 8800 movement, with George Daniels' famed coaxial escapement, and 300 meters of water resistance.
On top of all that, the AR-coated sapphire crystal will stay pristine for years, and the comfortable steel bracelet will make you forget that you're even wearing a watch, even in the harsh sea elements. In addition to the standard Seamaster Diver 300M, the Seamaster Aqua Terra is a great alternative for those who want all of the technical benefits of a dive watch but prefer a more simple and dressy look. After all, the Seamaster Diver 300M and the Aqua Terra were good enough for James Bond, so they should be good enough for you!
This watch is priced at $5600.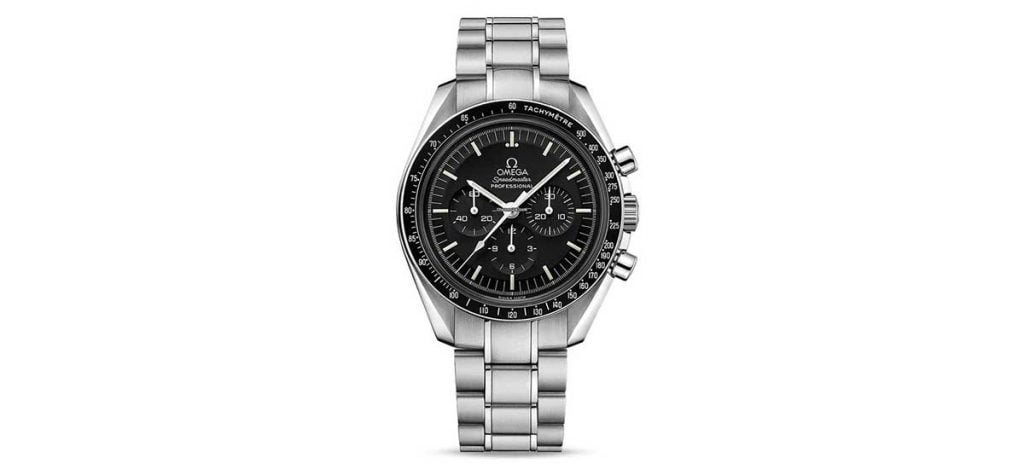 We love this watch to the moon and back, as did the astronauts. The Speedmaster Professional (ref. 310.30.42.50.01.002) is one of the most widely recognized watches in the world, mainly because it left this world on a rocket ship.
The iconic chronograph is one of the most robust and accurate timepieces available on the market. The standard Speedmaster Professional model has a hand-wound in-house chronograph movement and a diameter of 42mm but wears closer to 40mm or 41mm because of the tachymeter that runs around the outside.
The dial is monochromatic and highly legible, making for the perfect tool watch for all of your timekeeping needs. If you're a history buff and appreciate beautiful watches, then the Speedmaster Professional has everything you'll ever want in a watch.
For those who really want to own a piece of history, the famed Omega 321 movement Speedmaster might be worth buying. This is the same as the standard Speedmaster Professional, but the movement is almost identical to the one that was in the very first Speedmaster "moon watch".
This watch is priced at $7600.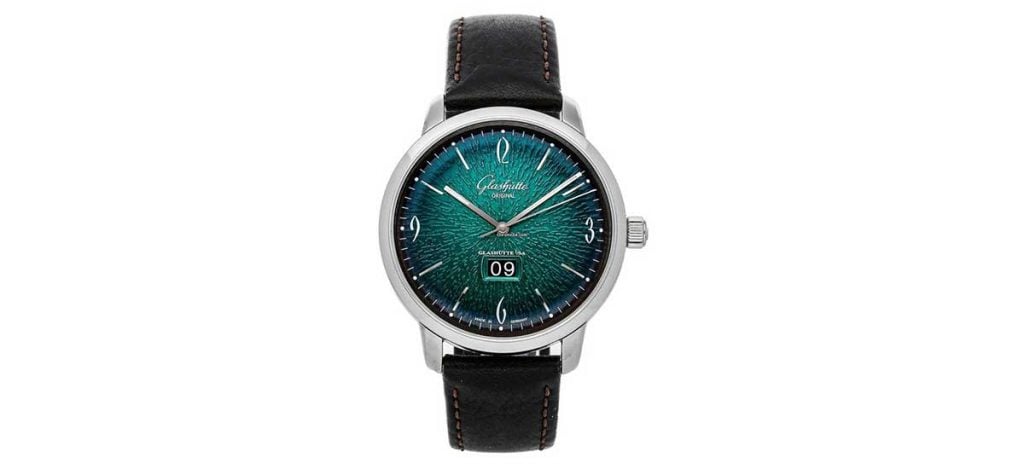 Glashütte Original is a German watch brand that's known for its classic styling and impressive attention to detail. The Sixties Panorama Date (ref. 2-39-47-06-02-04) is a great dress or casual watch, depending on how you style it. The bright blue sunburst dial is joyful and bold, and the vintage-style roman numerals and stick indices are pure class.
The watch features a diameter of 42mm, a beautifully branded tang buckle clasp, 40 hours of power reserve, and a domed sapphire crystal. It also includes a convenient date window just above the six o'clock position, a function that most people use even more than they ever expected.
This watch is priced at $8000.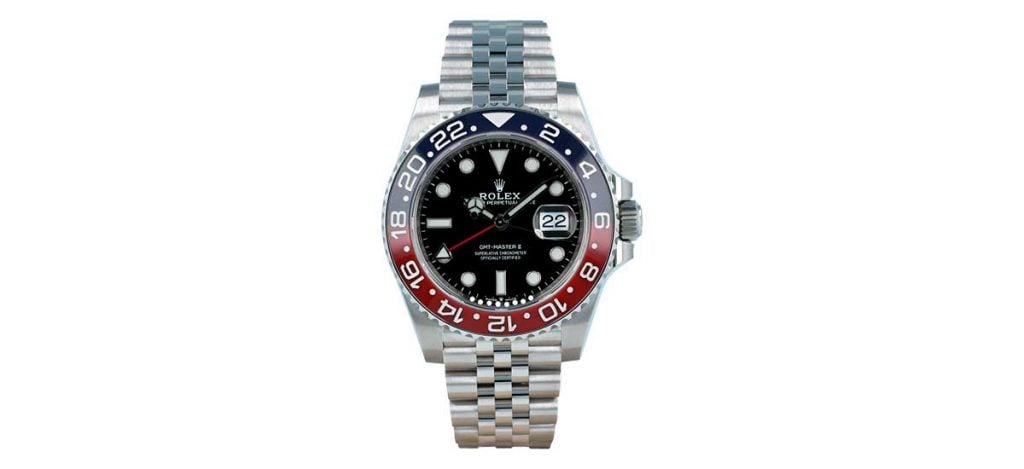 Rolex is perhaps the most widely-known watch brand in the world. And the GMT Master II (ref. 126710BLRO) is just one of the reasons that the brand is so popular. GMT stands for Greenwich Mean Time. This watch allows you to track three time zones simultaneously, using an additional GMT hour hand and a rotating 24-hour bezel.
The 100 meters of water resistance and convenient 40mm size make it a great everyday watch. The iconic red and blue "Pepsi" bezel makes this watch an absolute stunner that's sure to inspire plenty of second looks. It's one of the most iconic watches of all time and one that watch connoisseurs love all over the world.
This watch has an MSRP of $10700.
Rolex Cosmograph Daytona
If Rolex is the most famous watch brand in the world, then the Daytona (ref. 116500LN) just might be the most famous watch in the world. This gorgeous slim chronograph has been worn on the wrist of racing legends and movie stars alike. In the case of the "Paul Newman" Daytona, those two people are one and the same.
The watch has a diminutive profile at 40mm but a huge historical presence. The tri-compax design is appealing to the eye but not too flashy.
It has 100 meters of water resistance due to the screw-down crown and pushers, an uncommon feature for chronographs. The black and silver monochromatic design is stunning in the light, and the watch goes with almost any type of dress, casual to formal.
This watch has an MSRP of $14800.
Hublot has gained popularity in recent years for its bold design language and sense of fun. The Big Bang Black Magic (301.CM.130.RX) has plenty of both. With a substantial size of 44mm, this watch makes a statement. The black riveted bezel and rubber strap complement the functional and highly legible chronograph dial.
It has an automatic movement with 42 hours of power reserve, a scratch-resistant sapphire crystal, and 100 meters of water resistance. This watch is tough and durable, and it looks the part.
This watch is priced at approximately $16000.
Vacheron Constantin Overseas
Vacheron Constantin is one of the "Holy Trinity", as it's called in watchmaking. It's a legacy brand respected for its attention to detail and beautiful dials. When looking at this Overseas model (ref. 4500V/110A-B128), it's no surprise.
The bright blue dial mimics the color of the ocean at different times of day, and the 41mm case size is perfect for everyday use. The watch has a water resistance of 150 meters and an AR-coated scratch-resistant sapphire crystal, so it's much more than just another pretty face.
This watch has an MSRP of $22500.
Audemars Piguet Royal Oak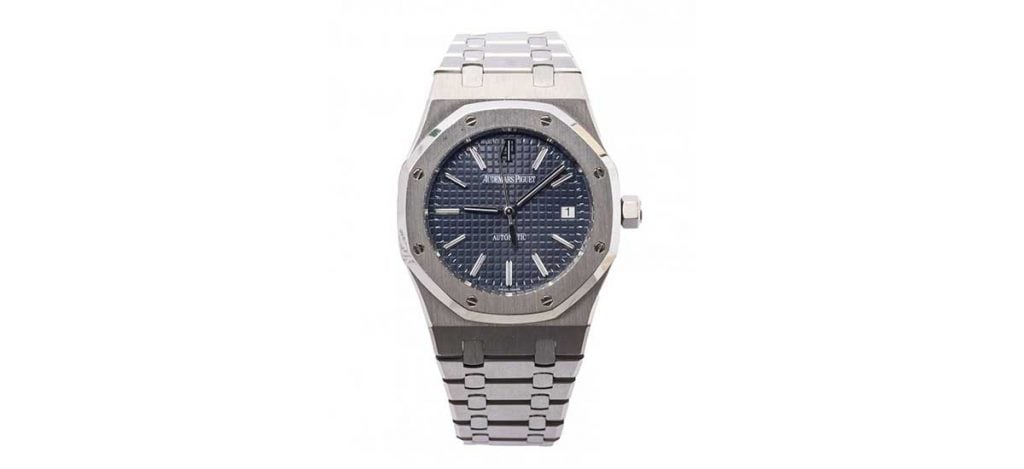 Another "Holy Trinity" brand, Audemars Piguet, has a virtual gold mine when it comes to their Royal Oak model (ref. 15202). Designed by legendary watch designer Gerald Genta, this 1970s-era sports model has captured the imagination of watch lovers the world over. It has a diameter of 39mm but wears much larger.
The stylish integrated bracelet design has been copied by hundreds of other watch brands, and with good reason. It's a stunning look on the wrist and one that is not easily ignored. The dial is no slouch, either. The gray-blue color with the "Petite Tapisserie" texture is subtle but confident. It also has an in-house automatic movement with 40 hours of power reserve and a respectable 50 meters of water resistance.
This watch has an MSRP of $33200.
Patek Philippe Nautilus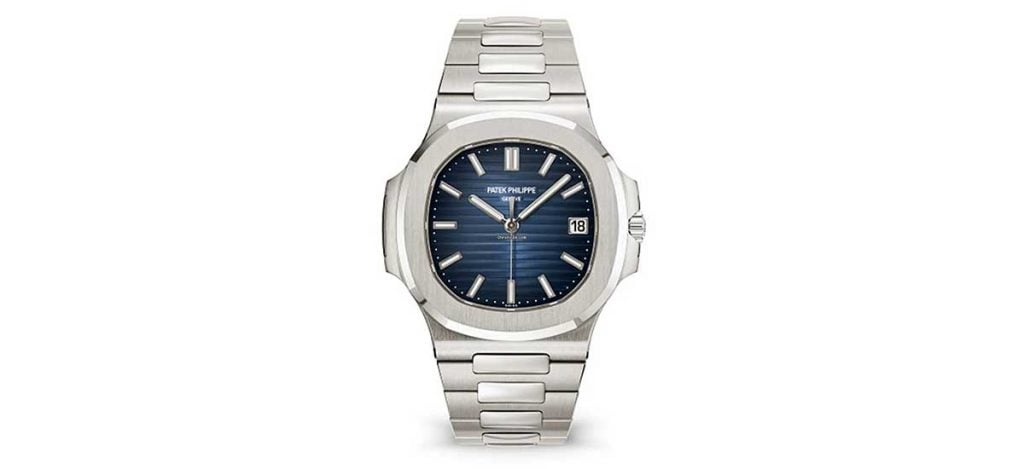 Patek Philippe is perhaps the most revered watchmaker of all time. Their watches offer timeless style and undeniable quality. The Nautilus (ref. 5711), similar to the AP Royal Oak, is a classic 1970s sports watch design that will likely never go out of style.
The geometrically shaped case and striped dial design are instantly recognizable, and it has real sports watch pedigree as well. The steel construction, automatic movement with 42 hours of power reserve, sapphire crystal, and 100 meters of water resistance make the Nautilus a giant among watches.
This watch has an MSRP of $34800.
Conclusion
Mechanical watches are a true beauty to observe due to their intricate moving parts. Thankfully, there are several options for watch enthusiasts to enjoy these engineering marvels across all budgets.
I hope this list of the 20 best mechanical watches sparked an interest in starting your own mechanical watch collection. If you do, consider shopping at Exquisite Timepieces. We have a huge selection of affordable and luxury mechanical watches, and our team of experts is always available to help you choose the best one!