15 BEST Tissot Watches With Powermatic 80 Inside (2023)
Whether you are a seasoned collector or just getting your footing in the hobby, there is one thing that we can all agree on. The Tissot watch company is absolutely on fire right now. They are at the top of almost every list for value for money and have released hit after hit in the past several years.
Despite a history dating back to 1853, Tissot has not always had the same level of cache they currently own. Being part of the Swiss watch conglomerate SWATCH Group has, in many ways, helped them while also allowing them to get lost in the shuffle.
Tissot's brand positioning within the SWATCH Group is very congested, to say the least. Hamilton, Certina, Mido, and even some Longines models are all battling in the same category to earn your entry-level luxury dollars. Because they are owned by the same group and are in the same price range, there tends to be a lot of overlap between models.
Thankfully over the last few years, the brands within the SWATCH Group have started to dive more into their historical collections and let their unique design language come through. No brand has had more success with this new distinctiveness than Tissot.
One thing that many of these brands still tend to share, however, is the use of SWATCH Group-owned ETA and their industry-leading movement manufacturing capabilities. If you compare watches from these brands, many will sport a Powermatic 80 automatic movement.
These movements represent a new direction for the entry-level luxury segment, and when you combine this technology with the segment-leading design, the reasons for Tissot's surge in popularity become clear to see.
About the Powermatic 80 Movement
What exactly makes this Powermatic 80 movement so special? The main architecture for this movement is based on the tried and true ETA 2824. There are a few differences that help set this new movement apart. As the name suggests, the power reserve of this new movement has been extended to 80 hours from the 38 hours found on a standard ETA 2824.
ETA achieved this increased power reserve by improving their spring barrel and decreasing the beat frequency of the movement from 4Hz, or 28,800 beats per hour, to 3Hz, or 21,600 beats per hour.
This decreased beat frequency utilizes less energy from the movement to accurately measure the time. Historically speaking, this lower beat frequency had a less than a favorable consequence of less accurate timing. Thankfully for Tissot, ETA was able to help counteract this effect with one of the other enhancements to the Powermatic 80.
These Powermatic 80 movements are laser-regulated in the factory. This does have the unfortunate consequence of making watchmaker regulation considerably more difficult, but if the last few years are anything to go by, the accuracy has been astounding!
The Powermatic 80 is an incredibly accurate movement (why wouldn't it be; it's been regulated by actual lasers!) that does not see any accuracy depreciation from its lower beat frequency. Another enhancement in the Powermatic 80 movement is in its magnetic resistance.
ETA went through great effort to ensure that these movements would be more reliable for the casual consumer. The movements utilize several anti-magnetic components in the construction of the movement.
This is in addition to relying on a silicon or Nivachron hairspring to transfer power from the barrel and to the escapement. Silicon and Nivachron hairsprings have traditionally been reserved for more mainstream luxury brands such as Omega, but thanks to ETA, the technology has finally been adopted by the entry-level.
History of the Powermatic 80
With how technically impressive the Powermatic 80 movement is, even by today's standards, it is hard to believe that it has been around for a decade. In late-2012, ETA first introduced the movement that would later go on to shape the entry-level market for the SWATCH Group. Being introduced in the Tissot Ballade, which features a relatively safe dress watch aesthetic, the capabilities of the movement were often the highlight of the timepieces themselves.
Now that Tissot has begun to push out of their comfort zone in terms of design, the Powermatic 80 has quickly become what ETA had hoped for when they designed it over 10 years ago; the workhorse movement standard.
Now that we know a little bit more about the Powermatic 80 movement let's take a look at some of the great timepieces that bear this amazing mechanical marvel. Although other brands from the SWATCH Group have utilized the movement as well, we are going to focus our attention on Tissot, the Swiss watch brand we're all rooting for!
The Best Tissot Powermatic 80 Watches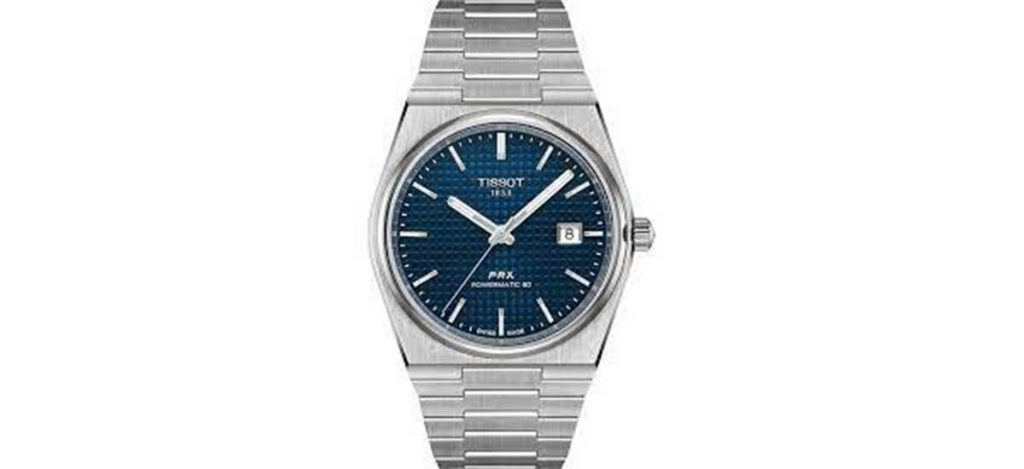 When kicking off any list, it always helps to start with a bang! The Tissot PRX is that bang. Originally based on a quartz model from 1978, the Tissot PRX was re-released in 2020, sporting a true to the original quartz movement.
It was immediately apparent that Tissot had struck a nerve with this release. Integrated steel sports watches were having a moment (still are, to be honest), and Tissot gave everyone, regardless of their budget or ability to get Authorized Dealer allocation, an opportunity to see what all the fuss was about. A year after the quartz model release, Tissot threw the watch community a bone and released the PRX with an automatic movement.
The Tissot PRX, ref. T137.407.11.041.00, sports the same integrated bracelet design that made the 2020 release a hit. The 40mm tonneau style case allows this watch to look good on a multitude of wrist sizes. The style shares many similarities with more famous integrated sports watches, but given the 1978 history, these watches are given a pass on taking inspiration.
The blue textured dial has a beautiful appearance and punches significantly above its weight. The Tissot PRX is one of the watches that will define the decade. Although Tissot could have easily given this watch a significant price hike, the $675 is out of line. Thankfully for us watch enthusiasts, it's in our favor.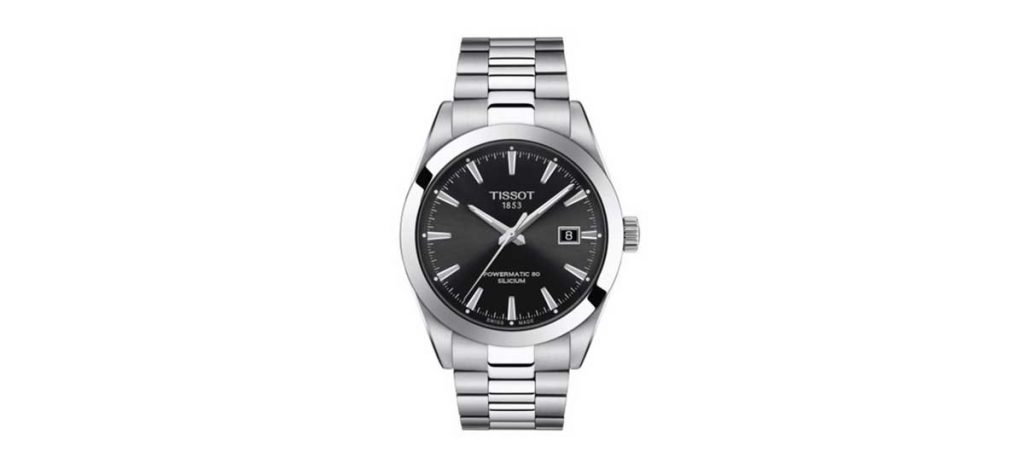 There is no doubt that the Rolex DateJust is one of the most popular watches of all time. The simple formula of robust construction mixed with a style that is casual enough for jeans but can also be dressed up when needed is one that many watch companies try to emulate.
Some have had better success than others, but few have reached the mainstream success of Tissot with their Gentleman line. The Tissot Gentleman, ref. T127.407.11.051.00, is a simple 40mm stainless steel watch with a date function.
Although many color options are available, black is the most versatile for everyday wearability. This watch closely resembles the look of a Rolex DateJust with a smooth bezel and Oyster bracelet, but it also does something that Rolex can not do.
The Tissot Gentleman comes in at a price of $795 and is regularly available for purchase. When considering the everyday versatility, there might not be a reason to purchase another watch (but let's not kid ourselves).
When dealing with a watch brand that dates back to 1853, there is sure to be some traditional influence that creeps through in terms of watch design. The Le Locle line from Tissot is their line of dress watches that take inspiration from traditional watchmakers while combining the aesthetic with the modern tech and affordability we've come to expect from Tissot.
The Tissot Le Locle, ref. T006.407.36.033.00, is a 39.3mm stainless steel watch with gold PVD coating. The silver guilloche dial features complimenting gold Roman numerals. In addition to this classic detail, the dial also features Wessleton diamonds along the perimeter.
Details like this give this $695 dress watch a touch of luxury you normally wouldn't see on a timepiece anywhere near this price range. If you're looking for an impressive dress watch but don't want to blow your entire watch collecting budget on it, this Tissot is a great option to consider.
One of the benefits of being a brand as big as Tissot is that you have the ability to focus on many different styles of watches at the same time. In addition to the dressier side of Tissot, there is also a side of them that is all business, producing very capable dive watches. The first of those we will look at on this list is the Tissot Seastar 1000.
The Tissot Seastar 1000, ref. T120.407.17.051.00, is a 43mm stainless steel dive watch that is capable of reaching depths of 300M or 1000ft. The watch features a unidirectional ceramic bezel, screw-down crown, and crown guards for increased durability for any professional or casual user.
The black dial and bezel combination in this reference is versatile but available in other color combos if you're looking for something a little more adventurous. Although some models will come with a stainless steel bracelet, this model is paired with a durable black textile strap.
Some capable divers can easily sell for thousands or even tens of thousands of dollars, yet this Tissot Seastar 1000 is priced at a modest $725. With a price like that, you might actually afford to be able to take this watch on a proper dive!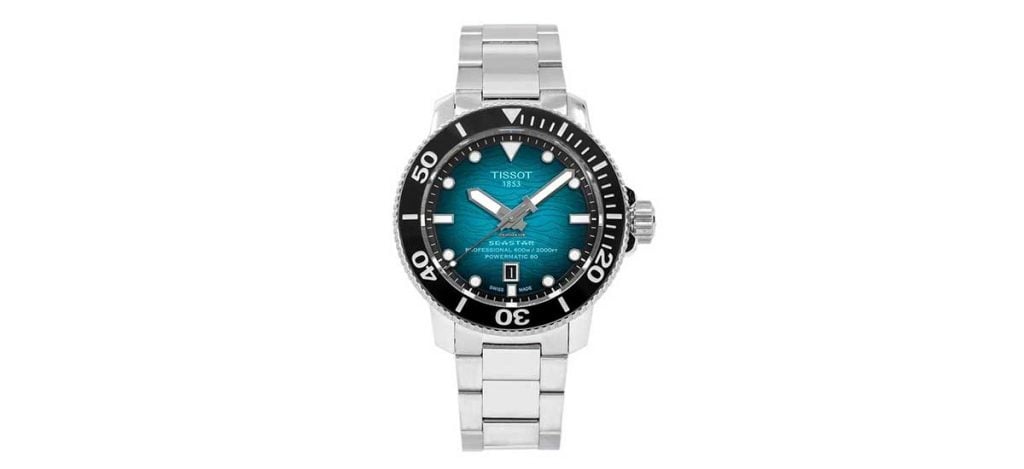 Just when you think 1000ft is overkill for a dive watch, Tissot has to up the ante with a dive watch capable of doubling that feat. The Tissot Seastar 2000 Professional, ref. T120.607.11.041.01, features a 46mm case with a case thickness of 16.3mm and a weight of 206 grams. This watch is an absolute beast and best suited for those with a larger wrist.
The heft is justified when considering the ISO 6425 certification and depth rating of 600M or 2000ft. Despite the overly "tooltastic" design and dimensions, the watch still has a touch of elegance with the graded blue-black dial and wave motif (distinctly different from that on the Omega Seamaster).
The black ceramic unidirectional bezel seems to fade directly into the gradient change on the dial, which really helps give the design a purposeful aesthetic. The bold hands and indices ensure this watch remains legible in low-light conditions.
The Seastar 2000 is a function-first timepiece that can be found for a price that is less than what many others charge for a factory service. At $1075, the Tissot Seastar is a logical choice for any professional diver and perhaps a great illogical choice for anyone that just likes over-engineered timepieces.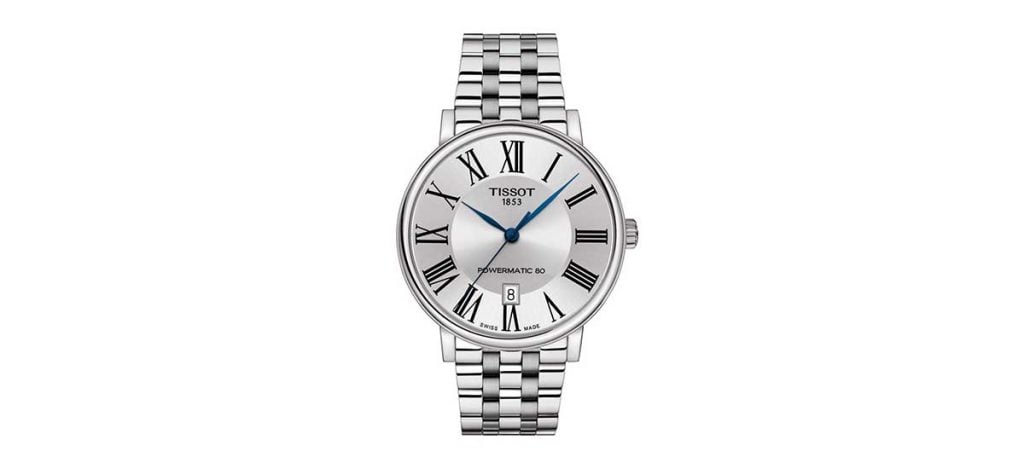 Taking a step back into the world of classical watchmaking, this next timepiece from Tissot presents a familiar formula in a different format. The silver or white dial with black Roman numeral dress watch is not a rare design by any means. Cartier has built their entire product line with this as a central theme to their identity.
Where many of these designs come in rectangular or square cases, there are very few that stick to the standard round case shape. Tissot has done exactly that with this timepiece. The Tissot Carson Premium, ref. T122.407.11.033.00, features a 40mm stainless steel case paired with a 5-link stainless steel bracelet. While having a design that veers heavily into the dress watch category, the round case shape and bracelet give this watch a casual side as well.
The 10.3mm case thickness will be slim enough to slip under almost any cuff, but given its versatility, it may not need to. Coming in at a price of $675, the Tissot Carson is a great option for anyone looking for a more formal design that can play double duty as an everyday wear.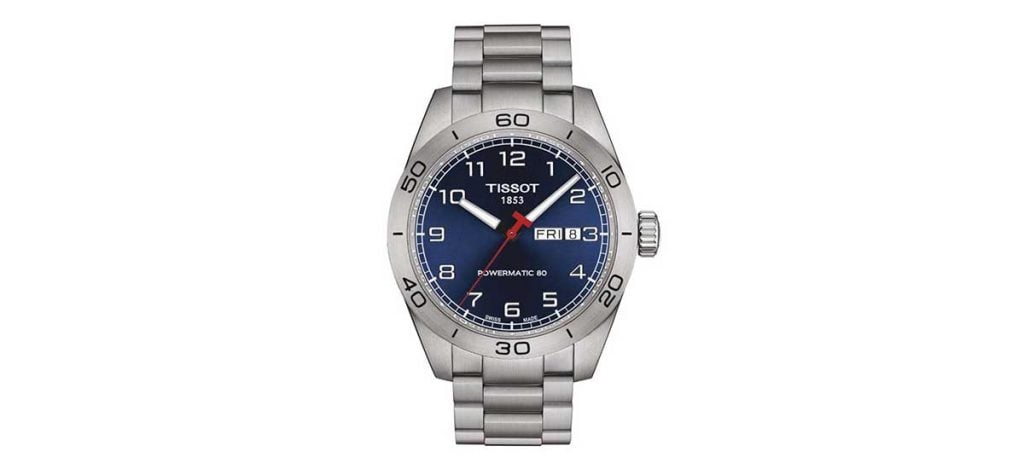 Now that Tissot is firmly on many enthusiasts' radars when it comes to value-packed watches, there aren't many that fall into the category of underrated or undiscovered. This next timepiece is one that genuinely surprises me. It has a history dating back to 1965, a sporty look with a timing bezel, and a robust 100 Meters of water resistance.
Given the value proposition that Tissot is known to bring, the fact that this watch is not talked about more is a shock to me. The Tissot PRS 516, ref. T131.430.11.042.00, features a 42mm stainless steel case with an interchangeable quick-release bracelet.
Several versions of this watch are available, but this particular reference sports a vivid blue dial accented with full Arabic numerals and a pop of red with the signature T-shaped seconds hand. This watch is inspired by classic sports cars, which is evident by the steering wheel design on the sapphire case back of the watch.
As an additional bonus, the watch features a day and date feature, which you don't see on many Tissot watches. Coming in at a price of $725, I would expect this watch to garner as much, if not more, mainstream attention as some of the other watches on this list.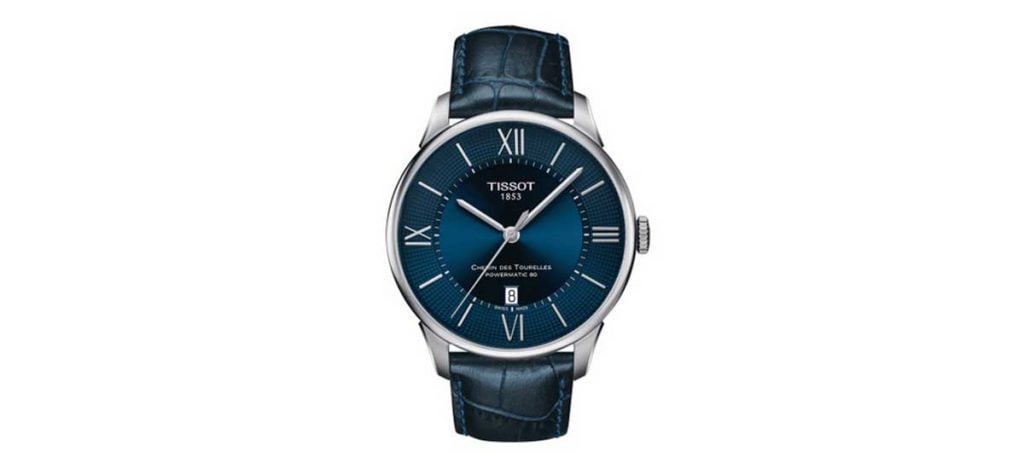 While I have praised many of the traditional examples of Tissot's dress watch design on this list, there is something about a unique take on the style that I truly appreciate. Think FP Journe as opposed to Breguet. You would be incredibly lucky to own either of these watches, but one does have a more playful side, while the other seems more serious.
The Tissot Chemin des Tourelles, ref. T099.407.16.048.00, is a 42mm stainless steel dress watch. I know what you're thinking; 42 mm is way too big for a dress watch! In general, I agree, but this timepiece gets a pass from me. The blue dial on this watch is, simply put, one of the best-looking dress watch dials under $1000.
It absolutely steals the show for this watch, and if your watch is ever going to stand out for its size, you want it to be with a dial like this. The Roman numerals at 3-6-9 give this watch a more casual feel that allows the watch to be worn on more than just formal occasions. Coming in at a price of $775, this might be the closest you can get to a Chronomet Bleu for under $1000.
The magic of what powers the mechanical marvels on our wrists is something that can be enjoyed by all collectors, both new and old. Many watches will offer a see-through caseback allowing the wearer to witness their movements in action. What if you're the type of person that gets as much enjoyment out of this view as you do the actual dial of the watch? Thankfully Tissot has got you covered.
The Tissot Tradition Open Heart, ref. T063.907.16.058.00, is a 40mm stainless steel watch that features a simple dial and sharp dauphine hands. To break up the simplicity of this dial, Tissot utilizes what is known as an "open heart" dial. There is a cut-out in the front of the dial that allows you to see the escapement of the watch in action while simultaneously being able to wear your watch and tell the time.
This type of dial represents a great middle ground between a skeletonized dial and a traditional layout. The watch is paired with an alligator-style leather strap and features a very slim 9.3mm case thickness. Coming in at $725, this is the quintessential dress watch from Tissot that has a fun party trick built right into the dial.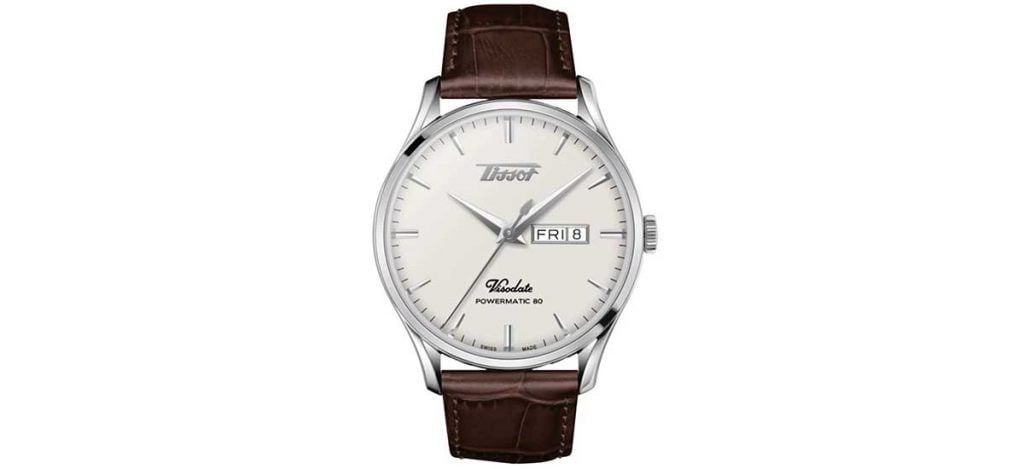 Before the success of the PRX and the Gentleman, there was always one watch that achieved mainstream success for Tissot. In many ways, this watch has fallen off collectors' radar, but it is worth every bit of attention it receives.
The Tissot Heritage Visodate, ref. T118.430.16.271.00, is a 42mm stainless steel watch that recreates the original design from the Visodate of the 1950s. The vintage Tissot logo is present on the dial and helps to give credibility to the vintage design.
The 42mm case dimension roots this watch comfortably as a modern timepiece matching the internal improvements over the original. The Visodate features twisted lugs, which are a nice call back to the time period and complement the aesthetic nicely.
If you are looking for a watch that has a modern specification and size yet looks like it was produced 60 years ago, you can't do any better than the Tissot Visodate at $675.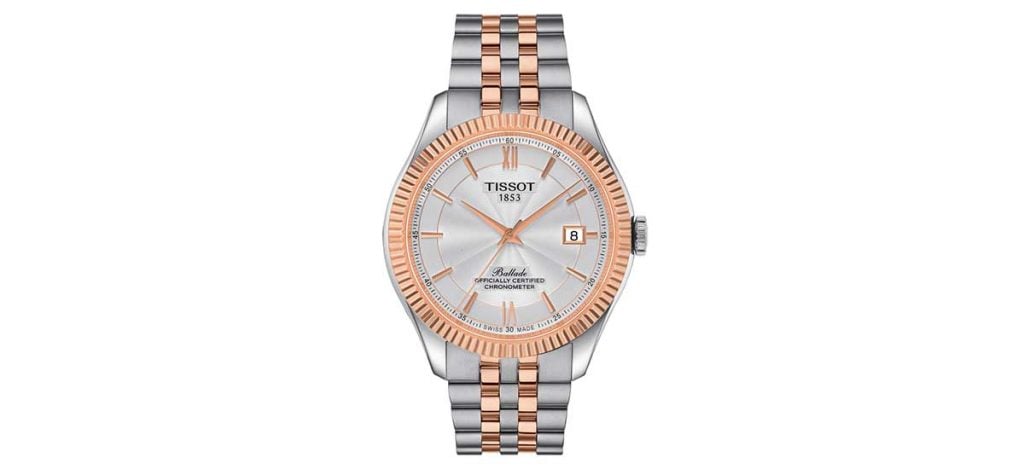 If the Tissot Gentleman is the best affordable alternative to the modern Datejust, this next model from Tissot is the one that gives it a run for its money. The Tissot Ballade, ref. T108.408.22.278.00, features a 41mm stainless steel case with gold PVD fluted bezel and center links on the bracelet.
There is no mistaking the resemblance between this watch and the Rolex it found its inspiration from. The silver opaline dial with guilloche pattern and contrasting gold indices flow together effortlessly and help to give this watch a distinct personality of its own.
If you're looking for a watch with as much visual presence as a modern 2-tone Rolex Datejust, you'd be hard-pressed to find anything that does it better than this reference. When you factor in that this watch comes in at a price of $1075, roughly 10% of its Rolex alternative, the value of this watch becomes crystal clear.
Versatile watches that can be casual and dressy are a segment of the market that Tissot excels at. When looking at many of the watches on this list, two inspirations become evident for their design. First is the inspiration from other well-established luxury watch brands, and the other is peering back into their historical archives.
This next versatile watch breaks the mold in terms of design and inspiration. The Tissot Luxury, ref. T086.407.22.097.00, is a 41mm stainless steel watch with a gold PVD smooth bezel. The unique construction of the case sees a gold PVD case back and crown united by a stainless steel mid-case that appears to have a weave pattern.
The design is very distinct and helps this watch stand out from the many other watches in the lineup that serve the same purpose. The green stepped dial pops, especially when paired with the matching gold indices to the case.
There is a small strip of PVD gold through the Oyster style bracelet that helps to unify the design of the case and bracelet. This watch is quirky, but at $925, it is a watch that deserves your consideration if you are in the market for a sub $1000 versatile watch.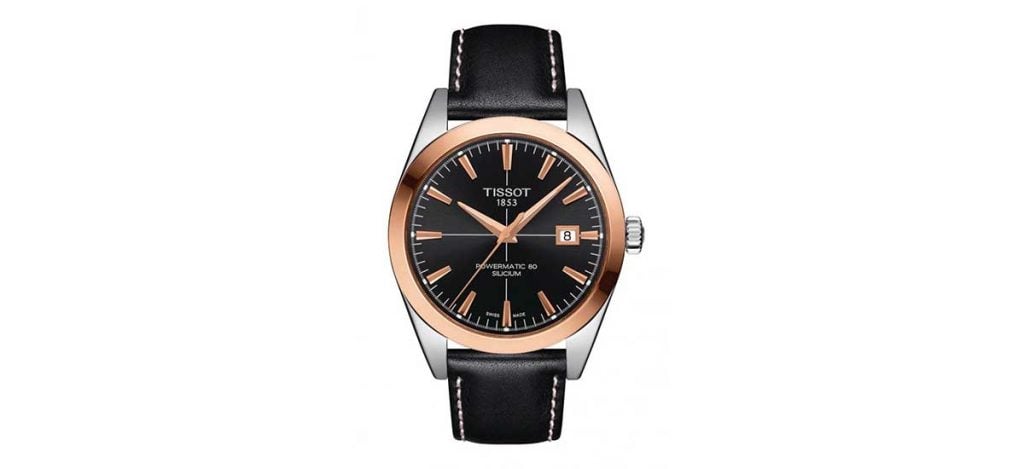 The Tissot Gentleman is a watch that has already been mentioned on this list but deserves another mention, given the popularity and versatility of the product line. The Tissot Gentleman 18K Gold Bezel, ref. T927.407.46.051.00, features the same 40mm stainless steel case that made the original such a success.
Tissot did something with this model that they very rarely do; they gave this watch an 18k rose gold bezel. Being on the value end of the spectrum, almost anytime you see gold on a Tissot watch, it will come in the form of a gold PVD coating. 
These coatings are excellent alternatives to give the aesthetic of gold at a lower price, but there is something about the feel of real gold. This watch is given matching rose gold indices on a sunray black dial for contrast.
As expected, this version of the Gentleman receives a price bump over the original, now coming in at $1575. Although that is a fairly sizable increase, there are almost no alternatives for a true 2-tone watch in this price range.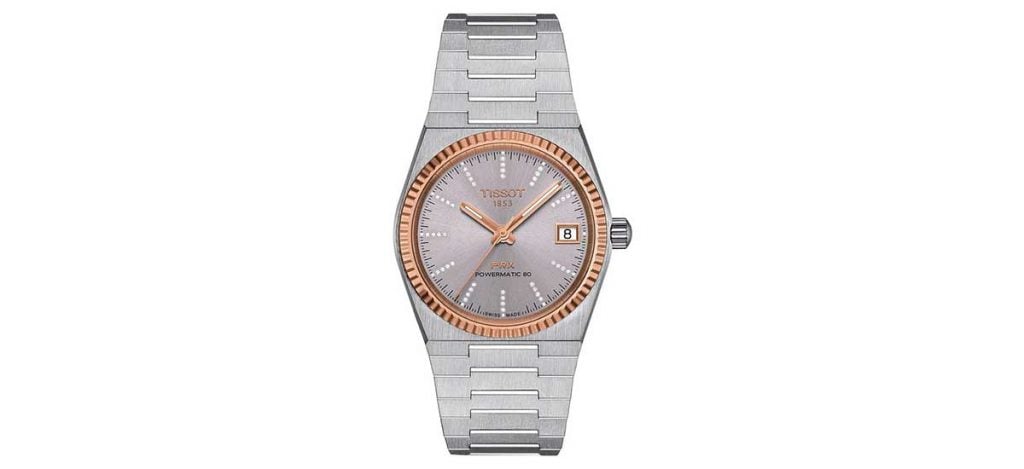 Just when you think Tissot stepped out of their comfort zone with the Gentleman with an 18K gold bezel, this next watch cranks it up to 11. The Tissot PRX 35mm 18K Gold Bezel, ref. T931.207.41.336.00, is a PRX watch with a smaller 35mm stainless steel case with an 18k gold bezel and an integrated steel bracelet.
What really takes this reference to the next level is their use of top Wesselton diamonds for the indices on the gray sunburst dial. The rose gold bezel is complemented by the matching handset and applied logo. This watch is marketed as a lady's watch, but it's 2023, so you can wear whatever watch you like.
This watch is anything but subtle, and that's not something Tissot is necessarily known for. At $1925, this is a fun watch that I could see many couples sharing. I think I might have a gift idea for my next anniversary (if only I could remember when it was!).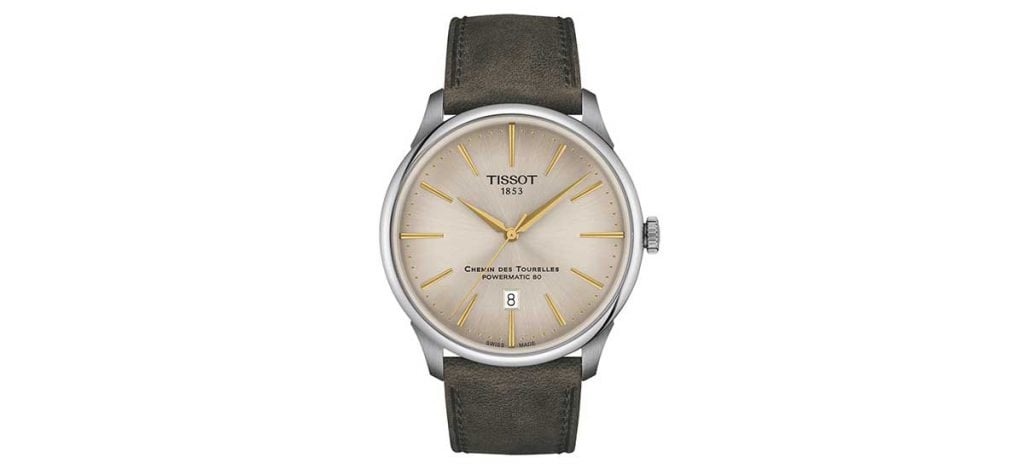 Do you remember the days when a 34mm watch was considered the average size for a wristwatch? Yeah, me neither, but that doesn't mean I don't enjoy the watches from the era. The 1950s and 1960s produced millions of classically designed 34mm dress watches that happen to look great on my slender wrist.
While there is no doubt a lot of charm in wearing a watch twice my age, durability has always been a concern. If you find yourself in a similar predicament, Tissot has us covered, and they seemed to do it unintentionally.
The Tissot Chemin des Tourelles 34mm, ref. T139.207.16.011.00, is a 34mm stainless steel watch with a date function. Much like the 35mm PRX, Tissot has decided to position this watch as a woman's watch. Sure, the smaller dimension will look great on most women's wrists, but I think it will also look great on many men's wrists as well.
The white dial, sharp leaf hands, and the case size look like they were plucked right out of the 1950s. However, the modern Powermatic 80 movement, sapphire crystal, and 50 Meters of water resistance ensure that you won't need to baby this watch.
Coming in at a price of $725, you can afford to pick up a couple of distressed leather straps to help play to the watch's vintage aesthetic. I don't think that Tissot did this on purpose, but if you are looking for a true vintage-inspired watch with modern specifications, this is the best option under $1000.
Conclusion
There you have it, 15 of the best Tissot Powermatic 80 watches. I am amazed by the amount of variety and value that Tissot can bring to the entry-level luxury market. By having a class-leading powerhouse movement inside, Tissot allows their design to do all the talking.
This is something that I would have never imagined when I first started collecting watches, but Tissot is thriving! Whether you're looking for the latest hype watch, a capable dive watch, or a classically designed dress watch, Tissot has you covered.
Thanks to their Powermatic 80 beating away flawlessly under the case back, if you're in the market for a new entry-level luxury watch, you can allow your lifestyle to make a choice for you without worrying if the internals can keep up.
Happy Watch Hunting!
About Exquisite Timepieces
Established in 1998, Exquisite Timepieces is your one-stop shop for all things luxury watches! We are an authorized dealer for 60+ luxury watch brands including Omega, Hublot, Seiko, & Longines! We are proud to showcase one of the world's largest pre-owned watch collections, including renowned brands like Rolex and Patek Philippe. Check out our brand new watch arrivals here and popular pre-owned listings here.