Tissot Watches Review: Are They Worth YOUR Money?
With a heritage spanning over a century, Tissot has carved a niche for itself as a revered Swiss watchmaker, pushing the boundaries of craftsmanship and innovation. However, due to the range in affordability of their watches, with some being (ahem) relatively cheap, many people wonder how well Tissot represents the notion of Swiss horological excellence. In other words, are Tissot watches any good?
When it comes to Tissot, despite what many think, quality is the undisputed cornerstone. Although most Tissots aren't reinventing the wheel, they are built to exacting standards using carefully sourced, high-quality materials.
Tissot's commitment to accuracy is unwavering, as exemplified by its precise movements, which are certified by esteemed authorities to varying degrees. From precision-driven quartz models to timeless mechanical wonders, Tissot offers a range that caters to the diverse tastes of discerning watch enthusiasts.
But it doesn't stop there. Tissot understands that a great watch is defined by more than just its tech specs. Watches need to look good, and boy, do some of these watches catch the eye. Let's take a deeper look at Tissot and some of their more well-known timepieces.
Misunderstood Masterpieces – About Tissot Watches
To my mind, Tissot's design philosophy can be summed up in four words: classic with a twist. They take timeless aesthetics and inject a dash of modernity, resulting in watches that are both familiar and intriguing. The devil, as they say, is in the details.
Tissot excels at infusing their timepieces with intricacies that reveal themselves upon closer inspection – a captivating dial texture, an unexpected color combination, or an elegantly sculpted case. These design elements, often overlooked at first glance, lend an air of sophistication to many Tissot watches.
One prime example of Tissot's design prowess is the Tissot Le Locle, a watch that pays homage to the brand's birthplace in Switzerland. With its Roman numerals, refined indices, and a touch of vintage charm, the Le Locle is a true embodiment of class. Another standout is the Tissot PRX collection, which presents a fusion of crisp modernity and sporty charm that has taken the buyer's market by storm.
Tissot's design language is as diverse as it is captivating. From complex chronographs to minimalist dress watches, they cater to every taste and occasion. Next time you encounter a Tissot watch, take a moment to appreciate the artistry behind these misunderstood masterpieces rather than wondering how good it could be compared to a Rolex or an AP – watches that are, for better or worse, in a different class altogether.
A History Of Tissot Watches
It all began in 1853 when Charles-Félicien Tissot and his son Charles-Émile founded the Tissot company in the picturesque Swiss town of Le Locle. From the beginning, Tissot set its sights on pushing the boundaries of watchmaking.
They were among the first to embrace mass production, ensuring their meticulously crafted timepieces reach a wider audience without compromising quality. This decision reverberates through Tissot's manufacturing process today, enabling the company to create impressive watches at even more impressive costs.
Throughout the years, Tissot has navigated the ebb and flow of horological trends, leaving an indelible mark on the industry. One such milestone was the introduction of the Tissot Antimagnetique in 1930, a groundbreaking watch that resisted the detrimental effects of magnetic fields—a testament to Tissot's commitment to technical innovation.
Another iconic piece in Tissot's chronicles is the Tissot Navigator, launched in 1951. This pioneering watch was designed with aviators in mind, boasting a navigational slide rule for precise calculations – an invaluable companion for those taking to the skies.
Fast forward to the present, and Tissot continues to captivate watch enthusiasts with their contemporary offerings. The Tissot Heritage collection pays homage to their illustrious past, resurrecting vintage designs with a modern twist with great success. This is all to say that when a Swiss brand can do dress, tool, sports, and everyday watches with a respectable degree of quality, they deserve respect, no matter what name is on the dial.
Are Tissot Watches Any Good?
There are numerous reasons why one might consider buying a Tissot watch – they're affordable, stylish, and well-built. On the flip side, entry-level Tissot watches can feel a bit clunky and, for lack of a better word, basic.
A lot of the flack that Tissot gets is a result of the market's perception of the brand's status among geographically comparable firms – Tissot resides at the top of the mid-level of Swiss watch manufacturers, which, considering their competition, is an impressive status indeed.
An Excellent Entry Into The Swiss Watch Market
For those eager to dip their toes into the prestigious waters of the Swiss watch market without breaking the bank, Tissot offers a world of choice. Renowned as a respected Swiss watch manufacturer, Tissot strikes a harmonious balance between affordability and quality, making it an excellent entry point for watch enthusiasts.
While Swiss watches are often associated with lofty price tags that rival the altitude of the mountains among which they are made, Tissot offers some refreshing alternatives. Their commitment to accessibility without compromising craftsmanship has earned them a special place in the hearts of aspiring horological connoisseurs. So many people I know started their watch collections with a Tissot, and many still love their first ticker as much as the others that now occupy their watch boxes.
Tissot's competitive pricing does not mean skimping on essential components or cutting corners in production. Each Tissot timepiece bears the mark of Swiss excellence, meticulously assembled with fine materials and driven by reliable movements. Make no mistake – Tissot watches still possess the DNA of the Swiss watchmaking tradition.
A Variety Of Watch Designs And Types
Tissot understands that watch enthusiasts are a diverse bunch with varying tastes and preferences, and they cater to this with an impressive array of watch designs and types that ensure no wrist is left wanting.
Whether your heart beats faster for a classic dress watch or a rugged sports companion, Tissot has got you covered. The Tissot Visodate, a timeless icon with its clean dial and vintage-inspired charm, or the Tissot Le Locle, a tasteful tribute to their Swiss heritage with elegant details and refined aesthetics, are two examples of the brand's more dressy offerings.
However, if you're a lover of the outdoors or a sports enthusiast, Tissot's sporty pieces, such as the T-Race or Seastar, are bound to capture your attention. Bold and dynamic chronographs and robust dive watches are among the vast lexicon of Tissot horology and provide stunningly affordable technicality in a world of bank-breaking timepieces.
Value For Money
With their unwavering commitment to functionality, materials, build quality, and designs, Tissot watches are a compelling alternative to their more expensive counterparts. For the seasoned collector, this may not sound like enough reason to get into the brand, but for green-eared newbies, Tissot has become a bastion of realism and opportunity.
When it comes to materials and build quality, Tissot holds nothing back. Their watches exude an air of sophistication that belies their accessible price points. From stainless steel to ceramic and sapphire crystals to intricate dials, Tissot delivers quality that lasts and projects a definite sense of dignity while doing so.
You'll be hard-pressed to find watches in the sub-$1000 price range that can rival a Tissot. Yes, you might look at Longines or Hamilton for comparable prices, but I can almost guarantee that you'll be relatively starved for choice. Few other mid-range brands, aside from our Japanese friends at Seiko and Citizen, have as vast and impressive an array of watches as Tissot.
Swiss-Made Movements
When it comes to the beating heart of a watch, you can be sure of one thing – Tissot would have been laughed out of Switzerland long ago if they cut corners on their movements. They understand this, and that's why their timepieces all contain Swiss-made movements, epitomizing accuracy and reliability.
The craftsmanship and precision that go into these movements set them apart from their non-Swiss counterparts, elevating the quality of Tissot watches to impressive heights. The superiority of Swiss-made movements lies in the combination of artistry and engineering.
Each movement is a symphony of gears, springs, and jewels orchestrated to create a harmonious dance of timekeeping. The result is a horological masterpiece that not only measures the passage of time but also represents the pinnacle of mechanical craftsmanship.
One has to be realistic, though – a $600 watch's movement is never likely to be as accurate as that of a $30,000 timepiece. That's life. While there's little advantage in comparing Tissot and Patek Philippe's movements, what can be said is that for your money, the movement of a Tissot is likely the best you'll find outside of Japan. And with the Japanese leading the charge in pioneering watch technologies, that's really saying something.
Most Notable Tissot Watch Collections
Tissot has cemented its reputation as a brand that marries Swiss precision with captivating designs at digestible price points. As prospective buyers navigate the world of Tissot watches, several collections will stand out. The PRX collection, with its sleek integrated bracelet and contemporary allure, offers something a bit edgier in its modernity.
The Gentleman collection, on the other hand, captures a sense of timelessness – refined designs and sophisticated finishes ensure this. For those with a taste for adventure, the Seastar collection combines rugged durability with nautical-inspired design elements.
Meanwhile the Heritage collection, my personal favorite if only for its variety, pays homage to Tissot's illustrious past, reviving vintage designs for the current collector. Last but certainly not least, the Le Locle collection captures the essence of Swiss watchmaking tradition, showcasing exquisite craftsmanship and ageless appeal.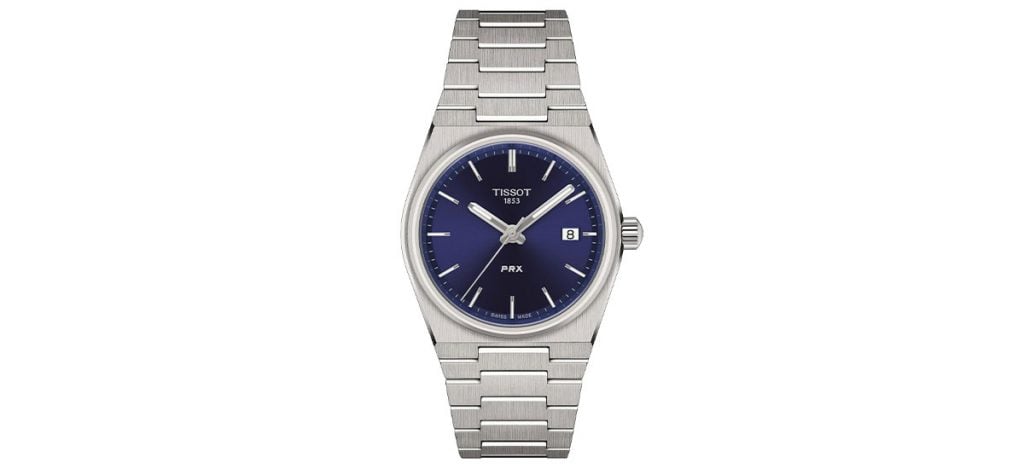 Designed to make a bold statement on the wrists of trendsetters, the PRX collection offers a harmonious blend of style and functionality. Available in both quartz and automatic variations, this collection caters to individual preferences, with different sizes and an array of captivating colors to choose from.
For those seeking a touch of sportiness, the PRX collection even includes a chronograph version, the PRX Automatic Chronograph, which is perfect for timing life's more exhilarating moments. With an integrated bracelet, the PRX exudes a sleek and cohesive design, but more importantly, it's comfortable. For those who love a bit of flash, there's a yellow-gold PVD-coated option, and for everyone else, scores of stainless steel iterations are available with a multitude of dial colors.
Choose from either the Powermatic 80.111 automatic or the quartz ETA F06.115 movement, both of which provide more accuracy than you'll ever need. The PRX range is slim, sexy, and piercing, speaking to the soul of the contemporary fashionista with such success that the company has had to limit sales on its website just to keep up with demand.
Tissot Gentleman
If you feel at home in a suit or at a high-end dinner party but don't necessarily want to spend many thousands of dollars on a wristwatch, the Tissot Gentleman Collection is here for you. These watches are more than mere accessories; they are a statement of refined taste and sophistication and while they won't often be the fanciest watch in a crowd, they will compliment any cuff you wear them under.
Available on both a bracelet and a soft leather strap, Tissot's Gentleman can be as formal as you need. One standout within the collection is the open-heart watch, which proudly showcases the intricate inner workings of the timepiece. Moreover, for those seeking a touch of opulence, the Gentleman Collection even offers two-tone versions, some with 18K gold bezels, which seamlessly blend stainless steel with warm gold tones.
Most of the Gentleman watches come with automatic movements, which somehow just feels right – quartz hardly says 'dress up' to me. A favorite of mine in this collection is the Powermatic 80 Silicium, with a 40mm stainless steel case, date window, 3-link bracelet, and crosshair lines on an indexed green dial. It's subtle yet proud, and for $795, it simply cannot be overlooked.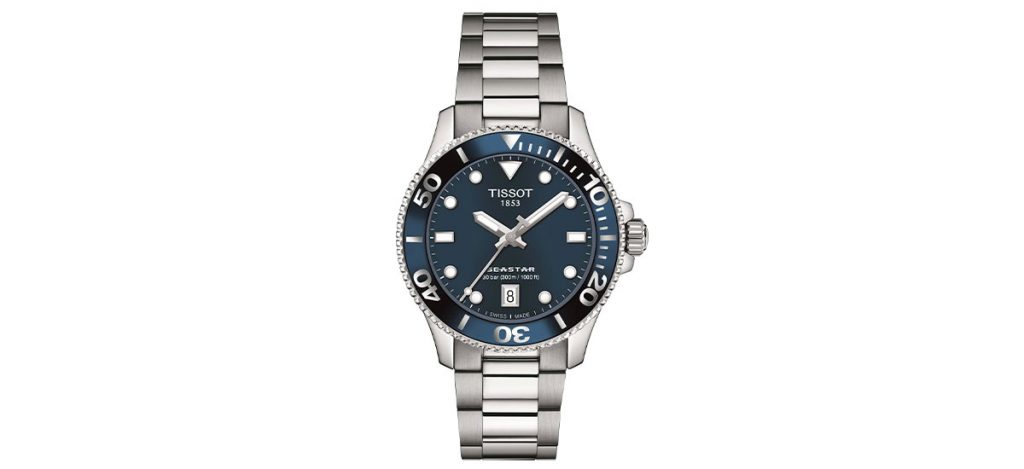 What about a watch for divers? Enter the Tissot Seastar Collection. Crafted with the spirit of the sea in mind, these tickers are purpose-built for those who are after water-borne thrills. With a range of classic and sporty designs, the Seastar Collection caters to both the style-conscious diver and the daring adventurer.
Although you'd expect a more technical watch, such as a diver, to command a higher premium, that's not the case with the Seastar range. The collection's most expensive watch currently available is the Seastar 1000 Powermatic 80 GMT, which is priced a smidge higher than all of its sub-$1000 peers due to the complexity of its 4-handed movement.
Most of the Seastar range watches go for somewhere between $375 and $575, and despite this, they look and feel like genuinely hardy tool watches – big bezels, crown guards, ISO certificates, lumed hands, and sporty straps all come together to convince buyers that these aren't play-play pieces. They're arguably the most reliable and hard-wearing timers in their price range.
Tissot Heritage
The assortment of timepieces that is the Tissot's Heritage collection is something to be excited about. This collection stands as a testament to the brand's dedication to preserving the beauty of bygone eras while infusing them with contemporary flair.
These watches exhibit a delightful fusion of intricate detailing and minimalist aesthetics, each capturing the essence of different historical periods. From the classic charm of the Visodate Powermatic 80 – clean dial, sharp hands, and vintage allure – to the racy boldness of the Heritage 1973 chronograph, this collection truly offers something for everyone.
Most of these watches have an open caseback, through which movements such as the Telemeter's updated Valjoux A05.231 automatic can be viewed, and I believe everyone should afford themselves the opportunity to at least take a look at one of these. If you're after a timepiece that straddles the line between antiquity and novelty with technical aplomb, look no further than the Heritage collection.
Le Locle, a name that resonates with a legacy of distinction, is a testament to Tissot's commitment to the art of horology. Not only does the name denote Tissot's ancestral abode, nestled amidst the majestic Swiss Jura Mountains – it also groups together a revered lineage of automatic timepieces known and respected worldwide.
These fantastic watches embody a captivating grace, adorned with refined, old-world embellishments like Roman numerals, guilloche dials, and the iconic Le Locle insignia, all exuding a subtle air of majesty.
Primarily focused on a demure dress style, many of which are women's watches, the Le Locle Collection caters to those who desire modesty but appreciate panache. Each watch within the collection proudly showcases Tissot's expertise in automatic movements – there are no quartz options here – and these movements are visible behind specially-engraved semi-open casebacks unique to the Le Locle Collection.
Do Tissot Watches Hold Their Value?
Like many other mid-range watch brands, Tissot tries to cover a reasonably broad price spectrum, catering to both the budget-conscious and those seeking a touch of luxury. With that being said, their most expensive watch will run you roughly $3500, while their cheapest costs a mere $250.
It's a price playground for every kid. While no crystal ball can guarantee investment success, Tissot's reputation is worth something, and their watches certainly aren't poorly built.
Of course, appreciation can vary across models, but Tissot's blend of affordability, heritage, and refined aesthetics can be a recipe for enduring value. Gold models such as the Excellence Atomic 18K will likely carry their worth forward more than entry-level Tissots, so if you're after a Tissot that you hope to sell for a decent wedge later on, your best bet is to throw down good money from the get-go. Don't expect to sell a $300 watch for $250 after five years of wear, and you'll be OK.
Should You Buy A Tissot Watch?
To Tissot or not to Tissot, that is the question. Let's weigh the pros and cons. On the positive side, Tissot offers an enticing blend of Swiss heritage, impeccable craftsmanship, and diverse designs. Their watches cater to various budgets, with Swiss-made movements ensuring precision. Moreover, some of their timepieces often hold their value over time.
However, there are a few considerations to keep in mind. Tissot, for all of its gifts, simply does not have the exclusivity of other luxury brands. Furthermore, despite my exaltations about the build quality of their watches, with a Tissot in one hand and an Omega in the other, the difference becomes blatantly obvious.
Additionally, their entry-level models may lack the same level of refinement as their higher-end counterparts, but that's just the way it goes. Ultimately, purchasing a Tissot watch rests on your priorities, budget, and taste. If you're after a Swiss watch on a budget, a Tissot may be your best bet for the quality or bragging rights alone.
Tissot – Great Watches, To A Point
This is the part, I suppose, where I should answer the title question with an emphatic "Yes!". While I could do that, I won't. Not because Tissots aren't any good but because they're not so good that they deserve emotional outpourings (except for a couple of watches in the Heritage collection).
These watches are, for the most part, just fine. Good enough to measure the time without being stubbornly inaccurate or offensively ugly. Most Tissots look nice enough to wear to any occasion (just don't expect any wide-eyed compliments) and work well enough to keep you on time, day in and day out.
With Tissot's reputation and past, you're really paying for more than the metal and leather that'll sit on your wrist. You're buying into a slice of horological history. The best part about any watch is getting to know it – who made it, why it looks the way it does, and what came before it. This is no different with Tissot. In fact, it's arguably the reason why you should get one.
About Exquisite Timepieces
Established in 1998, Exquisite Timepieces is your one-stop shop for all things luxury watches! We are an authorized dealer for 60+ luxury watch brands including Omega, Hublot, Seiko, & Longines! We are proud to showcase one of the world's largest pre-owned watch collections, including renowned brands like Rolex and Patek Philippe. Check out our brand new watch arrivals here and popular pre-owned listings here.