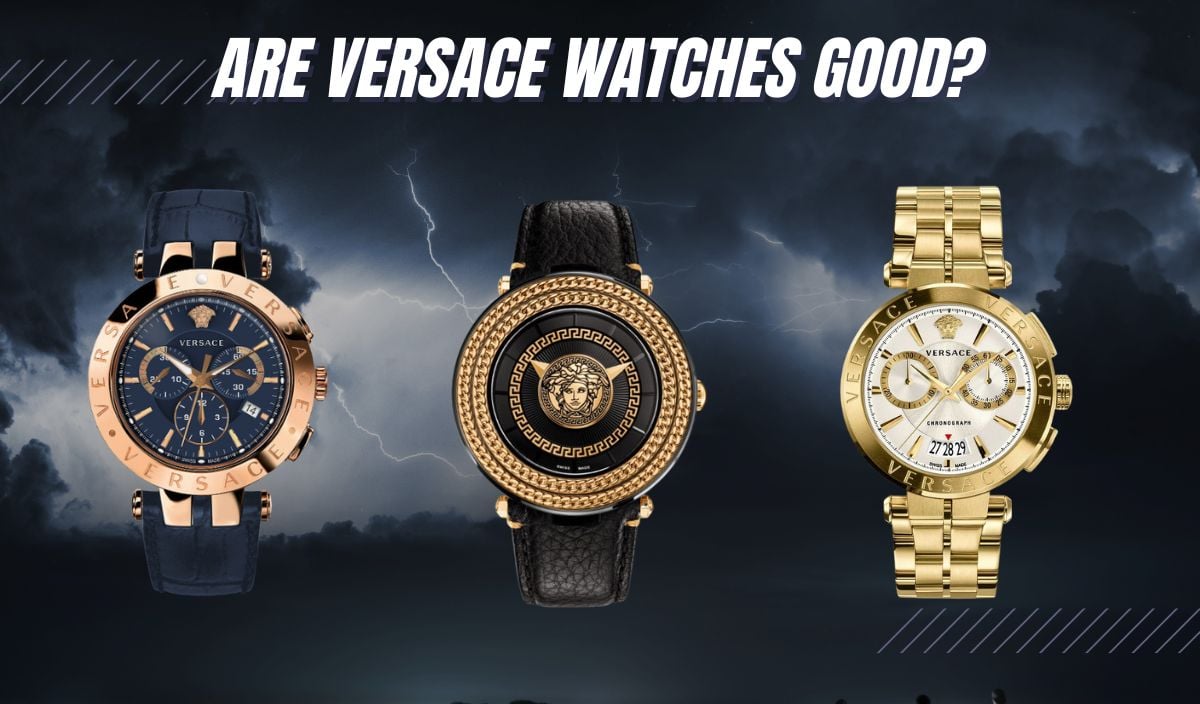 Are Versace Watches Good? (Or Just For Fashionistas?)
In our comprehensive review of Versace watches, we embark on an exciting journey to uncover their true worth. We analyze their pros and cons, review their collections, and guide you in deciding whether a Versace watch is a good fit for your style.
Recognizing that personal preferences vary, we also present alternative brands worthy of your attention. Whether you seek timeless sophistication, technical precision, or groundbreaking innovation, our curated selection of alternative luxury watch brands ensures you explore relevant options.
By the end of this article, armed with our insights and expertise, you will possess a comprehensive understanding of Versace watches and their place in the world of horology. Get ready to make an informed choice that reflects your unique style and sensibilities.
About Versace Watches
Versace watches cater to both ladies and gents, embracing the world of fashion on wrists. They serve more as fashion accessories that elevate ensembles than as timekeeping objects.
The price of Versace watches, ranging from $495 to $4495, reflects the brand's opulence and luxury. While expensive for what they offer, they align with the exclusivity and allure associated with Versace.
Accordingly, traditional watch enthusiasts may not regard Versace watches as quality timepieces. Ultimately, Versace watches make fashionable statements, embodying the brand's glamorous aesthetic.
The History of Versace
Gianni Versace, growing up in Reggio Calabria, developed his passion for fashion while working for his mother's sewing business. He became a renowned designer and opened his own boutique in Milan in 1978. Versace revolutionized the industry by using multiple elements in the same dress and taking his runway shows to major markets.
His marketing genius included using supermodels and high-level photographers for campaigns and dressing celebrities such as Princess Diana, Elton John, and Jennifer Lopez. In 1992, he moved to Miami and established the iconic Versace Mansion. Tragically, he was shot and killed in 1997, and his sister Donatella took over as creative director.
Donatella, as his muse, continued the brand's success. Gianni's designs were unique, sculpted directly on mannequins, and he challenged gender barriers with his innovative approach. Versace was known for his extravagant and lavish style, celebrating the power of women. Donatella injected her own spirit and innovation into the brand, focusing on pop culture and collaborating with musicians like Jennifer Lopez.
The Versace story is rooted in family values, and despite Gianni's passing, the brand thrived under Donatella's vision. Their resilience and impact on the global fashion industry have solidified Versace's position as a heavyweight in the industry.
Are Versace Watches Good?
Very Overpriced Watches
Versace watches are often considered overpriced due to their shortcomings compared to other brands in the same price range. They lack the traditional artisanal craftsmanship found in competing brands, which diminishes their perceived value.
Additionally, the movements used in Versace watches are seen as inferior to their competitors, raising doubts about their overall quality and performance. The absence of meticulous attention to detail and finer finishes further contributes to the perception that Versace watches may not offer the same level of craftsmanship as other luxury brands in their price range.
Cheap Swiss Quartz Movements
Versace watches fall short in the realm of watchmaking due to their use of cheap quartz movements. Quartz movements, while affordable and mass-produced, lack the intricate craftsmanship and horological artistry of mechanical movements.
Watches equipped with ETA, Sellita, Valjoux, or in-house manufactured movements showcase superior accuracy, durability, and traditional craftsmanship. In contrast, Versace watches do not offer the same level of mechanical sophistication and craftsmanship, hindering their appeal to watch enthusiasts.
Depreciate in Value Significantly
Versace watches depreciate due to their lack of brand recognition as dedicated watchmakers. Their reputation lies in luxury fashion, unlike renowned watchmaking brands.
The production of Versace watches in indiscriminate quantities diminishes their exclusivity and desirability. Their lower quality, including cheap materials and quartz movements, also disappoints compared to watches emphasizing craftsmanship.
Finally, Versace watches lack significant cultural impact (as opposed to what the original Swatch did with an even cheaper watch), limiting their desirability and value in the secondary market.
Lack Brand Prestige in Watchmaking
In my opinion, one of the reasons why Versace watches may lack brand prestige in the watchmaking industry is their primary association with the luxury fashion world. While Versace is renowned for its fashion designs and accessories, the same level of emphasis and recognition may not extend to its watches.
This distinction is evident when exploring Versace's website, where watches are often categorized as a subcategory within the broader accessories section. In contrast, luxury fashion brand Hermès offers an interesting counterexample. Hermès has established a notable and generally respected watch collection by adopting a resolute approach to excellence in their watchmaking endeavors.
They have successfully infused their watches with the brand's universe, creating timepieces that reflect their distinct craftsmanship, attention to detail, and dedication to quality. By focusing on watchmaking as a product category in its own merit, Hermès has garnered recognition and respect within the horological community.
The positioning of Versace watches as a subcategory within the accessories section rather than as a standalone category indicates that watches are not a primary focus for the brand. This distinction can impact the perception of Versace watches as reliable timepieces with their own horological significance.
While Versace's fashion background adds a certain allure to its watches, the lack of a clear and distinct watchmaking identity has hindered its ability to establish a strong presence and reputation in the watch industry.
However, while Versace watches may have their shortcomings, they can still hold appeal for certain customers. In the following sections, we will delve into the reasons why some individuals may find Versace watches exciting and explore the unique aspects that the brand brings to the table.
From their bold and distinctive design aesthetic to their association with the world of fashion and luxury, Versace watches have the potential to resonate with customers who prioritize style and self-expression. So, let's explore further to understand why Versace watches may still captivate a specific audience.
Bold & Eye-Catching Designs
When it comes to design, Versace watches are in a league of their own. They go beyond the boundaries of conventional watch aesthetics, daring to make a bold statement. The visual elements incorporated into their designs are not just mere embellishments but powerful symbols that embody the essence of the Versace brand.
One of the most iconic symbols seen in Versace watches is the Medusa face, derived from the Versace logo itself. This distinctive motif is present on most of their dials, capturing attention with its striking presence.
The Medusa, with its intricate details and mythical allure, adds a touch of mystique and grandeur to the timepiece. It's a symbol of power, strength, and beauty, reflecting the bold and fearless spirit of the Versace brand.
In addition to the Medusa, the Greca symbol is another key element that defines Versace watches. The Greca, inspired by ancient Greek architecture, can be found adorning the bezel or incorporated as a pattern on the dial.
This intricate motif, with its repetitive geometric patterns, exudes a sense of timeless elegance and sophistication. It serves to showcase Versace's dedication to creating visually captivating timepieces.
What also sets Versace watches apart is their fearless approach to color. Versace is renowned for its vibrant and daring color palette, and their watches are no exception. They embrace the power of contrasting colors, combining bold hues to create a visually stunning and harmonious composition.
It's an invitation to step outside the ordinary and embrace the extraordinary. For watch enthusiasts who crave originality and a fashion-forward approach, Versace watches hold a special appeal. They offer a unique opportunity to express individuality and stand out from the crowd.
Swiss-Made Durable Watches
On the topic of quality, Versace watches adhere to the Swiss-made tradition, embodying the standards and principles that define Swiss craftsmanship. While they may not be considered the best-in-class among Swiss watches, they still meet the high expectations associated with Swiss quality.
Versace watches are designed to be resistant, reliable, and durable, capable of withstanding the tests of time. They undergo rigorous testing and quality control procedures to ensure that each watch meets the industry standards. From the selection of materials to the assembly process, every step is executed with precision and care.
Most Notable Versace Watch Collections
The Dominus Collection by Versace is a remarkable assortment of men's watches that flawlessly combines style and substance. With their tonneau-shaped cases measuring 42×49.50mm, these timepieces command attention on the wrist, exuding a sense of boldness and confidence.
At the heart of the Dominus Collection lies its most distinctive feature: the oversized tonneau case, which sits prominently and elegantly on the wrist. This striking design element sets these watches apart, making a powerful statement about the wearer's discerning taste and style.
Designed as Versace's vision of elegant sports watches, all models within this collection are chronographs, a choice definitely made more for the style than the function or tradition. The Dominus Collection comprises three captivating models that cater to different preferences. The full steel model exudes a timeless elegance, combining the durability of stainless steel with the refined aesthetics of Versace's design language.
The gold-plated model adds a touch of opulence, making a solid statement with its luxurious appeal. For those seeking a sleek and modern aesthetic, the all-black metal model presents a sophisticated option that effortlessly enhances any ensemble.
Versace Medusa
The Medusa Collection by Versace is a captivating range of watches designed specifically for ladies who appreciate the fusion of classical style and modern sophistication. With case sizes of 38mm and 39mm, these timepieces strike the right balance between subtlety and presence on the wrist. The round cases are available in stainless steel, golden-plated, or silicone options, providing a variety of looks to suit individual tastes.
At the heart of the Medusa collection lies its most notable feature: the iconic Medusa face prominently placed at the center of the dial. The Medusa collection embodies a sense of classic-ish elegance, making it ideal for dressier occasions in the glamorous life of a Versace aficionado.
Whether attending a formal event or seeking to elevate the everyday style, these watches effortlessly enhance any outfit with their bold sophistication. Two notable models within the Medusa Collection are the Medusa Pop and the Medusa Icon.
The Medusa Pop stands out with its vibrant silicone case and band, available in eye-catching total look styles featuring pink, turquoise, white, and black versions. These unique hues bring a playful and contemporary twist to traditional watch designs, making a bold fashion statement.
On the other hand, the Medusa Icon offers a sleeker and more modern interpretation with its digital hour and minute indicators. This innovative approach to timekeeping adds a touch of technology while maintaining the collection's inherent elegance.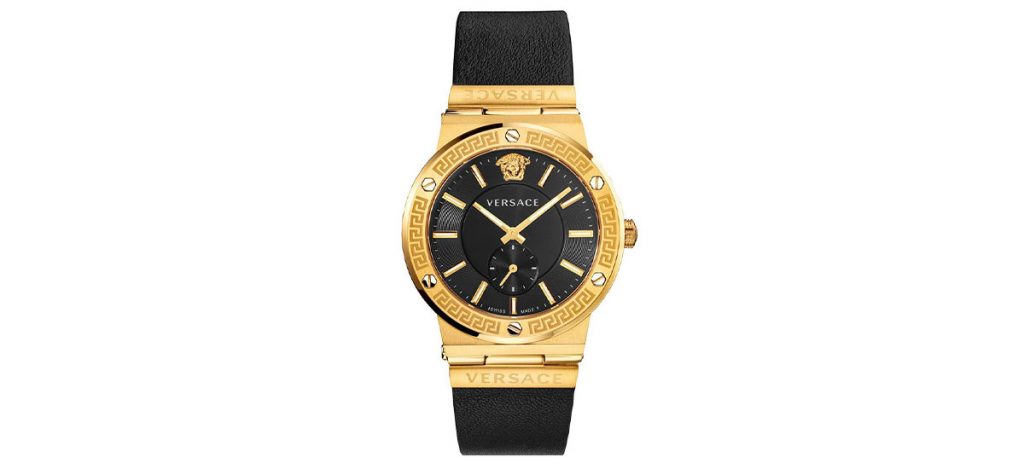 The Greca collection by Versace represents a captivating blend of sophistication and symbolic design elements. Designed for both men and women, these round timepieces are meticulously crafted with attention to detail, offering a range of sizes and variations to cater to different preferences.
The hallmark feature of the collection is the Greca motif, adorning dials, bezels, and sometimes bracelets, ensuring the Versace touch is present all over the timepiece. In the ladies' selection, the Greca collection offers options with 35mm and 36mm cases. These watches focus on the essential elements of timekeeping, featuring 2-hand dials only.
Crafted in stainless steel or gold-plated variations, these timepieces express a certain brand of femininity. The Greca Time Lady, for instance, stands out with its bicolor design, green dial, and baton-style hands and indexes in an almost understated fashion.
For men, the Greca collection boasts a diverse range of sizes, including 41mm, 42mm, 43mm, 44mm, and 45mm. Whether you prefer the timeless elegance of a three-hand watch or the functionality of a chronograph, these timepieces cater to various tastes and style preferences.
Stainless steel, gold-plated, and bicolor options are available, allowing individuals to choose a timepiece that resonates with their personal style. The Greca Dome Chrono, in particular, has a catchy look, featuring a 43mm bicolor case with three subdials and an engraved flat bezel.
Versace Icon Active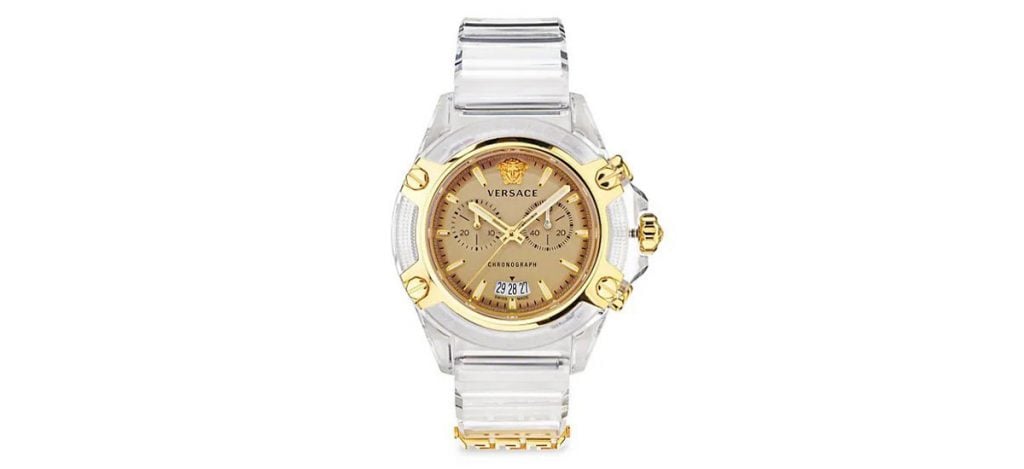 The Icon Active collection by Versace ventures to the boundaries of watch design, blending style with avant-garde features. Designed for both men and women, these round timepieces are crafted with a transparent polycarbonate case, creating a modern and dynamic aesthetic. With a 44mm case size, except for one model measuring 43mm, these watches make a bold statement on the wrist.
One distinctive feature of the Icon Active collection is the presence of four screws strategically placed at 10, 2, 4, and 8 o'clock, adorning a contrasting bezel insert. These screws add a sense of visual impact and enhance the watch's action-ready appearance, elevating its allure.
The collection's standout models include the version adorned with a swirling, colored pattern. This unique design gives the illusion that the watch has been draped in an extravagant, Versace-infused dress.
For those seeking a playful twist, the New Year Rabbit version offers an unconventional and unexpected choice. Featuring a "gangsta"-type Bugs Bunny design, we will call this timepiece an ode to Versace's audacious approach.
While it may only appeal to die-hard Versace fans or those with a peculiar fascination for thug rabbits, this watch embodies the brand's willingness to push boundaries and challenge conventional norms, wherever that may lead them.
Versace Hellenyium
The Hellenyium collection by Versace aims at a balance between casual elegance and sporty flair, catering to both men and women seeking a versatile timepiece. These round watches are available in stainless steel, gold-plated, or bicolor variations, allowing you to choose a style that reflects your personal taste.
The iconic Medusa logo proudly graces the dial at 12 o'clock, while the distinctive Greca motif adorns the dial and/or bezel. For the ladies, the Hellenyium collection offers a sleek 35mm size, featuring hour and minute hands for a clean and minimalist aesthetic.
For the gentlemen, the collection offers sizes ranging from 42mm to 44mm, ensuring a perfect fit on the wrist. You have the option of choosing between chronograph or three-hand models, allowing you to select the functionality that suits your preferences.
Among the key models in the collection, the stainless steel Hellenyium Chrono stands out as one of the most understated Versace watches. It is the timepiece to wear when you desire a subtle elegance that doesn't seek attention—a rare occurrence in the life of a Versace customer. The Hellenyium Chrono showcases the brand's ability to create timepieces that won't overwhelm the wearer's overall look.
Should You Buy a Versace Watch?
Versace watches cater to specific groups of individuals who embrace the distinct world of fashion, bold aesthetics, and personal expression. If any of the following traits resonate with you, then a Versace watch might just be the perfect addition to your collection:
Devotees of Versace: If you find yourself captivated by the charisma of Versace, its style, and its iconic presence, owning a Versace watch becomes an extension of your unwavering adoration.
Fashion Aficionados: Versace reigns supreme in the fashion realm, and their watches exemplify their influential status. For those who consider themselves fashion-forward, a Versace watch serves as an accessory that effortlessly complements the latest trends.
Non-Horological Traditionalists: Versace watches do not revolve around horological traditions. If you prioritize aesthetics, avant-garde design, and the undeniable Versace allure over technical intricacies, a Versace watch presents a clear appeal.
Those Unconcerned with Investment Value: For individuals who appreciate watches primarily as fashion statements rather than investment opportunities, Versace watches fulfill that desire flawlessly.
In essence, if you embrace the captivating allure of Versace, possess a fashion-forward mindset, prioritize style over traditional horological conventions, and are not solely focused on the investment aspect of watches, then a Versace timepiece is an exquisite choice.
These watches enable you to embody the spirit of the brand, make an indelible fashion statement, and immerse yourself in the extraordinary world of Versace's daring design philosophy.
Alternatives to Versace Watches
Oris
Founded in 1904, Oris has a century-long presence, adding depth and credibility to the brand's tradition and craftsmanship. Below are some of the brand's key characteristics:
Exceptional Value for Money
Offering Swiss-made quality at lower prices, Oris delivers exceptional value with reliable Swiss calibers and meticulous attention to detail.
Distinctive and Thoughtful Design
Oris blends classic elegance and contemporary flair, creating watches that captivate with their balanced and thoughtful aesthetics.
Diverse Range of Models
From vintage-inspired classics to contemporary timepieces, Oris caters to various tastes, ensuring a watch for every collector.
Independent Spirit and Customer Focus
As an independent brand, Oris maintains a strong identity and close connection with customers, actively engaging and resonating with collectors.
TAG Heuer
With a century of watchmaking excellence, TAG Heuer's deep-rooted heritage and commitment to precision drive its enduring legacy. Below are some of the brand's key characteristics:
Motorsport Heritage and Iconic Designs
Renowned drivers like Siffert, Rindt, Senna, and McQueen proudly wore TAG Heuer watches, elevating them to legendary status. Iconic designs capture the spirit of racing with style and functionality.
Diverse Collection for Every Lifestyle
TAG Heuer offers a range of watches for different preferences and lifestyles, from classic elegance to sporty adventure.
Technological Innovation and Performance
Pushing boundaries with cutting-edge features and materials, TAG Heuer ensures exceptional accuracy and reliability in its timepieces.
Timeless Aesthetics and Contemporary Designs
Balancing timeless aesthetics and modern elements, TAG Heuer watches exude style and sophistication.
Longines
Founded in 1832, Longines exemplifies watchmaking innovation. From pioneering chronograph movements to enduring sports associations, Longines shapes the horological landscape.
Extensive Collection Diversity
With over 1,200 models, Longines offers a timepiece for every taste and occasion. From classic dress watches to sporty styles, express your unique personality with Longines.
Enduring Sports Sponsorships and Iconic Brand Ambassadors
Longines partners with alpine skiing, archery, and equestrian sports, aligning with precision and performance. Collaborations with iconic figures solidify its reputation.
Impeccable Heritage and Attention to Detail
Longines cherishes its heritage and meticulous craftsmanship. Its winged hourglass logo symbolizes tradition and authenticity.
Conclusion
In conclusion, while Versace watches may not captivate traditional watch enthusiasts and connoisseurs seeking horological excellence, their appeal lies in the realm of fashion and self-expression.
Designed for individuals with a penchant for boldness and a desire to make a fashion statement, Versace timepieces offer a unique blend of luxury and distinctive style.
About Exquisite Timepieces
Established in 1998, Exquisite Timepieces is your one-stop shop for all things luxury watches! We are an authorized dealer for 60+ luxury watch brands including Omega, Hublot, Seiko, & Longines! We are proud to showcase one of the world's largest pre-owned watch collections, including renowned brands like Rolex and Patek Philippe. Check out our brand new watch arrivals here and popular pre-owned listings here.