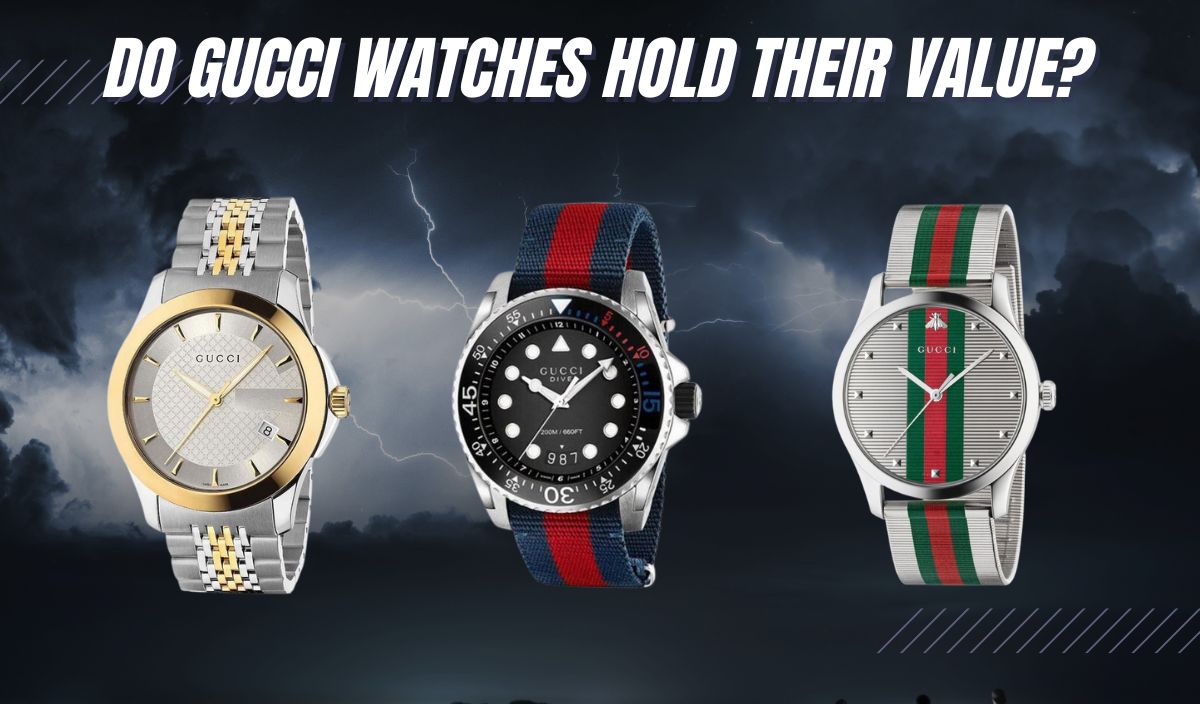 Do Gucci Watches Hold Their Value? (Read BEFORE You Buy!)
Gucci is a luxury lifestyle brand that has its origins in Italy. While still headquartered in Italy, they've since grown beyond their Italian borders and have become a global force in fashion and a multi-billion dollar company. Their famous double G logo is known the world over as a statement of sophistication and taste.
Gucci is appreciated for its leather goods, including luggage and handbags, as well as apparel and accessories. One of the accessories they produce is watches, and this is the rub for many watch experts and collectors. They're not looking for an accessory, a fashion watch; they want something with more horological heft.
Gucci watches don't always come at low prices. If one looks over their website, they'll see plenty of fashion watches for $1,200 to $2,000 and above. This makes it difficult for some watch collectors to justify, as these Gucci watch collections are unlikely to hold their value or appreciate.
For a long time, Gucci has been known to use cheap quartz movements and contemporary styling that has left collectors scratching their heads at the value. After all, unless one is quite wealthy, who would spend two grand on something that will be "out of vogue" next season? Well, surprising to some, many seem to be willing to do just that, as Gucci has developed into a major presence in the fashion watch market.
They also seem to have taken some of the horological criticism seriously because, as of 2021, they've upped their watch game by adding in-house, Swiss-made, automatic movements to some of their collections. So, let's take a look at what Gucci watches have to offer and answer the question, do they hold their value?
About Gucci Watches
The Gucci fashion brand was founded in Florence, Italy, in 1921 by Guicco Gucci. Today Gucci is a subsidiary of the luxury brand, Kering, a French-based, multi-national, multi-billion dollar public corporation.
Gucci started by primarily selling leather goods and accessories but has greatly expanded into apparel for men and women and watches. In the 1970s, with the advent of the quartz movement, suddenly anyone could get in the watch game.
One didn't have to be an expert watchmaker anymore; a company with good style and the ability to manufacture the case, strap, or bracelet could practically drop in a cheap, mass-produced quartz movement and make it run. Gucci saw the opportunity and seized it.
As a lifestyle fashion brand, Gucci has understandably focused on the fashion and design of their watches. They've often favored contemporary, trendy designs, over the more conservative and timeless designs of Rolex, for example. They've also focused less on the inner workings of the watch (that is, until recently).
This has put them at odds with many watch experts who primarily value a watch company's history, accomplishments in the industry, track record, and the engineering of their movements. Rolex and Grand Seiko are two luxury watch brands known for making everything that goes into their watches, from the in-house movements to the lubricant that keeps the gears turning.
What Makes Luxury Watches Hold Their Value?
Not all luxury watches hold their value, but the ones that do, tend to do so for the following reasons:
Brand Reputation & History
Watch collectors and experts are known to not just enjoy beautiful timepieces but also invest in them. They have specific criteria they look for to analyze a brand generally and a specific model's potential to not only hold but possibly increase in value.
One of the first factors they consider is the brand's reputation. What's their story? Their stories tell us something about who founded them and what their watching-making ideals were and are, but they also present a track record of accomplishments and a measurement of their consistency in the delivery of those goals and objectives.
Established watchmakers like Patek Philippe, Rolex, and Grand Seiko have rich legacies. They've been around for many decades. They've proven themselves as innovators in the industry. They've built a trusted reputation for engineering watches that won't quit. Timepieces that are so well-built they'll last generations.
Timeless Designs
Established luxury watch brands favor timeless designs. Their collections not only looked great when they were first released, but they are still elegant and striking decades later. This means they don't get caught up in the fashion trends of the moment but look to classic cues that don't age.
Think of models like the Omega Speedmaster, Rolex Submariner, and Cartier Tank. Some see these designs as conservative, but smart watch collectors see them as offering a lasting style that will hold up in the long run.
Build Quality
Watch brands like Rolex have company foundries where they cast their own high-end metals like 904L steel, grade 5 titanium, and gold. These materials are incredibly durable, remarkably resistant to corrosion and scratches, as well as having a sheen that stands out in contrast to more standard, run-of-the-mill materials.
Not only do brands like Rolex use the best materials, but the care, craftsmanship, and attention to detail in their work are evident. These watches are built to last, and watch collectors take notice of those attributes and qualities.
Mechanical Complexity & Innovation
Many fashion brands offer good-looking but simple watches with few functions. High-end luxury brands tend to offer complications, like perpetual calendars and tourbillons. They also make their movements in-house. Many fashion brands use third-party quartz or ETA-type movements that, at best, they alter for their watches.
For example, Tudor, Rolex's baby brother, in the past used third-party automatic movements, but in recent years they've started making their own in-house mechanical movements that are COSC or METAS certified. This has caught the attention of collectors, and as a result, they tend to hold their value and, in some cases, increase in value.
Limited Production & Exclusivity
No watch company holds its value quite like Rolex. Not only that, but some Rolex watches have even sold for much more than their original MSRP. In fact, in recent years, the Rolex gray market, which used to be the place one went to find a deal on a Rolex, is now the place impatient buyers go to get a watch right now and, in many cases, pay double Rolex's MSRP.
The reason for this is the high demand for Rolex watches and the lengthy process it takes to produce a quality timepiece. Many Rolex models have a waiting list that can be months, if not multiple years long. These conditions make for a solid investment.
No watch company has proven capable of competing with Rolex on resale, but many have created limited edition timepieces and have forged partnerships with artists and/or brand reps to create unique watch models whose popularity outstrips their availability. One example of this is Omega's Moonwatch.
The Speedmaster wasn't originally created as a space watch but was worn by one of NASA's first astronauts in space, and Omega eventually won the bid to be the official watch of NASA. As a result, all of the first astronauts on the moon wore Omega Speedmasters, and an icon was born that would go on to become a highly desirable collectible.
Do Gucci Watches Hold Their Value?
Gucci is an impressive luxury lifestyle brand, and their watches offer some stunning designs, but to properly address the question of value retention, let's put Gucci watches through the rubric outlined above.
Brand Reputation & History
Gucci is a style icon, but watch collectors are looking for a watch company with a rich horological heritage. Clearly, this is not Gucci's strong suit. They're a fashion brand, and it seems they think of watches as a style accessory.
Timeless Designs
Gucci offers a broad range of watch designs, and some might be styled more conservatively; however, they're primarily known for their fashion-forward watch styles. What's hot this season is cold the next. The ideals of the fashion world, therefore, don't lend to timeless watch design, and this keeps collectors at bay.
Build Quality
A luxury watch is expected to last more than a lifetime; often, they become precious family heirlooms. Gucci does seem to put care into the crafting of their watches; however, they're not known for offering the level of engineering and precision that the more established luxury brands are known for.
Overall, most watch collectors would pass on Gucci as an investment. However, monetary value is just one factor to consider when buying a watch. If one favors the style of a particular Gucci watch, then buy it. Just don't expect to get your money out of it down the road.
Do Gucci Watches Appreciate In Value?
If they don't hold their value, it doesn't take a watch genius to figure out they're unlikely to appreciate in value. However, while most Gucci watches are unlikely to make great investments, some models have reportedly appreciated in value. One of their best performers is the Gucci Horsebit watch in stainless steel with a white lacquered dial (Ref. 399350).
In 2021, Gucci sent signals that they intended to become a serious watchmaker. They've released a line of high-end watches with in-house automatic Swiss movements. So, before anyone writes them off, let's see what the future holds for Gucci watches. Maybe their fast-fashion days are behind them.
Are There Any Valuable Vintage Gucci Watches?
There are a few standouts, though value is in the eye of the beholder.
1. Gucci 3000M. This model, from the 1990s, featured a 33mm case, and the one I especially favor is in yellow gold tone. The hour markings are in Roman numerals displayed on the bezel. The timepiece has a slim gold-tone hour and minute hands against a green dial with a spade pattern. It features a Swiss-made quartz movement and is paired with a brown leather strap.
2. Gucci Bamboo. Various versions of the Bamboo have been produced for women since the 70s, I believe. I came across a 1990s vintage version that featured a small rectangular high-polished stainless steel case with a mirror finish paired with a natural bamboo bracelet. It's quite a unique, lovely timepiece.
3. Gucci G Watch 3600J. The '90s version offered a 26x26mm stainless steel watch case shaped in a square G. The dial is black with two silver hands. The stainless steel three-link bracelet features a twin-button butterfly clasp. This is a watch that remains popular and worth consideration if one can find it in good condition.
Parting Thoughts
Gucci is a fashion lifestyle brand that offers high-quality leather goods, apparel, and accessories like watches. Their watches are mostly regarded as fashion watches by serious watch collectors and enthusiasts because they don't have a rich watchmaking heritage, they tend to favor fashion-forward designs that go out of style, and they put a higher premium on fashion over mechanical engineering.
As a result, they're not typically considered the brand of choice for investors. However, some of their models have appreciated in value, and they do have some vintage models that have become collectibles. In the last couple of years, they've started making their own in-house automatic movements for their high-end collections, and they're sending signals that they intend to shake up the watch industry. Time will tell (sorry for the "cheesy" pun).
About Exquisite Timepieces
Established in 1998, Exquisite Timepieces is your one-stop shop for all things luxury watches! We are an authorized dealer for 60+ luxury watch brands including Omega, Hublot, Seiko, & Longines! We are proud to showcase one of the world's largest pre-owned watch collections, including renowned brands like Rolex and Patek Philippe. Check out our brand new watch arrivals here and popular pre-owned listings here.