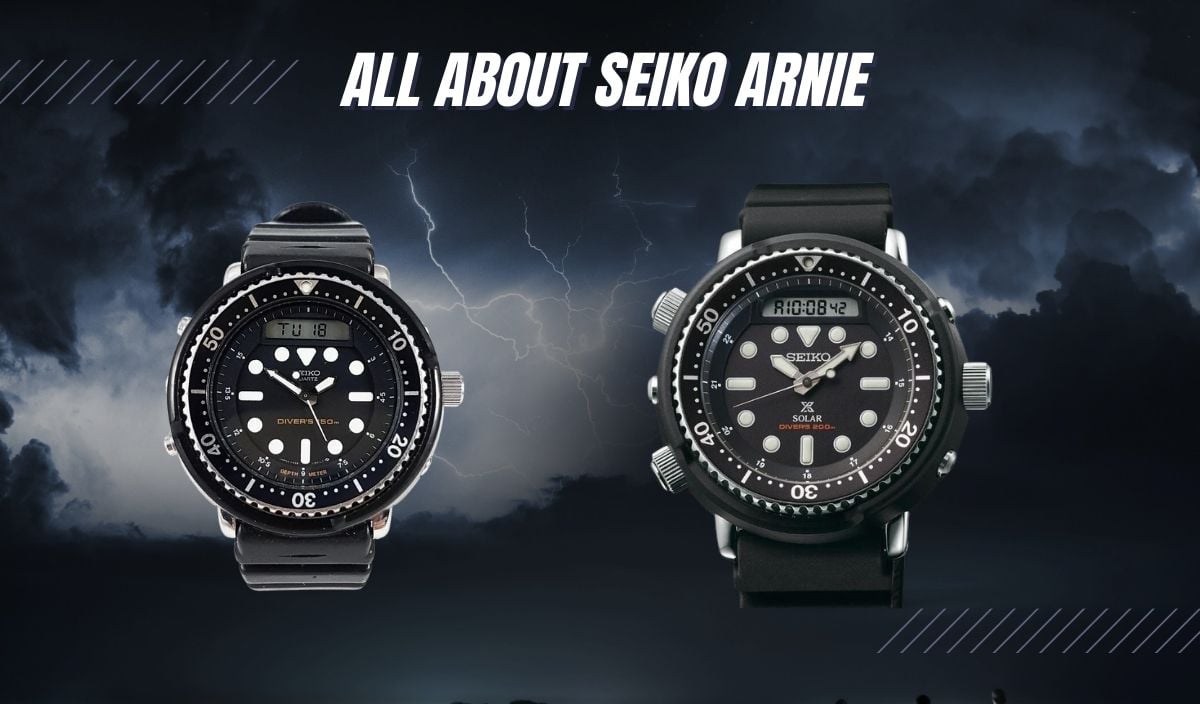 All About Seiko Arnie (From "Predator" To The Modern SNJ025) 
Originally released in 1982, the Seiko H558 was the first of its kind: a hybrid dive watch interweaving both digital and analog technology. It was and is befitting of Arnold Schwarzenegger, who famously portrayed T-800 in the iconic Terminator.
Like the watch, he was two technologies in one package: man and machine. Though he didn't wear the timepiece in the post-apocalyptic sci-fi, he first wore it a year later in Commando (1985) and then again in Predator (1987). This gave the watch a cult-like following, and it's been popular ever since.
Seiko H558: A Purpose Built Machine
The year is 1982. Michael Jackson's groundbreaking album "Thriller" is released. Spielberg's extraordinary film, E.T. the Extra-Terrestrial, hits the silver screen. The cost of a gallon of gas is 90 cents, and the average monthly rent is $320. It's been 10 years since Hamilton released the first commercially available digital wristwatch, the Pulsar.
And Seiko is about to pull a rabbit out of a hat. The behemoth of the watch industry releases a larger-than-life watch that blends both digital and analog technology—something that's never been done before. It's pure horological magic, folks.
The H558 was built to endure the toughest of adventures. That it ended up adorning the wrist of one of the most iconic action stars and bodybuilders of all time is pure coincidence. During development, Seiko's engineers subjected it to extreme temperatures, ranging from bone-chilling -40°C to scorching 60°C, ensuring its capabilities.
Scaling the heights of Mount Everest and conquering the North and South Poles, the "Arnie" accompanied intrepid explorers, becoming an emblem of human endeavor. Equipped with features like three time zones, a chronograph, an alarm, and a trusty backlight, this multifaceted "tool" watch was a true purpose-built machine, embodying a piece of history and a timeless connection to the spirit of adventure.
Seiko Arnie: A Closer Look
Seiko fans might notice the similarities between the H558-5009 and the Seiko Tuna. The architecture of the two watches is strikingly similar, with the rotating bezel, tiny lugs, outer shroud, and diving capabilities.
The Arnie is, in fact, part of Seiko's Tuna family of watches, and it offers a design language that is polarizing to some but downright delicious to others. Oh—It's worth mentioning that it has a case diameter of 45mm. *Pause for dramatic effect.*
With today's watches trending smaller and smaller, it seems that most modern collectors have a downright aversion to watches that are 42mm in diameter, never mind 45mm. But then you take a closer look at the dimensions. It has a 46.5mm lug-to-lug and a case thickness of around 11mm.
In actuality, the 1982 timepiece wears closer to the dimensions of a 40mm watch than a 45mm watch, but that's due to the virtually nonexistent lugs. It is a watch with a larger-than-life dial presence. But people didn't buy this watch as a svelte watch that disappears on the wrist; they did so because they wanted to make a statement.
They wanted to be like Arnold and flex for all the world to see. The original "Arnie" also featured a durable plastic bezel shroud protecting the 60-minute diver's bezel, offering unprecedented durability. The watch boasted both analog and digital displays, with a black dial featuring luminous markers and hands for optimal legibility.
Its quartz movement, the Seiko caliber H558, ensured accurate timekeeping and powered various functions such as a chronograph, alarm, and calendar. The Seiko "Arnie" also incorporated a scratch-resistant Hardlex crystal, providing durability and excellent visibility. With a water resistance of approximately 150 meters, a robust stainless steel bezel, and a comfortable rubber strap, the Seiko "Arnie" was a tank for your wrist!
"I'll Be Back" – The Discontinuation of the Seiko Arnie
The H558 embodies Arnold in such a way that it exemplifies one of his most famous lines: "I'll Be Back". The H558 was discontinued in 1990—the year I was born! A lot of time has passed since then, and the secondary market is the only place serious collectors can attain the original today.
As is typical with a popular watch that has been discontinued for over three decades, pickings are slim, with most timepieces being well-worn and in need of some sort of repair. They are priced from around $500 into the thousands, depending on the condition of the watch.
You may be looking at the price and thinking, well, dang. I'll never be able to pony up that much money for a watch, never mind a used one. How am I ever going to channel my inner Arnold now? It would take Seiko twenty-nine years to dig back into the archives and give us a reissue worthy of its predecessor. Enter the Seiko Prospex SNJ025.
In 2019, Seiko delighted its customer base with a reissue of the "Arnie." As watches have typically grown over the years—though smaller timepieces are now trending—this new iteration is quite a bit larger than its predecessor.
But large is appropriate for a watch that is nicknamed after Mr. Olympia! It also is packing new and exciting technology, as you may expect for a timepiece being released in the modern day and age. The SNJ025 has a case diameter of 48mm. It has a lug-to-lug of 50.5mm and a case thickness of around 14mm.
In creating a larger watch, Seiko is carefully crafting the narrative around this piece: it is big, bold, badass. I have tried the watch on, and while I might be able to pull it off with my 6.5-inch wrists, I'll leave it to larger, burlier customers.
It has a subtle beauty about it that's hard to explain. It has two extended pushers at 10 and 8 o'clock and three recessed ones at 9, 2, and 3. That's a lot of hardware for one watch, but it all comes together into something that gives you that warm feeling inside.
You suddenly remember sitting beside a sibling and listening to E.T. phone home for the first time. You remember playing with Pogs and reading the back of the cereal box. True to the original, the "Arnie" offers an amalgamation of technology. It has an analog handset, a digital display at the 12, and a new caliber: the H851, a solar-powered movement with an accuracy of +/- 15 seconds per month and offers 6 months of power when fully charged.
The analog and digital times are now automatically synchronized, which makes setting the time all the more exciting. Seiko has upped Arnie's water resistance to 200m, now making it ISO 6452 certified. With an MSRP of $525, on sale now at ExquisiteTimepieces for $420, the SNJ025 offers incredible value for the price. You have an ISO-certified timepiece with loads of features, including an alarm, timer, GMT, solar capabilities, and robust build quality.
I don't think, for the price, you can find a watch packed with as many features. If you are looking for something durable to set and forget, you'd be remiss not to consider the Seiko SNJ025. As is the case with all new Seiko watches, the SNJ025 includes a two-year manufacturer warranty.
Closing Thoughts
If ever there were a watch to wear for the end of the world, when the robots take over, I can't think of a better one to wear than the SNJ025. Sure, there are G-Shocks and other purpose-built watches that would be appropriate.
Still, there's something about the raw ruggedness of the Arnie that just calls to me, that beckons to a time when the digital and analog worlds of yesteryear intersected in a way that only a wristwatch can possibly elicit in today's complex world of digital insanity. Watches are, beyond being a fashion statement and timekeeping tool, meant to start conversations.
I can't think of a better conversation starter than Arnold Schwarzenegger, the nostalgia of the 1980s, and digital, analog, and solar technologies, all in one tiny, shiny package. Arnold's back and he's not going anywhere anytime soon!
About Exquisite Timepieces
Established in 1998, Exquisite Timepieces is your one-stop shop for all things luxury watches! We are an authorized dealer for 60+ luxury watch brands including Omega, Hublot, Seiko, & Longines! We are proud to showcase one of the world's largest pre-owned watch collections, including renowned brands like Rolex and Patek Philippe. Check out our brand new watch arrivals here and popular pre-owned listings here.