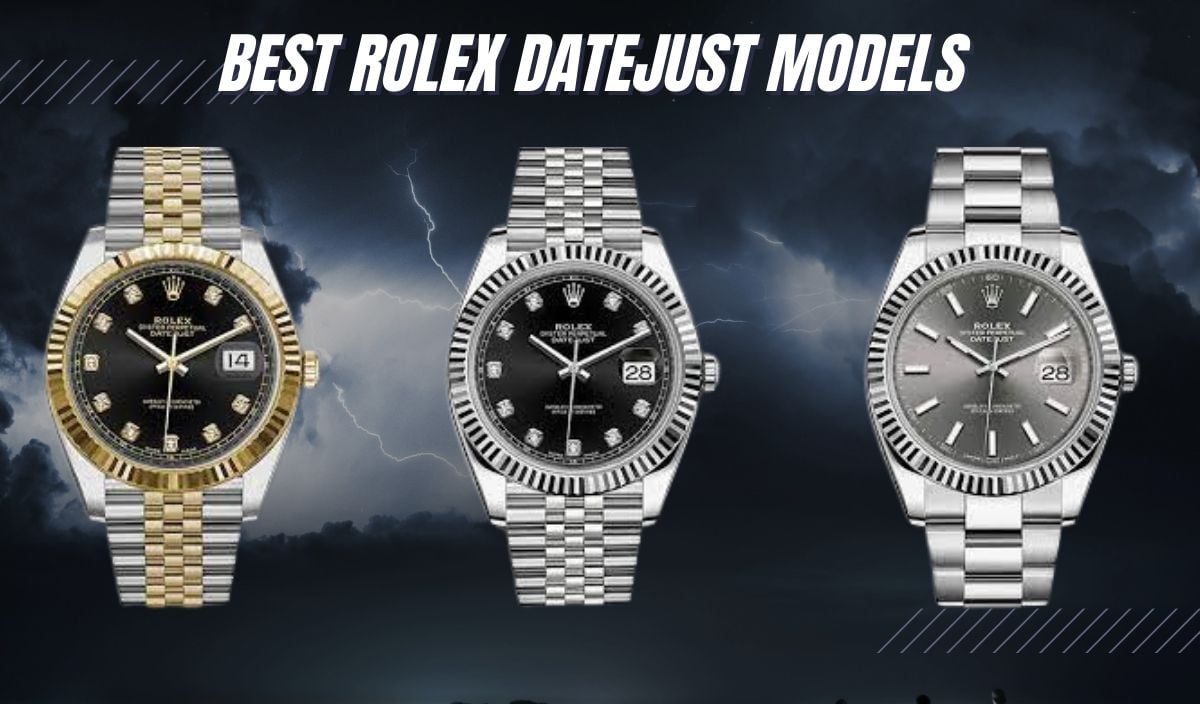 15 BEST Rolex Datejust Models of All Time (2023 Updated)
Many watches are coined iconic, but only a few really deserve that classification. The Rolex Datejust has truly been an icon in the Crown's catalog since its introduction in 1945. It was initially introduced to celebrate the 40th anniversary of Rolex. 
The first, ref.4467, was introduced with a full yellow gold case, only offered on the Jubilee bracelet, and featured a tan-white dial.
The Datejust was the first wristwatch to feature an automatically changing date function. Various iterations have been made over the years, some sportier, some dressier, but all made to the high specifications of the Swiss watch giant.
About the Rolex Datejust
Rolex was not always called Rolex; in fact, it was introduced as Wilsdorf & Davis in 1905 and changed its name to Rolex in 1908. Wilsdorf & Davis was founded in England. However, the name transition took place at the same time it moved to Switzerland.
Fast forward to 1945, and Rolex introduced a timepiece that would revolutionize the mechanics of automatic watches and the entire horology industry. The Datejust was introduced as the first automatic watch to feature a date function.
In typical Rolex fashion, the first Datejust did not even feature the word "Datejust" on the dial but was rather called the 'Rolex Oyster Perpetual'. The 'Datejust' name finally made a permanent appearance somewhere in the 1950s.
The Datejust has seen numerous changes over the years, with hundreds of different configurations available. Fittingly, the Datejust has found itself on the wrists of some incredible people throughout history, like the 14th Dalai Lama (Tenzin Gyatso), Dwight D. Eisenhower, Winston Churchill, Michael Jordan, and Dr. Martin Luther King Jr.
Rolex Datejust Characteristics
The Datejust and Daydate are some of the most customizable models in the Rolex catalog, with several hundred versions sold over the decades.
The materials used for the Datejust have changed from its yellow gold roots and now include rose gold, red gold, white gold, 316L stainless steel, platinum, and a two-tone combination of gold with steel. While there are plenty of options for materials used, there are only two bracelet options – the Jubilee and the Oyster.
While the fluted bezel is synonymous with Rolex, the Datejust also features various other bezel options. You can specify your Datejust with a smooth and diamond-set bezel. And let's not forget the Turn-O-Graph bezel. The Datejust also comes in several sizes: 26mm, 28mm, 31mm, 34mm (known as the Rolex Date), 36mm, and 41mm to fit contemporary tastes.
Who Has Worn the Datejust?
As any watch enthusiast will tell you, we all have a bit of a guilty pleasure in looking at who is wearing what, particularly famous individuals. With the Datejust being one of Rolex's oldest models, the Datejust has seen wrist action on plenty of prominent figures over the decades.
Several American presidents have worn the Datejust, including Eisenhower and Reagan. Dr. Martin Luther King was spotted on several occasions wearing the Datejust ref. 1601, and British Prime Minister Winston Churchill was given the 100,000th officially certified chronometer by Rolex – a 36mm Datejust with a fluted white gold bezel.
Film characters have also worn this iconic timepiece, such as Paul Newman portraying Eddie Felson in The Color of Money. Matthew McConaughey also wears a two-tone Datejust in the Wolf of Wall Street as he portrays Mark Hanna. So, if you were looking to get yourself a Datejust, you certainly are in great company. But which one is right for you?
15 Best Datejust Models
1. Rolex Datejust 126334 Bright Black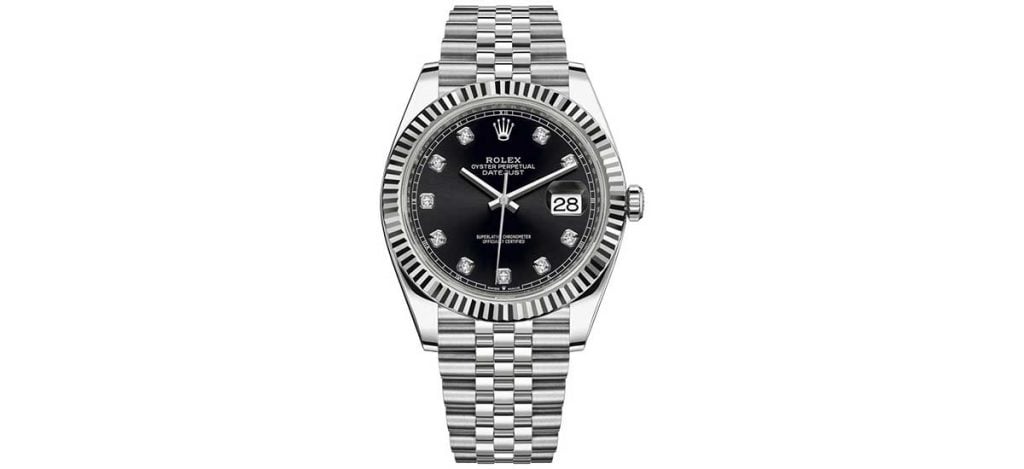 We kick off the list with one of the modern classics featuring everything that makes the Datejust special. The elegant 41mm Oyster case holds the Bright Black dial featuring white hour markers, making for great legibility.
The archetypal 18 c White Gold fluted bezel not only looks stunning but also aids in giving the timepiece its 100m of water resistance. This particular reference is offered on the Oyster bracelet, but you can find a few online that feature the Jubilee bracelet as well.
Internally, the watch is powered by the chronometer-certified Rolex caliber 3235, featuring a 70-hour power reserve. According to the Rolex website, the Datejust 126334 has a retail price of $10,500, and an unworn example will typically run you more than $13,000 on the second-hand market.
2. Rolex Datejust 126200 Olive Green Palm Motif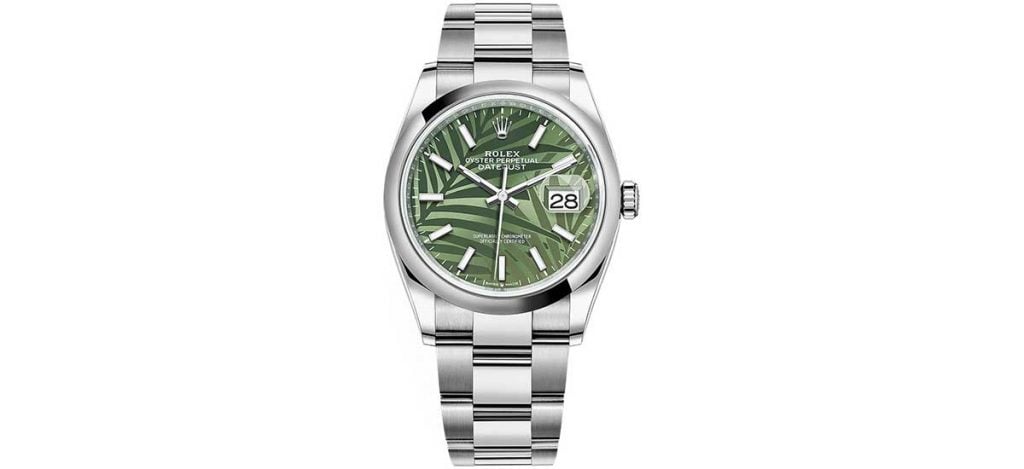 This 36mm Datejust 126200 features an extraordinary Green Palm Motif dial first released at Watches & Wonders back in 2021. The rest of the watch is pretty ordinary, finished in steel, and is accented by a smooth bezel. This allows all the attention to be drawn to the green dial.
While patterns may sometimes throw off legibility, the Palm Motif of this Datejust features bold white hour markers ensuring the watch does not lose functionality. Furthermore, the 36mm case is the same as the first Datejust from 1945 and is also the perfect size for most wrists today.
Timekeeping duties are dealt with by the new-generation caliber 3235, constructed from nickel-phosphorus, ensuring the watch is resistant to errors due to magnetic fields. This particular reference has a retail price of $7,700, but you'll be lucky to find it below $12,000.
3. Rolex Datejust 278274 Azzurro Blue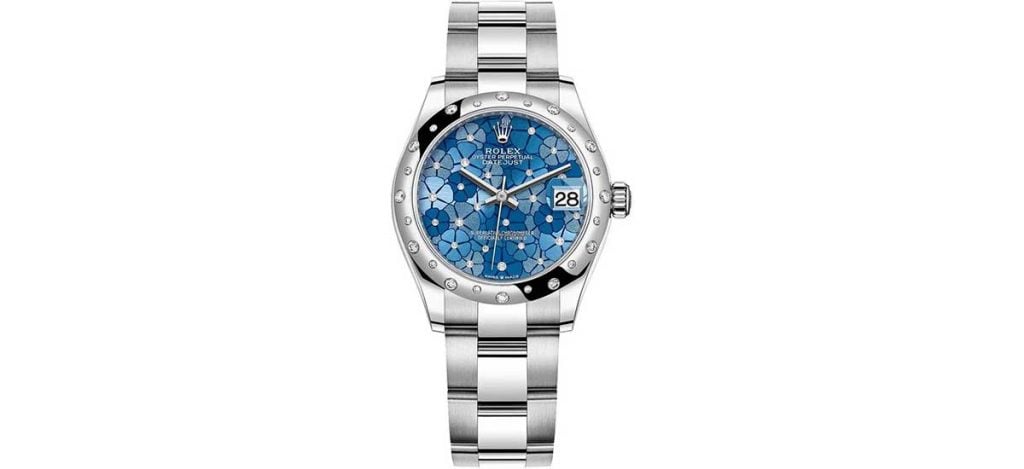 If you're looking for a Datejust that does not apologize for drawing attention to itself, the Azzurro Blue dial Datejust is the one for you. While the case size of 31mm is subtle, the rest of this reference 278274, certainly is not.
The watch is finished in white Rolesor, denoting the stainless steel case and the white gold fluted bezel. The Jubilee bracelet is also finished in steel, but your attention will primarily be drawn to the diamond-set dial.
The Azzurro Blue Floral Motif contains 24 diamonds within 18ct gold settings and was only recently introduced at Watches & Wonders 2022.
4. Rolex Datejust 126303 White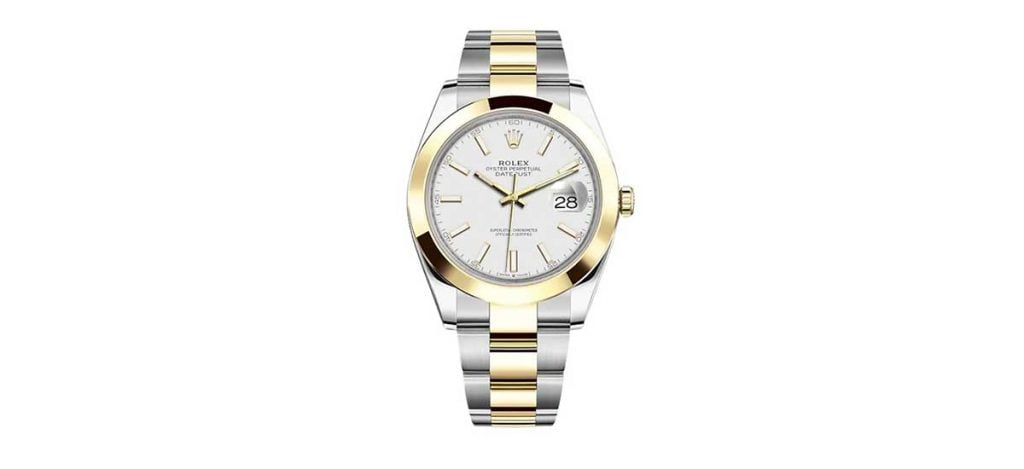 The combination of yellow gold and steel is a timeless look, and one Rolex calls Yellow Rolesor – a portmanteau of 'Rol' (from Rolex) and the French word 'or', which means gold. This reference 126303 is presented in beautiful Rolesor and features a smooth gold bezel.
The white dial is accentuated with yellow gold-tone hands and index hour markers, all filled with Rolex's proprietary Chromalight lume for nighttime legibility. The two-tone bracelet features the Oysterlock clasp, making for an easy and safe wearing experience.
Being a modern 41mm Datejust, it features the chronometer-certified caliber 3235, a scratch-resistant sapphire crystal, and a screw down granting this timeless classic 100m of water resistance. You can pick up this watch for $14,250 at retail; however, you'll be paying a premium on the second-hand market.
5. Rolex Datejust 126234 Bright Blue Fluted Motif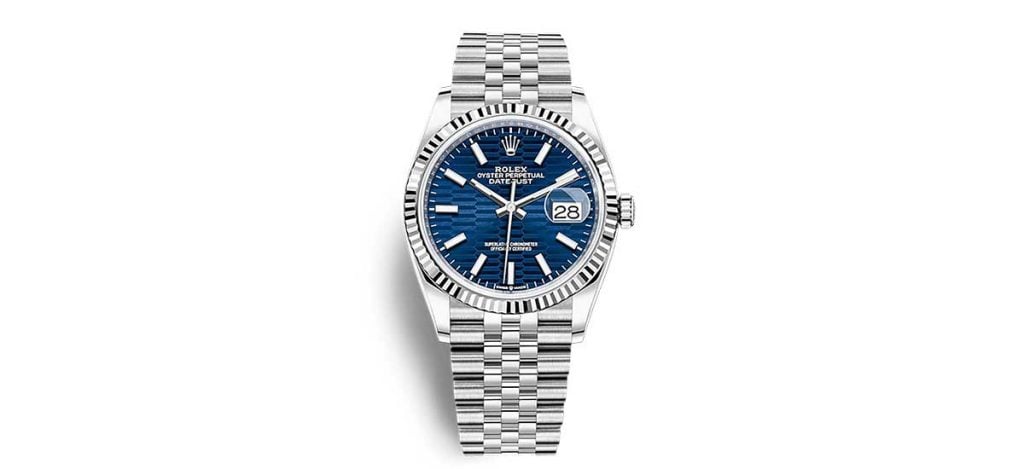 If you prefer your Datejust to have a little dimensional tone, perhaps you should look at the recently introduced Fluted Motif. Represented here on a Datejust 36 in a blue finish, the Fluted Motif creates presence by using a geometric pattern on the fluted bezel.
The bezel is, of course, finished in 18 c white gold, but interestingly enough, this specific reference is offered on either the Jubilee or Oyster bracelet. Personally, I prefer the Jubilee because there just isn't a more exemplary bracelet.
This watch is offered either with diamond-set hour markers or, for those who prefer a subtler approach, you can opt for white gold hour markers. Whichever you end up going for, this 36mm Datejust is a modern classic with a stunning dial finish.
6. Rolex Datejust 278289RBR Mother of Pearl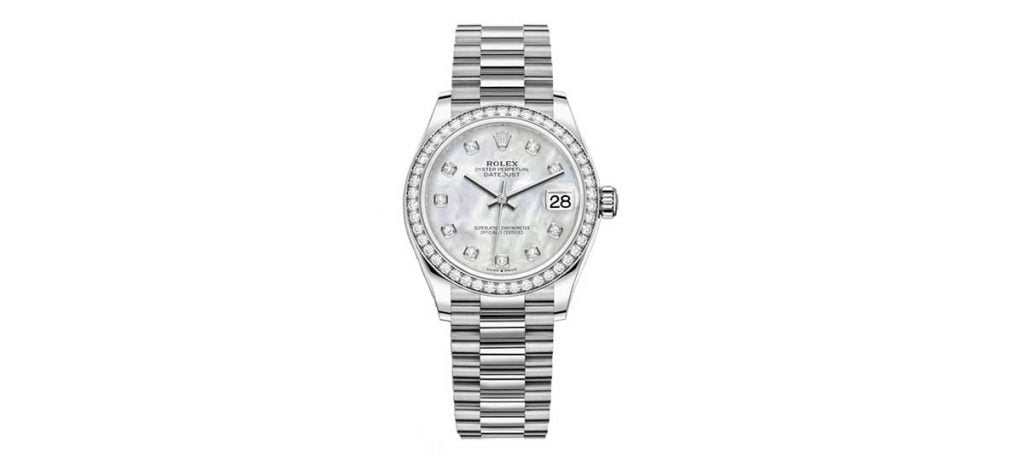 The original lady Datejust was released in a petite size back in 1957. Modern taste prefers slightly larger watches, so the 31mm Datejust variant could be considered a lady Datejust even though it is classified as a 'mid-sized' watch, according to the Crown.
Fitting in with the larger size, this reference 278289RBR features stunning characteristics you won't find on every wrist. Not only is the dial finished in a Mother of Pearl fashion, but it is also set with diamond hour markers.
To place the watch among the most stylish of timepeices, the bezel is also set with diamonds. The entire case and President's bracelet are finished in 18 c white gold, yet the watch retains its usability with 100m of water resistance.
7. Rolex Datejust 126300 Mint Green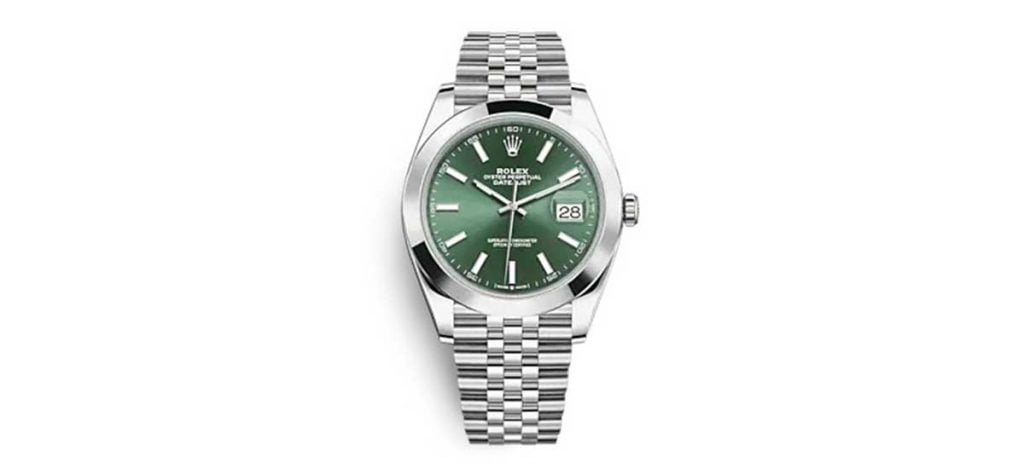 The Rolex green has become synonymous with the company, and the mint green dial represented here has become a favorite among seasoned collectors and enthusiasts alike. It's shown here in a 41mm case finished in Oystersteel, a steel from the 904L family.
The watch is presented on the famed Jubilee bracelet, which matches seamlessly with the domed bezel. The watch is also a mere 11.7mm thick, making it easy to slide under most shirt cuffs. A 47.6mm lug-to-lug measurement means this Datejust wears like a proper 41mm and will fit most wrists perfectly.
As with all other modern Datejust 41's, the watch is powered by Rolex's caliber 3235. COSC or 'Contrôle Officiel Suisse des Chronomètres' certified with a -2 / +2 seconds per day precision after casing. The retail on this reference is $14,700, but as with all other Rolex watches, you will have to pay slightly more on the second-hand market.
8. Rolex Datejust 126231 Slate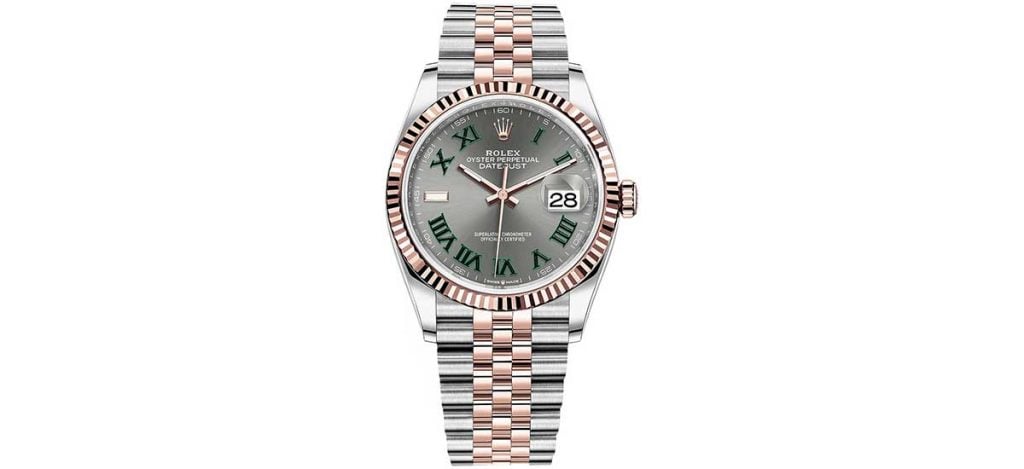 Roger Federer, the world-renowned Swiss tennis player, is one of the few athletes sponsored by Rolex. It would then come as no surprise that the watch community has given this slate-colored Datejust the nickname 'Wimbledon". With an ideal size of 36mm, this two-toned Datejust is set to become a cult classic.
Constructed from Oystersteel and Everose Gold (Rolex's rose gold), this timepiece is aesthetically pleasing and remarkably robust. The dial is also given more presence with a sunray finish and black Roman numeral hour markers with a rich green outline. Priced slightly higher than other Datejusts at $15,500 retail, you'll also be expected to pay even more due to market value.
9. Rolex Datejust 278278 Black Mother of Pearl
The Black Mother of Pearl dial is something to behold, with a lustrous coloring and a dark silky finish. The dial featured on reference 278278 is also set with 11 diamonds, filling the "VI" at the 6 o'clock position. The other Roman Numerals and coronet are set in 18 c yellow gold.
In fact, the entire case and President bracelet are finished in 18 c yellow gold, as well as the fluted bezel. A timeless design elevated with diamonds, precious metals, and a seamless blend of artistry and technical craftsmanship.
Ticking away within the 31mm case is the caliber 2236, chronometer-certified and resistant to magnetic fields. Not that you would wear a diamond set Datejust into the field, but it grants you peace of mind that this timepiece is not just all show.
10. Rolex Datejust 126331 Slate Fluted Motif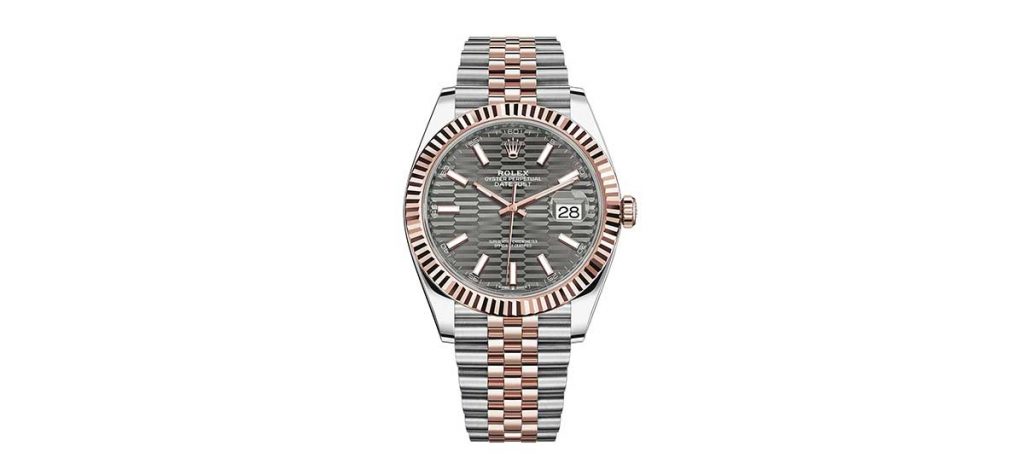 The Datejust has been in production since 1945 but has benefited from modern technology. Introduced in 2021, the Slate Fluted Motif dial you see on this reference 126331 is produced using femtosecond laser techniques, a low-temperature technique used to engrave the surface.
Measuring 41mm in diameter, this Datejust not only fits contemporary taste but also creates a bold impression with its steel and rose gold construction. The dial features white hour markers lined in 18 c rose gold, and the hands are completely set in rose gold and feature luminance.
The fluted bezel elevates the fluted motif even more, and the two-tone Oyster bracelet accentuates the lasting design. Internally, the watch is powered by the Rolex caliber 3235, equipped with a 70-hour power reserve.
11. Rolex Datejust 126233 Golden Fluted Motif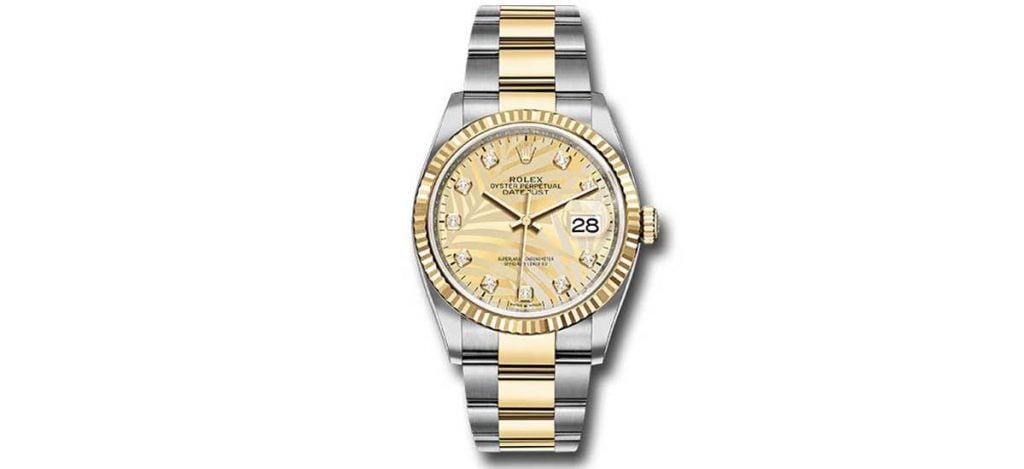 If you have around $12,000 burning a hole in your pocket and you're in the market for a watch that'll last you a lifetime, perhaps the Rolex Datejust reference 126233 could solve your problem.
Presented in a bi-metal finish consisting of Oystersteel and yellow gold, this timepiece has the makings of a future classic. Featuring the newly introduced Fluted Motif on the dial in a golden fashion to match the gold fluted bezel.
The case appears on the Jubilee bracelet, a staple in the Rolex catalog. As with every single other Rolex, the watch is designed to be spectacular to look at and built to a standard that ensures technical and constructive reliability.
The retail on a reference 126233 is around $12,100, but you can expect to pay slightly more for a second-hand version due to market value.
12. Rolex Datejust 278275 Silver Floral Motif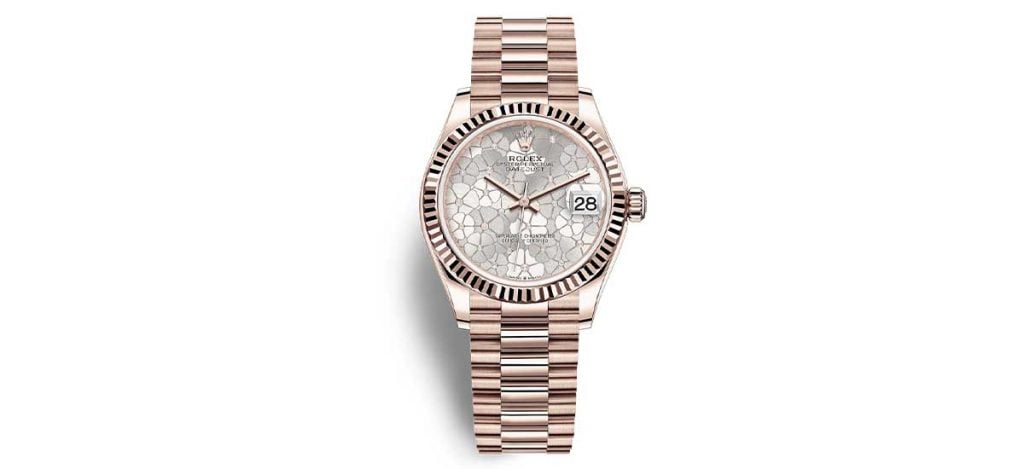 The opulent Floral Motif dial finish was introduced to the 31mm Datejust family at Watches & Wonders 2022 in three color variations. This reference 278275 features a silver finish in full Everose gold.
Upon closer inspection, you'll notice that each flower has a single diamond set in the center. For the mathematically inclined, there is a total of 24 diamonds on the dial, perhaps a subtle nod to the 24 hours within a day.
The fluted bezel and President bracelet make this variation even more unique, and yet the watch retains its 100m of water resistance. Behind the mesmerizing dial beats the caliber 2236, a self-winding mechanical movement featuring a 55-hour power reserve.
13. Vintage Rolex Datejust 1601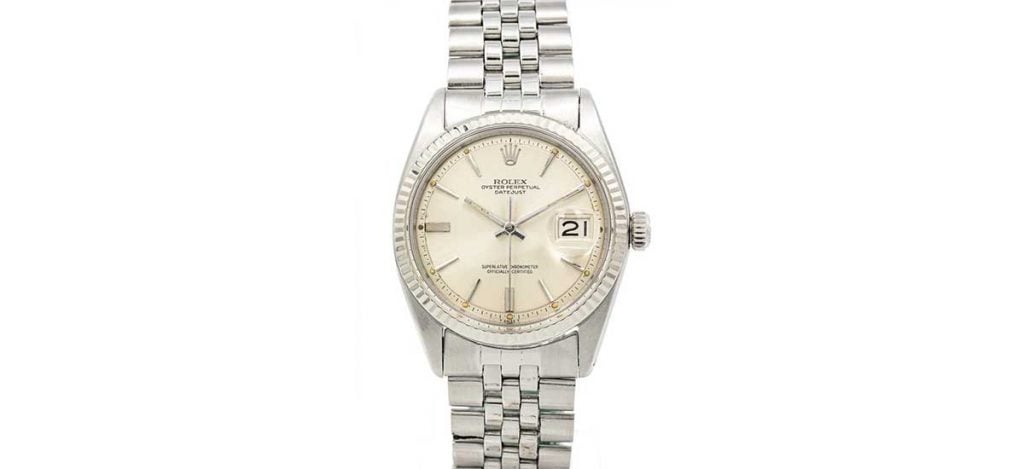 If you prefer your Datejust with a little patina and featuring a vintage-inspired acrylic crystal, perhaps a reference 1601 would suit your needs. Featuring classic Datejust proportions with a 36mm diameter and an 11.7 thickness, this particular reference is already a classic.
Part of the fame comes from being the last reference to feature an acrylic crystal. The other reason is the versatility of the watch. Available in steel, yellow gold, rose gold, or a combination of those, but always featuring a fluted bezel finished in either yellow, rose, or white gold.
While the water resistance is rated at 100m, being a vintage piece, you must have the watch's water resistance checked and certified before diving. Internally, the watch is powered by the caliber 1565 or caliber 1575, the latter being more robust and offering a quick-set function for the date.
As you might expect from the crown, the reference 1601 came with numerous dial finishes, ranging from silver to golden sunburst, but also includes more colorful variations like blue and gray.
14. Vintage Rolex Datejust Oysterquartz
In the 70s, the Swiss watch industry was hit with a bit of a dilemma – Japanese quartz movements. Japanese watch giant Seiko released The Astron in December 1969. Quartz watches, of course, do not require an automatic movement and are incredibly accurate – way more than anything Rolex was producing at the time.
Swiss watch stocks fell rapidly, and while certain companies released some of their most legendary pieces in that time, thanks to Gerald Genta, Rolex tried something else.
They released the Oysterquartz in 1977. A quartz-powered Rolex featuring an integrated bracelet and a beautifully designed case, ready to take on the rise of far cheaper Japanese watches.
The design for the watch began in 1972, and merely 25 years after its introduction, it was removed from the Rolex catalog. It is estimated that only 25,000 of these models were created.
That said, you will likely find several that suit your style. It came with several different dial colors, fluted and smooth bezels, and a linear version of either the Jubilee or Oyster bracelet.
Personally, the blue Rolex used for these models has evolved beautifully over time, and the watch design fits perfectly with modern tastes for sports watches.
15. Vintage Rolex Datejust 16234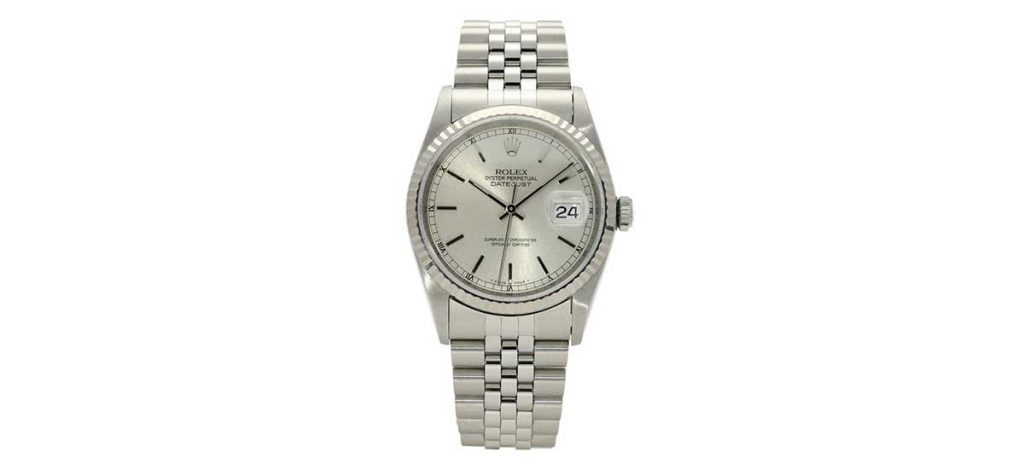 The reference 16234 is a classic and timeless Datejust, with everything you know and love about the model line. A 36mm elegant size, with 100m of water resistance for wearability, and comes in all different kinds of variations.
It was also the first reference to use a Sapphire crystal, which is the industry standard today. Produced from the late 80s to early 2000s, the timepiece had two main calibers within – either the 3035 or 3135.
If you find a watch produced before 1997, you'll be rejoiced to learn that it can pick up patina because it uses luminous tritium material. You can have your Datejust with diamonds, Roman numerals, baton markers, or Arabic numerals.
The price you would pay for one of these is the same as with every other vintage watch; it depends. It depends on whether or not it is a complete set, the condition of the piece, if the lume has been replaced, etc.
Conclusion
If you feel slightly overwhelmed by all the options, don't worry – we all do. The amount of Datejust options is so vast that it is nearly impossible not to find one for you to fall in love with. Whether you prefer your watch with more sporty or dressy credentials, there is a Rolex Datejust to suit your every need.
About Exquisite Timepieces
Established in 1998, Exquisite Timepieces is your one-stop shop for all things luxury watches! We are an authorized dealer for 60+ luxury watch brands including Omega, Hublot, Seiko, & Longines! We are proud to showcase one of the world's largest pre-owned watch collections, including renowned brands like Rolex and Patek Philippe. Check out our brand new watch arrivals here and popular pre-owned listings here.