15 BEST Tissot Dive Watches (Seastar in All Its Glory!)
Tissot is a name that has a rich history in the annals of horology. Originally founded in 1853, in Le Locle, Switzerland, by Charles-Félicien Tissot and his son Charles-Émile Tissot, this father and son duo found early success with the launch of their first timepiece, a two-timezone pocket watch.
The accuracy and craftsmanship of this timepiece would pave the way for future success and innovations. In the years to follow, Tissot would be among many firsts for the world of horology, with the two most important being they were the first watch company to mass-produce pocket watches and the first to develop anti-magnetic timepieces.
Now that the basic housekeeping of the who, when, and where is out of the way, we can now discuss the topic of today's article.
While Tissot sells millions of watches a year, we will not focus on the brand as a whole and its many different lines, but rather one; the Seastar collection.
So grab your trunks, goggles, and fins because today we are talking about the 15 Best Tissot Dive Watches and all of their aquatic glory.
Tissot or Not to Tissot, That Is the Question
I think it is safe to say that many of us in the watch enthusiast community know Tissot as the perfect entry-level luxury watch brand with many offerings/collections that range from lower-end quartz-powered models to much higher-end automatic timepieces in precious metals. Yup, you heard that right; precious metals.
But, while the topic of today's article will focus on Tissot's dive collection, the Seastar, it is worth mentioning that the Swatch Group brand has much more to offer than just a great dive watch.
One of those offerings being the PRX collection. Since their re-release and revival of the iconic PRX, originally launched in 1978, Tissot has been doing some great things with the collection. They have released many variants in different sizes, colors, and even complications. The latter is a stunning chronograph that would look at home on any race track.
Though it is not the only great collection in the catalog (e.g. Gentleman, T-Touch, and Le Locle), the PRX line has been helping Tissot attract new enthusiasts to the brand.
So, if you are new to watches and need a place to start, check out all of what Tissot has to offer and then ask yourself, Tissot or not to Tissot?
History: Tissot Dive Watches
Even though Tissot is the twelfth oldest watch brand in existence, the history and documentation of the Seastar collection prove to be a rather difficult task. Not because the line has been unsuccessful, far from it.
But since its launch in the 60s, the Seastar has had a high production volume and a wide array of models, which may have helped the Seastar collection find success, but it also means that it got lost in the dive watch boom of the 60s and 70s.
The Seastar, like many other early dive watches, was a tool, a functional piece of equipment meant to help those partaking in the new and burgeoning sport of recreational diving. So, it is no surprise that the watch is still in production and as popular as ever.
As you will see in this article, there are a plethora of Seastar models in different case sizes, colors, and movement types. With that said I believe that the Seastar collection has positioned itself as a great watch for the money in the entry-level luxury sector of the market.
The Best Tissot Dive Watches
The Seastar 1000 Powermatic 80 in 316L stainless steel is an incredibly strong way to start off our list today and is a pretty great value for money. With a case diameter of 43mm and a case thickness of 12.7mm, the Seastar 1000 Black Dial is a very capable dive watch with 300m of water resistance.
For a reference point, the Rolex Submariner has a very similar case thickness and the same water resistance; the biggest and main difference is the case diameter of the Seastar and, obviously, the price.
With that said, the Seastar 1000s ink black dial, black ceramic unidirectional bezel, 6 o'clock date, and applied indices make up a very nice-looking timepiece.
The stand-out feature for this watch, and any watch with the Powermatic 80 movement, is the 80-hour power reserve. It gives you the ability to wear this timepiece in your weekly rotation without having to wind and adjust it every time you put it on.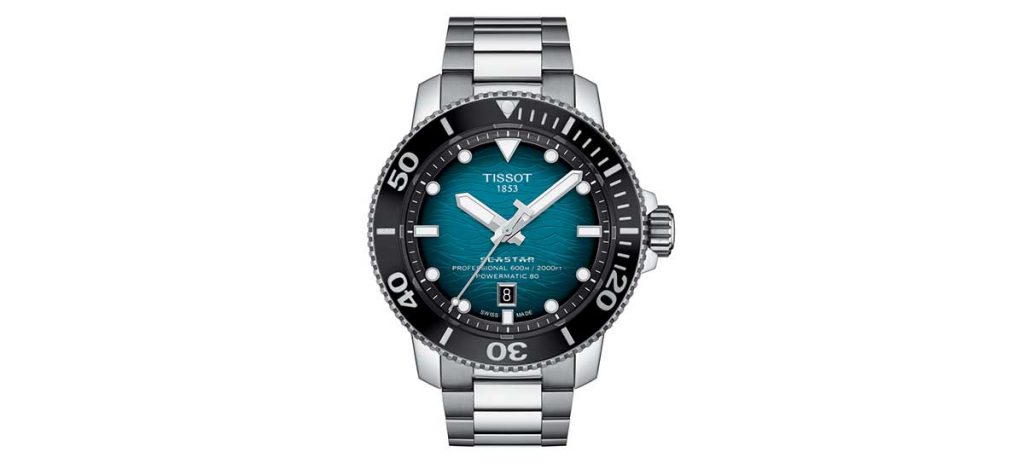 The Seastar 2000 Professional with the light blue gradient dial definitely fills the role of the Seastar 1000's big brother in almost every way.
The Seastar 2000, with its amped-up specs, is a great addition to the Seastar line. This professional-grade timepiece comes in a little larger than the Seastar 1000 with a case diameter of 46mm and a case thickness of 16.3mm.
Much like its little brother, the Seastar 2000 comes equipped with a ceramic unidirectional bezel, applied indices, and date at 6 o'clock. But, the stand-out feature for the Seastar 2000 that really does prove to be an upgrade, aesthetically, is the dial.
The beautiful light blue gradient dial with wave motif is very reminiscent of Seiko's Save the Ocean wave dials, but the "light blue" almost teal-colored Seastar 2000 is what separates the two.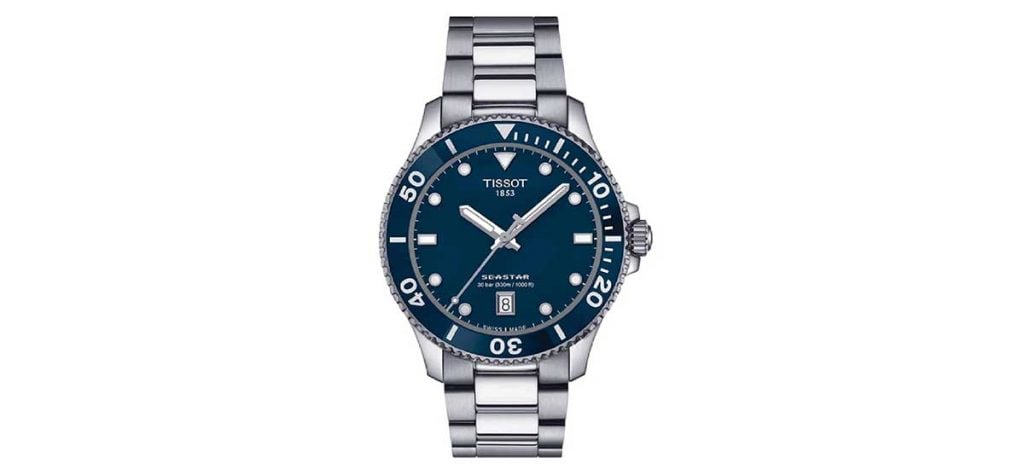 I think that, as watch enthusiasts, we tend to romanticize the idea of mechanical watches. While I love them and will always find an excuse to buy another, there are much more realistic ways to tell the time; for example, your phone, you always have it on you, and it will always be more accurate than your mechanical timepiece.
But, if it is the accuracy you are after and you still want something antiquated but fun on your wrist, your best bet will always be quartz. In steps, the Tissot Seastar 1000 quartz. A beautiful stainless steel dive watch with a case diameter of 40mm, a case thickness of a mere 10mm, and a water resistance of 300m!
The accuracy and ease of use with the quartz movement in the Seastar 1000 is really the selling point of this timepiece. It is the perfect timepiece for someone who isn't a die-hard mechanical purist but still wants the functionality of a capable dive watch.
The Tissot Seastar 1000 Powermatic 80 in rose gold is most definitely one of the most stylish timepieces on our list today. Much like its sibling, the Seastar 1000 black dial variant, the rose gold Seastar has a case diameter of 43mm and a case thickness of 12.7mm.
Also, like its sibling and older sibling, the Seastar 2000, this modern-looking angular case is a treat to wear and an even better treat to look at.
With its rose gold PVD coated 316L stainless steel case, the Seastar 1000 rose gold is a great statement piece to wear out on a night on the town and will fit nicely under a dress cuff due to its relatively thin case.
One departure from the timepieces we have already talked about on today's list is the rubber strap. While all of the variants on the list so far come on a stainless steel bracelet, the rose gold Seastar comes on a very nice fitted black rubber strap with matte black tang and buckle.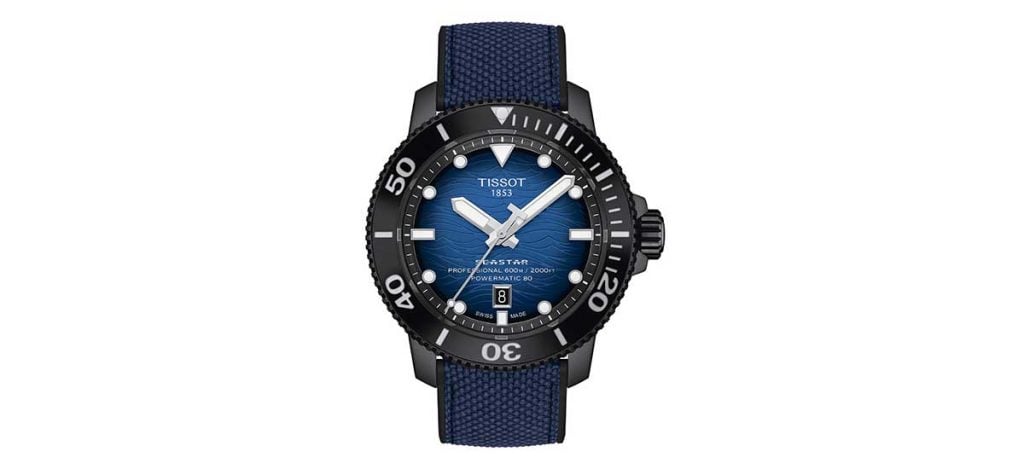 I would have to describe the Seastar 2000 Professional with navy blue gradient dial as the moody older brother in the Seastar family of watches. It also happens to be one of my favorite timepieces on the list.
While they share similarities in the case dimensions and use of the Powermatic 80 movement, that's where they end. The Seastar 2000 navy blue is aesthetically so different from the light blue that, at a glance, it could be a different watch.
The Seastar 2000 Professional navy blue variant comes with a black PVD-coated case and an amazing deep navy blue gradient dial whose edges mimic the inky black waters of the deep ocean.
While the dial still has the familiar wave motif, there is something sinister and angry about the dial that reminds me of a stormy ocean. All in all, I think that the Seastar 2000 w/ navy blue gradient dial is a great pick for a timepiece that is just a little different from the rest of the collection.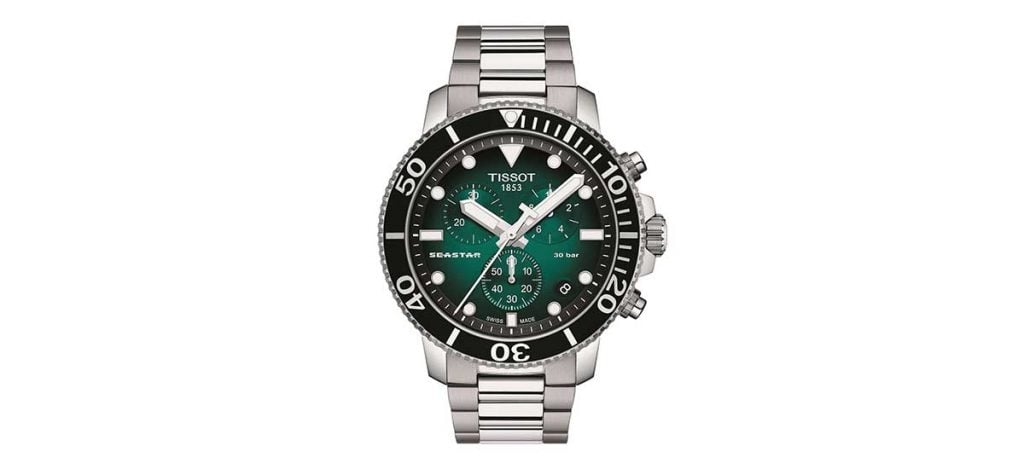 As discussed earlier, there is an easy ruggedness and a grab-and-go attitude when it comes to quartz-driven watches. They are particularly convenient when you have a rotation of multiple watches. The Tissot Seastar 1000 Quartz Chronograph w/ green gradient dial is the perfect addition to a rotation that needs a little color and convenience.
With a case diameter of 45.5mm and a case thickness of 12.8mm, this quartz-driven dive chronograph is a wonderful tool watch and a great entry if you are looking to add a dive chronograph to your collection. The modern case is completed with a screw-down crown and pushers, allowing 300m of water resistance.
The unidirectional aluminum bezel gives this modern dive watch a hint of vintage aesthetic that will likely age and patina well in the coming years. The beautiful gradient green dial, which is leaning more towards a dark teal, comes complete with three subdials, applied indices, and a color-matched date window at the four-thirty position.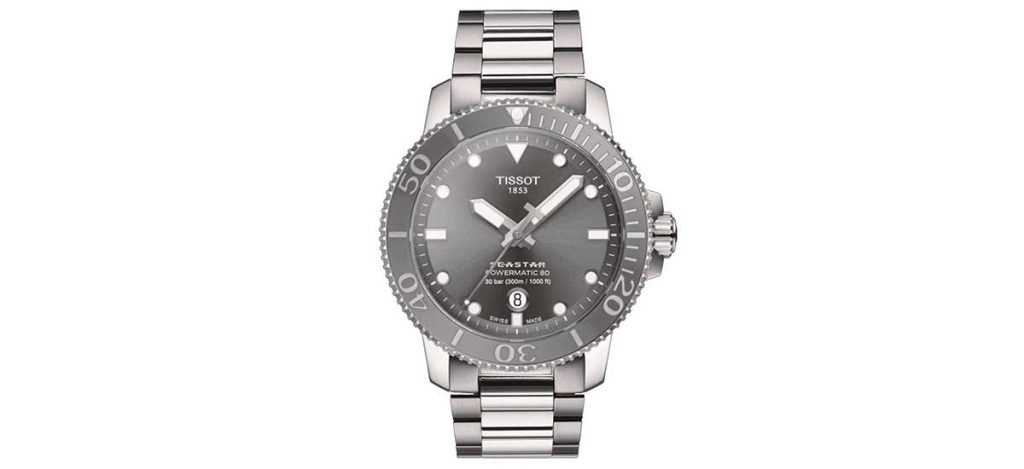 One of my favorite features of the Seastar line is something we haven't discussed in detail, the bezel. While it is similar to most models of the Seastar line, one of its best attributes is the conical sloped shape. It adds a sense of refinement and helps it stand out from other watches at this price point.
With that said, I think that one of the best-looking Seastar bezel/bezel insert combinations comes on the Seastar 1000 in light gray.
The monochromatic Seastar 1000, like its siblings, has a case diameter of 43mm and a case thickness of 12.7mm. But what helps this reference stand out in the line is its almost surgical aesthetic, which is very reminiscent of an aged diver with a ghost-like patina.
I think that most of the Seastar collection can be considered strap monsters, but I think that due to the subdued color scheme, the Seastar 1000 light gray is the most versatile and one that could be worn with a strap of any color or pattern.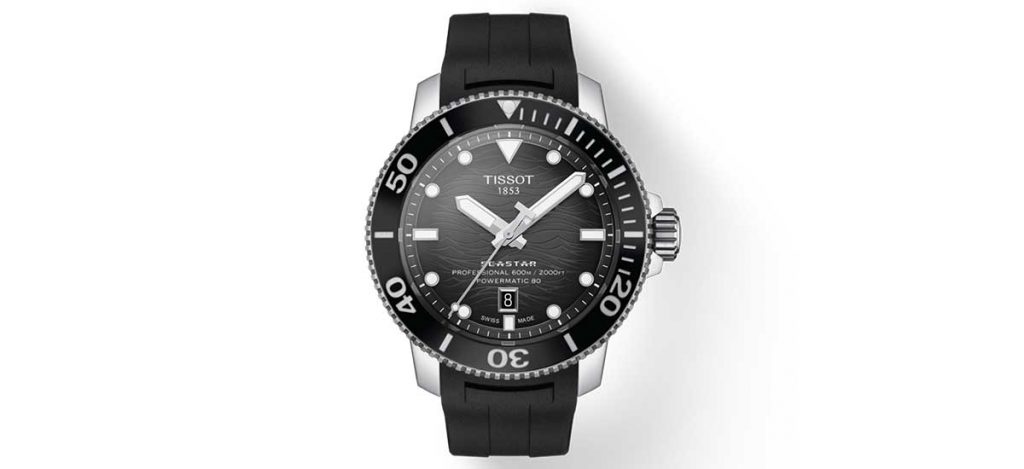 As discussed earlier in the list, the Seastar 2000 is the professional grade dive watch from the Seastar family. But, one thing we haven't discussed about the beefed-up big brother is its helium escape valve.
For those who don't dive, the helium escape valve on a professional dive watch with high water resistance is meant to release trapped helium build-up while saturation diving at great depths, preventing your timepiece from being damaged by the high pressures of the deep ocean atmosphere.
As far as enthusiasts go, 99% of us will never need the luxury of a helium escape valve, but as Tim Mosso from The Watchbox says, "It's a great conversation starter."
We have finally arrived at the spot on our list with a watch that is a great size for those with smaller wrists. With a case diameter of 36mm and a case thickness of 9.7mm, the quartz-powered Seastar 1000 w/ white dial is a stunner and maybe the perfect summer watch.
While yes, it is a small dive watch, I think that the Seastar 1000 occupies a part of the market that is important to attracting new and female enthusiasts. Its only competition at this price point is the Hamilton Khaki Navy Scuba Quartz in 37mm.
While both brands are part of the Swatch Group, Hamilton as a whole is a great brand with a great history, but I think for the money spent, the Tissot Seastar gives you a little more refinement with its white lacquered dial and case design.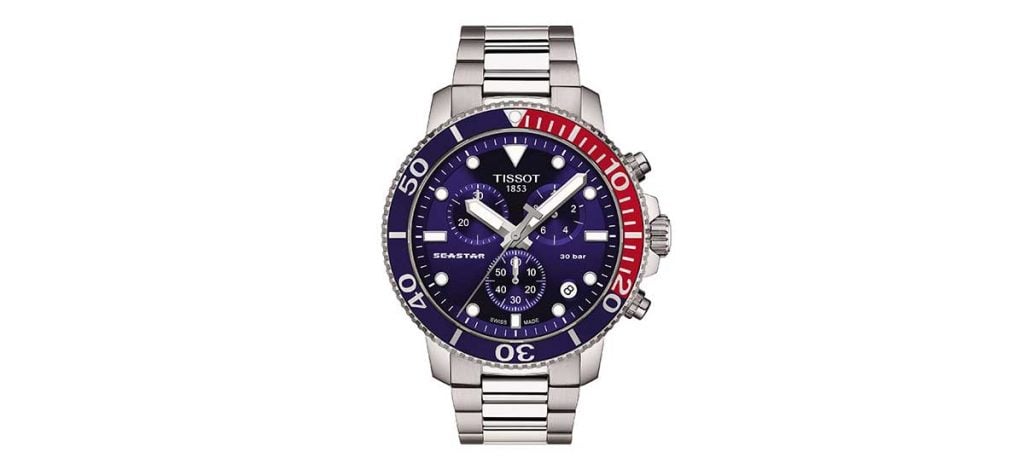 Tissot's Blue variant of the Seastar 1000 Quartz Chronograph is another great do-it-all piece within the Seastar collection. Unlike some of its purpose-driven professional dive watch siblings, the blue gradient dial has a sense of sophistication, much like the green dialed variant.
Where the blue-dialed chronograph really stands out is in its versatility. I think that this watch can be worn in a multitude of situations, from the beach to a boardroom and anything in between. While it will likely not be a black tie event type of watch, it will still prove to be a great daily wear, regardless of what your plans are.
So if you're looking for a bit of color in your life, I recommend both the green and blue dialed Tissot Seastar 1000 Quartz Chronographs.
Since this will be the last Tissot Seastar 2000 Professional on our list, there are some things that I would like to highlight that we haven't discussed yet.
First, the angular case of the Seastar 2000 is ultra-modern. With relief channels cut into the sides of the case, the Seastar 2000, though a big and brutish watch, saves on a little weight. I think that these relief cuts give the Seastar 2000 an almost futuristic look while maintaining its dive watch aesthetic.
Second, we mentioned the Powermatic 80 movement in passing but haven't discussed it at length. The Powermatic 80 has an impressive power reserve of 80 hours, but the real standout feature is the Nivachron balance spring which helps the movement be anti-magnetic.
I understand that silicon balance springs aren't new, but it is definitely a huge upgrade for a watch that can be had well under $1,000.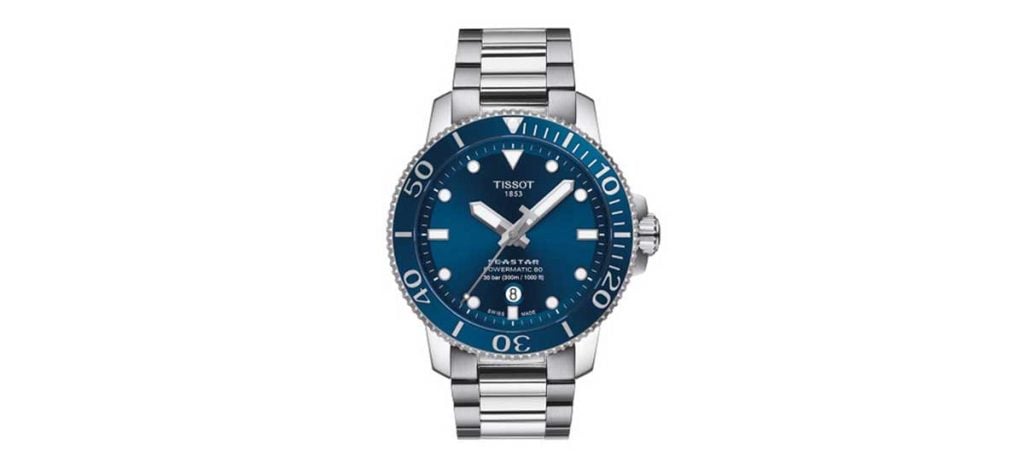 I think the Seastar 1000 w/ the blue dial is a great reminder that Tissot is a brand that can build a great watch at a great price point and still looks the part for almost any scenario you put it in.
Similarly to the blue-dialed quartz chronograph reference, the Seastar 1000 Powermatic 80 w/ the blue dial is a great option for adding a subtle change to the ever-present black-dialed dive watch in every watch rotation.
With summer just around the corner somewhere in the world, I think that as an everyday wear, the Seastar 1000 is a great host for rubber or sailcloth straps that will allow you to customize your look and have an excellent watch for the beach, the bar, or the boat!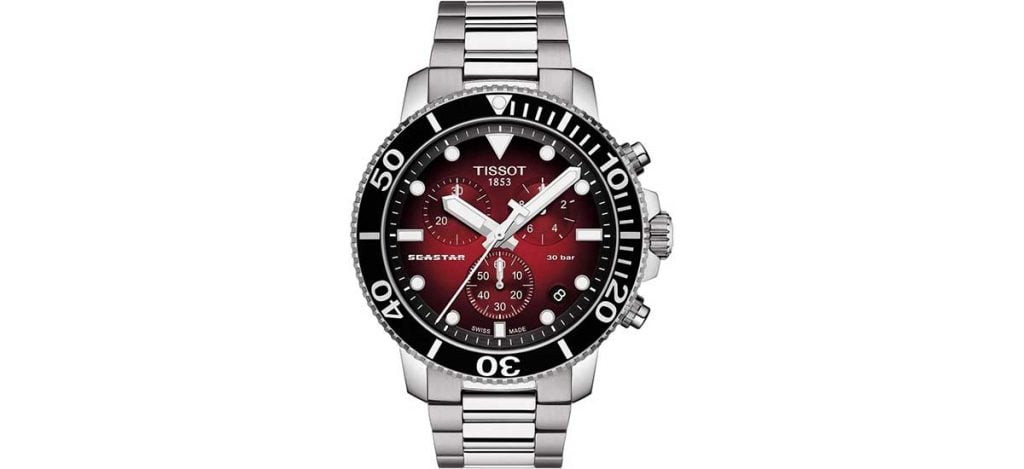 When discussing watch dial colors, it is very common to see black, white, silver, blue, and even green, but a color that is not as common is red. While it is most definitely a bit more bombastic, I think that it has its place in the world of horology. When done right, red can be a seductive dial color and a wonderful addition to a collection.
The Tissot Seastar 1000 Quartz Chronograph w/ the red gradient dial is one of those timepieces that uses red correctly. The dial, much like the other chronographs in the Seastar collection, has your traditional sub-dial layout and a date between 4 and 5 o'clock.
But where the Seastar 1000 really shines is in​​ Tissot's use of a deep red, almost maroon, colorway that oozes sophistication. It really is a beautiful dial and a great timepiece that is a great way to start a collection for a new enthusiast who might want to stand out from the crowd a little bit.
Now that we have discussed the modern Tissot Seastar collection in its many different variations, I think it is important to discuss a few vintage timepieces that paved the way for the modern Seastar collection.
The vintage Tissot Seastar Navigator ref. 40522 is a funky and chunky (for its time) timepiece in a very 70s-styled tonneau case. With a case diameter of 41mm, this watch was definitely a big piece for its time.
The Seastar Navigator has a black bi-compax layout (meaning two subdials), and is powered by a manually wound movement, the Valjoux cal. 7734, and has a date at the six o'clock position.
This delightful 70s creation adds just the right amount of color with red chronograph hands and, from a distance, might be mistaken for a Heuer Viceroy. With that said, you can have the 70s Formula 1 look on your wrist from a company with a wonderful history, if the Tissot Seastar Navigator revs your engine.
For someone like myself who loves vintage watches but has large wrists, the Seastar Navigator and our next and final watch on the list, the Tissot Visodate Seastar T12 ref. 44518-7 are great options.
Much like the Navigator, the Visodate comes with very modern proportions. With a case diameter of 42.2mm and a lug-to-lug of 50mm, the Visodate would fit perfectly on a variety of wrists and feel right at home by today's modern standards.
One of the coolest parts about the Visodate is its overly cool 70s aesthetics. The black dial with red and white accents makes the Visodate the perfect companion for a quick ride on your vintage Powell-Peralta skateboard or Channel Island surfboard.
Which reminds me, unlike the Navigator, which is a chronograph, the Visodate is a dive watch, one with a super compressor case. A super compressor case is a type of case-sealing technology patented in 1956 that allows for a spring-loaded caseback to seal tighter and tighter as the external pressure increases the deeper you dive.
To say that the Visodate is my favorite watch on the list is an understatement. If given the opportunity, I would buy this timepiece today and cherish it until I leave this world.
Parting Thoughts
Okay, so maybe that last sentence was a bit dramatic, but it is true!
After taking the time and researching Tissot as a brand and, more specifically, the many different variations of timepieces in the Seastar collection, I can confidently say that there is something for everyone.
From the new enthusiast looking to start a collection to the enthusiast who has it all, I think that the Seastar collection offers a whole lot. Whether you are looking for color, size, complication, or strap options, the Seastar line has a variation for you.
So, if you are in the market for a well-made dive watch and need a starting point, check out the Tissot Seastar collection.
About Exquisite Timepieces
Established in 1998, Exquisite Timepieces is your one-stop shop for all things luxury watches! We are an authorized dealer for 60+ luxury watch brands including Omega, Hublot, Seiko, & Longines! We are proud to showcase one of the world's largest pre-owned watch collections, including renowned brands like Rolex and Patek Philippe. Check out our brand new watch arrivals here and popular pre-owned listings here.