20 BEST Investment Watches for 2023 (Rolex, AP, Omega, Etc.)
No matter your stance on watches as "investments", or a new alternative "asset class", it can't be denied that the secondary market values of these objects traditionally worn on the wrist have jumped in recent years.
Indeed, when Aurel Bacs hit the proverbial hammer on October 26, 2017, at the Phillips auction house in New York with the record-setting $17.8-million dollar sale of the "Paul Newman" Rolex Daytona, a new era of watch collecting was ushered in.
To be clear, particularly rare vintage watches have commanded high secondary market prices on the auction block for years. But, with the advent of new technologies such as social media and popular internet blogs, the attention on the watch space has never been greater, impacting the scene from vintage all the way down to modern, new watches as well.
And while not every watch will garner the attention and multi-million dollar valuation of the "Paul Newman" Daytona, it's clear that collectors are now acutely aware of the residual values when purchasing a watch.
Oftentimes, it may be the deciding factor when deciding to buy or not. Whether secondary market values are the lowest rung on your ladder of watch purchase decision-making or the top factor in building your watch "portfolio", let's explore the idea further.
Why Do People Invest in Watches?
Beanie Babies, baseball cards, comic books, and more. No matter the hobby, collectors will always seek to differentiate themselves from their peers by seeking out the rarest or most special items. If you're looking for an error-tag Snort/Tabasco Beanie Baby, look no further than my childhood closet. And with rarity comes value (the old "supply and demand" adage); It's no different in the watch hobby.
But when spending upwards of thousands of dollars on a single item, it's arguably more responsible to understand both the inherent value (the "why" of a particular watch; what draws you to it, what sparks your joy, why to hold on to it), and the secondary market value (if you had to sell it, how much would it go for, does it lose, gain or hold its value, how fast would it sell, would anyone even want to buy).
And when we're talking thousands of dollars, to even hundreds of thousands and millions, we enter into the realm of true asset classes. Indeed, watches have become a way to diversify and spread wealth, similar to how automobiles and fine art have in recent decades. On the one hand, we have profit-seeking, and on the other, the mere comfort of knowing your money is generally "safe".
How to Choose the Best Investment Watches?
None of us have a crystal ball. And we certainly can't predict the future or offer any financial advice to propose what is or will be, the next big watch hit in which you can safely place your money. But we can make our best-educated guess based on historical market trends and the factors that led to high valuations of specific watches to better understand where we may see these patterns again in the future. So what makes a good investment watch? Consider the following factors:
Rarity. We've said it before, and it bears worth repeating. Low supply generally yields high demand. The rarer a watch may be, whether from low production numbers, limited edition makeups, age, and so on, the higher the secondary market price may go. In a hobby as personal as watches (these are goods of self-expression, after all), collectors will continue to seek ways to differentiate themselves from the masses. The more different or expressive a watch can be, the more they're willing to pay.
Condition. And yet, not all watches are the same, even if they are within the same make. We have to factor in the condition of a timepiece when determining its value, and the better a watch's relative condition is, the higher its price can command. For example, a vintage 1680 Rolex "Red" Submariner with a cracked crystal should generally be less valuable than the same 1680 Red Sub with its crystal intact.
Authenticity. Hand in hand with the condition is authenticity. Is the watch true to its original makeup when it left the factory? Are there any replacement parts, and have the replacements been disclosed to the public? Has the watch been serviced, and does it include official documentation or papers from the manufacturer and all original accouterments (good old "box and papers")? All factors here will impact the added value.
Heritage. Does the watch come from a particularly popular brand or has a storied history with documented use in research, development, and beyond? (Insert your favorite Moonwatch story here).
X-Factor. The hardest to determine, and oftentimes overlapping with rarity and condition, is the "X-Factor". This can be thought of as something that makes a watch particularly special outside the normal attributes. Think "Khanjar" or Tiffany stamped dial Rolex or your favorite celebrity wearing a timepiece courtside. Indeed, the "Paul Newman" Daytona wouldn't have reached its record-breaking heights without relation to the actor. Even the Domino's Pizza Rolex Air King is seeing its heyday.
Which Are the Best Watch Brands to Invest In?
The easy answer: Rolex, Patek Philippe, Audemars Piguet, and popular independents such as F.P. Journe and Akrivia.
The vaguer answer: Watches of good investment value can be found across the full spectrum, from Swatch and Seiko to the upper echelons of masters like Philippe Dufour and Roger W. Smith, model dependent.
The truth: Any brand worth investing in will have some mix of the factors listed above, namely rarity, condition, heritage, and some shade of "X-Factor".
These brands will be harder to get (ex: the Rolex "waitlist"), have documented histories of greatness or contributions to the watch craft and industry, and will find their own organic popularity through the movers and shakers of the hobby, ultimately garnering more interest from the community at large (ie, more demand).
The 20 Best Investment Watches of 2023 (for your consideration):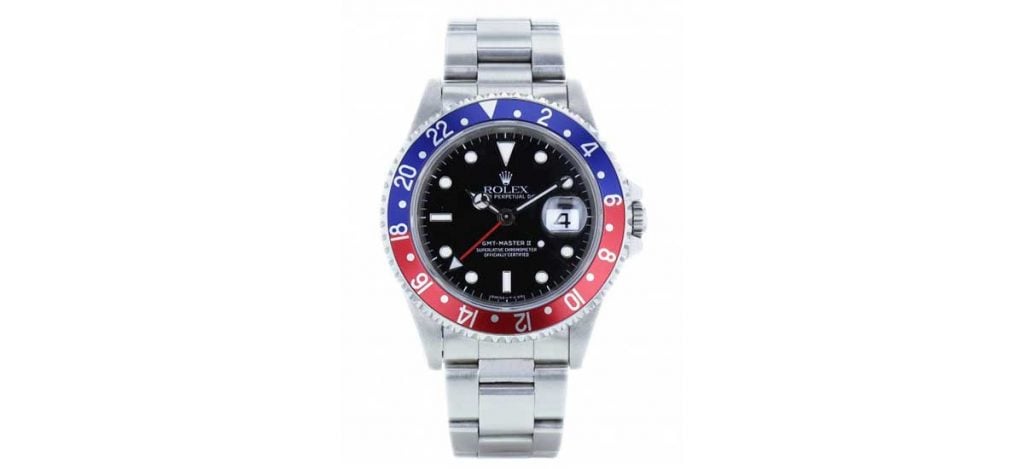 As a premier flagship steel sports Rolex model, arguably any iteration of the Rolex GMT Master can be considered an investment piece due to the iconic status the watch holds in Rolex's lineup and pop culture. However, particularly in the 16710 produced from 1989 through 2007, we see an "end of an era" in true tool watch form before Rolex makes the switch to upgraded materials decidedly more luxury leaning such as a ceramic bezel, updated bracelet and maxi dial and case size.
Available with the iconic red and blue "Pepsi" bezel insert, the black and red "Coke" insert, or the all-black bezel variation, the 16710 is heralded by collectors for its iconic looks and tool watch practicality. And with its 40mm case diameter, 12.4mm thickness, 47.5mm lug-to-lug, and 20mm lug width, we have classic case size proportions suitable for various wrists for those who find the modern variant a bit too large.
Of note, a collector will find a few iterations within the 16710 model line: the "SWISS T25" dial with tritium hour markers and hands pre-1999; the transitional "Swiss Only" dial dated to 1999, and the "SWISS MADE" dial featuring SuperLuminova hour markers and hands from 2000 onwards.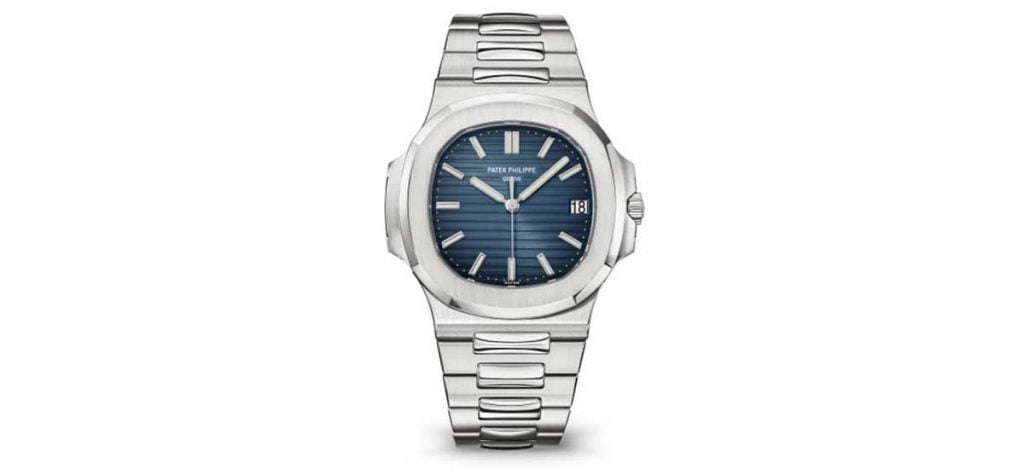 Another darling of the watch-collecting zeitgeist (perhaps THE darling), the Patek Philippe Nautilus 5711, discontinued in 2021, is perhaps a surefire addition to any watch investment portfolio. Originally debuting in 2006 with several references among its ilk in steel, gold, platinum, and gem set beauties over the years, the 5711 was not actually all that popular upon its initial release.
With its 40mm diameter case, svelte 8.3mm thickness, and that iconic Gerald Genta case design (call them "ears", and you'll never unsee it again), the stellar casework and finishing combined with a top-of-the-line comfort on the wrist meant that what was once under the radar and eclipsed by its kin such as the reference 5712, would soon see eventual success with the more recent craze of steel sports integrated bracelet watches (which I dub the "Genta Wave").
Another case of an overlooked watch becoming a hit under all the right conditions: The brand heritage of Patek, the storytelling X-Factor of Genta design, and the rarity of steel sports Patek watches all almost guaranteed the success of the 5711 which would eventually see auction results more than six times its MSRP.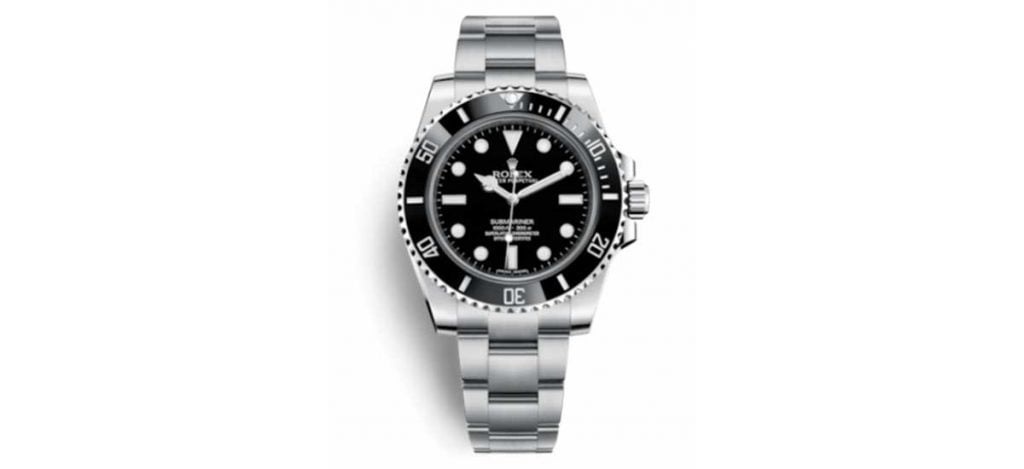 Quick exercise: Picture a watch in your head. Any watch. What did you see? Chances are, you saw a dive watch with a black rotating bezel, a black dial with white hands and indices on the archetypal oyster bracelet. Its name? The Rolex Submariner.
Originally launched in 1953, the Rolex Submariner and its Date counterpart (there is truly only the "Submariner" and "Submariner Date" in official Rolex terms) are definitive icons not only in the watch community but in the broader world community as well. If Rolex is the most famous luxury watch brand, the Submariner is, by default, its most iconic watch.
And you don't have to take (pre-Brosnan era) James Bond's word for it, or everyone who decided to mark a milestone in their lives by purchasing a Submariner in the decades since. Among its evolutionary line, the 114060 is a particularly interesting watch from an investment standpoint. Being the last of the 40mm case size Submariners (replaced by the 41mm 124060 in 2020), the 114060 actually came out a year after its date steel counterpart (116610LN).
With a shorter run than the 116610LN and its relatively smaller overall production numbers (with the Date version eclipsing the Submariner with an estimated 2:1 ratio), the 114060 occupies a unique slot within the Submariner lineup as a safe investment given the overall popularity of the Submariner line, and the relative rarity the 114060 presents within it.
4. Audemars Piguet Royal Oak 15202 "Jumbo"
An icon, and one of the most popular watches on the planet, the Audemars Piguet Royal Oak 15202 "Jumbo" was discontinued in 2021. Discontinue any watch of the 15202's iconic stature and status, and you'll almost always find a safe placeholder in your watch collection.
After all, if an uber-popular watch isn't being made anymore and fewer and fewer can be found, rarity and price sensitivity ensue. Acting as a clear call back to the original steel Royal Oak as designed by Gerald Genta, the contemporary 15202 was announced in 2012 as part of the 40th anniversary of the Royal Oak.
In the years since, we've seen various stunning interpretations of the 15202 in White Gold (15202BC), Titanium and Platinum (15202IP), and even full Yellow Gold (15202BA). But, it's arguably the original steel reference (15202ST) that is the definitive luxury sports watch.
After all, the Royal Oak is the original luxury sports watch. With a 39mm size case, 8.1mm thickness, powered by the calibre 2121, and finished to perfection, anyone lucky enough to have the 15202 on their wrist has already made it; investment potential be damned.
5. Omega Speedmaster First Omega In Space (ref. 311.32.40.30.01.001)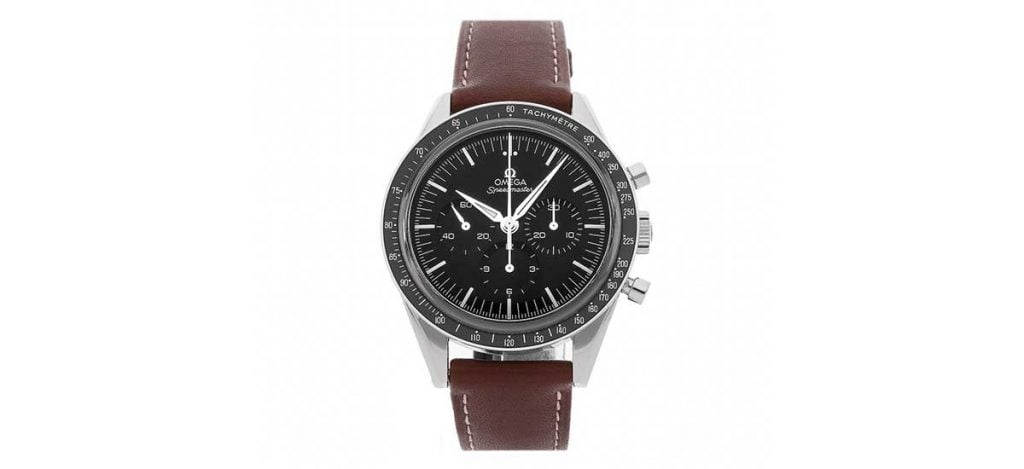 When speaking of brand icons, the Omega Speedmaster is a genuine archetype. Nearly synonymous with the achievements of NASA in the space age for watch geeks, it was the Speedmaster CK2998 worn on the wrist of astronaut Wally Schirra (his own, purchased privately) that holds the title of the first Omega watch in space, dating back to October 3rd, 1962 on the Mercury-Atlas 8 mission.
It was in commemoration of Schirra's achievement (orbiting the Earth six times onboard the Sigma 7 spacecraft) that Omega decided to launch the 60th-anniversary reference to the original in the "First Omega In Space" Speedmaster (FOIS) in 2012.
Now discontinued in 2020, the FOIS took inspiration from the original CK2998 with its 39.7mm diameter case size and symmetrical straight lugs (as opposed to the now emblematic twisted lugs of the "Professional" Speedmaster) worn on a leather strap, anticipating an era of vintage leaning aesthetics in a contemporary watch design that continues to this day.
From an investment standpoint, we have here in the FOIS a variant of an all-out watch archetype with a limited eight-year production run (an estimated 15,000-16,000 made based on numbered edition marked watches listed on the secondary market), with a vintage fit and appeal no longer available in the Speedmaster line.
6. Patek Philippe Aquanaut 5968G-010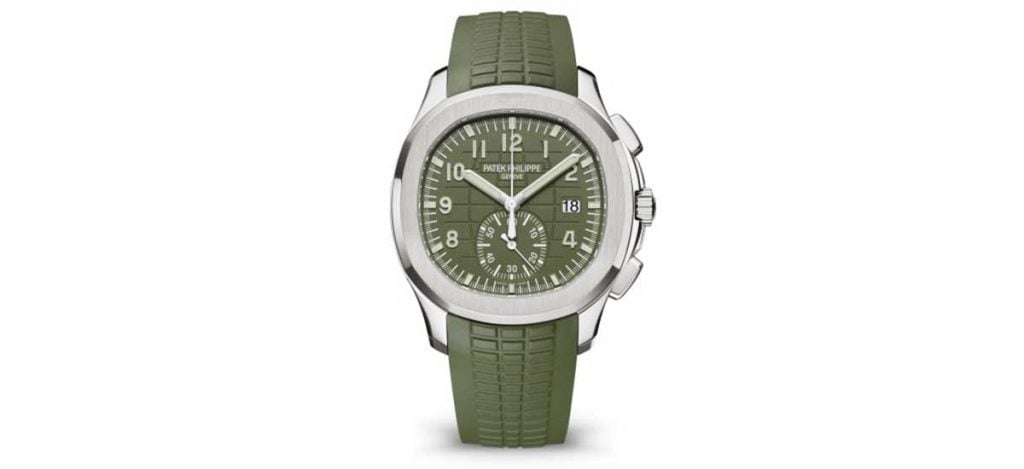 The heavy hitters continue. It was John Mayer who once described the Patek Philippe Aquanaut as "the Chuck Taylor version of Patek Philippe". If you can afford one, or even afford the opportunity to buy one, count yourself among the lucky. For when even a watch's composite rubber strap is highly collectible, you know the timepiece it's attached to is even more special.
Often thought of as the more affordable alternative to the Nautilus and supposedly geared towards a younger demographic, aside from the flex and literal buy-in required to purchase the watch, at its core, Mayer's assertion is correct.
Available in Khaki Green (Electric Blue and Bright Orange variants exist, among others), with a modern 42.2mm diameter and 11.9mm thickness, the grenade-like dial and vibrance of the Aquanaut imbue the wearer with the ultimate sense of high-low in watch wear.
The best of old-world watchmaking and finishing with the Patek name and brand values (cue in the precious metal white gold case material), with the modern and punchy design to take a kicking and keep on ticking. These characteristics make the Aquanaut a highly in-demand model to this day.
7. Audemars Piguet Royal Oak Offshore Chronograph (ref. 26470OR.OO.1000OR.01)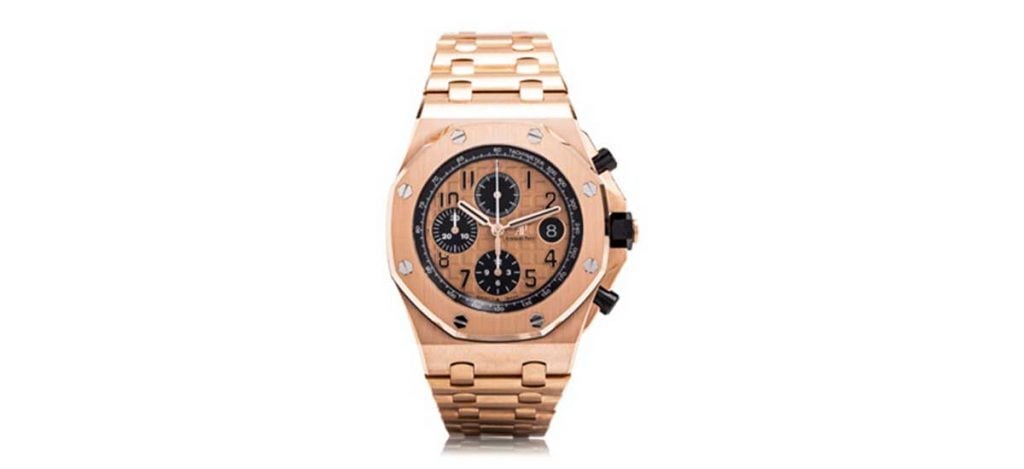 The Audemars Piguet Royal Oak Offshore Chronograph (26470OR) was first introduced in 2014. Featuring a pink gold case, bracelet, and dial, encased in a 42mm diameter and 14.6mm thickness water resistant to 100m, the Offshore Chronograph is an unabashed luxury sports watch.
With the Offshore line being traditionally a testing ground for Audemars Piguet in materials, limited edition models, and endorsements, this particularly robust (read "massive") Offshore is a thick chunk of pink rose gold material, accentuated with an integrated bracelet recalling the original Royal Oak beauty of yore, while coupled with ceramic crown surrounds and chronograph pushers, a remarkably modern addition, along with a sapphire display case back.
AP is truly at the top of the game with their level of finishing and refinement, and it's no wonder that the dichotomy of the Offshore's seemingly uncharacteristic bold and rough sportiness coupled with a sense of ultra sophistication has created one of the more popular watches for collectors of the brand to date. In terms of investment, sometimes you need to spend money to make money, and the Offshore is indeed one fun way to do it.
8. Vacheron Constantin Overseas 4500V Brown Dial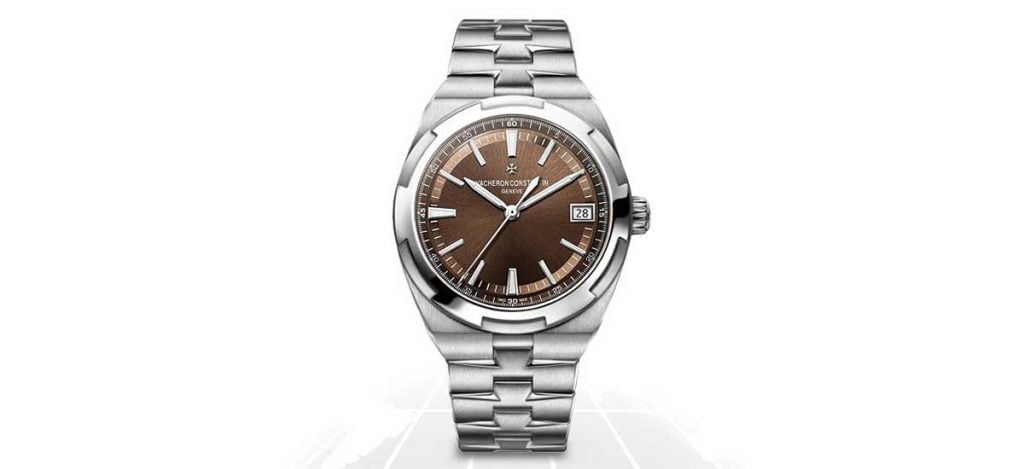 At Vacheron Constantin's 2016 showing at the Salon International de la Haute Horlogerie (SIHH), the third generation of the Overseas (4500V) was released to much fanfare. In blue and silver dial variations, the updates over the previous generation Overseas models (all the way back to 1996) showed us that the Overseas was a line that again deserved to be in the conversation alongside outside brand rivals in the Royal Oak and Nautilus integrated bracelet, steel sports range.
Featuring a 41mm stainless steel case in tonneau style, the 4500V is 11mm thick and water resistant to 150 meters. The movement is protected against magnetic fields up to 25,000 A/m with its soft iron casing ring and is available on a steel bracelet, rubber, or leather strap.
And while the blue and silver dial variants are drool-worthy in their own right with their refinement and build quality, it was the brown dial 4500V/110A-B146 variant released in May 2016, a few months after SIHH, that's a particularly good investment for the discerning collector as it was discontinued only one year later.
Again, we fall back to rarity and X-Factor; A holy trinity grade watch, representative of a steel sports/integrated bracelet line, limited to a one-year production, with arguably the loveliest shade of brown on a luxury watch yet (Seriously; Why aren't there more?).
9. Rolex Cosmograph Daytona (ref. 116500LN)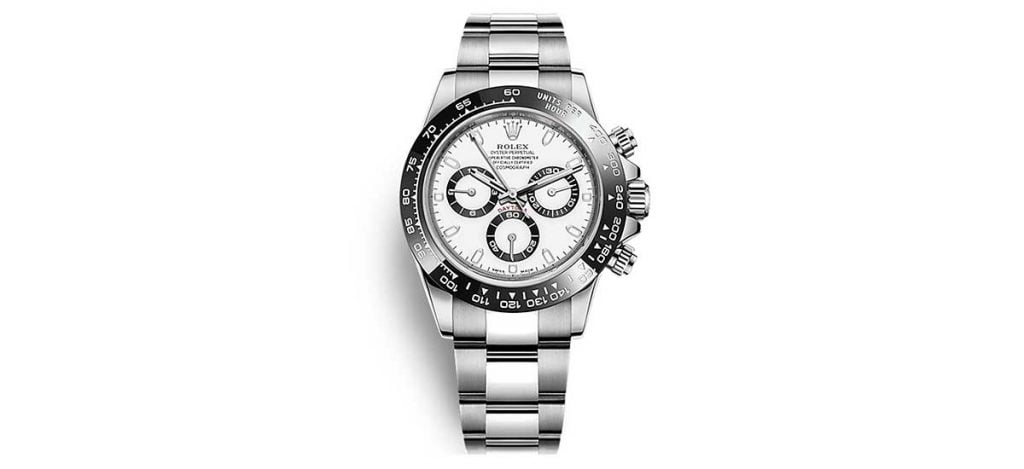 No surprises here; The Rolex "Panda" Daytona (116500LN) makes the list. With a history going as far back as 1963, the first Cosmograph chronograph was decidedly not a hit. Despite its associations with the Daytona Speedway 24-Hour endurance race (of which Rolex became the official timekeeper for in the 60s), it was a watch famously sold off at a heavy discount and often coupled with the purchase of full gold Datejusts in the 70s and 80s (anecdotal, but you catch my drift) which were the best sellers at the time.
In other words, it was the unwanted outcast of the bunch. But where unpopularity ends, rarity and scarcity take hold. Throw in the celebrity factor (insert Paul Newman), and keen heads began to take note. Ultimately, we know the modern ceramic Daytona as one of the most unattainable watches at retail in current times, with supposed waitlists in the double-digit years.
And yet, regardless of the hype and phenomenon that accompanies the Daytona legend, we have a watch that at its core has evolved on a technical level with the calibre 4130 (quiet progress; Rolex's way) in a 904L Oystersteel case and bracelet, measuring 40mm in diameter (officially; on the wrist, it's closer to a 39mm) and 12.2mm thick. All of which to say, a watch that wears perfectly. Whether you purchase it for the hype or investment purposes or to simply enjoy it on your wrist, you won't find disappointment here.
10. Omega Speedmaster "Alaska Project" (ref.311.32.42.30.04.001)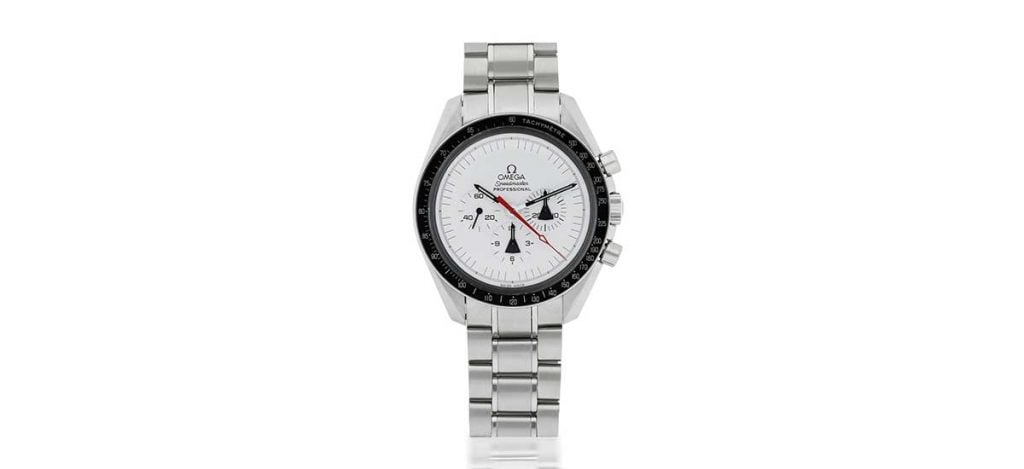 Timeline: the early 1970's. NASA is considering exploration of the dark side of the moon; Omega develops an outer case for the Speedmaster watch to help withstand the harsh and extreme temperatures of Outer Space. Its name: "Alaska Project". Fast forward to 2008, when Omega decides to release a limited and numbered edition of the "Alaska Project' to the public, in 1970 pieces available world wide in commemoration of its historic exploits.
With it's stark white dial, contrasted against the now iconic sub dial "Apollo Hands", the Alaska Project Speedmaster is an otherwise standard Speedmaster Professional case and calibre 1861 movement that also features a large red-anodized aluminum outer case (57mm diameter x 23mm thick) which when coupled to the watch, enables it to withstand temperatures between -148 degrees celsius, to +250 degrees celsius. It's big, it's bold, and it's rare.
11. Rolex Daytona "John Mayer"
The second Daytona on our list, everything we said prior still rings true for the "John Mayer", reference 116508. In fact, the "John Mayer" name came only from its association with the famous singer-songwriter after he revealed the watch as part of his collection.
He regarded it as an obvious hit that was being overlooked, and just like that, the solid yellow gold watch with its stunning Rolex green dial became an overnight sensation. Consequent rumors of its eventual discontinuation year after year since have only added to increased speculative values. John was right; this one's a hit.
12. Omega Seamaster 300 Spectre (ref. 233.32.41.21.01.001)
Omega's ties to the James Bond cinematic empire date back to the Pierce Brosnan era of the 1990s. With the traditional wave dial Bond Seamaster now being an icon in its own right, we propose looking at what could be that model's antithesis; The straight lug, broad arrow Seamaster 300 Spectre edition based on the CK2913 of the late 1950s.
The Spectre is an attractive watch that leans into the design cues and aesthetics of the 50s and 60s, coupled with the modern innovations of Omega technology such as the Co-Axial and calibre 8400 movement. In total, 7007 pieces were made.
13. Richard Mille RM055 "Bubba Watson"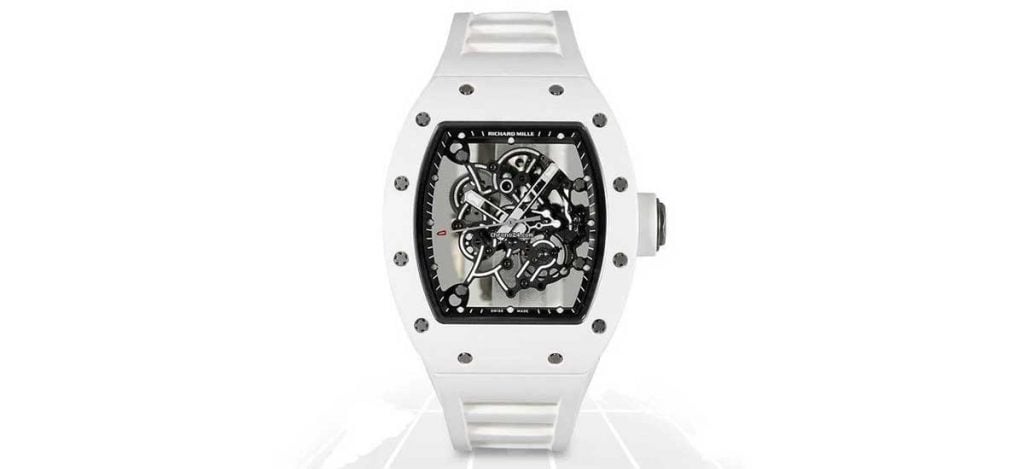 Bubba Watson, the famous American professional golf player, has partnered with Richard Mille since 2011. Though many models have been built for Watson (for example: the RM038, a direct inspiration for the RM055), the RM055, in particular, is a highly technical and innovative sports watch hand-finished to high watchmaking tradition standards.
Richard Mille, renowned for their unique case and baseplate materials and research, combines rubber, titanium, carbon fiber, sapphire, and ceramic in a highly skeletonized tonneau case with the "Bubba Watson". Built to handle extreme sports and high impact, truly any Richard Mille watch is an investment in both price to acquire and expressive (yet functional) design.
14. Patek Philippe Nautilus 5980/1R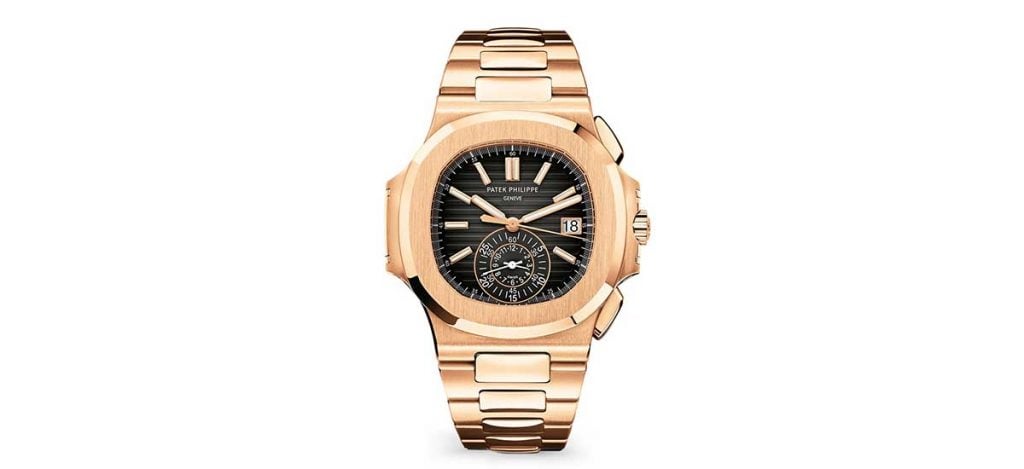 A 45-hour power reserve, fly-back sports chronograph in 18k rose gold, the 5980/1R simply oozes class with its 40.5 mm diameter x 12.2mm thick case, all the while water resistant up to 120 meters. With a 21k gold central rotor powering its manufacture CH 28-520 C movement, what truly sets the 5980/1R apart is its solid rose gold bracelet (and that finishing), formerly available in rose gold only on a leather strap before 2013. This is a bold watch for the boldest of collectors only, and at over 253 grams unsized, it's a true investment piece that could be the center of any watch portfolio (if not said portfolio's center of gravity).
15. Richard Mille RM27-04 "Rafael Nadal"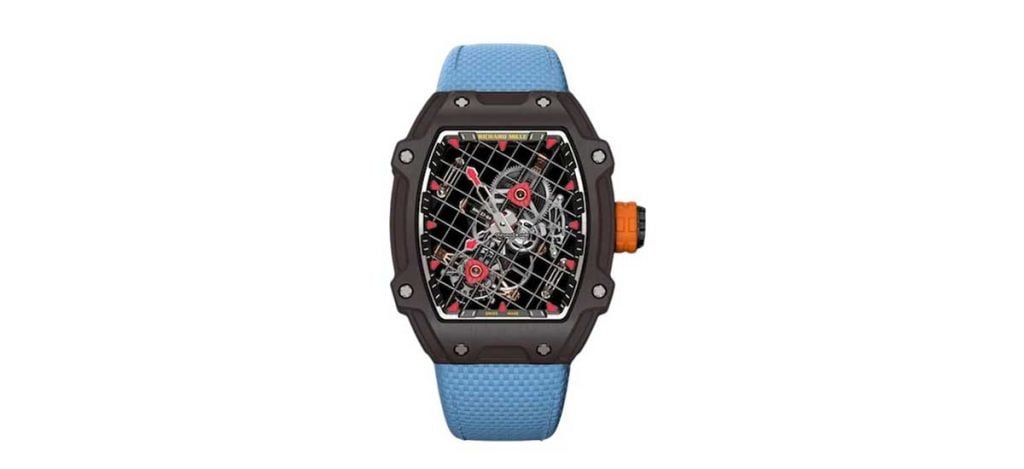 Surely, any watch with a million-dollar price tag should be considered an "investment". But what makes the RM27-04 "Rafael Nadal" special? Why the price tag? Limited to 50 pieces, we have a watch with a suspended tourbillon and movement within a micro-blasted, stainless steel mesh joined to two PVD-treated gold tensioners.
Anchored at the 1 and 5 o'clock positions, its forward-thinking design allows the watch to withstand upwards of 12,000 G's, which sure sounds a heck of a lot more than anything Nadal (or you and I, for that matter) could swing a tennis racket at.
16. IWC Ingenieur SL "Jumbo" Ref. 1832
Stainless steel sports watch: Check. Integrated bracelet: Check. Actual honest Gerald Genta (not derived) design: Checkmate. While we often think of the Royal Oak and Nautilus as the two main pillars of Genta design, for true nerds, the Ingenieur is right up there as the third pillar in the designer's achievements (you weren't thinking of his Mickey Mouse watches, were you?).
A 40mm tonneau-shaped case, 12.5mm thickness, with a five-drilled hole round bezel and graph paper like guilloché, we have all the hallmarks of a Genta classic, and as an investment piece, you could do much worse.
17. Tudor Submariner 7928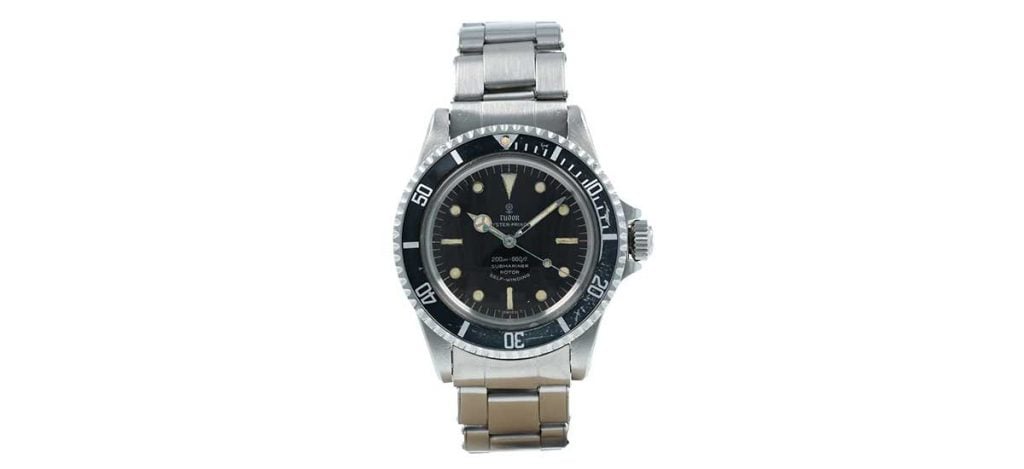 Originally conceived by Rolex founder, Hans Wilsdorf, to be the affordable alternative to the Rolex brand, Tudor watches have earned their place in history as much more than just the "little sibling to big brother". With ties to historic expeditions of their own to partnerships with militaries the world over, vintage Tudor watches, in particular, have seen a massive spike in interest in recent years as collectors become outpriced or disinterested in the evergreen Rolex model equivalents.
Introduced in 1959, the Tudor Submariner, reference 7928 in particular, saw production for nearly 10 years. It had two notable firsts: the introduction of crown guards and a larger case size (up from 37mm of the reference 7924 prior to 39mm in the 7928). Over its ten-year production span, upwards of at least six documented variants were produced. However, the MK1 "square crown guards" variant is among the rarest, with only an estimated 100 known in existence.
18. Girard-Perregaux Laureato 42 Infinity Edition
Continuing the theme of steel sports, integrated bracelet watches dominating the collectors market, the Girard-Perregaux Laureato 42 Infinity Edition was released in limited production (188 units) in partnership with watch retailer Wempe, sold exclusively through Wempe locations in London, Germany, and New York after its debut in 2020.
As the name implies, the watch is 42mm in diameter, matched with a thickness of only 10.7mm, featuring an anti-reflective sapphire crystal and display caseback whilst providing 100m of water resistance and 54 hours of power reserve. But perhaps the true star of the show is that black onyx dial contrasted with pink gold markers. To infinity and beyond.
19. F.P. Journe Elegante 48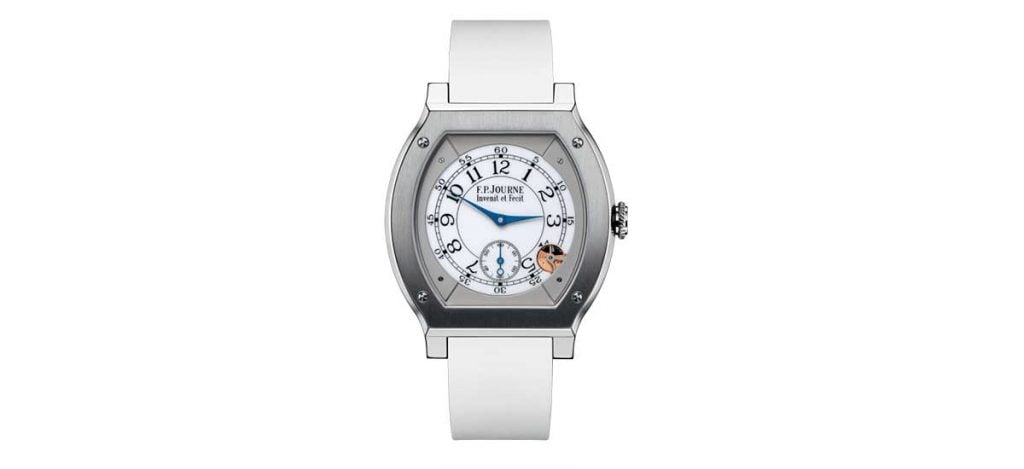 Independent darling brand (and living watchmaker) F.P. Journe has seen a meteoric rise in the watch-collecting market in the past decade. With its unique and unrivaled sense of design and innovation respecting the tradition of watchmaking, it was no coincidence, given the level of watchmaking and scarcity of its product.
Among such achievements, in the Elegante 48, we see the Calibre 1210, 8 years in development. A largely hand-finished quartz movement that can put itself to sleep after 35 minutes of inactivity, a microprocessor then remembers the time so that when reactivated from physical movement, the hands jump back to the correct time.
Impressively, with regular use, the battery can provide upwards of 8-10 years of life, whereas its theoretical maximum is an unthinkable 18 years of life if left in a dormant state. Embrace the quartz revolution with the Journe Elegante 48.
20. Tudor Prince Day Date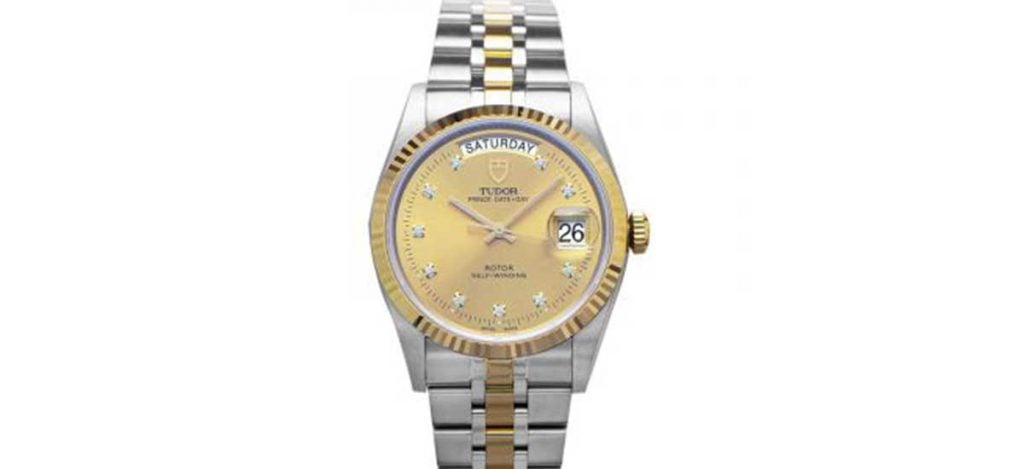 Debuting in 1952, the Tudor Prince line was the foundation of Tudor watches, occupying the space equivalent to the Datejust and Day-Dates of the Rolex world. Classically styled, the Prince Day Date, in particular, features an oyster style case with a jubilee bracelet and the unmistakable day wheel at 12 o'clock, with a traditional style date and date magnifier at 3 o'clock a la the Rolex "President".
Though now discontinued, the 76200 reference available since the 1990s can still be found in good condition as an alternative daily wearer to more expensive options from Rolex and even the current Tudor catalog. As collectors look back to uncover neo-vintage gems from the 1990s and early 2000s, Tudor's brand popularity today almost guarantees that models like the Prince Day Date won't be overlooked for much longer.
Conclusion
"Investment" has become almost a dirty word in the watch hobby. But the factors that make a good investment watch are also the things that make a watch worth collecting: Rarity, personality, differentiation, and time-proven design.
Furthermore, understanding investment value and thinking of watches as an asset doesn't need to negate the joy we get from owning them. It's merely one part of the spectrum in our collective watch journeys and ultimately helps us understand our tastes and preferences in a new light.