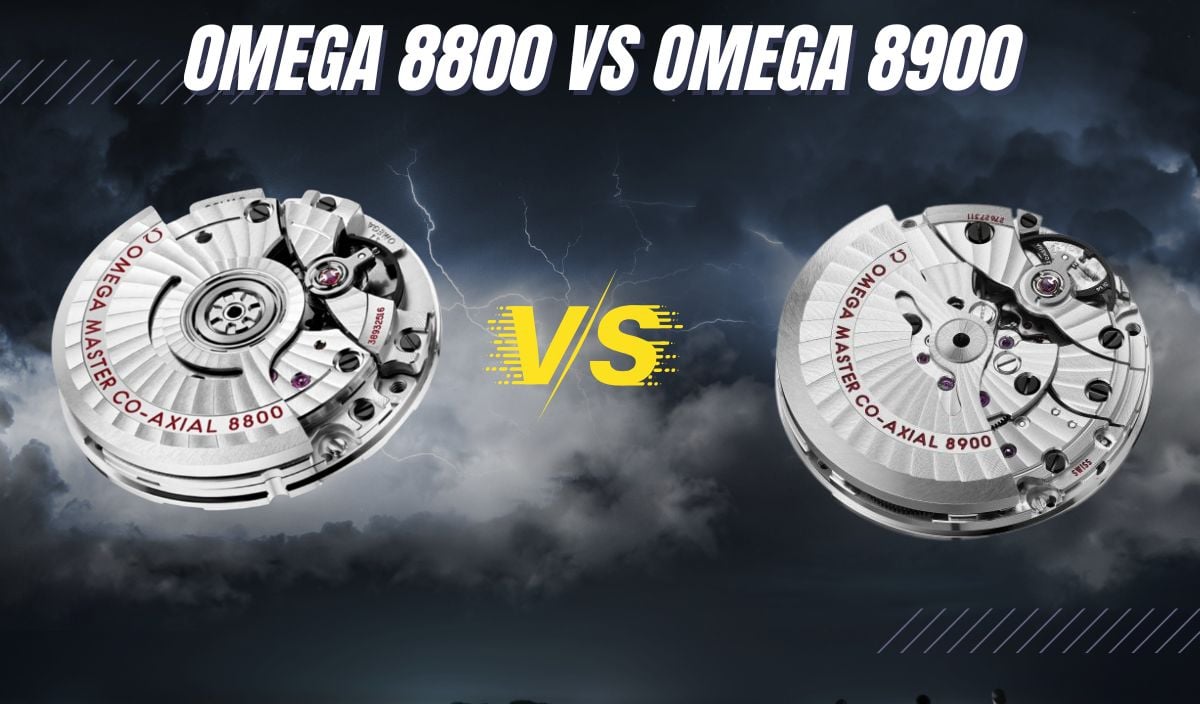 Omega 8800 vs. Omega 8900 (The Age-Old DEBATE Ends Today!)
Regarding luxury watches, Omega is one of the top watchmakers in that category. This brand has immortalized its name on the luxury stage through years of research and development. The Omega 8800 vs. Omega 8900 watch series debate has been on for a while now. Although both watch series comes from the same watchmaker, both have their merits. Watch enthusiasts love nothing more than to determine which one of these watches is superior to the other.
Omega is a top brand because of the style it brings to watches. This brand ranks as one of the best Swiss watchmakers. And understandably, you should expect nothing less than top-of-the-hat watches from this brand. Omega has a lot of accolades for its top-notch design. The brand has been around some of the most iconic moments in history.
US soldiers used Omega watches at the end of World War I. A version of the watch was also used by NASA scientists in the Apollo 11 mission. Omega has been the choice timekeeper for the Olympics since 1932. Rolex has general approval for the best luxury watch; Omega is a close second to Rolex, and for a good reason.
This Swiss brand has been around for a long time. Omega has been around since 1848, a brand with centuries worth of reputation on its collar. The brand released the 8800 model in 2018 at Baselworld. The 8900 model, however, was released before the 8800 in 2015. It would be best if you always bet that these watches are the best on their levels.
To pick out the best of the two, we need to put several features of both watches under the spotlight. In the next couple of lines, we will address each feature that makes these watches such a pick and how these features make them the eye of the industry.
Things To Consider Before Selecting A Preferred Watch Choice
Any watch enthusiast will go ballistic if you tell them watch pieces only tell time. For an enthusiast, watches represent more than just a timepiece. Watch collectors revere watches as they compliment their outfits. The right timepiece can boldly state your personality, taste, and lifestyle. You certainly won't see a successful person wearing a cheap watch.
Before selecting any watch, you must remember there's a lot at stake. To better pick out a watch between the 8800 and 8900, here are some things to help you pick out the best possible option that brings out your best look.
The Style
Luxury is perhaps the essential ingredient when making and considering buying a watch. While some prefer modern looks to watches, others prefer a more vintage classic look with minimal attention. Other users prefer modern smart watches with features like health tracking, a compass for easy navigation, and a watch with a GMT feature that lets you tell the time in different time zones. The taste in a timepiece is really up to the buyer.
The style choice is totally up to you, but ensure you choose a watch that goes with your outfit. You can have multiple watches for different days and outfits. If you don't want to have a lot of watches, you could always opt for a more neutral watch. A piece that goes with everything you put on. You may decide to go with leather, metallic or suede straps. It all depends on your preference. Omega 8800 and 8900 bring class and luxury to whatever you put on.
How it Fits
How a watch fits on your wrist should always be considered when buying a watch. You can't overlook if a wristwatch is your size, even if it is your preferred watch. You should consider a watch with a strong face and a great design if you have a large wrist.
A thin watch will look a little out of place on such a wrist. A big strong watch will also look a little out of place for a person with a small wrist. Whether you are going for the Omega 8800 or the Omega 8900, you should consider if they match your wrist size. Pay extra attention to the diameter of the watch and the lug-to-lug fitting to guide your choice.
Price Vs. Value Retention
Vintage wristwatches have a habit of retaining and even increasing in price after you've bought them. However, since both the 8800 and the 8900 models were released some years back, they will most likely drop in price after you've purchased them. But you can always buy either one and keep it for the future when they are rare and priceless. To know which of the two has better price retention, you can check how much a pre-owned watch costs for each model and compare for a better decision.
Maintenance
Considering which watch between Omega 8800 and Omega 8900 is more durable and robust would go a long way. Fortunately, the Omega brand has a reputation for making exotic durable watches, and you should have no problem choosing either one under this category. You shouldn't expect to spend a penny on either watch after purchasing them. However, even if you need to spend on maintenance, it shouldn't cost you much.
Omega 8800 Vs. Omega 8900: Which is Better?
The Aqua Terra series has some of the best-ranked wristwatches in the world. The Omega 8800 and Omega 8900 are the Swiss company's masterpieces from the Seamaster Aqua Terra series. In the next couple of subtopics, we will get knee-deep in analyzing some features to help you pick out the best of the two.
The Watch Movements
In terms of power reserve, the 8900 model takes this category. The Omega 8800 movement has a 55-hour power reserve, while the 8900 movement has a 60-hour power reserve. However, the most important feature that is key to picking the winner for this feature, the key difference is movement functionalities. How quickly you can set a date and a jumping hour hand. Both models have a water resistance of up to 150 meters.
Between the 8900 and the 8800 models, the 8800 is a more traditional watch model. The 8800 model is more traditional because it uses different layers to set the date and time. The different levels are key for fast setting of date and time. On the other hand, the 8900 model houses a jumping hour hand. It is an hour hand that is independently operated. This feature is key if you want to keep accuracy while changing time. You don't have to alter the circle of the second hand.
Size Differences
The Omega Seamaster Aqua Terra 8800 model has a case of 38mm in diameter and a thickness of 13mm. The lug width is 19mm, and the length of the full lug to lug length is 44.6mm. On the other hand, the Omega Seamaster Aqua Terra 8900 has a 41mm diameter case with a thickness of 13.5mm. The lug width is 20mm, and the lug to lug length is 47.2mm.
Advantages and Disadvantages of Buying The Omega 8800 Model
| | |
| --- | --- |
| Pros | Cons |
| ✔️It is a reliable luxury watch. | ❌The timepiece is quite expensive. |
| ✔️If you love luxury, then the 8800 model brings bling to your style. This watch has a total number of 35 jewels on it. The rhodium-plated finish brings out the shine in these jewels, making the eye of the watch reflect the expensive bill for the watch. | ❌Setting time would offset the second hand's circle and cause a little split-second inaccuracy. |
| ✔️Its traditional time setting feature helps you set time twice as fast. | ❌This timepiece was mass-produced, so there is no exclusivity to it. |
| ✔️ COSC and MATAS certified | ❌No independently operated hour hand |
Advantages and Disadvantages of Buying The Omega 8900 Model
| | |
| --- | --- |
| Pros | Cons |
| ✔️You can switch time zones easily with the independently operated hour hand. You can go from Greenwich Mean (GMT) to Pacific Time or Eastern without worrying about causing split-second inaccuracy. | ❌Having a luxurious watch in your watch collection isn't cheap. |
| ✔️The 8900 model has a total of 39 jewels in the eye. If you want to show off this thousand-dollar wristwatch better, step under some light and let the jewels do all the work for you. | |
| ✔️This timepiece has a short lug-to-lug distance which may excite some buyers a lot more. | |
| ✔️The watch is a well-built, luxurious watch. It is very reliable and durable and a return on your money. | |
Frequently Asked Questions
Which has the best value: 8800 or 8900
Considering that the 8900 was released a while back, finding a piece that isn't previously owned might cause you some trouble. Hence, 8800 should have a high asking price for the stated reason. However, that doesn't mean the 8800 series isn't as valuable. This model is newer than the 8900, but getting a brand new one should cost you quite a fortune.
Which is better: The Omega 8800 or the 8900
Each model has merits that make them appeal to buyers much more. The Omega 8900 has a two-barrel movement that offers excellent movement with better precision. The watch is also resistant to magnetic interference, reducing factors that could cause inaccuracy.
The Omega 8800 model also focuses on accuracy, reliability, and dependability, as these are the brand's core values. With a power reserve of 55 hours, the watch has an automatic movement that keeps you on time for your events.
Conclusion
We have gone in-depth to analyze the differences and similarities between the Omega 8800 and the Omega 8900. We found that the Omega 8900 is a watch for travelers who rarely spend much time in one region. A luxurious watch that fits all time zones, so you don't have to acquire another timepiece when you leave a time zone or go through the hassle of setting it up from scratch.
On the other hand, the Omega 8800 model brings that traditional double layer time and date feature to the table for our vintage-loving customers. Picking out the winner between these two would be a hard task. Each brings something unique to the table. We will leave the choice to you, the watch enthusiast, to pick your choice from the two.
About Exquisite Timepieces
Established in 1998, Exquisite Timepieces is your one-stop shop for all things luxury watches! We are an authorized dealer for 60+ luxury watch brands including Omega, Hublot, Seiko, & Longines! We are proud to showcase one of the world's largest pre-owned watch collections, including renowned brands like Rolex and Patek Philippe. Check out our brand new watch arrivals here and popular pre-owned listings here.