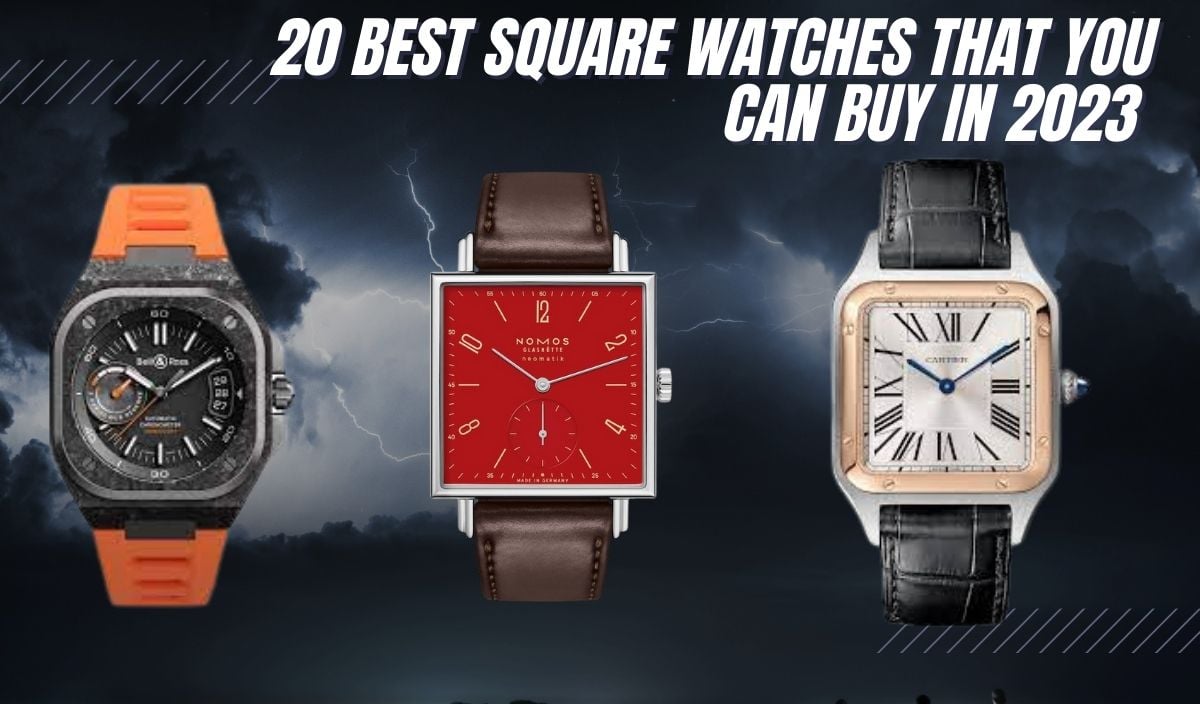 20 BEST Square Watches That You Can Buy in 2023 [All Brands]
I'll start by stating the obvious – square and rectangular watches are a totally different ballgame from the ubiquitous round-faced watch. Despite performing essentially the same function, they look and feel nothing like their round, oval, or tonneau-shaped counterparts. Indeed, there's something rather edgy about a quadrilateral watch (no pun intended). 
Any watch fanatic can rattle off a few square models that define the style in some way – we've all seen a Cartier – but for many, the true depths of the right-angled multiverse have yet to be explored. To remedy this, I've put together a list of our favorite square watches going into 2023. Fair warning – this may change everything you know about yourself and the watches you think you love.
Squaring The Circle – A Brief History of Square Watches
From the very start, watchmakers have predominantly opted for circular dials. The reason for this is quite simple – the internal mechanisms of watches involve round gears with central pivots that rotate the hands in a complete 360° motion.
So, circles. Furthermore, a circular dial can easily be divided into the main unit-spacings, which we use to measure time, 12 and 24. There once was a general reticence to commit to a square dial, given the extra finesse required to maintain the balance of the hour markers.
The good news is that horologists (and the people who pay their bills) can afford to be more inquisitive these days, and as such, buyers have a wealth of exciting angular watches to choose from.
Embrace The Way You Feel – Should You Buy a Square Watch?
When it comes to square and rectangular watches, most horology enthusiasts have a bit of a love-hate relationship with them. Let's face it; they're not for everyone. In a world still dominated by round timepieces, a square watch is a risk both stylistically and culturally.
But as the saying goes, no risk, no reward, and if you're into these types of watches, you know just how rewarding they can be. Rectangular watches, in particular, exude a regal and almost aristocratic vibe that simply cannot be matched by a round face.
The iconic Tank shape bears testament to that simple truth. Furthermore, in a time when most people have small collections of watches rather than one trusty timekeeper, more and more collectors find a great deal of excitement in including a square watch in their otherwise round-faced troupe.
If you're after a watch that's just as at home in the water as it is on land, look no further. The Bell & Ross BR03-92 Diver is equal parts handsome and technical. Inspired by aviation themes, as all of their watches are, the BR03 is the latest in the company's line of underwater watches. It's a refreshing change from the previous, somewhat impractical BR02 iteration, as it performs in all the ways that an aesthetically-driven diver should.
Its rugged construction and easy-to-read face make it an excellent choice for serious divers and casual swimmers alike. Let's get technical for a second. The BR03 is water resistant up to 300m and is in compliance with ISO 6425 and NIHS standards. Simply put, it's a fully-qualified companion tool for even the most challenging dives.
The mechanical movement operates on a cold-resistant Bell & Ross caliber BR-CAL 302, which provides a healthy 38-hour power reserve, making it a perfect watch for anyone looking for a hard-wearing timepiece with a minimalist slant. The BR03 holds its own against any watch in its class, and at just $3,990, you'll be taking up diving in no time.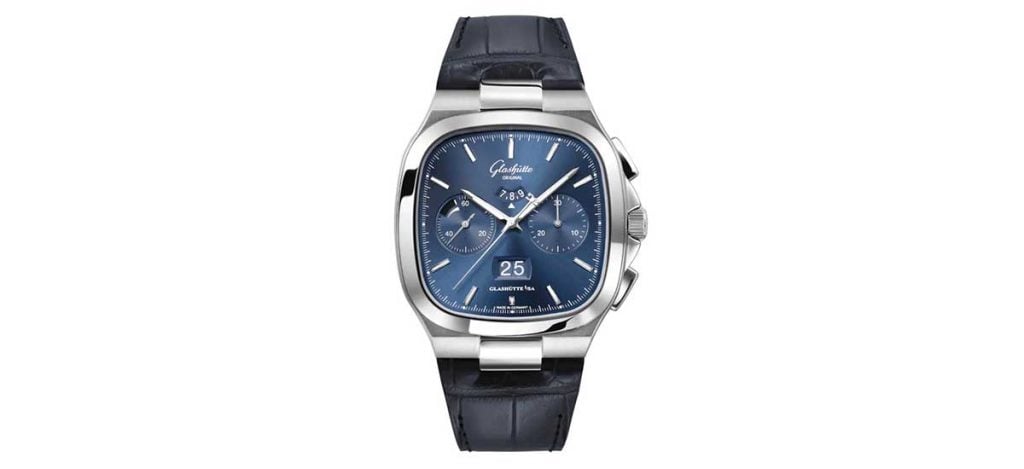 The Glashütte Original Seventies Chronograph Panorama Date is something truly special – a stunning timepiece that captures the essence of understated design icons from the 1970s. The 40mm square stainless steel case has distinctive angular lines where it matters and softened curves where it counts.
These design elements give the watch an authentic neo-vintage character, and the dark blue dial – the result of an elaborate galvanization process – features rhodium-plated indexes and hands coated with Super-LumiNova®, which serve the retrograded feel well.
The watch is powered by an automatic in-house movement, Calibre 37-02, and the beauty of this movement alone explains the watch's $13,400 price tag. If the amazing functionality of the watch isn't justification enough – the Seventies Chronograph boasts a stop-second, flyback, 30-minute display, numeric 12-hour display, Panorama Date, and power reserve indication.
That's a whole lot of watch. It also comes with an intriguingly blue Louisiana alligator leather strap that lends some extra depth to the dial. Honestly, it's different, but that's what makes it great.
3. TAG Heuer Monaco (ref. CBL2111.FC6453)
The Monaco has been around the block a few times, and for good reason. It shot to fame as Steve McQueen's wrist candy in Le Mans and contained the world's first mass-produced automatic chronograph movement, the Calibre 11. Now, the latest iteration of the Monaco has arrived, and it's ditched some of its predecessor's fatuous vintage quirks for more practical features.
The updated version sees the crown moved from the left-hand side to the right-hand side of the case, which is just more sensible if you think about it. It's also got a water resistance of 100 meters and a reliable in-house movement (the HEUER02). So, buyers no longer need to worry about historically finicky gears and low-grade shock resistance issues. This is a modern watch with a modern brain and a 60's heart.
The face cuts a room in half – some love it, and some hate it. But no matter what corner your taste may force your emotions into, there's no denying that the design and legibility of the dial are impeccable. Classic, yet progressive. Simple, yet complex. It's a reminder that iconic watches rarely go out of style. And for a cool $7100, you can get your hands on a truly distinguished piece of history.
4. Cartier Santos Large Model (ref. WSSA0018)
At first sight, the Santos appears distinct from previous versions. Although it maintains its definitive, square-shaped case, the latest design has been softened with more curves. The large model is 39.8mm x 47.5mm, which wears like a 42mm round watch. As is to be expected, the Santos is an effortlessly stylish timepiece designed for showing (people) as much as telling (the time).
In all truth, even the smallest version of this watch wears like one that costs far more than $7450. The large model adds to this sense of value, given that it's altogether more watch. The Santos' mechanical movement (calibre 1847 MC) is automatic winding and is housed within a surprisingly hard-wearing steel case. Legibility is key – the silvered opaline dial is a breeze to read, with blue sword-shaped hands splitting hours and minutes effortlessly.
The watch has two interchangeable bracelets: a steel bracelet with Cartier's 'SmartLink' adjustment system and a calfskin bracelet with a steel folding buckle. I love it on either, and in fact, I'm consistently surprised by the stylistic versatility these two fairly simple straps grant the wearer.
5. Jaeger-LeCoultre Reverso Tribute Duoface Small Seconds (ref. Q3988482)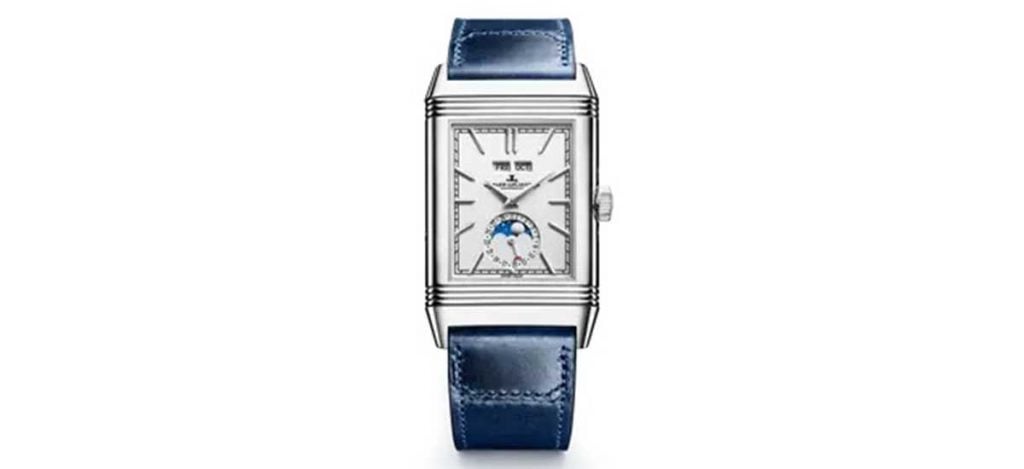 I'll just say what everyone is thinking – why spend $11,700 on one watch when you can have two? Each of the two dials of the Jaeger-LeCoultre Reverso Tribute Duoface is a work of art in its own right, and the fact that one watch can host both is mind-blowing.
This one-of-a-kind timepiece is primarily a nod to the original Reverso watch, born in 1931. Over the years, it has undergone countless iterations while remaining true to its identity. The trapezoidal indexes and Dauphine hands are an homage to the original design, implemented with a modern twist that gives the watch a fresh and exciting look.
Of course, each dial can display a different time zone, as well as boast a handy day/night indicator. As if it wasn't classy enough already, the Duoface's strap was custom-designed by the legendary Argentinian bootmaker Casa Fagliano, one of the most highly-revered artisans on the planet.
The Reverso Tribute Duoface is a true masterpiece, built to speak to those who value class and bespoke craftsmanship over all else. Its true allure lies in the fact that even among other Jaeger-LeCoultre timepieces, it's a bit of a black sheep. I love it for that reason alone.
6. Cartier Tank Must XL (ref. WSTA0040)
It's no secret that Cartier's Tank has been a favorite timepiece for world leaders and royals for decades. However, the allure of a Cartier goes far beyond just how it looks, despite what many think. Like the Santos, Cartier's Tank Must is steeped in historical intrigue and was first designed by Louis Cartier in 1917. This watch has seen things.
How curious it is then that the Cartier Tank should come to represent the very opposite of the military aesthetic, it was initially designed to emulate; it's now arguably the most definitive dress watch ever created.
Under the hood, the Tank Must XL houses a robust and reliable mechanical movement with automatic winding, Cartier's own Calibre 1847 MC. Encased in durable steel hides a beaded crown set with the brand's signature spinel, which adds a unique flavor to the watch, as does the silvered dial, beautifully accented by blued-steel hands that not-so-subtly contrast the black-grained calfskin strap.
At 41mm x 31mm and only 8.4mm thick, the XL Tank is about as slender as a watch can get in this price bracket, and what's more, a date function and a timeless design make the $4200 you'd pay for it an absolute bargain.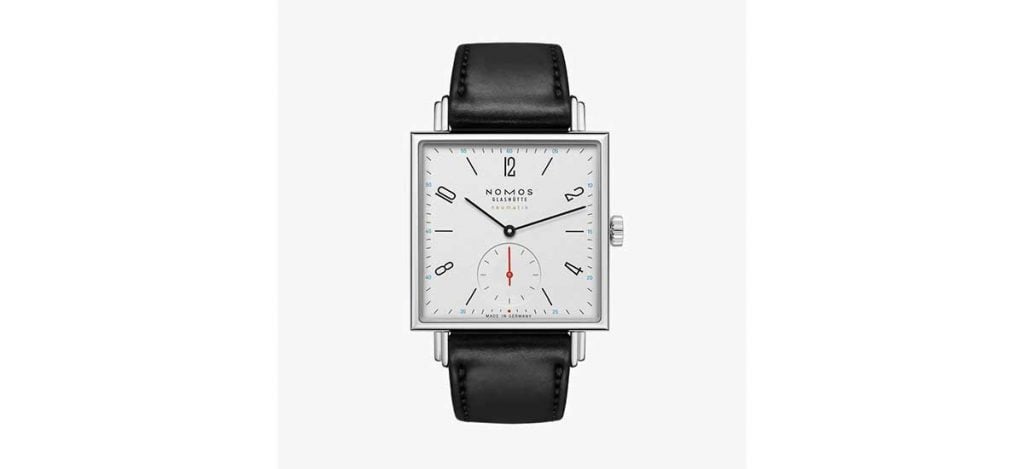 Nomos' Tetra Neomatik 39 represents perhaps the peak of what Nomos does better than anyone else, in my humble opinion – the trimming of every gram of fat off of their timepieces to create designs that are unembellished in almost every way.
A true testament to the crossroads between Bauhaus's solemnity and Art Deco's gregariousness, the Tetra Neomatik is certainly the odd one out in Nomos' collection. Despite this, it's remained popular for over 30 years as a left-field dress watch of exceptional quality.
Although it comes in different sizes, I think the 39 is the boldest, with a diagonal diameter of 46mm and a dial that could probably be read from space. The Tetra's angled and double-stepped lugs fit effortlessly under a cuff, and the caseback contains a round sapphire crystal through which one can view the delightful in-house Neomatik DUW 300 Calibre.
The ultra-thin movement means that the height of the watch is a meager 7.3mm, making the fact that it's a limited-edition timepiece a hard pill to swallow. I'd recommend this wholeheartedly for those willing to spend $3860 on something a bit different.
8. Hublot Square Bang Unico Titanium Ceramic (ref. 821.NM.0170.RX)
Full disclosure – I've never been much of a fan of Hublot. It's probably my dainty wrists or the fact that their watches are often a bit 'louder' than I like mine to be. However, the Hublot Square Bang collection is a new take on the iconic Big Bang design, with a square-shaped case that is…strangely comfortable.
Despite some obvious similarities with the Cartier Santos, the Square Bang has a unique personality – the 43mm-wide titanium and ceramic case is very Hublot in all the best ways and yet, not Hublot at all. It's proud and strong and detailed and familiar but somewhat subtle at the same time.
My only gripe is the face's legibility – it's a slightly more difficult watch to read than the Neomatik, or the Santos, for example. That said, if you're a fan of interesting materials and bold designs, this is certainly one to consider. You'd better be sure, though – at $24,100, this isn't a watch you can afford not to like!
This may sound crazy, but I think that the Oris Rectangular is a watch that everyone should own at some point. If you're even slightly rectangular-curious or looking for an understated, charming watch with a unique flare and workhorse Swiss movement with a date function, all for the ridiculous price of $1950, this is it. The Rectangular was recently reintroduced by Oris and has subtle design updates, revised dial options, and more leather strap choices.
Still, there's nothing outwardly fancy going on here. A stainless steel case and integrated straps, with steps on the case flanks and tapering lug tips, create a relaxed and natural fit on the wrist. The marine blue dial and the numerals that adorn it echo Art Deco designs, bolstered by rail tracks around the outer edge and an inner rectangle that emboldens the case silhouette.
The face is legible yet discreet, and the hands move reliably, thanks to the Oris Calibre 561, which is visible through the open back of the watch. The Rectangular measures 25.5 mm across and 38 mm lug to lug, making it a highly accessible piece and a great option for those interested in non-round watches with a reasonable price tag.
10. Bell & Ross BR-X5 (ref. BRX5R-BL-ST/SST)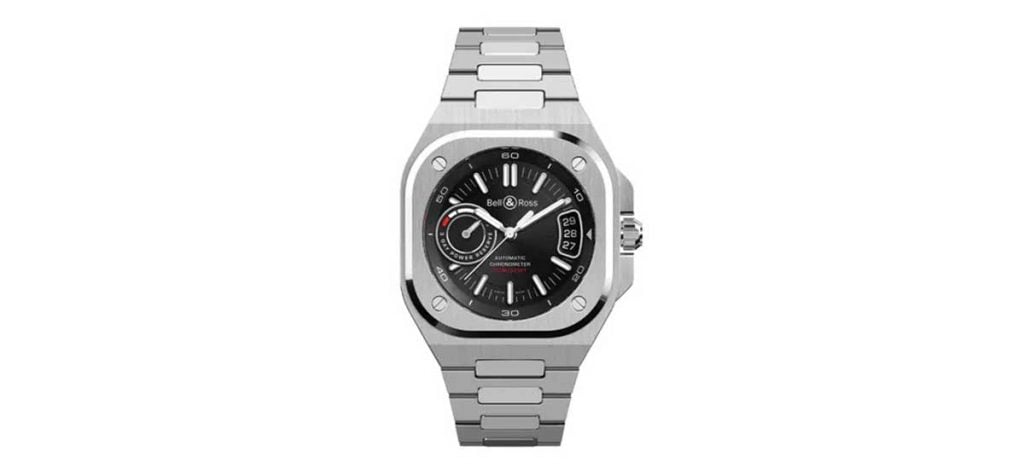 The Bell & Ross BR-X5 is the newest and coolest addition to the BR 05 collection. It's sporty, technical, and modish all at once. The large date window and power reserve indicator are welcome additions (improvements, even) that display the watch's intricacies. If it looks like a powerhouse, that's because it is.
For the $7400 you have to pay to play with this tool, you get a whole lot of machinery – the impressive BR-CAL.323 Calibre movement, designed by Kenissi, Tudor's off-shoot movement manufacturer, provides exceptional precision, while the multi-component case design means the watch is sleek and lightweight but also ridiculously durable.
In a strange and wonderful way, it's the watch's inconsistencies that make it so attractive. Its unique architectonic look makes it perfect for those who enjoy fast machines in stark urban environments. But there's also a subtlety to the design, perhaps best manifested in the bracelet, that contrasts the civic feel of the rest of the BR-X5. Whatever you think of it, though, the machine-meets-architecture aesthetic of the BR-X5 is an undeniable hallmark of the Bell & Ross ethos.
11. Certina DS Podium Square (ref. C0255101605700)
Rounded corners and an altogether softer profile make this Certina less striking than previous entries but make no mistake; the DS Podium Square is an altogether likable timepiece, devoid of any specific stylistic flourishes that define more bespoke models.
This is a good thing for the risk-averse buyer as it means you get the feel of a well-built square watch without too much financial outlay. The stainless steel case measures 38.3mm in diameter and 9.9mm in thickness, making it a comfortable fit for most wrist sizes, while the black dial with mixed indexes and feuille-shaped hands is easy to read and places the watch in an undoubtedly 'classic' design class.
Despite its low price tag, the Podium Square is powered by a precise and reliable quartz movement that will keep accurate time for years to come. With its sleek and sophisticated design, this Certina is a reliable choice for anyone needing a high-quality timepiece at a price point of around $500.
12. Longines Dolce Vita (ref. L5.767.4.73.9)
Similar to the Oris Rectangular, the Longines Dolce Vita makes its strongest impression with a subtle design, a feature that is enhanced by a new two-tone sector dial inspired once again by vintage designs from the 1920s Art Deco period.
The stainless steel case measures 28.20 x 47.00mm with a thickness of 10.30mm, which means it's small but not that small. I would personally prefer a slightly thinner case, but to be fair, this doesn't feel like it's 10mm thick when on the wrist. The sector dial is really the pièce de résistance here, with its centered matte silver finish, black crosshair, and vertically brushed finish on the outer section.
The hour markers, apart from the ones at 3, 6, 9, and 12 o'clock, connect the railroad minute track to the center crosshair section of the dial, creating full cohesion on the watch's face. Beneath the dial, the automatic, exclusive mechanical L592 caliber movement ticks away. For $1750, this watch competes squarely with the Oris Rectangular and offers a slightly different look for what it's worth.
13. Seiko 'Tank' SWR052P1
Don't freak out – Seiko has released its own homage to the iconic Cartier Tank, and in true Seiko fashion, the two watches look strikingly similar. The SWR052P1, otherwise known as the Seiko Tank, features a plain face with large Roman numerals encased in a slightly chunky gold-plated stainless-steel case.
The watch's leather band resembles crocodile skin, although it doesn't feel like crocodile skin. What do you expect for $230? Of note here is Seiko's signature mineral crystal, which is known to be extremely durable and, therefore, a great base for the quartz movement. I'd love to see this watch with a solar-powered feature, like many of Seiko's other timepieces, but there's certainly still a lot of practical beauty here for the price.
14. Casio G-Shock GMW-B5000D-1
Casio's Full Metal GMW-B5000D-1 G-Shock is about as tough as watches come. Descended from some of the most hard-wearing timepieces in the industry, the GMW-B5000D-1 centers around an LCD screen, which features 'Tough Solar' technology and a brick motif that draws in light for miniature solar cells.
The watch has 'atomic clock accuracy' (which, if nothing else, sounds very cool), and the watch's functions can be accessed through a smartphone app, allowing the wearer to set alarms and display reminders on the watch screen with ease.
Rated for 200 meters of water resistance and surprisingly comfortable on the wrist despite being heavier than other versions, this is not a timepiece for slender arms. I'd say if you wear anything smaller than 42mm, move along now and thank me later. Ironically, only one element may deter ardent Casio fans from buying this watch – its case.
A full-metal case presents certain wear-and-tear issues that affect the watch's aesthetic over time differently than Casio's iconic plastic housing. However, there's nothing wrong with a little character, and for approximately $500, you can't really go wrong.
15. Seiko Recraft SNKP23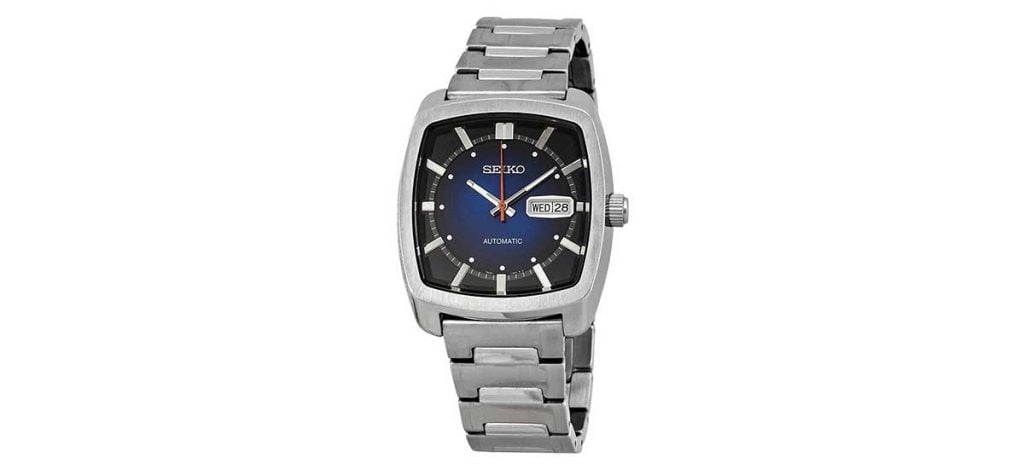 If the terms 'retro-modern', 'vintage-inspired', and 'funky design' connect with you, the Seiko Recraft SNKP23 might just be your next watch, and if you're on the fence, I'd say spend the $275 and see how you feel when this strange beauty hits your wrist! Almost square or nearly rectangular, this pillow-shaped timepiece is certainly an acquired taste.
An appealing combination of brushed and polished elements speaks to the attention to detail in the build, and the automatic Seiko 7S26C caliber movement, a machine that will run for decades without a service, powers the hands and day-date window that decorate the striking blue sunburst dial.
I'll say this much – if you can embrace the look of this thing, you'll be pleasantly surprised by how much more expensive it feels than expected. The watch offers a water resistance of 50 meters, so it can handle splashes but is not suitable for diving or even brisk swimming, for that matter. No bother – there's plenty of time to wear it out of the water.
16. Hamilton Jazzmaster Square Lady (ref. H32251735)
The Square Lady (surely a play on 'fair lady') is bolder than many women's watches. Sure, it's elegant and sophisticated. Yes, it's a standard timekeeper in its category in many ways – a 29mm stainless steel case housing a black dial abutted by a black leather strap is all very typical.
However, there's something about this watch that feels more masculine – more upright – than the usual ladies' watch fodder. Perhaps it's the weight of the case or its angular design. Whatever it is, it's different, and I like it. Under the hood, the watch is powered by a Swiss-made quartz movement, which is water resistant up to 50 meters. Basically, it's reliable anywhere except in a very, very deep bath.
Technicalities aside, the Hamilton Jazzmaster Square Lady watch is a great option for women who seek to stand out with a watch that won't break the bank. Its classic design, combined with the high level of craftsmanship that one can expect from Hamilton, makes it a smart choice for a first, second, or third square watch.
17. A. Lange & Söhne Cabaret Tourbillon Handwerkskunst (ref. 703.048)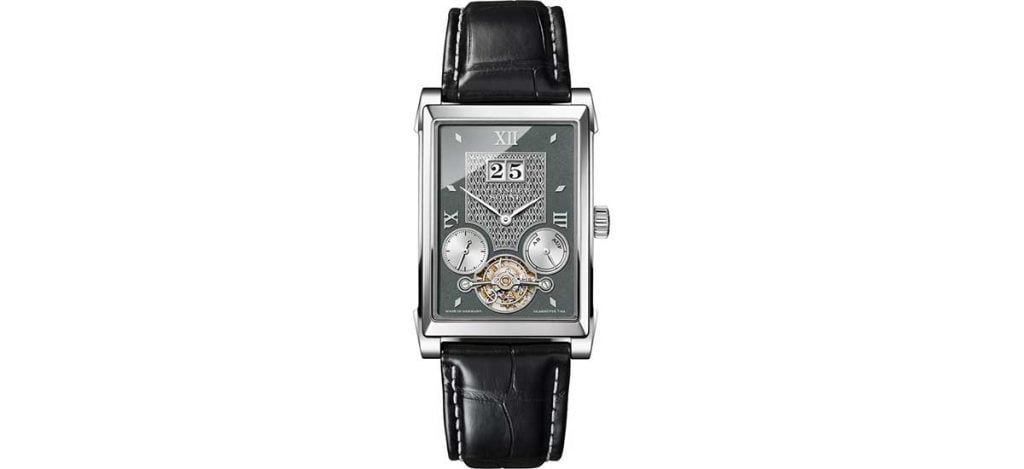 I think it goes without saying that A. Lange & Söhne's Cabaret Tourbillon Handwerkskunst is a truly special watch. Introduced in July 2021, It has one of Lange's most complex, detailed, and elegant cases, measuring 29.5mm wide, 39.2mm long, and 10.3mm thick, and is equipped with the world's first hacking tourbillon, which the company patented in 2008.
Each of the 30 pieces is handmade by Lange's team of skilled engravers and enamellers, and it's only the seventh timepiece to benefit from the lavish treatment of Lange's limited edition Handwerkskunst models, which showcase exceptional finishings and decorative techniques.
The matte grey dial with a highly symmetric layout features the oversized date, the power reserve indicator, the running seconds, and the tourbillon. It's bewildering to think that so much was fitted so comfortably on one small dial. This is one of the most exclusive watches on this list, and it's not hard to tell why – if you've got $370,000 lying around, you just may be able to get this masterpiece around your wrist.
18. H. Moser & Cie Swiss Alp S (ref. 5324-­0201)
H. Moser & Cie. caused a stir in the smartwatch market in 2016 with their Swiss Alp Watch launch, a concept so crazy that it's genius. This fully mechanical Swiss-made model boasts a contemporary design while remaining true to the tradition of mechanical watchmaking. The brand's message is clear: prioritize traditional watchmaking values and aim to make an instrument for measuring time rather than consuming it. I'm all for it.
The Swiss Alp Watch S, a recent addition to their collection, features a rectangular case with soft, rounded corners and a crystal with curved edges for a modern touch. A deep, midnight blue fumé makes the dial pop, as does the refined black alligator strap. The hand-wound HMC 324 caliber movement drives the hands, bringing together traditional components with more contemporary elements.
What I love the most about this watch is that H. Moser & Cie. has blended classic with sexy, retaining a sense of humor and a subtly provocative character. Overall, the Swiss Alp S is an excellent choice for those who appreciate traditional watchmaking values and modern, tech-centric design. Bear in mind that it's limited to 50 pieces and will run you roughly $25,000, so you'll have to work to find one!
19. Patek Philippe Gondolo 8-Day (ref. 5200G-010)
You may have heard that Patek Philippe recently released a new reference in their Gondolo collection, the ref. 5200G, which is sure to become a classic. This model is once again inspired by Art Deco design, evident in its rectangular white gold case with double-ridged sides.
The movement of the ref. 5200G is an 8-Day manually wound caliber with an instantaneous day and date indication, similar to the highly collectible ref. 5100 'Manta Ray', which was introduced in 2000, although at $59,400, this one is cheaper than its predecessor.
The calendar mechanism uses up roughly two days of the power reserve, which is impressive considering the movement has an additional day and date indicator. There's no chance of running out of juice, though, as the Gondolo also features an 8-day power reserve indicator and a small seconds hand integrated into the date circle.
Dauphine-style hands up the aesthetic ante even more, and it goes without saying that the Gondola 8-Day is a stunningly impressive timepiece that upholds the reputation of Patek's commitment to craftsmanship and elegance.
20. Piaget Emperador Power Reserve White Gold (ref. G0A33069)
I'm not the biggest Piaget fan, but even I'd admit that the regal air of the aptly-named Emperador had me floored the first time I saw it. If this isn't a luxurious watch, then nothing is. With a case diameter of 30mm in width and 41mm in length, the Emperador makes just enough of an impression in size to attract the right eye.
Its metallic silver face is the foundation of distinct hour markers, a square seconds window, and a power reserve indicator. All of this is encased by a polished semi-domed edged 18kt White Gold bezel and powered by Piaget's caliber 551P, an automatic movement with a 42-hour reserve.
This watch's secret power is that while most people wouldn't give it a second look, discerning insiders will realize in an instant just how special the Emperador is. That kind of inconspicuousness comes at a price, though – $23,800. Is it worth it? I say yes—every penny.
It's Hip To Be Square
Square watches offer a unique and often bold statement on the wrist, and there are various great options to choose from in 2023. From the classic elegance of the Cartier Santos to the modern edge of the Bell & Ross BR-X5, there's a square watch for every style and taste. It's important to consider the size and dimensions of each watch as well before making a purchase.
Remember – while square watches may not be as popular as their round counterparts, they offer a distinctive and eye-catching look that can make a great addition to any watch collection. So, consider adding a square watch to your collection this year if you're a seasoned watch enthusiast or just looking to mix up your style.