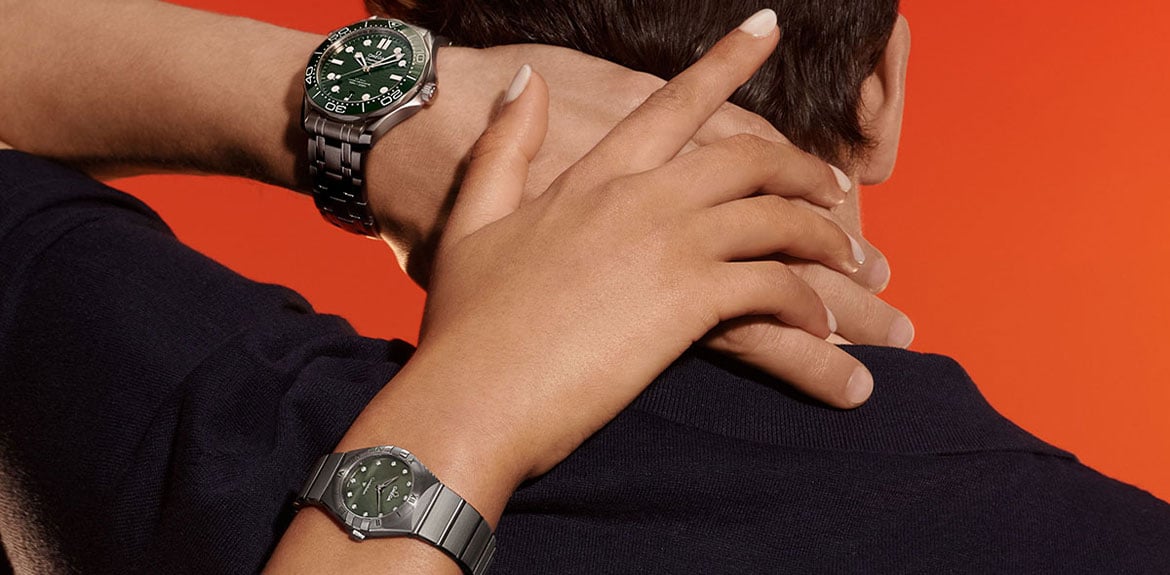 Hublot Vs Omega (Features, Brand Value, Appreciation & More) – 2023
When it comes to luxury watches, Hublot and Omega are some of the very top names you will find. These brands have established themselves in the luxury watch industry over time. Most people prefer to go with either Hublot or Omega when looking for a renowned Swiss watchmaker. Agreeably, you will not find any better Swiss watchmaker with luxury watches like these two brands.
With their successes, one has to compare to decide which brand is more outstanding. Hence, the Hublot Vs. Omega comparison is one way for watch lovers to determine which brand stands out. One thing you should have at the back of your mind is that these brands produce some of the best watches you can find.
The answer to which brand produces better watches depends on several contexts. In our article, we will address several features spotted by each brand and how these qualities affect their performance.
Things to Consider Before Selecting Your Preferred Watch Choice
Watch lovers know that watches are not just pieces to tell time. For such people, watches represent something more, and some consider watches as coveted accessories that can complement their outfits. Thus, watches can make bold statements about your lifestyle, taste, and sometimes your success.
When choosing a watch, you must understand that there's a lot at stake. But, how do you pick the right watch to portray your desired personality when it comes fo Hublot and Omega watches? Here are some things you can consider before picking your preferred watch or brand.
The Style
Versatility is an essential feature to consider when deciding on your luxury watch type. Most people prefer something classic and minimal, while some go for recently released timepieces that can do several things more than tell time. Such watches may track your fitness, have a navigation compass, and have a GMT feature that allows you to tell the time in different time zones.
Whatever style you go for, ensure it suits the outfits you wear daily. Additionally, try to pick a neutral color. You may decide to opt for leather, suede or metallic straps, depending on your preference. Most Hublot and Omega watches have great style and class. Hence, you have to consider a collection that suits your everyday lifestyle.
How it Fits
You mustn't overlook this factor when picking your preferred watch. Your wrist size is an important factor to consider at all times. Thus, you should consider a watch design with a bigger and stronger face if you have a large wrist. A thin, small watch may look too delicate on a large wrist.
Equally, a stronger face or bigger watch may look out of place on a smaller wrist. You must consider either Hublor or Omega watches if they match well with your wrist size. You may need to pay close attention to features like diameter and lug-to-lug to help you make a better choice.
Price Vs. Value Retention
Vintage watches tend to retain and even increase in pricing after you purchase them. However, some Hublot and Omega watches may not share such features. Instead, these watches may drop in value after you purchase them.
If you want to purchase an expensive Hublot or Omega watch to sell it later, you must check how much such a pre-owned watch costs compared to new versions of the same brand and model. Expensive Omega and Hublot watches tend to have good value retention once purchased. However, you may need to research to determine which model within the brands to purchase.
Maintenance
It would help if you considered watches from brands with more robust and durable watches. Luckily, both Hublot and Omega watches have a good reputation for producing durable and strong watches. You may not need to spend money on these watches after purchasing them. If, however, you spend on maintenance, the fee will not cost much.
Hublot Vs. Omega Watches: Which is Better?
There are about 16 watch brands that feature in the top 50 Swiss brand watches. This ranking tells you just how essential watchmaking is to the Swiss community. Before we delve into the comparisons, let us look at each brand and what they portray.
About Omega Watches
When you talk of Swiss luxury watches, you must mention Omega SA. Omega watches are a subsidiary of the Swatch Group and have a museum full of historic watches. The brand is significant because, since its inception, many reputable people and organizations have worn its watches. In 1917, the combat units of the Royal Flying Corps of Britain wore the watches, while in 1918, the U.S Army used Omega's watches in its units.
Once again, Omega was the watch of choice for NASA's 1969 Apollo 11 mission. Additionally, the brand has remained the official timekeeper of the Olympics since 1932. The brand is also a partner of the 2022 Winter Olympics and the official timekeeper of America's Cup yacht race. Some of Omega's most respectable watches include the Omega Speedmaster which was declared "Flight Qualified" in 1965 and certified for use by all Crewed Space Missions.
Thus, Buzz Aldrin wore an Omega Speedmaster watch to the moon in 1969. Another piece of high reputation under the brand is the Omega Stainless Steel Tourbillon 301, actioned at $1.43 million in 2017. The watch was the most expensive ever auctioned until 2018—the Omega wristwatch Ref. H6582/D96043 (1960) is another interesting timepiece to consider.
The watch once belonged to Elvis Presley and was auctioned by Phillips in 2018 for $1.812 million to make it the most expensive Omega timepiece ever auctioned. Omega has positioned itself as one of the best in the luxury watch market with its unique product line.
Their products capture people looking for higher-end iconic watches and also those who need affordable but high-end pieces. Some of their watches carry special features specifically tailored for such situations. With Omega, you will find many elegant dress watches and also high-quality tool watches.
Advantages and Disadvantages of Buying Omega Watches
There are several pros and cons associated with buying Omega watches, and we will now look at these advantages and disadvantages.
Pros
Omega has a brand value nine times that of Hublot watches. Furthermore, the watches have almost 70% international brand recall. Hence, buying an Omega watch allows you to enjoy a superior quality guarantee.
The brand has a mirage of choices you can consider. There are more than a thousand lesser known watch models which you can consider when patronizing this brand.
Although Omega has high-quality watches, you will find that their products are relatively affordable compared to Hublot.
Omega has reputable professional watches, including the Omega Speedmaster Moonwatch specially designed for astronauts. The Omega watch was the first ever to grace the moon's surface.
The brand's watches have the backing of COSC and METAS. Omega produces the best Master Chronometers that offer accurate mechanical movements. In addition, Omega produces more quartz watch models which offer more precision. Their watches also require less maintenance compared to mechanical watches.
Cons
Omega does not produce many limited, special, and numbered edition watches like other brands. You may have to patronize another brand if you are a lover of these kinds of watches.
The brand also does not produce as many high-priced blingy watches as other brands. Hence, you may have to look elsewhere (Hublot does better in this category).
A Look at Hublot Watches
Hublot watches are the creation of Carlo Crocco, who named them after a French word meaning "porthole." His watch featured the very first natural rubber strap used in the history of watchmaking. LVMH acquired the brand from its founder in 2008 for an undisclosed fee. As of 2019, the brand had 169 boutiques littered across several countries, a tremendous improvement after it launched its mono-brand store in 2007 in Paris.
Since its inception, Hublot has grown to become one of the top luxury watch brands in the industry. The brand has stores in several locations like Bal Harbour, Boca Raton, Beverly Hills, Dallas Houston, etc. Additionally, you can find its flagship store on Bond Street, London.
The brand has several notable watch models. One such model is the Big Bang Sang Bleu II which comes in king gold or titanium. Another of Hublot's most renowned wristwatches is the Big Bang Meca-10 which is available in magic gold, titanium, or king gold. The Hublot Big Bang Unico GMT is another reputable watch which comes in carbon fiber or titanium.
The brand is the official timekeeper of ICC and also Formula 1. They also provided special editions of their Big Bang watches for referees in the 2008 UEFA Euros tournament.
Advantages and Disadvantages of Buying Hublot Watches
Pros
Hublot watches are one of the most reputable luxury watch brands in the world.
The brand manufactures several limited and special edition watches. If you want to feel special wearing a particular watch, you should try Hublot.
If bling is your style, you will love Hublots blingy luxury watch collection. The brand produces models with pave dials (faces paved with diamonds), diamond bezels, and precious metals of various types. With Hublot, you will get that touch of class and bling with rare and limited editions.
Cons
Hublot watches cost a tad more than Omega luxury watches. In addition, they don't have a great resale value compared to other top brands.
Hublot Vs. Omega Comparison
Brand Recognition
The Hublot Vs. Omega comparison takes into consideration several factors. One such factor is the ranking of these brands in the top 50 Swiss brands. Omega is the seventh most reputable brand worldwide, while it is also the second most reputable Swiss watch brand. The brand has a reputation for its 70% international brand recognition.
Hublot, on the other hand, is ranked 40th in the top 50 Swiss brands list. Additionally, the brand is the 14th most reputable Swiss watch brand worldwide. Does this make Hublot a less major brand? No! Hublot is a major brand through and through.
Many people tend to remember Omega watches more than their Hublot counterparts. However, any watch connoisseur knows that Hublot has some tremendous achievements and has earned respect in the watch business despite being younger than Omega.
Pricing
When considering the pricing, Hublot watches tend to cost about twice the price of the most affordable Omega watch. Currently, the most affordable Hublot watch for men is the Hublot Classic Fusion Automatic for men. The watch uses purely mechanical movements on its automatic calibers. On the other hand, Omega watches cost less than half the price of a Hublot watch.
The brand has more affordable watches like the 35mm Seamaster 300m. The watch uses a cost-effective battery-powered quartz movement. However, you can also enjoy mechanical movements on some of its watches.
Frequently Asked Questions
Which has the best value: Omega or Hublot?
Considering the resale value, you will get more money reselling Hublot watches compared to your Omega watch. Does that make Omega watches less valuable? No. Omega has excellent watches as well. However, the value of a watch depends on things like the brand value, recognition and resale value.
Since Hublot watches produce more special and limited editions, they are more likely to have a higher value than Omega watches.
The two watches have unique features that make them stand out. However, while the former uses mechanical movements, the latter uses battery-powered quartz movements.
Are Hublot watches Cheaper than Omega?
Not quite. The cheapest Hublot watch is twice more expensive as the cheapest Omega. Thus, you can get more affordable watches with the Omega brand compared to their Hublot counterparts.
Conclusion
We have outlined the differences between Omega and Hublot watches. In our research, we found that the cheapest Hublot Geneve wristwatch costs twice as much as the cheapest Omega Speedmaster. Is Hublot respected more than Omega? Not really.
Omega has made its mark in the luxury watch industry with several collaborations. Furthermore, the brand has produced several watches which have become artefacts over the years. One such watch is the Moonwatch and the James Bond watch.
There are several quartz watches in Hublot's collection which do not find much favor with watch lovers and collectors. However, Hublot has earned the respect of many watch connoisseurs with their Masterpiece collection, which has many respectable watches. The choice to select your luxury watch brand or product depends solely on your preferences.
We have outlined certain factors you may consider before making your preferred choice. You may decide to choose either of the brands based on your taste rather than general opinion. Which is better? It also depends on the perspective you consider..
About Exquisite Timepieces
Established in 1998, Exquisite Timepieces is your one-stop shop for all things luxury watches! We are an authorized dealer for 60+ luxury watch brands including Omega, Hublot, Seiko, & Longines! We are proud to showcase one of the world's largest pre-owned watch collections, including renowned brands like Rolex and Patek Philippe. Check out our brand new watch arrivals here and popular pre-owned listings here.